You're dreaming of a daring change to your current home design and are bringing home bright, bold paint samples. But making a striking change doesn't always mean a bold color.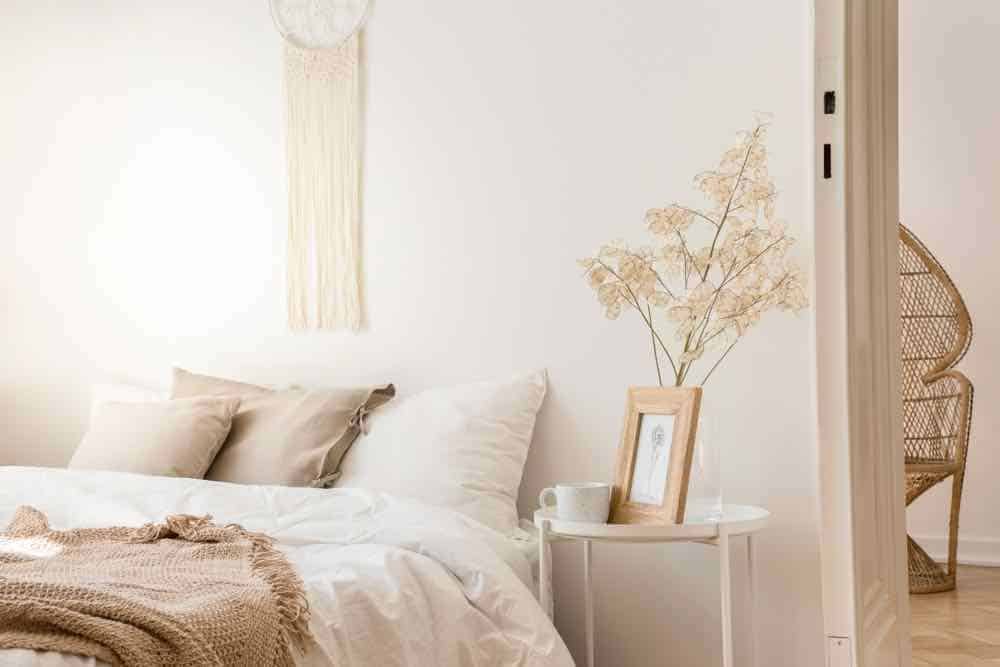 A neutral palette for your wall colors can allow other design elements to shine.
If you're working on an impressive art collection or have a fondness for colorful contemporary furniture, then beige is your best bet. With the right shade, your home will look better than ever.
If you don't believe it, keep reading…
There's so many ways to decorate with beige, and this article will discuss just a dozen of them. Beige inspiration can strike anywhere. From expansive modern homes to cramped city apartments, beige makes spaces homey, bright, and airy. It works for living rooms, kids' bedrooms and in open floor plans, with small adjustments in style. You just have to put in a little more time to find the absolute perfect color, but you'll never look back from beige.
Never Boring Beige
There may already be a significant amount of beige in your home in a place that isn't easy to remodel. Your carpet, wood floors, or kitchen cabinets might already be beige. If you're not yet ready to re-do the floor or repaint the cabinets, then get ready to grab a couple of handfuls of paint samples. Beige is a more complicated color than it appears at first blush. Within every neutral tint is an undertone just waiting to clash.
Beyond warm and cold undertones, some light beige paint may have a distinctive hue of yellow, pink, or even green. Take time to experiment with paint and fabric samples so you'll understand different beige colors in the space. Careful coordination separates boring from classic luxury when decorating in monochrome.
For an added challenge with a big payoff, find the undertone in beige and use a bold tint of that color for trim and accents. Rooms will have an energetic pop, without overwhelming color. Especially in small spaces where the colors you love are too powerful, try a beige wall partnered with the right trim color.
Don't be afraid to try something unexpected. Gold and beige work great together. Rusty browns and rich blues will pop against the right shade of beige. If you get lost amongst the variations, keep in mind how much of nature is actually beige. Sandy beaches look great with blue-grey surf. Beige limestone rocks go with dark evergreen trees and pure white snow.
Look before you leap…
Before committing time and money to repainting, gather resources from multiple brands of paints. There are hundreds of tints of light beige paint, all with subtle differences. You may love that shade of Barcelona Beige in store light, but once home you could realize it'll never go with your couch or carpet. Not all sheens are created equal either, even if you love a color from one brand, it'll never look right if their eggshell is too glossy for the room it's going in.
Picking a light beige color for decorating is a bold stance that takes more time and research than a lot of other colors. The rewards are big for your efforts, beige can adapt to almost any mood you may want for a room. From classic luxury to cozy and mellow, beige can do it all.
Let Patterns Shine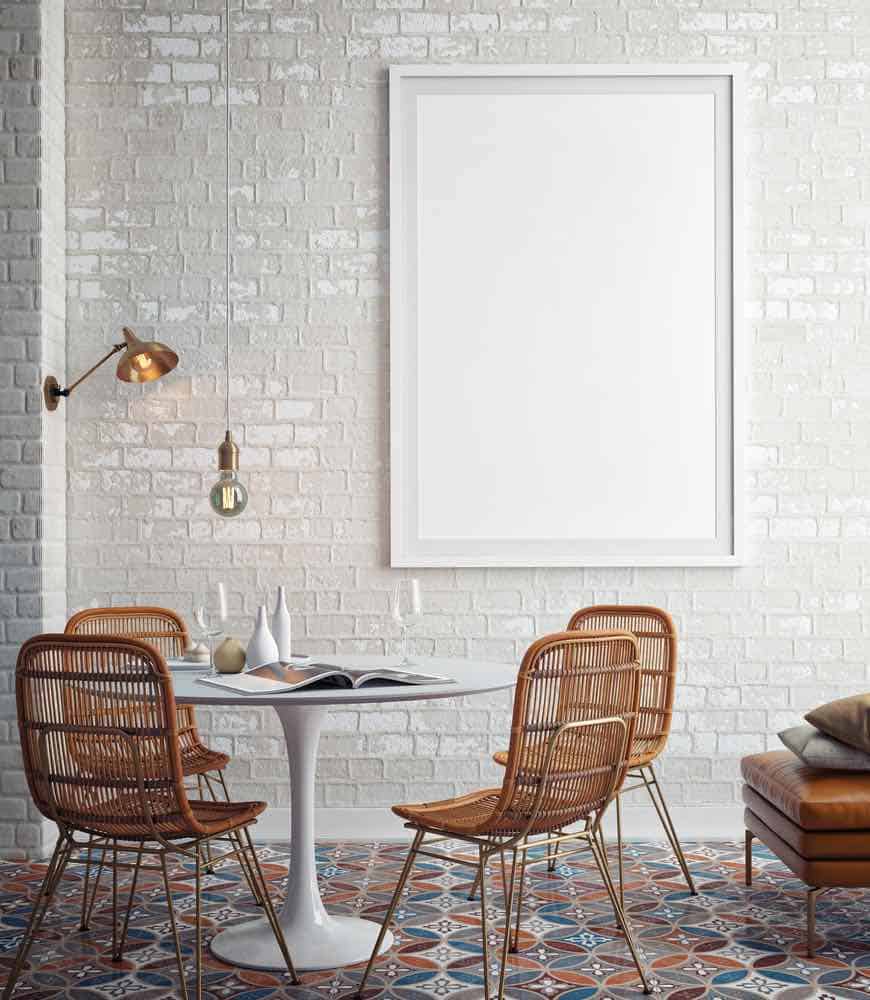 A busy pattern in bright colors could easily clash with bold or bright wall color. Light beige paint highlights patterns and makes them focal points of the room. Subtle texture in rugs, curtains and upholstered furniture come through much more easily, like in this room. The bold artwork on the wall works well as part of the monochrome, so the rug that may otherwise get lost in a more intensely decorated room becomes the focus.
You can also use more diverse and interesting textures when the walls are a light beige color. Clashing textures can overcrowd a room and make it difficult to create a unified feeling in a space. When textures are part of a monochrome of a light beige, they work well together even if they're incongruent at first. This room uses woven rugs, leather, brass, high gloss, and natural wood furniture. Nothing sticks out or doesn't fit in, instead, all the elements come together atop the intricate and bright rug.
If you love the look of this room, check out Light Granite from Behr.
Use Themes to Make a Space Pop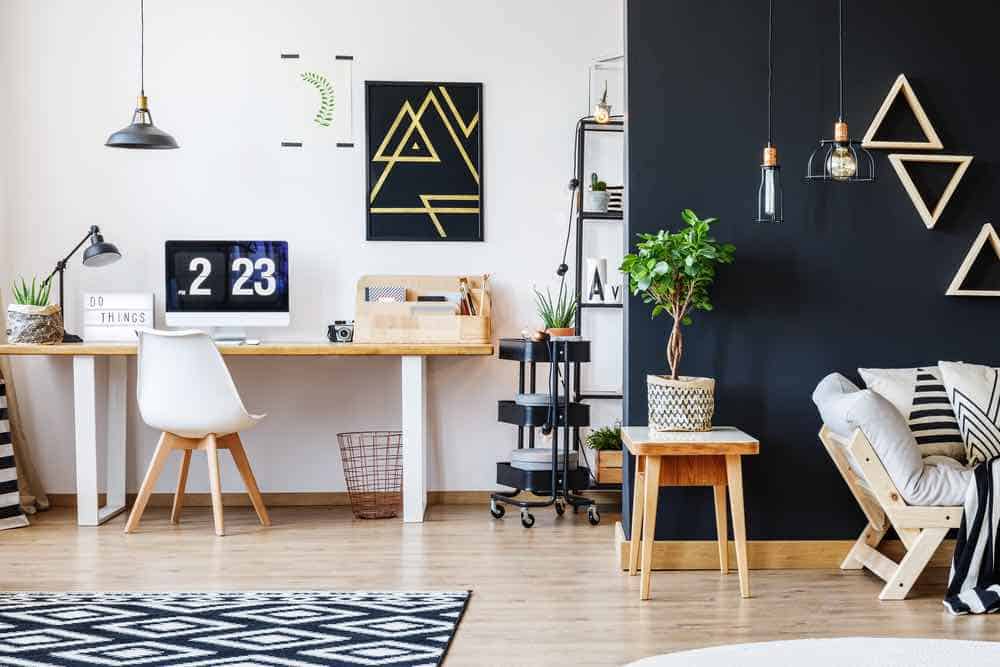 Choosing a theme doesn't have to be in-your-face. This graphic living room and home office is built on a few essential pieces. It looks pulled together, bright, and spacious despite the use of black throughout the rooms. The other walls, furniture, wood flooring, and wood trim are all carefully coordinated beiges, with warm undertones. The black is also a warm charcoal that they highlighted with wooden beige triangles as shelving/art.
You can create this look with any bold color. Navy blue, rich purple or burgundy would all be stunning in this room. Using a geographic pattern to repeat through the space (triangles in this case), ties the rooms together even though the elements have different aesthetics. The work area is bright and sunny, while the living area is the darker color for relaxation. Look to furniture for ideas for accent color, and then use pieces such as throw blankets, pillows, planters, and artwork to bring cohesiveness to the rooms.
If you want a light beige paint like this to pop in your space, try White Flour from Sherwin-Williams.
Monitor Undertones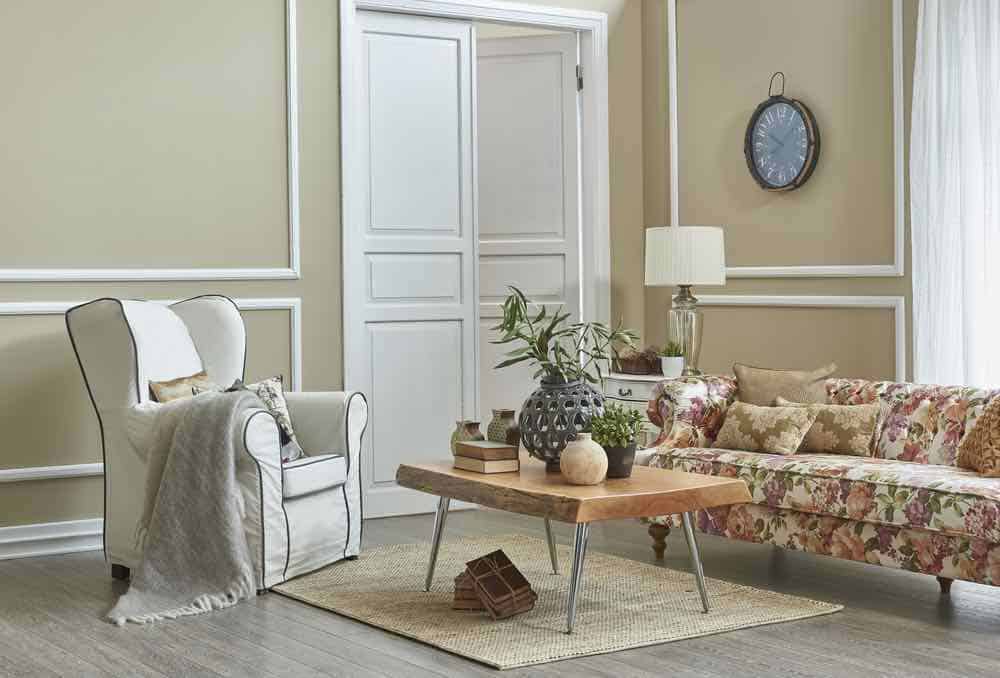 A classic room such as this one allows the focus to be on seasonal decorations, patterned furniture, and interesting wall pieces. The beige wall color is anything but boring because of the white trim. There are cool undertones that make the space feel open and breezy, especially in the flooring. An ornately decorated couch might feel staid in another space, but against the cool beige backdrop, the effect is of a sublime burst of color.
The important thing to keep in mind for a look like this one is to match undertones. The cool gray/beige of the floor would clash with the wrong wall color. A warm white for the trim would make the room feel off. Look to neutral paint samples to help find a shade of beige that will let the room shine rather than stifle.
For a luxurious cool beige color like this, check out Coastal Fog from Benjamin Moore.
Exercise Restraint with Monochrome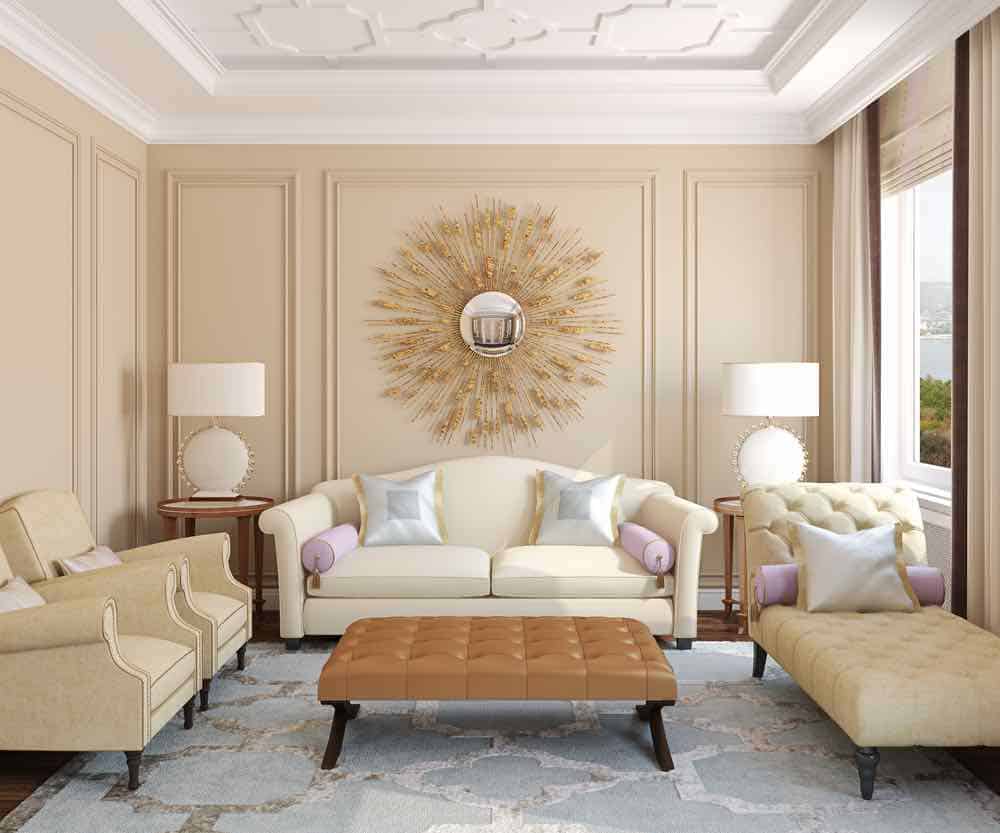 This luxurious living room makes monochromaticity pop with just a few choice elements. It's easy to make an eye-catching room with restraint using beige. Here, all the beige elements have a yellow undertone. The gold clock and gold accents on the furniture work in harmony with the beige walls, not against.
You would lose the subtle blue in the rug and pink of the accent pillows if the walls were anything but a warm light beige paint color. If you frequently feel compelled to change up your style and living space, consider a monochromatic approach. Rather than repainting the whole room, adding a new throw blanket or pillows can change the feel of a room with a lot less hassle and cost.
For a luxurious warm beige like this one, try Patience from Sherwin-Williams
Use Bold Furniture
Maybe you already have bold furniture that just doesn't feel right in the current room it's in. Or, you've had your eye on a couple of daring pieces but they won't work with your current interiors. Repainting in beige can change how furniture feels in a room and give you more flexibility for the future. A key part of letting furniture look its best in a beige room is paying attention to undertones. Selecting the wrong shade of beige will look as incongruous as a bold or pastel color against striking furniture pieces.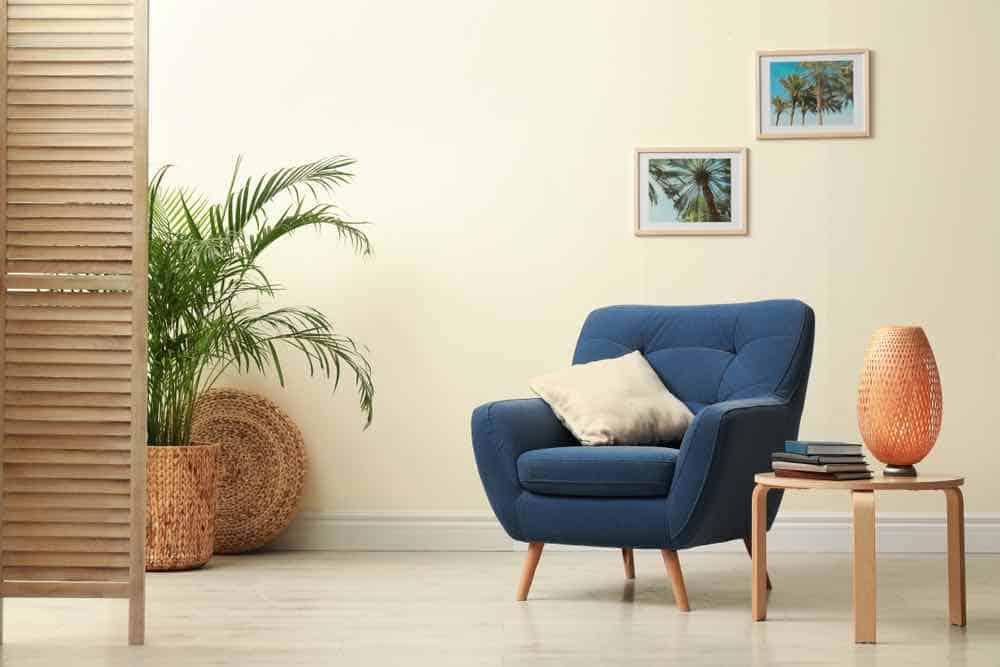 This simple blue chair looks daring against the beige wall behind it. With interior plants and the right art, the room color highlights the fabric and color of the furniture.
Try painting with Glass of Milk from Behr for this look.
---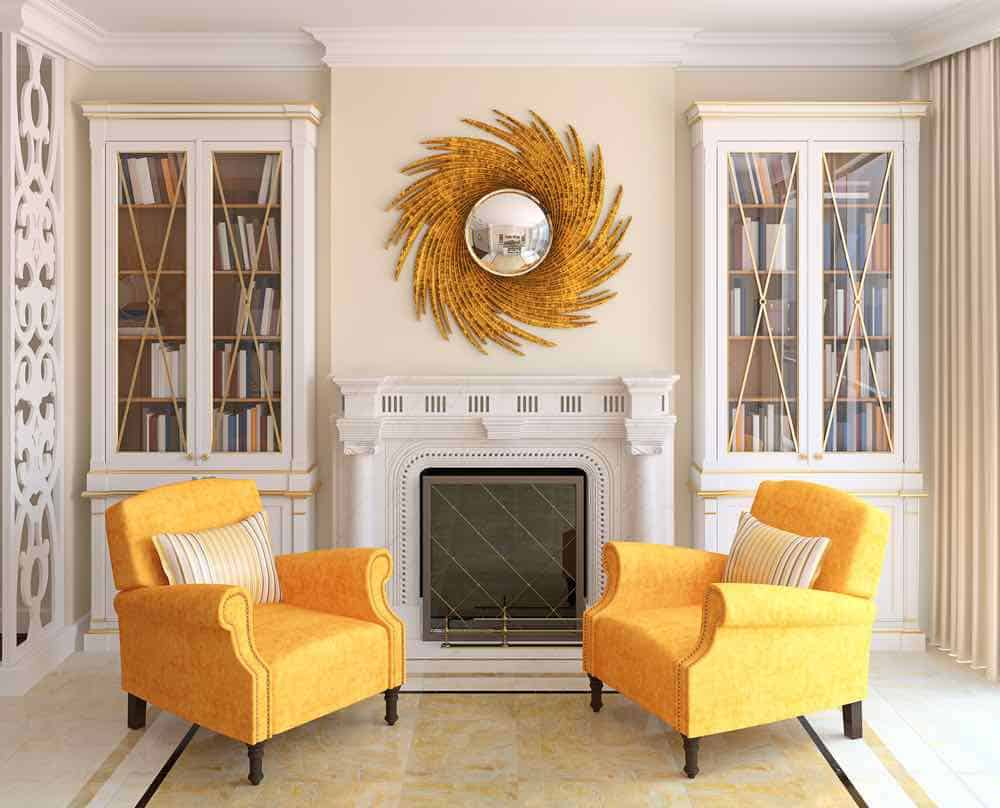 Committing to gold and yellow as accent colors might seem like advanced interior design, but all it takes is beige.
Use Polished Pearl from Behr to blend together golds and yellows.
---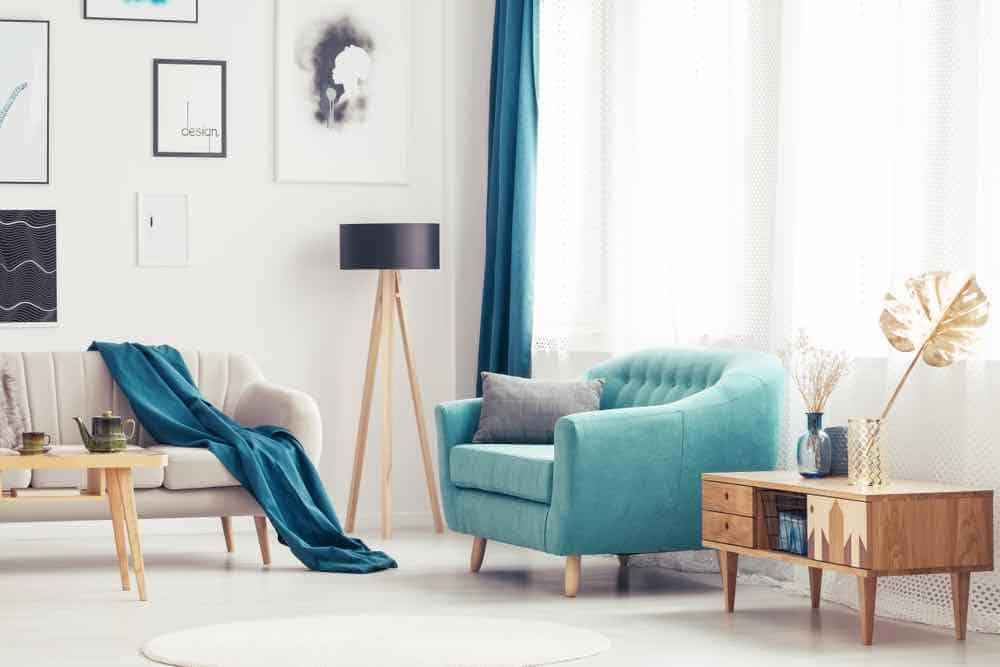 These gorgeous blues pop against the soft and dreamy beige walls. Small gold and black accents keep the room interesting, and the neutral wall color lets you make bolder decisions in the finishing details.
Try Billowy Down from Behr to emulate this ice cold living room.
Create Relaxing and Inviting Spaces
Whether you're a homebody or are always entertaining, beige can style a room for both. Decorating for entertaining is about making spaces inviting and relaxing so people want to stay awhile and come back frequently. Beige also lets you update finishing details frequently. Seasonal decorations for the holidays are easy to change, and a lot more fun when you're working with a neutral backdrop. Just keep in mind undertones and then grab a handful of home magazines and let inspiration run wild.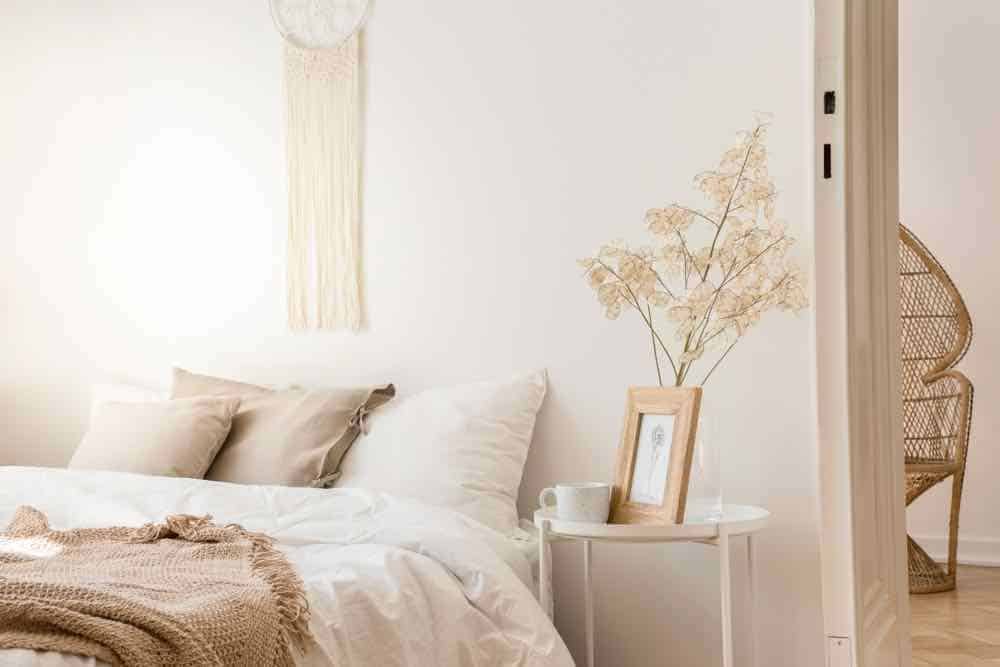 This cozy bedroom is bright and inviting in beige monochrome. Who wouldn't want to spend a lazy Sunday morning here? If it's not exciting enough, finish the look with a neon or bold throw blanket instead of a beige one.
Use Sherwin-Williams Honied White for a cozy room like this one.
---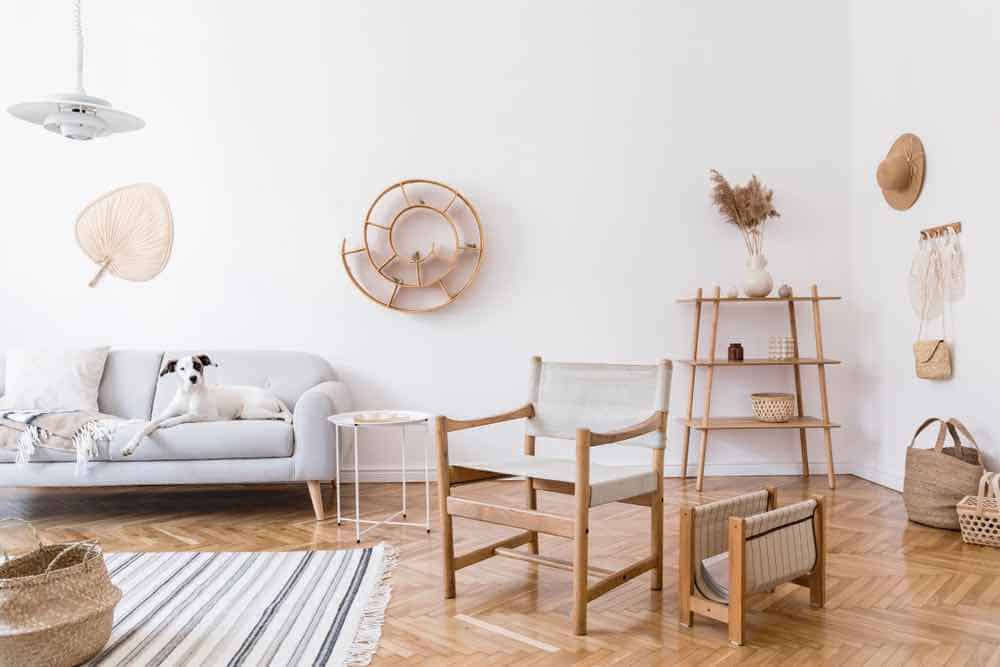 This gorgeous living room uses different undertones to create subtle excitement and tension. Cohesive materials tie the space together in the art and accent pieces, like natural grasses, fans, and woven baskets.
Check out Ibis White from Sherwin-Williams to get this look.
---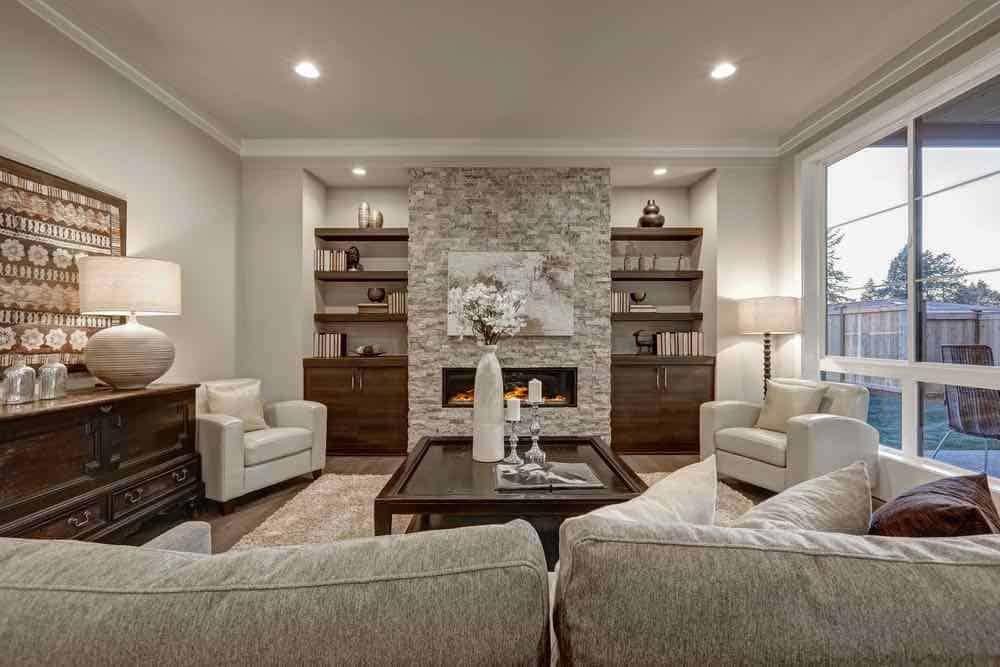 This cozy den is perfect for game night, it invites you to curl up and stay awhile. It uses the same colors as the outdoor space, making it feel open and airy despite the plush couch and rug.
Try a light beige paint like Snowbound for a cozy den like this one.
Breezy Beige is Perfect for Small Spaces
It's common knowledge that bright neutrals will keep small spaces feeling open and airy. By focusing on texture for style choices, small spaces will feel decorated but not claustrophobic. Neutral colors still glow even in rooms with limited light.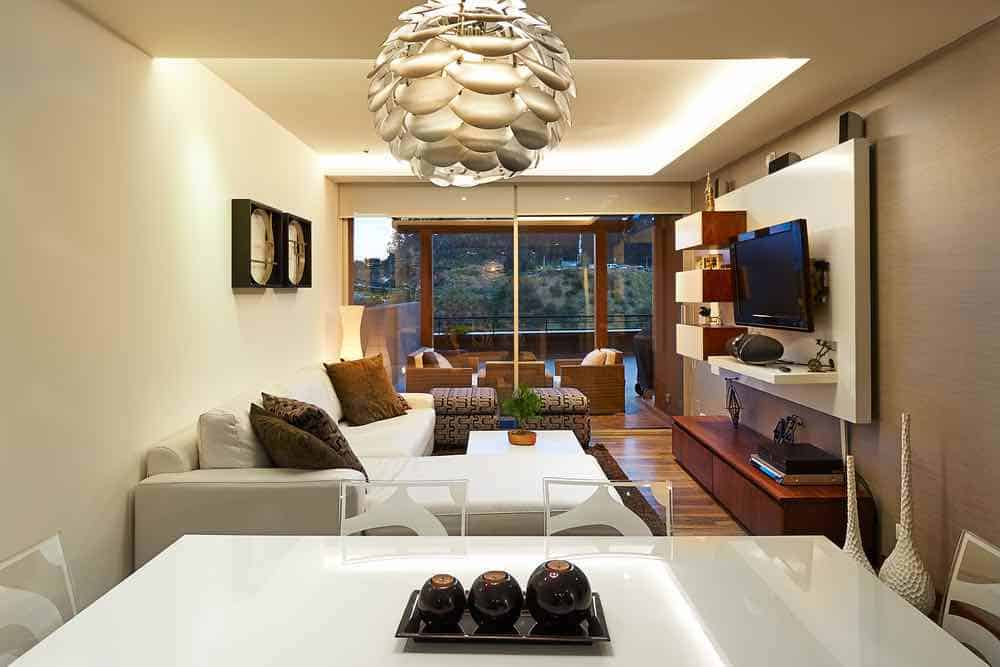 This row home living and dining room are narrow but structured with a few bold design choices. Going beige doesn't mean abandoning a striking contemporary look, but creates space for them to shine.
If you have a narrow space like this one, use Consentino Chardonnay from Benjamin Moore.
---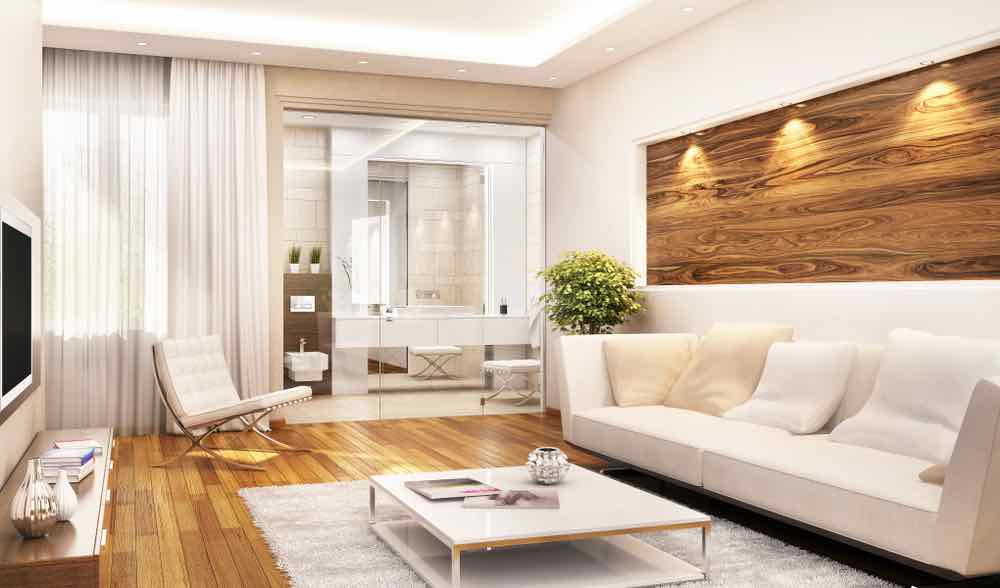 This small living room focuses on a few textures for coziness and a beige monochrome for the rest of the room. The result is an inviting space that doesn't feel cramped.
Use Summer Peach from Benjamin Moore with lots of cozy textures.
---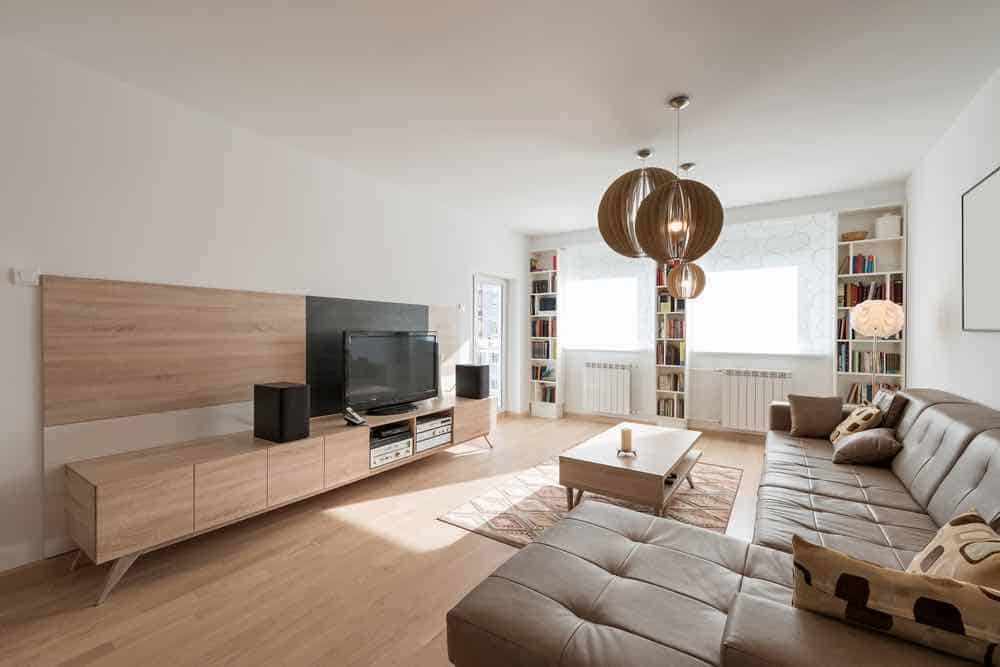 Even though there are small windows on just one wall of this room, it feels open and full of light. It's the different textures in the wood, walls, and the couch that create excitement in the room. Light neutral monochrome doesn't take much light to glow.
Keep a room bright by using Muskoka Trail from Benjamin Moore.
Beige Marries Different Styles with Ease
For those who have wildly different tastes shown by impulse purchases that are always clashing; beige is an easy answer. Maybe you're half contemporary and half vintage in your style, or you've moved in with a partner with a different aesthetic than you. Harmony is found in beige. The right neutral backdrop can mesh different styles easily in the same room.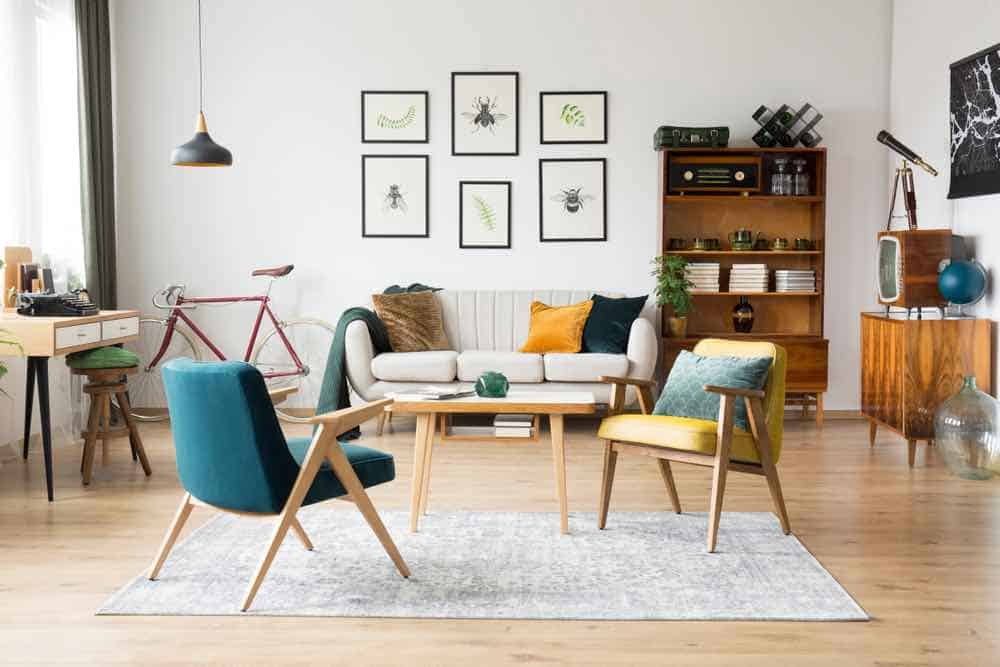 Both mid-century modern and contemporary furniture look at home in this room. Bright colors power-clash in the sitting area, and the art on the walls and decorative pieces in the bookshelf all work together. The beige of the walls and floor blends the styles together.
Check out Behr's Coconut Twist for a backdrop to blend styles.
---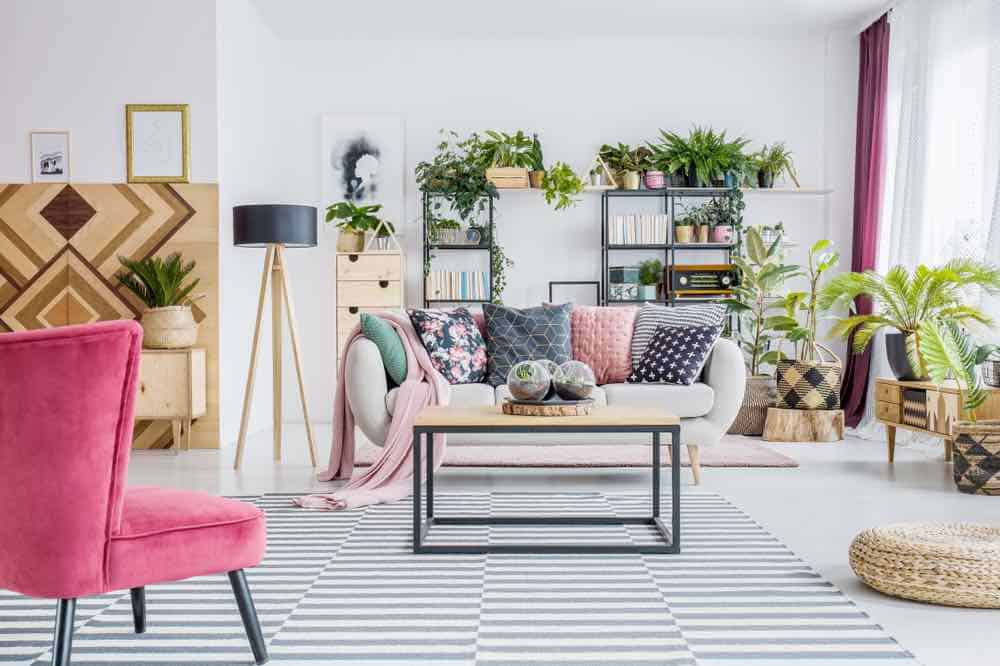 Such varied patterns, styles, and colors demand large areas of neutral color and texture to prevent the room from feeling crowded or claustrophobic. Lush greenery ties many of the elements together, and while the patterns and colors differ greatly, a geometric theme running throughout.
A neutral color like Shea from Behr is great in a room like this one.
Beige is Better in Nurseries
Your first inclination may be to paint a nursery pink, blue, or yellow. But for kids' rooms that frequently undergo complete renovations of taste, beige is the safer bet. As kids grow, their tastes and styles change drastically. And, they outgrow or wear-out furniture, requiring replacements that may clash with dated wall colors. Using a high quality beige paint early on can save you the trouble of repainting a kid's room every few years. Instead, invest in furniture and decorations that will shine and engage kids' interests, with beige walls that will last until puberty.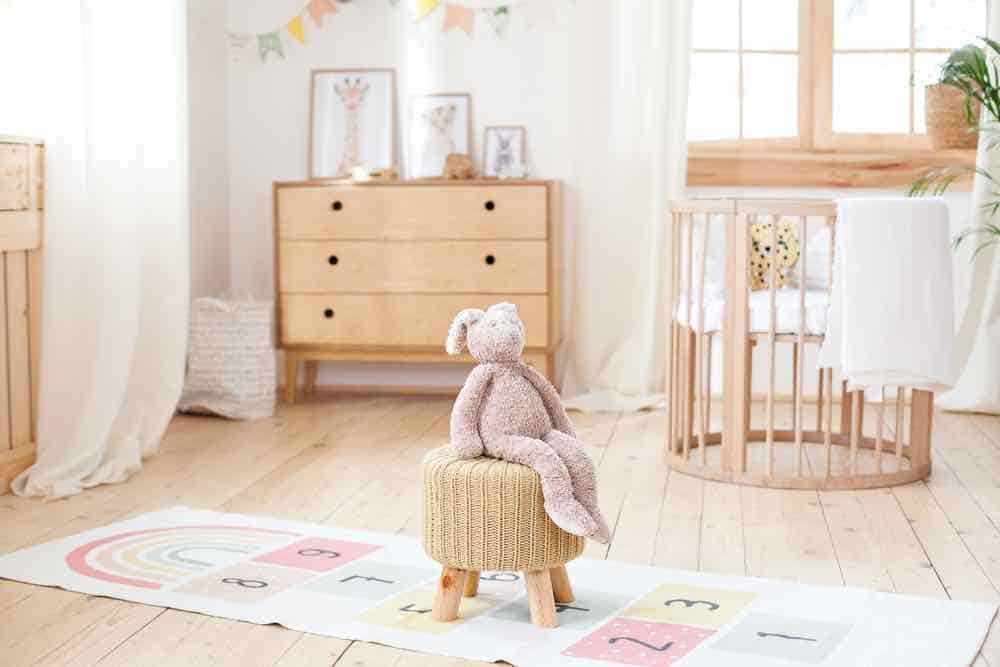 This light and breezy nursery focuses on art and games for color. The Scandinavian style adapts to changing interests and age-appropriate decor.
Try Paperwhite from Sherwin-Williams for classic nursery style like this.
---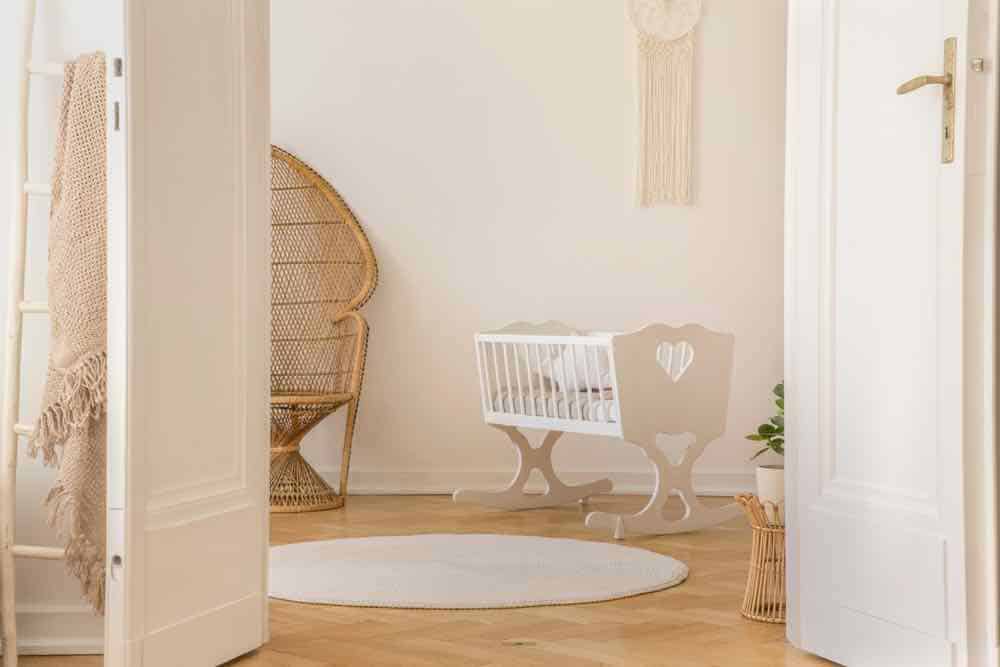 This bright and airy nursery soothes both moms and babies, with repeating textures and indoor plants it still feels cozy.
Gardenia from Sherwin-Williams creates a warm and inviting nursery.
---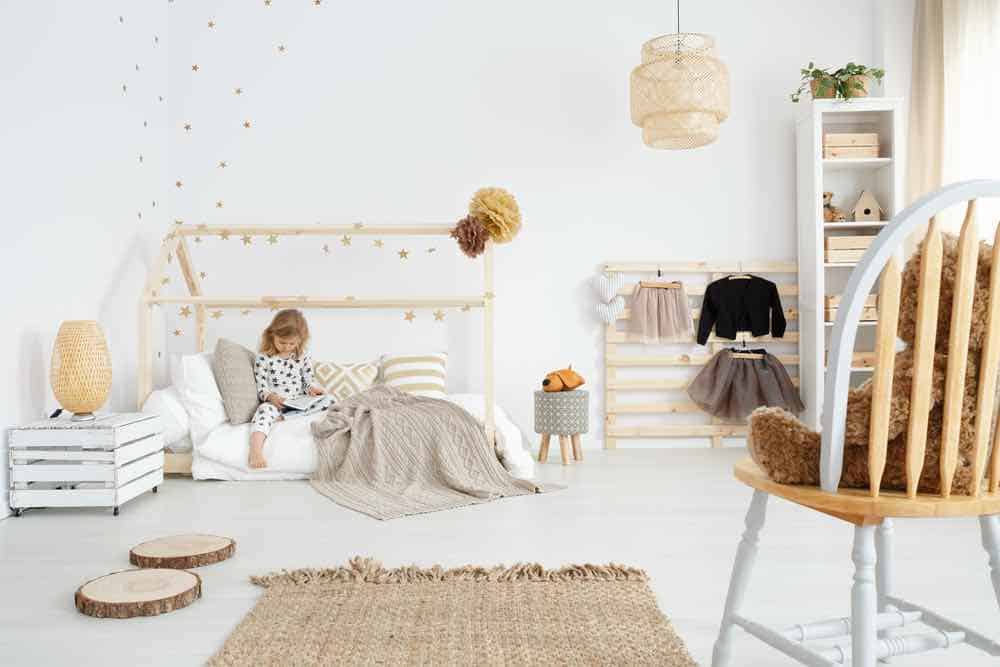 This room for a young child is a foundation for imagination to run wild. The beige walls let toys and games stand out and grab attention, and they're just waiting for brightly colored art to adorn them.
For a light beige color in a child's room, use Rock Candy from Sherwin-Williams.
Beige Brings in Sunlight
To make sunlight warm and inviting all day long, decorate with light beige colors. Pure whites are too harsh and cold for home decorating, but light beige with warm undertones will keep rooms bright and sunny. Especially in rooms with dark wood furniture and bold accents, light beige cradles the room in inviting warmth. If windows draw attention to outdoor spaces, light beige paint will keep focus on the exterior and highlight the most eye-catching aspects of the room.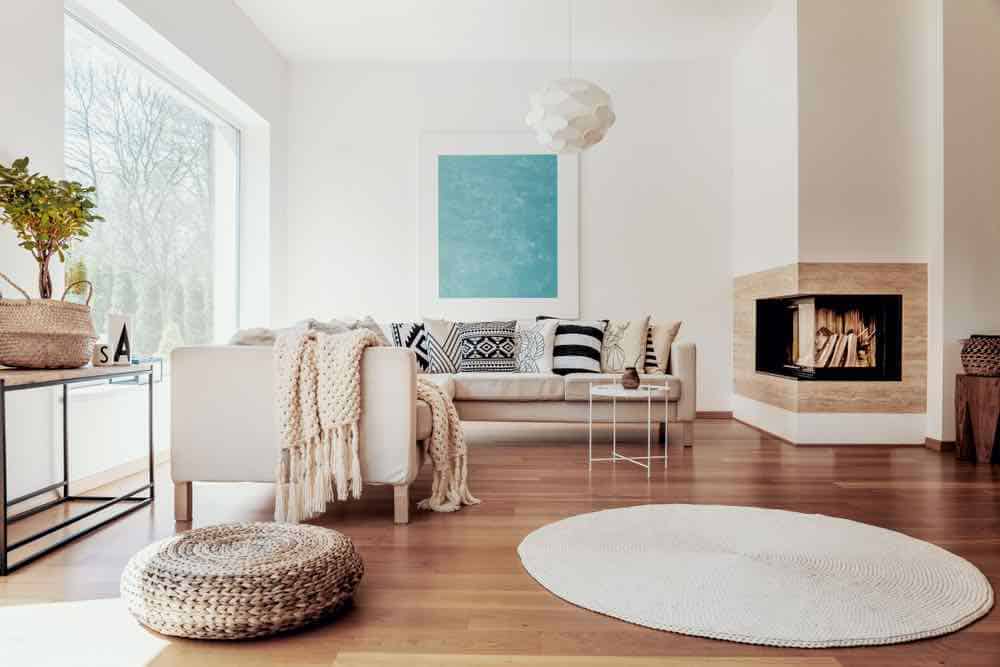 Gorgeous beige monochrome is lit up from the picture window. The art on the walls echoes the same colors as outdoors, making the space feel even larger and more airy.
Use Adobe White from Benjamin Moore for airy spaces.
---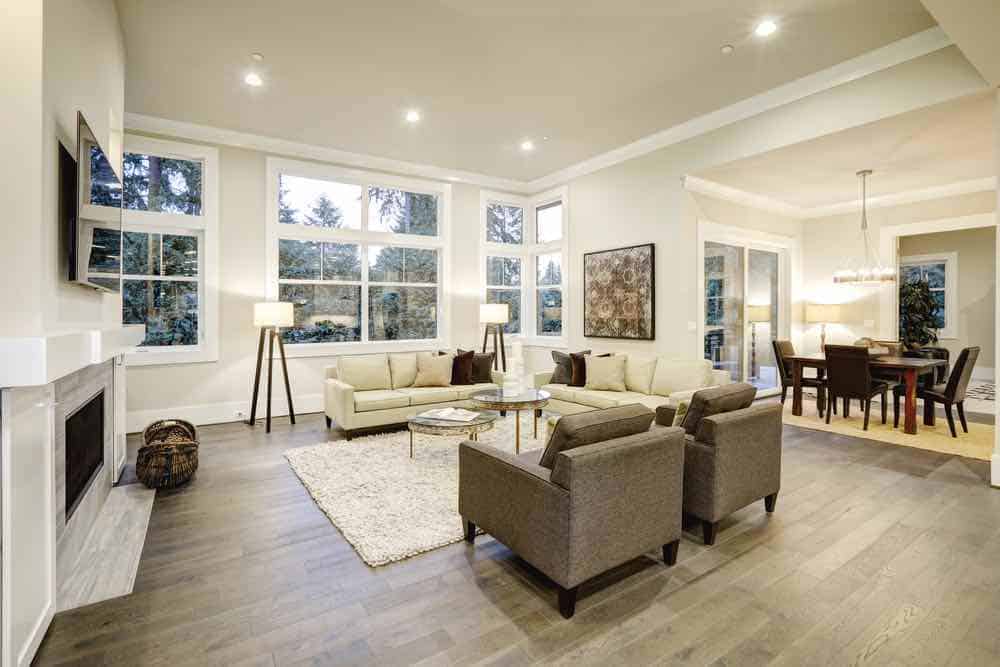 The light beige paint works well with the dark wood flooring and furniture. Beige walls reflect light throughout the room, which feels cozy despite being large and open. The darker neutral colors have the same undertones as the beige to make the room feel cohesive.
Benjamin Moore's Royal Silk creates a cozy luxurious feeling in a room.
Unify with Light Beige Colors
Open floor plans are all the rage but can make decorating something of a nightmare. Especially if you want to decorate individual rooms to feel different. Spaces for just family and spaces for entertaining or working all have distinct styles and aesthetics. Using different color schemes and wall colors may make an open floor plan feel cluttered, chaotic, and unplanned. Instead, light beige paint can unify a space while letting different rooms express themselves with furniture, accent colors, and style.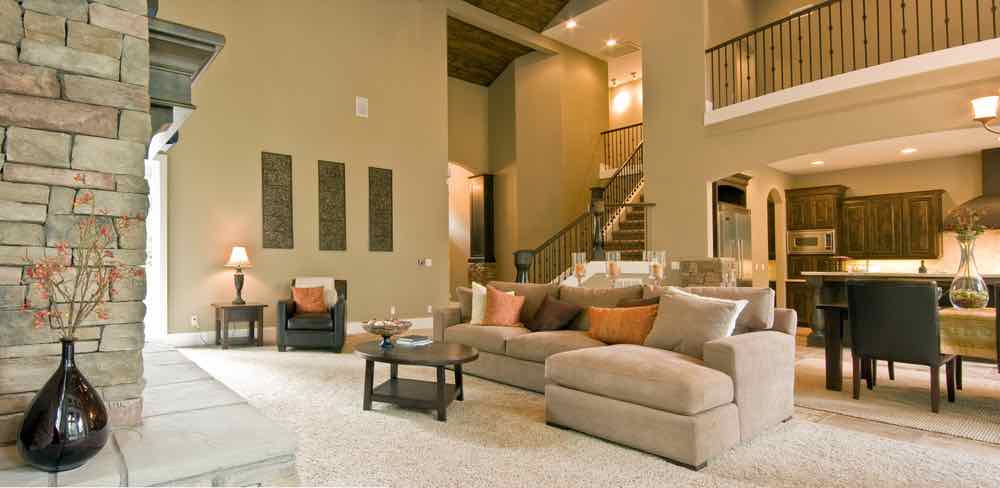 This home has multiple interior balconies and an open kitchen. The space is large and airy but would feel chaotic if the walls were a different color in every room. Instead, with light beige paint, the second floor, den, and kitchen are all unified. Dark wood furniture and railings also connect the space without feeling oppressive or cluttered.
Champagne Wishes from Behr is great for open floor plan homes.
---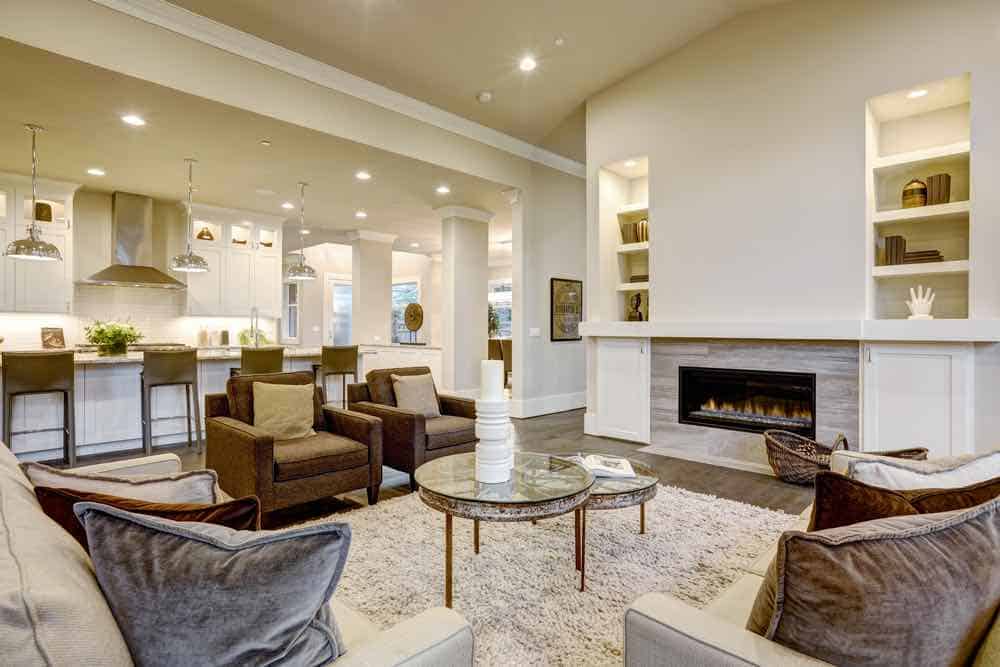 This contemporary home has an open kitchen, with a breakfast bar right alongside the living room. The same light beige color connects the kitchen, the living room, and the rest of the open floor plan. Using cool undertones in the kitchen cabinets and tiles separates the space from the warm undertones of the furniture in the living room. It's a luxurious monochrome with subtle differences.
Behr's light beige paint color Twinkling Lights keeps a whole home bright and sunny.
Use Light Beige to Highlight Artwork
If you've been focusing more on your art collection than on interior design in your space, using light beige paint is an easy style choice. Art of varying styles from different artists can hang together on the same wall as long as you use the right shade of beige. Focus on undertones and creating a cohesive wall when hanging artwork together. If just moving into a new home or undergoing renovations, consider settling on a beige color and then collecting work that'll pop in the space. Home accents can work similarly. Find lamps, throws, and rugs that you love and let them be the focus of the room instead of the wall color.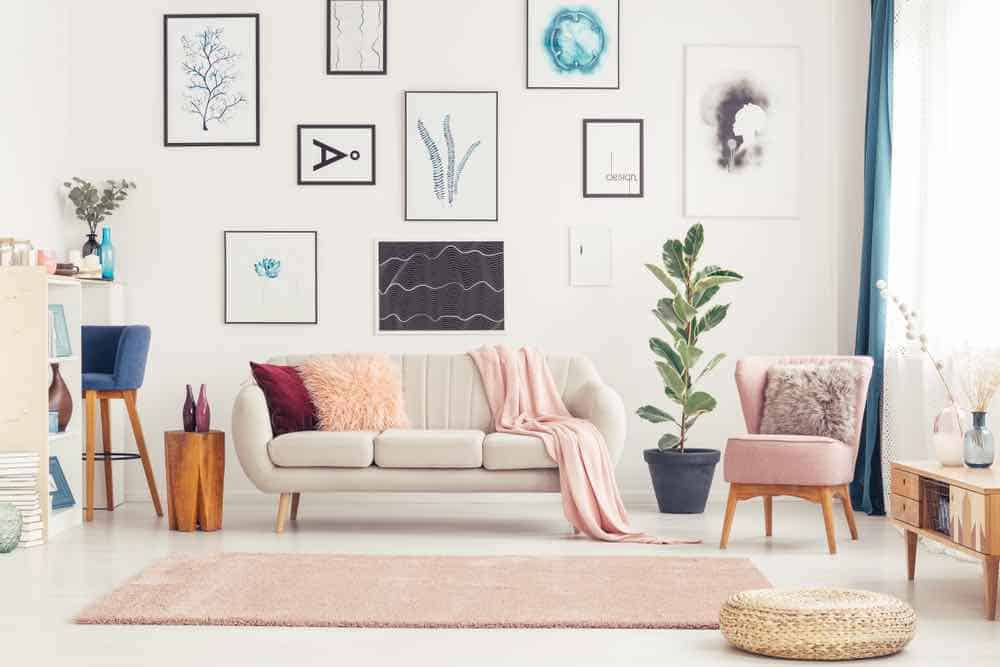 This room is vibrant with a color scheme of pinks, purples and blues. The warm and cool colors contrast against each other, but everything works well with the light beige color of the monochrome. It's easy to make a dramatic change to the style of this room with just a few new purchases; change the pillows, rug, or a few pieces of art.
Mayonnaise from Benjamin Moore makes art and decor stand out.
---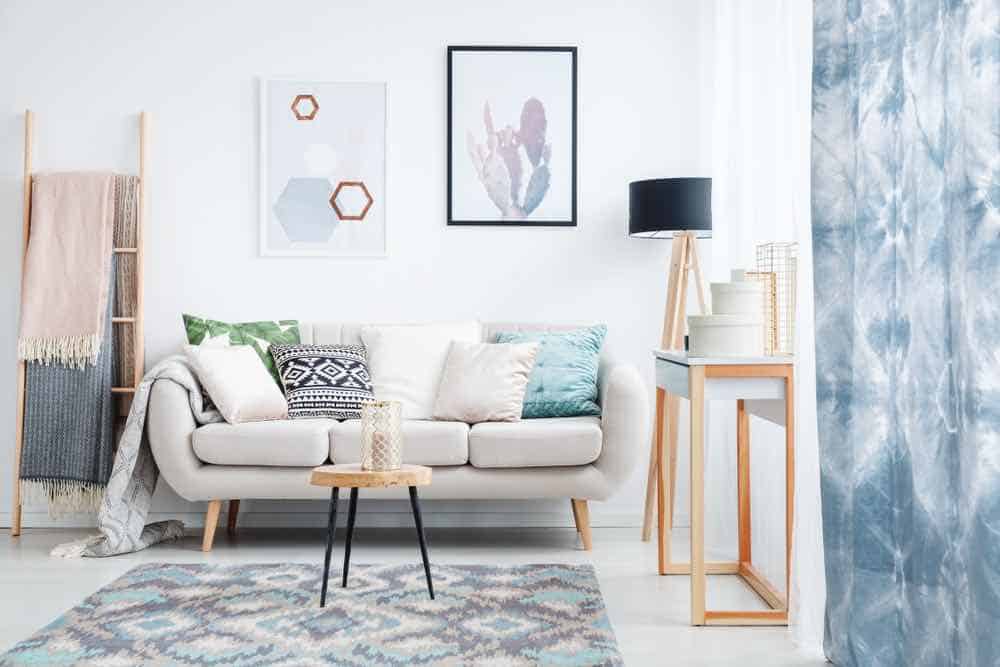 This expertly designed room draws all of its inspiration from the paintings on the wall. The watercolor cactus has the same tones of blue and pink that appear in the rug, curtains, throw blankets and even the other painting.
Snowfall White from Benjamin Moore helps even the most subtle of colors stand out.
Home Renovation in Beige
Interior painting is one of the most affordable home renovation projects. The return on investment is over a hundred percent, especially when you use the best interior paint, and take the time to do the job right: from walls down to painting trim. While it's an easy way to improve your home, it isn't without its challenges. Eliminating some of those challenges is as simple as using the right tool for the job. Don't waste time rolling on wall color, if a sprayer will do the job. Since it's an affordable DIY project, invest in high-quality equipment from brushes to rollers and drop cloths.
Once you're outfitted like a pro, you'll feel a professional's confidence when picking colors. If you've done your research, don't be afraid to experiment. Once you've settled on beige for your walls, you can try white, other neutrals, and rich jewel tones in furniture, trim and accents. These decorating tips will help your home look professionally decorated and uniquely you.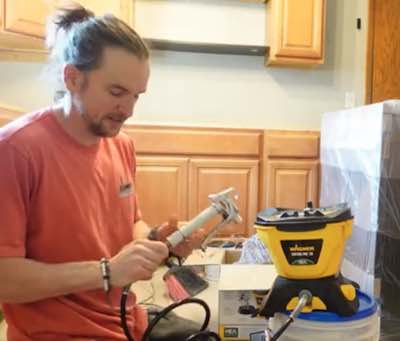 I've been a professional painter since 2001 and spent the last 12 years specializing in kitchen cabinet refinishing. I started the DIY Painting Tips blog in 2015 to start sharing everything I've learned over the years and help all the people who'd rather tackle their painting projects themselves. In 2019 I started the DIY Painting Tips Youtube channel where I publish in depth videos all about kitchen cabinet painting, painting gear reviews, and interior/exterior tutorials.