Bathroom paint doesn`t get enough hype. Picking the right color will transform your bathroom into a source of energy at the start of the day and relaxation at night. You don`t have to spend your evenings in the tub to appreciate style.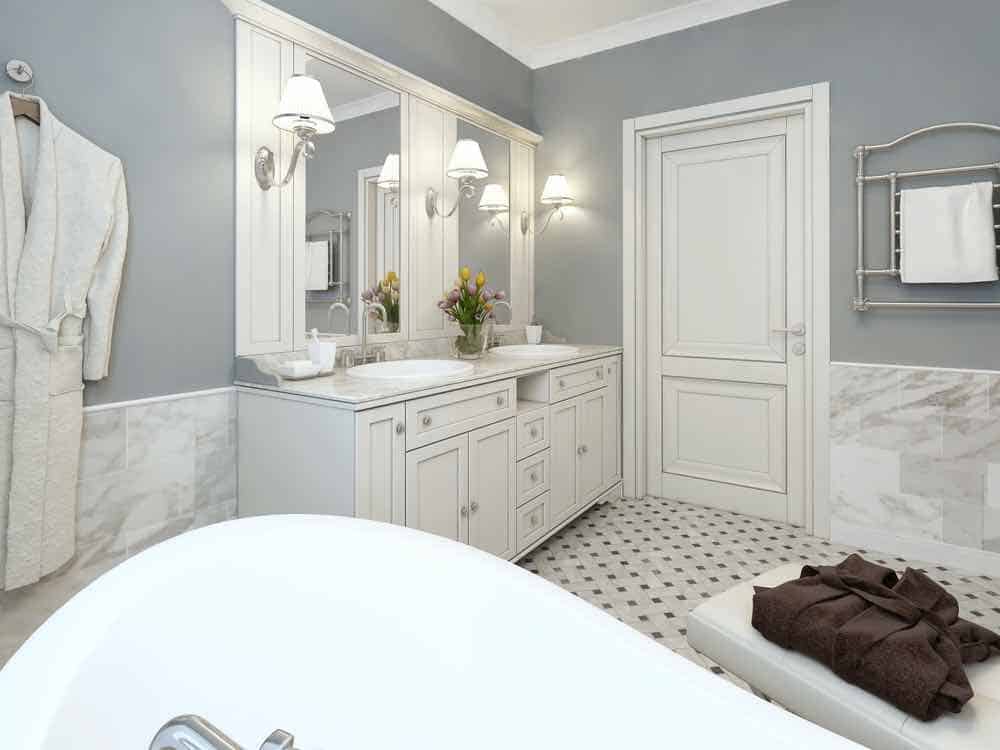 Just flossing in a chic space changes the way you approach the day. Besides, maybe once you redecorate the bathroom, you`ll become a tub-person. This is our ultimate guide to transforming your bathroom with 21 unique colors.
If these shades aren`t perfect for you, they`re guaranteed to inspire you to bold choices and gorgeous paint colors. Even if your perfect transformation is a white bathroom. Once you've picked your color, check out the best paints for bathrooms.
Best Bathroom Paint Colors
These seven paint colors are some of the best bathroom paint colors. Whether you want subdued modern style, or out of the box inspiration, check out these shades.
Coco Malt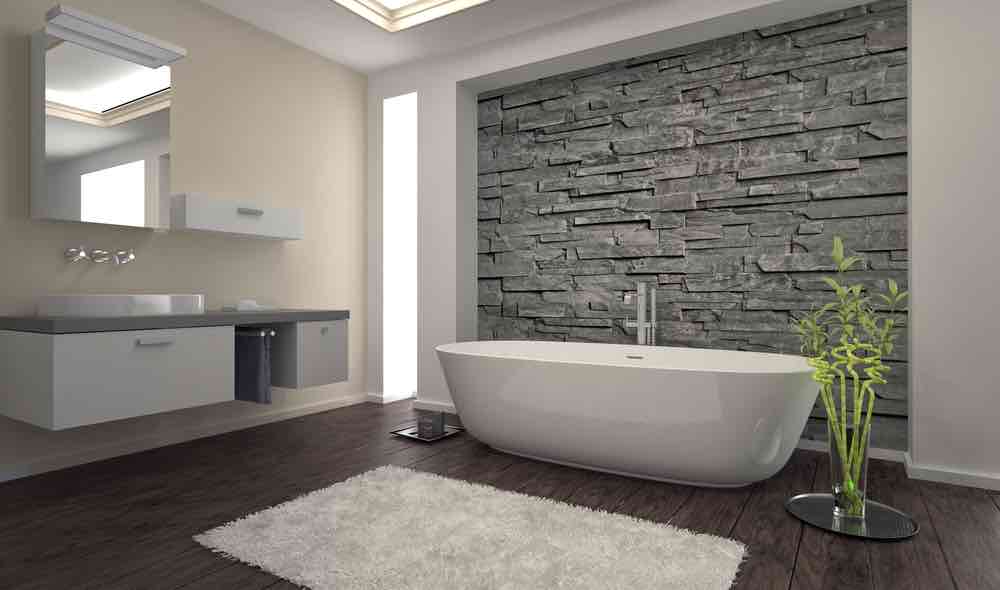 When you use bold tiling or alternative materials to decorate your bathroom, you need paint that will highlight the feature without overshadowing it. We`re big fans of strong beige, and Behr`s Coco Malt is just one look that does just that. It`s warm, inviting, and glows under soft lighting. It`s one of those colors that soften strident materials, like metal finishes, stone tile work, or concrete countertops.
Enchanted Wells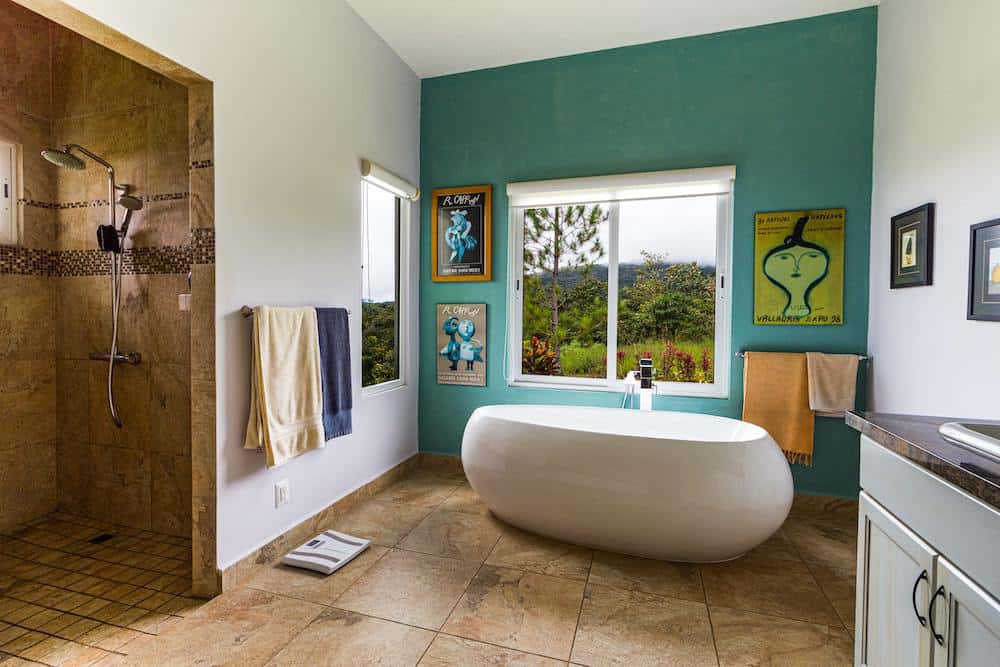 There are green bathroom paint colors that aren't pastel. Behr Enchanted Wells paired with white trim and walls creates a look for an unusual layout. The homeowners here picked their favorite parts to highlight; a great tub and window to paradise. Green bathroom paint dovetails with the view through the window, and while the shower is requisite, the tub is where you want to spend your time in this bathroom.
Amaryllis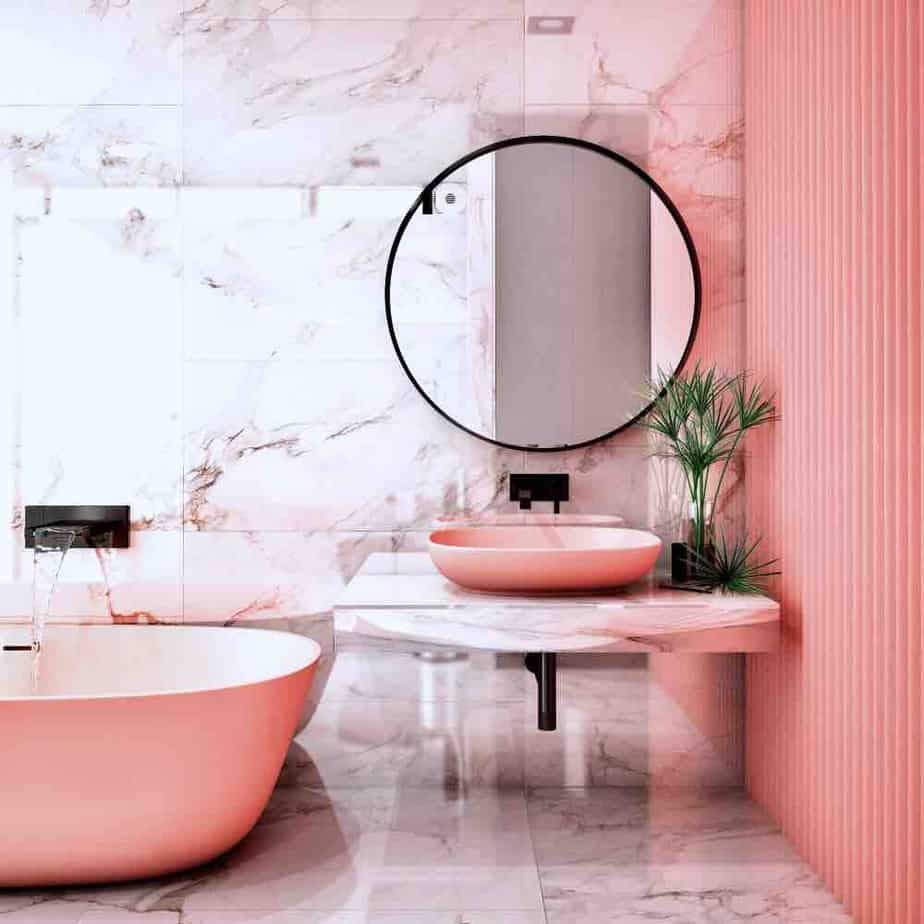 Some bathroom paint colors are more about personality than aesthetics. This pink is a whole mood. Sherwin Williams Amaryllis matches the sink, tub, and soft pink marble floors and walls. Strong monochromatic coordination is another way to create cohesion and style in a compact space. Just make sure you really love the paint color. Wondering how to paint a bathtub? Check out our post here.
Deep Earth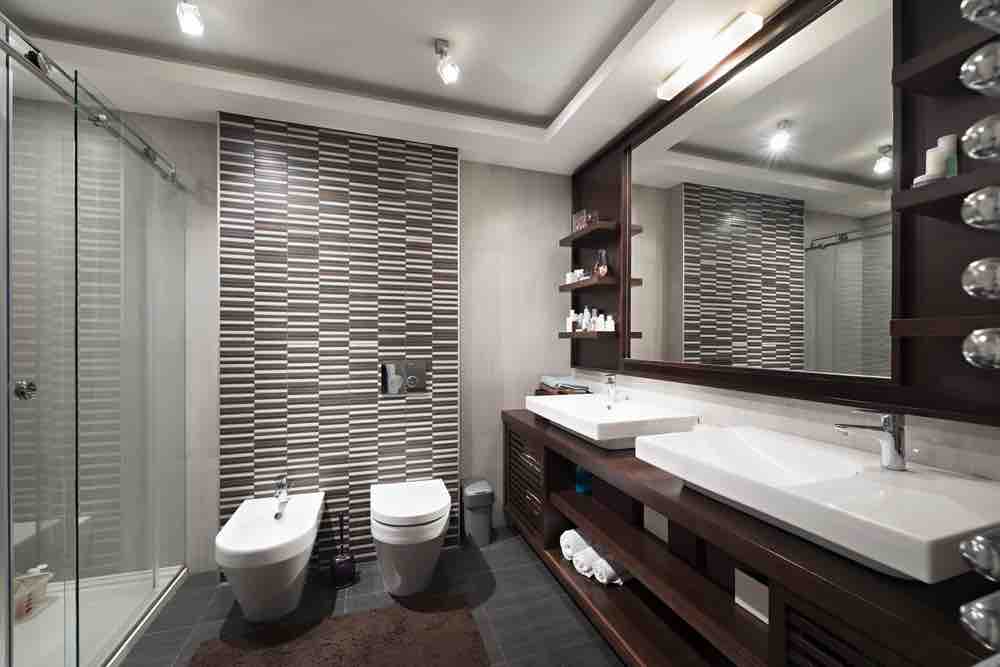 You can get this look of rich chocolate brown bathroom color from Benjamin Moore with Wenge, or Valspar Deep Earth. It shows the way rich dark colors don`t always make painted bathrooms look like a dark cave. Instead, the dark paint pushes that massive mirror over the dual sinks into the forefront and bright white plumbing features create drama and tension.
Maple Glaze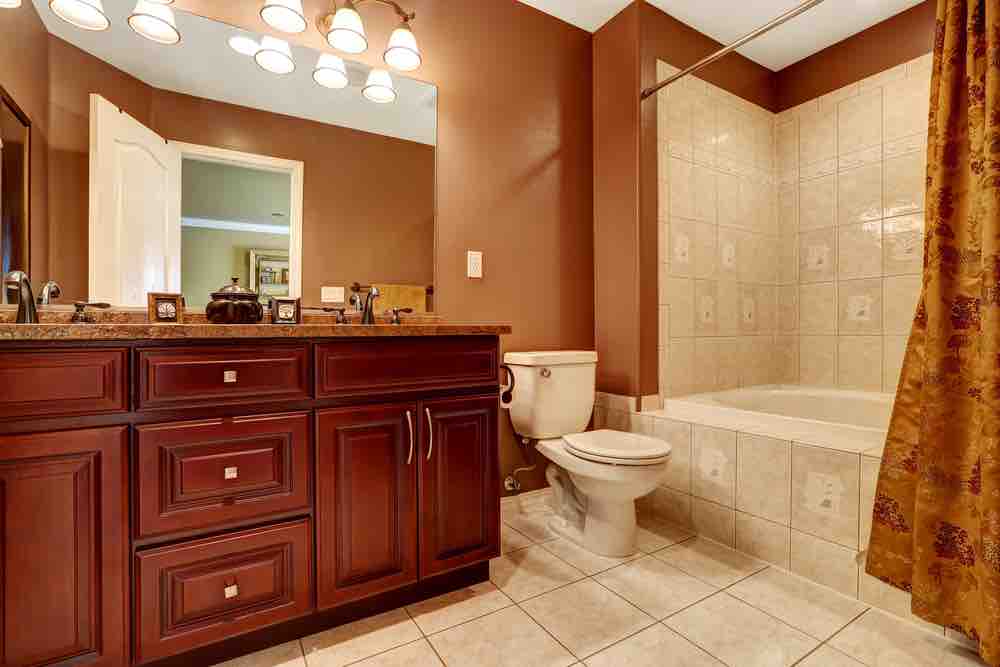 A monochromatic look doesn`t always mean a single color. The variation in this color family keeps it interesting. Behr Maple Glaze is a unique choice, but it works well with light tiling and dark-stained wood. Since people may feel hemmed in by the traditional pastel look, an unexpected bathroom paint color may be the best for you. This post will help you paint cramped areas (like behind toilets) like a professional.
Harmony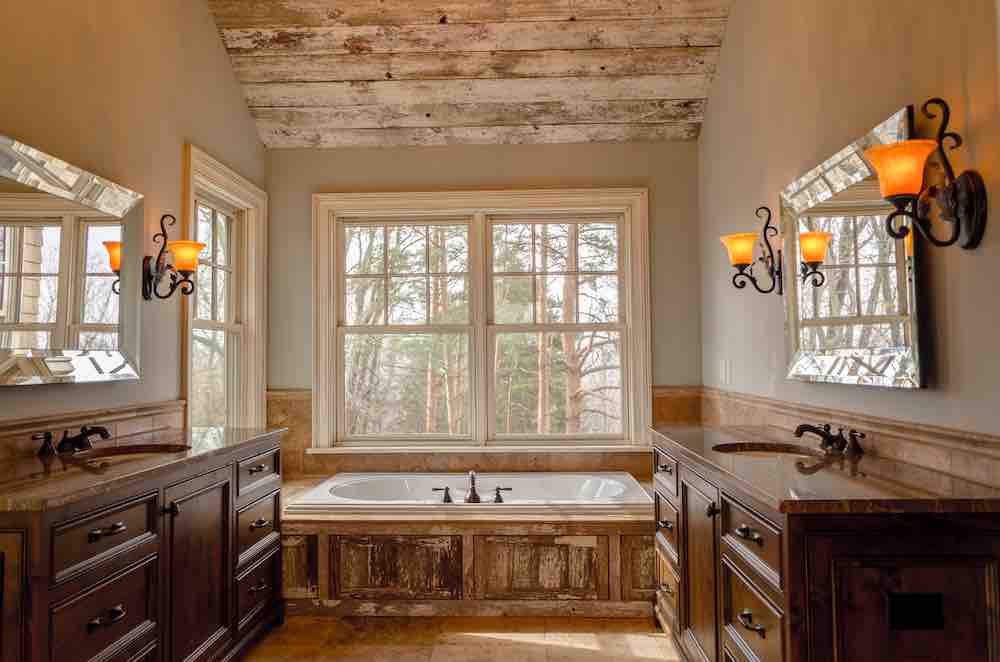 Inspiration for a light gray paint color like Benjamin Moore Harmony can come from right outside your window. Depending on where you live. If you`re a city dweller, you may not want to highlight the concrete wall across from your bathroom window. But with a view like this one, create a nature-inspired oasis with all the focus on the tub.
Pure Joy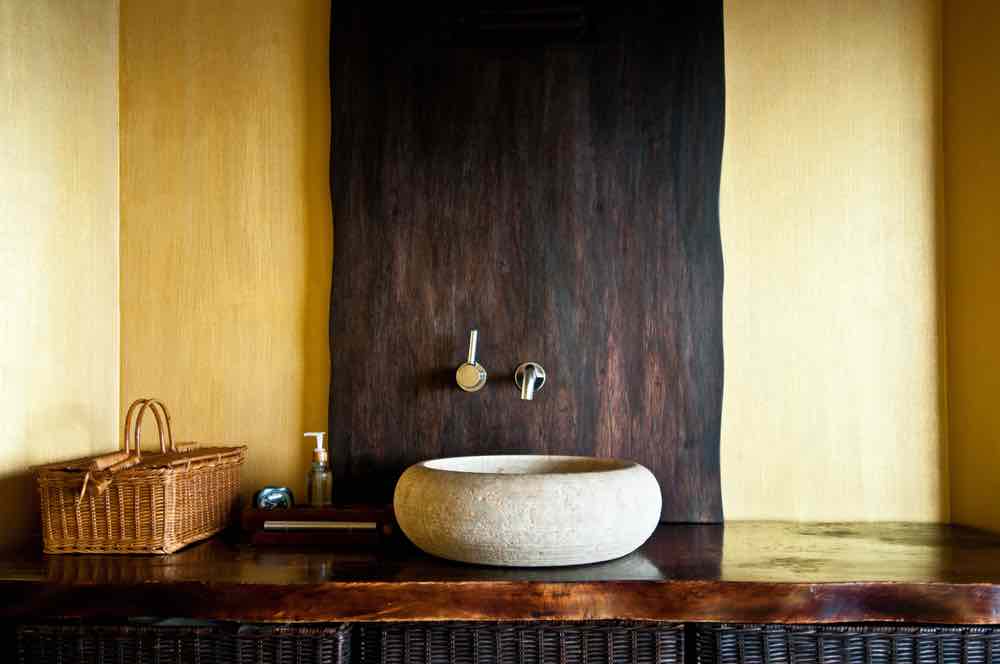 You can get a little more daring and creative with the paint color in powder rooms because you aren`t coordinating with tile and plumbing fixtures. Benjamin Moore Pure Joy paired with a dark live-edge wood vanity creates tension and drama while keeping a compact room airy. We`re just obsessed with all the nature and complexity packed into this tidy space.
Best Paint Colors for Small Bathrooms
Whether you`re painting a small bathroom, or redecorating a half-bath; use a unique approach for compact spaces. Every detail counts. Look at these small bathrooms for inspiration.
Sea Air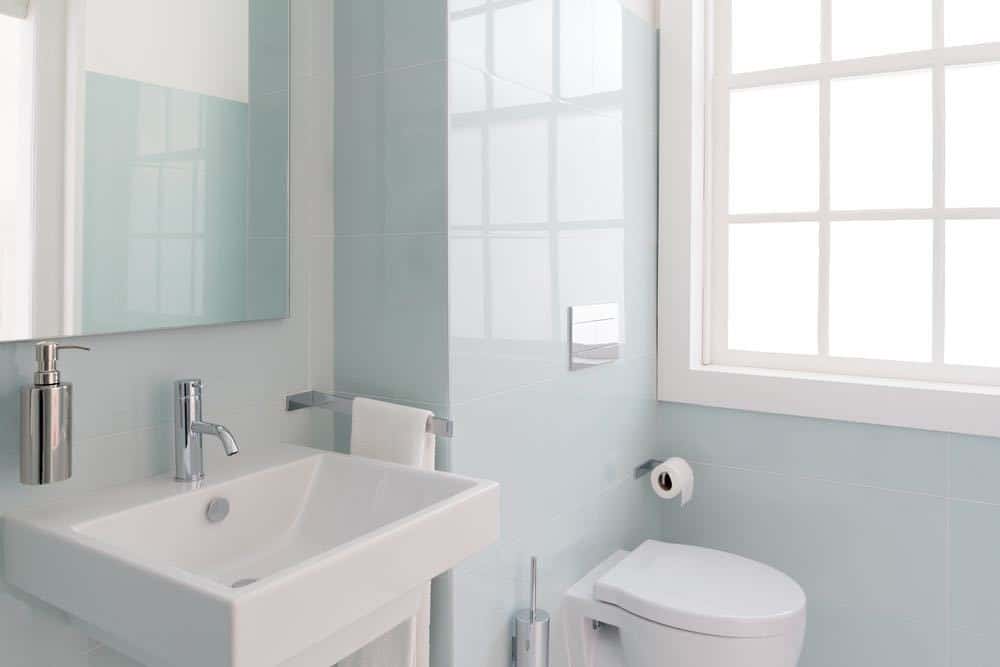 Blue and white is a classic look. But in a small bathroom, you just can`t beat the classic style. Bright white alone can feel sterile, but adding a bathroom color like Valspar Sea Air softens the space. Stainless steel fixtures are classic and clean, but rose gold would add femininity and contrast with the blue, or consider antique brass for drama and depth.
Air Blue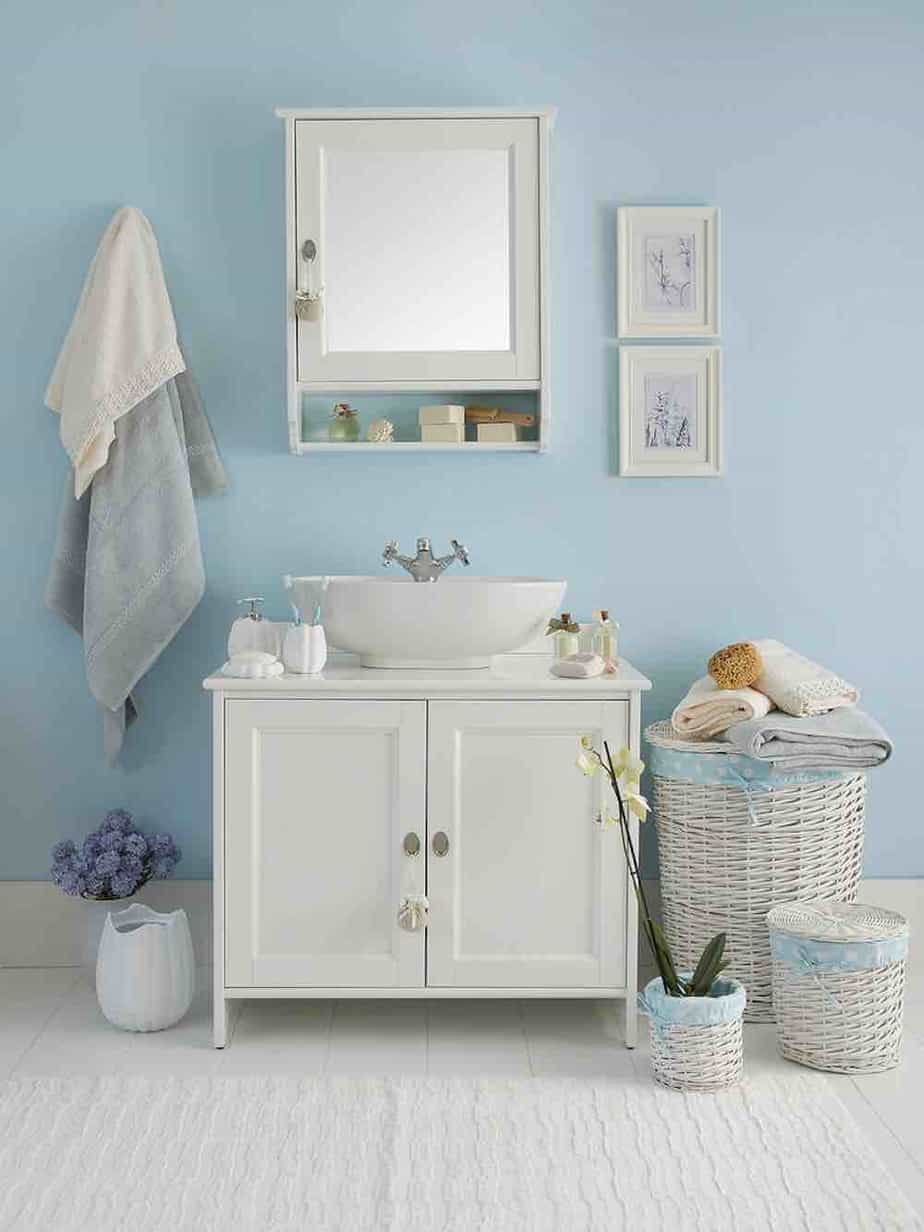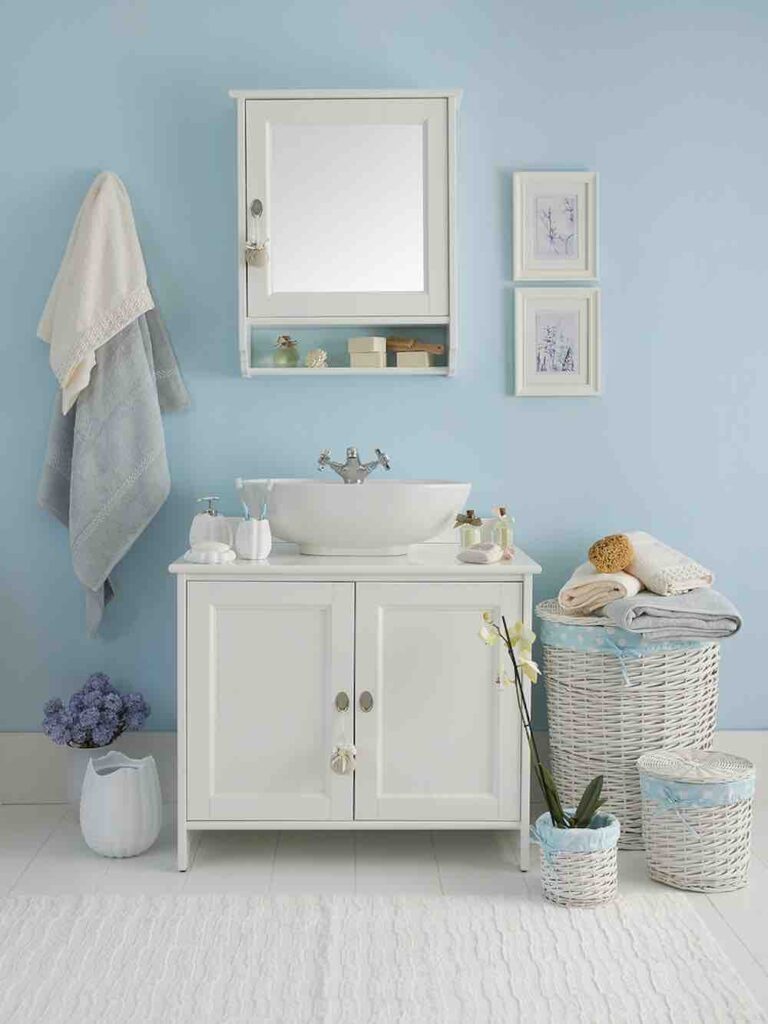 Here`s another blue bathroom paint color, with Behr Air Blue. But instead of clean modern lines, the vanity and accessories make it a darling shabby chic space. It also shows how to decorate a room for utility; be realistic about how you use the space. If you`re part of a busy family aspiring to get clothes into the laundry basket, style the basket to be part of the space. With a few potted plants, ribbons on wastebaskets and you won`t have to worry about shoving everything in a closet when company comes over.
Purple Easter Egg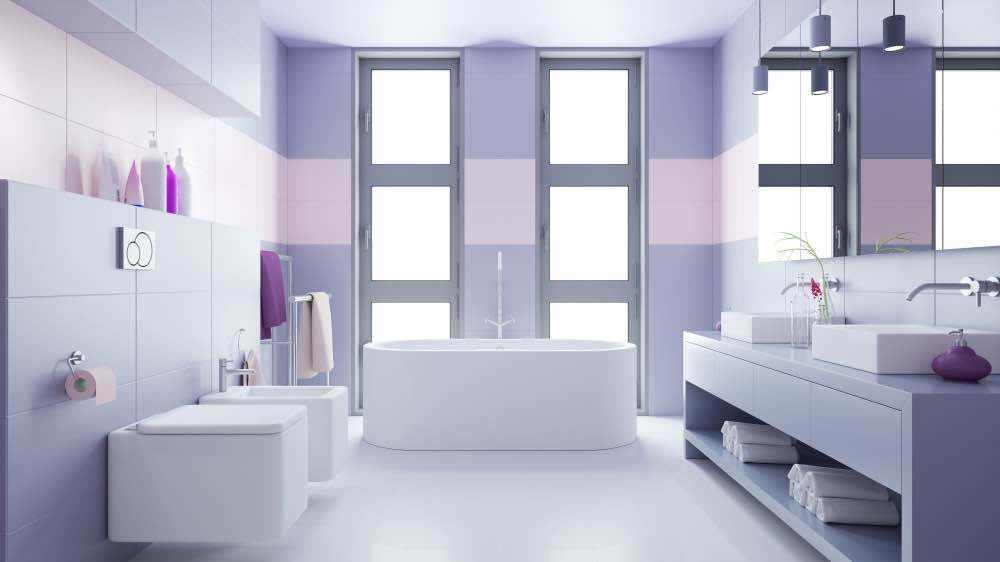 Get a load of this contrast! Benjamin Moore Purple Easter Egg is a straight-up treat as a bathroom color. It`s paired with a pastel pink for a look we refer to as power clashing. Not unlike decorating in monochrome, when you power-clash in a room, make sure the colors are flawless together, and have fun shopping for accessories that fit the motif.
Should You Paint a Bathroom Light or Dark?
You should feel empowered to do either. Fewer people choose dark bathroom colors, but that doesn`t mean the look of light colors is better. Check out the best dark paint colors for bathrooms.
Pacific Pleasure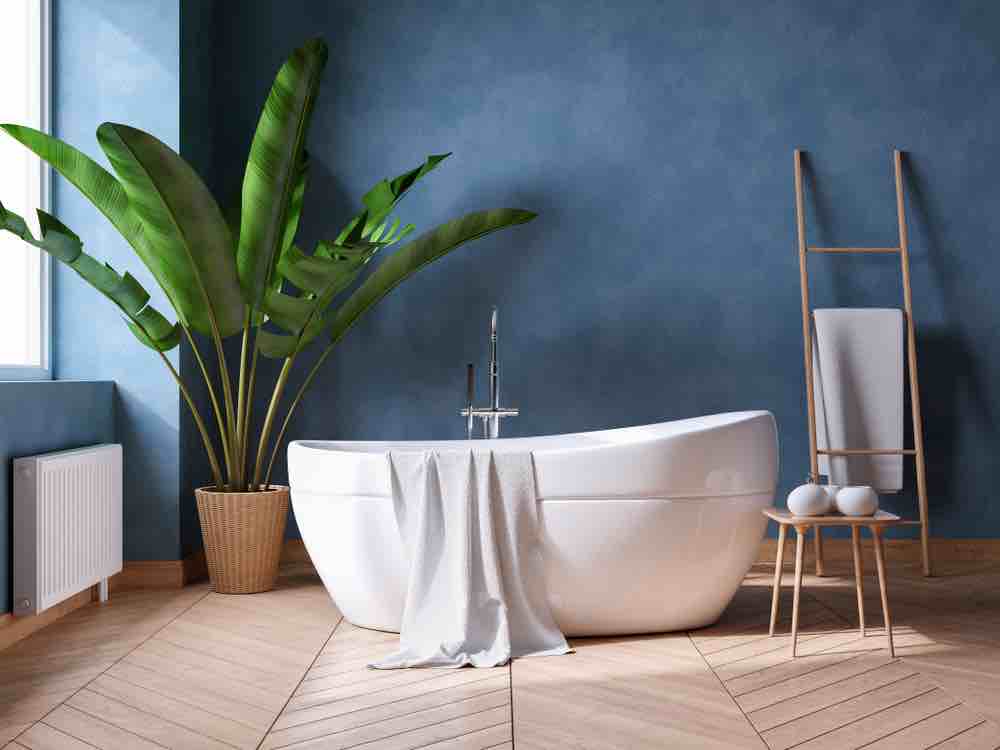 Valspar`s Pacific Pleasure layered over a lighter blue or light gray shows how a faux finish paint color softens a look. With so much tile and porcelain, it's hard to make a soft, inviting space. Natural wood accents and potted plants brighten up a dark blue bathroom color. We love faux finishes, but they take some practice to get right. Most home improvement stores offer workshops for free where you can learn a variety of techniques.
Binary Star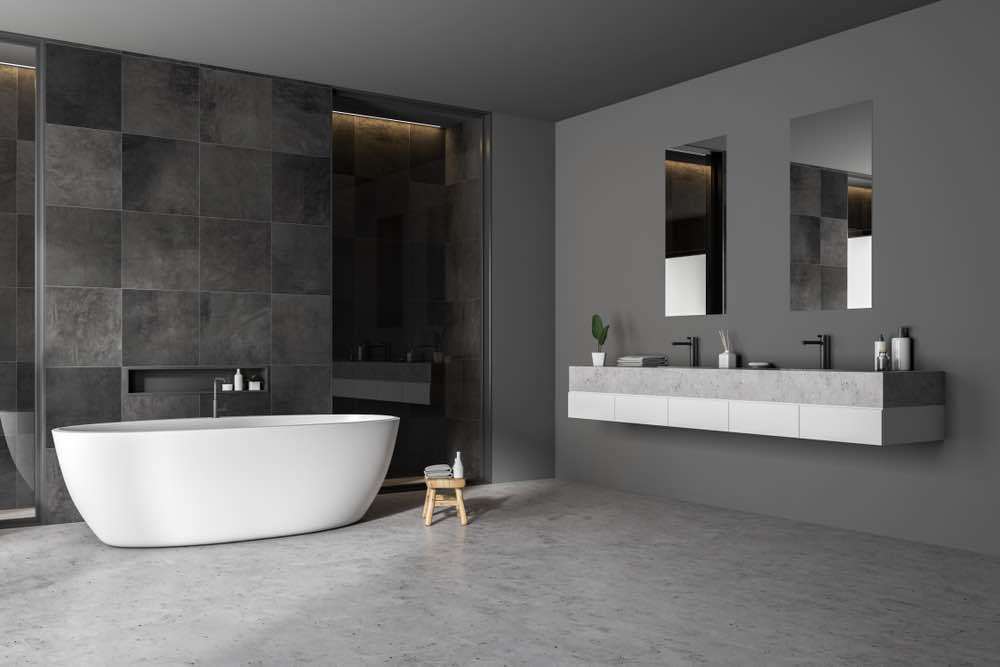 This dark gray bathroom paint color, Binary Star from Behr creates a dramatic look, perfect for high-rise aesthetics. If you love the idea of dark paint colors, but not the finished product here; linens can transform a space. Curtains, towels, and natural wood fixtures all add softness and brighten. Maybe you want this style even more severe? Switch out black faucets and recessed lighting for stainless steel fixtures.
Inkwell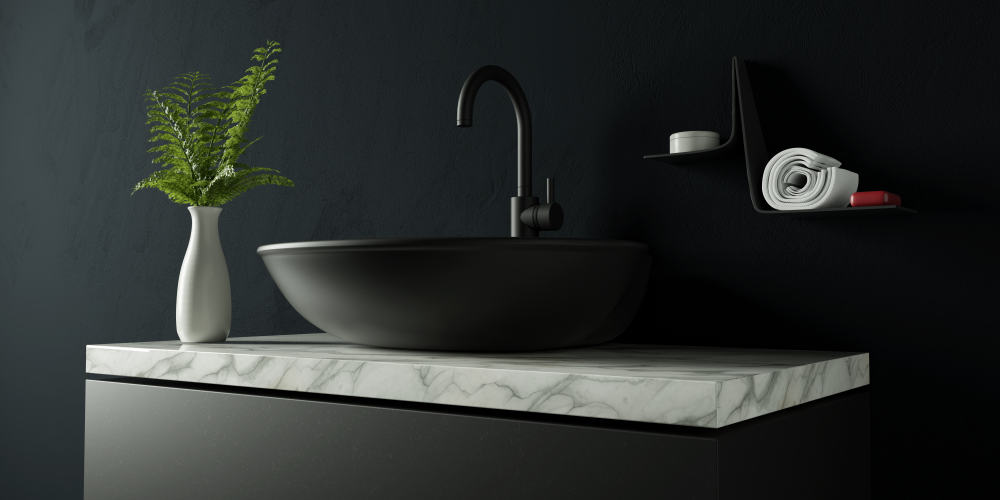 Sometimes bold gestures pay off big. We love black-as-the-night bathroom paint colors like Inkwell from Sherwin Williams. It also shows you can't fear your own decorating success. Once you`ve painted the walls with a black paint color, use black fixtures or a black vanity to double down on the look. And then throw in some contrast, like white marble countertops. Material matters when you`re making bold choices like this one, so balance the darkness with stone and natural wood.
Caliente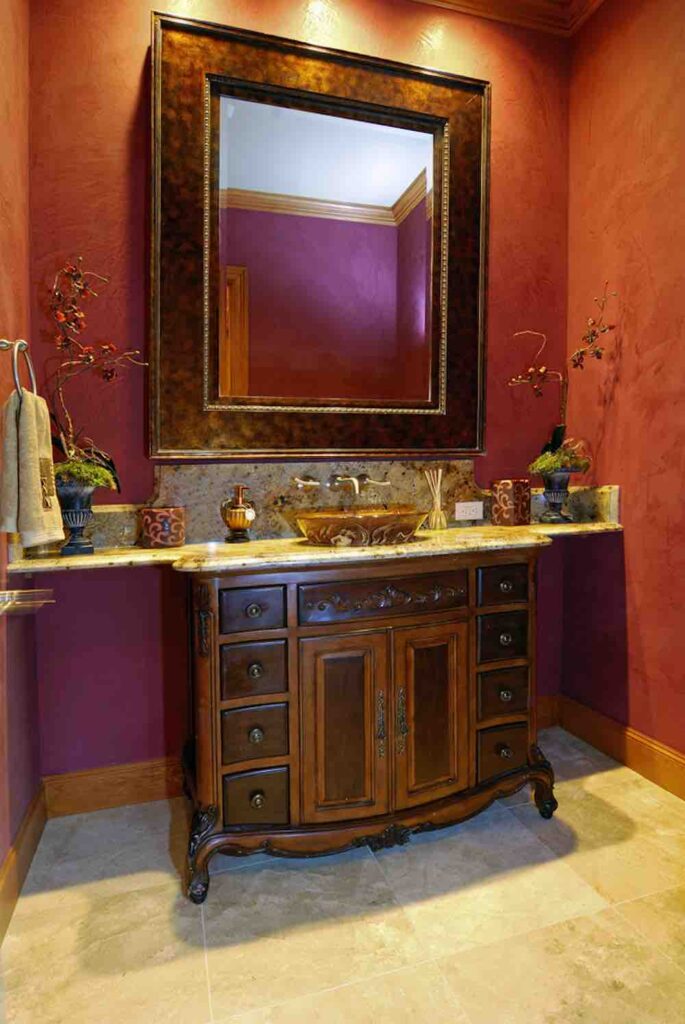 If you love ornate glamour, the powder room is the perfect place to get playful with your paint color. Fancy mirrors, rococo fixtures, plush towels all need a rich, decadent paint color to look in place. Benjamin Moore Caliente brings the heat, even in a compact space. Both dark wood and gold love red, and we associate the combination with luxury and wealth. If you keep buying decorative soaps with no place to put them, this is the powder room you need to create.
What Colors are Trending for Bathrooms?
While you want a trendy bathroom paint color, you also want a look that`ll last. Simple clean colors, like blue and white, will always look contemporary. If you`re looking for groundbreaking trends, jewel tones are a fresh take with enduring style. Here are some of our favorite trendy bathroom colors.
Starry Night Blue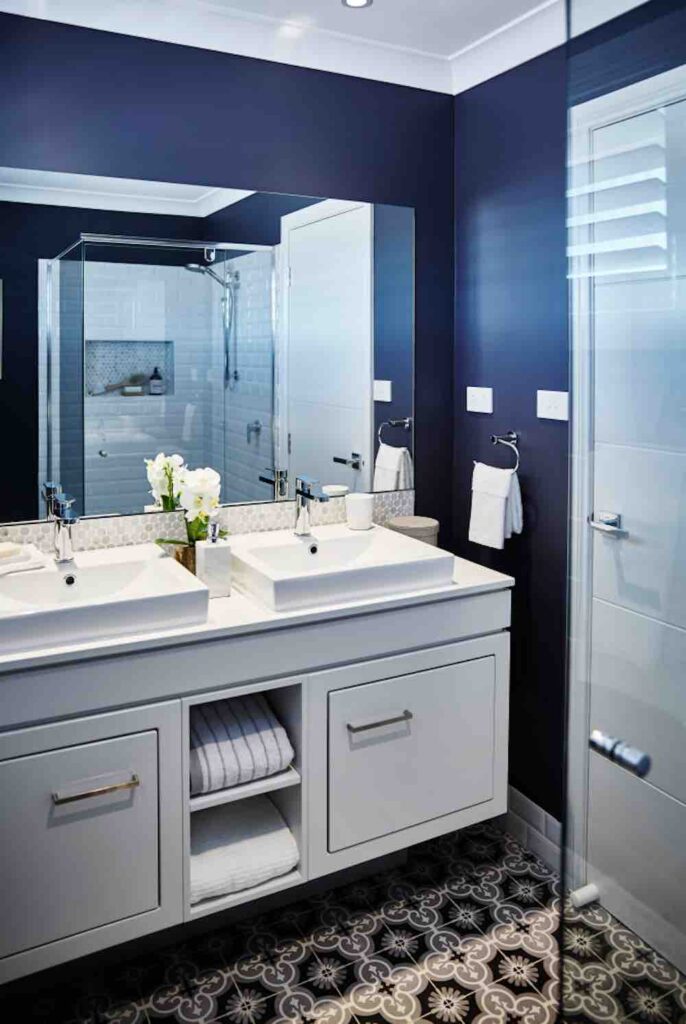 A navy blue paint color, like Starry Night Blue from Benjamin Moore, may not be the first thing that comes to mind when you think simple, but look what happens when you combine it with white trim and fixtures. A can`t lose bathroom color combination. It`s a small energizing space, achieved through thoughtful dedication to design. Pick your favorite feature and choose bathroom paint colors to support it.
Alpine Top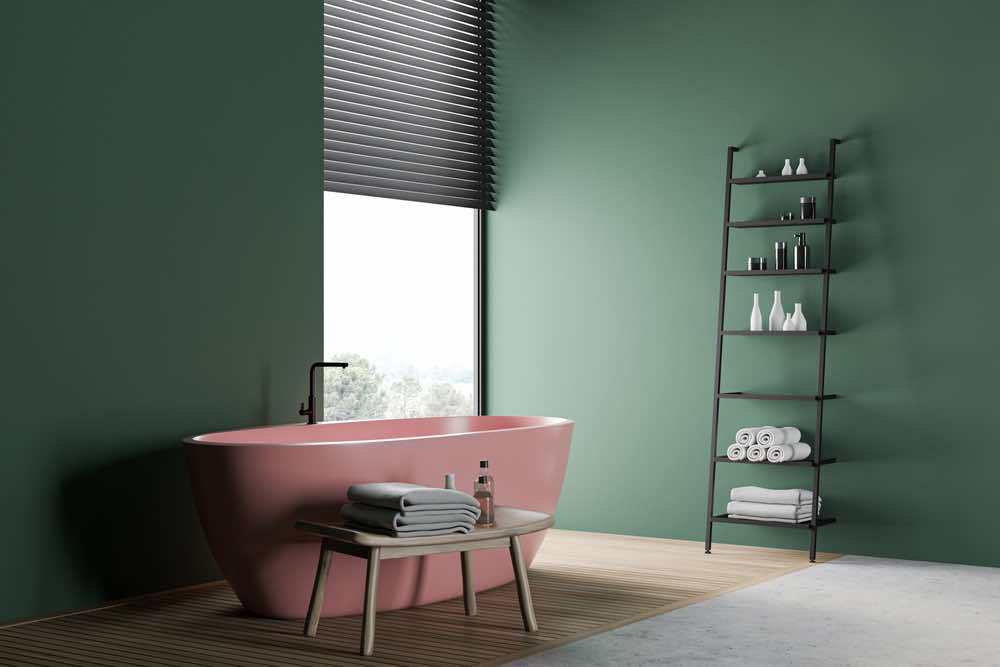 This bathroom does it all; dark paint color, power clashing, and natural materials. We`re obsessed with Alpine Top from Valspar. Granted, few people have the space available for this all-about-the-tub bathroom, but it shows how successful opulent jewel tones can be in a painted bathroom. Also, look at how well an unusual color for a plumbing fixture works. Don`t feel hemmed in by white and off-white tubs and showers. Instead, find finishes you`re excited about and paint to highlight and celebrate your exceptional style.
Serenity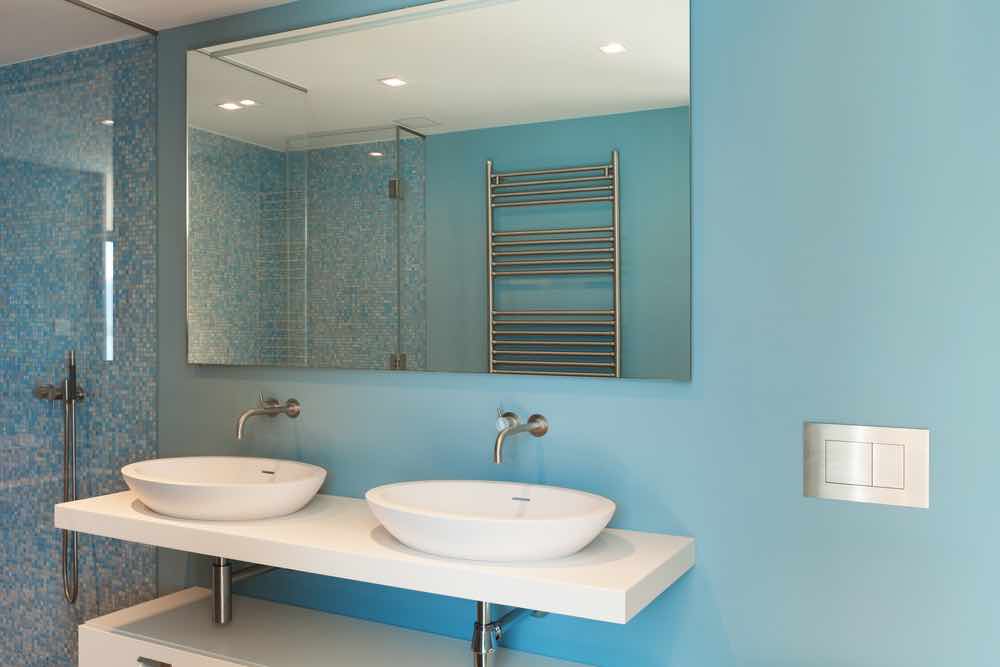 This robin`s egg blue paint color offers you a lot of options for the details. Bathroom paint colors like Serenity from Benjamin Moore are a dream to decorate with. More than classic style, you have flexibility in the fixtures. These homeowners used stainless steel for a contemporary look. Rose gold or bronze would transform the aesthetic of the bathroom. Paint for bathroom color like blue adapts to soft remodels, so you won't have to repaint.
Cordial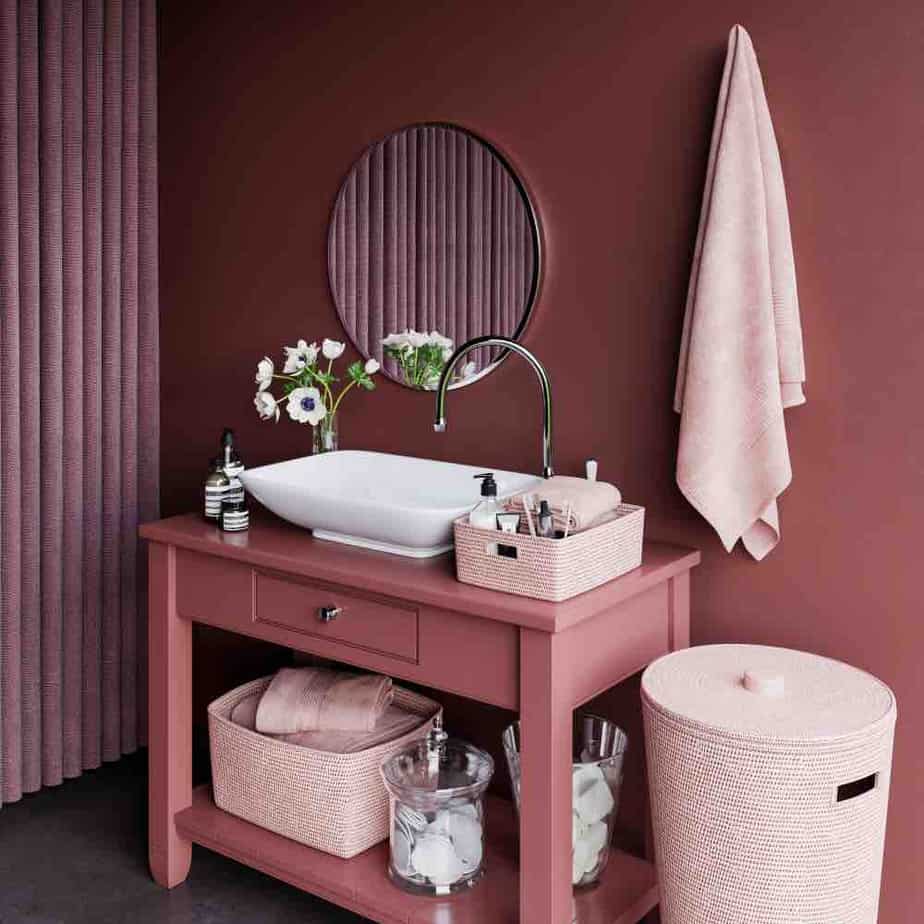 If there`s one thing to take away from this list, it`s that you`re rewarded for bold choices. This unforgettable bathroom color is Cordial from Sherwin Williams, surrounded by a monochrome of pinks. It's a strong design based on utility. Check out the makeup and skincare tray on the countertop. When you use bold colors supported by a robust design, you don`t have to rely on austerity for the aesthetic.
Pumpkin Butter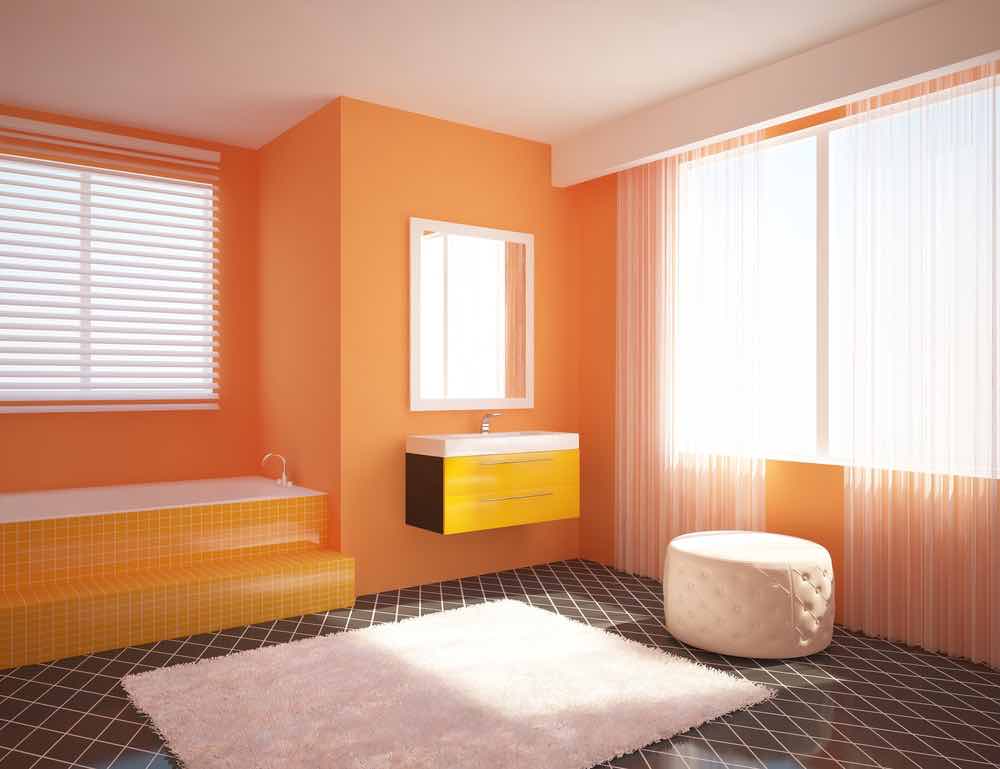 Orange you glad it`s not another blue? Jokes aside, this paint color, Pumpkin Butter from Valspar likely isn`t for everyone. We`re obsessed with this creamsicle dream bathroom. It`s high-energy, bold, and unique amongst a lot of much "safer" bathroom paint options. Use luxurious linens to soften the intensity with cushy bath mats and cotton towels.
Tangy Orange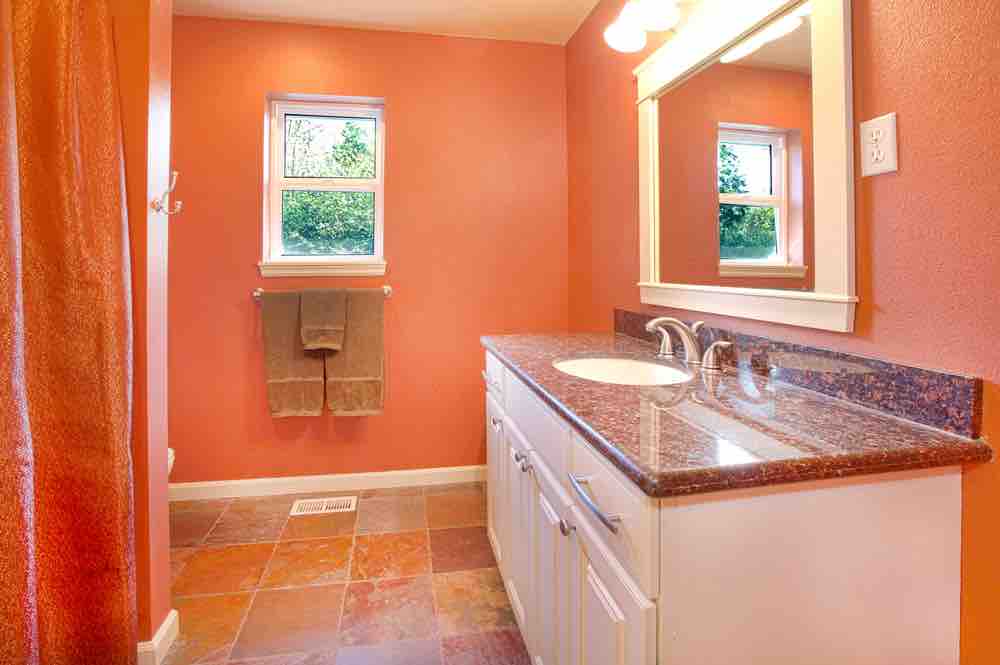 While this bathroom doesn`t use as many design elements, we still love Benjamin Moore Tangy Orange as a jewel tone bathroom color. Recessed lighting, subway tile behind the vanity, and white tiles for the floor would bring this bold bathroom into 2020. If you have a bathroom like this one, a few DIY weekend projects like painting the vanity and installing new lighting fixtures will get it HGTV ready.
Ultra Pure White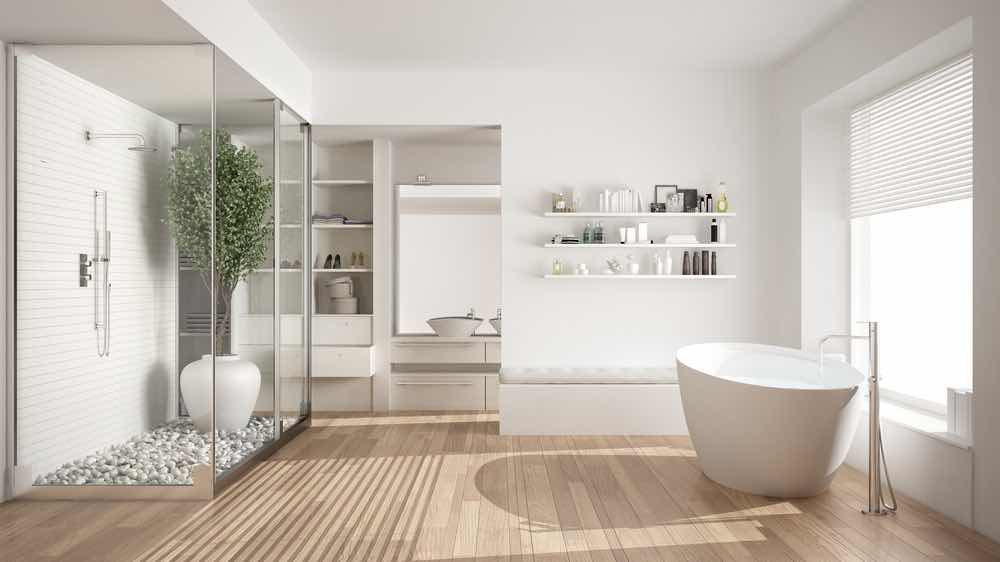 White never goes out of style. Especially when you`re immersed in a Scandinavian vision of Ultra Pure White from Behr like this one. Most of us don`t have space or light for an entire tree in our shower, but potted plants in the bathroom are a brilliant way to make a space more relaxing and inviting. Bright white walls bring even more attention to all the other details of your bathroom, so make them count!
Sunshine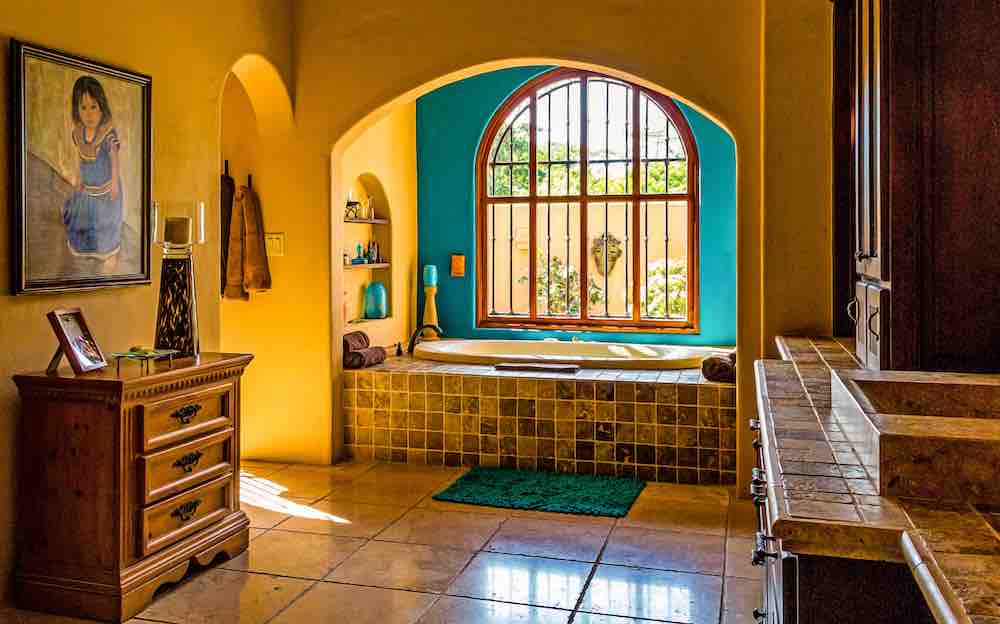 Yellow doesn`t always mean canary or pastel yellow. Sometimes it`s a luscious jewel-tone gold like this bathroom color, Sunshine from Benjamin Moore. These dark yellows look great with almost any bold color and flourish in bright bathrooms. We`re also obsessed with the matte wall finish as a new texture to bring into stuffy traditional bathrooms. Exploring unique colors, materials, and color pairings is the best part of redecorating.