It's bedroom paint colors that turn your bedroom into an oasis from the world. If you don't feel yourself relaxing as soon as you step foot into it, it's time for a remodel. Luckily, one of the easiest ways of renovating a room is also the most affordable. This year we've all spent more time at home than ever before, with more stress and anxiety plaguing our waking hours. Use our guide to bedroom paint colors to make your bedroom more personal and more relaxing. A fresh coat of paint will change the way you start and finish each day.
What Is the Best Color For Bedrooms?
When we talk about the best bedroom paint colors, we mean "best for you." Mention to someone you saw a gorgeous bedroom with black paint, and they'll recoil. Tell someone else about the beautiful blue space you're creating in your home, and they'll retch. That's why we've rounded up 21 colors to pick from that will be big in 2020 and beyond. You just have to find the best one for you.
What Is the Most Relaxing Color For a Bedroom?
When browsing colors, look for paint chips that evoke feelings for you. Let yourself zone out while looking at the color and experience memories, ambitions, excitement, and relaxation. Never settle for a color you aren't 100% sure about, but also don't dismiss a paint because you're not head-over-heels right away.
Lighting and decor can transform a color. Neutral and greys, subdued colors, and light shades that let a room glow with light are all effortless ways to create a relaxing bedroom from dawn to dusk. The best bedroom paint colors are those that strike a chord for you.
What Is the Color for 2020?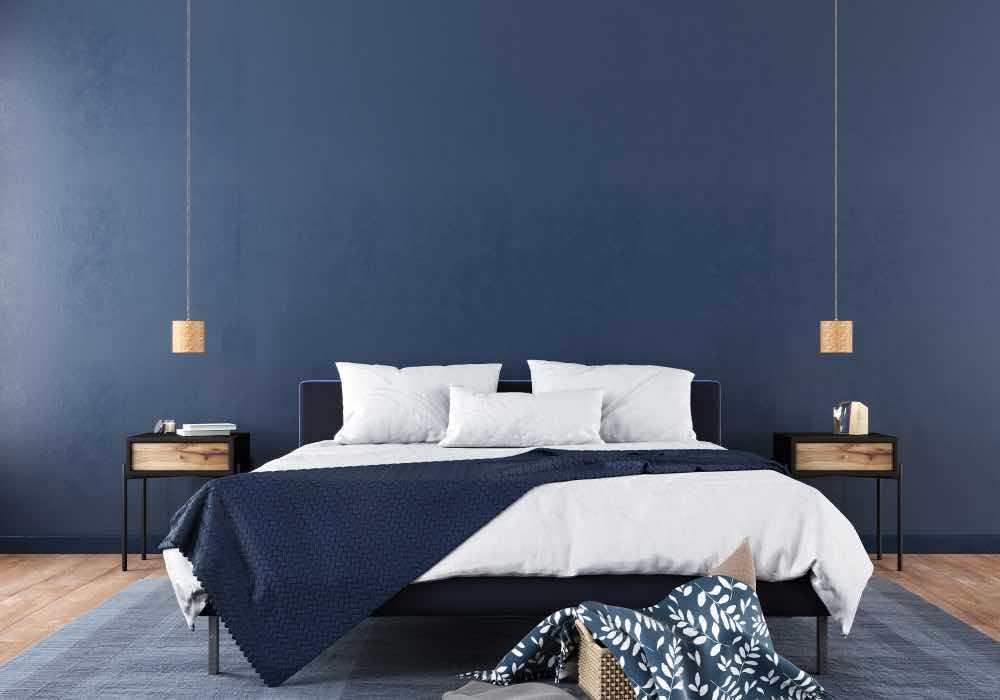 Pantone picked classic blue for their color of the year for 2020, and we're inclined to agree. In fact, we have the exact shade in our list of best bedroom colors. Blues are gentle, calming, immersive, and like Pantone says, anticipatory. If you're not sure what color to pick for your best bedroom color, try blue and wait to see what happens next. It's a perennial favorite on our color guide, including the best kitchen paint colors.
Cool Colors
Turquoise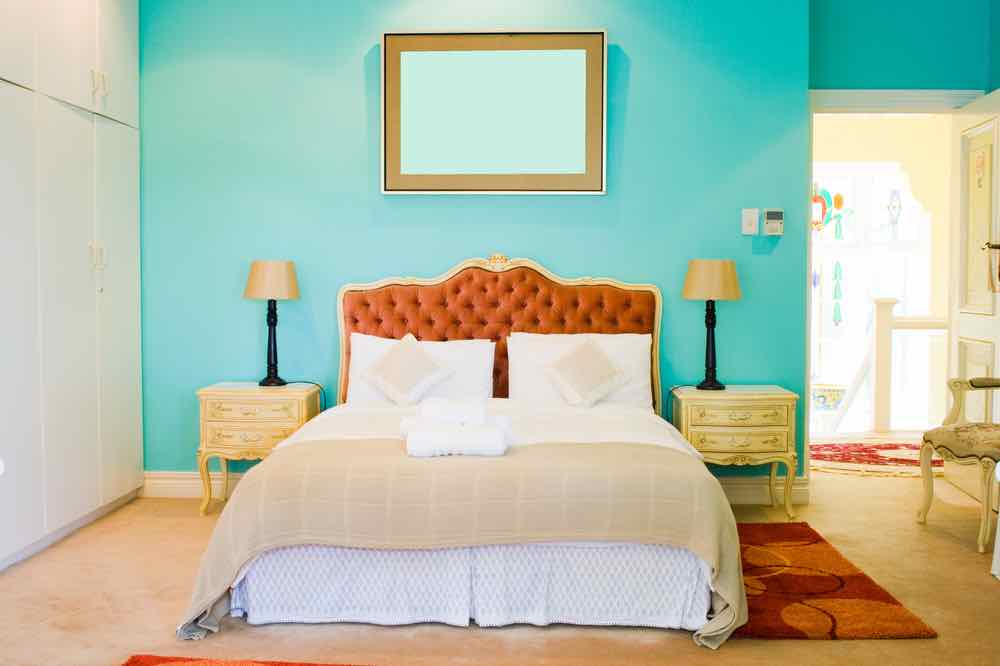 Are you always dreaming of tropical vacations? Do thoughts of white sand beaches and warm saltwater fill your waking hours? You can coat your bedroom in a color of paint that looks just like Caribbean surf. Check out Benjamin Moore Bermuda Teal and pair it with tropical colors like white, beige, and pale yellow. Or use Sherwin Williams Refresh as your wall color in your bedroom for a relaxing tropical oasis in your own home. It's one of the best bedroom paint colors to create a master bedroom that reflects your personality and the places you find relaxing.
Light Blue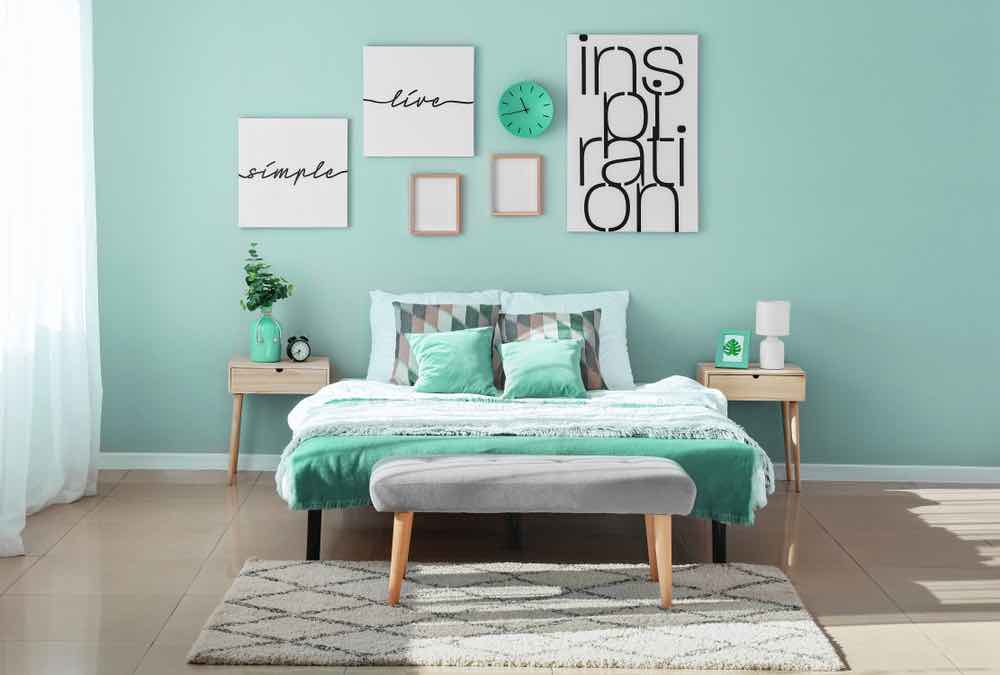 We're always partial to this Tiffany's Blue wall color, which you can find with the Farrow & Ball color, Arsenic. It's bright and whimsical and adapts to myriad styles in the decor and accents. Or try Sherwin Williams Bora Bora Shore as your bedroom color, another subtle shade of this classic light blue that evokes elegance. You can use either silver or gold as metallic accents, and either bright whites and beiges or dark neutrals. Few bold colors let you be as playful in a space as this shade of blue. It's one of our favorite hues for 2020, but the classic color will never go out of style.
Pale Blue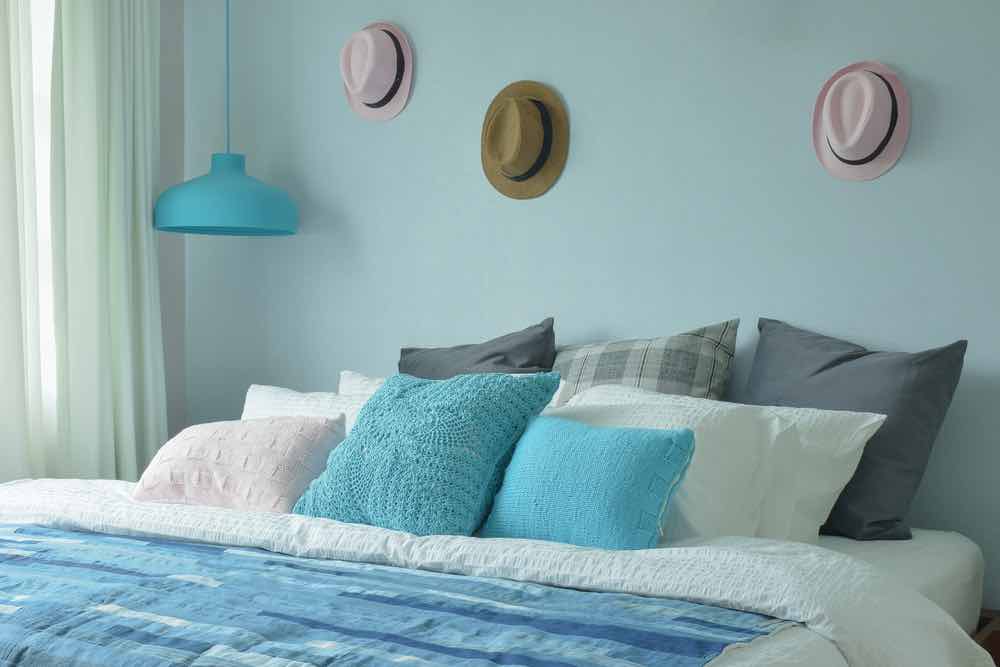 This bedroom color from Farrow & Ball, Blue Ground, channels bright summertime Sunday mornings with gentle breezes. When you paint your master bedroom with this color paint, it's impossible to wake up on the wrong side of the bed. It's a peaceful start to your day, and a gentle way to fall asleep at night. Check out Sherwin Williams Liquid Blue for more color ideas. Use ocean colors, like gray, beige, and white in your decor alongside this one of the bedroom paint colors. Or channel a nature theme with deeper blues, greens, and browns.
Mint Green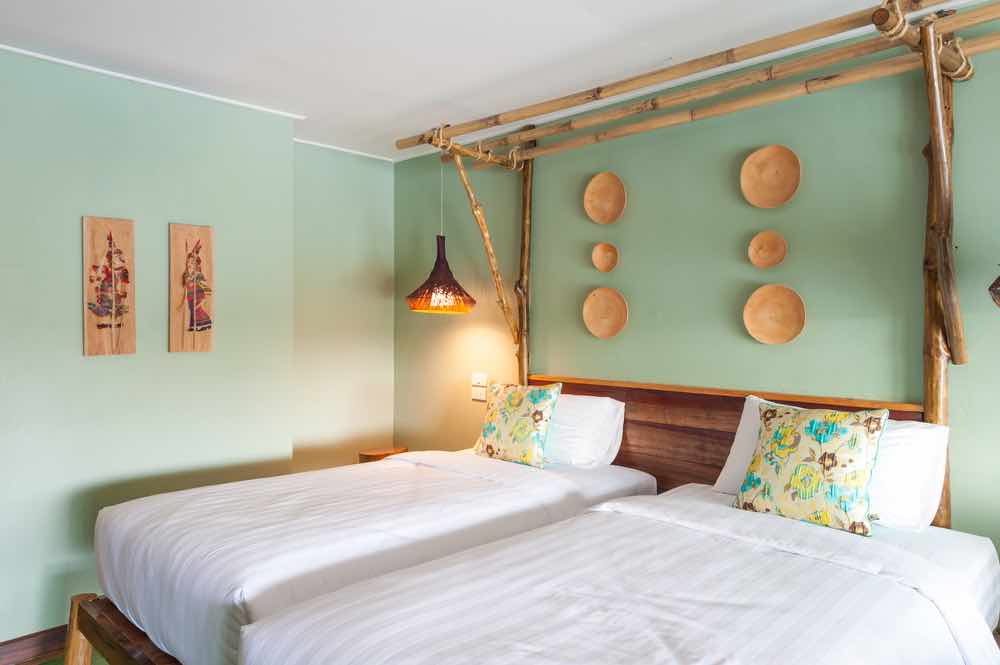 Natural fibers and materials pair so well with Benjamin Moore Douglas Fern. You can keep a green bedroom light and breezy with bamboo, teak, and woven grass accents. You can also get a lot more playful with it. Pair Sherwin Williams Picnic with orange, or pink and express a vibrant personality and love of fun. The important thing when choosing a bedroom paint color is to find a shade that's relaxing and soothing but still lets you express yourself. This mint-green color won't hem you in but also won't overwhelm a small bedroom without direct sunlight.
Fern Green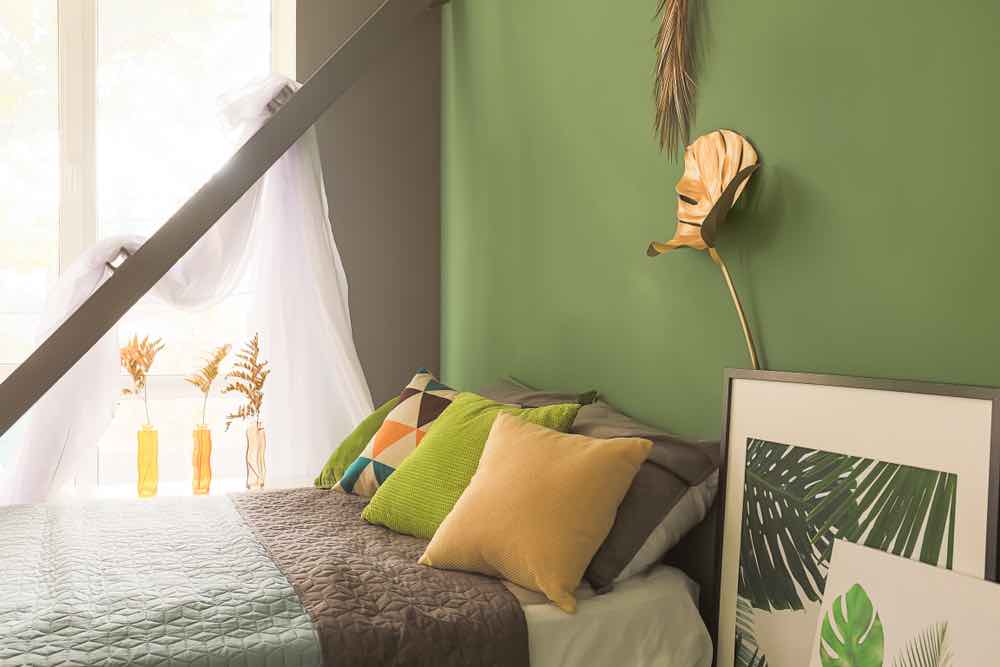 If you want the relaxing vibe of nature but with a little added style, try Farrow & Ball Sap Green for your wall color. It's one of the best bedroom paint colors we've seen because you can style it up or down. Stick with natural fibers and shades from the countryside for a subtle Mother Earth den. Or, throw in some gild and tart to give your relaxing bedroom an edge. Decor like the gold frond behind the bed and bold patterns on the pillows will take a color like Sherwin Williams Overt Green and give it depth and dimension. For more style inspiration, check out our post on 11 olive green paint colors we love.
Blue Gray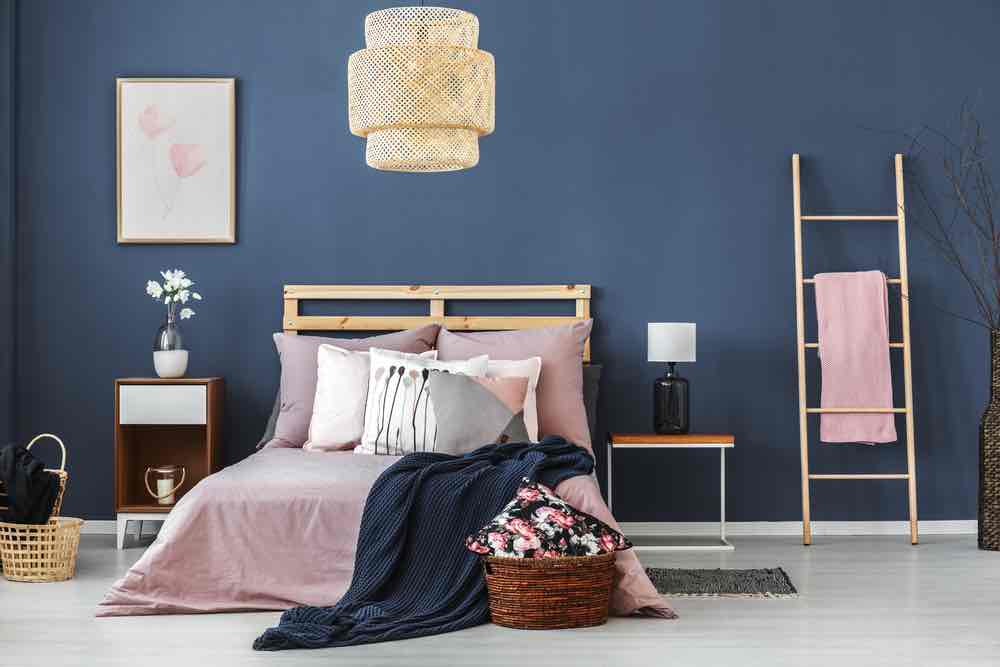 If you just want effortless style, it's hard to go wrong with Benjamin Moore New York State of Mind. The lush blue color makes you want to curl up beneath a duvet and forget your troubles. We love how well these blue hues go in almost any space, and you don't need a lot of natural light to make the bedroom look inviting. Check out Sherwin Williams Distance, with luminous dusty rose accents to make the room more appealing. The year 2020 is all about adaptability, so pick a paint color that adapts to a bunch of styles.
Blue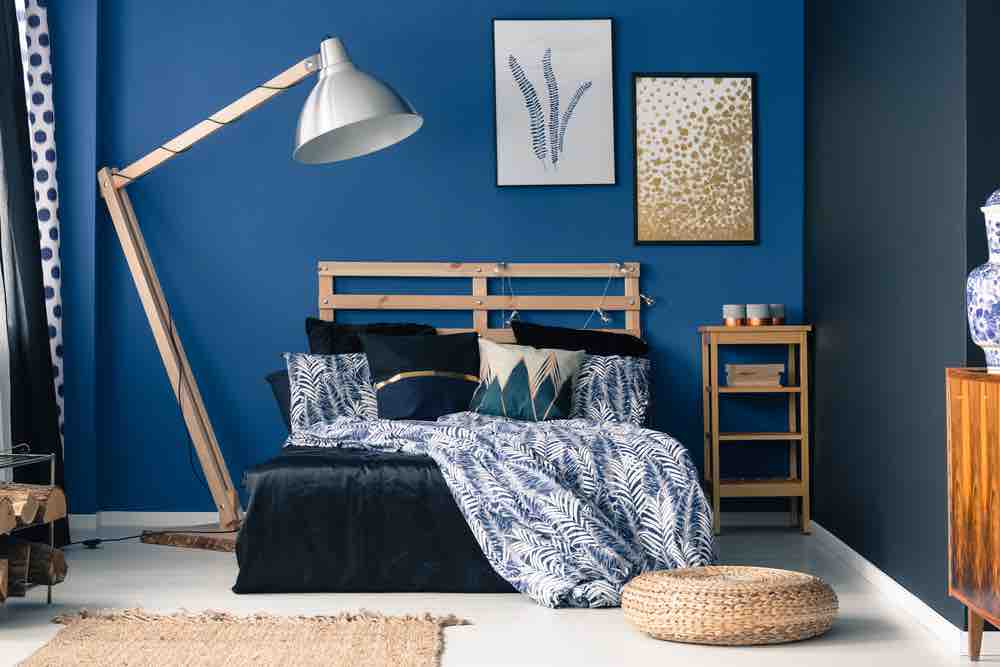 If you're not afraid of making big statements, then a can of Benjamin Moore Dark Royal Blue may be in your future. Color choices with this intensity aren't for everyone, but when you pick a color and commit, there's a big payoff. You can walk into your bedroom and feel that it reflects you 100%. Use a color like Sherwin Williams Jay Blue with pure-white accents, dark bedding, and thoughtfully selected wall art. Classic blue isn't a bedroom color to just throw onto the walls and think about later. Plan your whole redecoration around this one of the bedroom paint colors before you even start.
Gray Blue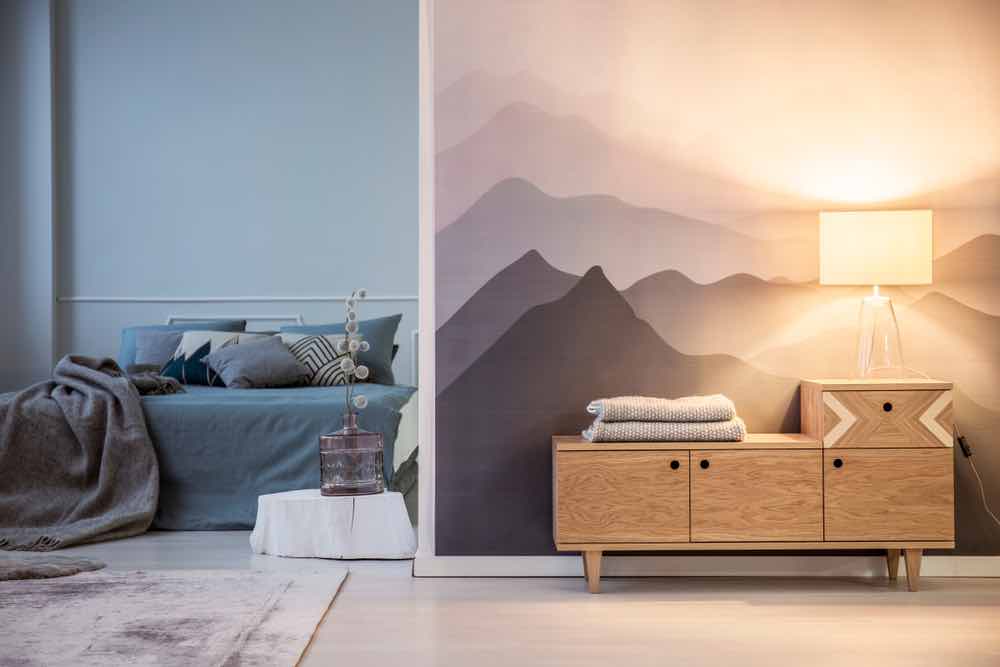 Okay, we'll grant you that the mural may steal the show in this bedroom, but peep the paint color surrounding the bed nook. Soft gray-glue hues like Benjamin Moore Harlequin Blue make you sleepy just looking at them. Foggy skies on a rainy day envelope you, suggesting the snooze button for an hour or two. Sherwin Williams Notable Hue looks like the pre-dawn sky in paint form, and it's the perfect way to wake up each morning. We won't blame you if your 2020 goal is to execute a mural like this one in your bedroom too.
Ocean Blue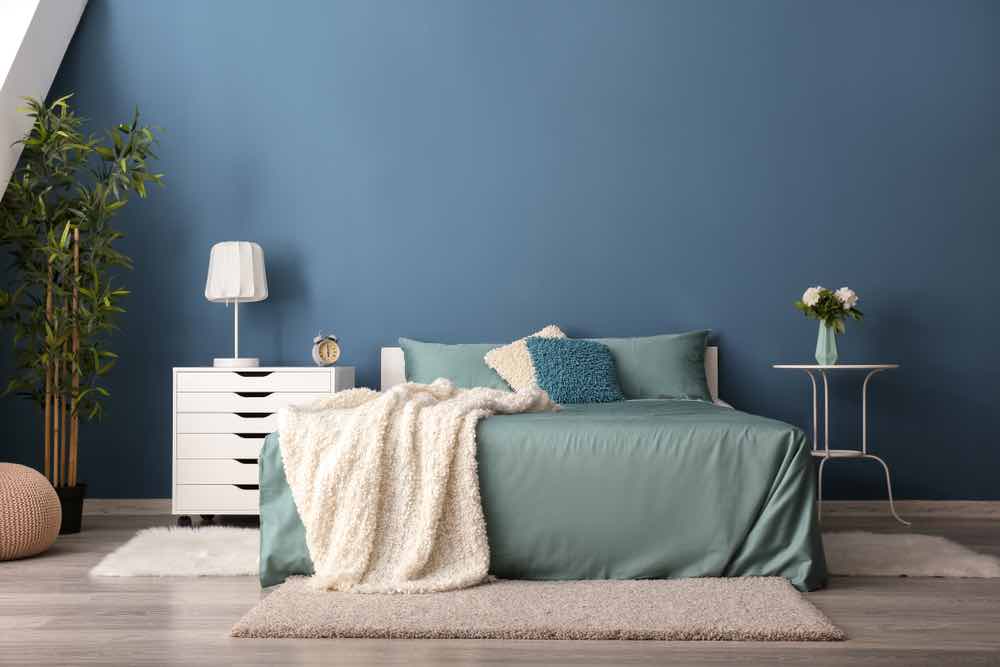 Farrow & Ball Ultramarine Blue may be the easiest of all bedroom paint colors to pick, style, and fall head over heels for. It's easy to find other colors that'll look great with it. It's dark and peaceful the way you want a bedroom to be. Bedroom color ideas don't always have to be revolutionary. Sometimes it's just finding hues that make you feel good. Sherwin Williams Resolute Blue does just that, and it's easy to find accent colors and decor to go with it. Sleeping in is the best way to celebrate redecorating your room with a paint color like this.
Pale Purple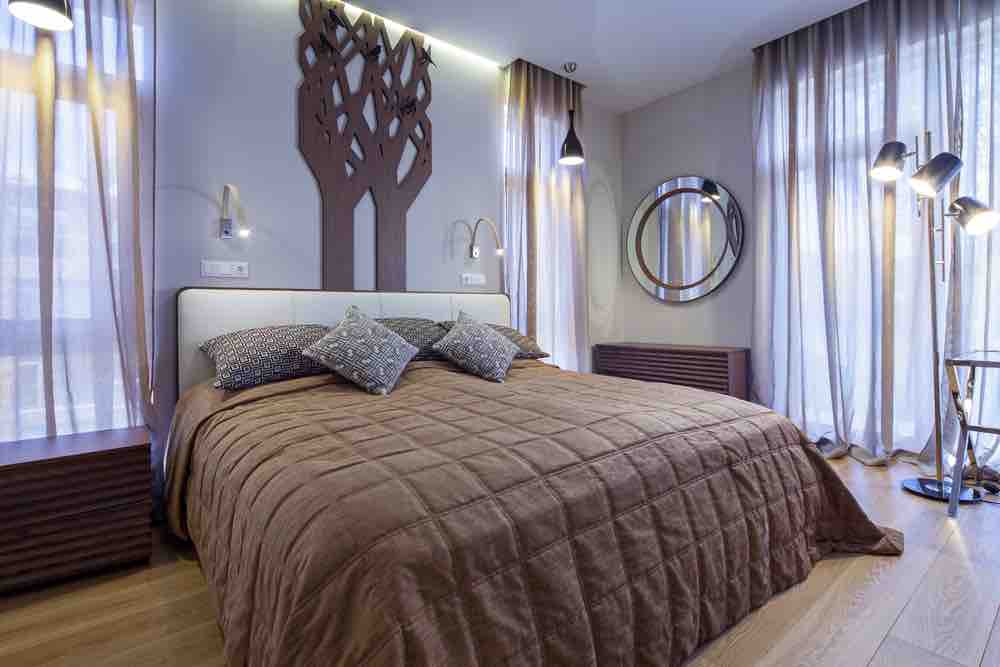 If you love lavender-scented everything, then score a can of Benjamin Moore Purple Lace and get to work on a floral bedroom oasis for yourself. It's a non-traditional choice for a master bedroom, which is why it's perfect for 2020. This is the year when traditions (like going into public and spending time with other people) got thrown out the window. Hues like Sherwin William Rhapsody Lilac aren't as hard to style as you might fear. Both light and dark neutrals will work with lavender bedroom paint colors, or style it in monochrome like here.
Welcoming Warm Colors
Coral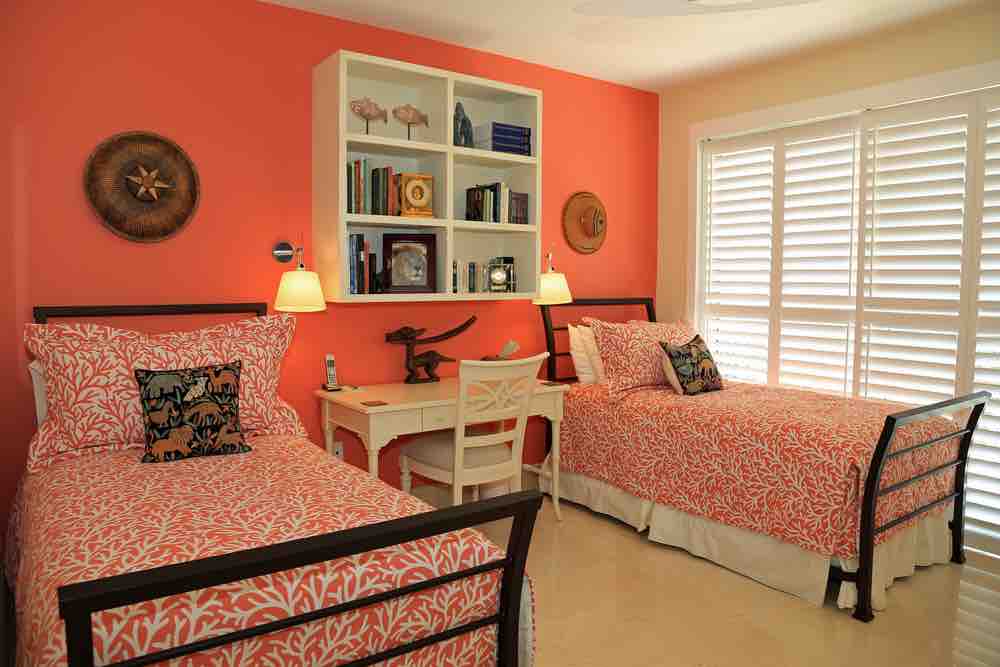 This year, get bold and start showing your true colors to the world; your true bedroom colors. This striking Benjamin Moore Dusk Pink is for people that wake up smiling, ready to tackle the day. If you relax by planning your week and making to-do lists, this might be the perfect color for you. Sherwin Williams Rejuvenate works best with light neutrals, and a color palette picked with restraint. But we love the optimism and daring of this bedroom paint color.
Mauve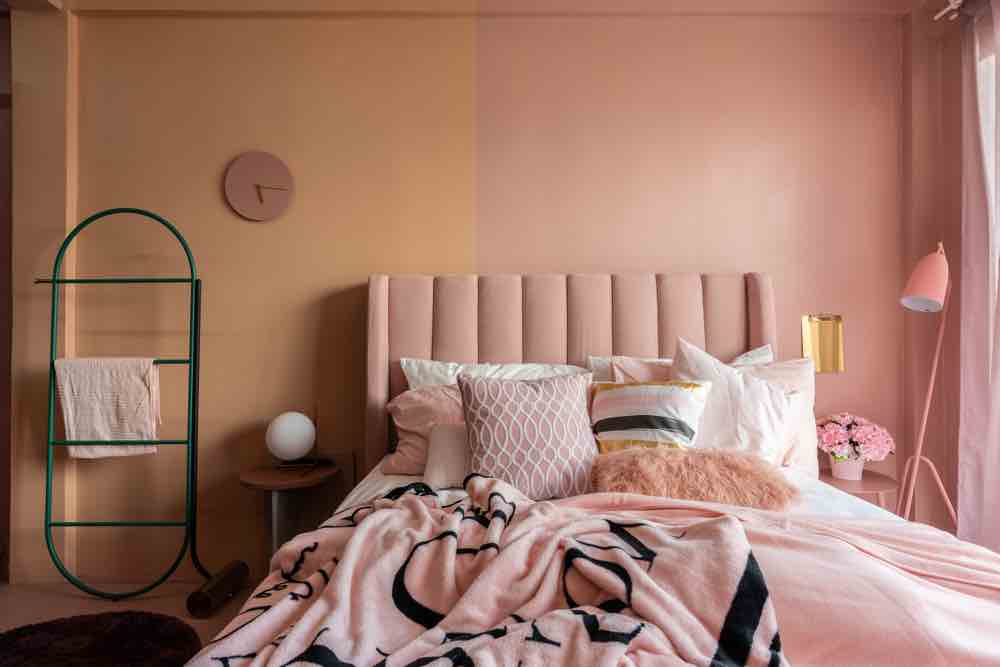 We're hoping that we see more of these two-color accent walls in 2020. One of the bedroom paint colors we're obsessing over in this bedroom is Farrow & Ball Crimson Red, a subtle shade of mauve that's both pink and gray at the same time. It's adaptable and fun to style. When you use a color like Benjamine Moore Crazy for You, you can style it with warm neutrals, gray, white, and even pinks. The green and gold accents make sure this shade doesn't turn mothball stale, but keep it fresh and vibrant.
Pale Pink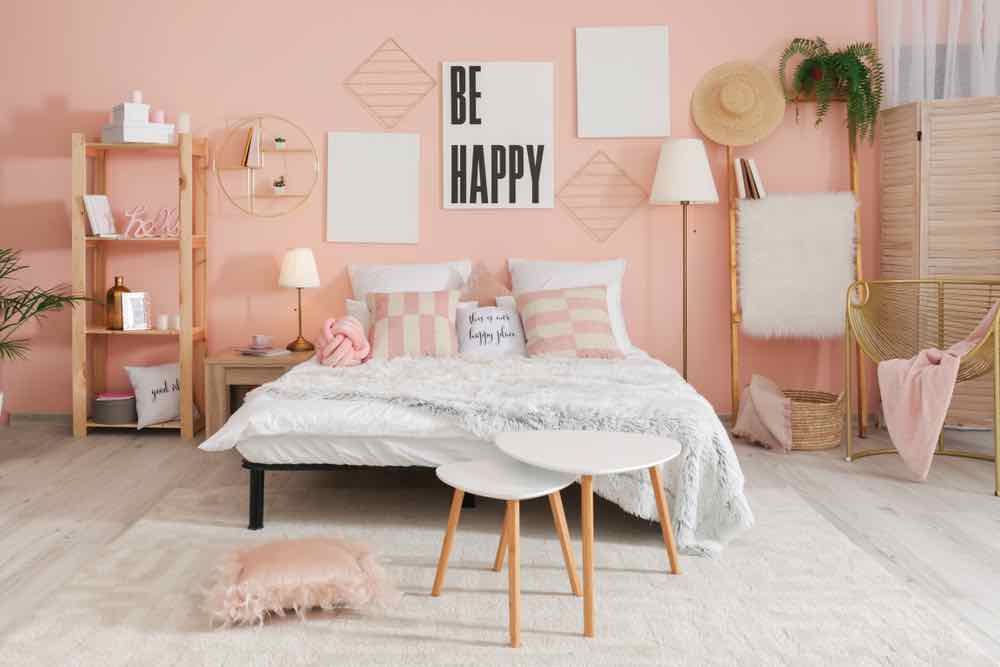 Sure, we may know it as Millenial Pink because of rose gold finishes that permeate every aspect of our lives, but we still love it. Benjamin Moore Fond Memory is the first step to a sophisticated bedroom, whether or not you're a Millenial. Use it with intense contrasting colors, metal finishes, or natural fibers and faux-fur fabrics. We're betting once you put a sample of Sherwin Williams Jovial, you'll start seeing all the potential pale pink has as a paint color.
Timeless Off-Whites
White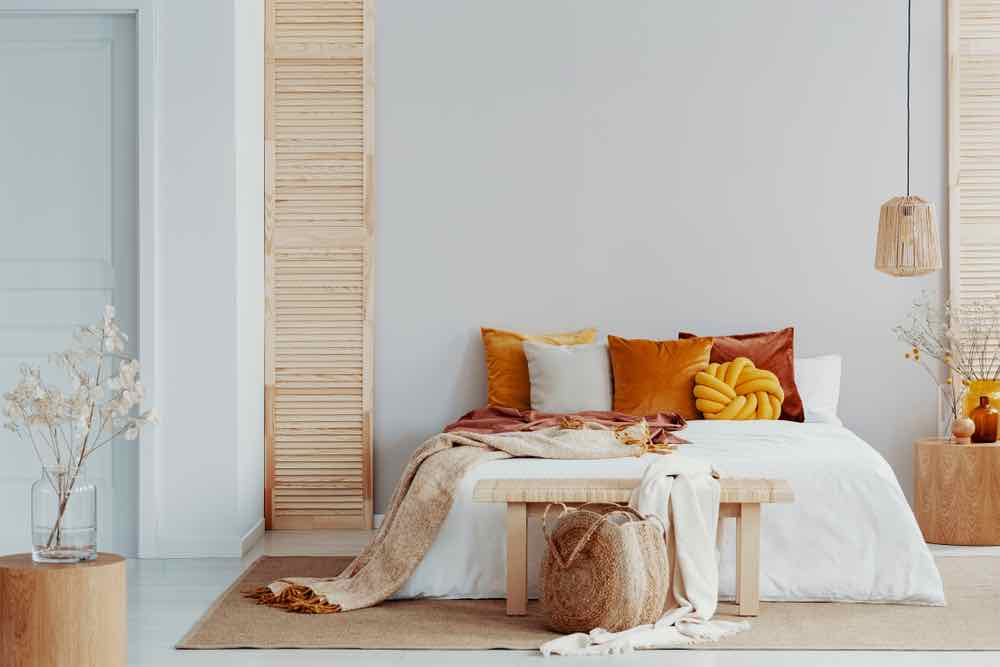 In the past, off-white master bedroom paint colors may have struck you as boring or impersonal. But paint colors like Farrow & Ball Wevet challenge you to make them your own this year. If you're always reaching for throw pillows and blankets with loud patterns and bold colors, Benjamin Moore Lily White may be the bedroom paint color for you. It lets you express yourself in the details, change your mind often, and bask in sunlight each morning.
Light Gray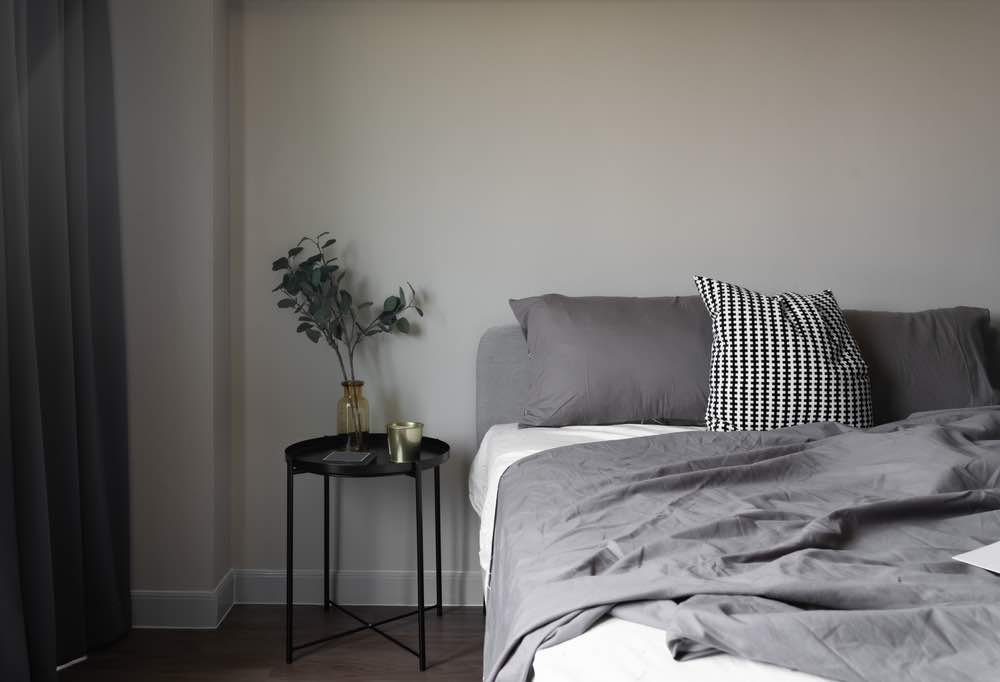 Did you promise yourself you'd settle down and get serious in 2020? Maybe the perfect place to start is in your bedroom with Farrow & Ball Cornforth White. It's a light gray that's warm, relaxing, and can transform a room into a studious and restrained space. It's perfect for a sophisticated master bedroom. Don't dismiss Benjamin Moore Picket Fence as stodgy. With gold accents and pink or orange room decor, light gray can be just as playful as more vibrant bedroom paint colors.
Lavish Jewel Tones
Emerald Green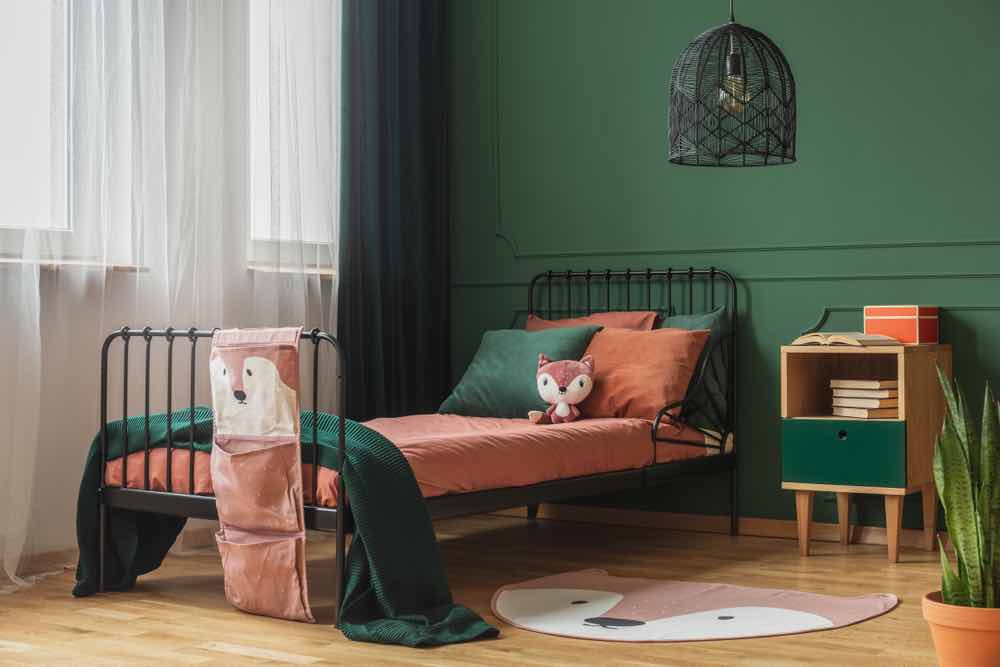 Amongst all these bedroom color ideas, you'll find one of our favorites for any room in 2020. Farrow & Ball Verdigris Green exemplifies everything lovely about jewel tones. And it shows how jewel tone bedroom colors can still be both relaxing and inviting. As a child's room here, it's styled in forest colors like brown and red with natural wood flooring and furniture. When you use Sherwin Williams Garden Grove in your master bedroom, use gilded decor, pink, or vibrant ruby red to make the room more mature.
Red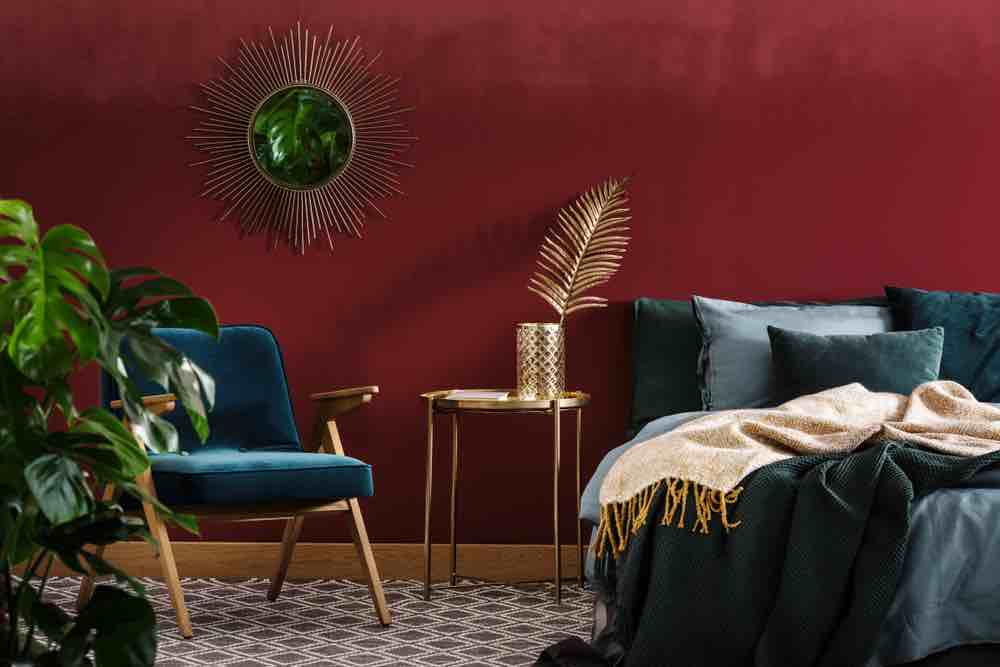 Every list of bedroom colors for 2020 has to include red. We're not mad about it; we're in awe of the timeless style of colors like Benjamin Moore Ladybug Red. But we're also giddy about the creative ombre they've added with a loose brushwork of pale red at the top of the room. If you've ever felt claustrophobic in front of a Sherwin Williams Antique Red accent wall, trying faux-finishes and brush painting might be the answer for making a large block of color chill out. You can read more about crimson red paint for your home on our blog.
Forest Green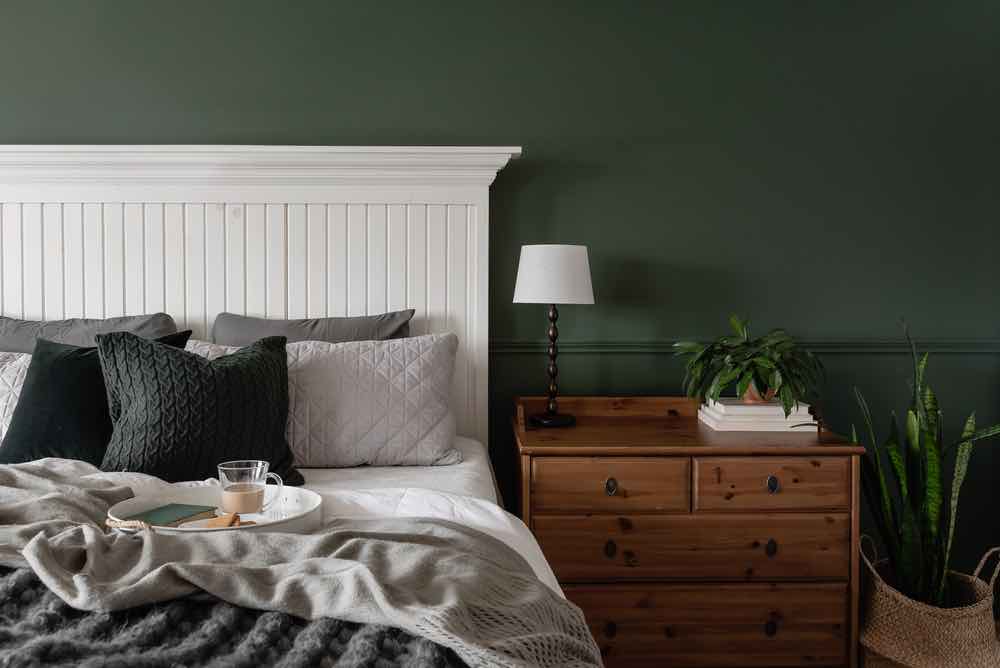 Deep and luxurious bedroom colors like Farrow & Ball Duck Green are the new thing in 2020. They call to mind weekends in the country, rainy days when you don't get out of bed, and endless cups of hot coffee. When you transform your room with Sherwin Williams Kale Green, get ready for a change in your mood as well. The warm hue envelopes a space, making it easier to fall asleep and less stressful to get up in the morning.
Decadent Dark Neutrals
Gray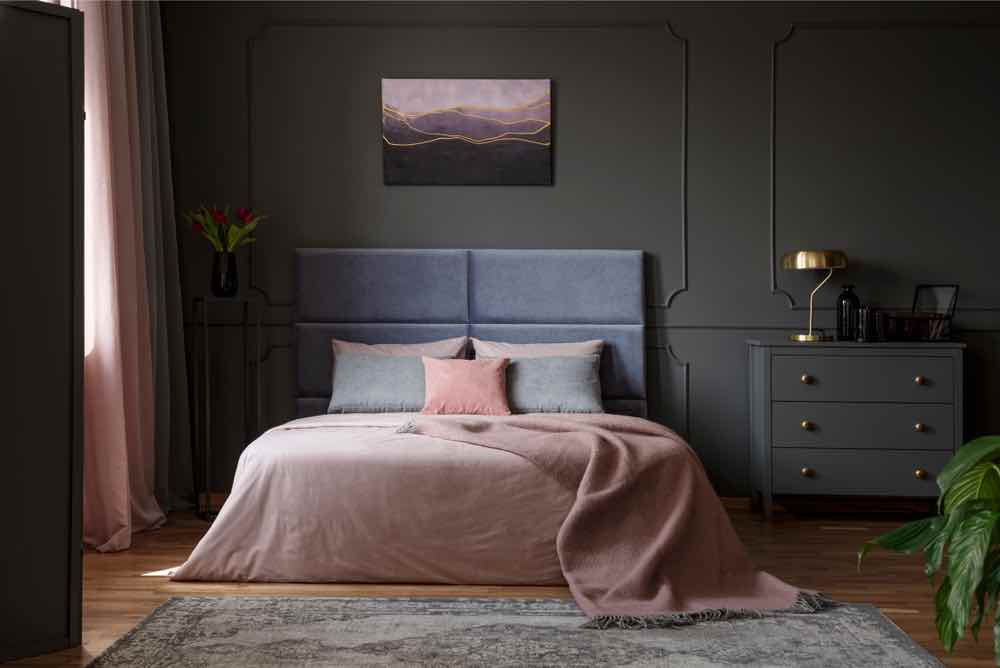 I'm sure when someone says "gray" for bedroom colors, you blanch. After all, how can you start the first day of the rest of your life in a gray room? But when you see Benjamin Moore Tulsa Twilight, don't you change your tune? Who wouldn't want to be the stylish, daring person who falls asleep in this room every night? And notice the subtle touches where you can express yourself; the rug, the soft pink curtains, that perfect painting that contrasts perfectly with a bedroom color like Sherwin Williams Plum Brown. Pick gray for your bedroom paint and have fun.
Gunmetal Gray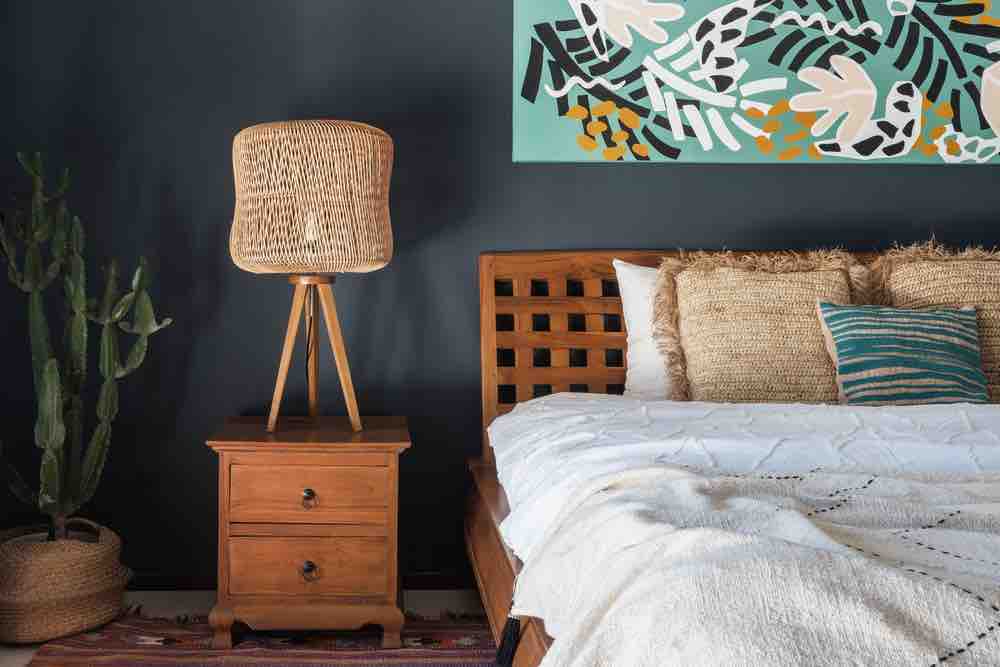 Isn't it remarkable how a dark color like the bedroom paint Farrow & Ball Railings can look so bright? All thanks to careful decor choices and perfect styling. You can cover the walls of your room with Sherwin Williams Cyberspace and still live in a sunny and breezy bedroom. For sure, lots of natural light is essential for pulling off this look, plus plenty of off-white linens to soften the paint.
Black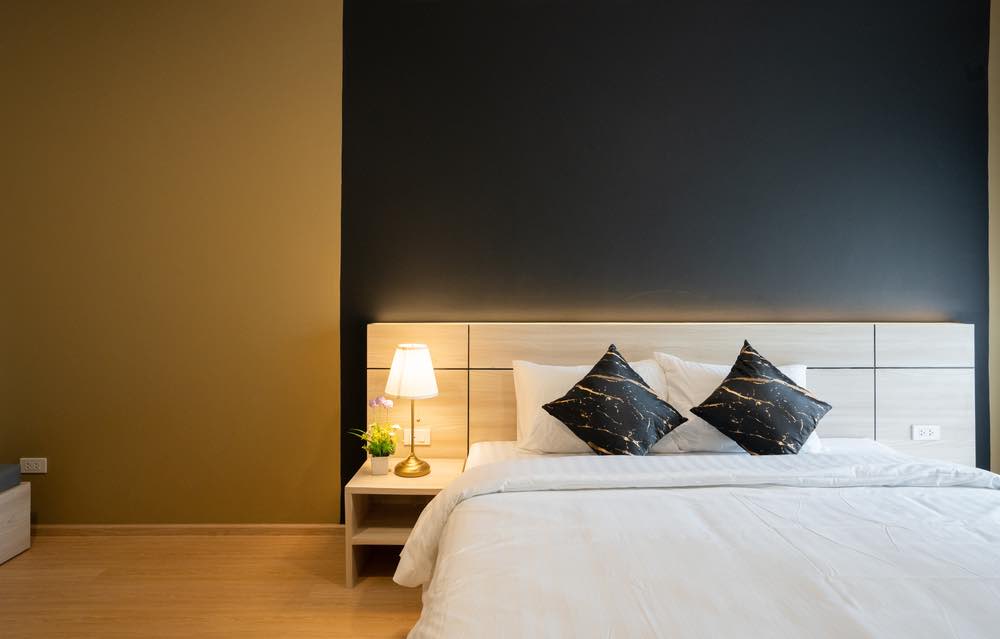 Black bedrooms aren't just for goths. We love this play on Benjamin Moore Black by adding a gold accent wall. Throw pillows pull the theme together. Pick any wall in your room to accent with Sherwin Williams Tricorn Black. You can make an audacious space that's still a relaxing oasis away from the world. Balance is critical for making adventurous color choices in the bedroom.