---
The Best Bathroom Paints
Here are our picks for the best bathroom paints for you next bathroom painting project.
---
Prepping Your Bathroom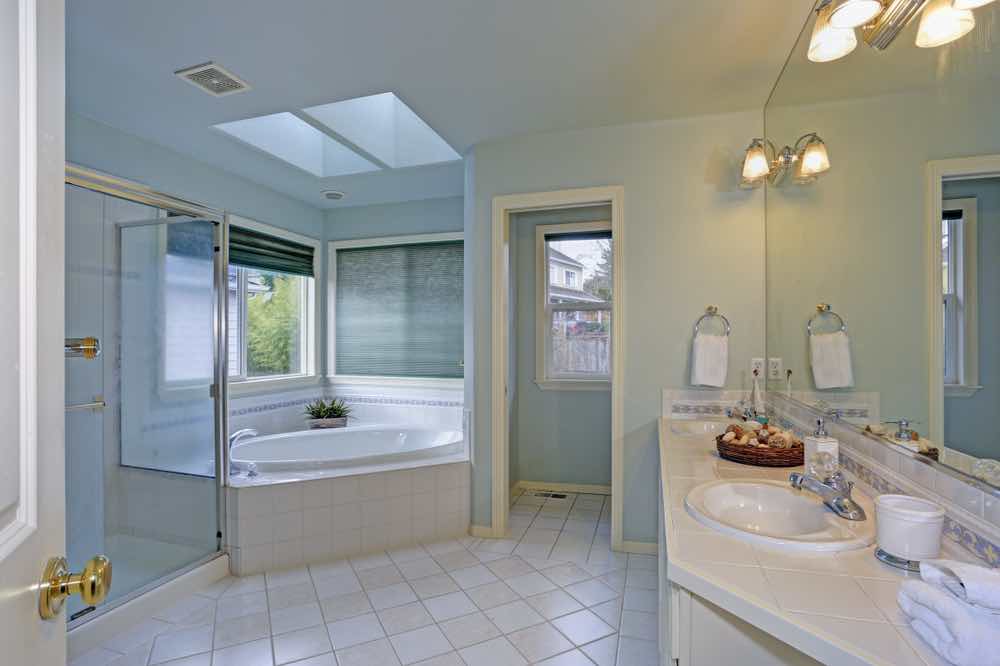 When painting your bathroom, you truly need to do things correctly right from the start. Although it may just seem like you`re painting just another room, there are many elements to your bathroom that you don`t necessarily have to consider when painting a bedroom or living room.
In most homes, the bathroom is the smallest room in your home. It is cramped and not the ideal place to have multiple painters trying to squeeze in to undertake a renovation.
One thing you truly need to consider when painting a bathroom has proper ventilation. Making sure there is adequate ventilation is one of the most important steps to painting indoors in general. Why? Paint fumes, when inhaled, can pose a serious health risk making it more difficult to breathe. Inhaling these fumes can also make you extremely dizzy and even nauseous.
Always open up windows in the bathroom and make sure there is a steady flow of fresh air cycling through the room. You can help rid your home of the fumes even further by utilizing a fan to push the fumes out of the window and out of your home.
Even with a well-ventilated work area, it may still be a wise idea to invest in a quality paint respirator to further protect your lungs from the strong paint fumes. You may look a little funny for a while, but this tool is well worth using for the sake of your lungs.
Another challenge to painting your bathroom is the sheer amount of objects and obstacles that you need to navigate around.
The tub, the sink, cabinets, shelves, and the toilet. There are a lot of things blocking or physically attached to the very walls you are trying to paint. You want to spend time preparing these areas by either removing them or taping them off to avoid paint accidentally splattering or spilling on them.
There are a lot of great quality painter's tapes out there that you want to utilize before you get to painting. They are extremely easy to apply and will save you the trouble of having to remove excess paint later.
In addition to the painting of cabinets and other objects in your bathroom, you also need to consider your trim and window sills! Freshening up these areas is equally important to freshen up your walls, and you want to make sure your wall paint isn`t getting on your trim.
A good tip is to always paint your trim before the walls.
"By painting the trim first, you are saving extra prep time later on and creating a surface that will be easier to tape a perfectly straight line on later."
Taping off a wall proves to be more difficult because it makes you run the risk of your tape lifting the top layer of paint, and even some drywall, off the wall. Trim paint dries more quickly and harder than wall paint, so waiting for it to dry, tape it off, and then painting the wall is your best bet.
Another essential step to preparing your bathroom for a fresh coat of beautiful paint is washing the walls first. This is probably one of the most important steps you can take before you paint, especially in a mildew-susceptible bathroom.
Mold and mildew happen (we will discuss this a few paragraphs down). Your bathroom walls are most likely covered in fine mildew, soap scum, dust, and other grime.
Your paint won`t adhere well to a dirty wall, so cleaning the walls is a time-consuming but necessary task if you want to avoid issues later.
An easy way to clean the walls is to apply a mixture of 1 part bleach – 3 parts warm water and scrub the wall with a good sponge. Make sure to pop on that respirator and keep the window open to avoid inhaling strong bleach fumes.
You can also opt for an organic cleaner specifically designed for mold, mildew, and other bathroom grime.
Pick the Right Finish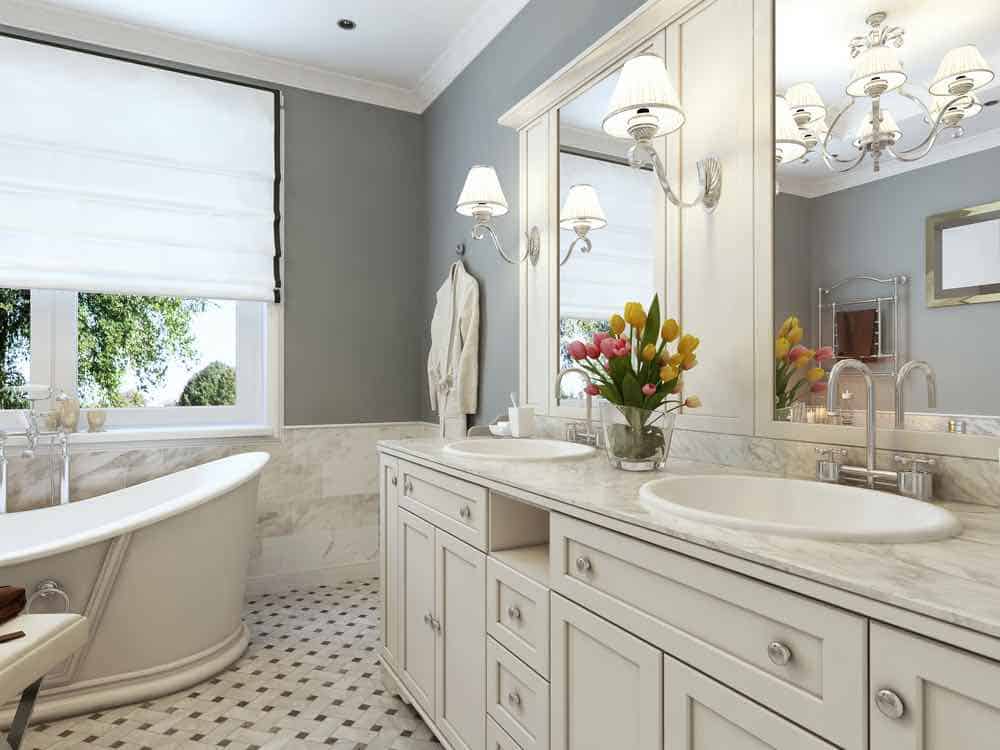 There seems to be a lot of confusion on the different types of finishes for paint and why finish even matters in the grand scheme of things.
It's just paint, right? Wrong.
There are six basic types of paint finishes: flat, matte, eggshell, satin, semi-gloss, and high-gloss.
Each of these finishes are rated based on the amount of sheen or shininess; they appear to have when used. The higher the sheen, the more imperfections are visible when the paint dries and inevitably experiences daily wear and tear. This is because the shine of the paint reflects more light and draws your eye to the imperfections in the paint. However, higher gloss finishes are also far easier to clean than finishes with less sheen.
In the past, the different types of finishes all serve different purposes for different rooms.
Semi-Gloss and gloss are more naturally resistant to moisture and scuffing. But today, paint brands are making flats, mattes, and satins that are all moisture-resistant, mold and mildew resistant, and even washable.
But, there is still some truth to the fact that a semi-gloss will hold up better than a flat or matte finish paint.
When trying to choose the correct finish for a room in your home, consider the amount of traffic and the environmental elements of each room. Flat paint works well on low-traffic areas that are rarely bothered, such as ceilings or on accent walls.
Eggshell and satin are better for higher-traffic rooms, such as living rooms, kitchens, and bathrooms.
Personally, I like going with a matte or egg-shell throughout my home. It just works everywhere.
Some people still have the thinking that semi-gloss and gloss are best for bathrooms, but trust me, you don't want those on your walls. There is a time and place for gloss and semi-gloss paint, and it is not in your home (they are not fun to look at!).
Always Choose Mildew-Resistant Bathroom Paint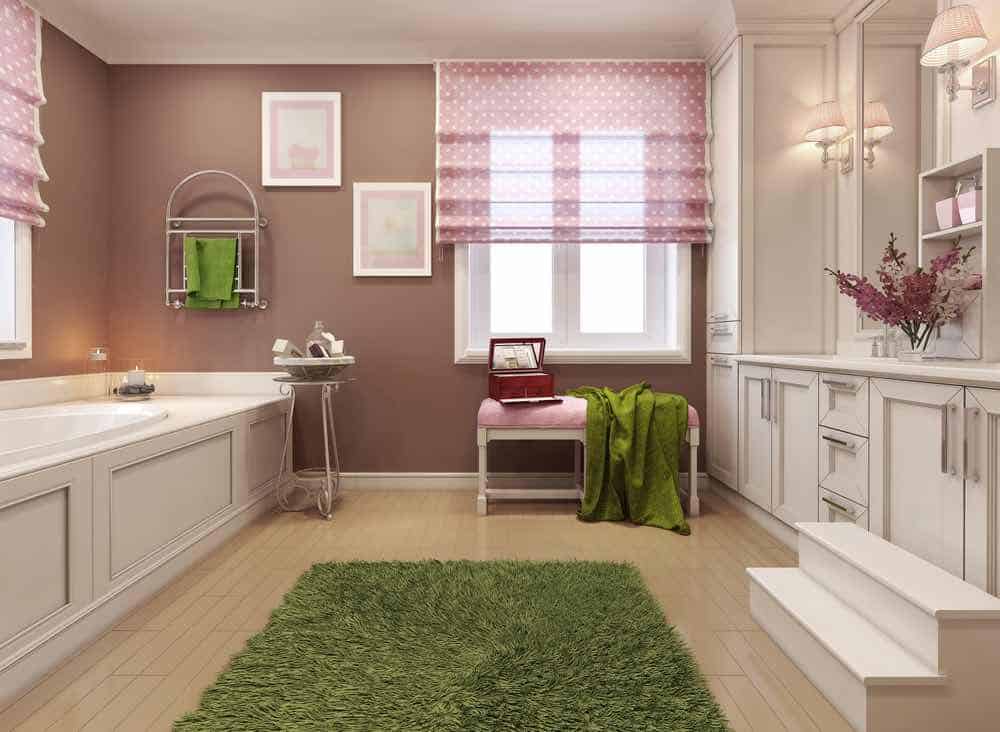 Mildew is a surface fungus that thrives off of the presence of moisture. Mildew is often found in your bathroom because of the excess moisture that comes from showering.
Choosing a paint that is mildew resistant is extremely important when painting your bathroom for a few reasons. First off, mildew-resistant paint is extremely water resistant and forms an impenetrable film in the paint that wards off water from entering into the paint or to the wall below.
Mildew-resistant paint not only protects from water in the first place, but it also contains fungicides. These fungicides help to prevent gross mildew spores from forming on your wall by prohibiting their growth and killing them if they do begin to form.
You may be tempted to skimp on utilizing mildew-resistant paint in your bathroom, but using it will help to prevent expensive mildew removal and prevent any risks that could come to your health from the mildew.
Choosing Bathroom Paint Colors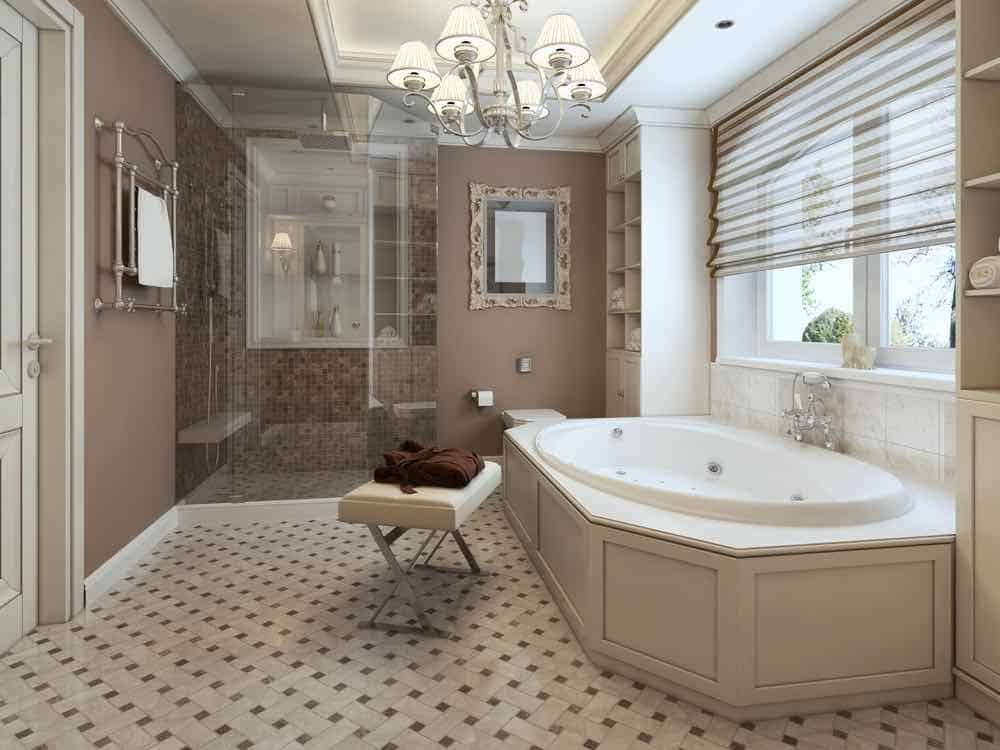 Color is an extremely powerful design tool and actually affects our emotions much more than you may believe.
Color sets a mood and makes you feel a certain way when you see it.
Because you quite honestly spend a lot of time in your bathroom, choosing a good bathroom paint color is a final but necessary step to the process of painting your bathroom.
What color works best for bathrooms? It all depends on the mood you want to set.
Blue bathrooms bring a sense of calmness and bring a spa-like essence to your room. Bright white also brings a ton of light in your bathroom and can help to wake you up in the morning as it reflects the morning light. Gray is an excellent option for highlighting beautiful marble countertops or patterned tiles.
If light colors aren't your thing, you can also opt for a darker color, such as black or charcoal gray, to accent your bathroom walls. Whatever color you choose, you want to make the decision wisely as you will spend a ton of time looking at it.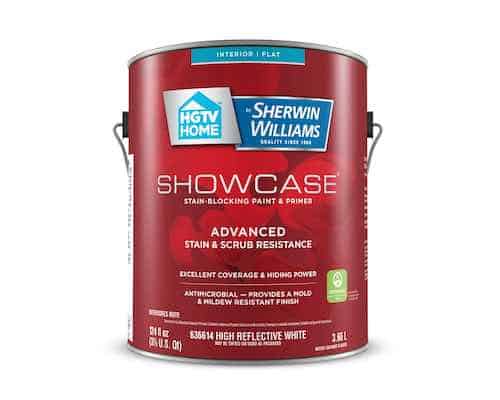 The creme de la creme of all the bathroom paints out there, HGTV HOME paint by Sherwin Williams has all of the qualities you need in a high-quality bathroom paint.
This paint, a top-rated one-coat paint, makes the task of painting your bathroom easy right from the start. Unlike some other paints, you have to apply coat after coat in order to accomplish an even paint job, but HGTV HOME applies easily in just one coat, guaranteed. In fact, the one-coat promise is backed by Sherwin Williams` Lifetime Warranty. This means less time in your cramped bathroom and a much quicker paint job.
The satin sheen of this paint is the best choice for your high traffic, moisture prone bathroom. It is extremely stained and scrub-resistant, but if marks ever do show up, they are simple and pain-free to clean. This paint is actually stain blocking and also has a film of mildew-resistant finish.
This paint has absolutely everything you need and has had an excellent repertoire among those who have undertaken a bathroom paint job. Overall, Sherwin-Williams hit the nail on the head with this one with one of the best bathroom paints.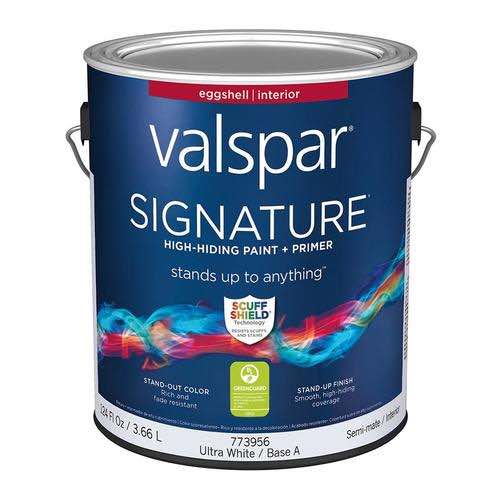 Valspar delivers when it comes to creating one of the very best bathroom paints. With a semi-gloss sheen that shines effortlessly, this paint is ideal for high traffic areas such as your bathroom. Their slogan "Stands up to anything™" is a bold statement they make regarding this paint, and it holds true.
This paint + primer formula makes it much easier to paint your bathroom by taking a step away from the process. This paint is high hiding and holds up extremely well to any sort of fading, even if your bathroom is perched directly in the sunlight.
An exceptional feature of this bathroom paint is its ScuffSheild Technology™. This is a very helpful feature for blemish-prone bathrooms and actually creates a clear film on top of the paint that protects the paint color and makes it very simple to clean if your walls or ceiling get dirty. This paint also stands up very well against mold and mildew while maintaining its beauty and finish against all of the elements of your bathroom.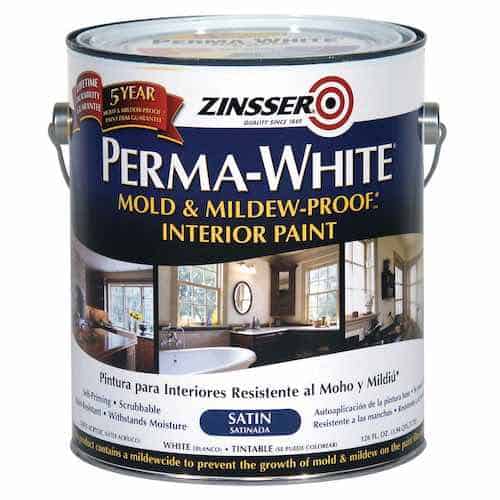 This beautiful white paint is perfect for that clean, minimal look in your bathroom without compromising the qualities of tough, waterproof paint. This paint has a water-based formula that is formulated to be mildew and mold resistant for up to 5 years! This paint is great for places such as your bathroom that are more prone to water exposure.
This paint sticks to pretty much any surface so you can utilize it for other areas of your house besides just your bathroom. Zinsser`s paint is self-priming and has an added perk of having a 30-minute dry time, so painting with this bathroom paint should be a quick and easy task.
Although its color choices are limited, you can tint this paint to a gorgeous off-white, pastel, or medium shade color. Overall, this water-based paint is a great option for its mold resisting properties and ease to clean.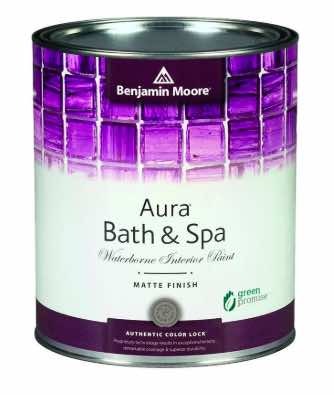 This brand goes against all traditional rules of choosing a finish for your bathroom paint, but it seems to have gotten it right. Benjamin Moore`s Aura Bath & Spa paint is actually of a matte finish but with all the same properties you desire in quality bathroom paint.
How do they do it? The paint is made of 100% latex with proprietary resin, which enables it to have excellence performance properties. This paint is surprisingly durable as it is optimized to resist steamy, wet environments and hides imperfections extremely well.
Another huge perk of this matte paint is that it has low VOCs (volatile organic compounds), which are those nasty vapors you try to avoid when painting. This is ideal if you are looking for paint that requires less ventilation in a small bathroom. This paint is also mildew resistant and keeps moisture from penetrating its surface.
It may seem impossible to utilize matte-finished, low-sheen paint in a bathroom that is prone to dampness and imperfections, but Benjamin Moore makes a sharp, matte-painted bathroom an achievable possibility.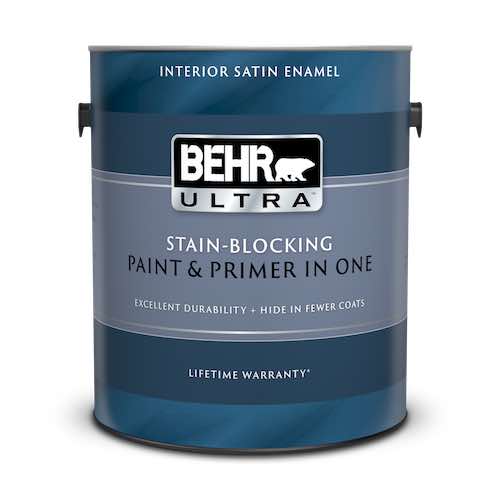 This smooth, ultra-coverage paint is by far one of the best bathroom paint choices that are available on the market. Behr is known for their high-quality paint products, and this interior semi-gloss paint lives up to their reputation.
This interior paint, suitable for use in almost any area of the house, was designed specifically to withstand stains and mildew. The finish on this paint produces a sleek, radiant sheen that truly looks gorgeous on bathroom walls. The reviews and success stories with this paint are countless. The consensus? Behr`s ULTRA Interior paint is a must-use for your bathroom.
Best Paint For Bathroom Hardware
An excellent choice for your bathroom hardware is Rust-Oleum oil-based paint. Oil is naturally hydrophobic and doesn`t mix with water which makes it an excellent choice to compose a paint that will be used in a moist environment. Along with being resistant to water, this paint makes whatever you paint resistant to rust as well.
A notable characteristic of this enamel paint is that it is weather and corrosion resistant as well as resistant to abrasion, chipping, and fading. This paint color comes in several great colors and is a great choice if you really want to ensure your hardware or sink holds up against the elements of your bathroom.
In Conclusion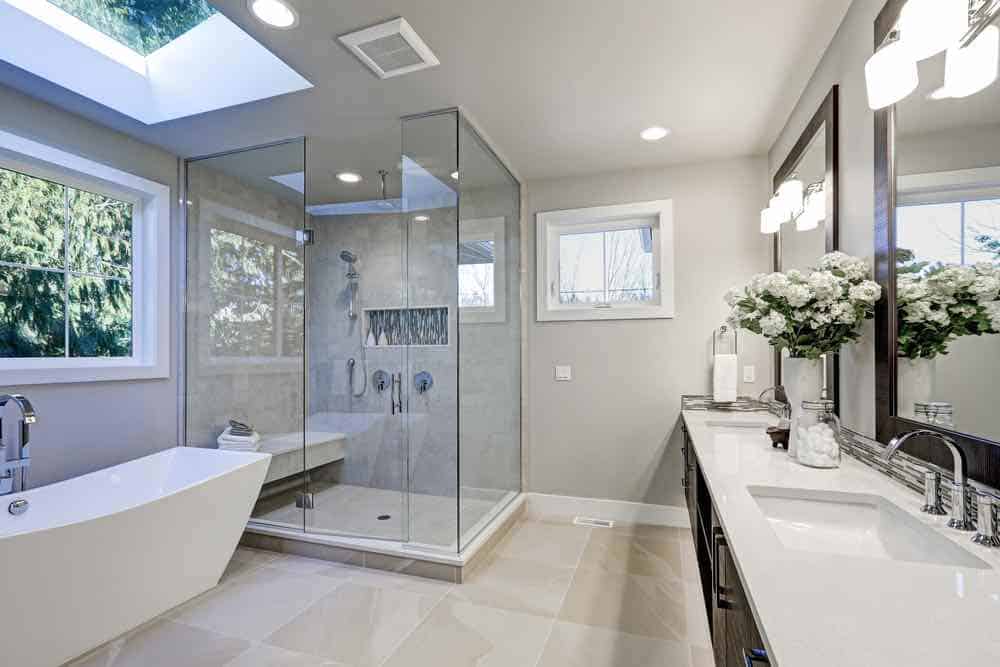 There are so many things you have to take into consideration before diving right into painting your bathroom. Undergoing this task requires adequate preparation right from the start and requires discovering exactly what type of bathroom paint works the best and holds up the longest.
You want to make sure you have a nice, high-sheen paint (unless you opt for the matte Aura Bath & Spa) that adequately resists water and mold. You want your bathroom paint to handle its moisture-filled environment well without fear that your walls will become stained or overtaken with mildew.
Now that you`ve discovered the best of the best of bathroom paints, you can be well on your way to bringing a splash of color or a tint of basic white to your bathroom!