If you're spending more time at home these days, you might want to invest in easy DIY projects to improve your house and yard. Using the best deck paint on your outdoor space is a great way to give it a fresh look while protecting and preserving your wood decking.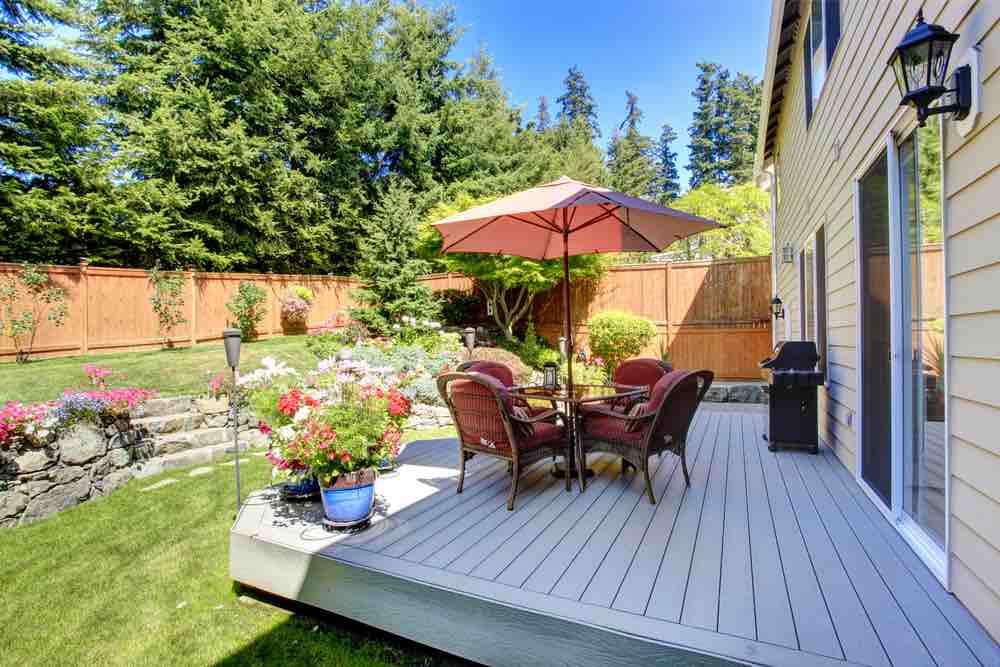 Imagine a stylish and comfortable oasis just outside your back door, perfect for your morning coffee, relaxing in the evenings, or spending Sunday relaxing with the family. Use paint for decks to transform your dull backyard into an Architectural Digest centerfold.
Is It Best to Paint or Stain a Deck?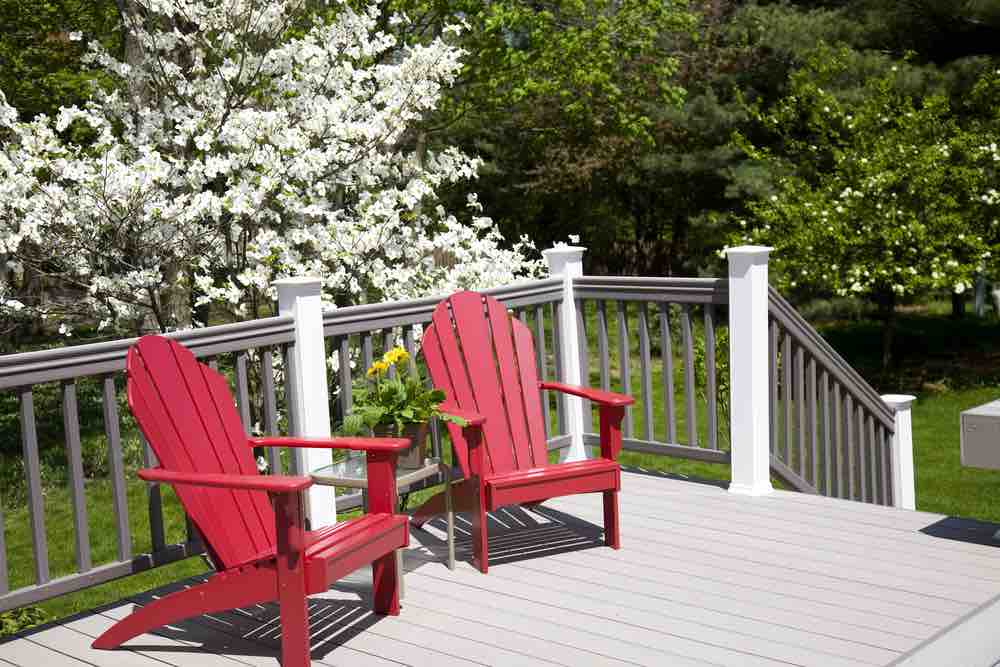 The first step to your brand new backyard is figuring out if decking paint or wood stain is right for your home. They're not the same! Here are some key differences for you to consider:
Wood Stain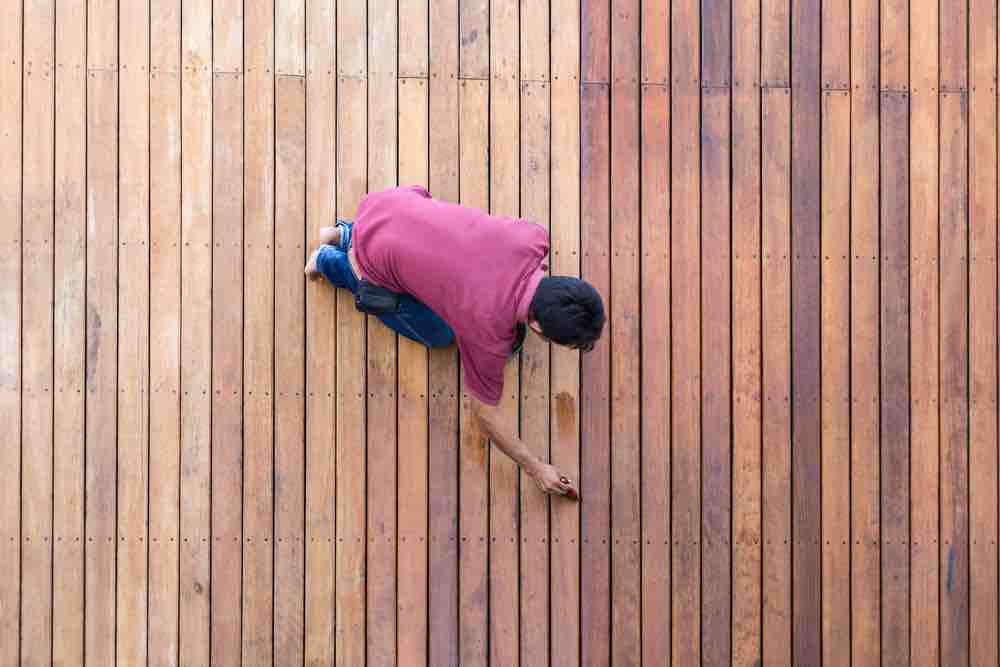 Wood stain for decks comes both water-based and oil-based, unlike the paint for deck, it's semi-transparent and designed to penetrate the wood, rather than coat it.
Budget-friendly: wood stain is not only wood cheaper per gallon, but it also doesn't require primer and sealer the way deck paint does.
Transparent or semi-transparent: because wood stain penetrates the wood, it adds only subtle color and shows the grain.
Easy to apply: You can paint deck stain directly onto prepared wood without primer or topcoat.
Tough to clean: deck stain dries to a matte finish, which can be tough to sweep and shows dirt quickly.
Easy to convert to paint: if you don't love the deck stain, it's pretty easy just to paint over.
Deck Paint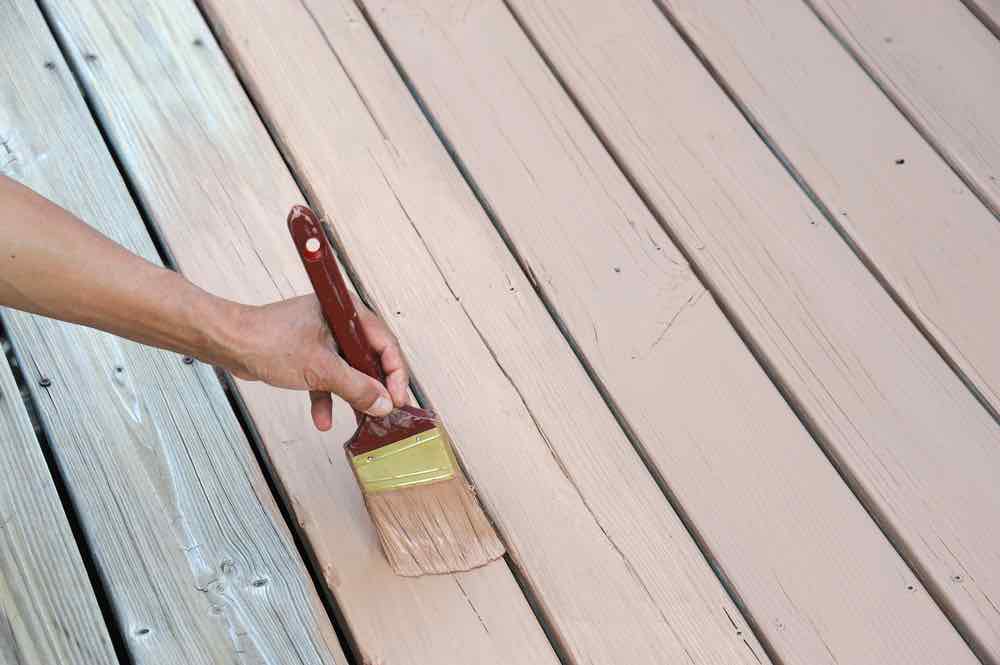 Just like with deck stain, you can find oil-based and water-based options. Oil-based paint was the standard, but in recent years water-based deck paints became easier to use with better durability.
Lasts longer: the extra effort with primer and topcoat means that paint for decks lasts much longer than a stain.
Better variety: there are more colors of deck paint than stain, and you get full coverage, not semi-transparent hues.
Intense application: deck paint requires the same cleaning, sanding, and repair as a stain but also a wood sealer, primer, two coats of paint, and then a polyurethane topcoat.
Good coverage: if your wood decking looks a little worse for wear or is getting up there in years, deck paint can hide a lot of wear and tear.
Easy maintenance: the gloss finish means it's easy to sweep and clean up debris and dirt. If you're into tempting fate, you can even use a pressure washer on deck paint, as long as the pressure doesn't exceed 600 psi for softwood decks (like cedar) or 1500 psi for hardwood (like oak).
So which one is the best fit for you? Some things to consider:
Process time: how long are you willing to spend painting your deck?
Style: if you're dreaming of a bright contemporary backyard with a red or blue deck, paint is the only way to go.
Durability: how long do you want your deck remodel to last?
Maintenance: if your deck catches a lot of debris and dirt from the yard, paint is easier to clean.
Coverage: the prep and extra paint coats will hide imperfections in old or worn-out decking.
Budget: even doing a DIY paint job on your deck will cost more with paint than stain, but it will also last longer.
How Long Does Deck Paint Last?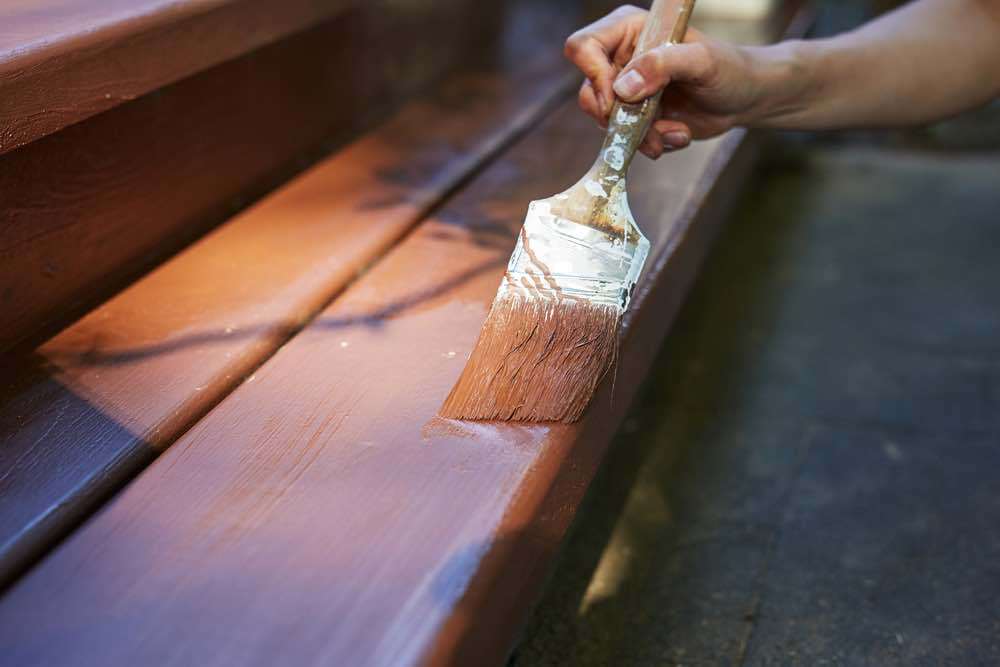 In the last section, we mentioned how deck paint lasts longer than a stain. That is because painting requires you to seal the wood, apply primer to bond the color to the deck, and a topcoat to protect the paint. Not only does paint last longer than stain, but it also protects the wood to extend the deck's lifespan.
Deck paint lasts at least 10 years before needing refinishing.
You can easily extend your painted deck's life with regular, thorough cleanings to eliminate bacterial growth and mold. Staying on top of dirt and debris keeps your deck looking lovely in the short term and prevents damage to the wood surface. By comparison, deck stain doesn't last nearly as long.
Deck stain lasts betwen 1 and 8 years before neeing refinishing.
That said, you can quickly refresh a stained deck with light standing before merely adding a fresh coat of stain. Refinishing a painted deck is more complicated.
Best Moisture Protection
Everyone knows that oil and water don't mix. So when you invest in oil deck paint, you're guaranteed the best moisture protection possible for the wood underneath. If you live in a wet climate where it rains a lot, then you might opt for oil-based even though it's more of a hassle to apply and harder to get rid of the excess.
Best UV Protection
Modern improvements to latex paint have made it the best at providing UV protection for wood. If you live in a sunny climate, you're better off using water-based paint for refinishing your deck. Because water-based paint is a plastic, latex, it moves with the wood better than oil-based. You'll see less cracking and peeling.
How to Tell Your Deck Needs Refinishing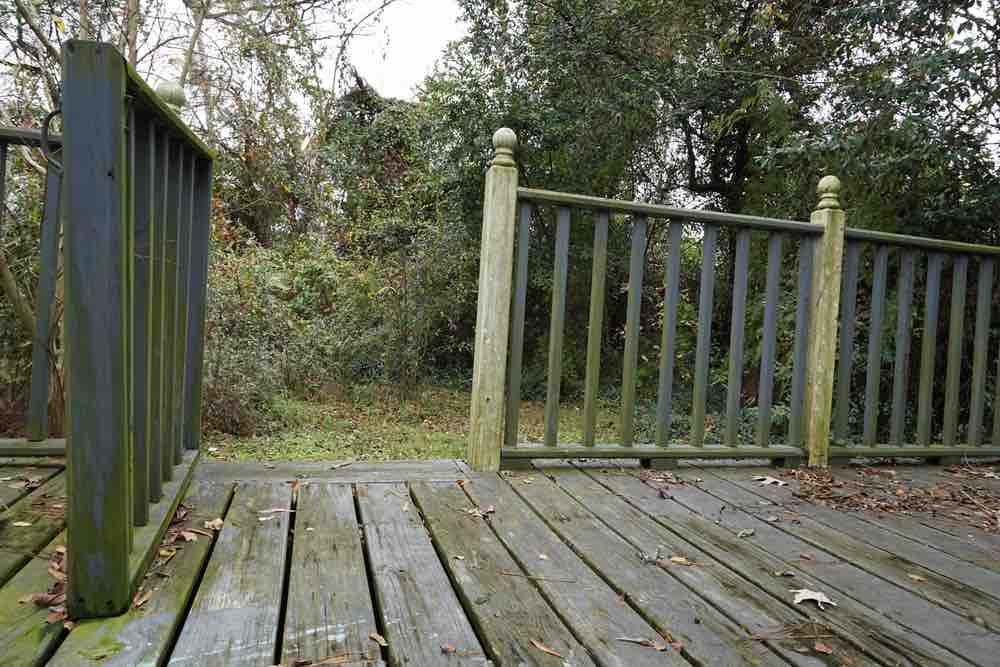 Maybe you're not concerned with aesthetics and are happily hanging out on your deck regardless of how it looks. You should still consider a fresh coat of paint on your deck. Wood exposed to the elements, without paint or stain protection, sustains more damage than a sealed deck would. If you're unsure if your current deck is ready for refinishing, look for these warning signs:
It's gray or faded: whether painted or stained, if the color of your wood deck looks dull or gray, it's ready for a fresh coat of paint.
Peeling and flaking paint: once the paint lets in moisture and sun, the deterioration will only worsen the longer you wait.
Dry wood: if the wood looks terrible to the untrained eye, then you can guess the solution""it's time to refinish.
Visible mold and mildew: don't wait to address these symptoms of a bad deck. Mold and mildew cause severe damage to wood, but you can treat the problem by cleaning and sealing the deck.
Soft and loose boards: refinishing is the perfect time to replace broken or weak boards. Make sure everything is tight and secure before you paint.
Splinters: you don't want to spend your leisure time on a deck that gives you splinters. Replace broken boards and sand the whole thing before painting.
Taking care of these issues is more than just making your yard look beautiful. You might save yourself the cost of a full deck repair. Leave mold, mildew, loose boards, and peeling paint long enough, and you`ll need to replace the wood. Potentially even the ledger board that connects your deck to the exterior of your home will need replacing if you don't address these problems early.
Do You Need Special Paint for Decking?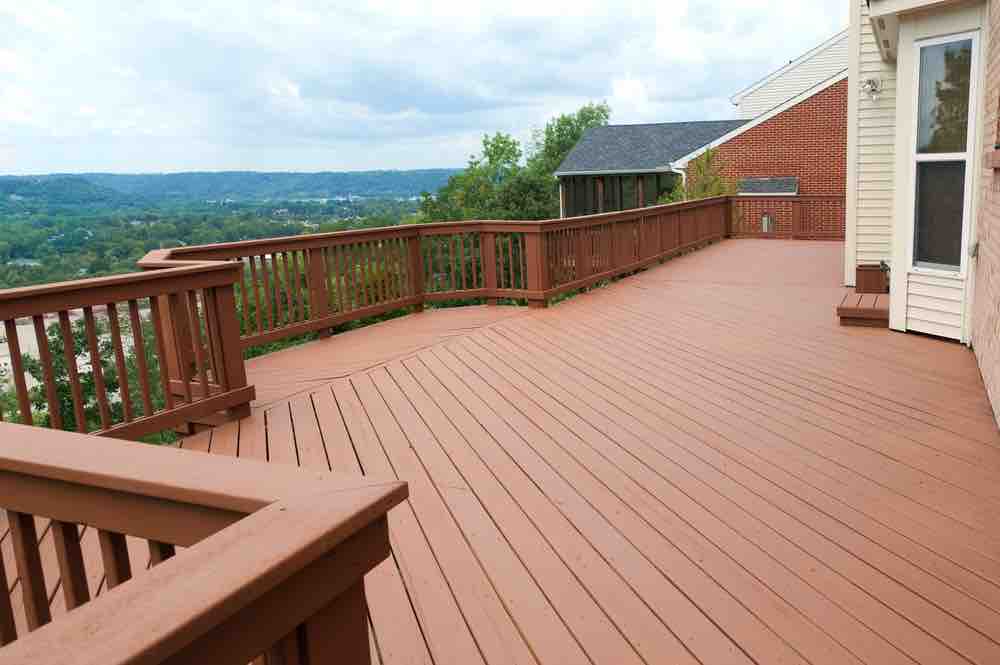 You can't just throw a few coats of your leftover latex paint from your living room onto your deck. Even floor paint won't work exactly right. The best deck paints have formulas designed for the outdoors and foot traffic, with non-slip properties in the rain. Interior latex floor paint for the basement or garage can't withstand harsh year-round weather and direct UV light.
As DIYers we understand sometimes wanting to recycle or reuse paint. But these subtle distinctions make a big difference for your deck. Using the right products and taking your time with prep, you increase the lifespan of your deck. You can avoid expensive repairs or even future deck replacement.
Keep reading for our favorite deck paint.
The Best Deck Paint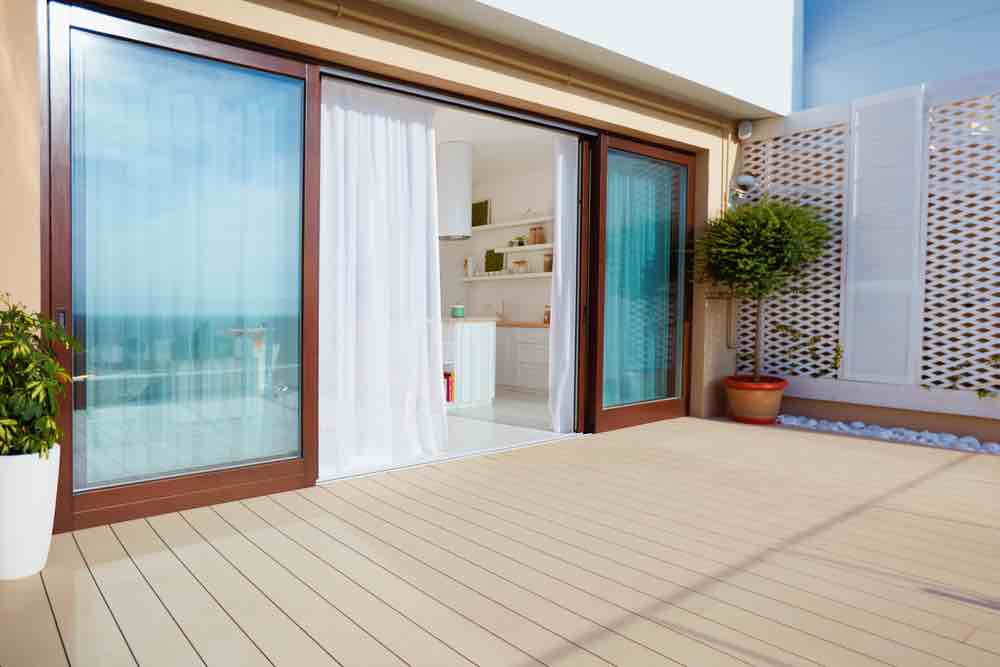 We love the professional quality you get from Behr Premium Porch and Patio Floor Paint. It works great on wood decks, but you can also use it for concrete patios and walkways, making your exterior spaces cohesive and easy to paint. Here's some of our favorite stuff about Behr Premium Porch and Patio Floor Paint and why it's the best deck paint available.
You can use a variety of application methods, including brush-on, roller, or spray.
Find the perfect color for your home. Get a custom color with computer matching.
Resistant to scuffing, fading, UV damage, cracking, and peeling.
It comes in two sheens, either gloss or low-luster.
It can go over previously painted surfaces with the right prep.
Use it on literally everything""interior and exterior, decks, floors, furniture, trim, siding, etc.
You can learn how to apply Behr products in as little as ten minutes, through their helpful YouTube videos. They'll walk you through prep""like cleaning and sanding the deck before priming. Don't get defeated by the prospect of priming. It's an essential step for bonding the topcoat to the wood underneath and will help keep your deck looking great for years to come, without peeling or cracked paint.
The other key to keeping your deck paint looking great is to give it plenty of time to cure before exposing it to heavy traffic. While the paint may be dry to the touch within four hours, it isn't ready for heavy foot traffic, cleaning, or dragging the deck furniture across it. Waiting to return to full usage of your outdoor space is one of the best ways to increase deck paints' longevity.
More of the Best Deck Paints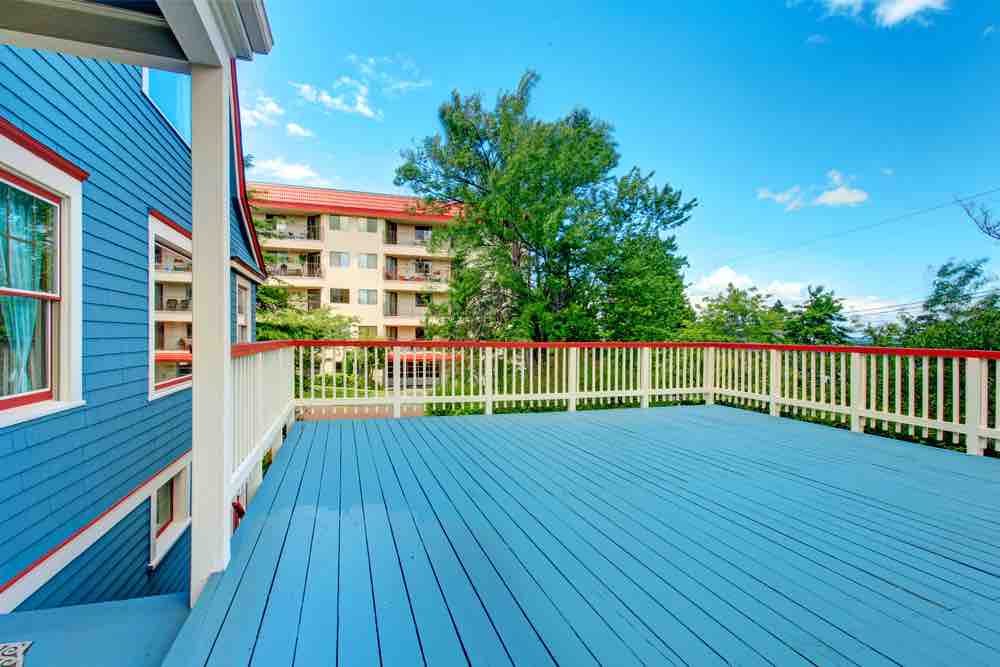 We think the Behr Premium Porch and Patio paint is all you'll need for your interior and exterior floor surfaces. But we've also rounded up some other great products that you might consider when planning your DIY deck refinishing.
Behr Porch and Patio paint balances costs and benefits, presenting an affordable, not-to-fussy way to paint your deck. But if your boards have gigantic cracks you don't want to fill, consider a more heavy-duty option from above.
How to Use the Best Deck Paint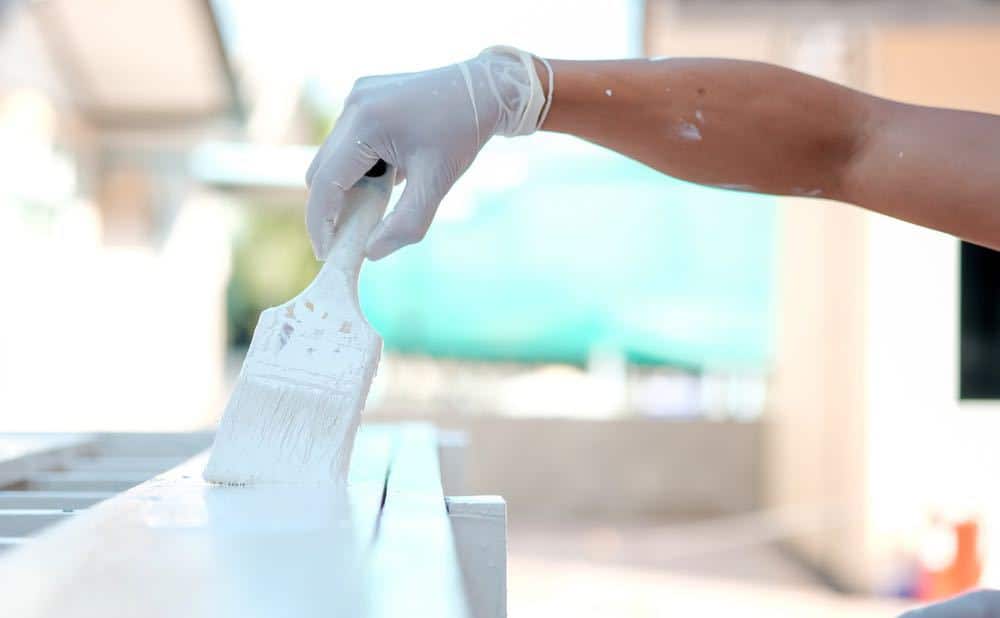 We mentioned above the videos offered by paint manufacturers with tips for getting the best performance out of their products. There are a few general rules for deck paints that will serve you well during your DIY project.
Boxing your paint: buy enough paint to cover the full square footage of your deck twice and mix all the gallons. That way, you won't end up with sections that are slightly lighter or darker.
Clean and dry: use a deck cleaning solution and a stiff bristle brush. Scrub away mildew, mold, stains, and dirt. Then, let your deck dry for 24 hours.
Sand: use medium grit sandpaper and lightly sand the entire surface of the deck to remove loose wood fibers and splinters.
Prime: use your favorite primer-it might take two coats for complete coverage of stains or filling small cracks.
Topcoat: don't let your primer dry completely before painting on your topcoat. Start the deck paint an hour or so after the primer when it's dry to the touch but not totally cured.
Follow specific instructions by the paint manufacturer, but these quick guidelines are sure to get your long-lasting results from the best deck paints.