Concrete surfaces can be quite a challenge to paint, especially if you're doing it for the first time. In such instances, regular paint won't make the cut. When painting concrete, you don't just have to consider the quality of the tool you will be using but also the paint.
A good quality concrete paint gives you a uniform and consistent finished look, no matter what kind of surface you're painting whether it be patio floors, driveways, garage floors, or concrete steps. The best exterior concrete paint possesses durable qualities that protect your concrete walls from different weather conditions that may cause wear and tear to your walls.
If you're looking for the best exterior concrete paints for all kind of surfaces, you've come to the right place. In this article, you'll find 7 of the best concrete paints that you can choose from.
What Makes a Best Exterior Concrete Paint?
Before going out and buying yourself a can of exterior concrete paint, there are certain things you need to consider to ensure you get the best quality for your intended project.
There will be various options, so before you get confused about which one to pick, you should know what differentiates them from each other and what kind will best suit your project.
#1. Durability
An important factor when choosing the best exterior concrete paint is to look at how durable it is. Having to repaint every few years is normal, but the frequency of repainting varies from brand to brand.
Some concrete paints will also last longer if the surface is primed before they're applied. Checking the label of the paint you're about to buy will give you information regarding its durability.
Long-lasting masonry paints are ideal if you're not looking to change the color of your exterior walls for a few years at least, while less permanent paint is recommended otherwise.
#2. Paint Finish
The paint finish depends on your personal preference and how you'd like your exterior surfaces to look. Concrete paints are available in various finishes from flat matte finishes to glossy paints. You can also find the information about the finish on the label.
#3. Regular Maintenance
When it comes to outdoor paints, maintenance can either be a breeze or a hassle depending on the paint you choose. All kinds of concrete paints will require maintenance to a certain degree, but some of them need to be taken care of more often.
Some paints will need to be waxed and polished every now and then while others don't require such care. If your lifestyle doesn't allow you to spend too much time on such processes, it's better to go for low-maintenance paints.
Best Exterior Concrete Paint for Your Project
1. Rust-Oleum Decorative Concrete Coating
If you're looking for a concrete paint that is highly durable, versatile, and has a unique decorative finish for masonry surfaces, look no further than the Rust-Oleum Decorative Concrete Coating.
This cement paint from prominent paint manufacturer Rust-Oleum is one of the best exterior concrete paints on the market. It beautifies your concrete surfaces and provides a protective coating.
The exterior paint gives you a multi-colored, one-of-a-kind look with a non-slip, textured finish that instantly beautifies all surfaces, including uneven surfaces. The solid color paint is suitable for patios, pool decks, walkways, garage floors, etc. It also comes in three color options.
Aesthetics is not all this paint has to offer. This concrete paint adds a protective layer to your concrete walls, keeping them safe from humid conditions and harsh weather conditions. It also comes with hydrophobic properties to prevent concrete stains. You can find more about its specifications here.
---
2. Kilz Decorative Concrete Coating
One of the best exterior concrete paints with a pocket-friendly price is Kilz Decorative Concrete Coating. This paint is quite versatile as it provides a protective layer to your patios, garage floors, masonry walls, driveways, and other outdoor projects, including indoor surfaces.
Before applying this paint, proper surface preparation is required. This means that you need a dirt/dust/grease-free floor before painting. The paint is not suitable on vertical surfaces or areas with hydrostatic pressure.
This exterior concrete paint is available in two standard colors — tan and gray. Check out their official website to know more about the specifications and paint application process here.
---
3. Drylok Concrete Floor Paint
Drylok Concrete Floor Paint is a high-quality concrete paint and one of our top choices for the best exterior concrete paints. This exceptional product is self-described as a paint and primer in one that has been specifically formulated for masonry floors, whether indoors or outdoors, giving them a clean, durable finish.
This best exterior concrete paint comes with a non-slip finish that is perfect for new concrete surfaces and previously painted ones. It is handy for covering up imperfections from a previous paint job.
This is an ideal paint for patios, garage floors, walkways, laundry rooms as well as basement walls and floors. The unique concentrated formula makes this paint resistant to fading, peeling, and cracking.
The paint also provides excellent efficiency as you can cover up to 500 square feet per gallon of paint. You can find more information about the paint here.
---
4. RTG Supply Co. Concrete Paint
The RTG Supply Co. Concrete Paint is a great, premium-quality product that features a special water-based acrylic formula that has been made to protect your garage floors and basement floors, and is perfect for concrete applications. This best exterior concrete paint gives your concrete surfaces a layer of protection with a low-sheen and a smooth finish.
This cement paint is resistant to scuffing, tire marks, automotive fluids, and most household chemicals, making it suitable paint for garage floors and basements where such materials are likely to be spilled. This self-priming paint also does not require a primer or an applicator before usage.
The RTG Supply Co. is a durable paint that is quite efficient as it can cover up to 300 square feet per gallon. The paint also has a shorter dry time, making it convenient to use. You can apply a single coat, but two coats of paint can offer more protection.
---
5. Rust Bullet Concrete Paint
The concrete paint from Rust Bullet is an exceptional product that not only gives you a protective layer of paint but makes your concrete surfaces look great as well. The paint offers superior protection against impacts, abrasives, different weather conditions like hot climates as well as UV damage.
One of the best exterior concrete paints, it's said to be fully cured after around 72 hours of application since the last coat of paint which is quick compared to other epoxy floor paints. It can also cure at temperatures as low as 32 degrees Fahrenheit.
The exterior paint provides excellent coverage at 300 to 400 square feet per gallon. The company recommends at least two fresh coats for a durable and long-lasting finish that won't require repainting for a long time. To know more about its application, click here.
---
6. Diamond Hard Enamel Concrete Paint
Although it's one of the lesser-known entries on our list, Diamond Hards's concrete paint nevertheless provides a high-quality alkyd finish to rough and smooth surfaces, offering a good-looking professional application.
The paint features a special durable gloss enamel finish that protects your surfaces against abrasions, rust, household chemicals, and oil stains. It's suitable for commercial as well as household concrete surfaces. Durable and hardwearing, this exterior paint will stay on and retain its finish even in areas that receive high foot traffic.
This best exterior concrete paint offers a fairly decent coverage of 250 square feet per gallon.
---
7. INSL-X Sure Step
Last but certainly not least on this list of the best exterior concrete paints is the INSL-X Sure Step. The Benjamin Moore-owned company delivers a range of effective coatings that are durable, versatile, and attractive.
The brand offers a variety of high-quality concrete paints, but one that stands out is the Sure Step range. This paint for concrete comes with an acrylic anti-slip formula that provides your surfaces with a durable coating and skid-resistant finish.
This high-quality paint also features excellent color retention so your concrete surfaces remain beautiful for a long time. This abrasion-resistant paint is resistant to water damage from ponding water.
The paint has a faster drying time with its unique formula which also makes it easy to apply. It can be used on heavy traffic surfaces like stairs, walkways, patios, concrete porches, garage floors, and more.
---
How to Find the Best Exterior Concrete Paint
Concrete paints come in many types and forms. To ensure you get the best exterior concrete paint, it's essential to know which type to use for your project. Broadly, there are two types of concrete paints:
1. Acrylic Latex Paint
This is water-based paint that mixes and spreads quickly. It's perfect for a variety of masonry surfaces and outdoor concrete projects. It's also relatively easy to use for beginners.
However, acrylic latex paints may not be the most durable option, so it's better to use them for surfaces with light foot traffic.
2. Epoxy Paint
In contrast to acrylic latex paints, epoxy paints are much more durable and last longer, making them an excellent choice for outdoor surfaces and surfaces with high foot traffic.
This type of paint offers water and stain resistance which keeps your surfaces clean and beautiful for longer.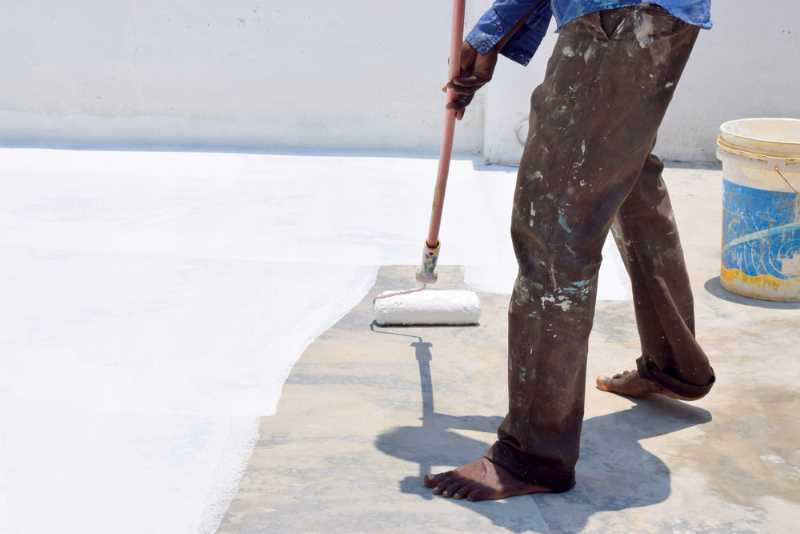 Wrapping Up the Best Exterior Concrete Paint
Choosing the best exterior concrete paint is never easy when you have so many options. Now that you know more about concrete paints and what to look for, you can choose the best one for an upcoming project to get the best possible results.
If you have a spill or need to remove an old coat of paint before getting started, take a look at How to Remove Paint from Concrete.
Check out our Exterior Painting page for even more information on exterior painting, paints, and products.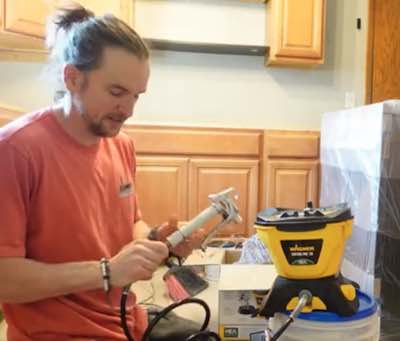 I've been a professional painter since 2001 and spent the last 12 years specializing in kitchen cabinet refinishing. I started the DIY Painting Tips blog in 2015 to start sharing everything I've learned over the years and help all the people who'd rather tackle their painting projects themselves. In 2019 I started the DIY Painting Tips Youtube channel where I publish in depth videos all about kitchen cabinet painting, painting gear reviews, and interior/exterior tutorials.