---
Exterior Wood Filler Buyer's Guide
There are a couple of questions you should ask yourself to make sure you're buying the best exterior wood filler for your needs,
The Project Type
Are you filling in screw holes on your deck, or are you attempting to fill a gap in the siding of your house?
The best exterior wood filler for you depends on how you're going to use it. Is it a small quick job? Or is it a huge job that you need to get just right? Some of the wood fillers on this list are a little more difficult to use than the others, but the reward is within their difficulty.
For instance, Bondo and Minwax are tough because you have to mix the solution precisely, then apply it quickly to the gap or hole. If that's done correctly, you'll have a permanent fix to your problem. You won't have to worry about cracking or shrinking.
But if you're just doing a small, straightforward project, I'd recommend using the Elmers or FamoWood. They're easy to use and efficient enough to get the job done.
Finishing With Painting or Staining
Every one of the exterior wood fillers on this list can handle paint. However, no exterior wood fillers hold up well when stained. Most exterior wood fillers are made from resin or latex. This means that they sort of resemble plastic.
Wood is porous and accepting. Plastic is solid and brittle. Wood absorbs the stain. Plastic just lets the stain sit on the surface. Exterior wood filler isn't exactly plastic, but it does have a similar response to stains.
Some exterior wood fillers, like the Elmer's, handle stains a tiny bit better than the others. And some brands like FamoWood offer different colors to help you match your wood.
So remember to take into account how you're covering the wood filler. It will make a big difference in the end.
---
Best Exterior Wood Filler FAQs
There are a lot of questions out there about exterior wood fillers. Here are a few simple answers.
When should you not use wood filler?
Wood filler is perfect for covering up screw holes, odd scratches and knicks, or seams between joined pieces. It's not great to cover up large gaps or holes. It's always better and sometimes far easier to just replace the wood, especially if the wood is rotten.
Which is better, wood putty or wood filler?
Wood putty is exactly what it's described to be, a putty. It's always going to remain soft and, therefore, cannot be drilled into or cut apart like wood. It's used more for aesthetic value rather than practical purposes.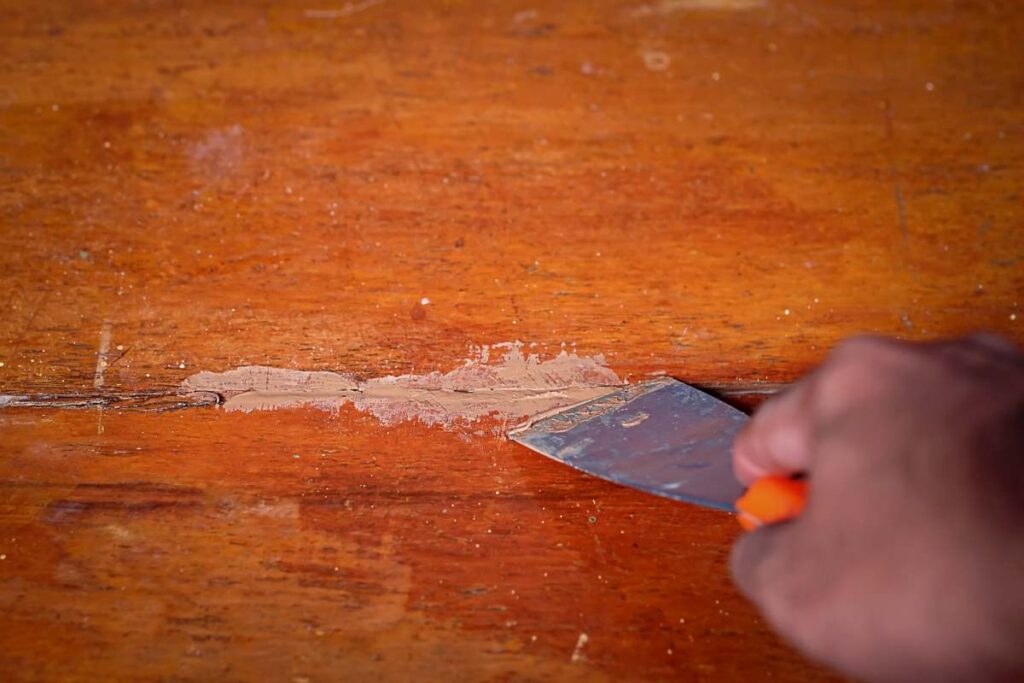 Wood filler, on the other hand, is meant to act as wood. You will be able to saw, sand, and drill into wood filler the same way you can with actual wood. It's a more permanent solution to gaps, cracks, and holes.
How big of a gap can wood filler fill?
I've personally never tested how big a gap you can fill with wood filler. I'm assuming you can fill a huge gap if needed; however, it won't be easy. It's always better to just replace the wood, or use a piece of wood to fill most of the gap, then fill around it with wood filler to even out the seams.
What consistency should wood filler be?
It should be as hard as wood when dried. Before then, it should be the consistency of wet playdough.
---
Fill Wood Holes and Gaps With the Best Exterior Wood Filler
Wood filler is a wonderful way to clean up any wooden structures. But not all wood fillers are equal. For all your exterior projects, I can't recommend Bondo Home Solutions Wood Filler enough.
Are you looking into exterior wood filler to fix your wood siding before you paint your house? If so, check out this article that covers 10 Exterior Painting Tips.