Looking for the best exterior wood stain is no easy feat. With so many options and different stains available, it's hard to know what you need for your exact project. So we composed a list of the best stains for your exterior wood staining needs. Should you use oil-based or water-based? Clear or colored? We will go over all the specifics for you.
Learn what wood stain fits your project best. We've done the hard work, now read on so you can get started on that staining project with these top-tier exterior wood stain recommendations.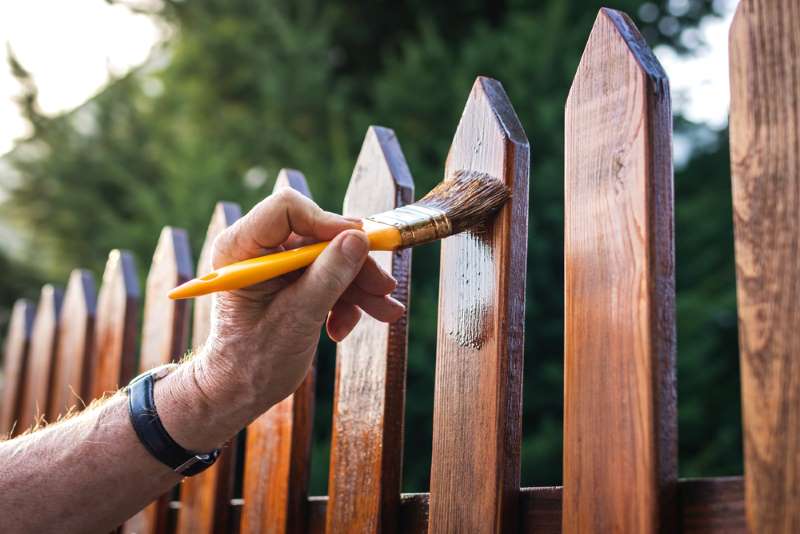 What is Exterior Wood Stain?
Exterior wood stain comes in many different forms. Some penetrate the wood's surface and create an invisible layer of protection, while others are more of a solid color that hides all of the natural wood grain. Most stains contain five major elements: resins, oils, pigments, additives, and solvents. Each one plays a role in getting the stain to adhere, protect, and improve the wood's surface.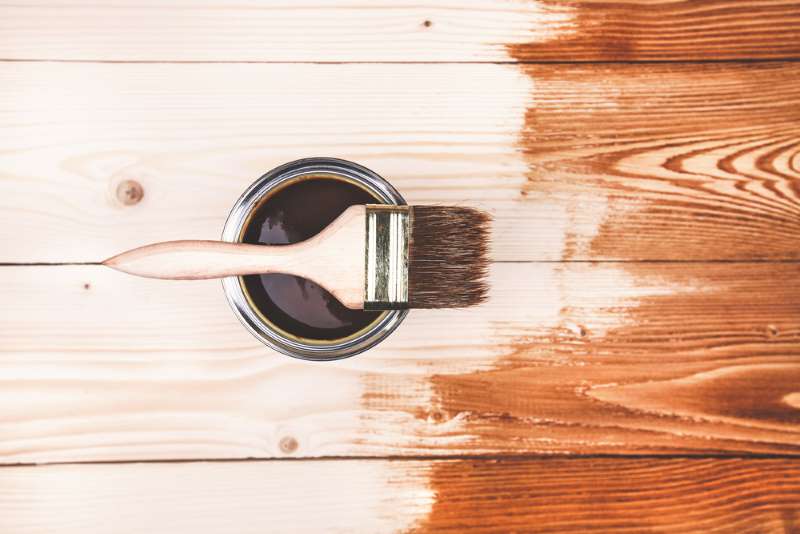 The most crucial aspect of all exterior wood stains is to protect the integrity of the wood. Wood and moisture don't go well together. Let's face it, most of this wood will be exposed to the elements for an indefinite period of time. So having a protective layer to keep the moisture out prevents any buckling, cracking, or splitting of exterior wood in the future.
When and Why to Use Exterior Wood Stain
After shelling out your hard-earned cash, you'll want to protect your exterior wood to make it last as long as possible-the biggest reason is to protect it from the elements. Rain, snow, hail, and wind can cause wood to disintegrate over time.
Stains offer a level of protection to your exterior wood that leaving it in its natural state does not offer. You can use wood stain on any exterior wood, such as fences, siding, decking, and more.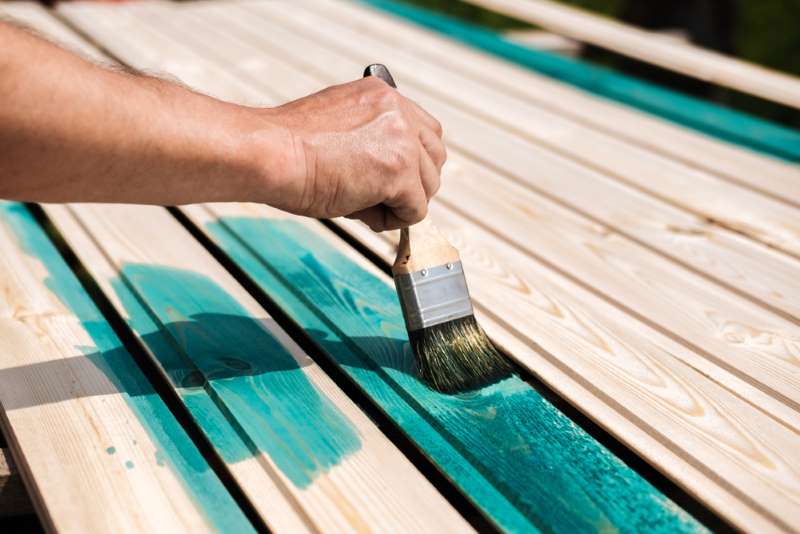 Picking out the correct stain involves knowing what look you are going for, be it more of a natural look or something more opaque. Some stains may look better at first but do not age so well over time. Also, the size of the project can make a difference.
Below you can learn about the different types of stains available and what would be best suited for your exterior wood staining project.
The Best Exterior Wood Stains on the Market Categorized by Type
Clear Exterior Wood Stains and Sealers
Clear wood stains and sealers allow you to see the natural wood grain underneath while giving a level of protection to the wood itself. Clear stains enhance the wood look and keep it pristine in its natural state by creating a deep penetrating layer to keep any moisture out. Best when used on new lumber or wood with previous stains or color removed.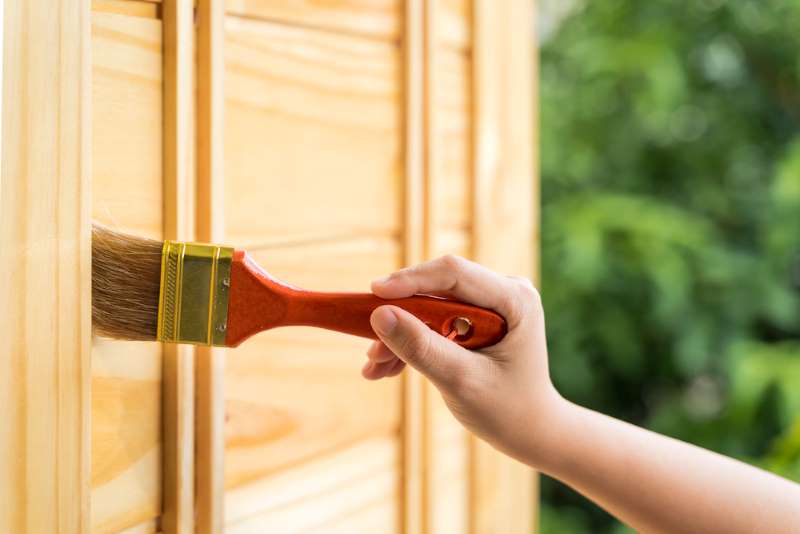 1. Cabot Clear Wood Protector
Cabot Clear Wood Protector is a deep penetrating wood protector that helps resist UV rays, mildew, mold, and algae. Because it penetrates deeply into the wood fibers, it offers outstanding long-lasting protection.
2. Valspar One Coat Clear
Valspar's One Coat Clear is a clear sealer that offers all-in-one weather defense in just one coat. Ideal for decking, siding, and fencing – one coat leaves a protective waterproof layer without adding color.
3. Behr Premium Transparent Waterproofing Wood Finish
Behr Premium Transparent Waterproofing Wood Finish offers exceptional protection from the sun's UV rays and protects against mold and mildew. This all-in-one wood finish and sealer is perfect for any exterior wood that is either brand new or newly cleaned of previous paints or stains.
4. Sherwin-Williams SuperDeck Clear Sealer
Sherwin-Williams SuperDeck Clear Sealer is a fantastic waterproofing deck sealer that penetrates deeply into the wood grains to prevent any warping or cracking caused by the weather.
Semi-Transparent Exterior Wood Stain
Semi-transparent wood stains have a small amount of pigment mixed to give a hint of color while still enjoying the wood's natural grains. Best used on bare wood that has had no previous staining or wood that has been stripped of any prior stain or paint.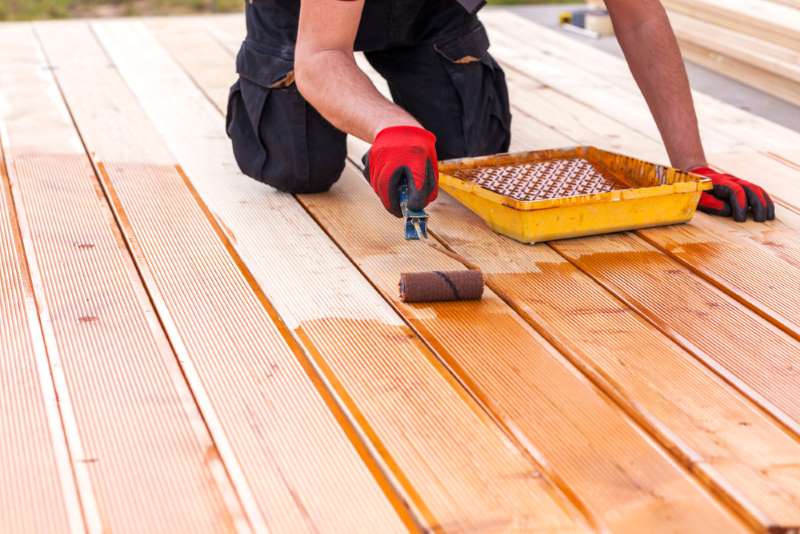 1. 1 Deck Premium Semi-Transparent Wood Stain
1 Deck Premium Semi-Transparent is a dual-purpose stain and sealer that protects all exterior wood from weather, UV rays, and greying of the natural wood. This semi-transparent color will add a beautiful pigment to your exterior wood while enhancing the wood's natural grains.
2. Thompson's Water Seal Semi-Transparent Waterproofing Stain
Thompson's water seal semi-transparent waterproofing stain offers a lightly pigmented color of your choice and sealer. This protects your wood and brightens the natural wood grain. It is resistant to mold and mildew and helps prevent water damage to your exterior wood surfaces.
3. Cabot Semi-Transparent Deck and Siding Stain
Cabot semi-transparent deck and siding stain is a deep penetrating stain that protects and enhances the wood's look while adding a bit of color. It is a one-step application process that protects from stains, mold, and mildew and won't crack or peel.
4. DEFY Extreme Semi-Transparent Exterior Wood Stain
DEFY extreme semi-transparent exterior wood stain is a water-based stain made with high-quality resins that make this stain long-lasting and extra durable. It is great for fences, decks, siding, and more with a natural matte finish!
Semi-Solid Exterior Wood Stain
Semi-solid wood stains have a more significant amount of pigment and less natural wood grain. They offer good wood protection and add color to any exterior wood.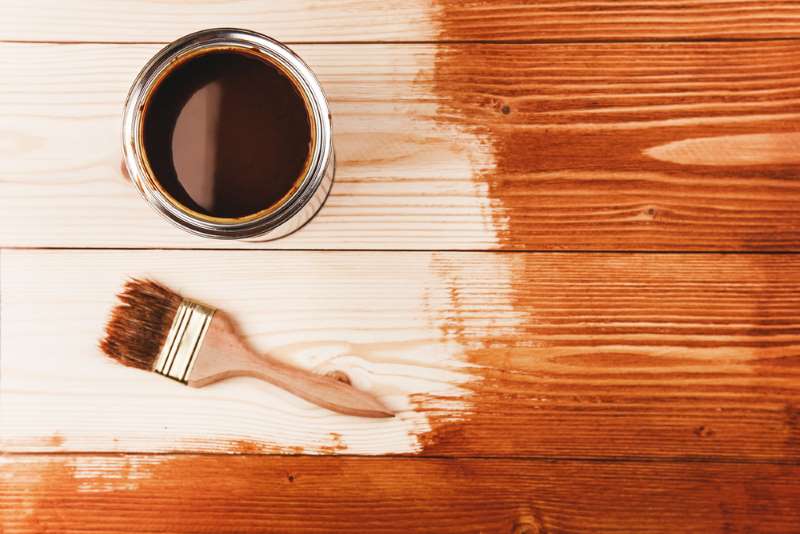 1. Olympic Elite Semi-Solid Wood Stain and Sealant
Olympic elite semi-solid wood stain and sealant is a two-in-one product that offers semi-coverage to the surface of your wood to protect from the elements while providing a beautiful color and sealant. It is easy to apply and perfect for refinishing any deck or wood siding.
2. Preserva Wood Semi-Solid Exterior Wood Stain and Sealer
Preserva wood semi-soil is a waterproofing stain and sealer that enhances the look of all wood's texture while protecting it from all types of moisture. Perfect for home siding, decks, and fences.
Solid Color Exterior Wood Stain
Solid wood stain hides most of all wood grain and applies much more like paint. It has a high pigment level and will color the entire piece of wood, leaving little to no wood texture.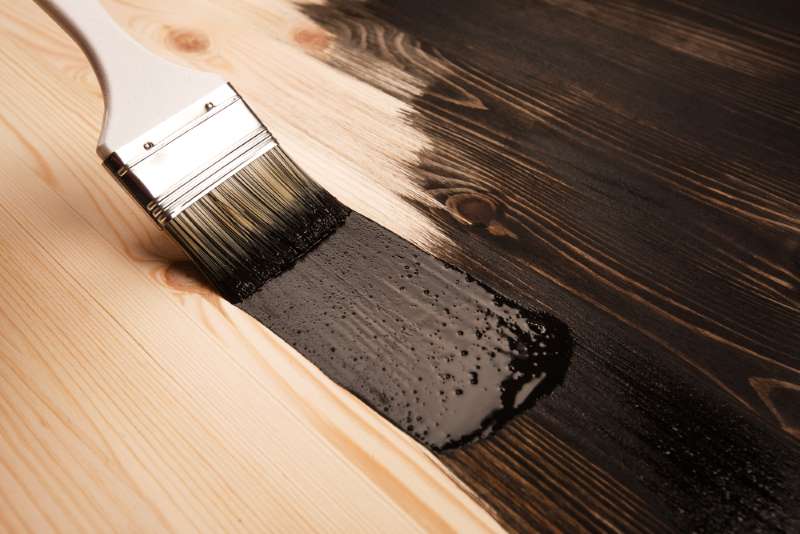 1. Valspar Solid Exterior Wood and Sealer
Valspar Solid Exterior Wood and Sealer is perfect for an exterior wood that you want to show little to no wood grain. This all-in-one stain and sealer is ideal for decks and has long-lasting sun-blocking protection.
2. Cabot Solid Color Deck Stain
Cabot Solid Color Deck Stain being scuff and water-resistant, is excellent for high traffic foot areas making it one of the best overall exterior wood stains on the market.
3. Behr Premium Solid Color Waterproofing Stain and Sealer
Behr Premium Solid Color Waterproofing Stain and Sealer protects your exterior wood from the harshest weather and is excellent for large outdoor projects. The waterproofing helps maintain the durability of the wood and prevents any warping or cracking.
4. Olympic Maximum Solid Exterior Stain and Sealer
Olympic Maximum Solid Exterior Stain and Sealer is a highly rated stain with an opaque color that still shows some of the wood's texture. This creates a fantastic waterproof seal that can be cleaned the same day you stain. The weather and temperatures do not dictate when you can apply this stain, making it one of the best on the market today.
Eco-Friendly Exterior Wood Stain
Eco-friendly wood stains are biodegradable and have no harsh chemicals, unlike the other wood stains listed above. Being a more semi-transparent stain, these enhance the look of natural wood and are long-lasting.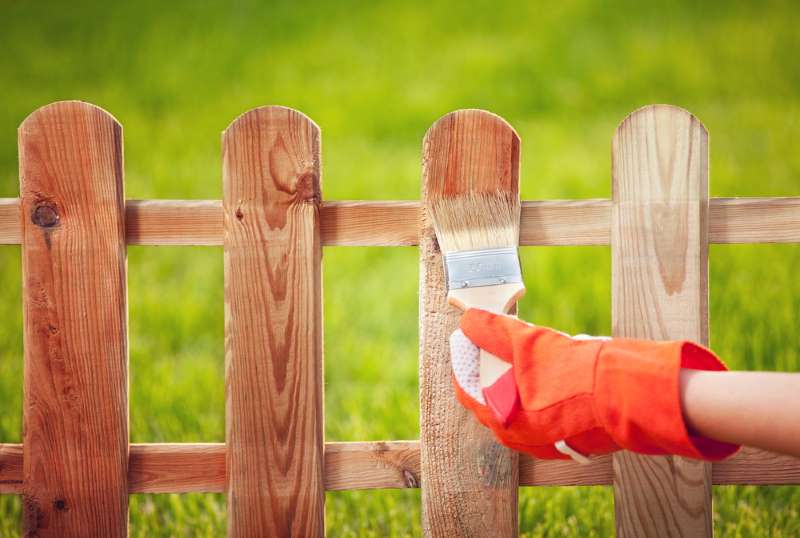 1. Gardener's Exterior Wood Stain
Gardener's Exterior Wood Stain is entirely non-toxic and is human, animal, and food safe. This biodegradable stain is made from whey and protects exterior wood from UV rays, mildew, and moisture. Perfect for all exterior wood.
2. Vermont Natural Coatings PolyWhey Exterior Penetrating Wood Stain
Vermont Natural Coatings is made from all renewable resources and is entirely biodegradable. It is excellent at protecting your wood's natural luster from all moisture and mildew. Great for use on decks, siding, garden beds, outdoor furniture, and more.
Oil-Based, Water-Based, Acrylic? What's Best?
There are so many different types of exterior wood stains, and they are all made up of various components. Sometimes, it's hard to know the best one for your specific project. So here's what we know: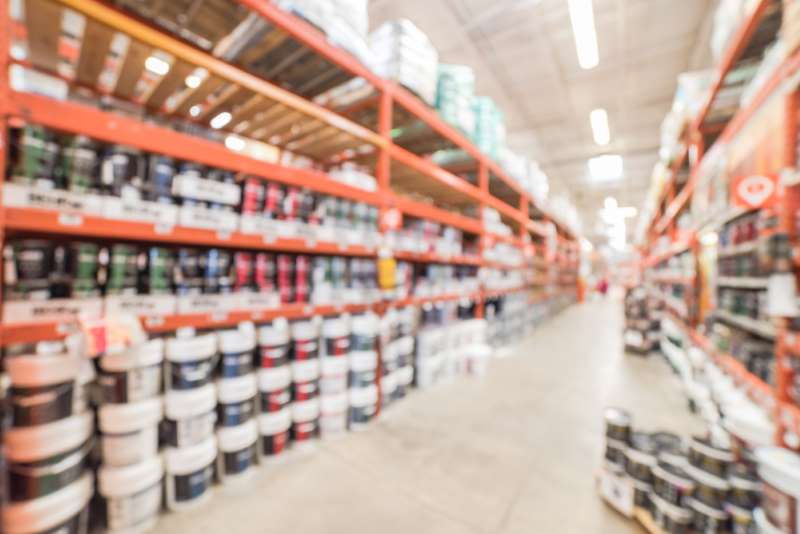 Oil-Based
Oil-based wood stains are best for larger areas of wood that need staining. They penetrate the wood better and are easier to maintain and touch up when needed. Because of their slower drying time, it is easier to get an even finish.
Water-Based
Water-based wood stains are quick-drying transparent wood stains. The primary use for these exterior wood stains is staining wood that has been previously stipped of stain. This is also better for the environment and is biodegradable.
Acrylic Wood Stains
Acrylic wood stains are great at adding extra coverage to a wood's surface. Great for a previously stained surface that has areas of stain that cannot be removed thoroughly. Although easy to apply, these stains will require additional upkeep because of the hard "shell-like" coating. Mostly all acrylic wood stains are solid color stains.
FAQ
What Materials are Needed Before I Stain Exterior Wood?
Exteriors stains can be applied with a paintbrush, roller, or paint sprayer. You will want to place tarps or painter's tape if you get close to anything you do not want the stain on. Example: plants, bushes, home exterior, etc.
My Exterior Wood Has A Grey Weathered Look. Can I Stain Over That?
It wouldn't be a great idea. The weathered grey look is from moisture that causes mold and mildew growth. The most effective way to remove that grey layer would be with a pressure washer and a bleach-and-water solution. Once the mold and mildew have been removed, let the wood fully dry before applying your stain.
Do I Need to Apply Wood Cleaner to my Wood Surfaces Before Staining?
It depends. If you have a deck with some old staining, you should pretreat these areas and try to remove any stains, dirt, or debris before starting the staining process.
I Am Not Sure What Type of Strain I Need. With So Many Options, How Do You Decide?
There are a ton of different stains on the market today. Most of them are great, and some are better for specific projects than others. Listed above, you can see what types of stains are best for your staining project.
I'm Looking to Stain my Exterior Wood Fence. Should I Purchase a Paint Sprayer?
When taking on a large staining project, we highly suggest purchasing or renting a paint sprayer. The stain goes on evenly and will have a better overall appearance, and won't take you as much time as hand painting the stain may take.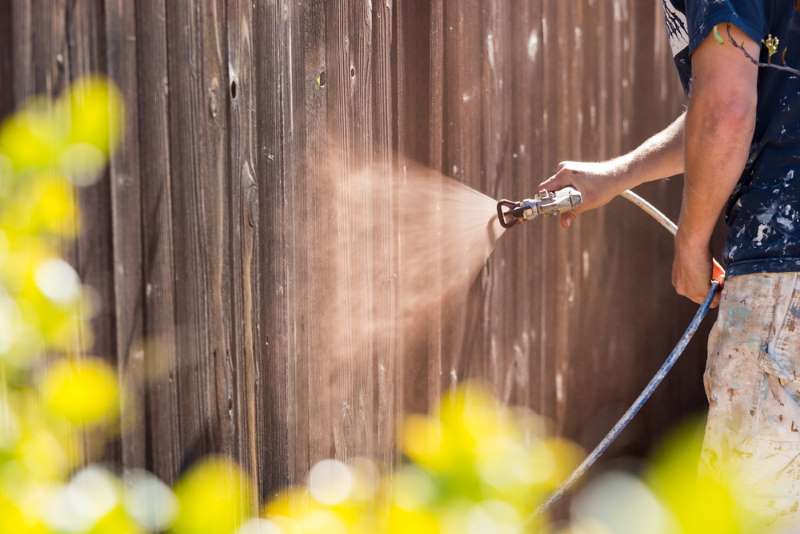 Wrapping up the Best Exterior Wood Stains on the Market
The best exterior wood stain comes with a high rating and robust reviews. Now that we've broken down the different stain types, it should easier to choose your selection depending on your specific staining project type.
Have you taken on a large or small staining project? We would love to know your experiences and what you think are the best stains in the comments below!
Are you looking for more staining tips? Check out our other blogs!
Check out our Exterior Painting page for even more information on exterior painting, paints, and products.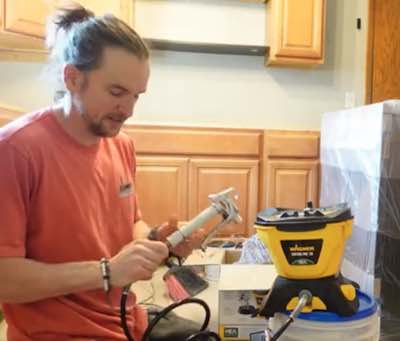 I've been a professional painter since 2001 and spent the last 12 years specializing in kitchen cabinet refinishing. I started the DIY Painting Tips blog in 2015 to start sharing everything I've learned over the years and help all the people who'd rather tackle their painting projects themselves. In 2019 I started the DIY Painting Tips Youtube channel where I publish in depth videos all about kitchen cabinet painting, painting gear reviews, and interior/exterior tutorials.