Trends, by definition, come and go. But using one of the best living room paint colors of all time means you don't have to repaint your living room every time Pantone releases a new color of the year. Or, at least, we wouldn't. Your living room color should reflect yourself and your home, adaptable to change, but also timeless. To help, we've rounded up the 21 colors that will never go out of style for your living room. They cover the full rainbow, from white to (yes, you're reading it right) black. Check out our inspiration guide and find the best living room paint colors for your home.
Soft Gray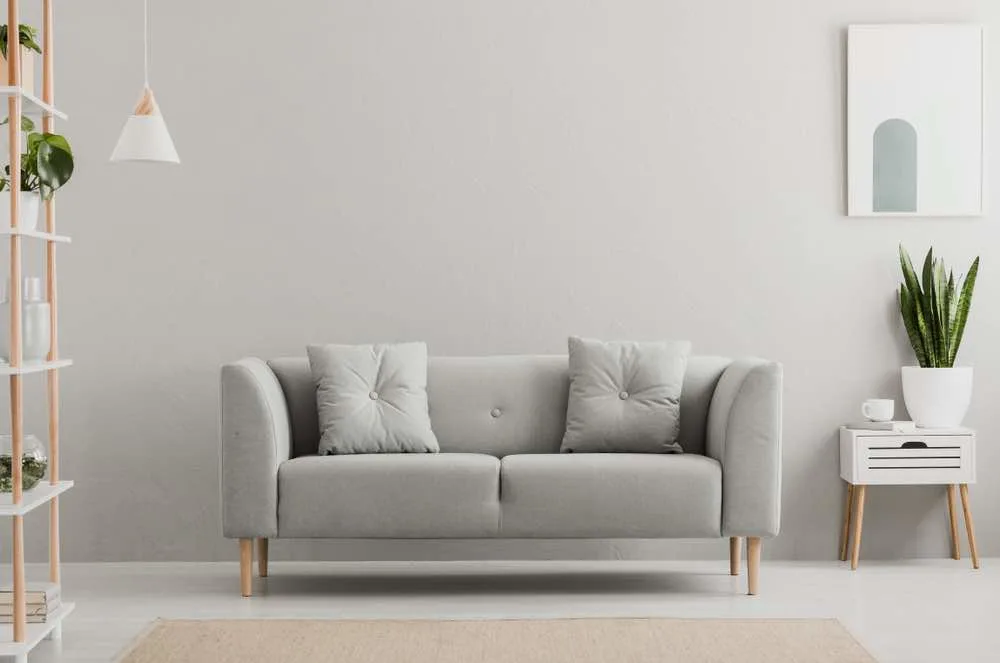 If you're a fan of white, off-white, and beige colors but want to try something bold (for you) for the living room, consider a soft shade of gray paint.

You can find the hue with both warm and cool undertones to suit your home and decor's mood. We're partial to Barren Plain from Benjamin Moore, or Seagull Gray from Behr for some soft gray living room paint colors. It's airy like off-white but also pops with neutral furniture and natural wood finishes.
Peach
A daring move (if you love shades of white paint), is peach. It takes beige and turns up the pink for a room color that's warm and inviting while staying bright and fresh. If your living room colors change all the time, it's neutral enough not to clash.

Sherwin-Williams Nearly Peach has just a hint of a more intense hue to turn white living rooms into splashier spaces.
Pale Yellow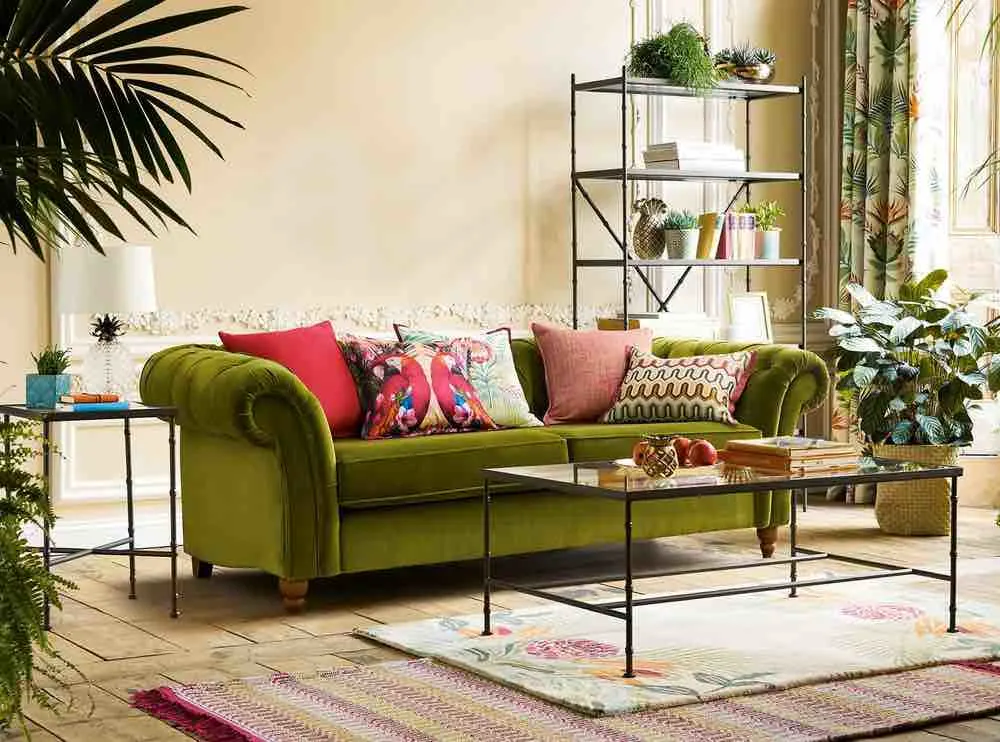 Want a bright and welcoming living room paint color? Then roll on a coat or two of Thickened Cream from Behr to transform your bland walls with the most optimistic living room paint. We just love how well it goes with emerald green accents and furniture.

Don't skimp on the indoor plants if you pick a pale yellow room color; they'll look great and add to the sunny atmosphere.
Olive Green
Sometimes you don't need a dark or bright room color to make a bold statement. Shagreen from Sherwin-Williams pulls together dark wood finishes with the light from all the tall windows in this living room.
They've used light neutral furniture to go with the olive green color paint, but we think dark patterns and luxurious materials would look just as good.
Emerald Green
If you've been looking for the bold, vibrant jewel tone living room paint color in this post, Exquisite Emerald from Behr is for you.
Classic, striking, emerald green always looks good, more so when you pick opulent room colors for the accents and furniture. An empty gilded frame like in this living room highlights that this is the playful color of money and decadence.
Forest Green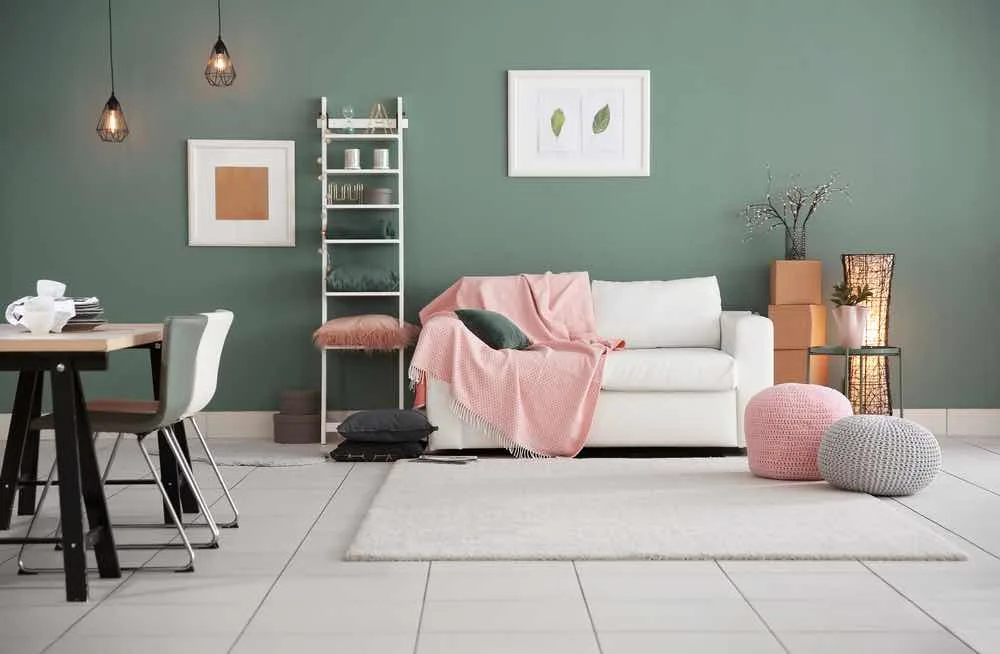 When you love luxurious living room paint colors but want less intensity, try Sherwin-Williams Basil or Rosepine from Benjamin Moore. A room color like this one feels like a dawn forest draped in a mist.

Living room paint colors like this one help to relax you while you're at home. We love the pale pink accents, which add elements of interior design to the space.
Teal
If you want a living room paint color to make you feel alive every time you step into your living room, try Sherwin-Williams Poseidon.

It's a living room paint color perfect for the place where you exercise, entertain, and hang out. While we love the monochrome colors in the accents, a little pink or orange would create tension and drama. Add gold lamps or bookshelves for more glam.
Ocean Blue
This paint color, Blue Nile, is genuinely one of the greatest living room paint colors of all time.
It's bold, so the enveloping walls make your living room an oasis from the rest of the world. Add a metallic side table to ritz up the aesthetic, or use natural wood to subdue the intensity.
Blue Gray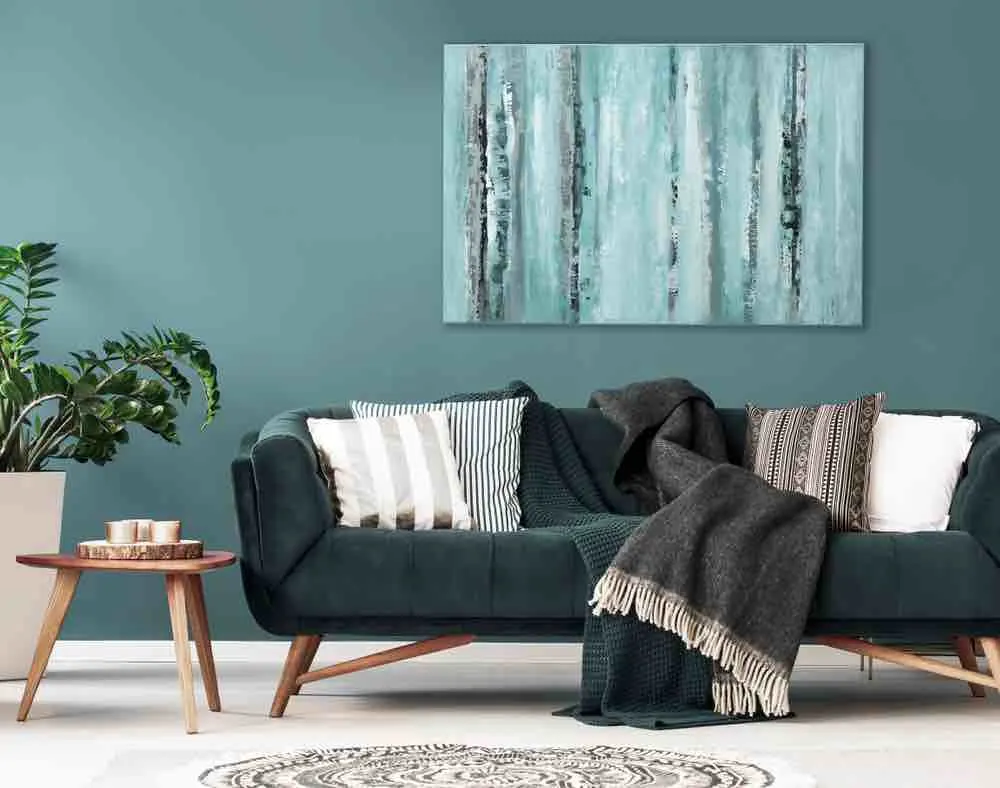 Again, if you love the drama of the previous living room paint color but want less forcefulness from your painting colors, try a blue-gray like Cloudburst from Sherwin-Williams.

It's a bold room color turning your living room into stormy seas with cloudy skies overhead. Pair it with the colors of nature, like white, beige, and forest green. Have fun using different materials for the decor, like the stained wood side table.
Turquoise
Sherwin-Williams Aquaduct is a simple, clean, and cheerful room paint, well suited to high rise apartment living rooms, and small houses.
The blue glows in limited sunlight and creates an airy open feeling. If you want to take an interior design approach to your living room, use contrasting color accents, like yellows, oranges, and reds. Or, style with beige and gray for a more calming effect.
Cerulean Blue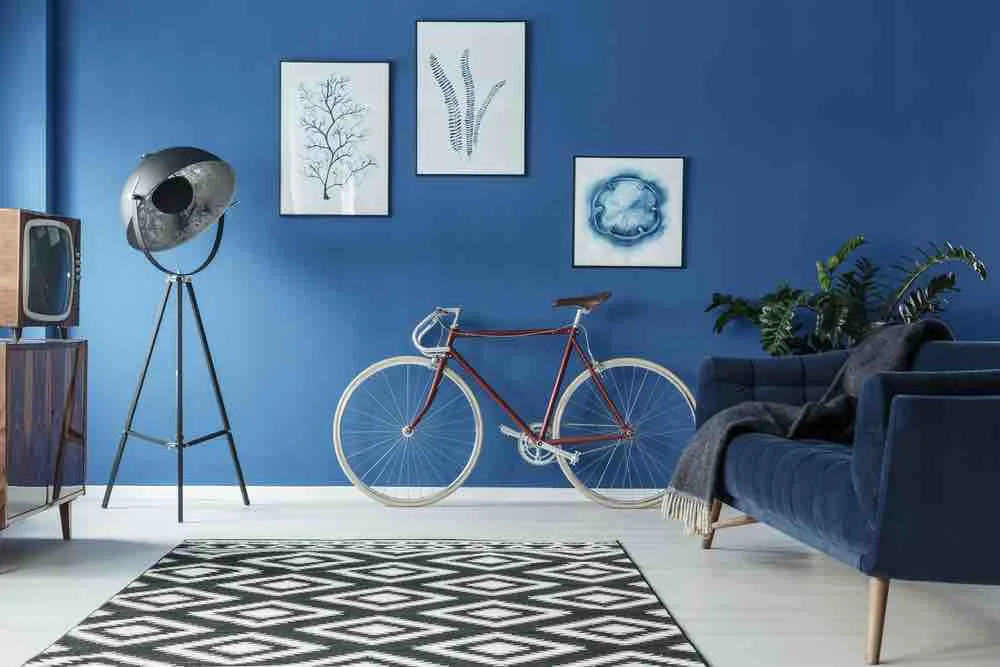 A perfect blue living room paint color like Hyper Blue from Sherwin-Williams will give make your living room feel brand new.

It's super fun to style using a monochrome of blue and super-white accents. It's a foolproof way to give your living room an element of interior design.
Dark Purple
Usually, purple's a hard hue to use as a living room paint color because of its intensity and brashness. But this subdued room color, Cabernet, from Benjamin Moore has us singing a different tune.

It's one of the best living room paint colors and the shade of purple we've always wanted to see.
Warm Gray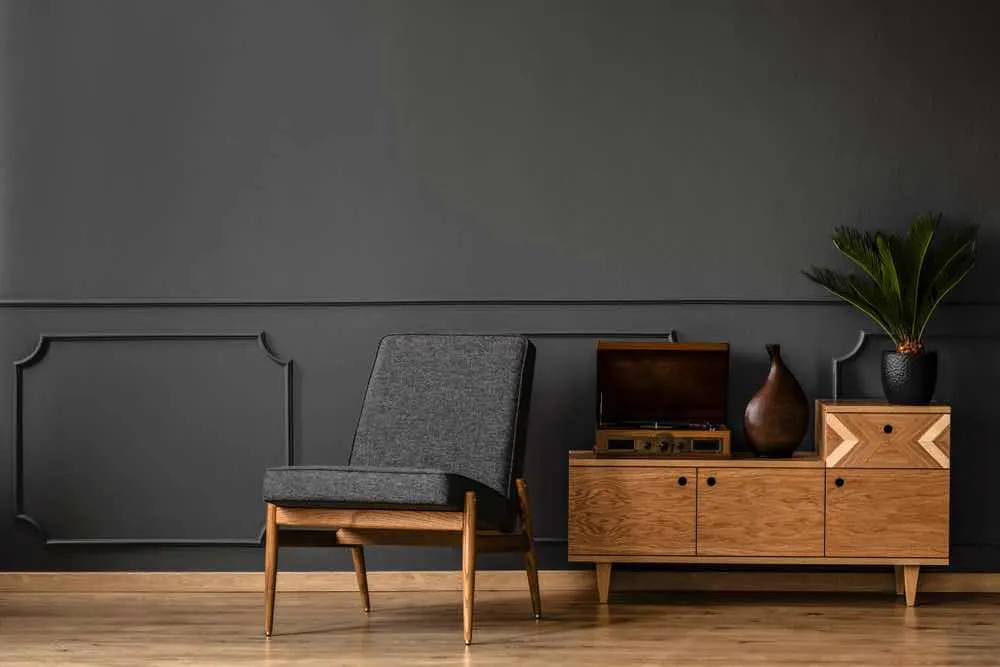 Do you just love mid-century modern? Pick paint colors like Web Gray from Sherwin-Williams that lets your aesthetic shine.
Polished wood, burnt umber accents, and clean lines never looked better than with this living room paint color.
Black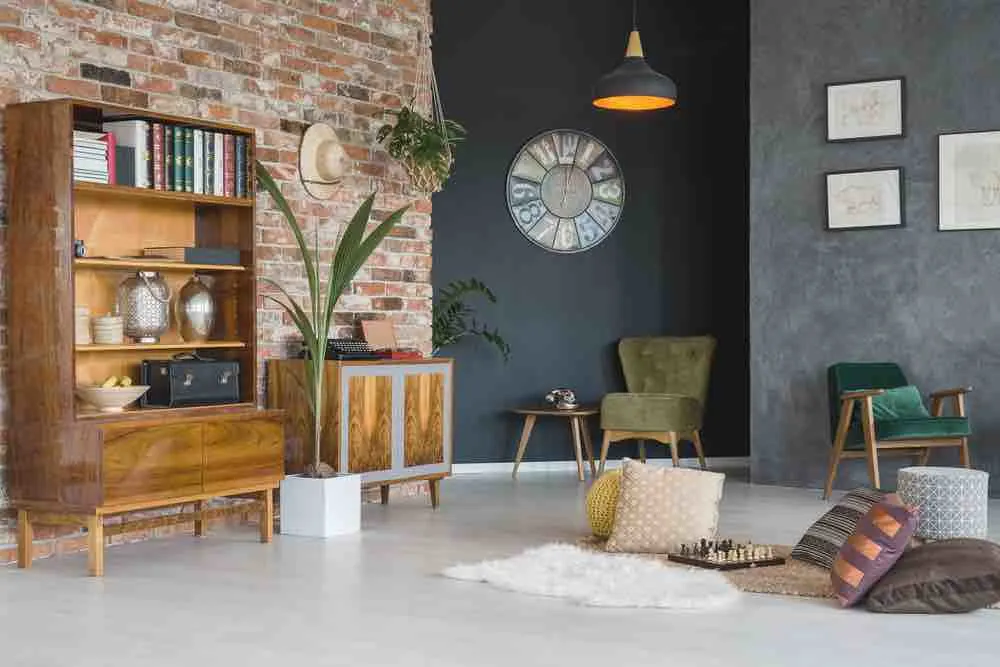 It's non-traditional as one of the best living room paint colors, but we stand by Space Black from Benjamin Moore being one of the greatest room colors of all time.

A little goes a long way, but it looks great with red exposed brick, and any art or furniture you put in front of black walls will practically vibrate.
Gunmetal Gray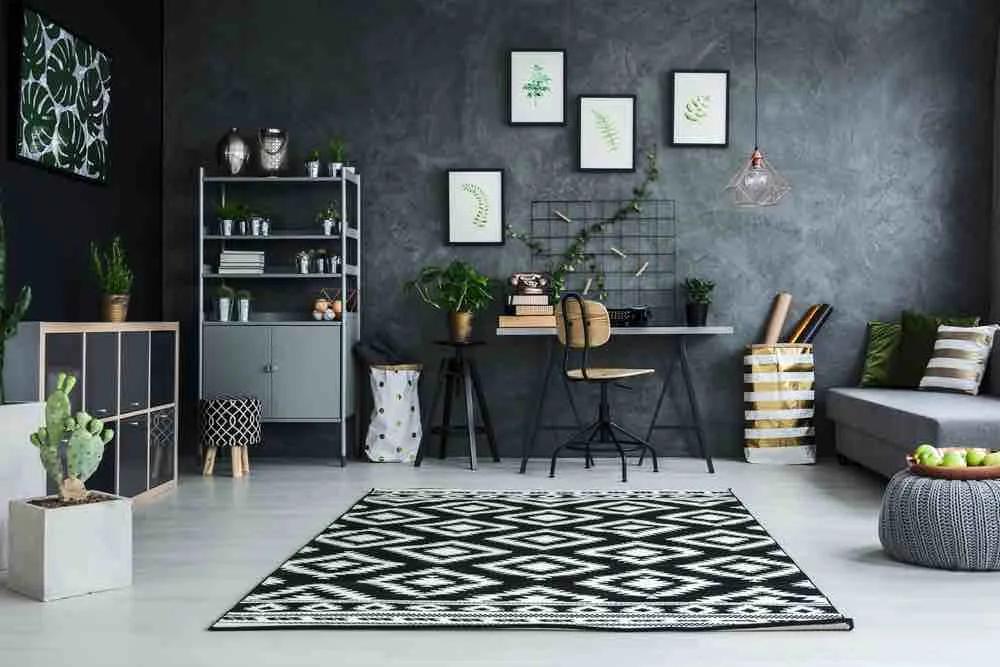 Using a faux-finish on your living room walls adds a whole additional layer of depth.

That's the case when you use a room color like Benjamin Moore Gunmetal, while they've styled the interior design to monochrome, you can use accents of almost any color with gray.
Blue Gray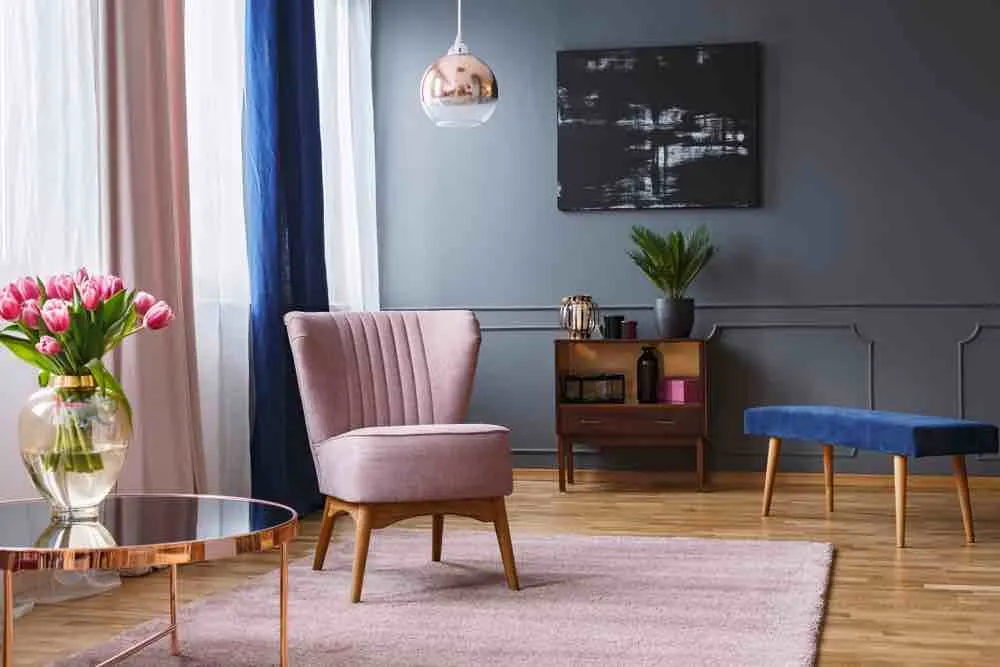 We already gushed about the dark purple color painting in living rooms, and we feel the same way about Van Deusen Blue from Benjamin Moore.
It's the color of a winter evening sky, softened with soft pink and super white curtains.
Red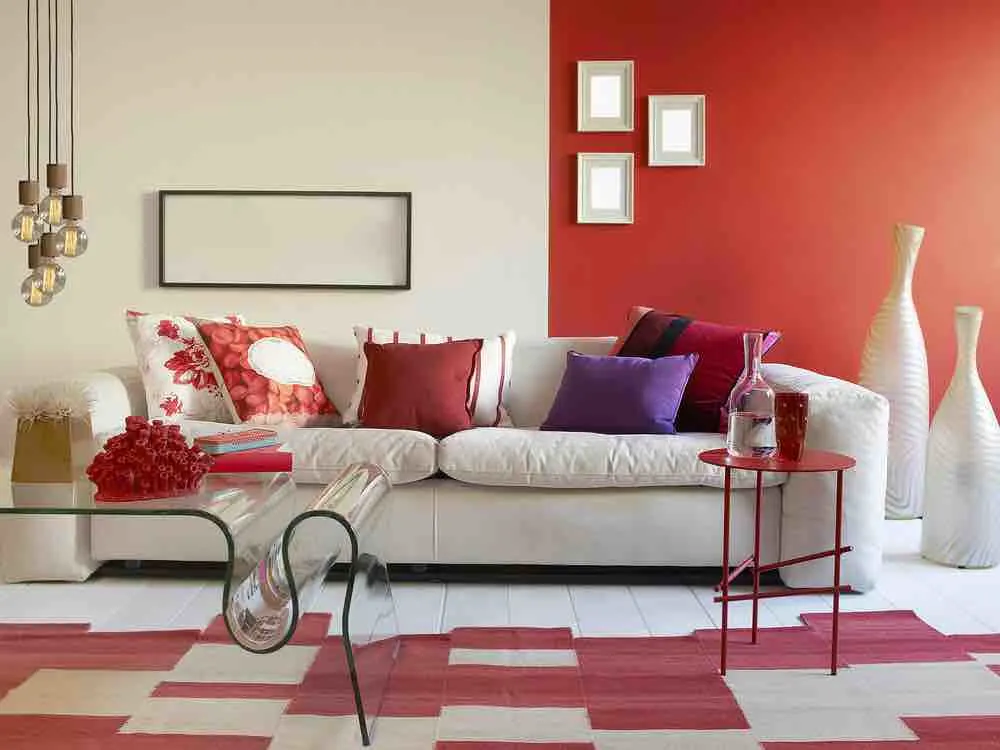 Red will always be one of the all-time best living room paint colors. Even a small accent wall can transform a room, but we love the interior design at play with Benjamin Moore Exotic Red.

The checkerboard carpet inspired a duality in the space we just love.
Orange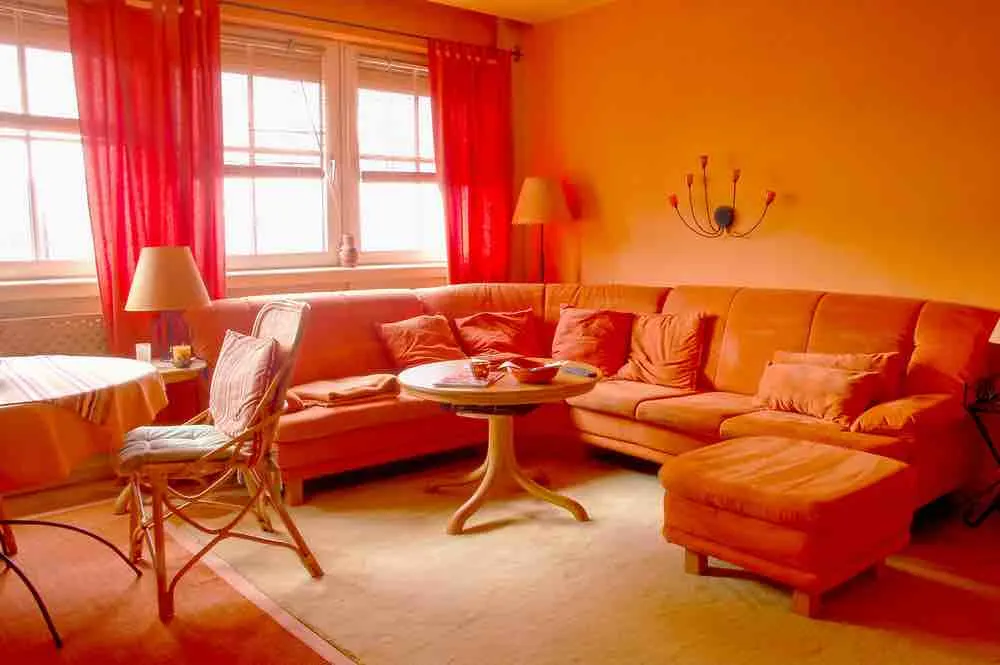 Oranges like Benjamin Moore Carrot Stick just don't get enough love one of the best living room paint colors. And sure, this amount of orange is too much.

But don't you just love the intensity of the walls? Styled with confidence, it's as bold and charming as a blue or green.
Beige
We've written about our love of beige before, but we'll repeat it.
We've found some of our favorites like Benjamin Moore Canvas living room paint color in the subtle spectrum of beige. If your living room is the heart of your busy home, beige makes the space feel like it belongs to the entire family.
Brown
A brown color scheme doesn't always jump to mind for living room walls. But it should, especially in an open floor plan space like this one.
Benjamin Moore Camel Back accommodates changes to the decor and will work with your space however you choose to style it.
Super White
With the right finishes, like items made with natural woods, luxurious rugs, and pillows with an intricate pattern, super white like White Dove from Benjamin Moore will never be a dull color on living room walls.

When you're considering the best living room paint colors, think about the ways you can style super-white. Apartments and condos with limited light can make their living room feel like an oasis of nature from the rest of the world.
Wrapping Up the Best Living Room Paint Colors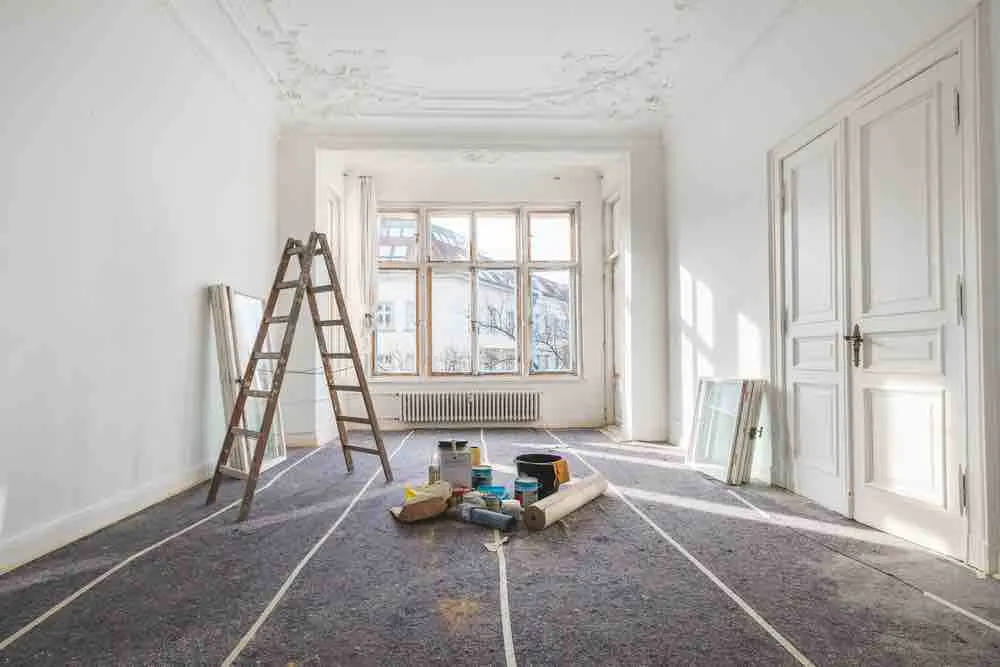 We'll finish by reminding you of our best practices for repainting the walls of any room in your house. Make sure you have the best painting gear, from the best tape to the highest quality brushes, to set yourself up for success. Then collect samples of the best living room paint colors from chips to test paint and look at it in the space. That's the time to bail if it doesn't look the way you expected. Trust us; if you don't love a test patch of paint, you won't love four walls of it.