---
Buyer's Guide for Best Paint for Bathroom Cabinets
If you thought settling on the best color for your cabinets was tough, wait until you consider which type of paint to use. Bathroom cabinets are often in an entirely different biome than the rest of your home.
From humidity and bathtime splashing to makeup spills and damage from dogs escaping the tub, the paint you choose has to be up to the challenge.
Acrylic Enamel or Alkyd
Meet acrylic enamel and alkyd paint compositions. Acrylic is water soluble but water-resistant once dry, making it a popular choice for beginners or anyone leary of a spill. Alkyd is oil-based and preferred for its ability to adhere to many surfaces with superior coverage.
Bathroom Cabinet Condition
The conditions of your project are just as important as the paint composition you select. If your cabinets are peeling or badly damaged, prep is essential. Alternatively, sanding will be needed to expose the porous surface if they are brand new and still shiny from the factory seal.
Which Sheen is Best?
Sheen is another consideration, though with a simple option: Semi-Gloss. This high-shine finish is moisture resistant, an excellent quality in a bathroom. The glossy surface is also easily wipeable, so keeping your cabinets clean will be a breeze.
There are several other sheen options, and though there is not one correct answer, Semi-gloss is a universal favorite. You could bump up to a high-gloss finish for a really dramatic effect. The higher the gloss, the brighter and shinier your bathroom cabinet paint will be.
Budget Considerations
A DIY budget will vary from person to person, so considering what works for you and your wallet matters. If you can spare it, though, spending a little more now could save big in the future. Higher-quality paint compositions and finishes will stand up better and longer.
But, if spending more now and later is not an option, there are ways to increase the quality and longevity of your paint job. Even if you chose an all-in-one product or beginner kit, sand anyways.
Roughing the surface before painting creates a better opportunity for the primer and paint to bond. And a stronger bond means a more durable finish on your cabinets. Speaking of priming…
To Prime or Not to Prime?
Priming is always a good idea unless you opt for the all-in-one. It is beneficial to prime if changing from dark to light shades or the surface of your cabinets is stained. Priming also seals the surface, creating a consistent barrier for the paint to adhere to.
Depending on the paint you select, the manufacturer will likely suggest a primer to compliment it. However, this is not a steadfast rule. It is just their recommendation. Take the time to do your research and choose a primer that works for your job and budget.
A Note About Topcoats
So you don't technically have to apply a topcoat or seal once the job is done. But taking the time to complete this extra step could extend the life and durability of your paint job. Think of it as a protective layer. And if you're taking the time to find the best paint for your bathroom cabinets, then you will want to protect them once the job is done.
---
Frequently Asked Questions: Painting Bathroom Cabinets
Do I always have to sand before I begin painting bathroom cabinets?
Not always! There are two important factors to consider when deciding to sand or not to sand:
The Paint
Check the instructions if you've selected an all-in-one or similar product. No sanding is required for many, such as the Beyond Paint and Rust-Oleum Cabinet Transformations Kit in our top 5.
The Condition of Your Cabinets
If your cabinets are peeling, badly stained, relatively new, and still well-sealed, you should sand them. Paint needs a clean, porous surface to adhere to. So remove as much debris or shiny new sealant as possible.
What if my cabinets have signs of mildew?
Before using any paint product, remove all mildew to prevent sealing it beneath the paint. Mold and mildew could compromise the durability of your hard work and is a health risk. You can use a commercial mildew removal product or a homemade solution. Vinegar, baking soda, and water are popular combinations.
What if I don't use alkyd or acrylic enamel on my bathroom cabinets?
Alkyd and acrylic enamel paint compositions are specifically formulated to bond, seal, and resist. These qualities are irreplaceable in humid spaces like a bathroom. A paint without these qualities will let moisture in. This could mean mold, bubbling, and other problems that will significantly reduce the life of your paint job.
---
Which Best Bathroom Cabinet Paint Will You Choose?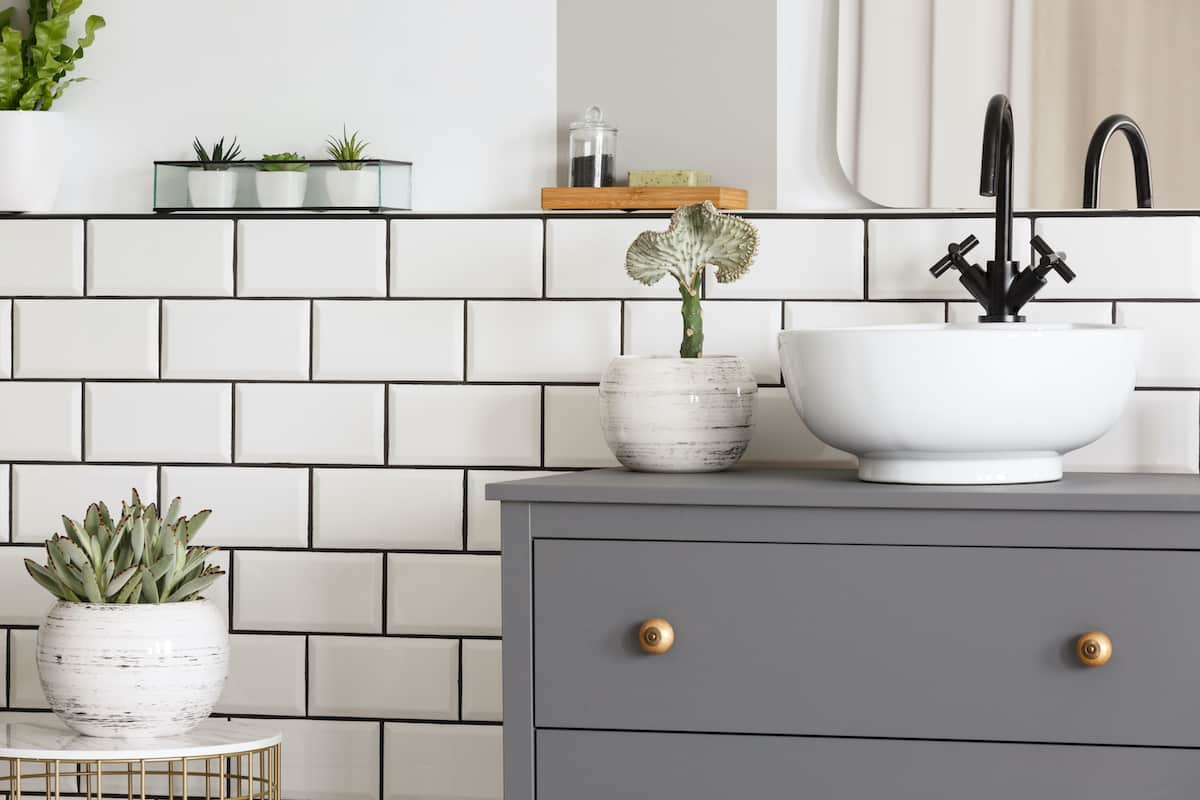 Now you have the best paint for your bathroom cabinets — it's time to get prepping! Depending on which of our top five picks you chose, you should get ready to sand and prime or at least give those cabinets a good scrub.
If you still have questions or are still unsure, don't be shy about chatting with your local paint specialist. They're always happy to hear about your project and help troubleshoot.
Once you've conquered painting bathroom cabinets, visit our DIY Painting Tips page. You'll find tips, inspiration, and guides to get you through every project on your to-do list.