---
Valspar Duramax Exterior Paint And Primer
---
Sherwin Williams Resilience Vinyl Safe Paint
Sherwin Willians is one of the top paint brands for interior and exterior surfaces.
The company has a special range of paints called "VinylSafe Paint Colors," which are safe and durable, as the name suggests. It's one of the best paint for vinyl surfaces.
Generally, when painting vinyl siding or trims, your paint color options are limited to lighter colors. This is because darker colors will cause the surface to absorb more heat and cause the vinyl to warp, buckle and distort.
However, with the best paint for vinyl, like the VinylSafe colors from Sherwin Willims, you can choose from 100 color options that are dark and light. This vinyl paint is specially formulated to resist warping and buckling, even after heat absorption.
View Sherwin Williams Vinyl Safe Colors
---
Best Eco-Friendly Vinyl Siding Paint
Sherwin Williams Emerald Paint
Acrylic paint, though durable, is made of heavy metals and other toxic ingredients. The contents of acrylic paint can adversely affect the aquatic ecosystem if it is exposed to water streams.
In comparison, acrylic latex paints are water-based paints that have fewer volatile organic compounds (VOC) so they don't harm the environment. They also clean up easily with water, allowing you to skip the harsh chemicals when tidying up.
Emerald Acrylic Latex Paint from Sherwin Williams offers a stunning color that will make your house the neighbor's envy. It also features exceptional coverage with its formulation that prevents water streaks and stains from penetrating its surface.
The primer + paint combo is also anti-mold and anti-mildew because of the special anti-microbial agents it's formulated with. This is one of the best paint for vinyl siding that is also environmentally friendly.
---
Tools Needed For Painting Vinyl Siding
Below are a few of the main items you'll need for this project.
How to Paint Vinyl Siding
Painting vinyl siding is easier than it seems. There are a few extra steps to keep in mind, but if you've painted other surfaces before, you can easily paint vinyl as well.
While you can definitely use a paint roller for this task, it's better to use a paint sprayer if you have one (or can borrow one) to make the task much easier. Use a paintbrush to reach tricky areas like small areas and the borders of your siding to finish off the job.
The first step is to apply the primer to ensure you have a uniform surface to paint on. Some people can skip this step if their vinyl siding paint is in relatively good condition.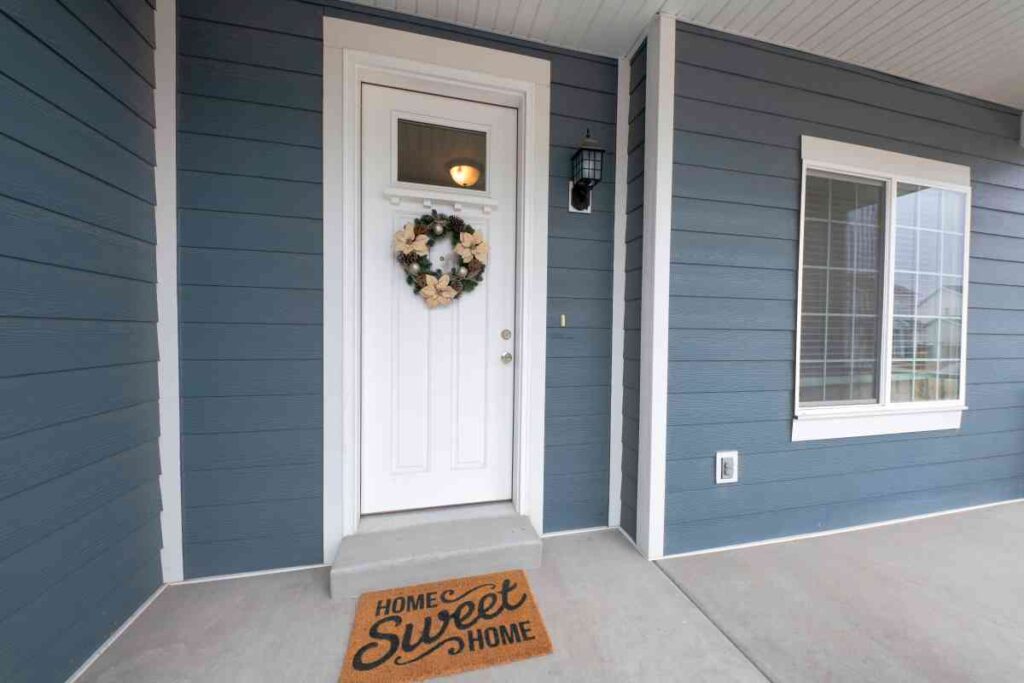 Once the primer has been applied and has dried, apply your chosen best paint for vinyl with a paint sprayer or a paint roller. Ensure you cover the main surface area thoroughly before moving to the corners and edges. Also, make sure you apply an even coat of paint. Avoid layering on too much paint in one location.
After you're finished with paint spraying, use a paintbrush to paint any remaining spots you weren't able to cover with the paint spray or roller. Let the paint dry for around 4 to 5 hours before applying the second coat of paint. Let the second coat dry for at least a day before proceeding to the next step.
Once the second coat has thoroughly dried, evaluate your paint job and decide if you need a third coat or if two coats are sufficient.
What Are the Best Paints for Vinyl Siding?
Primer and 100% Acrylic Paint
If your vinyl siding shows signs of weather damage or has an uneven surface, you need to use a primer and the best paint for vinyl to ensure good results. You'll also need to use special kinds of primers called bonding primers that are specially manufactured to adhere to hard-to-stick surfaces like vinyl.
It's generally recommended to use a primer before you paint, although this also depends on the condition of your vinyl surface. However, if you choose to apply primer before painting, make sure the paint you use can stick to it.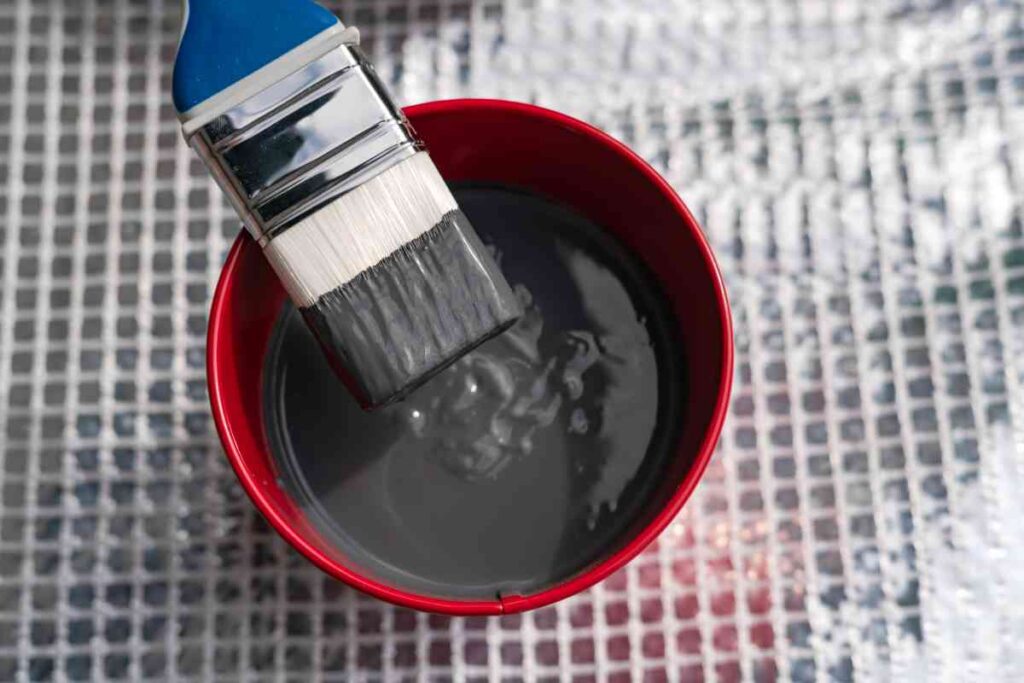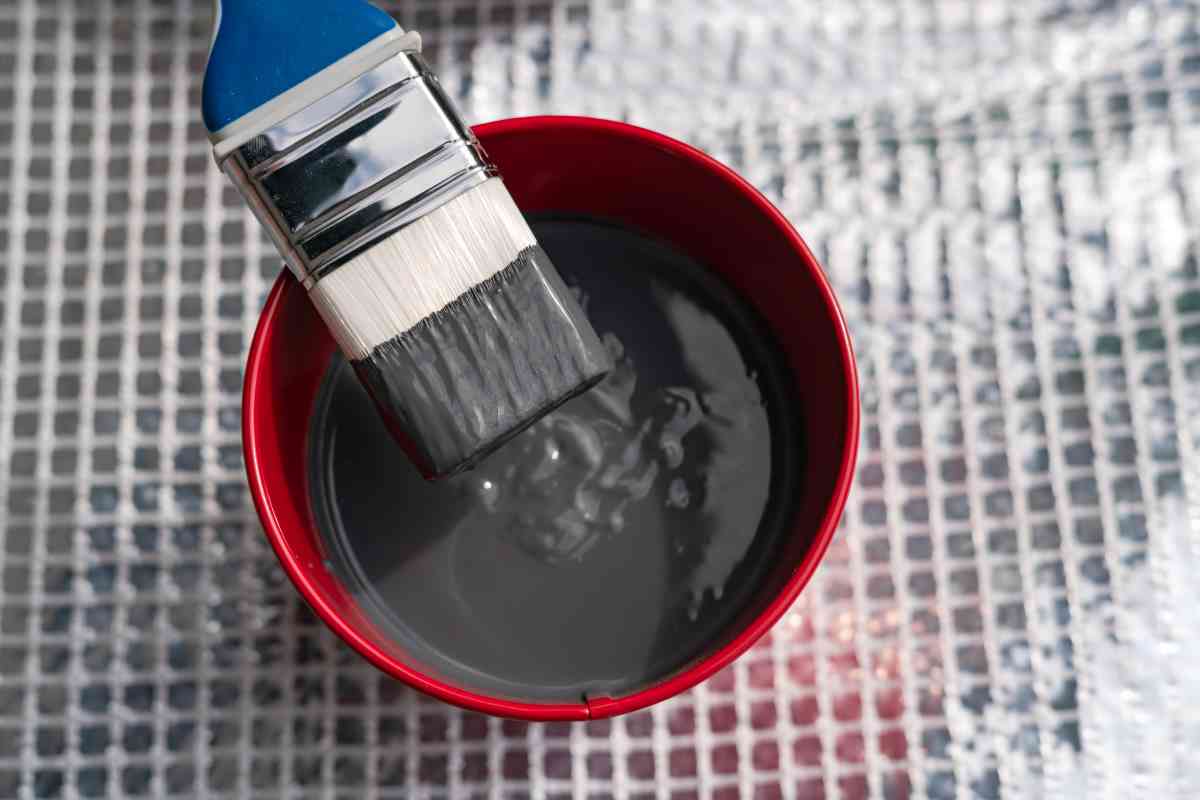 You can use almost any exterior paint from high-quality paint brands on the market. However, choosing the right color is also important.
Some people who painted their exterior vinyl siding notice warping or buckling in their home's vinyl siding panels not long after repainting. This primarily occurs because dark paint for vinyl sliding absorbs more heat, causing the vinyl to expand. This is why light colors are usually recommended for vinyl siding.
Most brands will have a specific "vinyl safe" range of paints that you can choose from, which include light and dark colors. The best paint for vinyl siding is 100% acrylic exterior paint, which will serve you much better than other variants, such as latex paint.
For a more detailed explanation, refer to the complete guide on how to paint vinyl siding.
---
How to Prepare Vinyl Siding for Painting
Before you paint your vinyl siding, you need to prepare your surface so the paint can sufficiently adhere to it. Here are some things to keep in mind when preparing your vinyl siding for painting: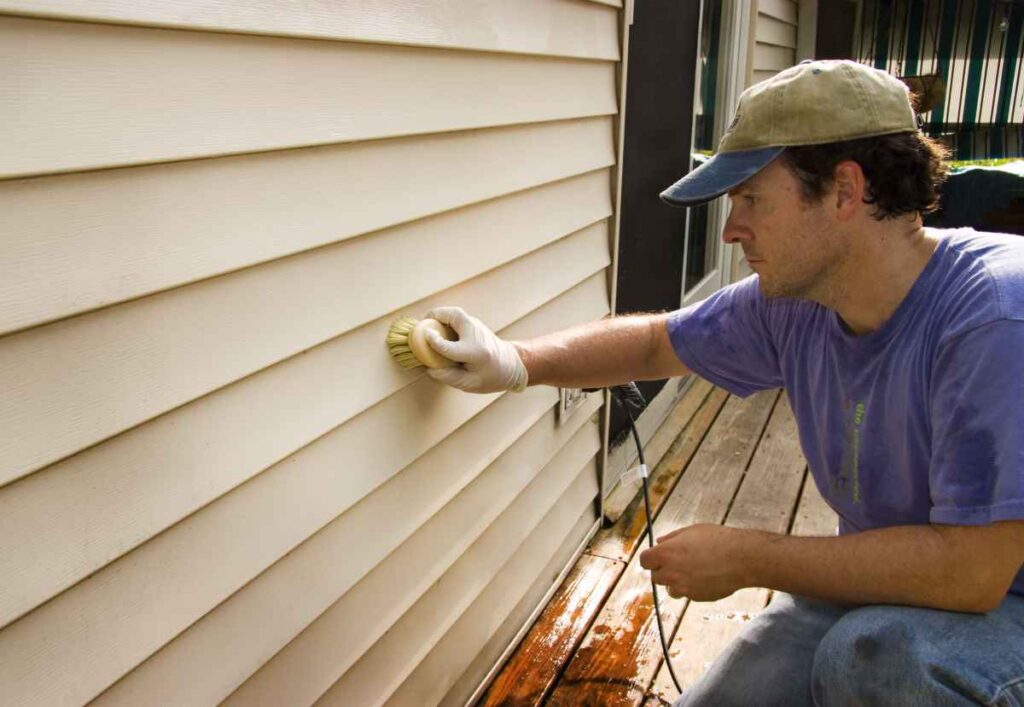 The first thing step before any type of exterior painting is to check the weather forecast. While you definitely don't want the rain to interrupt your chore, a hot, humid, and/or windy day isn't ideal either since the paint may not adhere properly. A mild temperature with little to no humidity is best.
Thoroughly cleaning the surface before you paint is a given for any kind of surface, and vinyl siding is no different. Make sure you use a strong cleaning solution to remove all mold, mildew, and other impurities from the surface of the vinyl.
Gather everything you need and keep them nearby. This allows you to see your painting project through without having to go out and buy additional materials midway.
Also, make sure to mask any surface or object that you want to protect from accidental splatters and spills.
Wrapping Up the Best Paint for Vinyl Siding
Vinyl siding is one of the most popular exteriors on homes all over the country. Although it's pretty durable, you might have to repaint it every few years to maintain its sheen.
Painting your exteriors may be the toughest paint job you can undertake. The difficulty and duration of the job are dependent on how big your house is and how much of it is covered in vinyl siding. But with proper preparation and high-quality materials (like the best paint for vinyl siding mentioned in this article), even the toughest job can be made easier.
Check out our Exterior Painting page for even more information on exterior painting, paints, and products.