---
Factors to Consider When Choosing the Best Paint Roller for Ceilings
As you look to buy the best paint roller for ceilings for your DIY project, one thing you should consider is its potential for reuse. In general, it should be possible to use a paint roller cover for as many as a half-dozen times.
The reuse of a paint roller cover will, though, require deep cleaning between each use. To clean a paint roller, wipe away as much excess paint as you can, then put the roller cover into a bucket of warm and soapy water.
After the roller has soaked for a time, squeeze it thoroughly, rinse it and allow it to dry before its next use.
As you're looking for the best paint roller for ceilings in terms of your own DIY project, pay particular attention to the online descriptions, if you're buying them online, or be sure to read the packaging if you're shopping in your local home improvement store.
The online descriptions and the packaging can be helpful guides to your decision on a paint roller, letting you know things like the types of projects they are designed to tackle.
---
How to Use a Paint Roller for Ceilings
When you're using a paint roller for a DIY ceiling project, the first thing you'll need to do is choose the proper nap for your roller cover. The nap of a roller cover is a measure of the length of the separate threads that comprise the cover.
For smooth ceilings, you should use a roller with a nap of 3/8- to 1/2-inch. If you'll be painting a textured ceiling, or a ceiling with another type of uneven surface, you'll need a roller with a nap of 3/4- to 1 inch.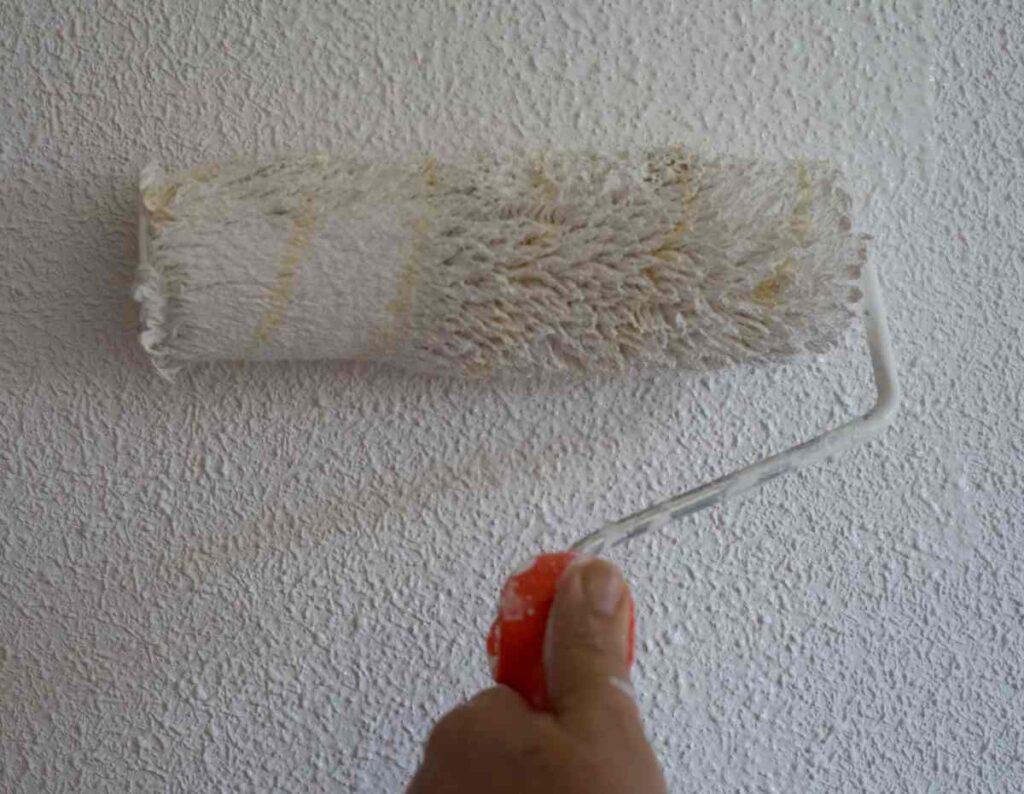 To avoid dripping, don't over saturate your roller cover with paint. Paint from the edges of the wall inward to the center. You should plan to finish the ceiling in one session of painting to ensure that stroke marks don't appear.
If your ceiling needs a second coat of paint, apply it perpendicularly to the direction you took with the first coat.
---
Additional Recommended Items for Painting Ceilings
In addition to your roller, a quality primer, and paint designed specifically for ceilings, there are other things you'll need to ensure that your DIY ceiling painting project goes well. Listed here are a few of those things to help guide you in your ceiling painting effort.
Roller Frame
The roller frame comprises a handle with a "cage" to hold the roller cover in place while allowing it to rotate freely as you apply your primer and paint. For painting ceilings, you'll want a roller with a threaded end to allow the attachment of an extension pole, which will eliminate the need for using a stepladder.
Painter's Tape
One of the essentials for painting a ceiling is painter's tape, which you'll apply along the top of the walls or atop crown molding if that is how your room is designed. Painter's taper serves two functions — protecting the walls or crown molding from roller strokes and leaving a clean line between wall and ceiling.
Extension Pole or Ladder
Depending on the height of your ceiling, you may also need either an extension pole for your roller or a ladder, to ensure that you can reach the ceiling effectively enough to apply proper pressure for your paint application.
Work Lights
Also, because you'll be taking down any ceiling light fixtures prior to painting, you should plan on having alternate sources of light available to illuminate your workspace. Equipment rental businesses will routinely have workspace lighting options available for short-term use.
Canvas Dropcloth
While painting your ceiling, you'll need to protect the floor of your room from drips from your paint roller — or worse, an accident in which a can of paint or primer, or some other material, is accidentally kicked over.
Canvas is thick and durable enough to protect your floors from even the heaviest spills. Canvas dropcloths are available in various sizes from painting supply stores and home improvement stores.
---
FAQs on Paint Rollers for Ceilings
As you contemplate a DIY project to paint a ceiling in your home, you likely will have a number of questions regarding paint rollers for ceilings. Read on for answers to a couple of questions you may have about using paint rollers on your ceiling.
What size paint roller should I use?
Paint rollers for ceilings and other uses come in a variety of lengths, with 9 inches being the standard. That's probably going to be the best length for your project, but if you will be covering a large area, you might want to consider a 12-inch roller cover.
For tight spots, you can find paint rollers in 2-inch, 3-inch, 4-inch, and 6-inch sizes.
What material should be used in my paint roller?
As you look at paint rollers for ceilings and other uses, you'll discover that they are made of one of three types of material — natural fiber, synthetic fiber, or foam.
Natural fibers are great to use with water-based latex paint, and they'll work on both smooth and textured surfaces. Synthetic fiber rollers also can work on rough or smooth surfaces but may be a better choice for painting walls than for painting ceilings.
Finally, foam rollers work in a narrower set of circumstances than either natural or synthetic fiber rollers but are generally good for use on porous surfaces.
---
Wrapping up the Best Paint Roller for Ceilings
We hope that this post has educated you on the need to choose the best paint roller for ceilings. As a reminder, our top choice as the best paint roller for ceilings is the Wooster Brush R-959.
Looking for more information about painting ceilings? Check out our post on How to Paint Pop Corn Ceilings.