Are you looking for the best paint sprayers for cabinets? There are many sprayers on the market and it can be confusing to try and decide which one is the best for your project. Keep reading to learn all about the different types of sprayers available, which kind is the best paint sprayer for cabinets, and a list of the best sprayers at different price points.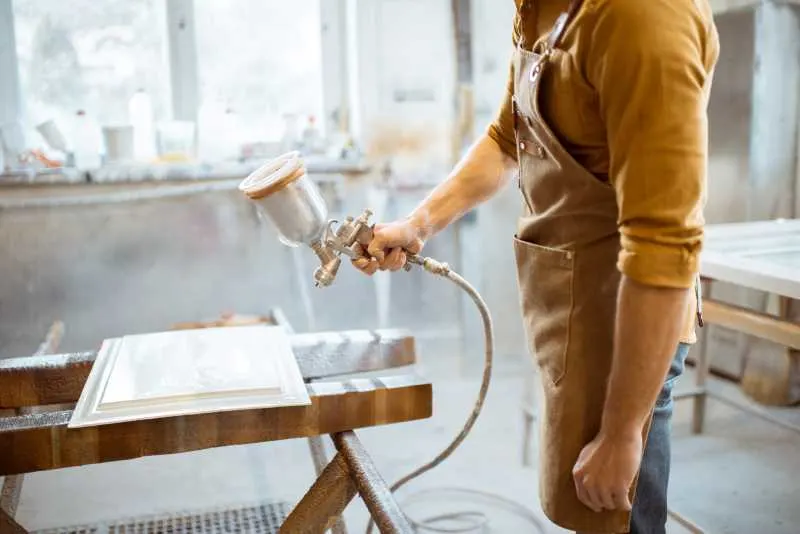 What to Consider When Choosing the Best Paint Sprayer for Cabinets
There are lots of things to think about when choosing a paint sprayer for cabinets. You want something that is in your price range that will give you a quality finish and is easy to clean and maintain.
Price
Think about your budget and how much you're willing to invest in a paint sprayer for cabinets and potential future projects. Is this something you'll only use once or are you planning to use it over and over again? Keep in mind that being more expensive doesn't necessarily mean you're getting a better product. You can find high-quality products at many different price points.
Uses
You know you want a sprayer that will work well for cabinets but do you have other projects in mind that you want to use a paint sprayer for? If so, you'll want to think about what type of sprayer will work well for your other projects as well.
Features
Look at what types of accessories come with the sprayer. Do you want a lot of different spray tips or will one or two work for what you want to do? Some models are easier to clean than others and some have a wider range of features and controls.
Basic models without a lot of bells and whistles can work just as well for small projects like cabinets but more features will give you more options when it comes to using your sprayer for other projects down the road.
Types of Paint Sprayers for Cabinets
Using a sprayer for painting cabinets will make the job a lot easier and quicker than using paint rollers and brushes. Many models on the market today are fairly inexpensive and easy to use, even if you've never used a paint sprayer before. If you read the instructions, with a bit of practice it won't take much time at all to get the hang of using a sprayer and you'll be ready to tackle your cabinet project in no time.
There are three main types of sprayers available. Any of these will work for painting kitchen cabinets, but some sprayers are more suited to painting cabinets than others. Here's some information about the different types of sprayers available and which type is most suited for cabinet painting.
LVLP
LVLP or Low-Volume Low-Pressure sprayers use an air compressor connected by a hose to power the spray gun. They only need a small amount of pressure to work, between 3 and 10 PSI (pounds per square inch). They produce very little overspray which helps you conserve paint and reduce messes. This makes them one of the best paint sprayers for cabinets since painting cabinets involves at least some painting indoors.
They can be good if you already have an air compressor at home. If you don't have an air compressor and don't want to spend a lot of money, you can purchase a cheap air compressor and it will work just fine with an LVLP sprayer.
The biggest challenge when it comes to paint sprayers for cabinets is that LVLP sprayers can't handle very thick paint. You'll have to thin your paint and primer and even then it may not work that well. For thick paints like latex paint (which is often recommended for cabinets) an HVLP sprayer will work better.
HVLP
HVLP stands for High-Volume Low-Pressure. They are similar to LVLP spray guns in that they use compressed air to push the paint through the system and out the nozzle. The main difference is that they use a much higher volume of air than LVLP sprayers.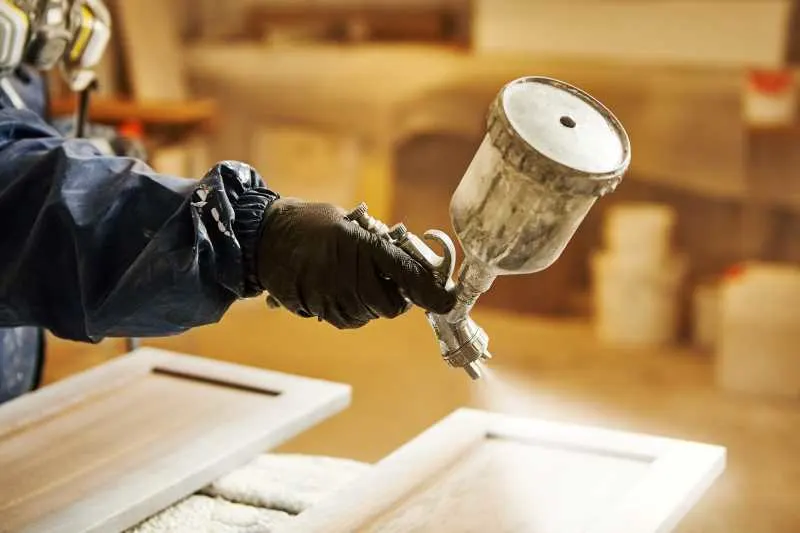 There are two main types of HVLP spray guns, both of which can be used as paint sprayers for cabinets. Those with dedicated systems use a turbine to move the air through the gun while conversion systems work with an air compressor and convert the air to the right pressure for the sprayer. In many cases you'll need a much stronger air compressor for an HVLP spray gun than you would need for an LVLP.
If you don't already have a nice air compressor, an HVLP spray gun with a turbine built-in is all you need. If you have a good air compressor already an HVLP with a conversion system may work well for you. HVLP sprayers are fairly easy to use and will also help reduce overspray and provide a finer finish than airless sprayers, which makes the HVLP an especially handy paint sprayer for cabinets.
They can handle thicker paint than LVLP (though you may still have to thin the paint) so they're a better choice for certain applications, including cabinets. HVLP paint sprayers work well for a variety of projects so you'll be able to use it again for your next paint job.
Airless
An airless paint sprayer uses an electric motor to create air pressure. No air compressor is needed and the pressure is much higher than with LVLP or HVLP spray guns, usually around 2,000 PSI. Paint is sucked into the sprayer using a piston and pressure builds up as the paint moves through the sprayer to the tip.
Airless sprayers are good paint sprayers for cabinets because they can apply paint very smoothly and quickly which makes them a popular type of sprayer. Air is mixed with the paint early in the system, which can sometimes lead to air bubbles and other defects as the paint is sprayed onto the surface of your cabinets (or whatever else you're painting). Because the air pressure is so high there is also much more overspray which means you'll lose a lot of paint.
Airless sprayers are best suited to larger projects like fences and exterior walls. They can work for cabinets, but if you're not planning on using the sprayer again, an HVLP sprayer is probably more suited to your needs.
If you want to use your new sprayer for multiple projects and find an airless sprayer is what you're leaning towards, this type of sprayer can still work for your cabinets and we've included an airless sprayer in the recommendations below.
Best Paint Sprayers for Cabinets – Top Picks
Since HVLP sprayers are best suited to cabinet painting over other types of sprayers, that's what most of these recommendations are for. If you're looking for other options, we've also included an airless model that has some features that help it perform well as a paint sprayer for cabinets.
1. Fuji Spray Semi-Pro 2
This HVLP sprayer is lightweight and portable. It's professional quality but easy to use even if you don't have much experience with paint sprayers. It can handle thick paints like latex really well. The parts are straightforward and easy to assemble and disassemble for cleaning and maintenance.
It's a turbine system so you won't need an air compressor to go with it. It has a very effective hose that is great for minimizing overspray. The hose is long so you can keep it farther away from where you're spraying. It also has a controllable fan that you can use to change the spray patterns.
2. TCP Global Professional HVLP Spray Gun
This is an affordable option for a paint sprayer for cabinets that provides a very consistent spray pattern for a smooth finish. Adjustable knobs give you full control over air pressure, fluid, and spray. It doesn't include extra spray tips but you can purchase additional nozzle sizes separately. A 1-liter fluid cup with a semi-transparent lid, cleaning brush, spanner wrench, and extra fluid cup filter are all included.
Find the TCP Global Professional on Amazon for $69.99.
3. Graco Magnum X5 Stand Airless Paint Sprayer
If you're looking for an airless sprayer for cabinets, the Graco Magnum is a great choice that will work for your cabinet project. It uses a flexible suction tube to spray paint directly from the can so you don't need to thin your paint or use a paint cup.
Unlike many airless sprayers on the market it's easy to clean, just attach a garden hose and run water through it. The TrueAirless spray tip offers greater control and less overspray than many other airless paint sprayers so it can work well for cabinets.
You can find the Graco Magnum X5 on Amazon The price for this particular model is usually between $300-$350
4. Wagner Flexio 890 Stationary Sprayer
The Wagner Flexio 890 Stationary Sprayer has a powerful turbine that can handle many types of paints without thinning. It's easy to assemble and clean. It comes with several different nozzles including a detail nozzle that is perfect for cabinets with lots of details and ridges on the trim.
The turbine sits on the floor so it isn't too heavy to hold onto while you're using the sprayer. The 11 1/2 foot hose gives you plenty of room to work with. There are controls for adjusting fluid and air flow so you can get just the right flow of paint out of the tip. The control this one enables the user to have makes it a great paint sprayer for cabinets.
You can find the Wagner Flexio on Amazon.
5. Wagner Spraytech 0518080
The Wagner Spraytech is another HVLP paint sprayer. It's a lightweight, handheld paint sprayer for cabinets that is sturdy and compact. There are several options for paint flow and pressure patterns. The sprayer connects to the base with a 20-foot hose. A powerful 2-stage turbine powers the sprayer. It doesn't handle super thick paints very well so most liquids need to be thinned when using this model as a paint sprayer for cabinets.
The Wagner Spraytech is available from Amazon for under $150
6. Graco-Sharpe 288880 HVLP FX3000
This model is lightweight and compact, making it very easy to work with. The controls are easy to use to adjust the spray and it has a larger spray pattern than many other models at up to 12 1/2 inches.
It can handle thick paints very well and it's easy to disassemble for quick cleaning and maintenance. It Comes with an aluminum paint cup, cleaning brush, and wrench. At under $150 this paint sprayer for cabinets offers great value for the money.
You can get the Graco Sharpe 288880 from Amazon.
7. HomeRight C800971 Super Finish Max HVLP Paint Sprayer
This is an electric sprayer with a built-in turbine that doesn't need an air compressor. It does a great job at applying thick paints without a lot of thinning. It has multiple spray settings and is easy to clean. There are 6 available spray tips with 3 included when you buy it. You can spray wide or fine with 2 different air caps included to control the spray.
You can get the HomeRight C800971 from Amazon for just over $100.
8. HomeRight 2412331 Quick Finish HVLP Paint Sprayer
If you're looking for a cheap paint sprayer for cabinets that will get the job done, check out the HomeRight 2412331 Quick Finish. This model is easy to use and affordable. It has a simple design that's perfect for beginners who are just starting out with a paint sprayer. It's lightweight and can spray a wide range of materials, though many will need to be thinned. You'll get a nice finish that is smooth and consistent.
You can get the HomeRight 2412331 from Amazon for around $60.
Wrapping Up the Best Paint Sprayer For Cabinets
Now that you've learned about what types of paint sprayers for cabinets are out there and seen some great recommendations, you're ready to pick out a sprayer and get painting! Here's a list of the best paint colors for cabinets so you'll be ready to go as soon as your new sprayer arrives.
Ready To Learn More?
Check out our Painting Kitchen Cabinets hub page for everything you could want to know about cabinet painting including costs, how-tos, reviews, and more.