Have you ever wanted to refresh your cabinets, but the extensive work of hand painting steers you away? Would you like to enjoy freshly painted cabinets in a fraction of the time?
We've got the perfect solution for you. Look no further as we have researched and compiled a great list of paint sprayers to help you find the best professional paint sprayer for cabinets. You'll be blown away by the ease and control you'll find in these sprayers. These top picks will give you professional-grade results, but they will also cut your painting time in half.
While reading, we also encourage you to save and use this guide to the best professional paint sprayer for cabinets to help you learn all the essential details when it comes to selecting the best professional paint sprayers. In addition, you'll also gain confidence learning just how quickly and easily it will be to transform your space. So, let's get started!
A Deeper Look: Painting Cabinets with a Paint Sprayer
The Best Professional Paint Sprayer for Cabinets
First, when it comes to deciding which is the best professional paint sprayer for cabinets for your project, let's look at the different types of sprayers available on the market. This article will focus on the best professional paint sprayers for cabinets, but most will double for all your DIY painting needs.
Compressed Air Paint Sprayer
A compressed air paint sprayer uses a painting technique where paint is applied to your surfaces using a sprayer gun. For example, the paint spray gun uses pressured air to spray coats of paint onto cabinet surfaces.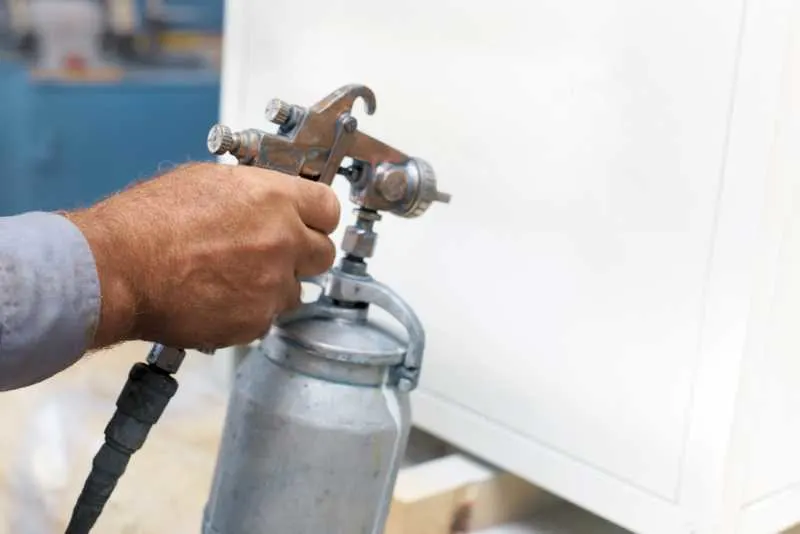 Airless Paint Sprayer
Airless paint sprayers work by propelling paint through a tip while using a high-pressure electric pump. Your paint is forced through the tip and fans out paint droplets onto your cabinet's surfaces.
HVLP Paint Sprayers
HVLP stands for High Volume Low Pressure. HVLP paint sprayers use steady volumes of air to propel paint from the tip onto your surfaces by using an adjustable compressor or turbine to atomize your paint. HVLP sprayers are well-liked due to their lower pressure and fewer messes. However, we recommend only using HVLP sprayers for thin paints to avoid clogging.
Paint Brushes and Rollers vs. the Best Professional Paint Sprayer for Cabinets
There's always going to be something special about using a traditional paintbrush. Paintbrushes work great for detail work and reaching corners, recessed panels, and intricate woodwork. The length of your project will double using brushes and rollers, so while they are good to have on hand for touch-ups, you'll find that using the best professional paint sprayer for cabinets will cut your project time in half Paintbrushes and rollers also leave brush strokes and imperfections behind in your paint.
Features to Look for in a Professional Paint Sprayer for Cabinets
Let's also look at the number of features found using one of the best professional paint sprayers for cabinets
Easy To Use– First, make sure to find a paint sprayer that's user-friendly and easy to use. Using a paint sprayer will cut your paint time in half and make it easier to get fast, even coats.
Set-up and Portability– The same goes for set-up; user-friendly is always the best. When choosing a paint sprayer, look for an easy set-up and excellent portability. Portability is important because it allows you to move your paint sprayer along while painting with little to no effort.
Overall Coverage– How well does this paint sprayer cover surfaces? Will you need to apply several coats of paint? Overall paint coverage is essential to know about ahead of time before you're too deep into your project. Painting first on a sample board will save you time and money.
Tips and Nozzles– Then, choose the correct type of tips and nozzles depending on what project you'll be using your paint sprayer for. The fan size and pattern will vary between tip sizes and models. In addition, by allowing the spray outlet pattern to change, you'll create smoother finishes and more substantial overall coverages.
Best Results and Quality– Next, choosing the best professional paint sprayer for cabinets will give you the long-lasting professional results you hope to see. Remember, however; you'll always get what you pay for when making your final choices. Purchasing the highest quality and best-rated products your budget allows will benefit you greatly in the end!
Power of the Turbine– Lastly, the turbine's power refers to the amount of strength generated by pressure levels to send paint to the spray gun. Depending on the type of motor your paint sprayer has, look for sprayers that cause the most pressure. Remember, professional paint sprayers produce lots of power, which also uses more energy. Make sure to maintain a balance between energy and strength to save money.
Spraying Your Cabinets: Things to Consider
First, when it comes to paint spraying your cabinets, always consider the size of your project before purchasing a paint sprayer. In addition, during your search, you'll find different paint sprayers work better for different types and sizes of projects. For example, some sprayers best accommodate indoor projects like cabinets and furniture over larger projects such as decks and fences.
Then, testing your paint sprayer between coats is also very important. You'll need to ensure your sprayer is ready to go and the nozzle and tips are free of any clogs for flawless coverage. A professional painter's tip is to flex your wrist while spraying to help blend passes while keeping your gun perpendicular to your cabinet's surface. To avoid uneven spray patterns, try to prevent fanning the spray gun one way or the other.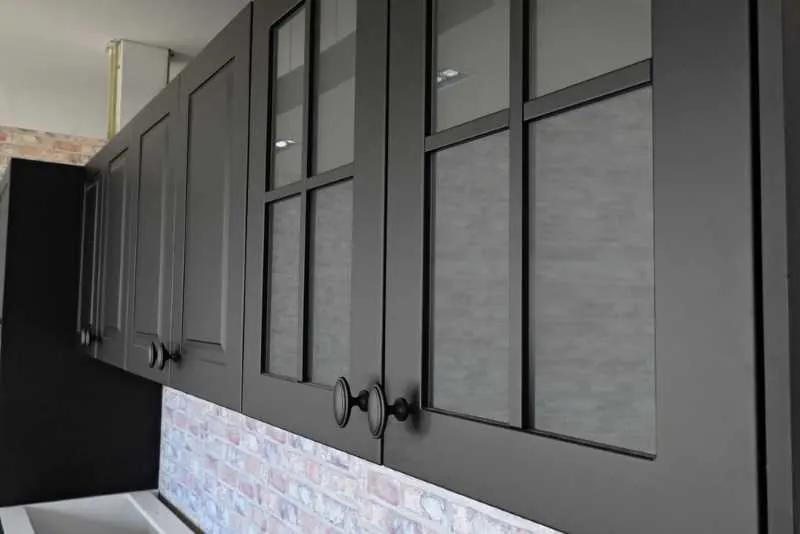 Finally, we will never stress this enough; good prep work will always give you the best results when using the best professional paint sprayer for cabinets. Eighty percent of a project is excellent prep work skills. By eliminating dust ahead of time and keeping the surface and area of your cabinets clean, you'll get long-lasting results.
All About the Best Professional Paint Sprayer for Cabinets
Tips and Tricks
Here are a few tips and tricks to help achieve the best finishes. First, to achieve smooth finishes on kitchen cabinets, make sure your wood is in good condition and sanded well. Primer also helps remove minor defects. Finally, use your paint sprayer to achieve even finishes and zero brush strokes. In the end, you'll also purchase less paint if you're using a paint sprayer.
Cleaning and Overall Maintenance
Make sure to clean your paint sprayer between each project. Before cleaning your sprayer, perform the pressure relief procedure. Then, flush out excess paint by using flushing liquid. Next, you'll want to clean the pump, hose, and paint gun thoroughly. Finally, clean off the tips, nozzles, filters, and guards.
Overspray and Thinning
Overspray and thinning are cons painters run into when using spray paint guns. To the lower causes of overspray when using an airless paint sprayer, keep the pressure to the lowest levels of PSI possible. To achieve better atomization, thin your paint, increase the air, and reduce the amount sprayed at once.
Comparison Guide: The Best Professional Paint Sprayers for Cabinets
Below you'll find our list of the best professional paint sprayers for cabinets. Take a look at these and their features and prices to choose which will be the best professional paint sprayer for cabinets for your particular needs.
Our Top-Rated Airless Professional Paint Sprayer for Cabinets
1. GRACO Magnum X5
First on our list is the GRACO Magnum X262800 X5 which features a stainless steel piston pump. The piston pump allows high-pressure painting without the risk of thinning.
To create perfect paint flow, make sure to adjust the GRACO Magnum X5's pressure fully. You'll love the flexible suction tube, which allows you to pull paint directly from a paint bucket. GRACO Magnum X5 also has a featured continuous spray RAC IV switch tip, allowing you to reverse the tip if it gets clogged during use.
We think the Graco Magnum X5 is one of the best professional paint sprayers for cabinets for interior projects such as ceilings, new drywall, house exterior, decks, sheds, and fences. This sprayer is also suitable for painting kitchen cabinets, furniture, and other small projects thanks to its 311- 0.11 size spray tip.
Best Budget-Friendly Professional Paint Sprayer for Cabinets
2. TCP GLOBAL Professional Gravity Feed HVLP Spray Gun
Next, TCP GLOBAL Professional Gravity Feed HVLP Spray Gun is our top pick for a budget-friendly professional paint sprayer for cabinets. This HVLP spray gun is perfect for painting kitchen and bathroom cabinetry but isn't great for larger outdoor projects such as fences and decks.
The Professional Gravity Feed HVLP Spray Gun is an excellent and cost-effective solution to all your cabinet painting needs, but this model is ideal for intermediate and advanced painters. However, this paint sprayer is efficient and easy to operate with the right skills and conveniently has adjustable settings.
3. Dicfeos Paint Sprayer, 700W HVLP Home Spray Gun
We also like the Dicfeos 700W HVLP paint sprayer for another great budget-friendly sprayer option. The Dicfeous 700W HVLP paint gun is perfect for painting kitchen cabinets. It's built using a 700-watt motor and gives your paint job a complete look. You'll also love the variety of four nozzle sizes and the adjustable air cap that allows you to spray horizontal, vertical, and round. In addition, the flow control knobs can easily adjust the Dicfeous.
Thanks to the detachable design features found in the Dicfeos paint sprayer, you can easily wash every part of this paint sprayer. You'll also love the seven-foot power cord that allows you to move freely along your work area. The Dicfeos paint sprayer is also incredibly lightweight and perfectly fits in your hand. As a result, you can finally spray for more extended periods without experiencing fatigue!
The Best Over All Professional Paint Sprayer for Cabinets
4. FUJI SemiPRO 2
The FUJI SemiPRO 2 is our favorite and best overall paint sprayer used explicitly for kitchen cabinets and bathroom cabinetry. FUJI SemiPRO 2 is a super high-quality HVLP variety of paint sprayers that offers you ease in both operations and cleaning. In addition, we like the exclusive, user-friendly features of the SemiPRO for both professionals and homeowners looking for professional painting results.
FUJI created this paint gun to help avoid bleeding and overspray due to its non-bleed and fan control knob. The non-bleed fan-controlled knob gives you excellent control of your spray patterns. FUJI SemiPRO is also highly portable and quick, and easy to disassemble. In addition, it features a super-powerful 1400-Watt 2-stage bypass motor that can handle just about any paint application.
5. Wagner Spraytech FLEXiO 5000
Next, the Wagner Spraytech Flexio is another overall favorite of ours for cabinets. Not only can you successfully refinish your cabinetry, but it's perfect for other varieties of projects such as transforming furniture, walls, ceilings, trims, and more! We think you'll also really enjoy the portable paint system.
The Wagner Spraytech is an air sprayer that includes not one, but two nozzles. The new nozzle gives you an improved spray finish and is perfect for your larger home projects. The detail finish nozzle is ideal for smaller projects and fine paint spraying, which is the main reason we included it in our list of the best professional paint sprayers for cabinets.
Spraytech also has an X-Boost power dial on the gun handle so that you can adjust the air pressure levels with ease. Adjust the material flows control knob as well to change paint flow. Cleanup and storage are also a win for the Spraytech FLEXio.
Best Professional Paint Sprayer for Cabinets – for Larger Projects
6. Wagner Control Pro 130
Then, Do you have a lot of cabinetry you need to paint? This is the best professional paint sprayer for cabinets when you have a larger project on your hands. The Wagner Control Pro 130 is an airless paint sprayer that delivers a professional-grade finish on cabinets, home exterior, large decks, fences, and interior walls.
Due to the highly efficient airless technology found in this airless paint sprayer, you'll find it provides less than half of the typical overspray found with its competitors. Wagner Control Pro 130 gives off a soft spray and gives you great control over the paint. In addition, the Control Pro 130 conveniently holds up to one and a half gallons of paint at a time, allowing you to cover your surfaces longer before refills.
Best Professional Paint Sprayer for Cabinets – for DIY projects
7. HomeRight Super Finish Max HVLP Paint Sprayer
Are you a big DIYer fan and want to try painting cabinets for the first time? Say no more! Try out the HomeRight C800971, a Super Finish Max HVLP Paint Sprayer. The HomeRight Super Finish Max is the perfect choice for an HVLP paint sprayer best used with cabinetry and DIY projects large or small such as fences, cabinets, desks, furniture, and dressers. Possibilities are endless!
HomeRight has developed this paint sprayer with many adjustable settings to help you paint any project with ease. Simply adjust the air cap to spray horizontal, vertical, and round. You'll also be able to use various painting materials and stains with this paint sprayer. In addition, HomeRight has U.S.A-based customer service for extra comfort and even included a two-year warranty.
Best Professional Paint Sprayer for Cabinets with Corners and Hard to Reach Angles
8. Graco 17D889 TrueCoat 360 VSP Handheld Paint Sprayer
Lastly, check out the Graco 17D889 TrueCoat 360 VSP Handheld Paint Sprayer. The Graco True Coat comes with variable speed controls allowing you to set the pace for ultimate project control. You'll love the included reversible tip included with the Graco TrueCoat, enabling you to keep spraying even if the tip clogs. To continue during clogs, simply reverse the tip and continue painting.
Graco created a Vacuvalue Technology built into this paint sprayer, creating an air-tight system. This air-tight system will allow you to stream in any direction, even upside down. In addition, the ability to spray upside down will help you paint those pesky hard-to-reach places. Finally, the Graco TrueCoat comes with its own handy storage case that's durable and perfect for organizing and protecting your sprayer when you're in-between projects.
More Information about the Best Professional Paint Sprayers for Cabinets
If you want to know even more, We've previously written an article covering the best paint sprayers for any home project. We go even more into depth about each of the best paint sprayers that will work for more than just cabinets and indoor projects. This article covers more indoor and outdoor paint sprayers, tried and true, and recommendations for any of your home projects from a true professional painter himself.
We also always encourage you to do your own research and compare results to our best lists. You'll quickly find our guides to be top-notch and highly beneficial.
Wrapping Up the Best Professional Paint Sprayer for Cabinets
While reading this guide, you've learned about the best professional paint sprayers for cabinets and their features. You've also absorbed the knowledge needed to look for the best paint sprayers. In addition, we also hope you've realized anyone with this proper guidance can use a paint sprayer and get professional results. It's just that easy.
Check out our Kitchen Cabinet Painting Hub for everything you could ever want to know about painting kitchen cabinets.
All that's left is to purchase a sprayer, then prep and paint your cabinets. You can find out more about How to Paint Kitchen Cabinets as well as lots of other DIY painting tips on our website. Good luck!