Are you tired of lugging around your old clunky ladder? Do you need something more portable? If this sounds like you, then you need a telescoping ladder in your life!
Telescoping ladders are great for contractors on the go or individuals with limited space in their homes for storing a ladder. Our top picks will make your favorite DIY projects a breeze in the future.
Read on to view our top picks and learn more about what to look for when buying a telescoping ladder.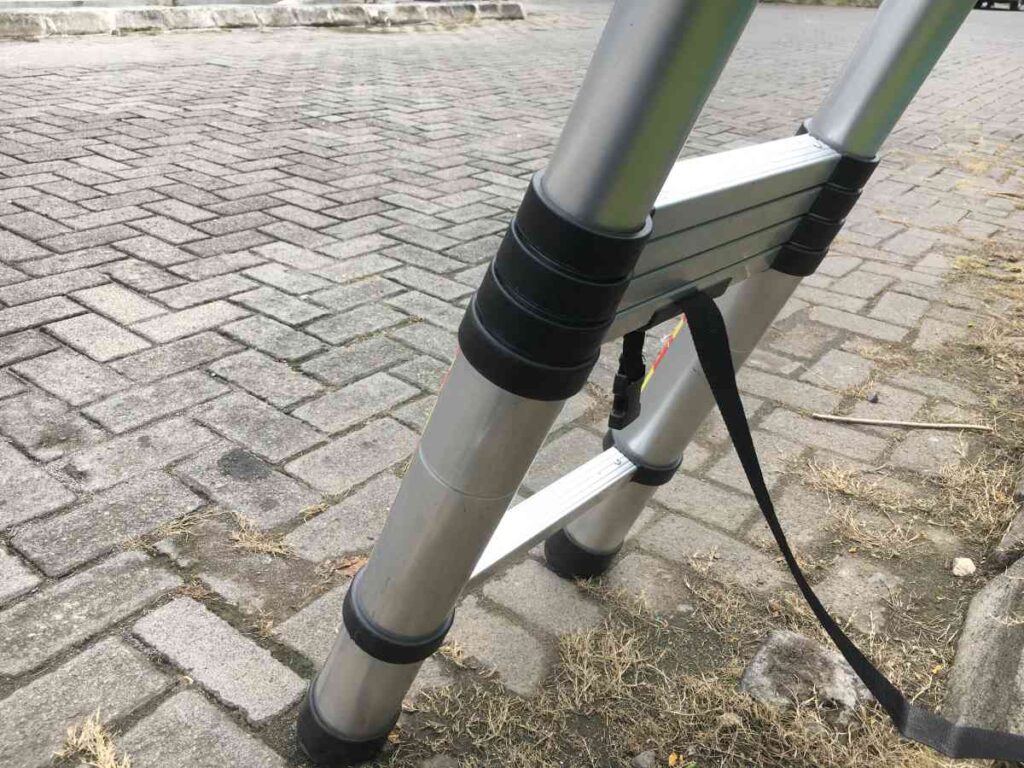 ---
Our Top Picks
Premium Option
Xtend & Climb Professional Heavy-Duty Telescoping Ladder
Budget Option
BOWEITI Aluminum Telescopic Ladder with Carry Bag
Best Overall Value
RIKADE Aluminum Telescoping Ladder
---
Premium Option
Xtend & Climb Professional Heavy-Duty Telescoping Ladder
Designed in America and built using world-class aerospace engineering, the Xtend & Climb telescopic brand is at the forefront of technological development. Every detail focuses on comfort, strength, and durability.
Described as "the best telescoping ladder on the market", the Xtend & Climb 785P+ Professional Heavy Duty Telescoping Ladder is designed to impress professionals.
This is the ladder you want to buy if you're a contractor or a serious DIYer. It opens to 15.5 feet and closes down to 36.5 inches, so you're able to reach the toughest jobs.
Pros
Meets ANSI/OSHA Safety Compliance
Angled thumb release to ensure proper hand position
Lightweight enough to be carried with one hand
Touch anodized finish that makes for easy cleaning
An average of 19.5 feet reach height
Double molded feet for durability and traction
Cons
Reviewers say that it wobbles when fully extended, so take extra caution when extending it to its max length—note that this is very common with most telescoping ladders
Only recommended up to 250-pound load capacity, which is low on the average range for telescoping ladders
---
Budget Option
BOWEITI Aluminum Telescopic Ladder with Carry Bag
The 8.5 feet BOWEITI Aluminum Telescopic Ladder with Carry Bag is a solid option for DIYers who don't need to climb on top of tall buildings. Ideal for window washing, painting, decorating, and pruning plants.
Pros
ANSI Certified
Comes with a carry bag for easy transport and work gloves
Made from aluminum alloy, which has been tested for a long service lifetime
Great value if you're on a budget
Max weight capacity is 330 pounds
Cons
Much smaller than other telescoping ladders, but maybe it won't matter if you don't need the extra height
Flimsy when fully extended
The storage bag isn't the best quality
---
Best Overall Value
RIKADE Aluminum Telescoping Ladder
The RIKADE Aluminum Telescoping ladder is the best overall value for everyday home projects and small business owners. Extending up to 20 feet and supporting up to 330 pounds, this ladder is safe to be used by most people for most projects requiring a ladder.
Pros
The high end of the average weight range for telescoping ladders, so most people can use it and carry the needed items for the job with them
Comes with an independent locking mechanism for safety
Independent button on each section to prevent pinching fingers
Designed from thickened, lightweight aluminum for sturdiness
Easily stored under beds, storage cabinets, corners, and trunks
Cons
The ladder rungs are nonstandard spacing; the ANSI standard is 12", and this ladder has a 16" spacing
---
ARCHOM Aluminum Telescopic Ladder
The ARCHOM Aluminum Telescopic Ladder is a sweet little ladder that holds up to 330 pounds and is suitable for RV trips, bringing in the car, or however you may need it. It extends up to 15 feet and down to 30 inches.
Pros
The aluminum ladder complies with the EN131 safety material certificate
Made of high-quality aluminum alloy
Includes velcro to keep steps together when storing
Cons
Rubber boot on legs comes off easily
Flimsy when extended past eight foot
The Velcro strap doesn't hold tight
---
Gimify Telescoping Extension Ladder
The Gimify Telescoping Extension Ladder comes in 12.5 feet or 16.5 feet options, to suit your needs and budget. This versatile ladder for window cleaning, interior design, and roof repairs retracts down to 32 inches for easy storage.
Pros
Made of high-quality aluminum alloy
Holds up to 330 pounds
Every step has a double height-locking latch and closes individually to avoid pointing your fingers
Cons
Make sure to position it carefully, or it will wobble on you
Buyers report collapsing to be a challenge
---
Telescoping Ladder Buyer's Guide
Height and Reach Height
Telescoping ladders can be extended for variable heights. When buying a telescoping ladder, consider how high of a ladder you need for the job(s).
Keep in mind a person's safe reaching height is around four feet taller than the height of a ladder. For example, if a ladder extends up to 15 feet, you can anticipate a 19-feet reach height.
If you are climbing onto a roof, the ladder must extend three feet beyond the top support point. Noting that the safest spot to climb a ladder is four rungs from the top, you should buy a ladder that is seven to ten feet higher than the surface it'll rest on.
Materials
You want to make sure your telescoping ladder is made from high-quality materials. The most common material used in telescopic ladders is aluminum.
Aluminum is popular because it's lightweight, rust-resistant, and low-cost.
However, you want to avoid metal ladders around electric wiring. If you are doing electric work, purchase a fiberglass ladder.
Pay attention to warning labels because some nonmetal ladders contain steel particles.
Fiberglass ladders are not as common as aluminum ladders. All of the best telescoping ladders on the list above are made from aluminum. Fiberglass weighs more than aluminum, so aluminum ladders are more attractive to the designers of these ladders as well as buyers.
Weight
Pay attention to the weight of the ladder. It's not uncommon for buyers to be surprised that the telescopic ladder is heavier than they expected.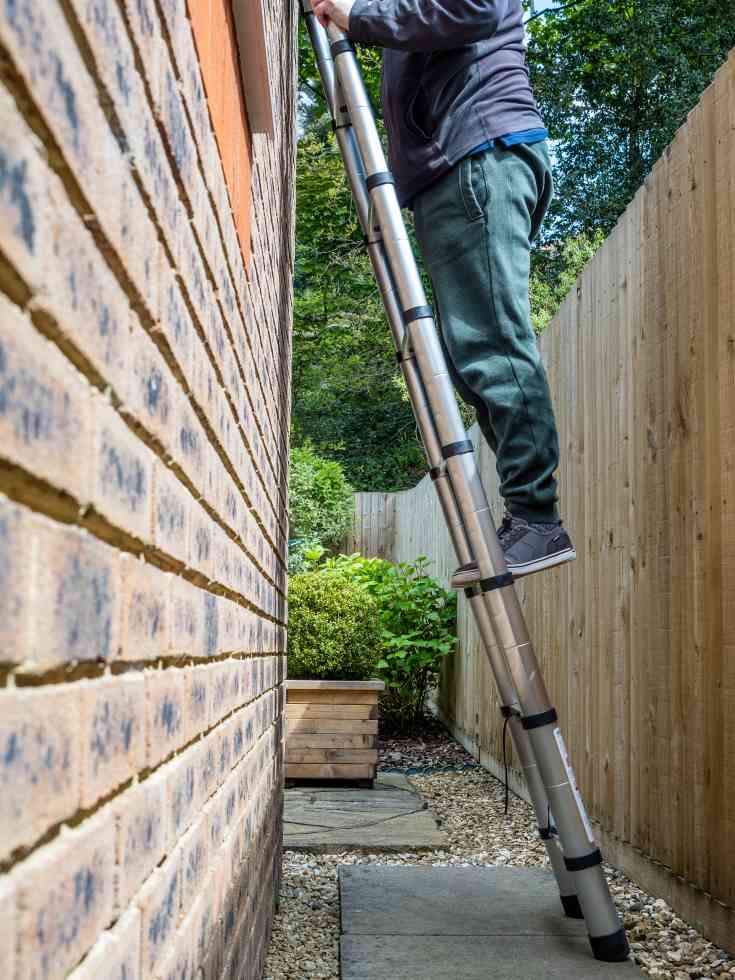 The weight of your ladder impacts its portability. Since the whole idea behind a telescoping ladder is to be portable and easy to maneuver from place to place, make sure the ladder you choose is light enough for you to carry easily.
Load Capacity
You need to know how much a ladder can hold. Ladders are classified into five load capacity ANSI ratings:
Type IAA: Up to 375 pounds
Type IA: Up to 300 pounds
Type I: Up to 250 pounds
Type II: Up to 225 pounds
Type III: Up to 200 pounds
When deciding how much weight you need for the project, you need to calculate how much the person doing the work weighs, plus the weight of the tools.
If a ladder does not include a rating stating the load capacity, the quality of the ladder is questionable.
Safety Features
The best telescoping ladders come with additional safety features.
A ladder that locks in one-inch increments isn't going to pinch your fingers. Thumb levers on both sides must be present for each foot of retraction. More time may be required to retract, but your fingers will say it's worth the time.
Look for ladders with large rubber feet. Large rubber feet prevent the ladder from slipping.
Fold-out foot anchors are another safety mechanism some ladders have, adding an extra safety layer from slipping.
Some telescoping ladders come with carrying cases. If the ladder you pick doesn't come with a carrying case (or you don't like the quality of the one that came with your ladder), you may choose to buy your own bag.
If buying the carrying case separately, verify the dimensions to confirm your ladder will fit. You may be better off buying a large duffle bag to carry it in since many carrying cases designed specifically for telescoping ladders are made from low-quality materials.
---
Telescoping Ladder Frequently Asked Questions
Why should you buy a telescoping ladder?
Telescoping ladders are ideal for DIYers with limited storage space or who take their ladders with them for jobs at other locations. They're great portable ladders for small business owners and individuals.
You don't need a large van to transport a telescoping ladder. It will fit in the trunk of your sedan. Its best feature is that it can easily be carried through homes without worrying about damaging a light fixture or wall.
What is the biggest difference between telescoping ladders and other ladders?
What sets telescoping ladders apart from other ladders is they can easily be folded or retracted to a much smaller size, making them portable and easy to store. The majority of telescoping ladders can be folded into stepladders, making them usable for all types of jobs.
Do telescoping ladders have to be fully extended?
They do not. You can lock the ladder at the length required for the job.
How safe are telescoping ladders?
When used as intended, telescopic ladders are as safe as any ladder. Most telescopic ladder injuries are related to the user trying to extend the ladder longer than the recommended safety zone. Other injuries occur due to placing the ladder on an uneven surface.
Stay safe using your telescoping ladder by inspecting the ladder before using it. You want to make sure it's properly locked and on a flat surface.
Wear work gloves with a good grip for climbing, and if you need to carry more than one item at a time up the ladder, wear a secure belt hook or safety harness.
Take extra caution when climbing to high heights. The higher you climb the telescoping ladder, the more unstable it will become.
How much weight can a telescoping ladder hold?
Pay attention to the product description on each ladder, but in general, most telescoping ladders can hold between 250 and 330 pounds.
What does it mean when the listing states the ladder meets OSHA and ANSI safety regulations?
ANSI stands for The American National Standards Institute, and OSHA stands for the Occupational Safety and Health Administrative. Both of these organizations create standards for ladders, and ANSI tests them to ensure they meet these standards.
The US Department of Labor organizes OSHA standards, and ANSI is a privately run nonprofit that oversees the development of products, services, processes, systems, and personnel throughout the United States.
Note that testing isn't required, so just because a ladder says it meets the standards doesn't mean it's been tested to prove it.
You can read both the ANSI and OSHA regulations online.
What about EN131?
You may see in some telescopic ladder descriptions stating that they are EN131 certified. What does this mean, exactly? EN131 is the European Union Certification for portable ladders. If the ladder contains this certification, it means that it's been tested to meet the EN131 standards.
To meet these standards, the ladder must meet the following criteria:
Rungs are at least 50 percent larger than a conventional ladder
Rungs must be angled to provide additional comfort and grip
Rungs must make it easy to see the ladder is ready for use with individual lock and release indicators
Must include a safety mechanism for slowing the folding process to protect the user from being injured
Feet need to be molded with durable rubber to improve grip and maximize ground contact
Locking mechanisms must be easy to use
---
Wrapping up the Best Telescoping Ladders
You know all about the best telescoping ladders on the market now. The Xtend & Climb is a must-have If you're a professional contractor, but the RIKADE ladder is the best value. Our other choices are all suitable to get the job done!
If you're a painter and wondering which ladders are best for painting, read about the best ladder for interior and exterior painting.