Deck stain is more than just drab colors. It provides protection in rich color options for every backyard. Transforming a peeling, splintered, and dirty exterior deck into a designer space is less difficult and expensive than you think.
A little inspiration and something as simple as a fresh stain on your deck and fence will revitalize the whole yard. You can add valuable square footage to your home with deck stain colors, creating an oasis for morning yoga, happy hour, and enjoying warm summer nights.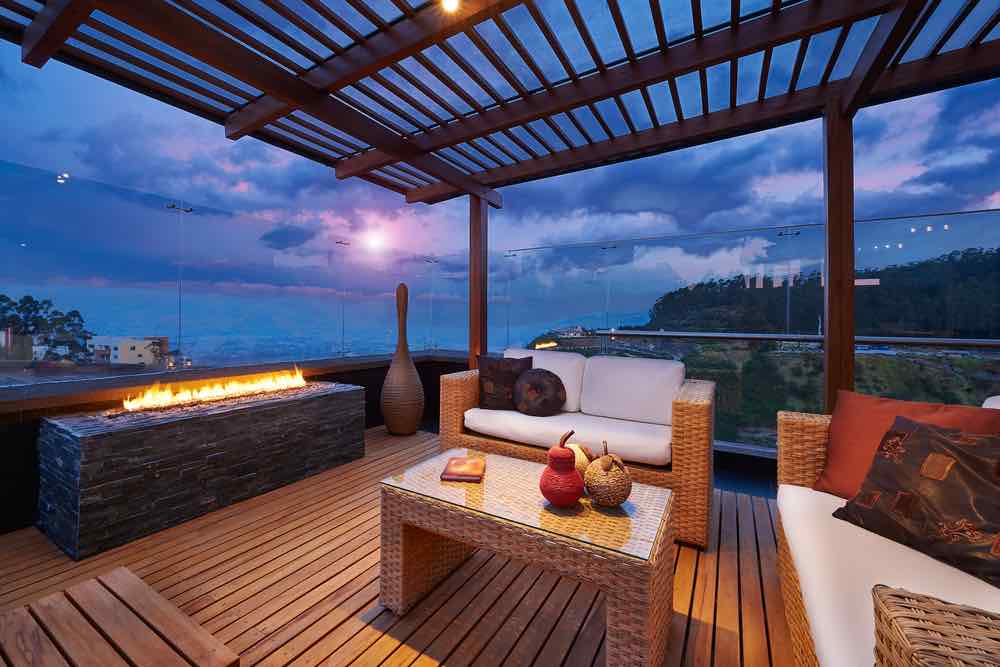 Even in high traffic areas, stain protects wood from moisture, mildew, water damage, and weather. Your deck will last longer while looking great. But don`t just rush out and buy any deck stain just to get to the finished product.
If you're considering painting your deck, stain preserves the natural texture of the wood. Plus, it's more cost effective, as paint requires wood preservative and primer to fill the cracks in the wood. Wood stain colors are more natural, and the formula bonds with the deck surface. Plus, you can always paint over stain later.
Finding the best wood stain colors requires planning, the right tools, and inspiration to narrow down the options. As homeowners, decide the look of your home's exterior. A bright hangout for the family? Designer outdoor furniture for upscale evening hangouts? Are your tastes always changing with trends?
Choose deck stain colors to enhance your future decorating choices on wood walkways and decks. Check out these products for color ideas, decorating tips, and design tricks.
---
Clear Sealant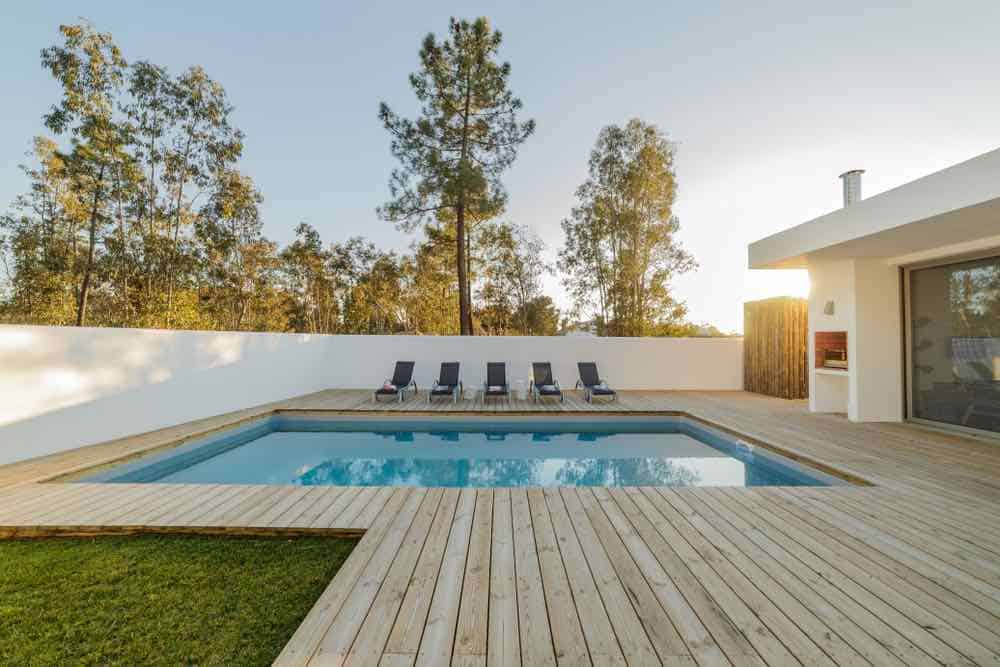 As homeowners constructing an exterior deck with a gorgeous wood species, you might not want the look of stain colors at all. You can still get protection from the elements without stains by using a clear sealant like Olympic Waterguard Clear Wood Sealer. It preserves the gorgeous natural color of the decking for years to come. Granted, there`s more initial expense with woods like mahogany, teak, and Ipe, but they all resist rot, insects, and mildew.
If your home focuses on natural materials and earth tones, a clear sealant may be an obvious choice. Natural materials are also more flexible if your style changes often, or you partake in impulse buying for furniture and decor.
---
Chocolate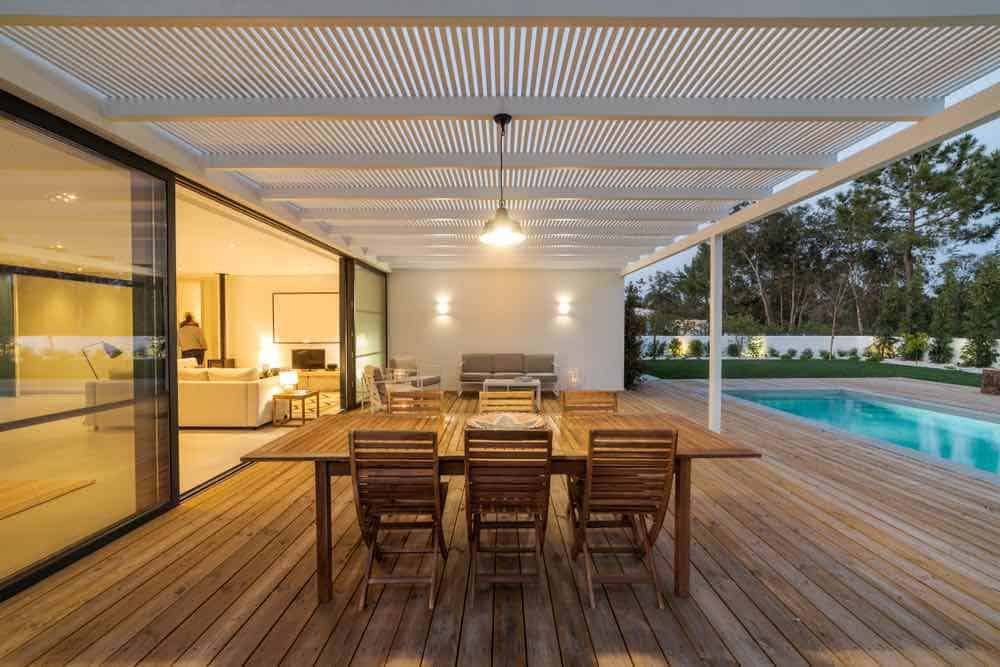 Don`t you love the subtle luxury of Behr`s Chocolate Premium Waterproofing Stain and Sealer? The gentle colors go with either a bold or neutral exterior house color. Perfect for a grill out with just the family, or a garden party with cocktails to highlight the landscaping around your house. Gentle chocolate stains can transform the poolside mood. It adds elegance to the outdoors and brims with potential for furniture, outdoor area rugs, and bold potted plants.
---
Butternut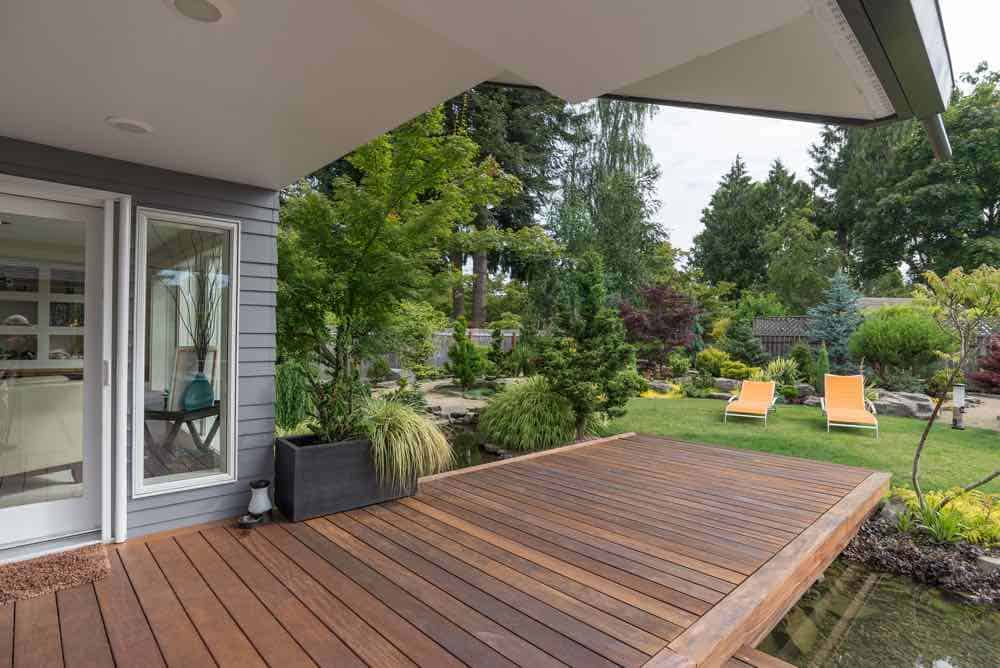 Understated is the name of the game when you use a stain color like Defy Extreme Exterior Wood Stain in Butternut. It`s dark and moody, perfect for a yard design featuring evergreen trees, shade, and verdant ground cover. If your aesthetic tends towards organic cotton, teak, and natural grasses, use Butternut on your outdoor walkways and decks. It looks great with playful outdoor furniture and planters, and if your house has a light exterior, a dark wood stain is the way to go.
---
Driftwood Grey

A brighter grey, DEFY Essential Wood Stain in Driftwood Grey takes inspiration from sun- and salt-bleached wood washed up on shore. You don`t need a beach house to create a perfect exterior seaside mood. Decorate with earth shades of sand, sky blue, and ocean gray to capture that seaside escape vibe. Or use rich colors to add depth and drama. Shades of beige and white will give the stain color an air of elegance, but may not be ideal for families with small children, where mustard-drenched hotdogs get dropped during barbecues.
There`s so many palettes that work well with grey, it`s brilliant if you haven`t settled on a vision for your backyard, if you`re selling your home soon, or you have a young family whose needs change every few years. Grey stains give you flexibility and protection without being bland.
---
Redwood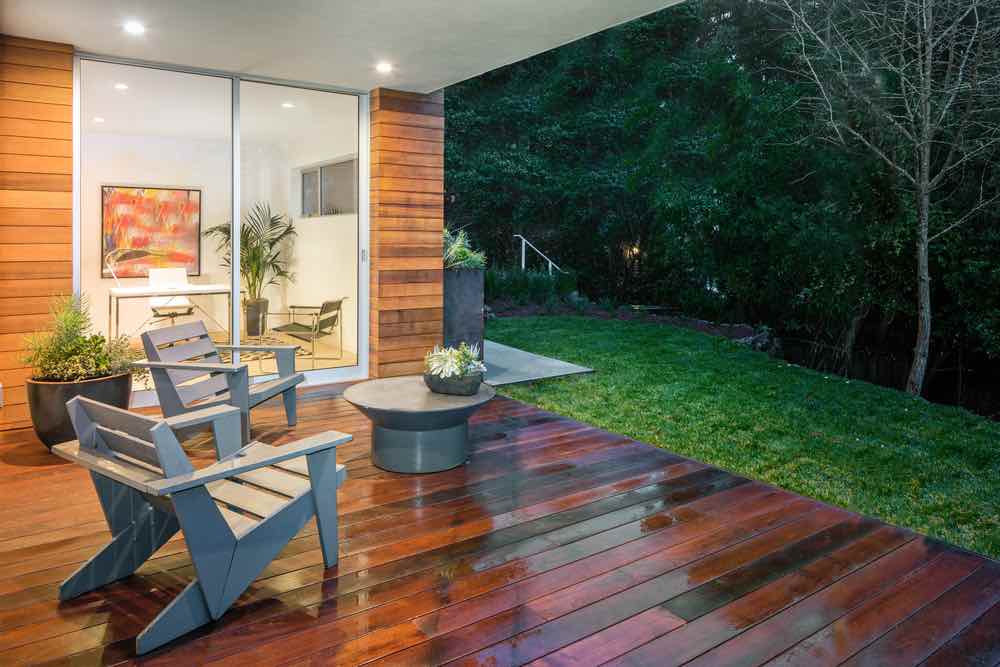 Surround yourself with the beauty of the Pacific Northwest with Kilz Exterior Waterproofing Wood Stain in Redwood. Using actual redwood for decks may be prohibitively expensive the further away from the Pacific you live. Instead, you can use a more cost efficient wood species, and treat it with redwood stains to add rich color and tone. We love how this deck combines redwood stain with wood siding on the house and neutral outdoor furniture.
Bright or beige outdoor area rugs look great with the deep red color. You can create tension with planters filled with greenery, or a few potted evergreen trees. Approach a stain like this the same way you would a dramatic wall color and use decor that creates a unified aesthetic.
---
Light Walnut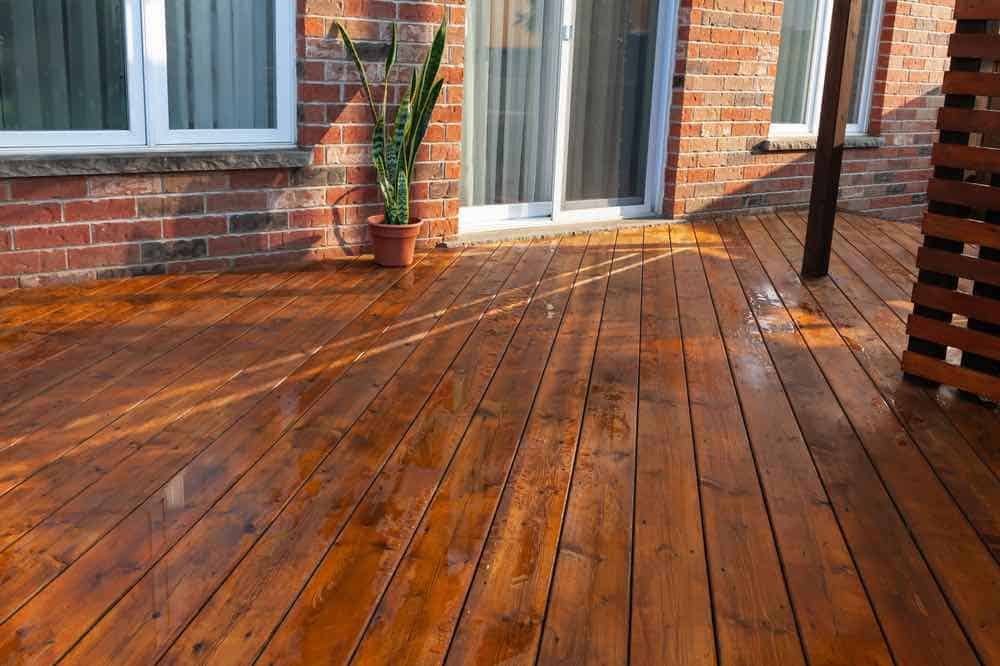 If you want the finish and color of interior wood flooring on your deck, try this one; Defy 1 Gallon Semi-Transparent Deck Stain in Light Walnut. For covered porches and decks you can add refinement with a high gloss umber stain that match your flooring inside. It`s perfect inspiration to dress up with an outdoor area rug, some plush outdoor furniture, and pillar candles or citronella lanterns.
---
Stain your Deck for an Easy Home Upgrade
Your new outdoor space is just a weekend DIY job away. Or hire a painting contractor if that's more your thing. Either way, you'll have a beautiful deck and back yard with these deck stain colors.
You have relaxing summer afternoons, autumn fireside evenings, and family get-togethers to enjoy after your deck and fences gets a fresh coat of stain. You'll also eliminate splinters and provide your deck protection from harsh winters, water damage, and sun.
All you need as homeowners is proper tools and inspiration from your house backyard to transform the appearance of your deck. Deck stains are the first step towards lifelong memories of family get-togethers, parties, or just morning meditations.
You can have the deck of your dreams, that'll get you outside and enjoying nature, starting with the perfect deck color.
Check out our post on How To Stain Your Deck or How To Stain Your Fence for more information.