Are you a fan of the color green? Or perhaps you've experienced paint peeling and your exteriors need a fresh coat of paint. Refreshing and soothing to the eye, this nature-inspired hue makes a great exterior house color. If you've been thinking of using green as your exterior home color, you might find yourself overwhelmed by the wide variety of color choices.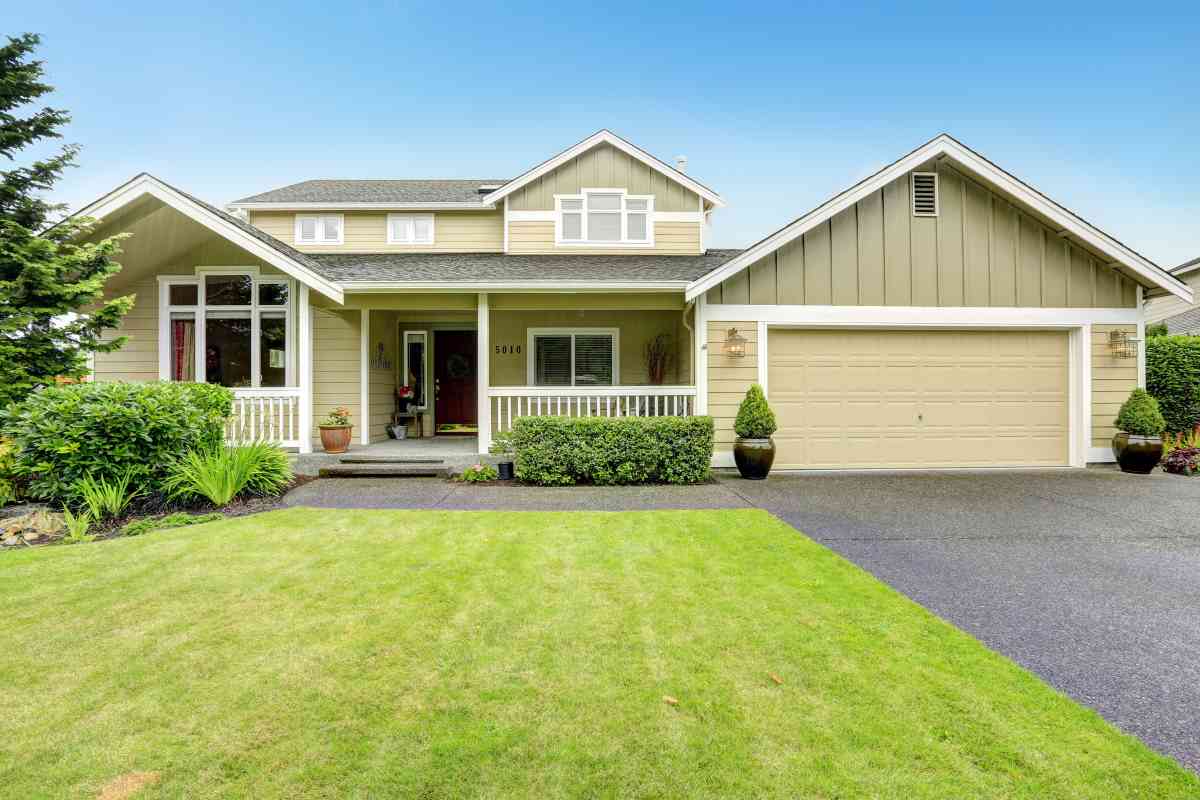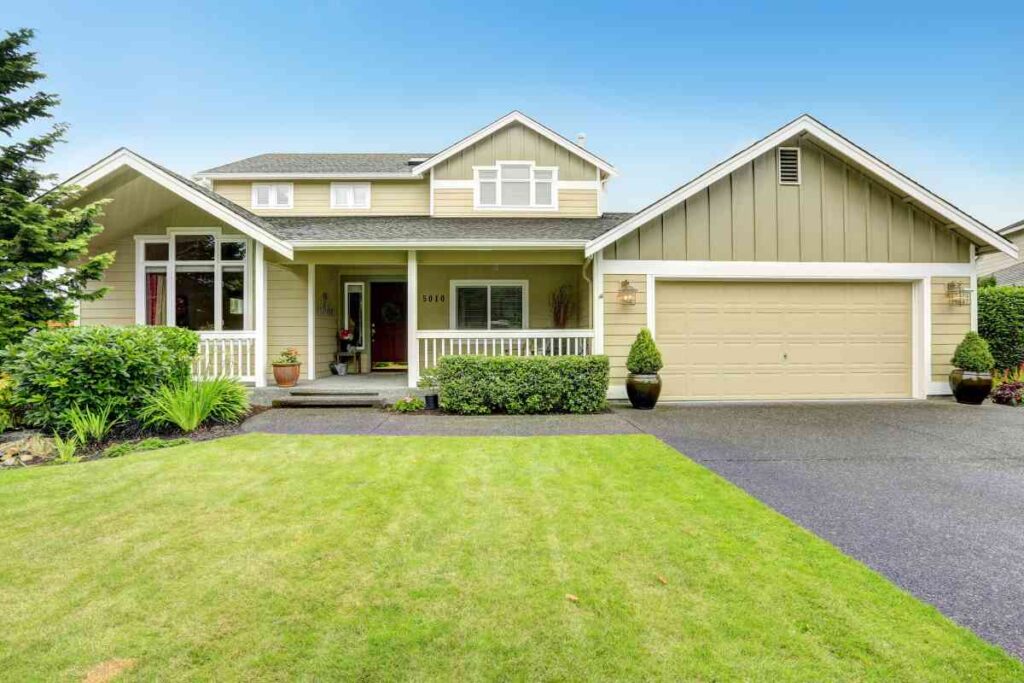 From dark greens and earthy greens to muted sage greens, there are a lot of options for green exterior paint colors, so finding the right shade to beautifully complement your house can be quite the task.
Popular brands have their own takes on the color and each has several exterior home colors for you to choose from. To help you find the perfect shade for your home, we've compiled 21 of the best green exterior paint colors from different brands.
Sherwin Williams Green Exterior Paint Colors
1. Rich Bluish-Green, Cascades

Cascades by Sherwin Williams is a timeless and rich bluish-green shade that exudes an earthy elegance. Since the color is quite deep, it goes well with more neutral, subdued trims. Fixtures and accents with a wooden finish complement this green exterior paint color very well.
2. Deep Forest Green, Olympic Range

The Olympic Range from Sherwin Williams consists of a medium-dark shade of green. The color has gray undertones and is perfect if you aren't a fan of bright greens. It works well as an accent for lighter neutral shades that bring this shade of green to the forefront.
3. Dried Thyme

Dried Thyme from Sherwin Williams is the color you're looking for if you want green exterior paint colors that emanate serenity. Like the previous option, this shade also has gray undertones. It can work well as your primary exterior paint or as an accent color to neutral shades.
4. Warm-Earthy Hue, Anonymous

While it isn't an explicit shade of green, Anonymous from Sherwin Williams has a green undertone with a warm earthy hue. What's interesting about this complex shade is the color perception varies according to your surroundings. If you have lush greenery surrounding your abode, it appears as grayish sage greens.
5. Soft Green, Willow Tree

Willow Tree by Sherwin Williams can be described as a medium-light shade of yellow-green. The gentle green color gives your home a soothing appearance from the outside. Light colors like white or light gray accents and trims can enhance the look further.
6. Shade-Grown

Shade-Grown is a medium-dark shade of green with gray undertones. The color is apt for people who want to feel like they're surrounded by a grove of trees. Using it with dark colors like black or dark gray further enhances its mood while lighter neutrals can balance it out.
7. Cornwall Slate

Cornwall Slate by Sherwin Williams is a lighter shade of gray with a green undertone. It's the perfect hue for you if you find Shade-Grown too dark. The more neutral green feels natural and modest, making it a great match for suburban households with lush surroundings. If you're looking for grayish-green exterior paint colors, this beautiful shade may just fit the bill.
8. Evergreen Fog

Evergreen Fog earned Sherwin Williams' approval by becoming its 2022 Color of the Year. The product is a calming hue that is a mellow green-gray with hints of blue undertones. The color befits wellness and nature themes that have become the trend in exterior paint colors. For a calmer vibe, the color is best paired with lighter accents and trims that offer a pop of color.
Benjamin Moore Green Exterior Paint Colors
9. Black Forest Green

Benjamin Moore's Black Forest Green is a deep, dark shade of green that exudes a striking yet comforting look and feel. This shade is part of the brand's Historic Color range. Inspired by America's landmarks, the color is ideal for Victorian-era houses, but goes well with modern-style houses as well.
10. Sussex Green

Another iconic color from Benjamin Moore's Historic Color collection is the Sussex Green. The color is described as a sleek olive green with hints of charcoal black. This versatile shade of green gives your home's exterior a refined and sophisticated touch without being too extra. It's best paired with trims and accents in a darker shade.
11. Aegean Olive

Aegean Olive is an earthy shade of green that incorporates rich brown undertones for a rustic yet elegant brown-green hue. The color is natural and uplifting when applied to your home's exteriors. Although this tint was the company's Color of the Year in 2021, it continues to be a favorite among homeowners for its soothing ambiance.
12. Elegant Earth Tone, Sage Mountain

A timeless shade of taupe with a green undertone, Benjamin Moore's Sage Mountain is part of their Classic Color Collection. This versatile color can complement lighter trims and accents to enhance its charm. No matter the architectural features of your home, whether traditional or modern, this color can suit your exteriors perfectly.
13. Deep Creek

Described as a chalky brown shade, Deep Creek from Benjamin Moore has a gray and green undertone that gives it the feel of earthy elements in dark forests. It works best with dark, bold trims and accents that bring out its true potential. The shade is versatile and can be used for traditional as well as contemporary suburban homes.
14. Teal, Hidden Falls

Hidden Falls from Benjamin Moore is a deep, dark shade that features rich green undertones. The elegant shade emanates the feel of a dense evergreen forest, where you might discover a hidden waterfall. It goes best with wood-finished accents, and can also be paired with dark neutrals like dark gray and black trim.
Behr Green Exterior Paint Colors
15. Silvery Green, Breezeway

The Breezeway shade was named Behr's 2022 Color of the Year, and it isn't hard to see why. The sea-glass green shade epitomizes the feel of a fresh breeze by the ocean. The cool undertones bring a feeling of tranquility to your home exteriors. Despite the subtle and light hues, the color stands out and charms the eye.
16. Pastoral

Pastoral by Behr is a medium-dark shade of green with gray undertones. It's an earthy green color from Behr that stands out from the rest. The neutral hue is a mix of gray and green. It can be used as the primary exterior color though it can also work as an accent for lighter exterior colors from Behr like Sawgrass (see below).
17. Sawgrass

Sawgrass is a chromatic gray shade from Behr that features green undertones. The shade elevates your home's look and sets it apart from other houses. It's one of the best green exterior paint colors that provide a contrast against darker-colored trims and accents.
18. Muted Sage

Another color in Behr's palette of green exterior paint colors is the Muted Sage shade. The color has soft green undertones that create a comforting and serene feeling. Sage green is already known to be a soothing shade for the eyes, and this shade from Behr takes it a notch higher. Pairing it with light neutrals can enhance it further.
19. Grassy Savannah

When you see Grassy Savannah for the first time, you might be a little confused. The complex shade from Behr is a mix of green, grey, yellow, and a tinge of brown. The dominant color depends on what you use as an accent. It goes well with light and dark neutrals.
Why Green Exterior Paint Colors Are So Popular
Whether you want a shade that gives your home a serene aesthetic or prefer a deep and bold color that makes a statement, the spectrum of green has something for everyone.
Green exterior paint colors can give your home an earthy feel, which makes it feel more welcoming and warm. The shade is perfect no matter the surroundings or architectural style of your home.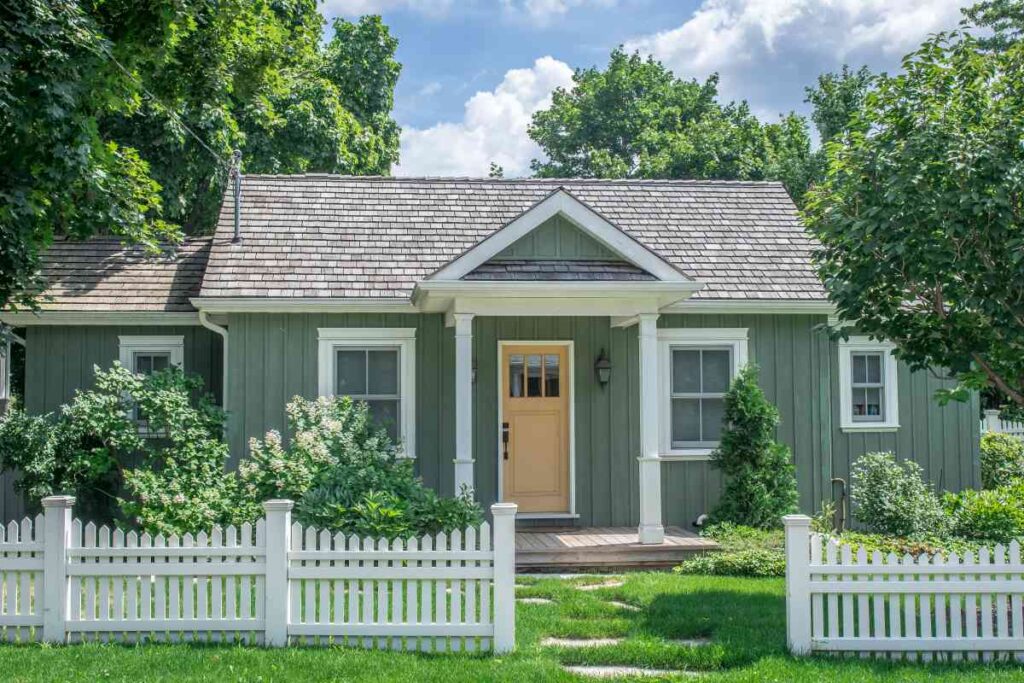 How to Accent and Contrast Your Home with Green Colors
When deciding on exterior house colors for accents and trims, it's always helpful to refer to a color wheel. The original green is a secondary color that's made from blue and yellow. These are two colors that will always go well with green as long as you don't overdo it.
The easiest way to accent green exterior paint colors is to use light neutrals like whites and grays. Certain shades of green, especially darker colors, work well with dark accents like black and dark gray. Adding wood finish accents is another trick for giving your home a nature-based theme.
Wrapping Up the Best Green Exterior Paint Colors
There's much to think about when choosing exterior house colors. Narrowing it down to one color doesn't mean your job is done since a single color can offer so many variations! We hope we've given you a head start in finding the best green exterior paint colors to paint your home with this year.
If you're not sure if you're sold on the color green yet for your home's exterior, check out this list of 27 Popular Sherwin Williams Exterior Paint Colors to see if another color is more appealing to you.
Check out our Exterior Painting page for even more information on exterior painting, paints, and products.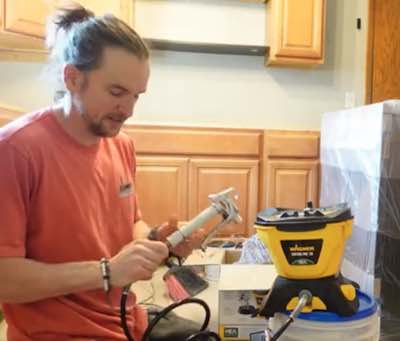 I've been a professional painter since 2001 and spent the last 12 years specializing in kitchen cabinet refinishing. I started the DIY Painting Tips blog in 2015 to start sharing everything I've learned over the years and help all the people who'd rather tackle their painting projects themselves. In 2019 I started the DIY Painting Tips Youtube channel where I publish in depth videos all about kitchen cabinet painting, painting gear reviews, and interior/exterior tutorials.