How much does it cost to paint a room?
The amount of times I've been asked this question by a potential client in my 16+ years as a painting contractor is huge.
This is a completely valid question and anyone calling or emailing me should be given a good answer.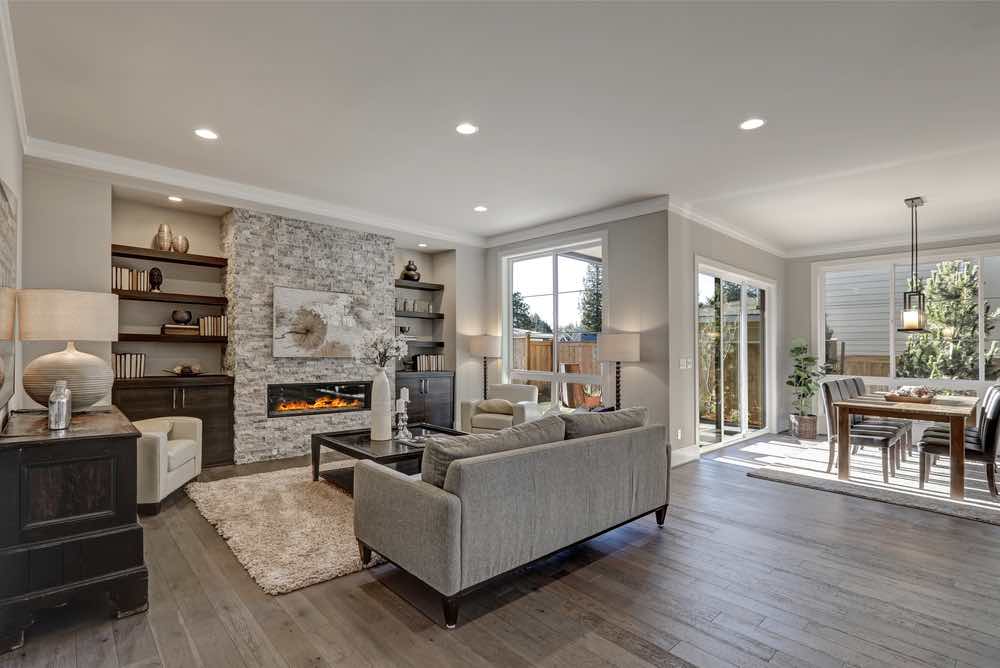 I've asked similar questions to other contractors as well. How much to install an average egress window? How much to sheetrock my basement?
The problem is, many painting contractors don't want to give you any info regarding this number. They believe that by withholding the info from you, they have a better chance of getting into your home and thus a better chance of getting your job. Fair enough, but this strategy is flawed.
What I like even less from contractors: "Well, what's your budget?". What?! Does this mean your price varies? Oh my….
These waste both parties time.
I love answering this question. It gets the client's mindset on what costs they can expect or start mentally planning for. And if it's too high for them, then I don't have to spend an hour+ of my time driving to their home and not getting a job. At that point, I'll happily point them to this site and give them any advice I can on doing the project themselves.
So enough chatter, what does it cost to paint a room?
I'm going to give you two answers, the basic straight forward answer and the more in-depth (yet more accurate answer).
What Does It Cost To Paint A Room: The Easy Answer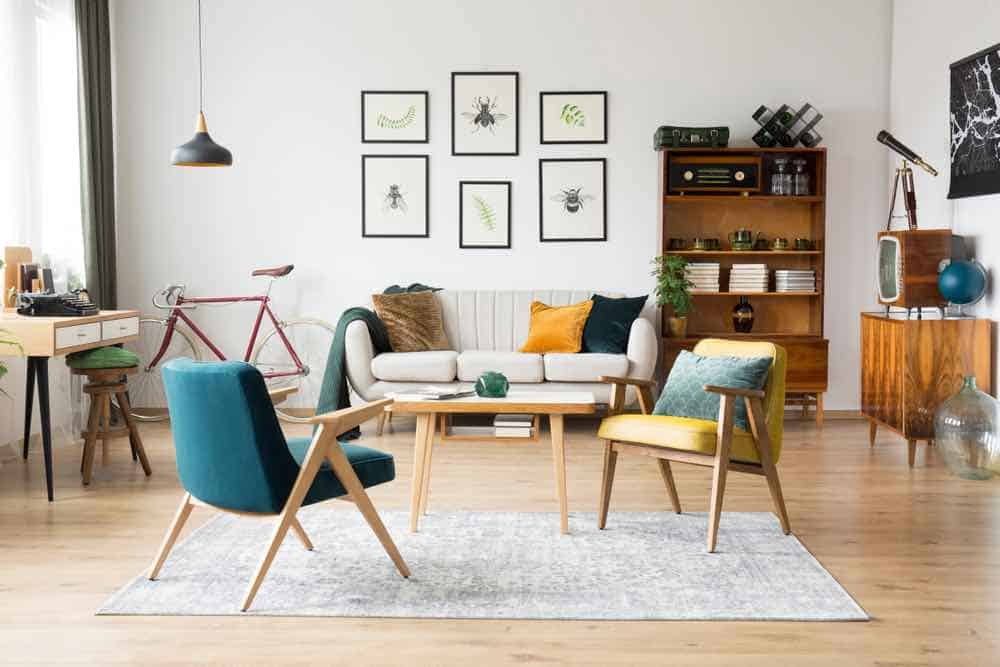 The average room costs between $208 – $312 to hire out painting 2 coats of paint.
This same average room should cost you $75 – $150 in materials if you do it yourself (depending on what quality of materials you buy).
Skip Ahead To The Paint Cost Table For Even More Info
According to the National Association of Home Builders, the average American room is roughly 13 feet x 13 feet.
To hire your local painting contractor to come out and paint that room, you should expect a quote between $208 – $312. The extreme low end could be as low as $104, while the extreme high end could be $416.
Now, there are a lot more variables to consider, different room sizes, different colors, ceiling heights, paint quality/costs and more. Also, what is included in the cost I gave above.
This is what we are going to discuss in the next part of this post.
Defining The Average Room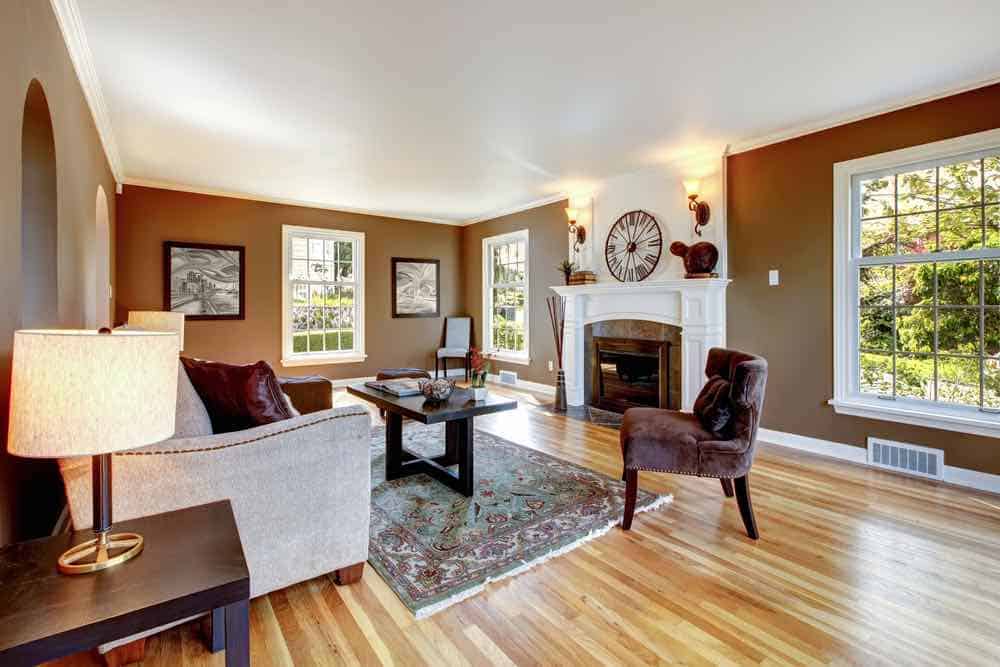 According to the National Association of Home Builders, the average room in new homes is 13′ x 13′. This takes into account all rooms in a home and averages them out.
But let's take this a bit further and break it down room by room.
Let's look at the averages sizes for each room in a home
I took the averages according to multiple data sources (listed at the end of this post) and came up with some averages for the sake of this post. If you use these, odds are you'll be close.
Average Master Bedroom: 17 x 18.
Average Bedroom: 12 x 12.
Average Master Bathroom: 10 x 16.
Average Bathroom Size: 8 x 12.
Average Kitchen: 12 x 20.
Living Room / Dining Room / Great Room (I averaged the 3): 20 x 20.
I've made a table with the average costs of each of these rooms below.
What about average ceiling heights?
Most older homes typically have 8 foot ceilings throughout the home.
In newer homes, you will often find 9 and 10 foot ceilings throughout much of the home.
Some foyers and great rooms can even have 18 foot ceilings.
These all need to be taken into account when coming up with how much it costs to paint a room.
For example, when I bid out a room, I use a price per square foot model. I have a standard price of $0.75 per square foot for rooms with 8 foot ceilings.
If the room has 9 foot ceilings, I charge $0.80 per square foot (of wall space, not floor space) and I charge $0.85 per square foot for rooms with 10 foot ceilings.
I charge more per square foot for higher ceilings because these rooms take longer. Not just because of the additional wall square footage, but because the higher ceilings take longer to cut in since they are higher up on the ladder and they take longer to roll out due to the height.
So in our final calculations, at the end of this post, I will be giving average prices per room with 8 foot, 9 foot, and 10 foot ceilings.
If the room has 18 foot ceilings, I charge $1 per square foot usually, but this high of ceilings requires additional factors to be considered, therefore I won't be including it in this post.
If you're looking for DIY costs, the ceiling height will affect you differently. A higher ceiling will mean investing in more paint (obviously), but it could also mean investing in a taller ladder.
Skip Ahead To The Paint Cost Table
Quality of Paint & How Many Coats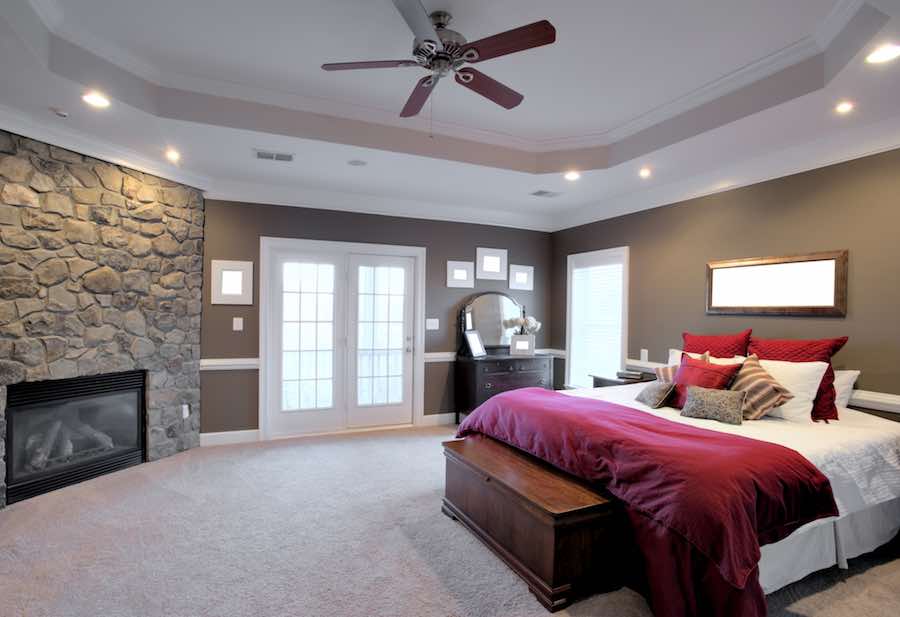 Our next consideration has to be the quality of paint and how many coats you plan on painting.
Quality Of Paint
The quality of paint is a major factor in the cost to paint a room in your home.
Interior paints can range from $10 a gallon (cheap watery garbage) to $70 a gallon (massively overpriced).
For an average room, which needs two gallons of paint, this can mean $20 worth of paint all the way up to $140.
This cost won't change if you do it yourself or if you hire a painting contractor.
How Many Coats of Paint Do You Plan on Applying?
This is an area that can throw a lot of people off due to poor advertising.
Accord to the marketing on many high-quality paints, they offer one-coat coverage. In small print (the fine details), what they really mean is their paint can deliver one-coat coverage on similar colored walls.
In my business, I only agreed to one coat walls if the color being painted was the same as what was already on the wall, or drastically close.
That means that 99% of the time I am hired to paint, I am applying 2 coats and so should you.
For our calculations, we are using two coats of paint as a standard.
How Much Does It Cost To Paint A Room Yourself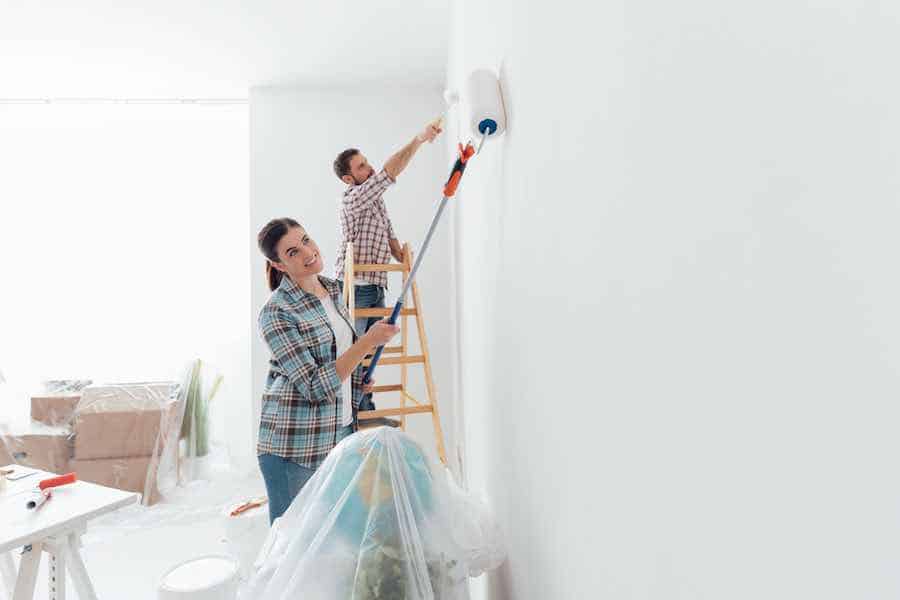 Now we're finally to the info that you really came here for. Hopefully, the content above helped you see how this data was put together. My goal is to help you understand all the costs involved in painting, not just throw out numbers at you.
The beauty of doing projects yourself (which I highly encourage here on DIY Painting Tips!) is that your only cost is the materials involved.
Materials Needed and Cost Of Those Materials
Paint = $50 for 2 Gallons ($25 per gallon)
First, you'll need your paint. I personally recommend Behr for many different reasons. It's sold in Home Depot, which are located everywhere, it's reasonably priced, and it's great to paint with.
You can check out our post on the best interior paints for more info. Or, check out the best paints for bathrooms.
Ladder = $50
Check out our post on the right ladder for every paint job for more info.
Painter's Tape = $8 Per Roll (only 1 needed for 1 room)
Stumped on which painter's tape to buy, we've got a post about that too. The best painter's tape for every painting project.
Paint Roller, Pad, & Extension Pole = $8, $5, & $20
Read about how much time and effort a good extension pole will save you.
A High Quality Paint Brush = $15
You guessed it, we have a guide on choosing paint brushes to help you out as well as how to clean a paintbrush.
Drop Cloth = $20.
Tip: If you want to save some money, use an old bedsheet as your drop cloth.
Total DIY Costs To Paint A Room
This would put your total cost to DIY paint an average room at $176.00.
Of course, you do have to consider though that many of the tools needed are 1 time purchases, thus making each additional room you paint cheaper.
Now let's say you're painting a second room, your cost for this room should be only $58 since you only have to buy paint and tape. You'll already own the other tools needed.
How Much Does It Cost To Hire A Painter To Paint A Room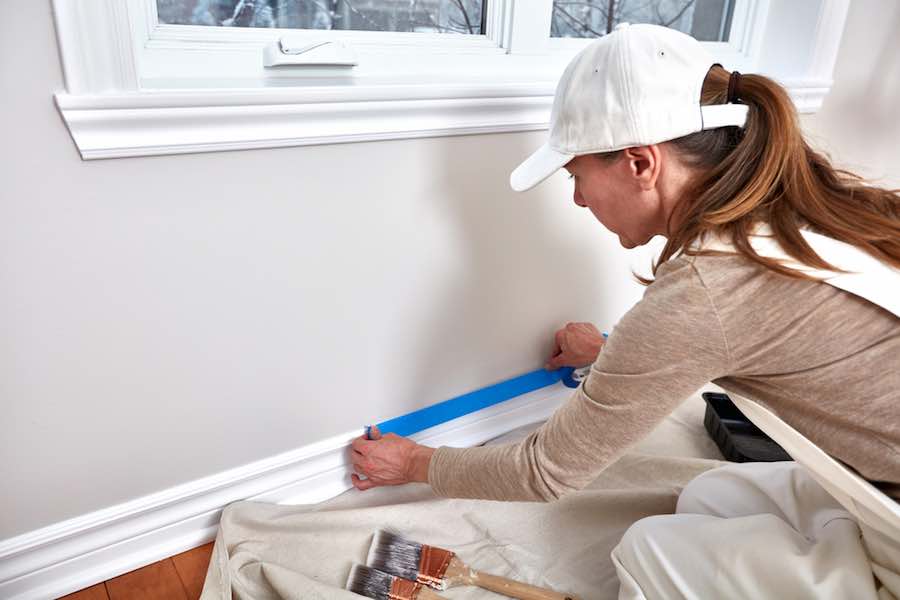 If you're reading this post, then you're probably looking for the cost to paint a room by a professional contractor.
Skip Ahead To The Paint Cost Table
How Much Does It Cost To Paint A Bedroom
The majority of bedrooms will have 8 foot ceilings, so the average bedroom will typically cost between $192 and $288 depending on your painting contractor.
How Much Does It Cost To Paint A Kitchen
Kitchens are a little bit harder to give an average. Most kitchens are not square and many these days are open and don't even have 4 walls. For this estimate, we are assuming the kitchen has 4 walls, so it may be safe to say that your kitchen could be a bit cheaper.
The average kitchen should cost between $256 and $544. This range goes from low-end cost for 8 foot ceilings to high-end cost for 10 foot ceilings.
You may think that your kitchen doesn't have much wall space, but kitchens require tons of prep work that more than makes up for lack of wall space.
How Much Does It Cost To Paint A Bathroom
Bathrooms will typically have 8 foot ceilings, so your average bathroom should cost between $160 – $240.
How Much Does It Cost To Paint A Living Room?
For living rooms, I decided to. go with 9 foot average ceiling height. I am also averaging together living rooms, great rooms, and family rooms. The average living room should cost between $396 – $576.
Want To Know How Long It Takes To Paint A Room?
The Average Costs To Professional Paint Rooms Table
In this table, I have used the average size for each of the rooms listed below to create a low end and high end price for each room based on 8 foot ceilings, 9 foot ceilings, and 10 foot ceilings.
Remember these are just averages, based on my data, to help give you an idea of what to expect if you were to call a professional painter and have them give you a painting quote.
| | | | | | | |
| --- | --- | --- | --- | --- | --- | --- |
| Room | 8′ Ceiling Low | 8′ Ceiling High | 9′ Ceiling Low | 9′ Ceiling High | 10′ Ceiling Low | 10′ Ceiling High |
| Master Bedroom | $280 | $420 | $346 | $504 | $420 | $595 |
| Bedroom | $192 | $288 | $237 | $345 | $288 | $408 |
| Master Bath | $208 | $312 | $257 | $374 | $312 | $442 |
| Full Bath | $160 | $240 | $198 | $288 | $240 | $340 |
| Kitchen | $256 | $384 | $316 | $460 | $384 | $544 |
| Living Room | $320 | $480 | $396 | $576 | $480 | $680 |
Square Foot Prices For Contractors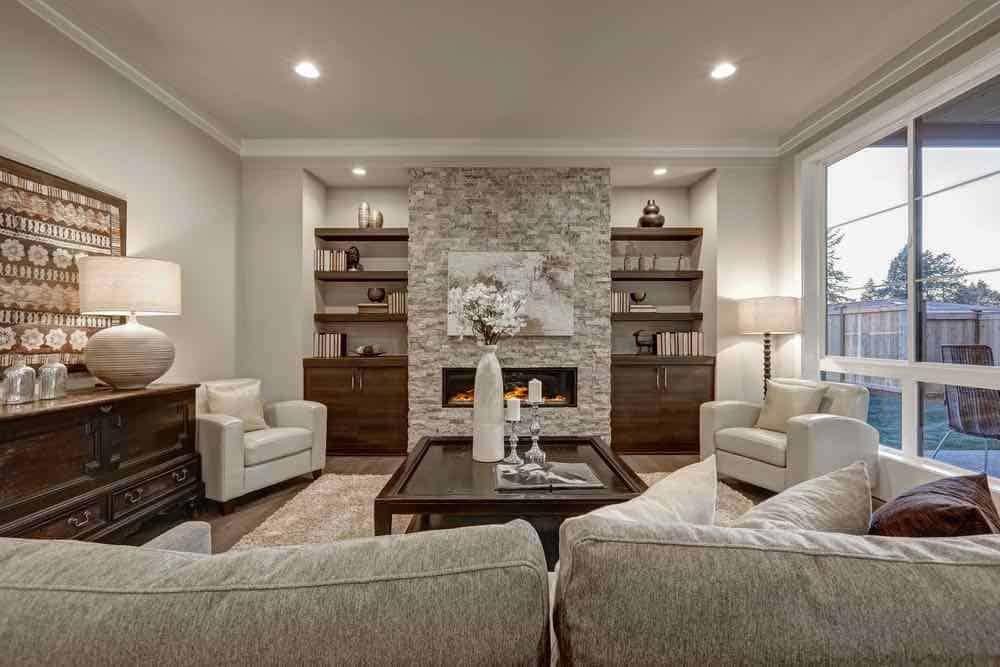 When I was wrapping up this post, it hit me that many of the people reading it might actually be painting contractors looking for pricing data to help them price out their own jobs.
Here are my standard interior painting rates.
Notes #1: All my rates typically work out to making $75 per hour average while painting interiors. So, adjust these up or down to hit your own hourly goals.
Note #2: I always bid everything per square foot of wall space. Never floor space. I also don't subtract space for windows or doors as I feel that the time needed to prep them cancels the time saved not painting the area.
Interior wall painting Prices:
8 foot walls = $0.75 Per Square Foot Of Wall Space
9 foot walls = $0.80
10 foot walls = $0.85
11+ foot walls = $1
Other variables may bring these prices up or down.
One variable to consider is how bad do you need the work. If you're desperate for work, don't try going for $75 an hour, maybe be happy with $30 and make sure you land the job. If you're overbooked, go for $100.
Conclusion
Hopefully, this post helped you with expectations of what it will cost to paint a room in your home. If you have any questions, thoughts, or comments, make sure to leave them below.
NEW: Check out my new Paint Project Calculator! This calculator will help you determine how long you painting project will take, how much it will cost, and even how much a contractor would charge you. Use it for interior painting, exterior painting, and even kitchen cabinet painting!
Additional Resources For Painting Your Room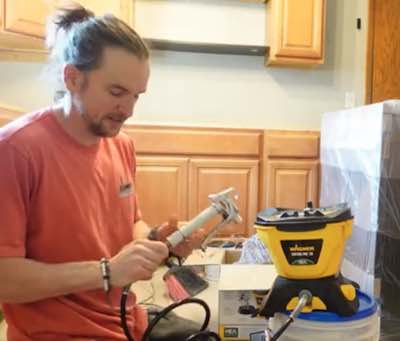 I've been a professional painter since 2001 and spent the last 12 years specializing in kitchen cabinet refinishing. I started the DIY Painting Tips blog in 2015 to start sharing everything I've learned over the years and help all the people who'd rather tackle their painting projects themselves. In 2019 I started the DIY Painting Tips Youtube channel where I publish in depth videos all about kitchen cabinet painting, painting gear reviews, and interior/exterior tutorials.