I've written about how much different painting projects typically cost a few different times here on DIY Painting Tips.
These always tend to be my favorite posts because I love breaking down the costs for people, the math behind it, and why different painting projects cost what they do.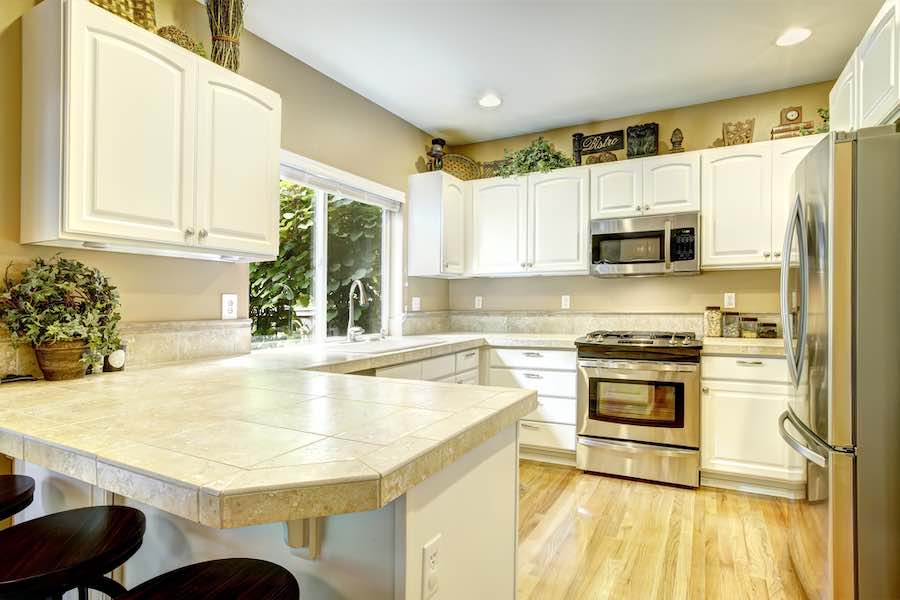 I also think this is one of the most helpful style posts here. It's helpful for homeowners so that they can budget and know what to expect and It's helpful for painters who are just getting started.
So let's jump right into how much does it cost to paint kitchen cabinets.
Index:
How Much Does It Cost To Hire A Contractor To Paint Your Kitchen Cabinets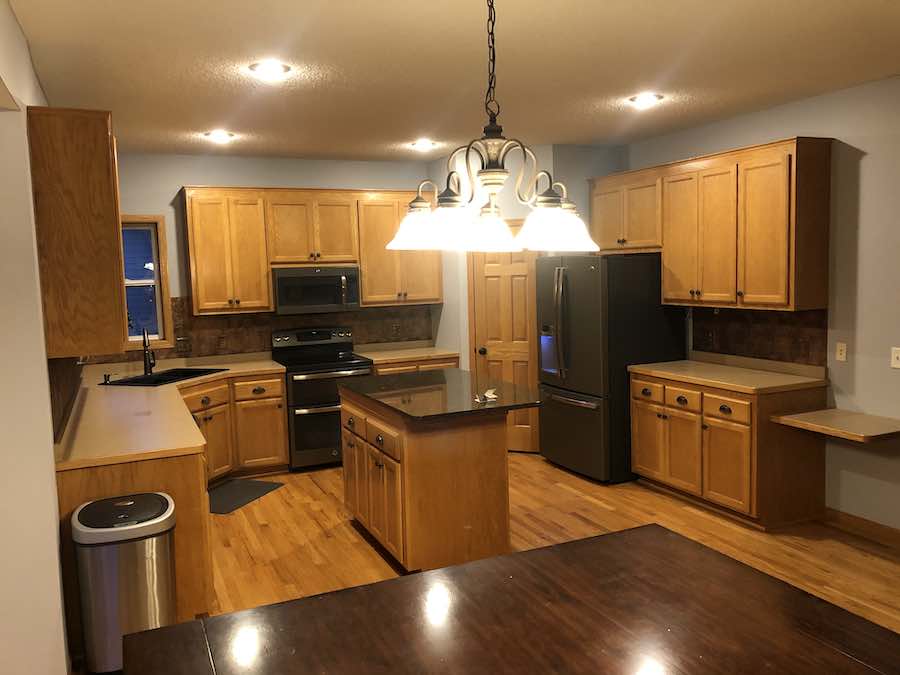 I am assuming that most people reading this post are more interested in what it will cost them to hire a contractor to paint their kitchen cabinets. So let's cover this first.
To begin with, there are a lot of different variables to consider when talking about the costs to paint kitchen cabinets.
Some of the factors have to to with the painting contractor such as:
How in-demand they are.
How long have they been in business?
How is their reputation?
Other factors have to do with your project such as:
How big is your kitchen?
What type of wood are your cabinets?
Do you require a grain filler?
Will your center island be an accent color?
Since we are talking about professionals, I am going to assume spraying only, not brushing!
Most Common Scenario – Golden Oak Painted White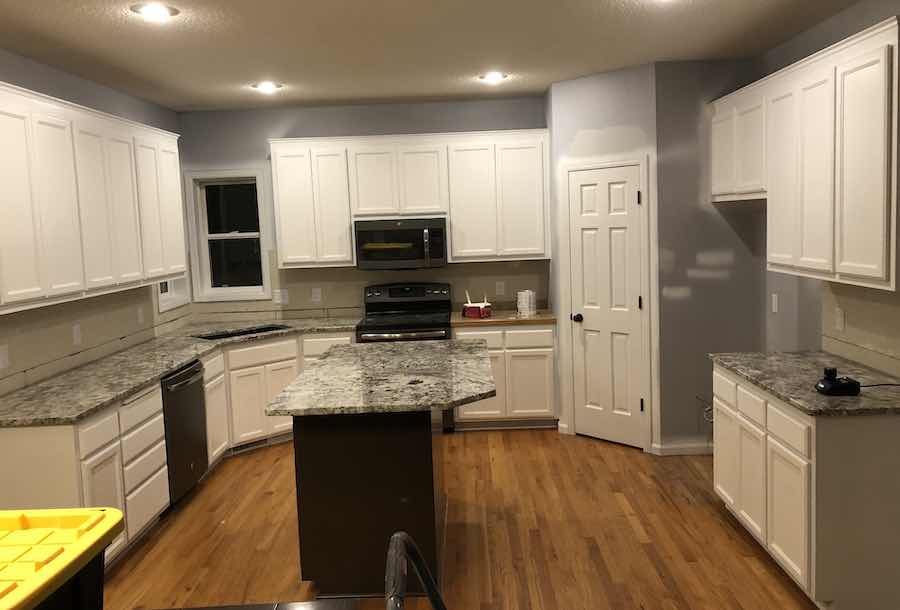 Here is the most common scenario I run into. We'll use this as a starting point.
1990 – 2010 Golen Oak Kitchen.
Roughly 120-150 square feet of cabinets (measuring only the fronts of the cabinets). We'll call it 135 Sq Ft.
The client does not want to see any of the oak grain showing when finished.
For this type of project, you should expect to pay a high-quality reputable painter in the range of $3,000 – $5,000.
I personally charge $30 per square foot for this type of project.
To get my square feet I measure out only the front sides of all of the cabinets (the area with door and drawer faces). I do not add in the sides of the cabinets to my total. This method has worked very well for me over the years.
I feel this method of measuring and pricing cabinets is much more accurate than measuring and pricing based on linear feet. It takes into account how tall cabinets are which linear does not.
Pricing Out Your Kitchen
If you want to know what your kitchen should cost to paint, meause out the the square footage of the fronts of the cabinets like I mentioned above. Small kitchens can be in the 80 square feet range. Really big kitchens can be up to the 180 square feet range.
Take your number and times that by $30 and you should have a good starting point of what to expect when a painting contractor comes and gives you a bid to paint your kitchen cabinets.
Variables
Painting Maple Cabinets:
If you are starting with maple cabinets, you won't have to worry about filling the grain to get a smooth finish. Maple is a close-grained wood and is the perfect candidate for painted cabinets.
The same kitchen above, only maple instead of oak should cost between $2,000 – $4,000. Roughly a thousand dollars less to paint a maple kitchen vs an oak kitchen. I charge $22.50 a square foot.
Previously Painted Cabinets
If you are re-painting previously painted cabinets, this should be significantly cheaper, but also presents us with the widest variable. Is the old paint in good shape? Are there runs, chips, etc.
Previously painted cabinets should cost in the $1,500 – $4,500 range to paint.
For The Painters Who Are Inevitably Going To Argue Me That My Prices Are Too Low
If you can charge more and feel as though you are providing a fair value trade, then, by all means, go ahead and charge more. Charge what the market will bear and what you feel good about yourself charging.
I know that if I work hard and efficiently, I make $100 per hour painting kitchen cabinets. This is because I have painted hundreds of kitchens, I have a system and I am efficient. If my son (who is a good painter) did a kitchen at my same prices, he would likely make $50 per hour (which he would be thrilled with for a 20-year-old).
A Story For You – Home Owners Beware
Just two weeks ago I got a call from someone who was absolutely devastated after they hired a painter to enamel their oak kitchen cabinets.
I absolutely refuse to knock a partner while on the phone. I have to see the job in person before I make any judgments. I want my fellow painters to do good work and I will defend them as much as I can.
When I got to the job, it wasn't good, but it wasn't terrible either.
Her cabinets were obviously sprayed, pretty smooth too. But her oak grain was showing through everywhere. It didn't look like anything was done to eliminate graining from the oak.
The first thing I asked her was "did you request that the graining be filled". She told me that she specifically requested the grain to not show and was assured it wouldn't.
The problem was that the painting company she hired immediately turned and subcontracted the painting project to another painter. Not only that but the original company she hired never showed back up to her job after she paid the deposit.
In defense of the painter who actually did the work, he said he was never told to fill the grain and was paid very poorly.
I asked the homeowner if she was ok sharing what she paid the original painter. She paid $7,500!!
This wasn't big kitchen! I measured it out for comparison and found that my pricing would have been $3,500 and it would have taken me less than a week.
Her project took over a month!
If she had been armed with the knowledge of what a project like that should have cost, she could have seen red flags immediately that this company was overcharging.
My guess is they paid their sub-contractor $1000 – $1,500 and pocketed $6,000 for doing nothing.
If she had requested oak samples or known that $3000 – $5000 was a fair price, she could have saved herself a world of trouble.
Sadly, she doesn't have a good ending. She complained to the paint company whose only response was to tell her that her cabinets look "country", which wasn't what she wanted.
My quote to fix her cabinets was $1,500. Which is less than my normal pricing because I hate seeing people ripped off.
How Much Does It Cost To Paint Kitchen Cabinets Yourself (DIY)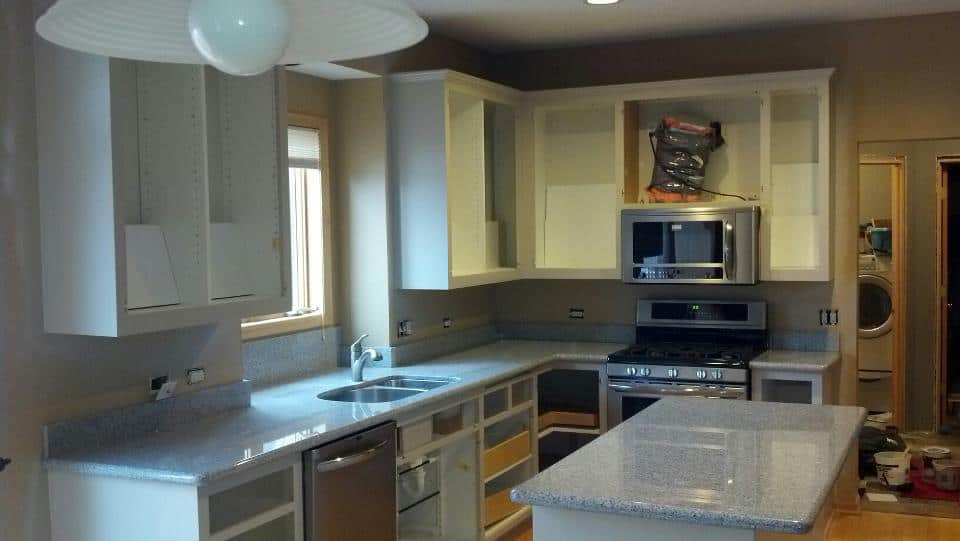 Painting kitchen cabinets is a very labor-intensive job. This means that if you choose to paint your cabinets yourself, you can save a lot of money vs hiring a contractor.
We've written a few different articles about painting kitchen cabinets, so if you are interested in how to paint your cabinets, make sure to check these posts out.
Basic Tools Needed To Paint Your Kitchen Cabinets and Their Costs:
Note: I cannot link to these items on Amazon because I am mentioning their prices which is against Amazon's terms of service. So, just search for the items I am mentioning on Amazon and you should find the prices to be pretty close.
Rosin Paper To Prep The Floor
You should always prep off the floor as one of the first things when painting your kitchen cabinets.
Frog Tape x 4 Rolls
I use frog tape to tape down the brown rosin paper, prep off the insides of cabinets and anywhere else tape is needed.
Painter's Plastic x 1 box
For prepping countertops, plastic off the kitchen, doors, windows, etc.
3M Hand Masker & Blade
The 3M Hand Masker is easily one of the most efficient methods for applying plastic and tape, which you need a lot of when painting kitchen cabinets.
72″ 3M Masking Film x 2 Rolls
I use 3M masking film to prep off the insides of cabinets, windows, faucets, appliances and more.
4′ Step Ladder
A decent step ladder should run you $40 – $80 and be a useful tool around your home for many years.
High-Quality Paint Brush
I personally like Purdy paintbrushes and like to use a 2.5″ brush for different cabinet brushing and touch up.
1 Box of 3M Medium Grit Sanding Sponges (6 in a pack)
I use medium grit sponges to rough up the surface and clean it before applying primer. I always go through about 1 pack.
1 Box of 3M Fine Grit Sanding Sponges (6 in a pack)
I use fine grit sponges for sanding the primer smooth after applying the primer to cabinets. Medium is too rough, fine seem to be perfect for me.
1 Box of 3M Extra Fine Sanding Sponges
Extra fine sponges are used in between your topcoats. Extra fine are used to remove small dust particles and smooth the finish without putting too deep scratches into the first topcoat.
Mini Roller and Mini Roller Pads (if you don't plan on spraying)
If you don't plan on spraying your cabinets, you will likely want a mini roller ($5) and at least 2 roller pads ($8).
Garbage Bags
Optional HVLP Paint Sprayer
This item deserves an entire post dedicated just to the sprayer you should choose for painting your kitchen cabinets (maybe I'll write that soon!).
If you want a high quality finish you have to add in a sprayer into the cost to paint kitchen cabinets.
Personally, I recommend the Wagner Flexio for DIYers who are painting their kitchen cabinets. It' will be great for a 1-time project and potentially some smaller projects around the house. If you are a contractor though, consider a higher quality HVLP like the Titan Capsray 115.
Check out this post for the best paint sprayer for every project.
Paint Respirator
A respirator is needed to help protect your lungs while painting your kitchen cabinets. You can read all about paint respirators here.
Primer x 2 Gallons: $100
You will find different paint costs depending on which store you choose, but $50 per gallon for a high-quality primer like Benjamin Moore's Advance Interior Alkyd Primer (my favorite) should be a safe assumption.
Enamel Top Coat x 2 Gallons: $120
Again, you'll find different costs based on where you shop, but my personal favorite kitchen cabinet paint Benjamin Moore's Advance Interior Alkyd should cost roughly $60 per gallon.
I actually wrote an entire review on Advance Interior Alkyd Paint if you want to know more about this great paint.
Adding Up The Materials
If you go through and add up all of the materials from above, you'll find that the total comes out to roughly $600.
This should be a pretty safe budgeting starting point for most people painting their kitchens.
If you already have some of the tools, you'll obviously save some money. If you have a bigger kitchen, expect to potentially have additional costs and vice versa for a smaller kitchen.
So How Much Does It Cost To Paint Kitchen Cabinets?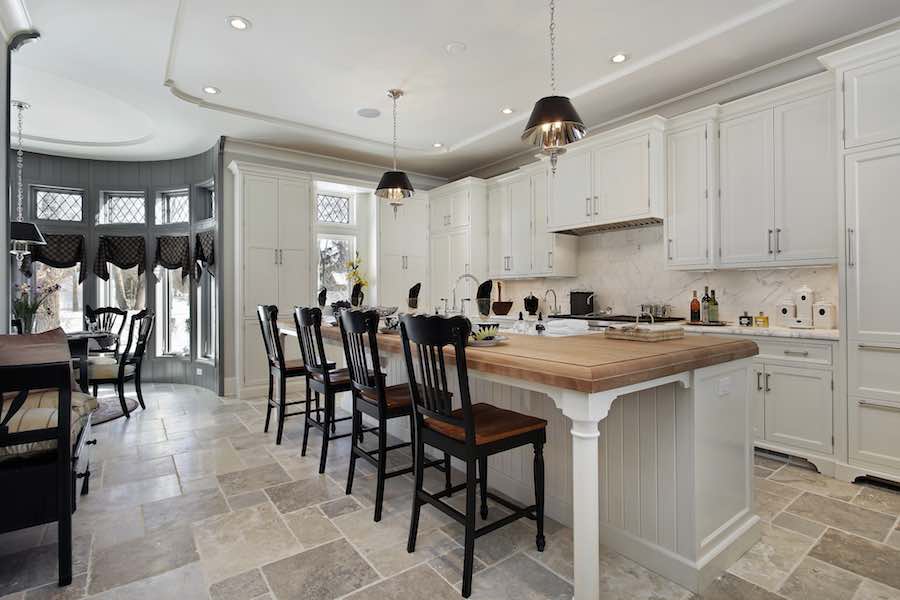 If you are a DIY Painter, then you should expect to pay roughly $400 – $800 in tools and materials depending on what you already. That's a pretty reasonable cost to paint kitchen cabinets!
If you are hiring a quality professional painter, then expect to pay $3000 – $5,000.
Typically anything higher isn't necessary and not a good deal while anything lower and as the saying goes "you get what you pay for".
Check out these othere costs breakdown posts:
Ready To Learn More?
Check out our Painting Kitchen Cabinets hub page for everything you could want to know about cabinet painting including costs, how-tos, reviews, and more.