If you're looking to change up your home's decor, particularly with a "distressed" or "shabby chic" look, knowing how to chalk paint furniture is a great way to make that transformation.
Frankly, it's easy to learn how to chalk paint furniture. And some tips and tricks can give your chalk-painted furniture a durable finish and a top-quality look that will make you proud.
Read on to learn about chalk paint and how to use it to bring new looks to your home.
What Is Chalk Paint?
Technically a trademark brand of the Annie Sloan paint company, the popular matte-finish chalk paint is now available from a wide range of paint companies. Those companies market their products as "chalked" or "chalky" paint. All of them are at least somewhat similar to the Annie Sloan brand.
Popular for easy application, chalk paint is now used widely for enhancing older furniture. Chiefly known for transforming furniture to the "shabby chic" or "distressed" look, chalk paint can also impart a modernistic feel.
Preparing Furniture for Chalk Painting
One of the selling points of how to chalk paint furniture is that you can simply start brushing or spraying it on without any preparation of the piece. That's probably true, but if you want a great-looking finished product, you should recognize that at least some preparation is necessary.
Cleaning
The first step in how to chalk paint furniture is a good cleaning. First, use a vacuum cleaner to get major bits of dust and dirt off the furniture. Follow that with a wipe-down using a rag dampened with warm water, perhaps with some white vinegar added.
Degreasing
If you're painting a piece of furniture in or near a kitchen for a long time or in other places where grease and grime are particularly thick, you'll want to degrease it before painting.
Getting that job done as a best practice in how to chalk paint furniture is simple enough, using just a rag and a bit of straight white vinegar. Any furniture polish accumulation can also be removed with a mixture of vinegar and water.
Hiding Scratches and Holes
If you're working with a particularly old piece of furniture, or if you're going to be replacing existing hardware — knobs, drawer pulls, decorative pieces, etc. — you'll have to hide scratches, dents, and holes. Wood putty can cover most imperfections, but larger holes or dings call for the use of wood filler.
Sanding
In general, light sanding can help produce a great finished product as you work through how to chalk paint furniture. But there is at least one instance in which you shouldn't sand a piece of furniture before applying any kind of paint, including chalk paint.
If you're redoing an older piece of furniture that was previously painted, you should assume it is painted with lead-based paint. Lead is linked to a number of serious health problems, from organ damage to seizures, and sanding lead-based paint will release lead into the air.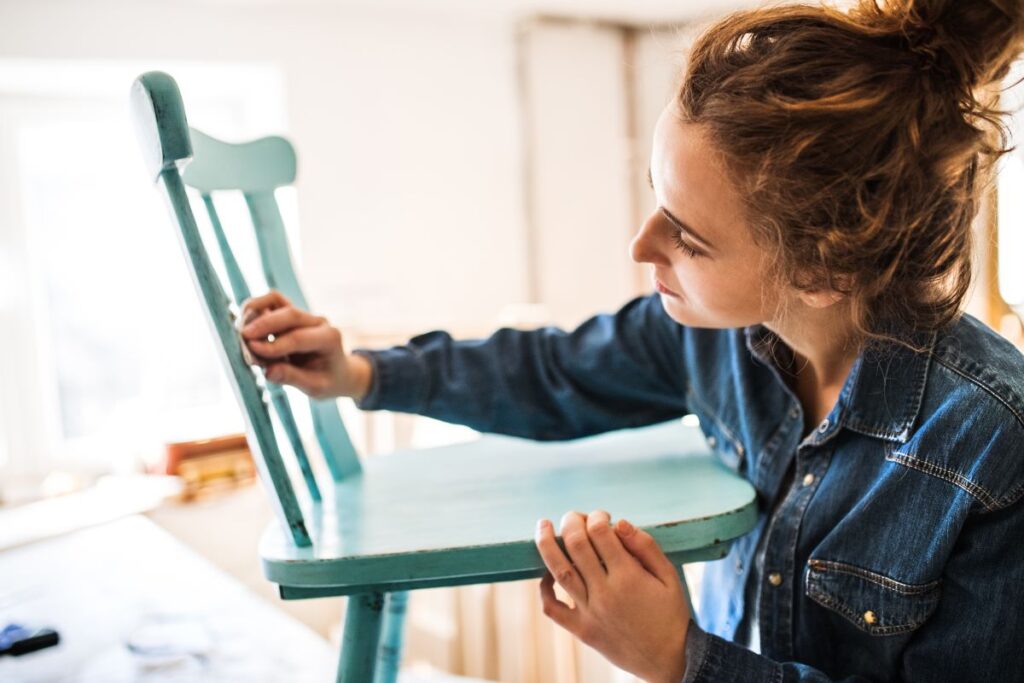 How to Chalk Paint Furniture With Brushes or Rollers
Using a brush or roller is a perfectly acceptable choice over a spray application unless you're painting a particularly large piece of furniture with lots of intricate features. Read on for some tips for using brushes and rollers as part of how to chalk paint furniture.
Choosing and Using the Right Brush for Chalk Painting Furniture
Your best bet for a successful venture into how to chalk paint furniture is to use a brush specifically designed for use with chalk paint. Chalk paint brushes are round with long bristles, allowing for greater control than other brushes. These special brushes are available from Amazon and other sources.
You can use regular paint brushes to apply chalk paint, but they should be comprised of natural bristles.
Choosing and Using the Right Roller for Chalk Painting Furniture
If you're painting a large piece of furniture with few intricate details, a paint roller likely will be the best tool for the job in terms of how to chalk paint furniture.
If you decide to use a roller for your DIY chalk paint furniture project, select one that is either 4 inches or 6 inches wide. Your chosen roller should be made of high-density foam to ensure a smooth finish.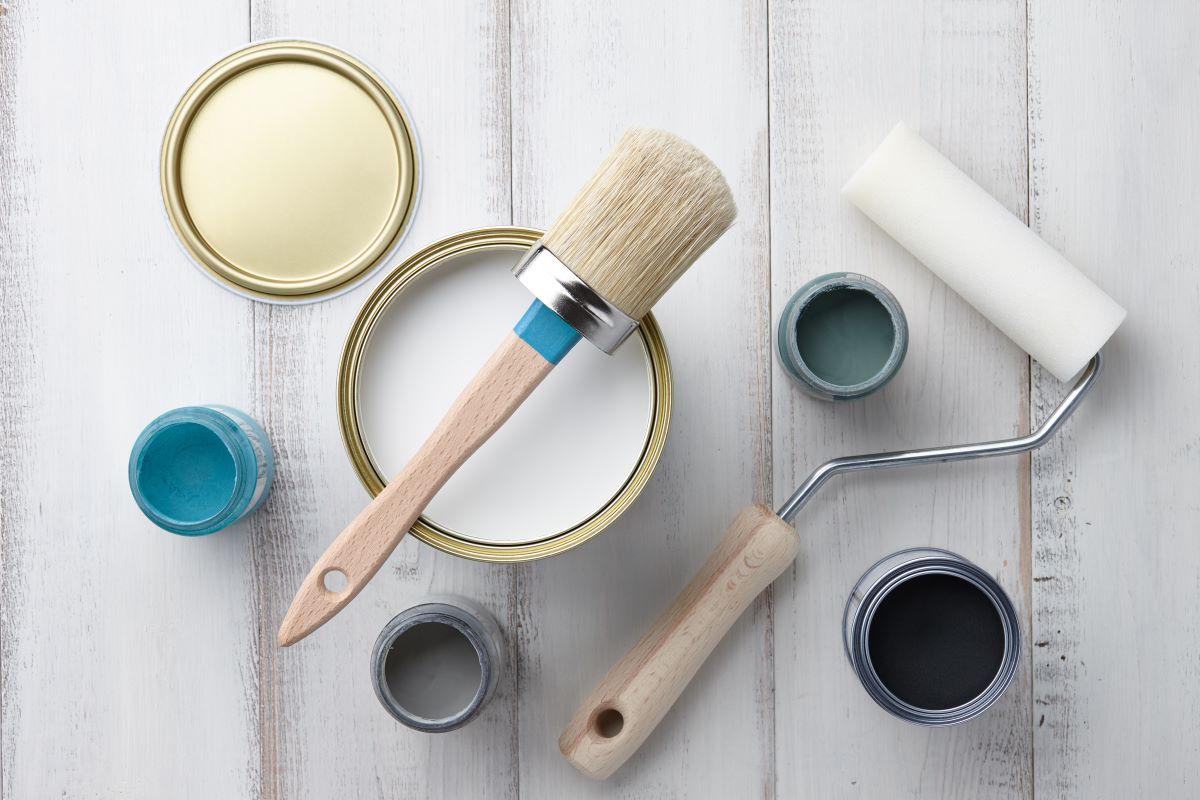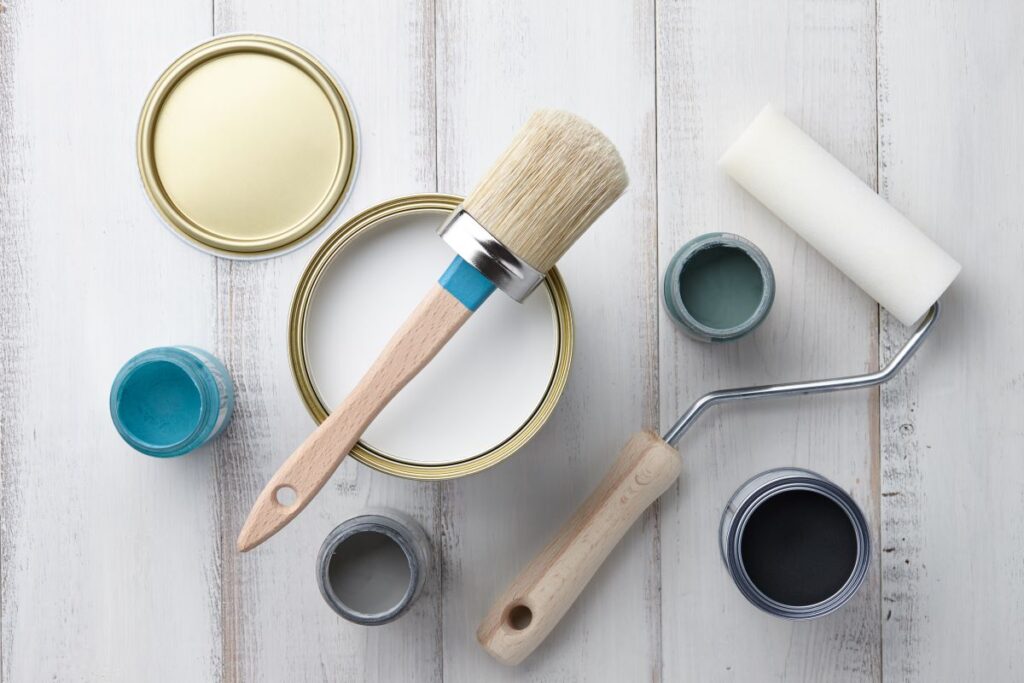 Using Spray-on Chalk Paint on Furniture
If you're using chalk paint on a larger piece of furniture with lots of nooks and crannies, like a cane-back chair, you might want to use spray-can paint, or a paint sprayer, to give your piece a professional new look.
Read on for tips on how to chalk paint furniture with a sprayer or spray can.
Sprayer Application
If you're using a paint sprayer, you need to be sure you're using true water-based chalk paint. That's because you'll need to thin the paint before applying it. The only way to do that is by adding water.
Most sprayers will come with instructions for thinning paint. But as part of learning how to chalk paint furniture, you should expect some trial-and-error before getting your paint to the right viscosity.
Spray-Can Application
Just as with other spray paints, wearing a mask while using spray-can chalk paint is a good idea. In terms of practical tips for using spray-can chalk paint, your best strategy is to go for multiple light coats instead of one or two coats to cover your furniture.
Ensure your furniture is clean before starting the job, and vigorously shake the spray can before and while applying the paint. Stay 6 to 8 inches away from your piece of furniture as you move the spray can.
Distressing Chalk Paint on Furniture
You can find complete instructions for distressing chalk paint on furniture elsewhere at DIY Painting Tips. In the meantime, here's a quick bit of guidance on getting that distressed look as you expand your experience in how to chalk paint furniture.
If you're looking for a quick way to distress your chalk-painted furniture, you can simply use a wire brush or some sandpaper after the paint has dried. Run your brush or sandpaper along bits of the corners of your furniture or around drawer pulls, keyholes, and other hardware to give it a well-used patina.
How to Chalk Paint Furniture FAQs
If you're just getting started in learning how to chalk paint furniture, you likely still have some questions about how to do it well. Read on for answers to just a few issues that might have occurred to you.
1. What problems might arise in using chalk paint?
While chalk paint is relatively easy to use, there are some issues that can arise as you learn how to chalk paint furniture. For instance, if you don't clean surfaces before using chalk paint, any dirt left behind could cause your paint to crack.
Chalk paint will also crack if it is applied too thickly in multiple coats and if the coats don't dry adequately between applications.
In both instances, you'll need to use a paint scraper to remove the cracked paint, sand and clean the surface, and reapply primer and paint.
Thin application
Also, you should know that if you apply chalk paint too thinly, you'll wind up with a streaky appearance. Of course, if you're going for a weathered or distressed look, that may not be a problem for you
If you do want to fix a streaky paint job, you can try adding an additional coat. Sanding the existing coat before repainting will help make the paint look smooth.
Paint bubbles
Your chalk paint application may wind up with bubbles for a few reasons. For one, if you didn't stir the paint correctly before applying it, you may have left bubbles in the paint that will appear on the finished piece of furniture.
Or, if you apply chalk paint over a particularly porous surface, you may wind up with bubbles over some of the pores. Finally, using a roller or foam brush may also wind up with a bubbled finish.
To fix bubbles in chalk paint, you'll need to sand the furniture down and apply a couple of additional coats of paint.
2. Is waxing necessary after applying chalk paint?
You don't have to apply wax to your finished piece of chalk-painted furniture. In fact, if you're specifically looking for the unadorned matte finish of chalk paint, you shouldn't use wax on it.
However, if you'd like your painted piece of furniture to have a little bit of sheen, wax is a great way to do that. Additionally, wax will really bring out the color of your freshly repainted furniture. Waxing chalk-painted furniture also will protect your paint from scratches.
3. Can chalk paint be used in ways other than 'shabby chic' or 'distressed' looks?
Using chalk paint is undeniably popular among DIY aficionados looking to create a "shabby chic" or "distressed" look. But its flat sheen also lends itself to more modern and sleek looks, particularly if used with wax.
In short, don't dismiss chalk paint, no matter what look you seek. It's worth at least trying on a small area to see if you like its look.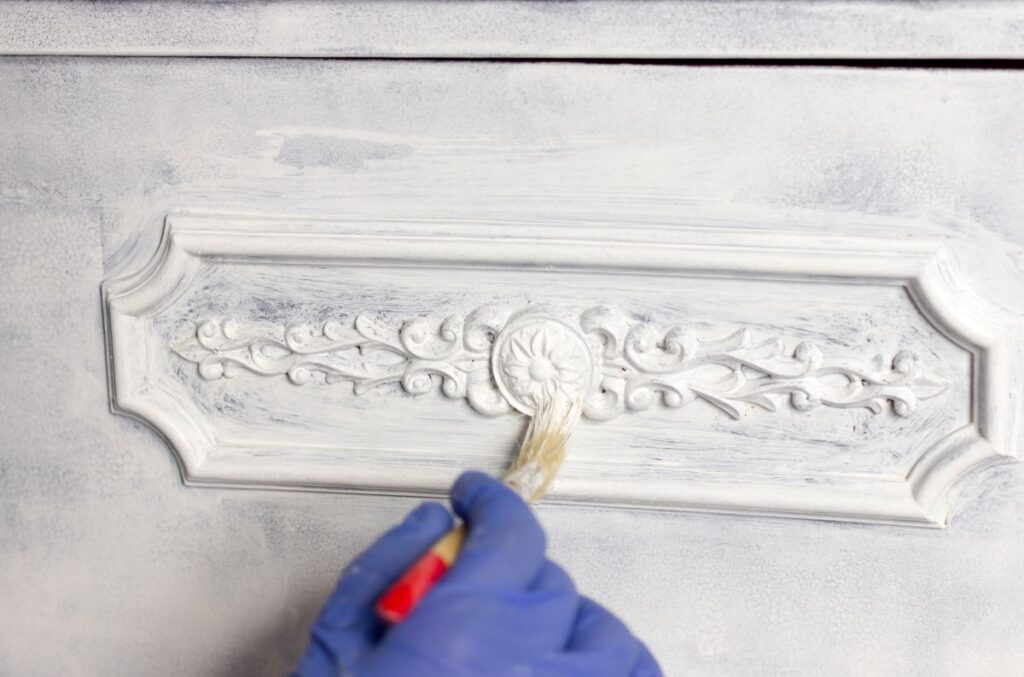 Wrapping up How to Chalk Paint Furniture
Now that you're introduced to how to chalk paint furniture, it's time to get out your paint, brushes, rollers, sprayer, or spray can and get to work on creating a great piece of home décor.
For even more help with interior DIY painting projects and for guidance on other painting projects, check out DIY Painting Tips.