So you've remodeled, repainted and your home looks better than ever. Except those unsightly half-full cans of leftovers. We know the dread of dealing with them all too well.
Maybe you can put them in the basement in case you need to touch-up later? Or the garage? Where you won't have to look at them for the next couple of years.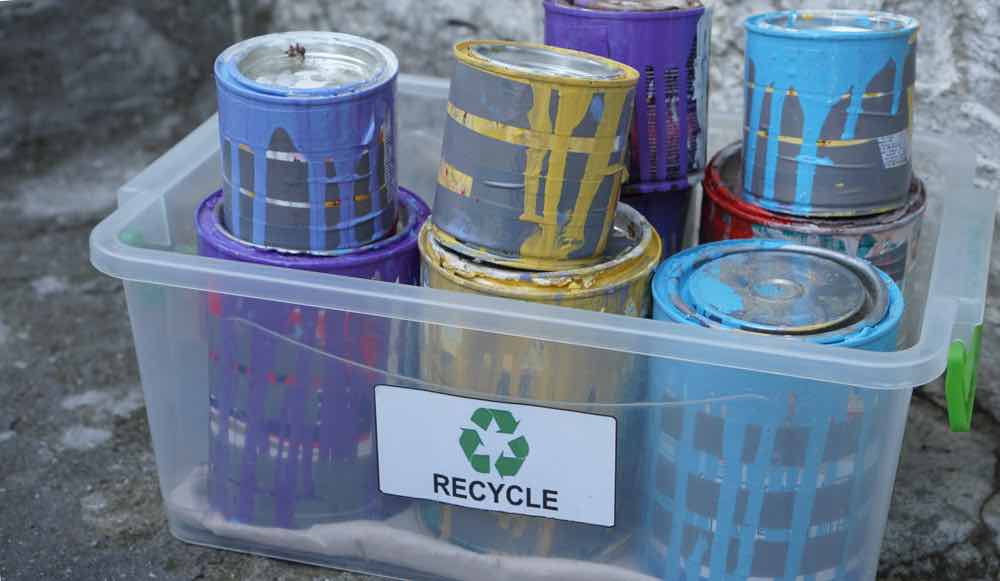 Resist the urge to shove them into a closet and forget about it. Don't undo all the impressive work you've put into your house by leaving leftover paint lying around. It's hazardous, unsightly, and you're just putting off the inevitable.
There are ways to dispose of paint that are painless, safe for the environment, and even good for your community. Your old paint can even save you money down the line. Here are a few ways to dispose of paint the right way, which we'll discuss more in depth in this article:
Donation: some companies will accept old paint donations.
Recycle: whether in the community, or in your own home, you can reuse old paint.
Save it: both latex and oil-based paints last longer than you might expect, you can save it for later projects.
Hazardous waste disposal: there's either curbside pick up or a drop-off site in your area.
Throw it away: as a last resort, it's possible to toss latex paint curbside, once it's dried.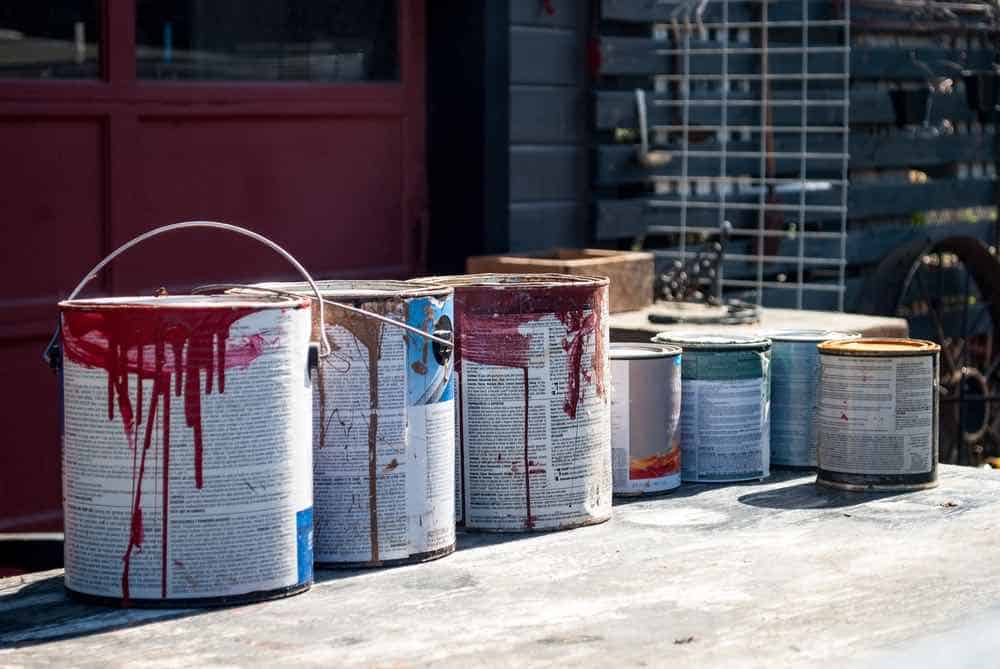 How to Tell When Paints Gone Bad
Maybe you already have a cluster of old paint cans shoved into a cobwebbed corner of your home. No judgment! Sometimes previous homeowners leave behind the paint colors to use for touch-ups. It's never too late to tidy up unsightly and under-used parts of your home. The first step in de-cluttering is to determine if the paint's gone bad.
Just like the milk in the back of the fridge, a simple sniff test will tell you if your paints have gone bad; a rancid smell means it's time to get rid of it. Don't despair if a skin has formed on the top, just scoop off the dried portion and give it an enthusiastic mix to recombine the color with the solvent. If the paint recombines smoothly, then you can use it worry-free! To make sure the paint's recombined, brush some onto a clean surface. A smooth application and even drying show the paint's still good.
Where to Donate Old Paint
Donation is another way to recycle, so others get to use your stellar colors when you're done with them. There are non-profits in your community who accept gently used building materials, cabinets, furniture, and even paint to resell at a discount. Anytime you're remodeling your home, you can save space in the landfill and help others with their home improvement projects, plus get a write off for taxes. All just by donating your old materials.
Does Sherwin Williams Recycle Old Paint?
Many local Sherwin-Williams retail stores will let you drop off your odds and ends of paint, or even provide pick-up service for leftover paint. Contact your local store to make sure they'll accept donations. Habitat for Humanity ReStores, PaintCare, and FreeCycle.org all have locations across the country where you can drop off unused paint. Because they regard paint as a hazardous material, stores like Lowes and Home Depot don't provide recycling and disposal services.
How to Save Paint and Reuse Old Colors
If you've just repainted, don't be in such a hurry to get rid of your leftover paint. You can use latex paint lasts for up to 10 years, and oil-based paint lasts up to 15. You'll be glad you have it if a wall gets chipped or stained. But you can save yourself a headache down the road by taking a few steps prior to storing leftover cans.
Store paint in a dry area, where temperatures stay above freezing without dramatic fluctuations.
Store metal cans on wooden or plastic shelving to reduce rusting.
Use alternative airtight containers to prolong the life of the paint: glass jars, plastic tubs, even water bottles.
Place plastic wrap over the mouth of the container, then put on the lid. Store the container upside down for an airtight seal.
You can even mix all your leftover paint together for an environmentally friendly, low-cost primer for the next room you repaint.
Hazardous Waste Disposal for Paint
If you have lots of leftover oil-based paint, your best option may be a drop-off at a household hazardous waste disposal site. Depending where you live, a hazardous waste organization may pick up materials curbside, otherwise you must drive to a site for drop-off. Earth911 is a great resource for finding sites to dispose of all household hazardous waste and questionable materials. Such a trip gives you a chance to remove other waste from your home for safe disposal. Things like:
Drain cleaner, silver polish, and mothballs
Batteries, televisions, and computers
Pesticides, herbicides, and rodent poison
Motor oil, antifreeze, and fuel
Can You Throw Paint in the Garbage?
If you have just little latex paint, not worth donating, saving, or a trip to a hazardous waste site, then paint disposal might be the best option. You can toss it in the trash with the right preparation. Contact the waste management company that services your home and double check that they accept latex paint. If they do, chances are the paint will need to be dry before it goes into the trash.
Just pour the paint into a garbage bag or cardboard box. Add absorbent materials like shredded paper, cat litter, sand, or special paint-drying powder to dry it faster. This process is only for latex paints, oil-based paint is a hazardous material that you must drop-off at a local designated site.
How to Recycle Paint Cans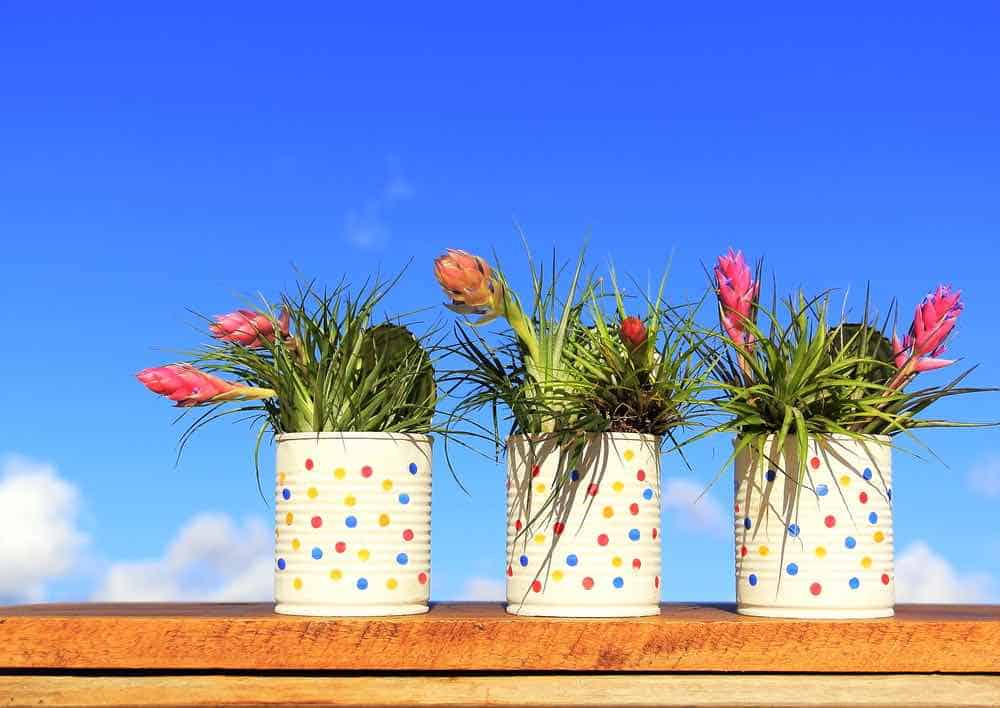 Even if you dispose of your old latex paint, you can still recycle the cans and help save the environment. After you've poured out the old paint into a garbage bag or cardboard box, just let the residual paint in the can dry. Most recycling centers will accept cans in this condition, but again, call to make sure.
If you're feeling crafty, you can DIY some unique home decor with old paint cans. There are plenty of resources available on Pinterest for inspiration and instruction. We've rounded up a few of our favorite ideas:
Punch holes and add citronella candles to make garden lanterns.
Use old paint cans as hanging planters for flowers.
Let kids decorate the outside of the can and attach them to the wall for cute cubbies.
Decorate the outside and hang in trees for unique bird houses.
Calculate Your Paint Needs Accurately
Properly disposing of paint is easiest when you don't have extra in the first place. If your remodeling process until now has been to look around the room and guess, we're sorry to say you're behind the times. You can estimate the right amount by using a specialized paint calculator. Online paint calculators take into account the shape of the walls and may adjust for doors and windows. A few general guidelines:
One gallon covers 350 square feet.
The average door is 20 square feet.
The average widow is 15 square feet.
Most rooms will need two coats of paint.
We recommend waiting until you get a paint color before using a paint calculator. Major paint brands like Sherwin Williams, Benjamin Moore, and Glidden have their own calculators, designed for their unique paint formulas.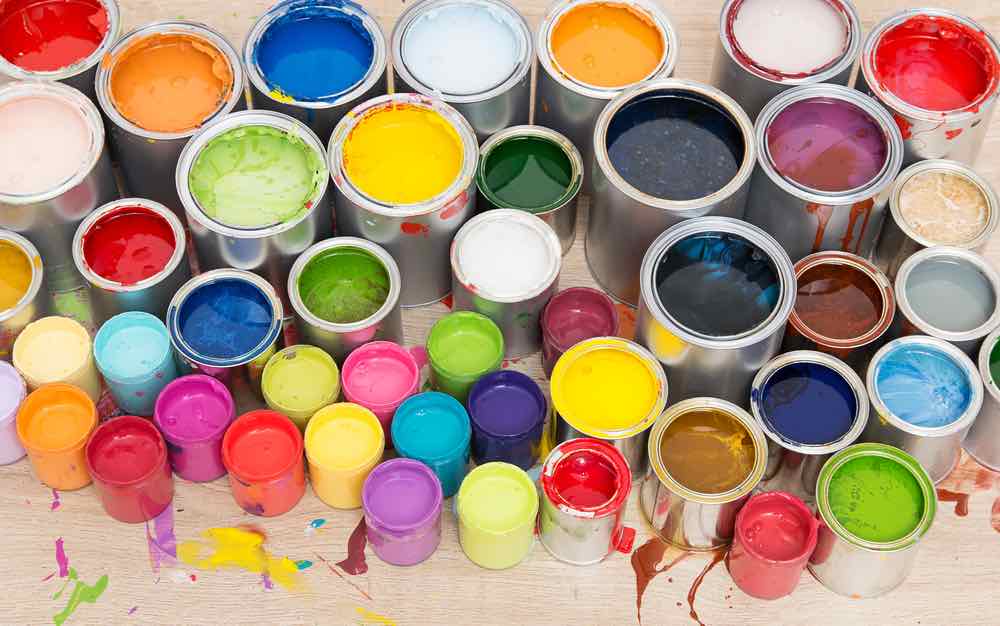 Happy Paint Disposing
Now you're a pro when it comes to properly disposing of old paint. You have all the information you need to tackle the pile of paint cans cluttering your basement or garage. Whether you save the paint in new containers or drop-off a donation for your local community, disposing of paint the right way can save you money and save the environment. Whatever you do, don't throw wet paint into the garbage, and definitely don't pour it down the drain.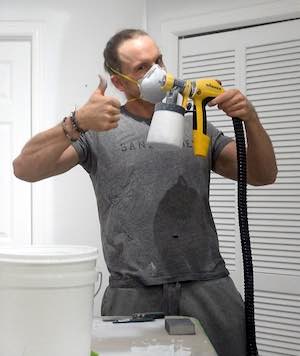 I started painting in 2001 and have seen just about everything in my painting career. I started in production and commercial painting, then moved over to new construction and remodeling during the boom of the early 2000s. Post 2010, I niched down into residential painting where I have done everything from exteriors, decks, interiors, furniture and more. Over the last few years, I've had a focus on kitchen cabinets.
I started the DIY Painting Tips blog in 2015 to start sharing everything I've learned over the years and help all the people who'd rather tackle their painting projects themselves.
You can follow my Youtube Channel where I show you everything that you read about on this site: https://www.youtube.com/@diypainting
You can also hire me directly from DIYPaintingTips.com here: https://diypaintingtips.com/free-painting-quote/
Contact me at: ryan@diypaintingtips.com