INSL-X Stix Primer is a primer made by INSL-X and owned by Benjamin Moore. INSL-X has been around for over 70 years and has become increasingly popular since being purchased by Benjamin Moore in 2008.
INSL-X has two main products that many DIY Painters ask me about; those are its Stix Primer and its Cabinet Coat.
In this post, I am going to be discussing Stix Primer, what I think of it, it is good for priming cabinets, exteriors, and other DIY projects, how to best use it, and more.
You can purchase INSL-X STIX Primer here.
What Is INSL-X Stix Primer
Stix Primer is an acrylic urethane bonding primer (water-based bonding primer).
This means that it is a primer specifically made to bond to surfaces that are traditionally hard to bond to, such as PVC, vinyl, plastic, glass, tile, glazed block, gloss paints, pre-coated siding, fiberglass, and galvanized metals. All this, while still having a low VOC content and can be cleaned up with water.
What is also fascinating is that Stix dries to an incredibly hard and durable finish that can be top-coated with alkyds, latex, urethane, epoxy, and lacquer coatings. This is NOT common for a water-based primer; most would literally melt when top-coated with alkyds, epoxies, or lacquers.
Lastly, INSL-X Stix primer can be applied in temperatures down to 35 degrees; again, not common as most primers require temperatures between 50-90 degrees.
So what does this mean for the average DIY Painter? A lot, actually.
Stix is a primer that can be used for almost any project you can dream up and used in a wide range of conditions.
My Experience With INSL-X Stix Primer
Even though I've been painting for 20 years, I hadn't used INSL-X Stix until after I started DIY Painting Tips. I've had so many questions about it that it was time to get some hands-on experience.
The main project I've used Stix for so far is priming kitchen cabinets. A high-quality bonding primer is great for cabinet painting projects. Stix will help prevent future peeling and chipping issues found with many inferior primers.
I've used it on a handful of different projects and really liked how well it bonded and covered.
I've experienced no failure of the primer; it blocked out most stains except for a few tannin bleed throughs which I spot-primed with a can of Kilz original oil spray (which is normal for all the primers I've used).
It also didn't peel off easily after 24 hours which many water-based primers do. Usually, water based primers don't get to their full bonding and durability until days (even weeks) after application.
I have not used Stix on exteriors, metals, or PVC yet, only previously painted and clear-coated surfaces (typical cabinet surfaces).
My Rating & Specs
| | |
| --- | --- |
| Category | Rating |
| Flow | 4 |
| Durability | 4 |
| VOC Content | 5 |
| Adhesion | 4 |
| Sprayability | 4 |
| Brushing | 3 |
| Dry Time | 4 |
| Cleanup | 5 |
| Price | 4 |
| TOTAL | 37/45 |
| | |
| --- | --- |
| SPECS | |
| Carrier Type | acrylic urathane (waterbase) |
| Volume Solids | 40% |
| Dry Time Touch | 30 Min |
| Dry Time Recoat | 3-4 Hrs |
| Coverage | 300-400 sq ft/gal |
| VOC Level | 87.6 Grams / Liter |
Volume Solids: Explained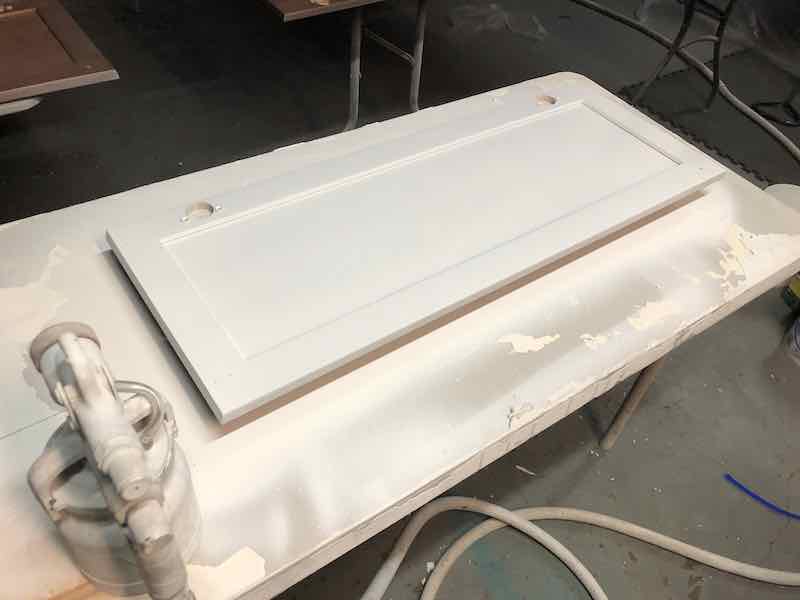 The volume of solids in a paint or primer refers to how much of the product is solids and how much of it is liquid. The liquid is the carrier, and the solid is what is left behind after the carrier is gone.
This is drastically oversimplified, but an easy way to tell the quality of a paint or primer is by the percentage of solids in it. The higher percentage of solids, typically, the better.
Stix Primer is made up of 40% solids, meaning 40% of the gallon is solids that are left behind after the paint has dried.
In comparison, Kilz 2, which is a good primer, has 30% solids, while Zinsser Smart Prime has 50% solids.
The percentage of solids is one of my main factors when deciding which product to use.
Odor & VOCs
Odor and VOC levels are my second biggest factor when deciding which product to use.
INSL-X Stix has a VOC content of 87.6 grams per liter. While not terribly high, this also isn't low. It's high enough where I do recommend making sure you have a good fresh air supply and a good respirator face mask.
Here are a few other primers' VOC content levels for comparison:
Kilz Orginal oil-based primer has 442 grams per liter.
Kilz 2 Latex has 10 grams per liter (NOTE: I've found conflicting technical data sheets, so I cannot stand behind this number 100% but I am going with Kilz TDS).
Zinsser Smart Prime has 25 Grams Per Liter.
I personally won't use anything with more than 100 grams per liter these days, and try to go as low as possible while using the best product possible.
Spraying INSL-X Stix Primer
Stix sprays absolutely great. Whether you are using an airless sprayer or HVLP, Stix primer has no issues spraying.
If you plan on using an airless paint sprayer like the Graco Magnum X5, no thinning is necessary. This method would be perfect if you plan on using Stix for exterior priming or larger interior priming projects such as new drywall.
If you plan on using it for priming furniture, kitchen cabinets, or other small projects, I would recommend using an HVLP sprayer. My favorite cheap HVLP is the Wagner Flexio 5000 which I recently reviewed. It's a solid entry-level HVLP.
In order to get Stix to spray well from an HVLP sprayer, you will need to thin it out before spraying. I found that thinning roughly 20% gave it the perfect viscosity (thickness) for spraying from an HVLP (I used my Titan Capspray 115 to spray).
Brushing and Rolling Stix Primer
I don't have any Earth-shattering advice for brushing and rolling INSL-X Stix primer. It brushes and rolls pretty much how you would expect with any primer.
Make sure to use a tight roller nap and long, even brush strokes to avoid as much texture and brush marks if you plan on priming furniture or cabinets.
Dry Times & Cure Times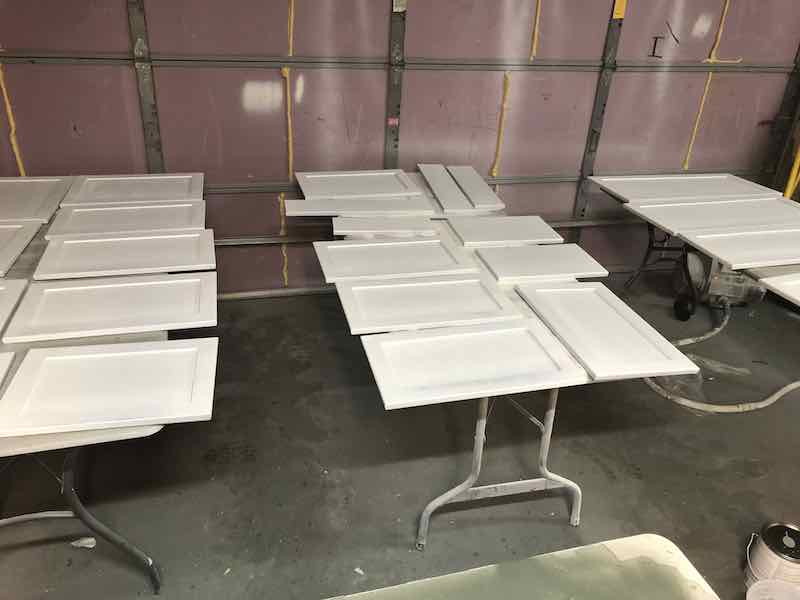 INSL-X Stix primer dries to the touch in roughly 30 minutes and is able to be recoated in 3-4 hours. This number will vary depending on the humidity of the environment but should be relatively close in most situations.
When I've used Stix, I've usually waited around two hours before using a fine sanding sponge to smooth down the prime coat and that has been a perfect amount of time before sanding.
For a full cure, 3-4 days is needed at low humidity. In higher humidity, an extra couple of days may be needed.
Top Coating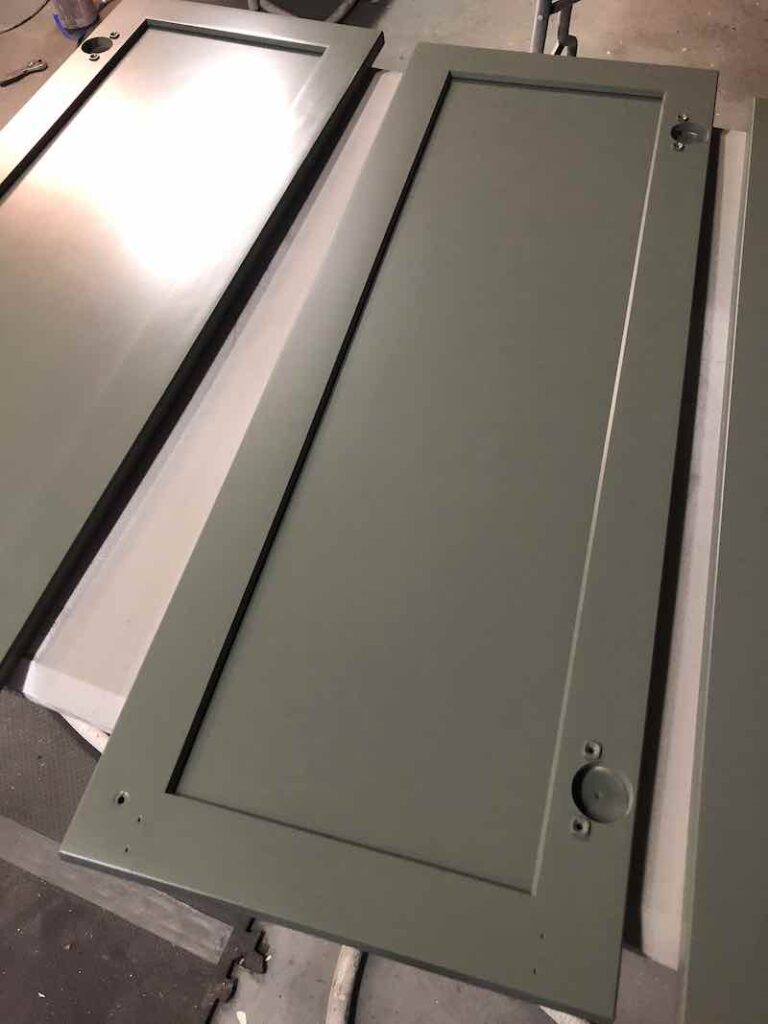 INSL-X Stix can be top-coated with almost any topcoat. That means latex paints (interior and exterior), lacquers, oils, epoxies, and other topcoats.
Most DIY Painters are going to be top coating with an interior or exterior latex product such as INSL-X Cabinet Coat or exterior paint.
I've found that the primer gives a nice uniform base coat that top coats very well. I've top-coated Stix with both Cabinet Coat (review coming soon) and BM Advance.
Best Uses For INSL-X Stix Primer
These are some of the uses I would recommend DIYers to use Stix for:
Priming kitchen cabinets (painted and unpainted).
Exterior – While it would absolutely work, it would be quite expensive.
Priming gutters.
Priming any plastics that need painting.
Where To Purchase
INSL-X Stix Primer can be purchased at most Benjamin Moore dealers and also online at Amazon.
Alternatives To INSL-X Stix
While Stix is a great primer, we always need alternatives when you can't find the product you want or for other reasons.
Zinsser Smart Prime
Zinsser Smart Prime is actually my number one choice for priming kitchen cabinets. I've been using it for a few years now and have never had any issues.
Smart Prime has a lower VOC content than Stix and a higher percentage of solids, two main factors I look at when choosing a primer.
Read my full review of Zinsser Smart Prime here.
Kilz 2 Latex
Kilz 2 Latex is a good cheap primer. You can buy it for roughly $15 per gallon. Of the three primers I've talked about today though, this is number 3. While it works for priming cabinets, I don't use it for that. I only use Kilz 2 for walls and ceilings, but it can be used for priming cabinets if you are on a budget.
Read my full review of Kilz 2 here.
INSL-X Stix FAQ
How Can I Thin INSL-X Stix?
Stix can simply be thinned with water. 10-20% water is all that should be needed for most applications.
Can I Spray INSL-X Stix?
Absolutely. Stix can be sprayed with an airless sprayer or HVLP paint sprayer.
Can I Use INSL-X Stix To Prime Kitchen Cabinets?
Yes, Stix is a great cabinet primer and one that I will be using in the future.
In Conclusion
I highly recommend INSL-X Stix primer and have had great experiences with it so far. If you have any questions, leave a comment below, I make sure to reply to every single comment on DIY Painting Tips. k
Ready To Learn More?
Check out our Painting Kitchen Cabinets hub page for everything you could want to know about cabinet painting including costs, how-tos, reviews, and more.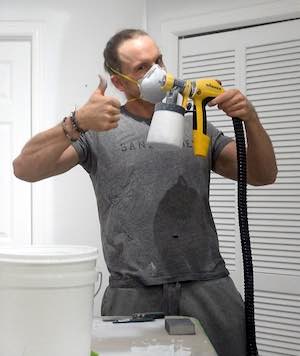 I started painting in 2001 and have seen just about everything in my painting career. I started in production and commercial painting, then moved over to new construction and remodeling during the boom of the early 2000s. Post 2010, I niched down into residential painting where I have done everything from exteriors, decks, interiors, furniture and more. Over the last few years, I've had a focus on kitchen cabinets.
I started the DIY Painting Tips blog in 2015 to start sharing everything I've learned over the years and help all the people who'd rather tackle their painting projects themselves.
You can follow my Youtube Channel where I show you everything that you read about on this site: https://www.youtube.com/@diypainting
You can also hire me directly from DIYPaintingTips.com here: https://diypaintingtips.com/free-painting-quote/
Contact me at: ryan@diypaintingtips.com