Let's be real: where in the house does a family usually spend the majority of its time? The answer is simple: the kitchen! And what takes up more space in a kitchen than kitchen cabinets? That means that the color of your kitchen cabinets really defines the entire mood and atmosphere of the most important part of your home: the hearth. Because of this, it's important to have a clear vision for the kind of look you want, and choose the right kitchen cabinet paint colors to achieve it!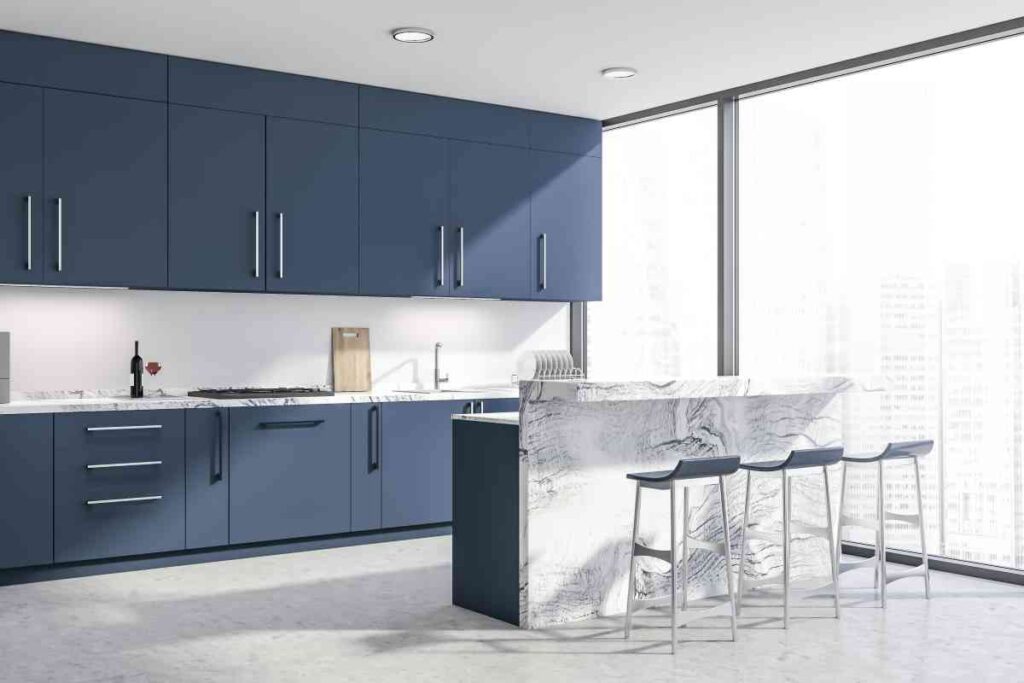 Read on to find our list of favorite rustic, modern, and farmhouse-style kitchen cabinet paint colors that you're sure to love!
Choosing Kitchen Cabinet Paint Colors
There are few wholesome things in life more overwhelming than choosing the right colors—whether it be for your painting, your hair, or your home—and this is especially true for choosing kitchen cabinet paint colors. You don't want a color that you'll tire of too quickly. Unless you like redoing things from scratch, you're going to want a great look right off the bat, so it's important to consider several things before making the big decision.
Let's take a look at what you should be thinking about when choosing kitchen cabinet paint colors:
The rest of your space: Though it might sound obvious, it's worth saying that unless you plan on repainting the entirety of your kitchen, whatever kitchen cabinet paint colors you choose should look good with the other colors in your kitchen. This includes but is not limited to the walls, the countertops, the backsplash, and yes—the floor is important, too! Once you've acknowledged the style that's already being imposed by these preexisting colors, you can narrow your list of kitchen cabinet paint colors down to the ones that complement them well. Consulting a color wheel, or even speaking to an interior designer, is always a safe bet!
Your interior design style: Think about what sort of design the interior of your kitchen and even the rest of your home falls into. Is it open space and modern? Shabby chic rustic? Antique and elegant? Though you should think outside of the box and not limit yourself to the colors traditionally associated with these designs, some combinations will just give you a headache and feel wrong.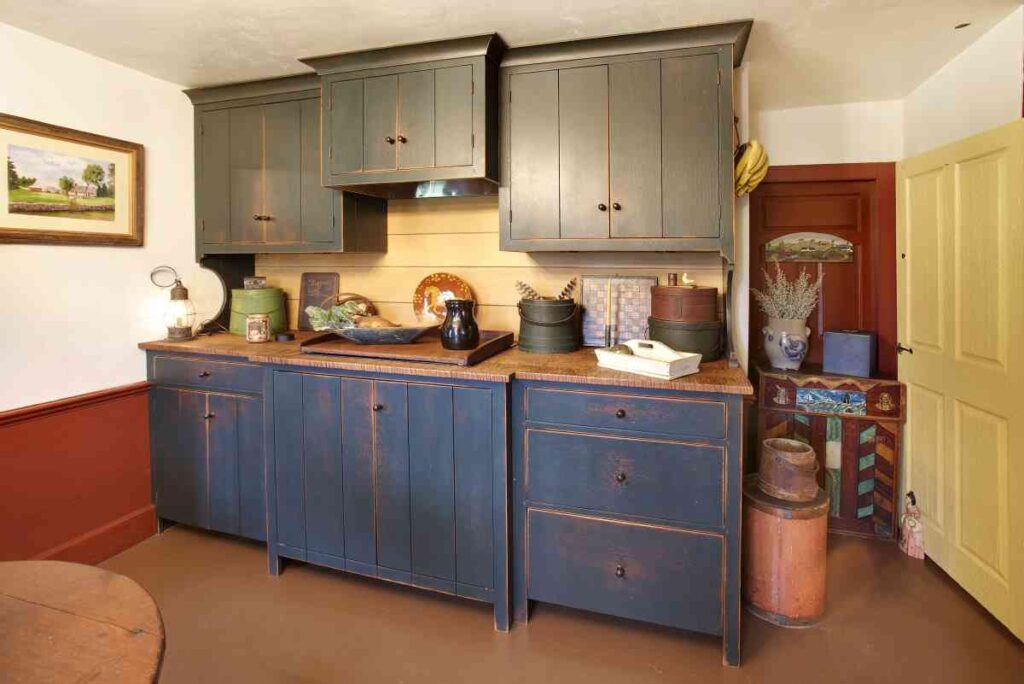 Lighting: Chances are that if a tabletop lamp looks particularly awkward with a new cabinet paint job, it won't be too much of a sacrifice to move it elsewhere. Expensive overhead lighting, however, probably requires a hefty budget to replace, and daylight coming from the windows is downright impossible to change! That means you should consider the lighting of your kitchen during all times of the day and seasons in the year before deciding on kitchen cabinet paint colors. For example, you wouldn't want to paint a room with small windows with very dark colors—it'll make the room even darker than it naturally is!
Your appliances: Similarly to the point above, you won't want to replace your expensive pastel baby blue KitchenAid mixer, and appliances that sit on tabletop counters are more attention-grabbing than you might think. So unless you're ok with storing your brightly colored appliances out of sight, you should pick kitchen cabinet paint colors that complement them well.
Kitchen size: in an ideal world, the size of your kitchen wouldn't limit the kinds of colors you should choose for your kitchen cabinets. Realistically though, the size of your kitchen is an important consideration. For example, if you choose a dark color for a vast expanse of kitchen cabinets, you might run the risk of making the space seem imposing, if not a little foreboding.
So you've thought about all the elements listed above, but you're still unsure of which kitchen cabinet paint colors are best for you. Don't despair just yet! After consulting my list below, you can also always talk to a professional. It's literally their job! Plus, by painting your cabinets instead of replacing them, you're saving a lot of money to begin with, and so perhaps it can be allocated elsewhere in the budget, like consulting with an interior designer.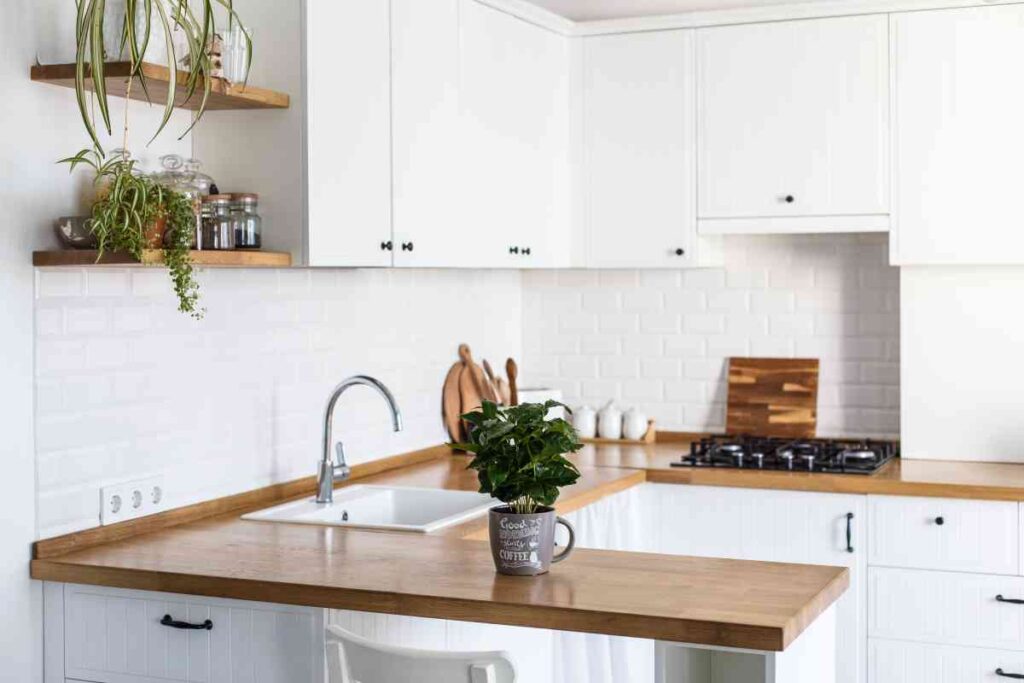 Kitchen Cabinet Paint Colors Themes
Read through our favorite rustic, modern, and farmhouse-style kitchen cabinet paint colors!
Rustic Kitchen Cabinet Paint Colors
Rustic colors are the perfect manifestation of being used with love. Rustic kitchen cabinet paint colors are cozy but not stuffy, comfortable, and yet still elegant and intentional. In fact, traditional rustic interior design colors tend toward earthy, natural colors. This means the color palette is made up of warm neutrals, beiges, and browns, but don't forget about your greens, yellows, and greige (grey and beige), too. Rustic designs include a lot of exposed wood, which complements these natural colors perfectly.
Here are a few suggestions for your rustic kitchen:
1. Sherwin-Williams Pure White

2. Sherwin-Williams Agreeable Gray

3. Behr Ultra Dark Cobalt Blue



Modern Kitchen Cabinet Paint Colors
Modern colors are stark, simple, and clean. Think the sort of minimalism that nevertheless attracts the eye in its beautiful simplicity: a unique color offset by white, or a surprising hue accenting a marble countertop. Modern kitchen cabinet paint colors, however, don't have to be harsh and stark. Because of the wide range of "modern" styles, a modern aesthetic can still be cozy and welcoming, so really a palette of modern kitchen cabinet paint colors has a wide variety of colors!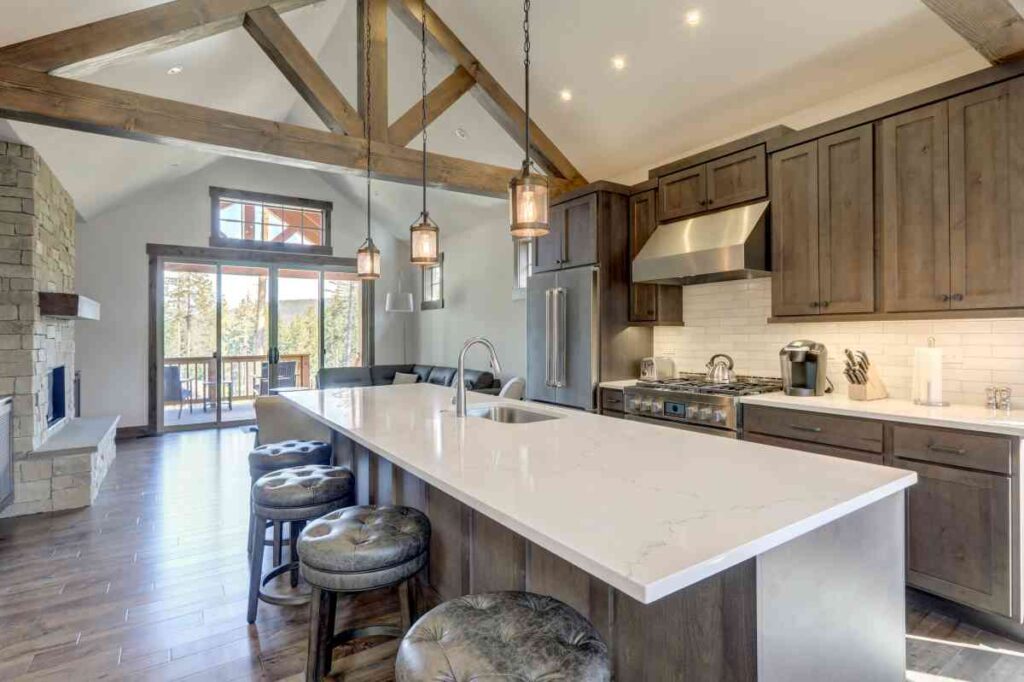 Here's a good start to narrow down your preferences for modern colors:

7. Sherwin-Williams Repose Gray

8. Benjamin Moore Forest Green



Farmhouse Kitchen Cabinet Paint Colors
Farmhouse colors, often used in modern farmhouse styles that are getting so popular now, might just be the perfect cross between rustic colors and modern colors for your kitchen cabinet paint colors. Unpretentious and yet refined, farmhouse colors situate a vintage lifestyle and also plenty of exposed wood and open cabinets in a more suburban context, with clean lines and lots of light. For this reason you'll find soft neutrals as well as the occasional pop of farm-inspired colors in this palette!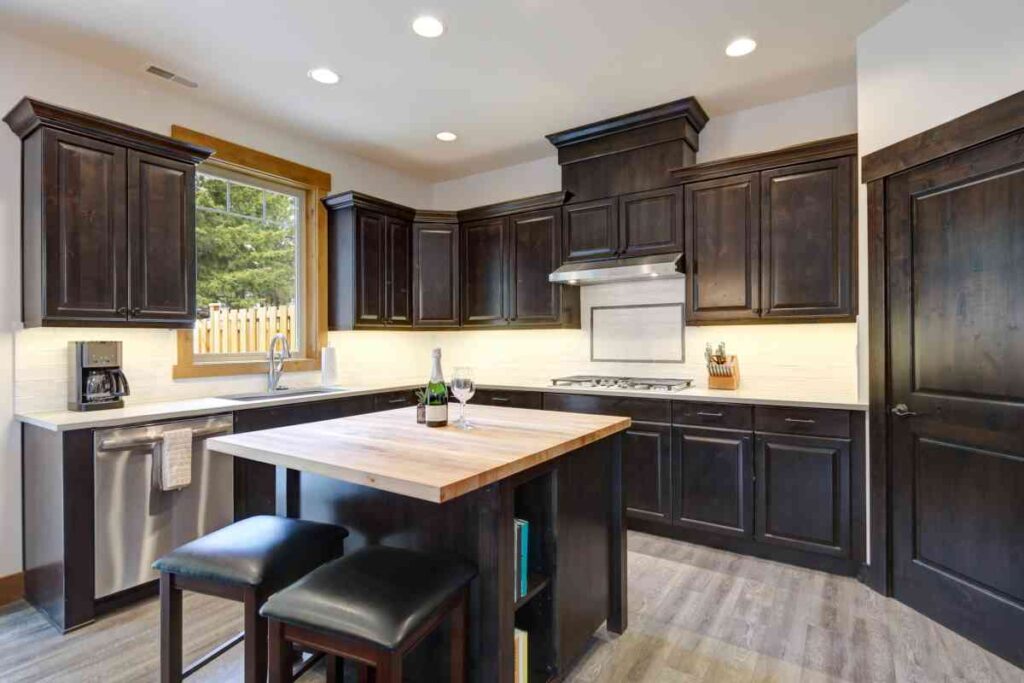 Here are a few farmhouse colors that particularly inspire us:

12. Benjamin Moore Aegean Teal

13. Benjamin Moore Simply White

14. Sherwin-Williams Privilege Green

15. Benjamin Moore Love and Happiness

Using Bold Colors on Your Kitchen Cabinets
Whether it's a splash of color, or an interesting accent, we've all seen those beautiful Pinterest pictures of home interiors with color combinations that we never thought we'd like until we actually saw it in action. Bright yellows, moody blacks, blinding turquoise—it sounds ludicrous, which is why so few people take the risk, but the reward for those who do is an everlasting satisfaction that only comes from when colors and patterns fit unexpectedly well. Plus, what better feeling is there than knowing that you are being totally unique?
If you're feeling the itch to use bold colors somewhere in your home, kitchen cabinet paint colors are a great option—for some reason it feels like less of a risk to paint your cabinets purple than it would be to paint the walls of your living room the same color. It's almost like people expect kitchen cabinets to be flashier than the rest of the home! In fact, though whites and off-whites remain traditional and popular colors for just about anything in interior designing, kitchen cabinets have a bit of a reputation when it comes to carrying the color of a room—even the tamest kitchens might have yellow, green, and perhaps even blues cabinets. So they are a safe place to experiment with choosing bold colors!
Just because these earthy colors tend to be the more popular go-to's, however, doesn't mean that you can't stray away from that palette. After all, you're looking to make a statement!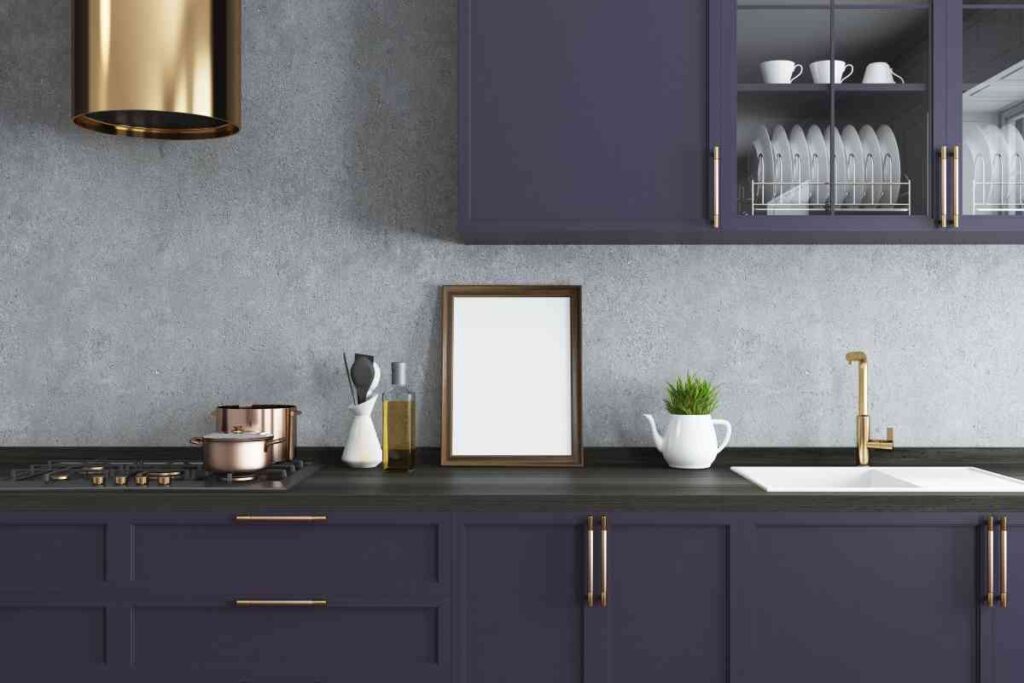 Since bright or neon colors might make your kitchen look like a playroom, how about some less traditional, darker colors? Think emerald greens, magenta, navies, and even black (find the section below dedicated to blacks and whites)! These elegant colors can really make the space feel dynamic.
When using dark kitchen cabinet paint colors, though, make sure to to consider the size of the space you're working with. You don't want to overwhelm any space with dark colors, but it's especially important to contrast dark colors with lighter tones in smaller rooms.
If you're feeling playful, you could also consider painting the inside of your cabinets a different, surprising color. This is where you might use those colors that could seem ridiculous anywhere else—like neon pink or electric green—because in semi hidden places like interior shelves, they're sure to make guests laugh!
Contrasts
An essential part of using bold kitchen cabinet paint colors—and really any bold colors anywhere for that matter—is contrasting them appropriately with other colors so that they don't become overwhelming, or simply an eye sore! The rule of thumb is to contrast any unique or unusually bold colors with whites or neutrals, especially if your countertop appliances are also colorful.
But contrasting isn't just meant to make one of two colors pop. Often times the most beautiful contrasts are between colors that bring out different hues and undertones in each other, even subtly. Subtle colors to contrast could include a neutral white or beige with a pastel yellow or green.
This is why so many people love two-toned cabinets! Just make sure to paint your higher up kitchen cabinets the lighter color, and the lower kitchen cabinets the darker color, which helps ground the look of the kitchen and further establish a sense of balance.
Black and Whites
While still providing undeniable contrast, the use of blacks and whites in the same space is a different beast altogether than simply incorporating a surprising hue in your kitchen cabinet paint colors. Accenting black with white (or vice versa) is quite literally the starkest contrast you could find, and it must be done so intentionally and carefully, or else you run the risk of making your kitchen seem like a giant checkerboard!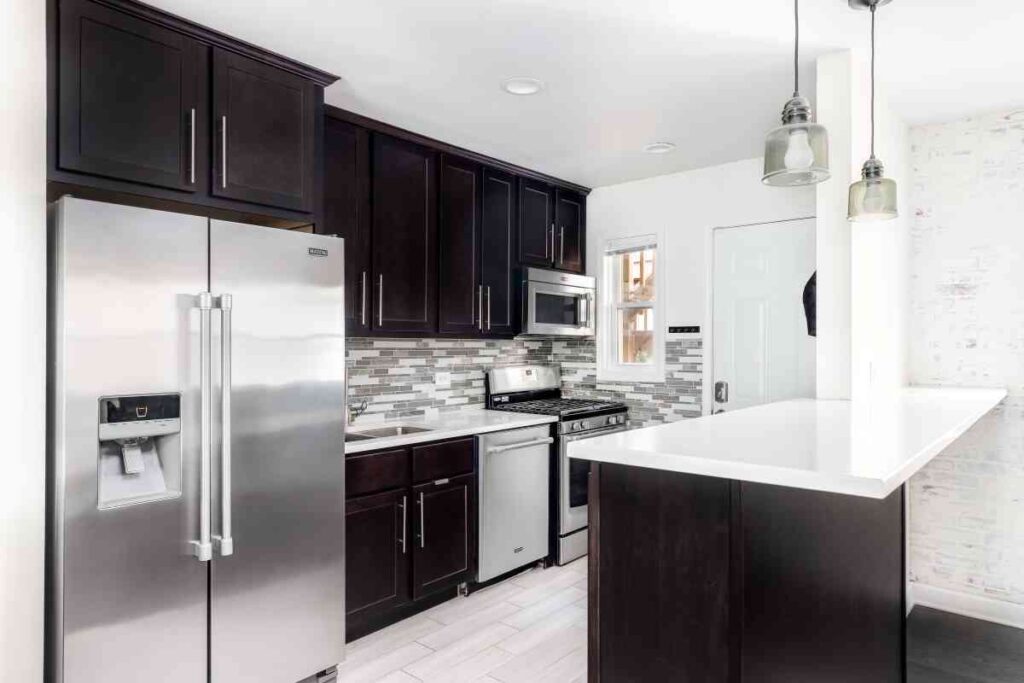 The use of blacks and whites together provides a moody yet sophisticated and clean look. If done in the right way, the combination will look modern and balanced—plus, black is a super trending color right now! It's also loved by stay-at-home moms and dads because black hides dirt and stains better than any other color.
And while black is a popular interior design color right now, it is also notoriously difficult to live around. It shouldn't come as a surprise that the colors that fill the spaces we spend time in can impact our moods, so you want to make sure you're conscious of this when deciding where to use black in your kitchen cabinet paint colors—and balance it out with plenty of white (including using pale material for flooring), and both natural and artificial lighting. You could even consider using decorative reflecting material to help spread the light.
Wrapping Up Kitchen Cabinet Paint Colors
I hope this article has inspired you to develop your own palette of kitchen cabinet paint colors that fits best with your vision of this most important part of your home, whether that be rustic, modern, farmhouse, or even a combination! If you're interested in learning more about painting kitchen cabinets, check out the rest of our website.