Painting aluminum siding isn't as uncommon as you may think. Many people know that their aluminum siding is good, but they are just tired of the color, or it may have become faded and chalky over time.
As a painting contractor for over 20 years, I've been asked many times if you can paint aluminum siding, and if so, how?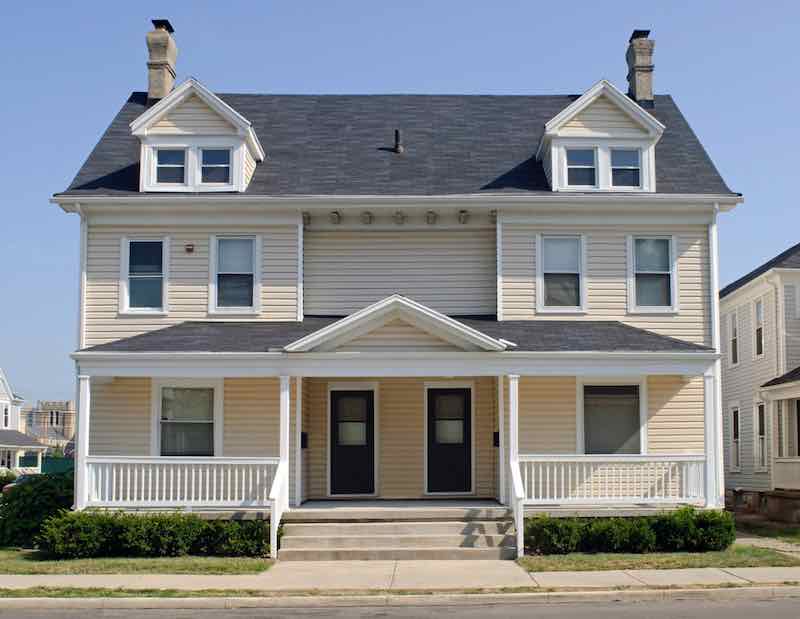 So the short answer is yes, you can absolutely paint aluminum siding and have a high-quality paint job that lasts many years.
In this post, I'm going to tell you exactly how to paint your aluminum siding the right way from prep work all the way to paint application. Everything I am sharing with you comes from over 2 decades of experience.
Project Summary
Prep For Paint

Clean The Siding With A Degreaser
Sand / Scuff The Siding To Ensure Proper Adhesion

Prime Aluminum Siding With Bonding Primer
Top Coat With Standard Exterior Paint
Materials Needed For Aluminum Painting
Painting aluminum doesn't require too many different tools or materials than normal exterior painting. Outside of your standard paint brushes, rollers, sprayers, ladders, and sundries, you'll also need:
Degreaser for cleaning your siding
A pressure washer or car washing brush
Hose & 5 Gallon Bucket
Sand Paper, Random Orbital Sander, or Wagner Paint Eater
Bonding Primer such as Kilz Adhesion Primer
Prepping For Paint:
As with any paint job, prep work is the most important step. Without proper prep work you risk not just peeling paint and a short life span for your paint, but hours upon hours of fixing the problem that was created by not properly prepping your surface.
It's a safe estimate to say that prep work is 75% of a paint job while painting is only 25%.
Cleaning Your Aluminum Siding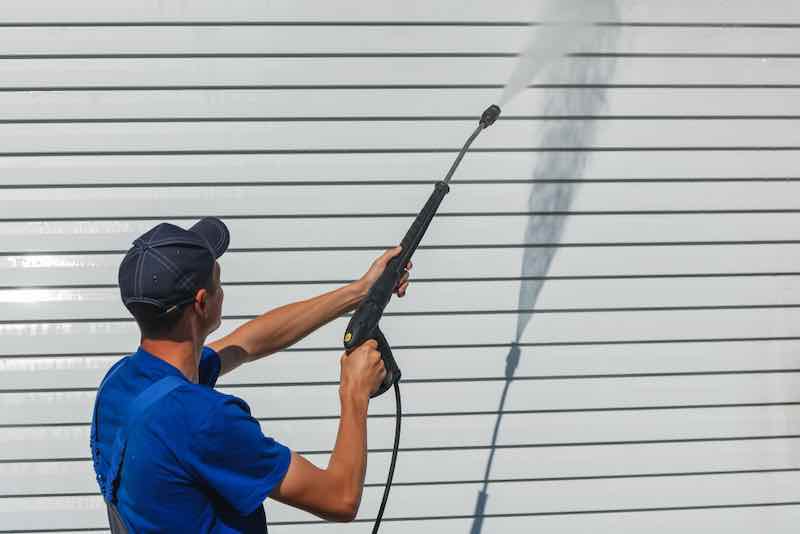 All exterior surfaces need to be cleaned before painting. This is in order to remove any dirt, debris, and grease from the surface and allow for a greater bond with your primer.
If you own a pressure washer, then power washing your aluminum siding along with adding a degreaser into your power washer's cleaning siphen (such as Simple Green) will make quick work of cleaning your siding. A benefit of aluminum siding is that you don't risk damaging your siding when power washing like you might when power washing wood siding.
If you don't own a power washer, there is a cheaper solution that works quite well.
Washing your siding with a car wash brush and a 5 gallon bucket filled with a mixture of warm water and Simple Green is a great way to get your siding clean and ready for paint. Make sure to thoroughly rinse your siding every so often after washing an area.
Sanding Your Aluminum Siding
This step is optional, but I highly recommend it if you have the time and energy.
A quick sanding of your aluminum siding will help dull the finish and put tiny scratches into the surface allowing for the bonding primer to bond even tighter.
By sanding the surface, you will significantly lower your risk of future peeling paint.
There are three ways you can sand/scuff the surface:
By Hand: Sanding your siding by hand will work fine, however it will take you a long time and tire your arm out! I recommend using 120 grit sanding paper or 3M sanding sponges.
Random Orbital Sander: A single pass over every piece of siding with a random orbital sander will be a far more efficient method while likely scuffing the surface far better than you could by hand. Again, I recommend using 120-150 grit sanding discs.
Wanger Paint Eater: The Wagner Paint Eater is another great option. It operates similarly to a random orbital sander and will scuff the very quickly. You will actually have to pay attention not to over-work your surface and start grinding into the metal.
Whenever you are sanding any surface make sure to wear a face mask to prevent breathing sanding dust into your lungs. I wrote a post about the best masks for painting that could be helpful if you need to find a good mask.
Normal Exterior Prep Work
All that's required now is normal exterior prep work, which you can read more about in my post How To Paint Your Exterior which goes into more details on exterior painting.
This normal work would be things like prepping off windows, lights, cutting back bushes and other such things.
Priming Your Aluminum Siding
Priming your siding is an extremely important step right along with washing and sanding. If you don't prime or choose the wrong primer, you could face the nightmare of peeling paint, which is a problem nobody wants to face!
I personally recommend priming with Kilz Adhesion Primer.
Kilz Adhesion Primer is a bonding primer formulated to adhere to surfaces that traditional water and oil-based primers wont. This primer can bond to glossy surfaces, chalky surfaces, and all types of materials, including metals. It is also an interior and exterior primer.
If you'd like to know more about Kilz Adhesion Primer, I have an upcoming review of Kilz Adhesion Primer that you'll be able to read as soon as I get it posted.
You can apply your primer as you would any other exterior paint, using a sprayer, brush, and/or roller. You can read more about the primer application process and the best ways to go about it in my more in-depth post on Painting Your Home's Exterior.
Painting Your Aluminum Siding: The Top Coat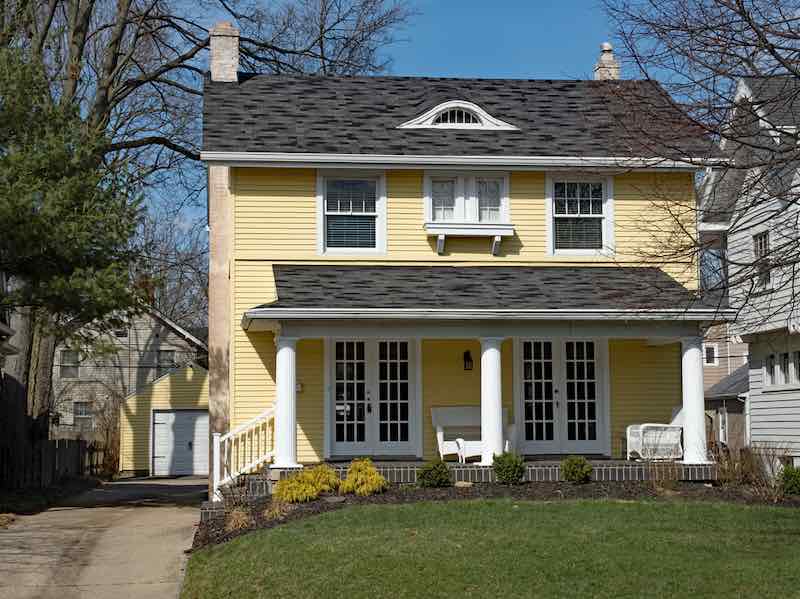 Now that you've prepped and primed your aluminum siding, it's time to apply the top coat.
When you're applying the top coat, you have to realize that you are no longer applying paint onto aluminum, you are actually putting the paint onto the primer.
This means that you do not need some special paint formulated for metal, a high-quality exterior paint will actually be in your best interest as it are designed to withstand the elements, have elasticity, be durable, and last for decades.
There are no special tricks for applying your top coat outside of normal exterior painting.
There are two main ways to apply your exterior top coat, you can brush and roll or spray and back roll. Spraying is about 4-8x faster than brushing and rolling and I highly recommend it if your home is any bigger than 1200 square feet.
Two sprayers that I higher recommend for the DIY Painter are the Graco Magnum ProX17 and the Graco Magnum X5, the links will lead you to my personal reviews of each sprayer.
The Best Paint For Aluminum Siding
Now that you're all ready to go ahead and try painting aluminum siding on your home, it's time to find the best paint for the project. I have already mentioned some paints above, but here are few of my personal choices if you need some more options.
The Best Paint For Priming Aluminum Siding
Kilz Adhesion Primer is my go to primer for priming exterior aluminum siding. It is a high quality primer for interior and exterior use on metal, glossy, and chalky surfaces.
Zinsser is a brand I trust for all kinds of projects, including exterior priming. Bondz is a fast-drying urethane modified acrylic that is specifically designed to bond to aluminum.
Behr is another great brand that I trust, has great prices, and is available in most areas. Behr Bonding Primer is made for interior and exterior use and is great for a variety of substrates such as aluminum.
Primers I haven't Used But Could Be a Good Option
PPG Gripper is a primer that I haven't used personally, but I know many contractors who almost exclusively use PPG products. Gripper is advertised as an interior/exterior primer that has great adhesion on aluminum.
I haven't had the chance to use Stix yet, bu I did buy a gallon from Amazon just last week with the intention of using and reviewing it. So, hopefully, I will have a full review up here soon. Stix is an interior / exterior primer that advertises great adhesion on aluminum.
The Best Paint For Top Coating Aluminum Siding
Once you've primed your aluminum siding, choosing a top coat is as simple as choosing the best top coat for exterior painting. Below are a few of my favorite exterior paints that I regularly use on my exterior painting projects (hopefully will have a full post on the best exterior paints soon!).
Painting Aluminum FAQ
How Long Will Painted Aluminum Last?
If you have taken the time to properly clean your siding, sand it, and prime it with a high-quality bonding primer, there is no reason that your painted aluminum siding won't last you 10-20 years or more.
Usually, when paint fails early, it can be attributed to improper prep work and/or improper primer used.
Painting Aluminum Conclusion
Painting aluminum siding is not only possible but when done right can result in a long-lasting paint job that you will love.
If you're not sure about painting your home yourself, make sure to check out our Find A Local Painter page and get a free quote on your project.
Make sure to check out my post on painting vinyl siding if you have a vinyl house that needs a facelift.
Finally, I created the absolute best paint calculator on the internet! Check it out to find out how long your project will take, what it will cost, and even how much a paint contractor would likely charge.
Good Luck, and as always, if you have a question, comment below, I answer every question left here on DIY Painting Tips.
Check out our Exterior Painting page for even more information on exterior painting, paints, and products.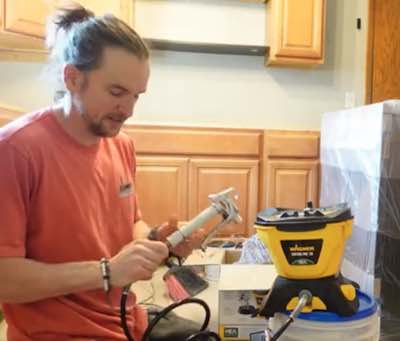 I've been a professional painter since 2001 and spent the last 12 years specializing in kitchen cabinet refinishing. I started the DIY Painting Tips blog in 2015 to start sharing everything I've learned over the years and help all the people who'd rather tackle their painting projects themselves. In 2019 I started the DIY Painting Tips Youtube channel where I publish in depth videos all about kitchen cabinet painting, painting gear reviews, and interior/exterior tutorials.