It is often said you can't judge a book by its cover. But if the cover is ugly, you probably aren't going to put it on the shelf for everyone to see and enjoy.
One of the first things you notice when pulling up to your friend, relative, or even work acquaintance's home is their home's outside color. Paint color can truly dictate the mood for your residence from the very get go. It also has the potential to raise the value of your home as well as protect it from the natural elements.
As we look forward to the new exterior painting season and the many home renovation projects thousands of Americans are undertaking, there are a few popular exterior house colors that will be trending. From pale pink to earthy green, these colors will be seen on houses all over your neighborhood. Check out this list of the 20 most popular exterior paint colors!
Back to Nature – Behr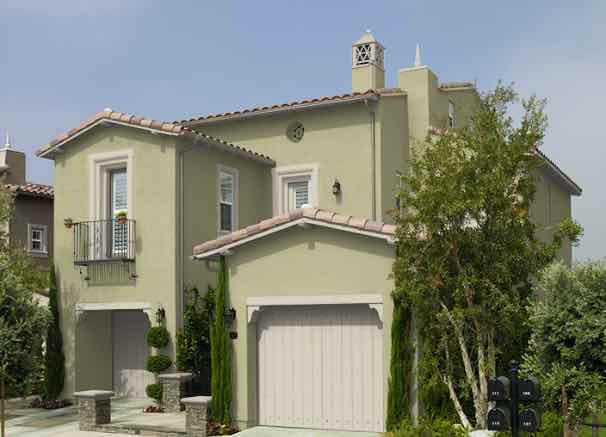 Behr announced Back to Nature as their 2021 color of the year and this color is among the many earthy hues that will be trending among exterior house colors this coming new year. This color compliments lush greens on your property's landscape and brings a bit more of nature to your residence.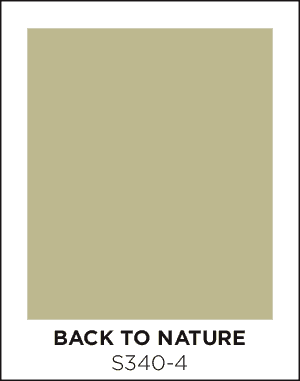 This color is the essence of tranquility. It is described as being "calm, gracious, and balanced" by the paint company and will surely be a popular exterior color this coming year.
It can find a place in many color combinations pairing well with hues such as a pale yellow, tan, or a muted purple or blue.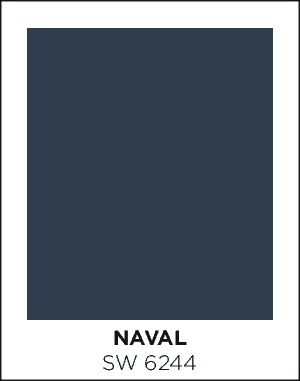 Sherwin Williams 2021 color of the year, Naval transports us back to the art deco era of the 20s as we enter into the 20s yet again! This rich, deep navy color is absolutely striking and brings a fresh new look to paler, neutral house exteriors.
Naval combines wonderfully with a similarly dark green color, but it begs to be paired with a playful, golden color of yellow. You could even go all out and pair Naval specifically with gold accents. Regardless, this 20s inspired color will bring you into the new decade swinging!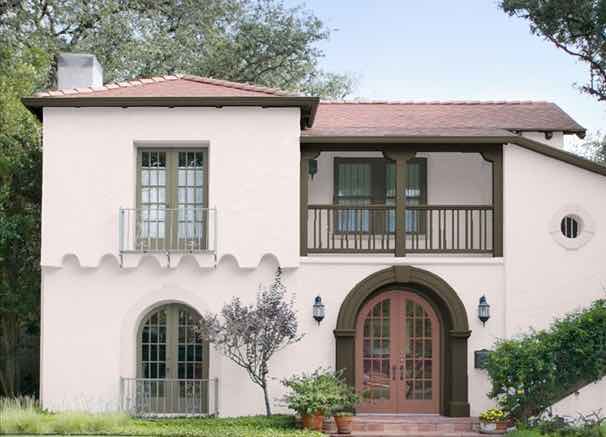 You love neutrals and a minimalistic, clean style, but you also want something a little more bright than just plain white. Say hello to First Light, One of Benjamin Moore's most popular colors.
Benjamin Moore describes this paint color as "a refreshing alternative to white or beige, First Light is a soft, airy pink that flatters any space and plays well with other colors."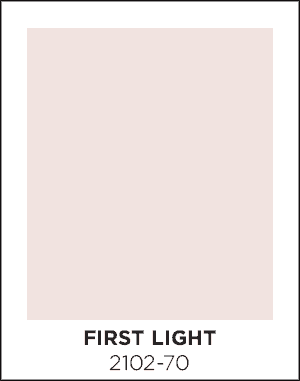 This color isn't meant to just be confined to the indoors, but it can bring a bright modern feel to your home's exterior! First Light blends perfectly with deep, rich browns or natural wood. Make sure to paint off the natural wood of your home with a high quality painter's tape specifically designed for exterior surfaces.
You can go monochromatic with the color and pair it with a darker mauve paint on the front door to give it a more beachy, warm-weather feel.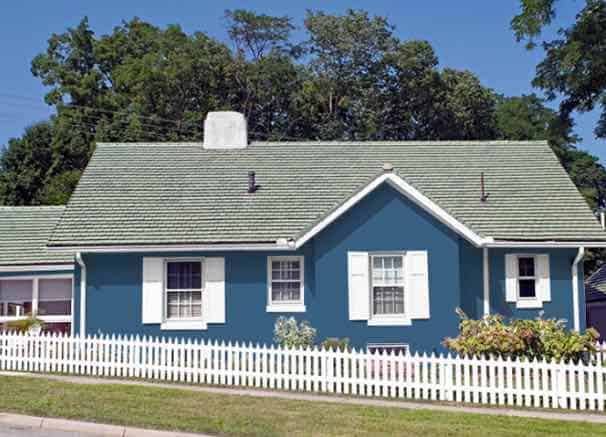 Not quite navy and not quite blue either. PPG Paints delivers a beautiful, nature inspired paint color named Chinese Porcelain. This color is a very deep shaded blue with an ever-so-violet undertone to it that is likened to that of orchids.
This color will truly make your house pop amongst the other houses around it. This bold usage of a purple-blue has not been very common in the past, but for homeowners looking for a bold new flare to their home, it is an excellent choice.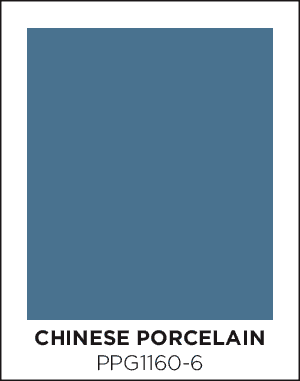 Light and airy accents that don't distract from this paint color (such as off-white) work the best. Chinese Porcelain is truly a unique and bold exterior paint color that will be remarkably popular this year.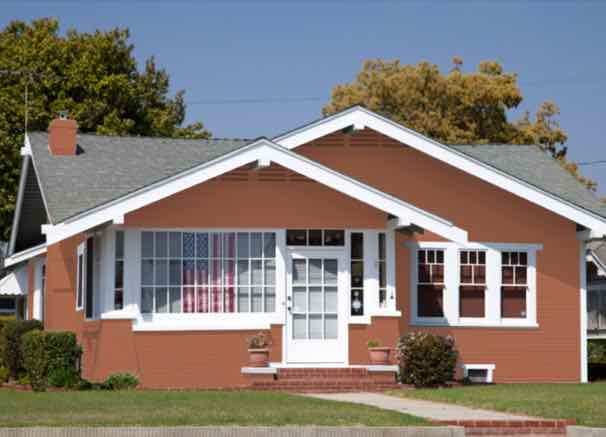 Although this paint color was Sherwin Williams' 2019 color choice of the year, the popularity is only going to continue with this warm, terracotta color Cavern Clay.
Named and styled with an earthly feel, this color brings the love of 70s flare to new life. It has bright tones you may find in the desert and bohemian styles. It is truly a rich color that maintains its stylishness for its totally unique vibe.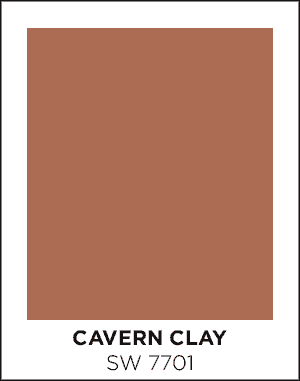 Cavern Clay pairs well with other deep, earthy tones such as brown or gray, but also looks amazing with a dark denim blue or light green.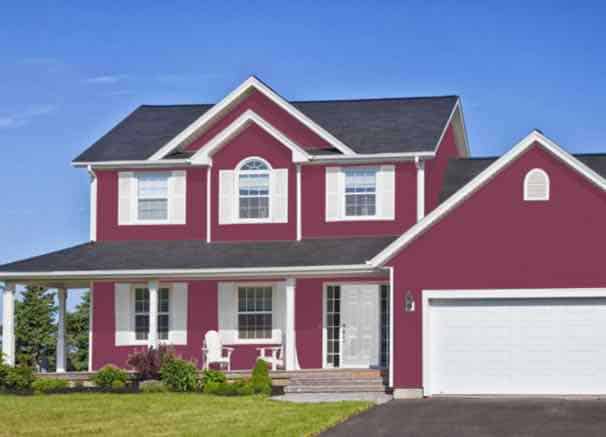 Juneberry is one of those colors that just screams "fun!" Is it red, dark pink, or purple? This bold and bright paint is one of those colors that you can't quite give a name to. All you can say when you see it is "wow, that is gorgeous."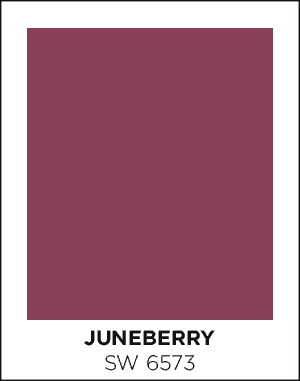 This artistically bright color is bold enough to make your home stand out, but deep enough to blend well with your home's natural surroundings and landscaping. It is a great choice to let shine on its own with neutral white or light pink pairings. You can also match Juneberry with a pale green (or even a bold, almost lime green if you feel so adventurous!)
Red Pepper – Behr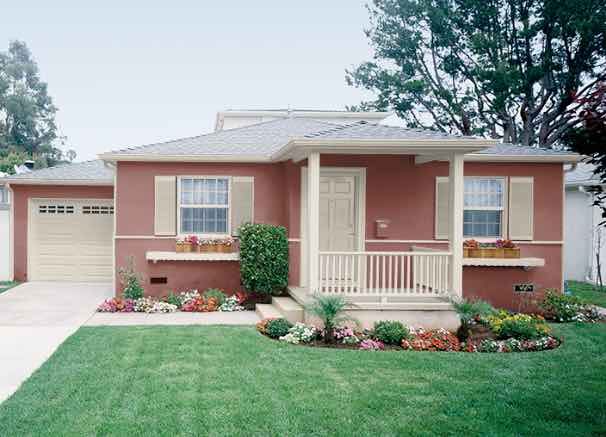 You love red, but you're not quite sure if coating your cottage with a bold, fire engine red is exactly a smart move. Red Pepper is one of Behr's projected paint color trends and is a perfect deep and dramatic color for your home.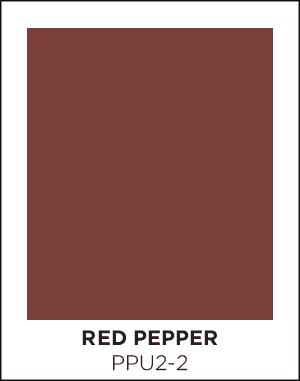 With hues of a fine wine and teases of burnt orange, Red Pepper is a great choice for someone seeking a pop of color without it being overbearing. This color pairs extremely well with darker, rich colors such as dark teal, evergreen, or deep purple. It also goes beautifully with light, sandy accents too. This beautiful red color will surely be a exterior color favorite.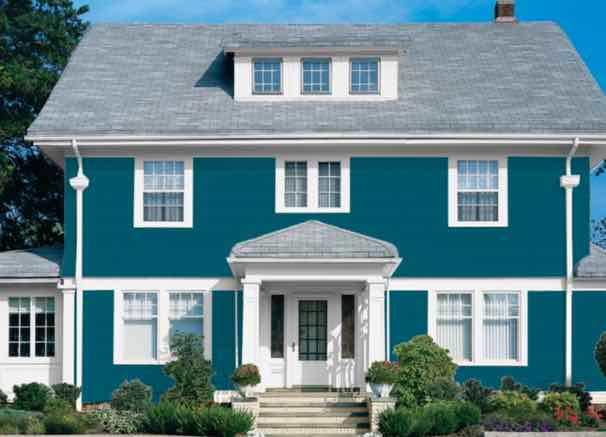 The name says it all. Sherwin Williams showcases yet another splendid blue-hued paint color named Oceanside.
With green undertones, Oceanside does a different take on the colors of the sea and mimics the hues of rich, dark waves that grace the deep blue. Another detour away from neutrality, Oceanside makes even the plainest home come alive with color.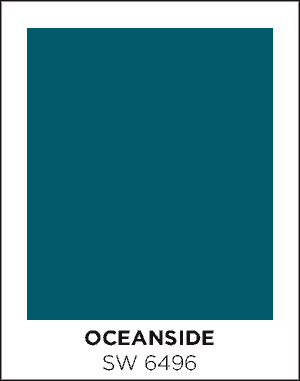 You have options to pair this paint with neutral colors of course, but you almost cannot pass up the opportunity to pair Oceanside with a vibrant, yellow-green. Go easy on the accent though as to not take away from the beauty of this paint color!
Cider Spice – Behr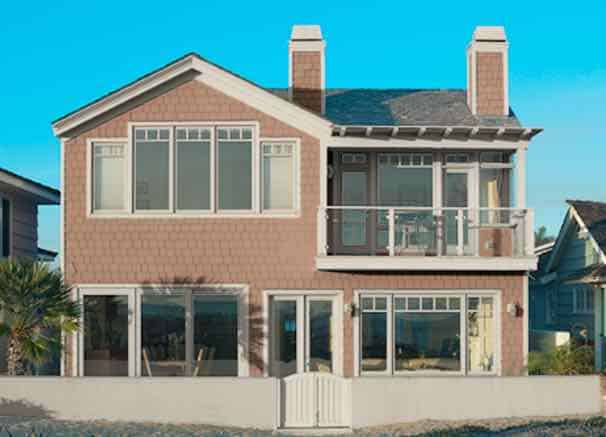 If Autumn could be captured in a paint color, it would find its belonging in Behr's gorgeous Cider Spice exterior paint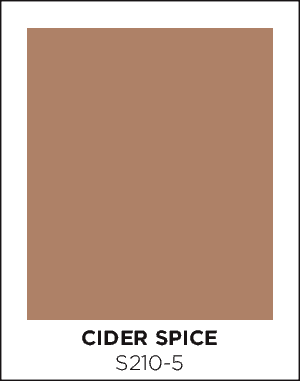 Smooth and deep, this caramel brown color adds just enough brightness but still maintains an earthy and approachable feel to it. This isn't just a typical brown and beige. Cider Spice, just like Behr's Red Pepper, pairs extraordinarily well with deep purples and teals, but it can handle lighter pastel color combinations such as lavender and mustard yellow as well.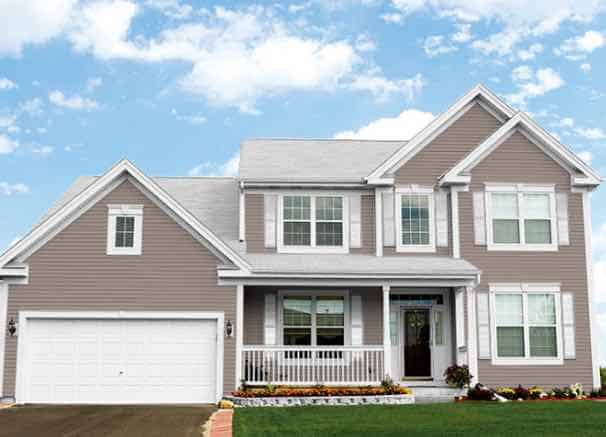 Can you say color ambiguity? For the indecisive homeowner who really like neutrals but really doesn't want to go with a plain gray or white exists PPG Paint's Talavera.
"Talavera is a saturated, gray, rusty beige with a chocolate undertone. It is a perfect paint color for spaces where warmth is required. Pair it with light woods and accents of blue or teal."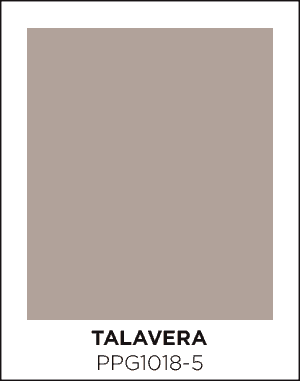 This color is the perfect pick for the classic brown-blue color combination and begs to be accented by something bold and beautiful. This curb-appeal color will most certainly be one of the most popular exterior paint colors.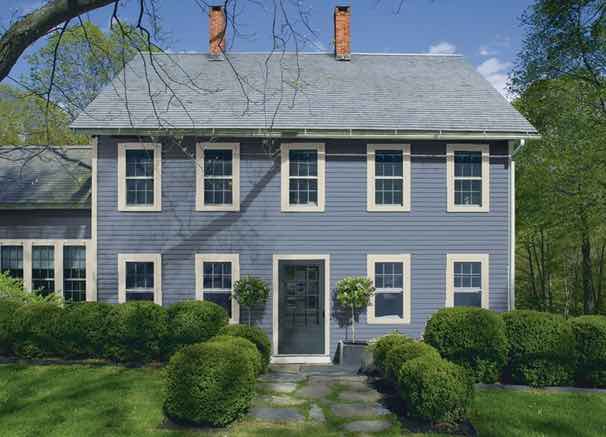 Oxford Gray is one of those colors that have you arguing with your friends over whether it is truly gray or truly blue. We can't totally tell either.
"This color is part of Behr's Color Preview. A collection of bold, saturated colors that brings spaces to life for those looking to illuminate their world with pure, extraordinary color. A great complement to Classic Colors, Color Preview offers a collection of 1,232 hues that excite and inspire with pure, deep, clear colors that create striking combinations."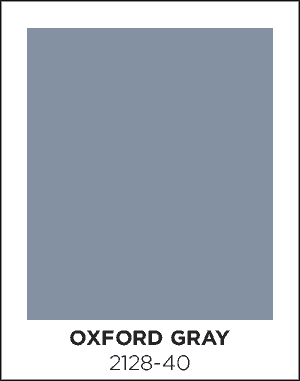 This color brings a colonial feel to your home exterior and is truly gorgeous when surrounded by lush foliage. A great color combination with Oxford Gray is a pale sandy yellow color (especially on the front door) or even a bold black.
Creamy Mushroom – Behr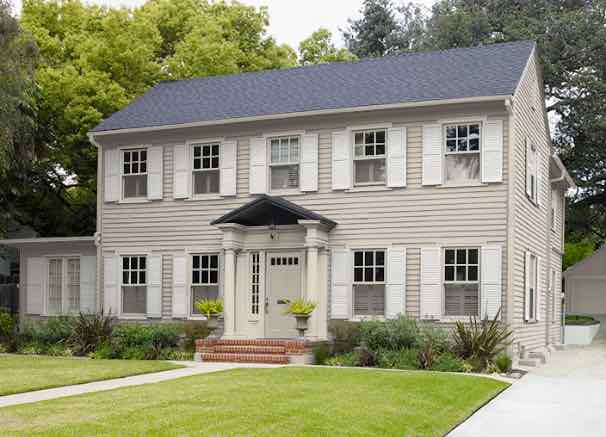 Keeping with the trend of earthly hues is the Creamy Mushroom paint color from Behr. This beige-tan color redefines a classic choice for home exteriors but is a lot bolder than most sandy colors like it.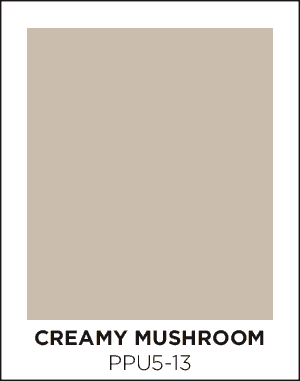 Cozy and versatile, Creamy Mushroom goes excellent with bright, but muted colors such as a pale green or teal. Behr's Back to Nature paint color would be the perfect shutter or door accent to a home painted with Creamy Mushroom.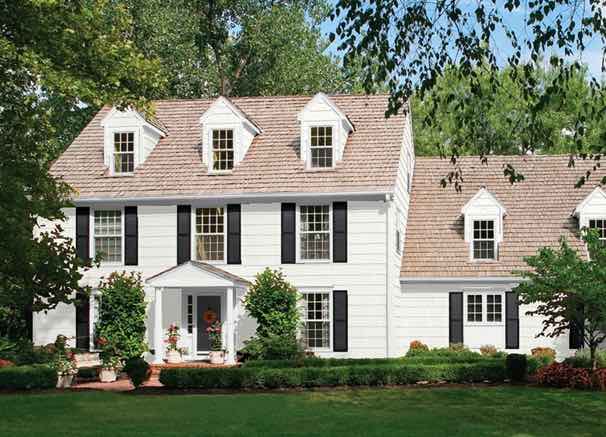 Nothing beats a simple, minimalistic white home and Benjamin Moore delivers the simplicity of white through their paint color White Heron. This color is a part of Benjamin Moore's Off-White Color collection and is the perfect pick for someone who wants a sleek, clean-looking exterior for their home.
"Inherently sophisticated and endlessly versatile, the Off-White collection offers subtle nuances of whites that suit tranquil, serene environments as well as creates color-enhancing accents for dynamic spaces."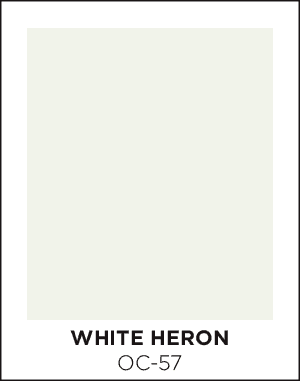 White Heron redefines a classic color with its warmer tones that take it just slightly off-white. This color pairs extremely well with any color, but if you are looking for a neutral look, White Heron could be paired with dark charcoal gray and silver-gray accents. The best part of a white house is you can do an accent door in any color imaginable, but a bright red or teal would look exquisite.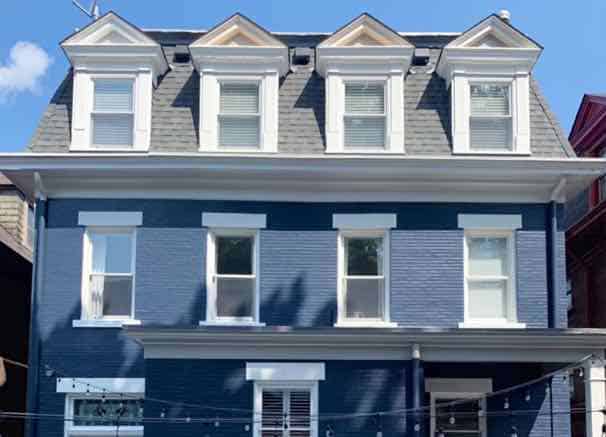 Ever so slightly lighter than Sherwin Williams' Naval, this flat navy color gives a richness to a classic navy trend that will be rejuvenated.
"A timeless classic, this deeply saturated shade of navy blue evokes rich maritime traditions and storied exploits at sea."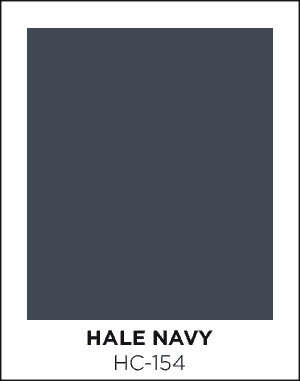 This color is just perfectly designed to be paired with bright white accents. Because it is less blue, Hale Navy isn't overbearing and can be used on gigantic colonial style homes with rows of white windows.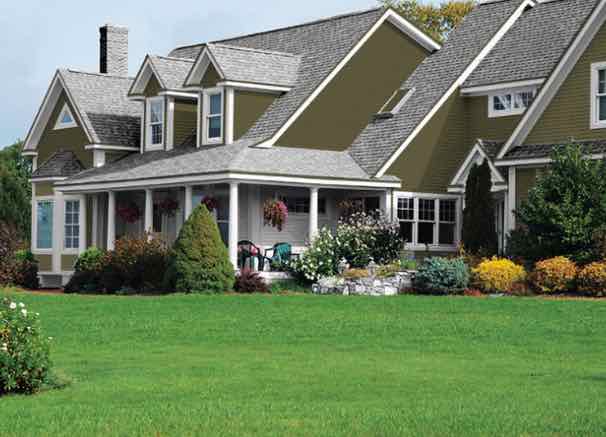 If you haven't noticed, this will be a year of earthy tones that are inspired by nature. PPG Paints brings us this beautiful, deep olive green exterior paint color that mimics the deepest tones of the natural world.
While green may be a pretty popular house color already, homeowners often opt for a light, airy green. This rich and moody green brings a certain elegance to a home almost as if it is inviting you straight into a lush, mossy forest.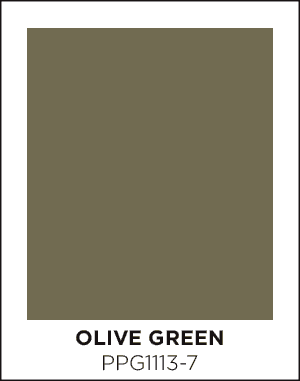 Just like the other earth toned exterior paints, Olive Green pairs wonderfully with light beiges and even bright whites. This paint is the perfect hue to pair with bright landscaping and flowers.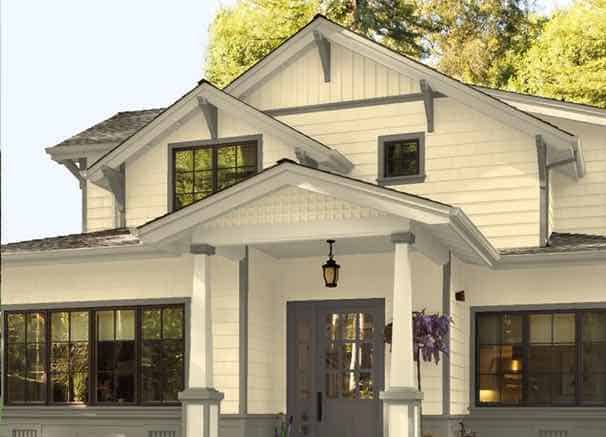 Yellow homes are either adored or utterly despised. Yellow, when done poorly, can make your house stand out in a literally blinding way. But when it is done well, it brings a joyous light to your entire block!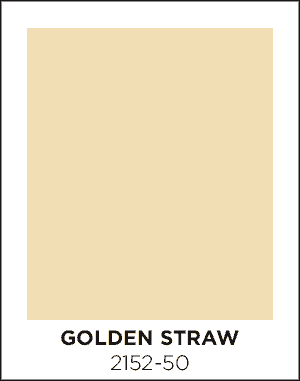 Benjamin Moore delivers the perfect airy yellow that mimics the beauty of a summertime field. It is not overly saturated, so the yellow appears subtle and sophisticated. This is no ordinary color for your home. Golden Straw goes extremely well with deep, rich chestnut brown and tan.
Graphic Charcoal – Behr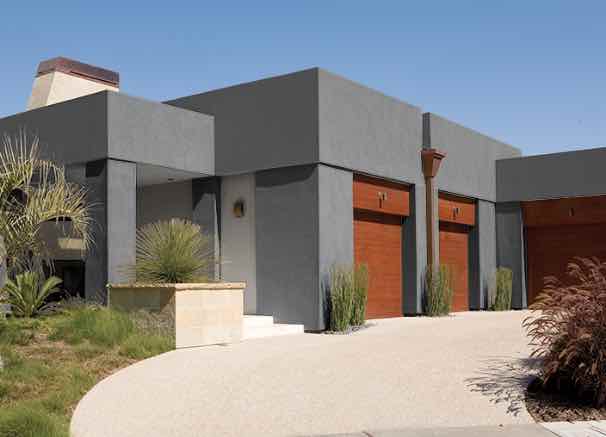 A totally new take on the classic gray home color is Behr's Graphic Charcoal. Dark, moody, and versatile, this deep shade will certainly be one of the most popular exterior paint colors.
Some people may think it would be very risky to paint your house such a dark shade, but the beautiful look of this charcoal color may make them think differently.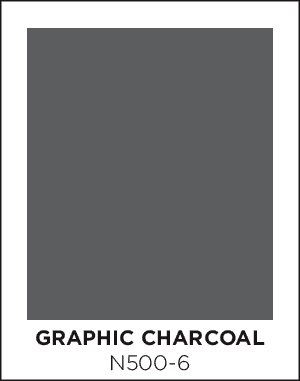 Graphic Charcoal is meant to be married with natural wooden features and especially pairs nicely with extremely dark brown and blue. A saturated red would look perfect on the door of a house painted with this gray finish.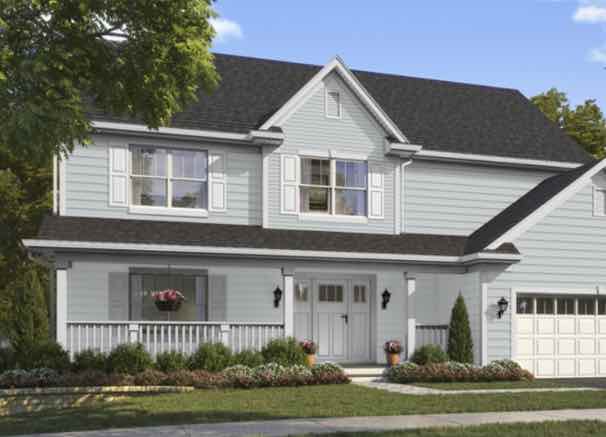 Speaking of gray, Misty is another contender as a popular exterior home paint. This light-shaded gray, with just a slight undertone of blue, brings light to just about any house.
Tinted neutrals are rising in popularity and this Sherwin Williams color is a great choice.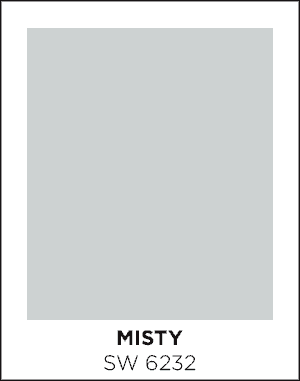 Misty is just that – misty! It mirrors a slightly dreary sky, looking like clouds that are almost ready to burst with raindrops. Pair this gray color with off-white and especially pale yellows.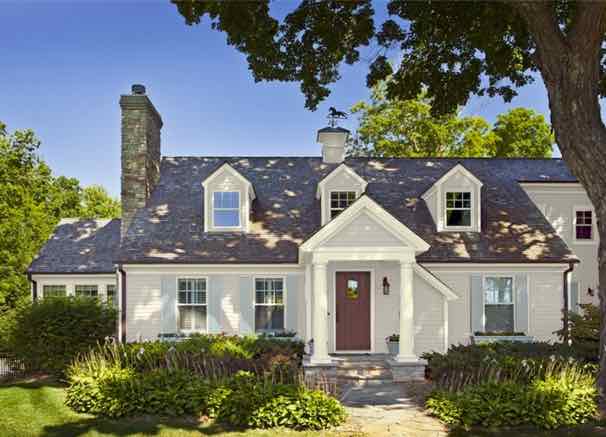 Taupe is probably one of the most popular colors on your block. While bolder, eclectic colors are rising in usage, taupe will still remain a frontrunner in exterior home paint colors.
Thunder hones in on the classic tones of a lovely taupe. This shade works extremely well on its own and is great for an overall neutral, muted vibe for your home.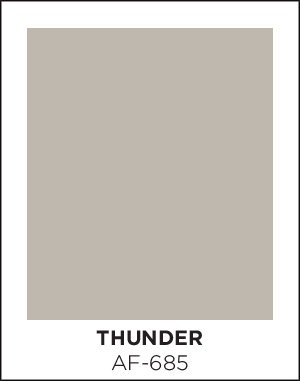 When pairing with Thunder, you don't want to go too crazy with accents but should rather pair it with a nice olive or even a darker shade of taupe itself.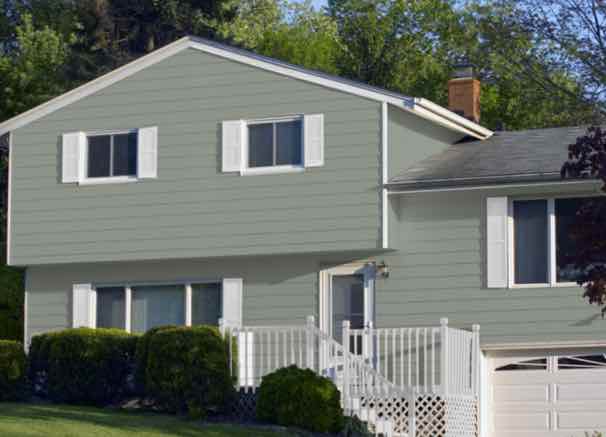 Another popular exterior house color is this ambiguous little number called Acacia Haze. Named after the shrub and tree family, the colors of this paint showcases the earthy green found in nature.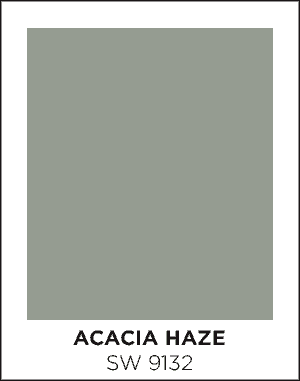 Acacia Haze, similar to the color of some cacti or succulents, gives room for a variety of color pairings. Taupe and even coffee brown go nicely with it, but the real winning-pair with this color would be a bright, clay-like front entryway with a color like Cavern Clay.
The Best Exterior House Colors Conclusion
The new year brings with it the desire for change. We seek newness and fresh living spaces that veer away from the drabby and normal color schemes of the past.
This will be a year of a new take on neutrals that are deepened by colored tones. There will be an emphasis on colors inspired by our natural surroundings. Yet, in the middle of all these more neutral paint choices, bolder color options that make your home stand out will rise in popularity.
These 20 popular exterior house colors with reign in the year. As you are possibly consider giving your home a facelift, consider one of these beautiful colors!
Thinking about painting the exterior of your house? Here are a few posts that will help: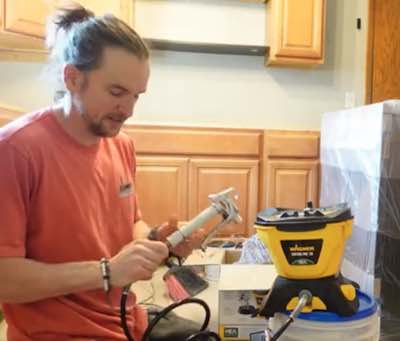 I've been a professional painter since 2001 and spent the last 12 years specializing in kitchen cabinet refinishing. I started the DIY Painting Tips blog in 2015 to start sharing everything I've learned over the years and help all the people who'd rather tackle their painting projects themselves. In 2019 I started the DIY Painting Tips Youtube channel where I publish in depth videos all about kitchen cabinet painting, painting gear reviews, and interior/exterior tutorials.