Cabinet painting is a great solution for updating worn-out or old-school cabinetry. And with so many Sherwin Williams cabinet paint options to choose from, it's easier than ever to complete a simple refurbishing project!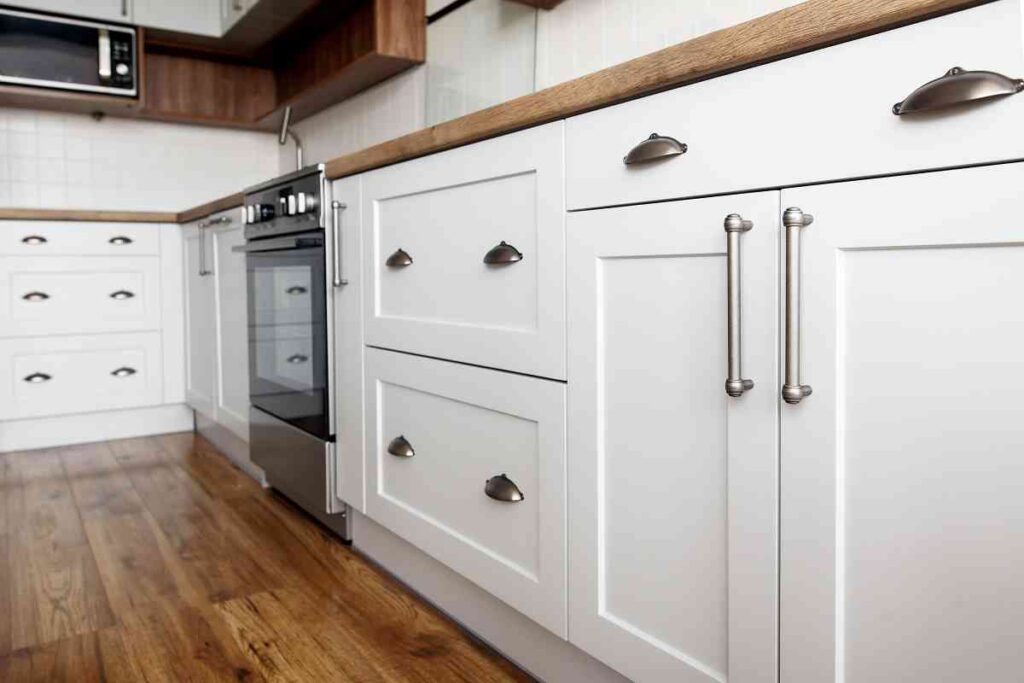 If you aren't familiar with the best primer, color, and specific type of paint for your cabinetry, don't worry! You've come to the right place.
In this guide, we've collected all the information you need about the full range of Sherwin Williams cabinet paint available today, including their unique pros and cons.
We also have a list of tips and tricks that will help you select the best color and primer, and we will explain the paint application process in detail.
Let's get to it!
Why Choose Sherwin Williams for Your Cabinets?
Cabinet paint has a very smooth finish that can take much more surface damage than regular paint. This is why it's crucial to choose high-quality paint specifically designed to be durable and easy to clean—you won't have to worry about reapplication or refurbishing for years.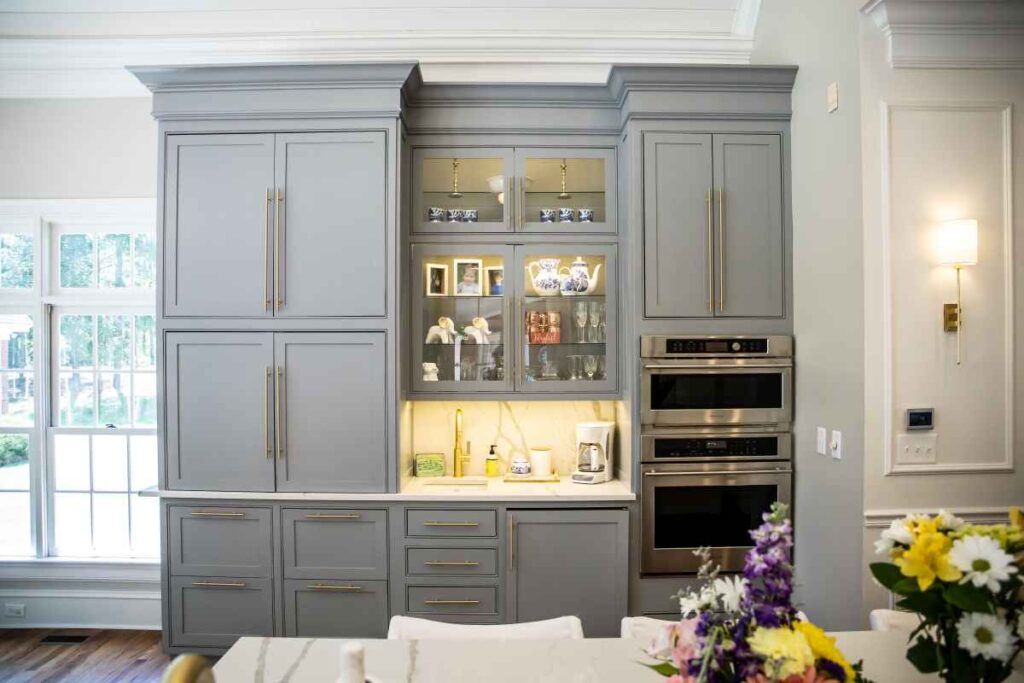 Sherwin Williams cabinet paint range includes various primers and paint for cabinets that can be used for every type of cabinet painting project. They all provide superior application and finish and, most importantly, withstand constant wear and tear.
---
The Best Sherwin Williams Cabinet Paint
1. Emerald Urethane Trim Enamel – Best Overall
This water-based hybrid enamel paint is highly recommended by professionals for doors, cabinets, and trim. It requires fewer coats, resists yellowing, and dries into a hard, durable finish.
It is suitable for interior and exterior projects that require regular cleaning. It can easily be cleaned with water and is also low-VOC (Volatile Organic Compounds).
Paint enthusiasts praise its easy application and beautiful finish.
Pros
Even finish
Low-VOC
Requires fewer coats of paint
---
2. ProClassic Waterborne Interior Acrylic-Alkyd Enamel – Best Long-Lasting
Another hybrid enamel paint on the list is the ProClassic Interior Waterbased Acrylic-Alkyd Enamel, known for its long-lasting and highly durable finish. It is ideal for those who want paint with excellent flow and leveling that is easy to clean.
This hybrid product doesn't yellow like alkyd-based paints and doesn't sag either. Many users recommend it for its durability.
Pros
Beautiful finish
Cleans with water
Low-VOC
Cons
Only available in semi-gloss and satin
---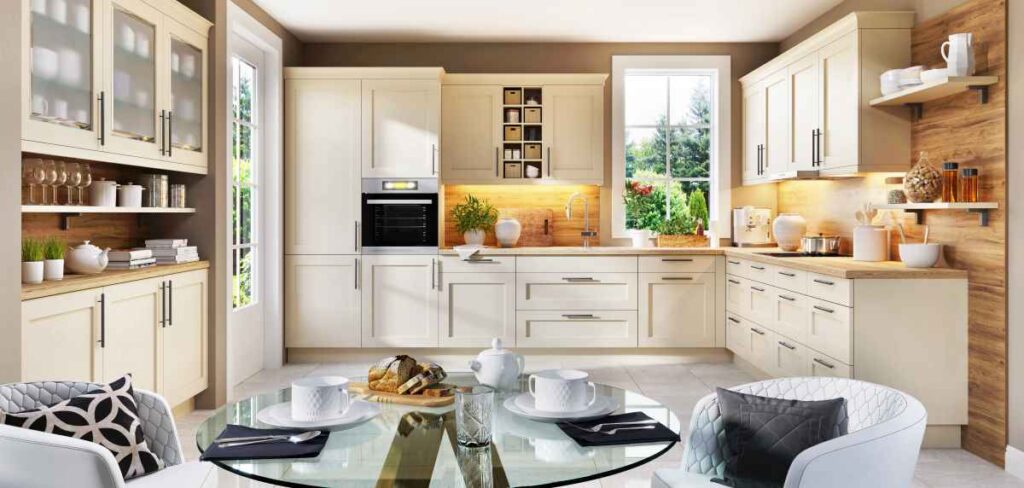 3. ProClassic Waterborne Interior Acrylic Enamel – Best Smooth Application
This acrylic-enamel paint is a popular choice for kitchen cabinets due to its buttery-smooth application. It has a long lifetime and high durability, best for high-traffic areas. However, the acrylic finish is not the most attractive.
Use it when you want a quick-dry job that requires very few coats. Professional painters love this paint, but beginners find it challenging to work with.
Pros
Short dry time
Smooth application
Cons
Not for beginners
Looks dull
---
4. ProClassic Waterborne Interior Alkyd Enamel – Best High-Performance
This traditional oil-based paint is the perfect Sherwin Williams Cabinet Paint if you're looking for a high-performance product that will withstand most wear and tear. The application is a breeze for any novice painter, no matter the project.
This paint looks great after drying but has drawbacks such as high VOC and quite a strong odor. Users report excellent results with just a few coats.
Pros
Fewer coats required
Looks great
Highly-durable paint
---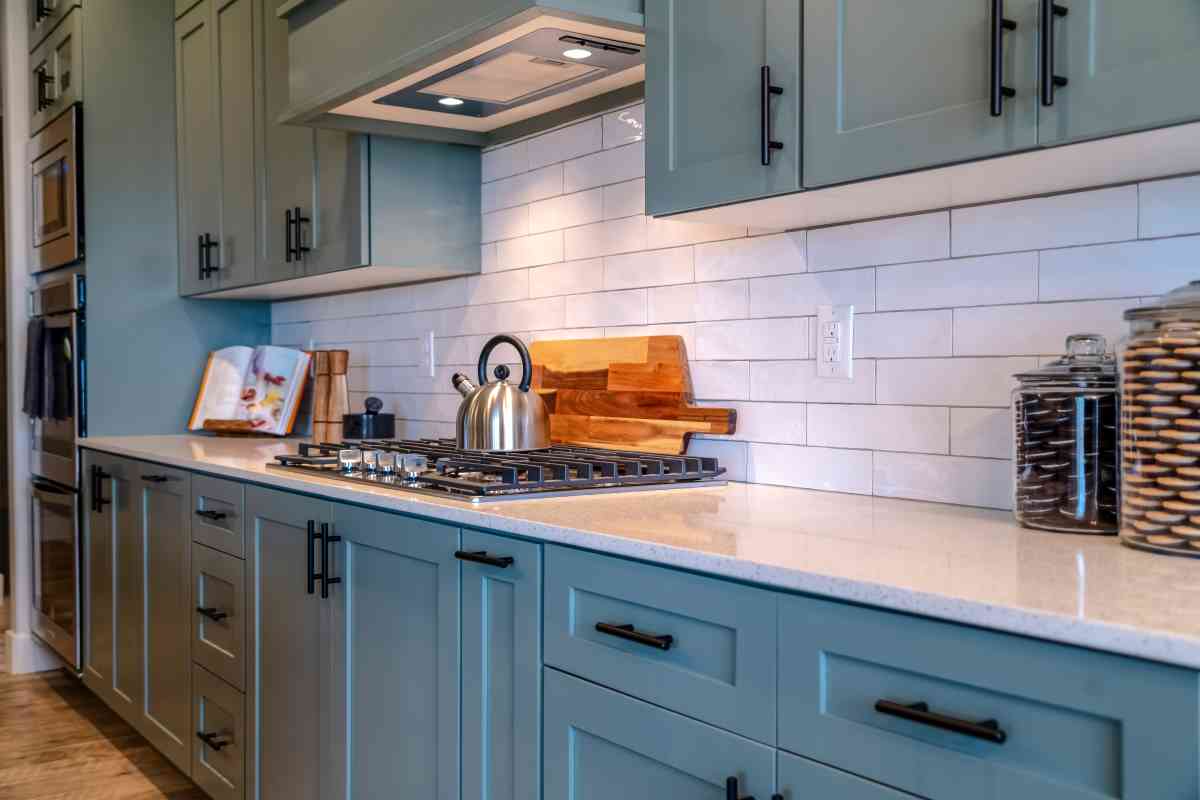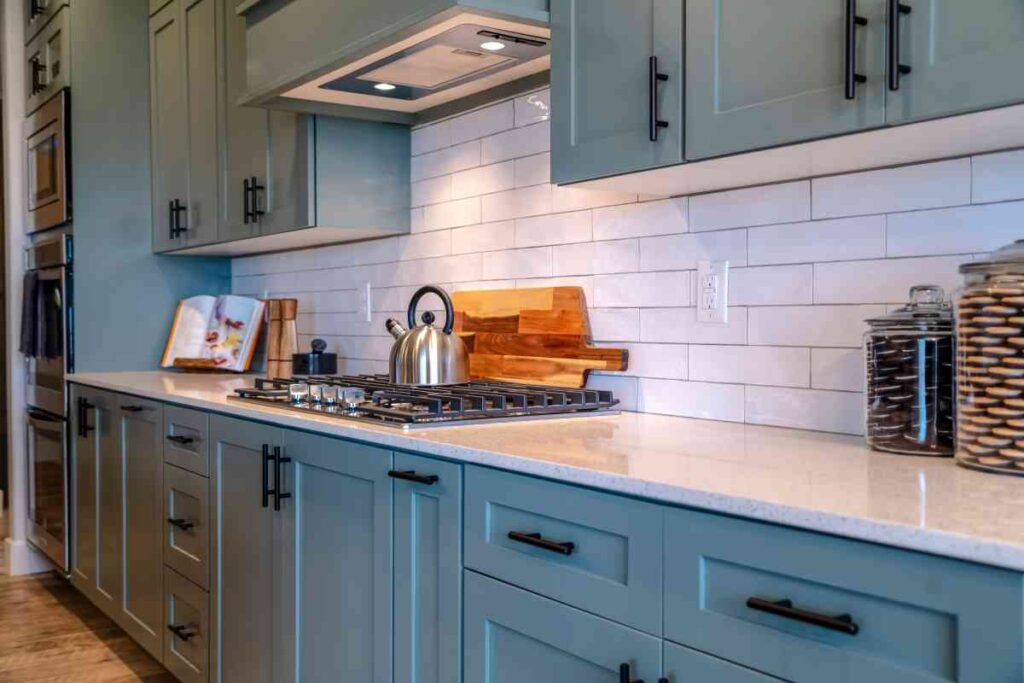 5. HGTV Home Door and Trim – Best Stain Resistance
This paint and primer-in-one is best for high-traffic areas like the kitchen. It delivers high resistance against mold and mildew and prevents stained cabinets.
It is designed with a Smart-Dry technology that prevents components from sticking after just two hours. Paint experts love that you can achieve a fantastic glossy look with just a few coats.
Pros
Best for stain-resistance
Dries quickly
Withstands frequent washing and scrubbing
Shiny, lustrous finish
---
How to Apply Cabinet Paint?
Here are some tools you'll need before getting started on your cabinet refurbishing project:
Cleaning cloth
Masking tape
Cordless drill
Screwdriver
Fine-grit sandpaper
Ladder
Rubber cleaning gloves
Goggles
Paint trays
Trash bags
Sheet plastic
Dust mask/respirator
Wood putty
Angled paintbrush
Cleaner degreaser
Mini paint roller
Paintbrush/ sprayer
Paint
Primer
Stripping old cabinet paint can release lead into the air, and exposure is incredibly dangerous.
The good news is that you don't have to remove old paint before applying a fresh coat in this case. Just proceed with the paint application steps.
Step 1: Detach The Doors and Drawers
Start by removing the doors, handles, and drawers of your cabinets. Make sure to remove or cover up all other furniture and appliances nearby.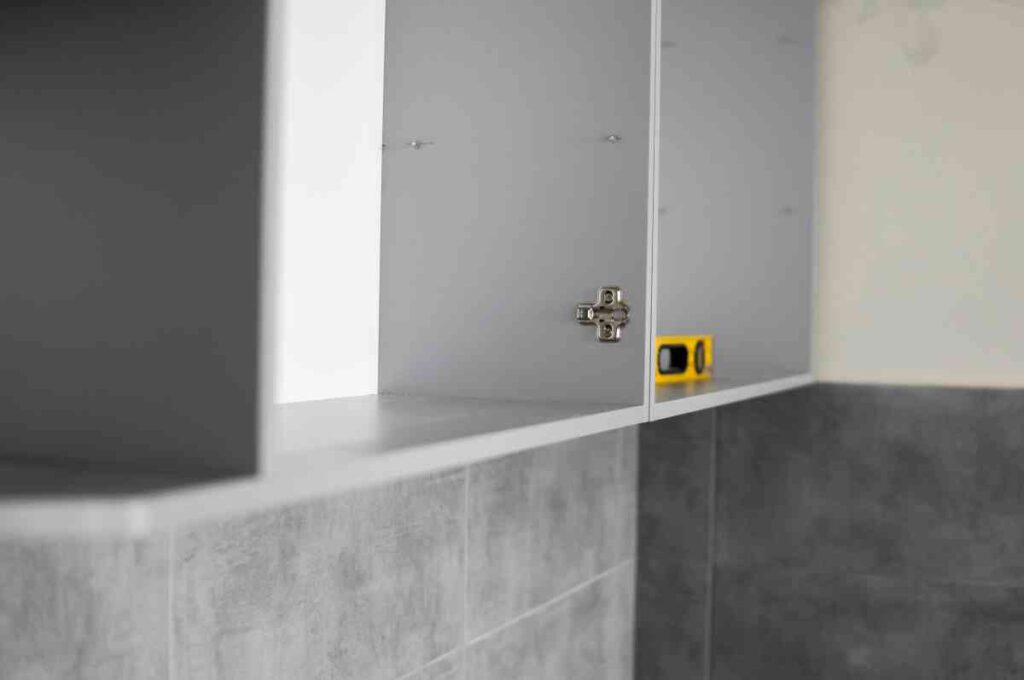 Use plastic bags to keep detachable handles and cabinet hardware organized and safe while painting.
Step 2: Prep the Painting Area
Next, use a cleaner degreaser to clean the surface of the cabinets thoroughly.
You can also make a cleaner at home by mixing half a gallon of water and half a cup of distilled vinegar.
Some primers come with clear instructions about what cleaners you can use with them, so read the instructions thoroughly before you begin.
If there are holes or imperfections on the cabinet surfaces, patch them up using wood filler or putty. A smooth working surface will ensure easier application.
Step 3: Tape, Sand, and Prime
Sanding the cabinets is not required for all projects, but it will make primer application much easier.
After sanding, apply the masking tape around the cabinet's edges. Before using the primer, try it on a small area to check the adhesion. Make sure you have gone through manufacturer instructions to get primer prep right.
Then, apply the primer to the entire surface. Work left to right and top to bottom to ensure a smooth finish for kitchen cabinets.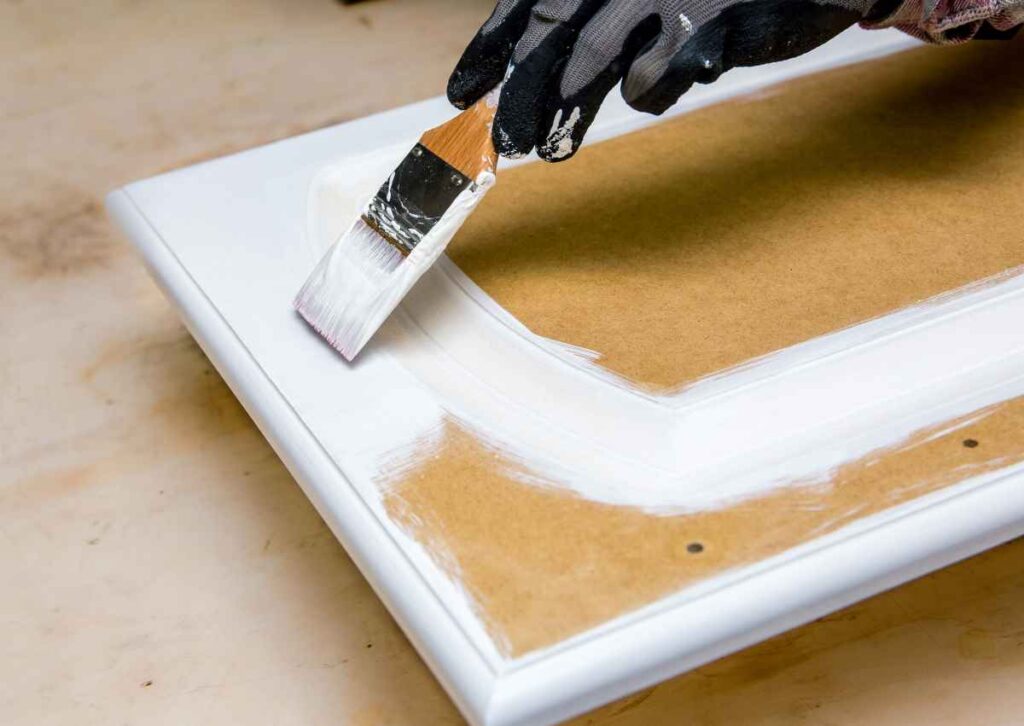 Once done, leave it to dry for 24 hours.
Step 4: Fine Sand and Apply the Finish
After 24 hours, perform a second sanding using a very fine grade grit sandpaper. Then use a damp cloth to wipe away debris from the primed smooth surface.
Read the instructions before applying the first fresh coat.
When applying the paint, remember to use the same strokes when you primed the cabinets. Begin with the detailing and recessed areas using a 1-inch or a 1 1/2 -inch angled brush.
Then, paint the small and flat areas like doors and drawer fronts using a mini roller. This will smooth over any accidental brush marks or paint drips.
Step 5: Apply Another Coat and Let Dry
Not all types of paint require a second coat. If yours does, let the first coat dry for 24 to 48 hours.
Apply a second coat using the same strokes, technique, and process as the primer and first coat. Wait for another 24 to 48 hours before reinstalling the doors and cabinet hardware.
Best Paint Colors for Kitchen Cabinets
If you're having trouble selecting the best color for kitchen cabinets, we have the word of an expert for the color consultation you need.
Here is a list of timeless colors for kitchen cabinets as suggested by Sue Wadden, Sherwin-Williams' Director of Color Marketing.
1. Caviar SW 6990
A bold take on the classic black, this caviar tone is perfect when you want to go for a rustic, modern mid-century style.
2. Anchors Aweigh SW 9179
Choose this dark shade of cyan-blue for a sophisticated or contemporary look for your interiors.
3. Peppercorn SW 7674
If you don't have strict theme preferences, this warm and cool agreeable gray is quite versatile and will suit most decor styles.
4. Rock Bottom SW 7062
This lighter gray is perfect for minimalist homes.
5. Homburg Gray SW 7622
Make the most of your accent lighting with this beautiful and chic mix of cyan blue and green.
6. Rustic Red SW 7593
This rustic color is the go-to option when you want to channel fall vibes in your kitchen year-round.
7. Felted Wool SW 9171
This soft, velvety gray will prove all those wrong who think gray paint colors equal dull rooms.
8. Mindful Gray SW 7016
This warm tone gray with green undertones is the perfect paint for cabinets in well-lit areas with lots of natural light.
9. Alabaster SW 7008
The perfect balance of cool tones and warm tones, SW Alabaster White is a chic color perfect for traditional American homes.
10. Extra White SW 7006
If you're not afraid of bright white paints and their reflective qualities, this cool white with barely noticeable blues is the one for you.
11. Dover White SW 6385
This warm white is the best way to bring out the details on your cabinets or make a cozy space out of your large kitchen.
12. Pure White SW 7005
If the room already has too many elements and you need a white color that underplays nicely, go for this one.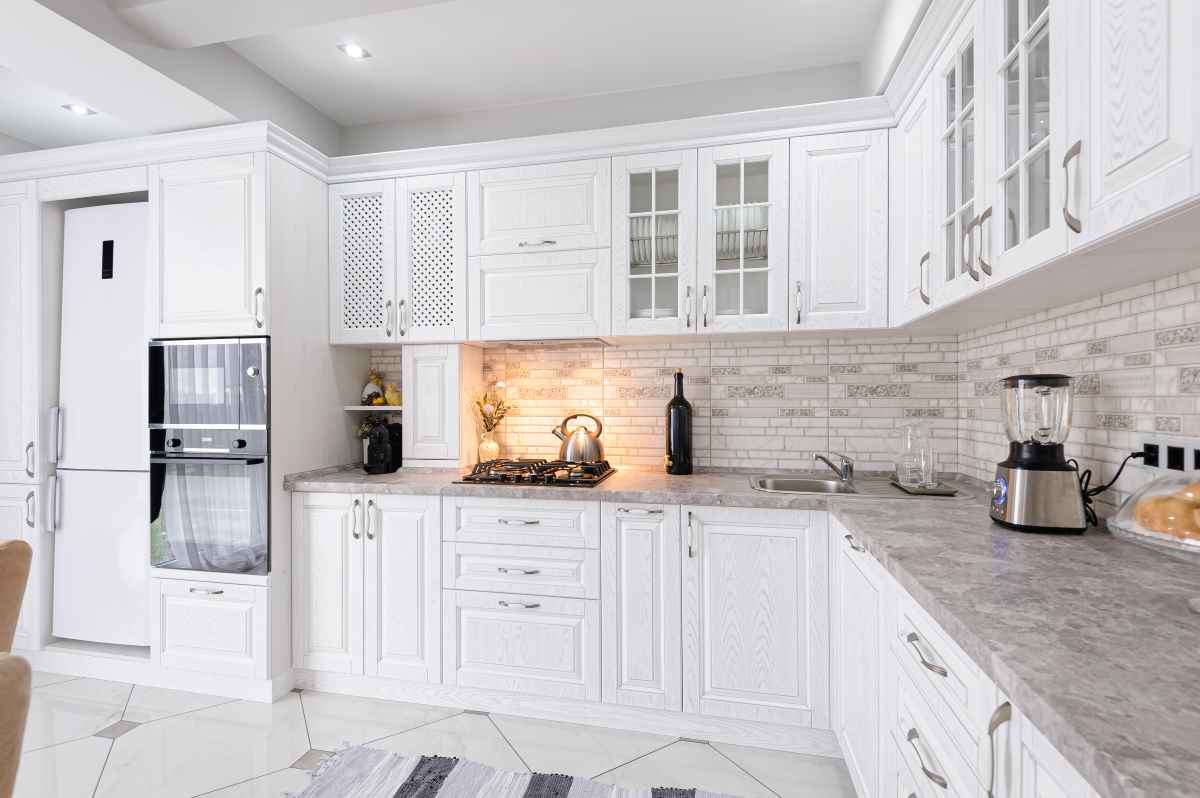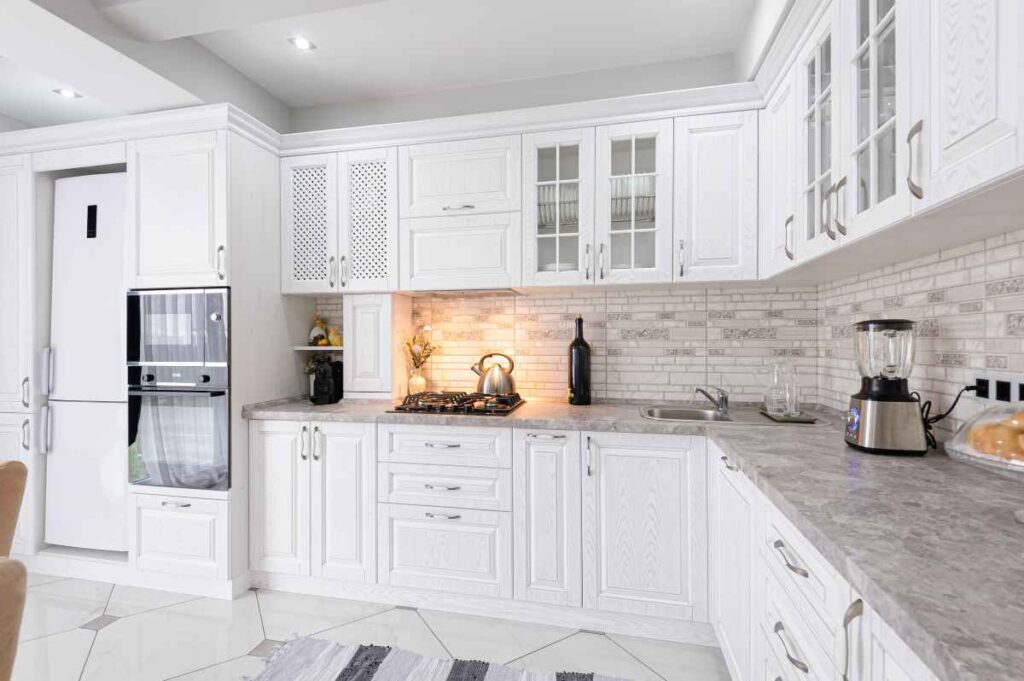 ---
The Best Sherwin Williams Primers for Cabinets
From hiding stains to sealing marks and dents, here are some primers that will do the job.
1. PrepRite ProBlock Oil-Based Primer – Best Overall
This is the best primer from Sherwin-Williams paint, perfect for a uniform topcoat and superior adhesion. It is specifically designed for bonding with slick and glossy surfaces. Paint experts love its adhesion and the uniform appearance of the coat of paint.
Pros
Great adhesion on glossy surfaces
Uniform priming
Cons
Does not cover the base coat very well
---
2. Sherwin-Williams ProClassic Acrylic Enamel – Most Versatile
This unique formula is listed twice in this guide, this time as a primer with excellent adhesion and flow and leveling. Use it when you need an easy-to-apply primer for a variety of surfaces.
Professional painters love this product, and you will, too.
Pros
For professional painters
Versatile
Great adhesion
---
3. Sherwin Williams SuperPaint Acrylic Semi-Gloss – Best Application
This is an excellent paint and primer-in-one for great coverage with minimum paint. It is best used when you want a quick paint job.
Customer reviews rave about the easy application and provided coverage.
Pros
Fast and easy application
Good coverage
Withstands excessive scrubbing
---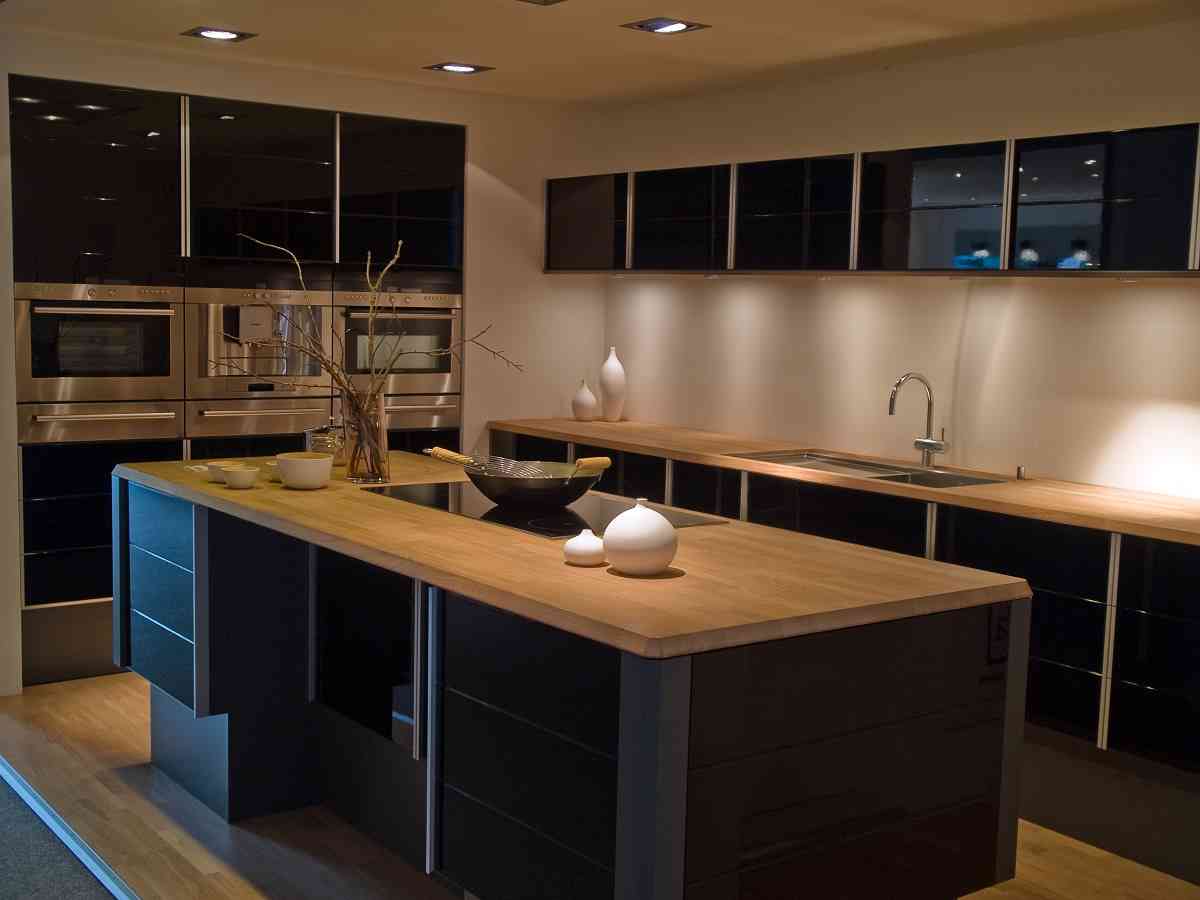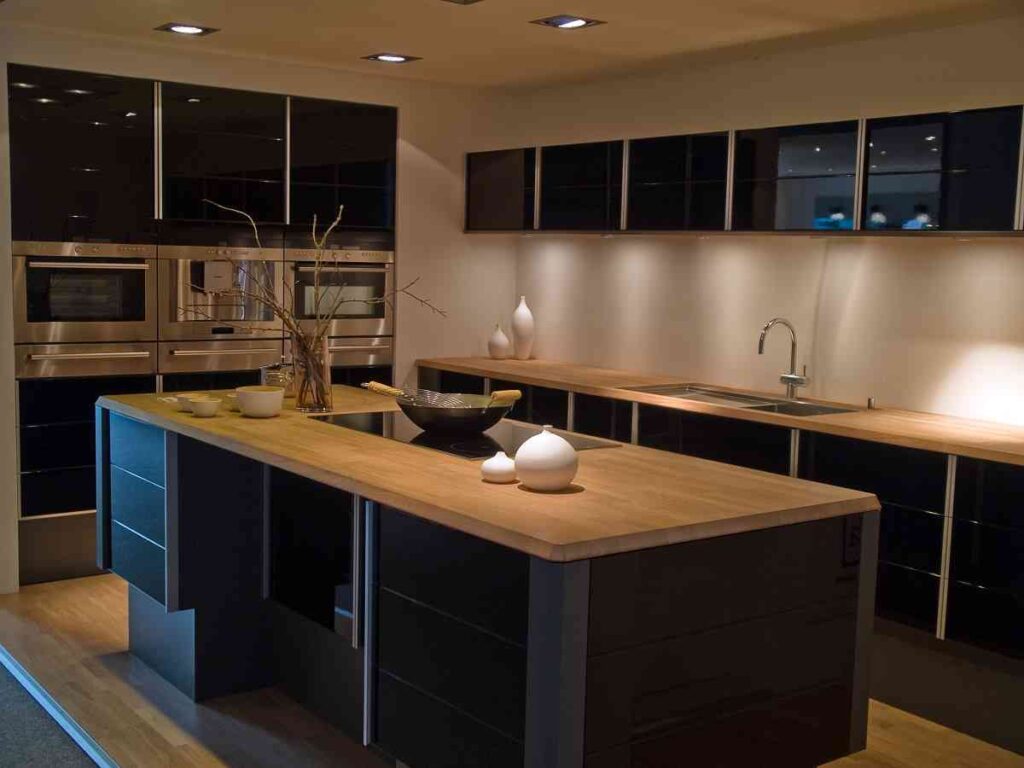 4. Multi-Purpose Water-Based Acrylic Alkyd Primer – Best for Glossy Surfaces
This hybrid primer acts like oil-based paints yet seals and blocks water-based stains. It is also low-VOC and cleans well with water. Its best feature is that it readily adheres to glossy surfaces of paint, varnish, and lacquer.
Customers love the easy water clean-up and beautiful finish.
Pros
Uniform finish
Dries quickly
---
5. Extreme Bond Primer – Best Single-Coat Primer
This primer from Sherwin Williams is easy to use and delivers exceptional adhesion and coverage. You won't need sanding for most clean, paintable surfaces.
Pros
Dries quickly
Great adhesion
One-coat application
Cons
Not a great stain blocker
---
6. Multi-Purpose Oil-Based Primer – Best for Sealing Stains
This oil paint is best for sealing all kinds of stains. While it does stand up to its bonding quality, the product has a strong odor. It is also quite thin and may splatter all over your workspace if you're not careful.
Find the product on the official site.
---
Frequently Asked Questions
Is it better to spray paint or brush paint kitchen cabinets?
It depends.
If you have a strict budget and want to save on paint, it's best to go for a brush. It applies more thickly, and you will only need one or two coats of paint. Brush painting is also ideal if you're going for a rustic feel and look. It is the best option when you have many dents to cover.
If you want a smooth and professional finish, choose a paint sprayer. It is easy to use if you're a first-time painter or if your surface has a lot of detailing. One drawback to this method is that it uses up a lot of paint. Another is the added time and expertise involved in setting up the equipment for spraying.
Sprayers can paint over difficult spots in a flash, while brushes require more maneuvering on your part.
Are cabinet paint and regular paint different?
Yes.
Cabinet paint is specifically designed to be much more durable than regular paint. This is because cabinets are often in high-traffic areas and undergo a lot more wear and tear.
Do newly painted kitchen cabinets need to be sealed?
It depends.
Sealing painted cabinets protects the surface for years. But if your paint is highly durable, sealing it isn't necessary.
If your paint isn't as durable as you would like, a clear polyurethane topcoat is the best choice for sealing.
What to apply to kitchen cabinets if one is allergic to enamel?
If you or anyone in your household is allergic to enamel, use low-VOC paint.
Is semi-gloss or satin finish better for kitchen cabinets?
Satin is a popular kitchen cabinet paint as it is highly durable, perfect for high-traffic areas such as your kitchen. Its velvety appearance is very contemporary and hides imperfections very well.
Semi-gloss provides good resistance against mold and mildew, but the shiny look reveals surface imperfections.
Wrapping Up the Complete Guide to Sherwin Williams Cabinet Paint
This Sherwin Williams Cabinet Paint guide has outlined everything you need to know about undertaking a successful cabinet painting job.
For more queries about paint for kitchen cabinets and more tips and tricks, check out these Kitchen Cabinet Painting Articles.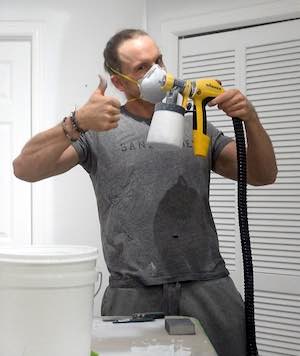 I started painting in 2001 and have seen just about everything in my painting career. I started in production and commercial painting, then moved over to new construction and remodeling during the boom of the early 2000s. Post 2010, I niched down into residential painting where I have done everything from exteriors, decks, interiors, furniture and more. Over the last few years, I've had a focus on kitchen cabinets.
I started the DIY Painting Tips blog in 2015 to start sharing everything I've learned over the years and help all the people who'd rather tackle their painting projects themselves.
You can follow my Youtube Channel where I show you everything that you read about on this site: https://www.youtube.com/@diypainting
You can also hire me directly from DIYPaintingTips.com here: https://diypaintingtips.com/free-painting-quote/
Contact me at: ryan@diypaintingtips.com