My name is Ryan Cunningham and I am the voice behind DIY Painting Tips.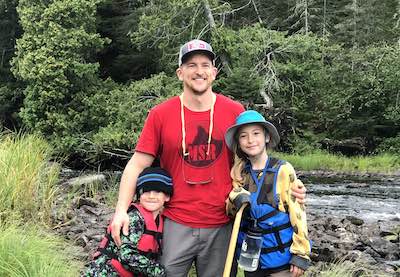 I started painting in 2001 when the new home construction market was booming. I was offered an overpaying painting job and decided to quit college and start painting (I could always go back is what I thought!).
After spending two years at my first painting job, I decided to leave and start my own company in 2004.
My first painting company was Capstone Painting. I had dreams of creating the biggest painting company in Minnesota.
Capstone painting had a lot of ups and downs. I was a great painter and was a great salesman. In my first year I did roughly $100,000 in gross sales and by 2008 I was crackign $1,000,000 in gross sales.
However, I ran into 2 problems.
1 – I had no idea how to run a business. I hired the wrong people and made a million mistakes. I had no idea how to turn a profit in this business
2 – The housing market collapsed and I was caught in the middle. Many of my clients were homebuilders and commercial properties and many of them went bankrupt, leaving me in a bad place.
I close up Capstone Painting in 2010 and took a year off. I had been working 6 am to 6pm nearly every day for 6 years and had nothing to show for it. I needed a new plan and strategy.
In 2011 I started Minneapolis Painting Company with the idea of remaining small and profitable. I decided to have my main focus on painting kitchen cabinets and become the best cabinet painter in Minnesota.
I worked at improving every single step in the cabinet painting process. I wanted to be able to perfectly fill grain, give flawless glassy finishes and exceed all of my clients expectations.
Minneapolis Painting Company was a great success. I was quickly booked out for months at a time and was able to charge the prices I had always wanted to.
In 2013 I started my first website, a camping website called www.BeyondTheTent.com, because I was a huge camper and loved to take my family out as often as possible.
Beyond The Tent was so fun to run that I decided to launch DIYPaintingTips.com in 2015 to start sharing everything I knew about painting. I had no idea at the time that these two sites would change my career path.
DIY Painting Tips has been such a success that I was able to sell Minneapolis Painting Company in 2020 and work on my websites full time.
These days I write new content for DIY Painting Tips as often as possible and make videos for my DIY Painting Tips Youtube channel (which you should subscribe to!). I've also brought on some great DIY writers to help me produce even more content for this site.
My DIY Painting Videos
I love to make how to videos on my Youtube channel that shows the entire process of painting cabinets and other projects from start to finish. No, I am not a great videographer or editor, but hopefully the videos are helpful none the less!
Make Sure To Subscribe To My Channel! (THANKS!)
Check Out Some Of Our Reader's and Viewer's Comments:
---
The most informative video…. I would go as far as to call this a training video…. cudos
---
Great video and clear explanation. Was easy to watch and an enjoyable watch that i didnt even realise was just over 30mins.. Im a painter in spain, and have varnished and painted doors and trims however not tackled cabinets. I am just staring a job to paint wood varnish doors to satin white and also a bathroom cabinet so this video was very interesting and informative. So much Thanks for taking time to do this video, im sure many people will find this video helpful.
---
I have been watching videos about painting cabinets for a while when I happened upon your video. It is by far the best I have seen. It is so thorough and detailed without staying too long on any part. Thanks for sharing this.
---
I watched it all! I painted all my kitchen cabinets white with BM Advance as well. But I hand rolled and brushed. 2 coats primer, 3 coats paint with sanding between each coat. Came out beautiful but oh my….it was a process. If I ever paint cabinets again I think I will spray them. Thanks for the video.
---
I couldnt take my eyes off of this video. So satisfying, the perfection of your work along with your voice. Utter perfection!
---
Product Reviews
All products reviewed on DIY Painting Tips have been purchased by me with my own funds. They are not provided by the manufacturer.
This means you can expect a 100% honest review that isn't persuaded by anyone.
Affiliate Links
DIY Painting Tips contains links to many of the products I discuss on this site. Most of these links are affiliate links, meaning I make a small commission when you purchase something using these links.
Affiliate links add no extra cost to you, the consumer.
On-Site Ads
Just like TV, radio, magazines, and other media, DIY Painting Tips is supported through ad revenue. This revenue allows me to put in my time and effort to bring you the best information possible. Please show your support by not using ad blockers when browsing DIY Painting Tips.
Check out These Painting Resources