Painting kitchen cabinets is one of the highest ROI projects you can do to your home. Whether you're hiring a contractor or doing it yourself, the return is great.
And the return isn't only about financial investment, painted kitchen cabinets can transform an old dated kitchen into a modern masterpiece that brings with it loads of satisfaction.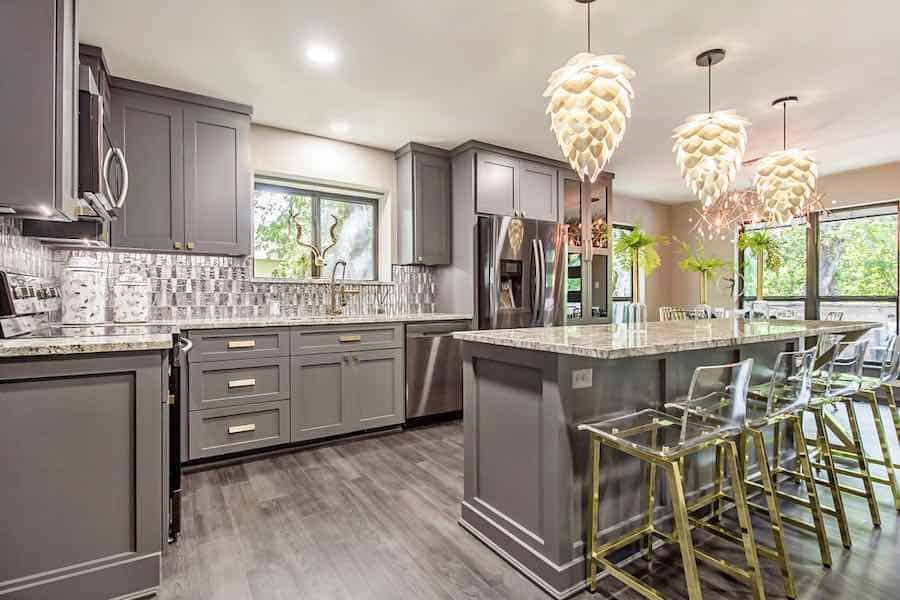 On this kitchen cabinet painting hub page, you're going to find everything you need to know about painting kitchen cabinets.
Why Painting Your Kitchen Cabinets Makes Sense
Painting your kitchen cabinets makes sense on multiple levels.
First off, who doesn't love updating the look of their home? Painting your cabinets is a great way to give your kitchen a brand new look while keeping the investment of time and money minimal. You can create a modern space, a country feel, clean and elegant, or anything you desire.
Painting your cabinets also produces less waste. Odds are that your cabinets are already built from high-quality materials (oak, maple, cherry) and are even custom-built for your kitchen. Why throw these away, create waste, and create a massively overpriced project? Painting your cabinets takes less time than new cabinets, costs less, and is more environmentally friendly!
Lastly, an often overlooked aspect of painting your kitchen cabinets is that it adds real value to your home. If you plan on selling, you're 1980's, 90's or early 2000's cabinets probably look quite dated. Buyers see your kitchen and think PROJECT. But painted cabinets can actually be a selling point that buyers love.
The Real Cost Of Painting Kitchen Cabinets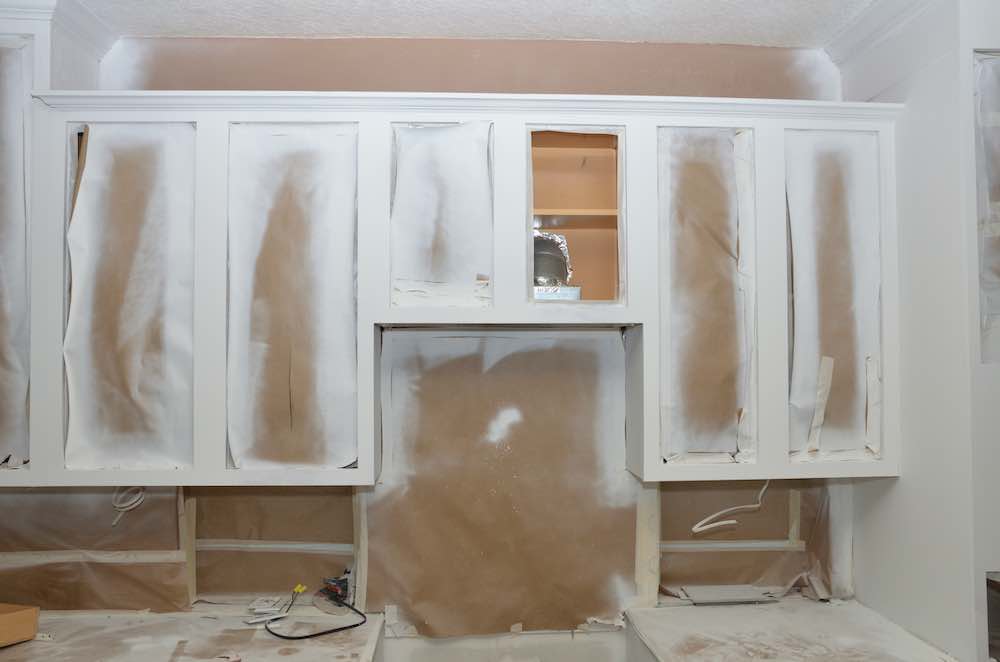 Getting your kitchen cabinets painted typically comes with an average price of about $5000. Smaller kitchens may cost $2,000-$3,000 while larger kitchens may cost up to $10,000. This is a good starting point, but all painters and locations have different pricing.
If you plan on DIYing it, then you can save a significant amount of money. If you have no tools and invest in a basic sprayer, you can expect to spend about $400-$700 painting your kitchen cabinets. You can find every tool you'll need below.
How Much Does It Cost To Paint Kitchen Cabinets?
This post dives deep into the numbers behind how I estimate cabinet painting. It is 20 years of experience and tweaking my pricing in the Minneapolis area.
DIY Painting's Paint Project Calculator
Want to know exactly what your painting project will cost? With this calculator, you can enter the size of your kitchen cabinets and it will give you how much you should expect for materials cost, how much a contractor may charge, and even how long it should take if you choose to DIY it.
How To Paint Kitchen Cabinets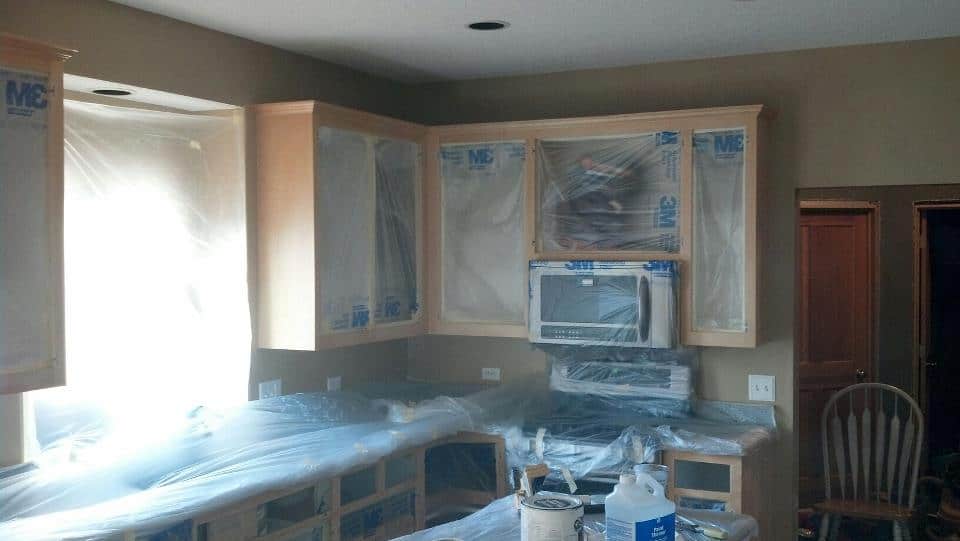 This section is always growing, so check back for even more How-To content.
How To Paint Kitchen Cabinets Like a Pro
This is my epic 7000-word guide on painting kitchen cabinets. If you don't know where to begin, start here. This post will teach everything you need to know in great detail from materials, prep work, priming, brushing, spraying, what products I use and tons more.
This is a brief guide that dives into spraying cabinets, techniques, and some how-to information.
How To Prep Kitchen Cabinets for Painting
In this post, I go into detail about exactly how I prep a kitchen for painting. You'll learn how I clean the room, remove hardware, cover countertops, cover floors, and more. Good prep work will save you hours of cleanup and frustration when you're done (trust me, I learned the hard way!).
A common question I get is "can I paint over oil based paint?", so I decided to answer this in detail. Check out the post to learn all about painting over old oil based finishes.
How To Paint Laminate Kitchen Cabinets
In this post we cover the process of painting laminate kitchen cabinets. While similar to painting wooden cabinets, there are a few different procedures to make sure you get the best results possible.
Filling The Grain on Oak Kitchen Cabinets
Filling the grain on oak cabinets is usually done unless someone wants to create a "country" feel or something similar.
The Best Wood Grain Filler For Oak Cabinets
I am especially proud of this post. I worked for years to develop the perfect method for filling oak grain on cabinets so that painted oak could look amazing. I tried every product imaginable and had many failures. You don't need to copy my failures, but rather just learn from my success! You can even watch the video.
Kitchen Cabinet Primers
Next to cleaning and sanding, using the right primer will dictate whether or not your paint job lasts for years to come or not. A good primer will bond well to the cabinets and prevent chipping and peeling.
Zinsser Smart Prime is my favorite primer for kitchen cabinets. It bonds great, seals in stains and tannins, and it's easy to use. Read the post for my full review.
INSL-X Stix is a great primer that I have used many times. I highly recommend it to anyone. It can be brushed, rolled, or sprayed. It bonds well and covers great.
Kilz 2 has its place. It's cheap and it gets the job done. If you're painting cabinets in a flip home and need to watch costs, it's fine. But I wouldn't recommend it to most people. Kilz 2 is better for other things such as walls or ceilings.
Kitchen Cabinet Paints
Benjamin Moore Advance Cabinet Paint Review
Benjamin Moore Advance is my top pick for kitchen cabinet paint. I love it and use it myself on all my client's projects. It sprays great, brushes, rolls, and is a low VOC paint.
In this post and video, I cover my picks for some of the best paints for kitchen cabinets. I only cover consumer products and products that are easy for pros to use in residential settings. There are other great products like lacquers and water-based lacquers, but I do not consider those good for DIY.
This is a rather technical post for those of you who really want to deep dive into what exactly an alkyd enamel is. It will provide a better understanding of your project.
Paint Sprayers For Kitchen Cabinets
The 8 Best Paint Sprayers For Cabinets
In this post, we cover what we believe to be the 8 best paint sprayers for kitchen cabinets for the DIY homeowner. All of these sprayers can be purchased on Amazon as well. We cover all types of paint sprayers in the post including airless, HVLP, and turbine sprayers.
In this post, similar to the one above, we cover our picks for the best paint sprayers on Amazon, only we stayed with only HVLPs, my personal favorite for getting a fine finish without runs.
Flexio 2000 HVLP Sprayer Review
The Wagner Flexio 2000 is an entry-level HVLP sprayer, perfect for anyone who wants to paint their own cabinets, but is on a tight budget. That being said, you need to know how to use this sprayer properly if you want to get a good finish on your cabinets. In the video and the post, I go over in detail how I set up the sprayer in order to get the best finish on cabinets possible.
Items I Recommend For Painting Kitchen Cabinets
Each of these items is a link going to Amazon. If you do make a purchase, I will make a small commission which helps me run DIY Painting Tips, so thank you!
Sprayers
---
This sprayer is a great entry-level HVLP sprayer, perfect for tight budgets. It's a slight upgrade from the Flexio 2000.
The Fuji Semi-Pro 2 is a Prosumer sprayer. If you're a pro, it's a great starting point, if you are a DIY painter who wants a great sprayer, this is for you.
This is the HVLP sprayer I use, I love it and could not be happier with it. If you're a pro looking for a top quality sprayer that will last for years (Mine is 112 years old and works perfectly), this is it.
Don't overlook personal safety. Even with low VOC paints, you never want to breathe in latex particles or anything potentially harmful.
Prep Materials
---
The zip wall pole kit is amazing! With these poles, you can wall off your kitchen so that no overspray or dust escapes and makes a mess of your house. I use Frog Tape (below) to seal the top and bottom of the plastic walls.
This is the ONLY tape I will use when working on kitchens. It costs a little more but it is the best tape out there.
This is the plastic I use to wall off my workspace and prevent any mess from getting into the rest of the house.
I use the 3M hand masker, 3M Masking Film, and 3M 9 inch paper to prep off the insides of cabinets and other areas in the kitchen before spraying. The hand masker saves SO MUCH TIME!
I use the 36″ wide craft paper to prep off floors when painting kitchen cabinets. I cover every square inch of the floor, plus the floors in adjoining rooms (in case over-spray seeps out).
Wagner Spray Shelter (for spraying cabinet doors in)
If you're limited on space, a spray shelter like this one is perfect for setting up a spray area in your garage for spraying cabinet doors.
How To Build a $75 Drying Rack
This video covers how to build an incredibly simple drying rack so that you can stack your cabinet doors when painting them.
Kitchen Cabinet Color Ideas
21 Painted Kitchen Cabinet Ideas To Inspire You
Need some inspiration? Check out this post for 21 different painted kitchen cabinet ideas. Sometimes we all need a little spark!
Hiring A Painter For Your Project
Sometimes it's just better to hire a professional, I get it, that's why I have a business! For those of you who've decided that the DIY route isn't for you, go ahead and fill out the form below. You'lle be matched up with local professionals in your area that can provide you with a free quote on your project, and you'll be supporting DIY Painting Tips (we make a small commission off leads generated from this site).
---
---
Wrapping Up Kitchen Cabinet Painting
Hopefully, you've found everything you wanted to know (and plenty you didn't know you needed to know) about painting kitchen cabinets.
If you have any other painting projects you're thinking about doing, check out our Interior Painting, Exterior Painting, and Deck Staining pages.