If you walk into your bathroom and feel rather underwhelmed, it might be time for a makeover. But, don't worry. Giving your bathroom a makeover doesn't have to be expensive. A fresh coat of paint can easily liven up your bathroom and make it feel like a whole new room.
Paint might seem like something simple, but it's quite versatile. You can create beautiful accents, designs, patterns, and textures with different painting techniques. Let's take a look at some bathroom paint ideas you can try to create the new bathroom of your dreams!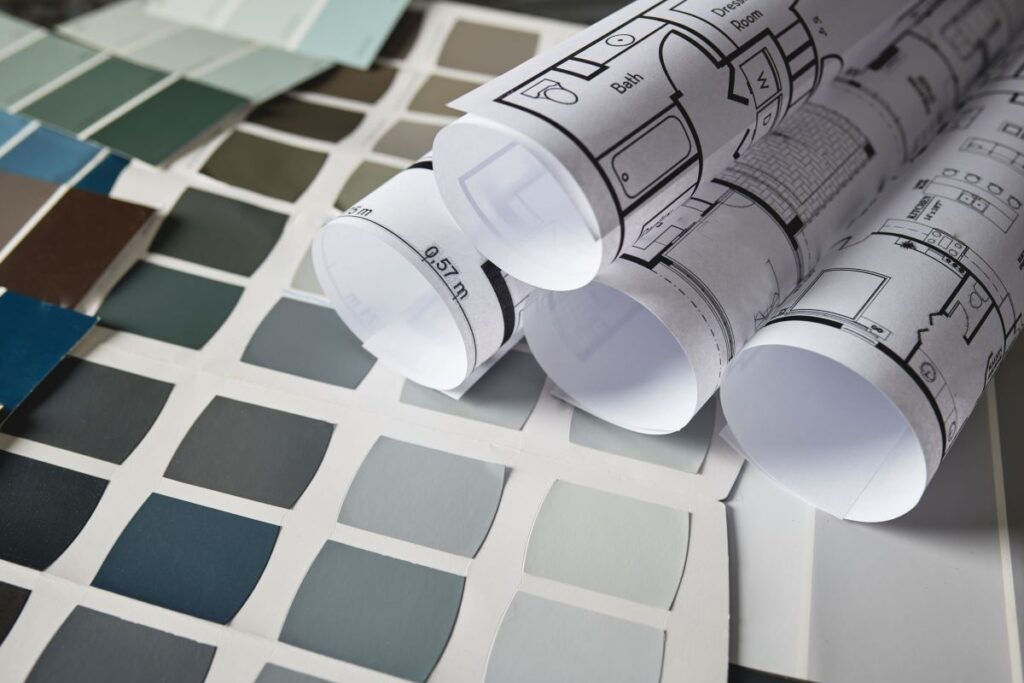 ---
Traditional Wall Painting Ideas
1. One Simple, Solid Color
Sticking to the basics is always an option when painting your walls. Doing this creates a blank slate that you can liven up with various decor options.
Some great color palettes to use in bathrooms include blues, grays, and cool browns. These colors are reminiscent of water, which bathrooms produce a lot of. Blue is also a great color that helps make you feel a sense of calmness and safety.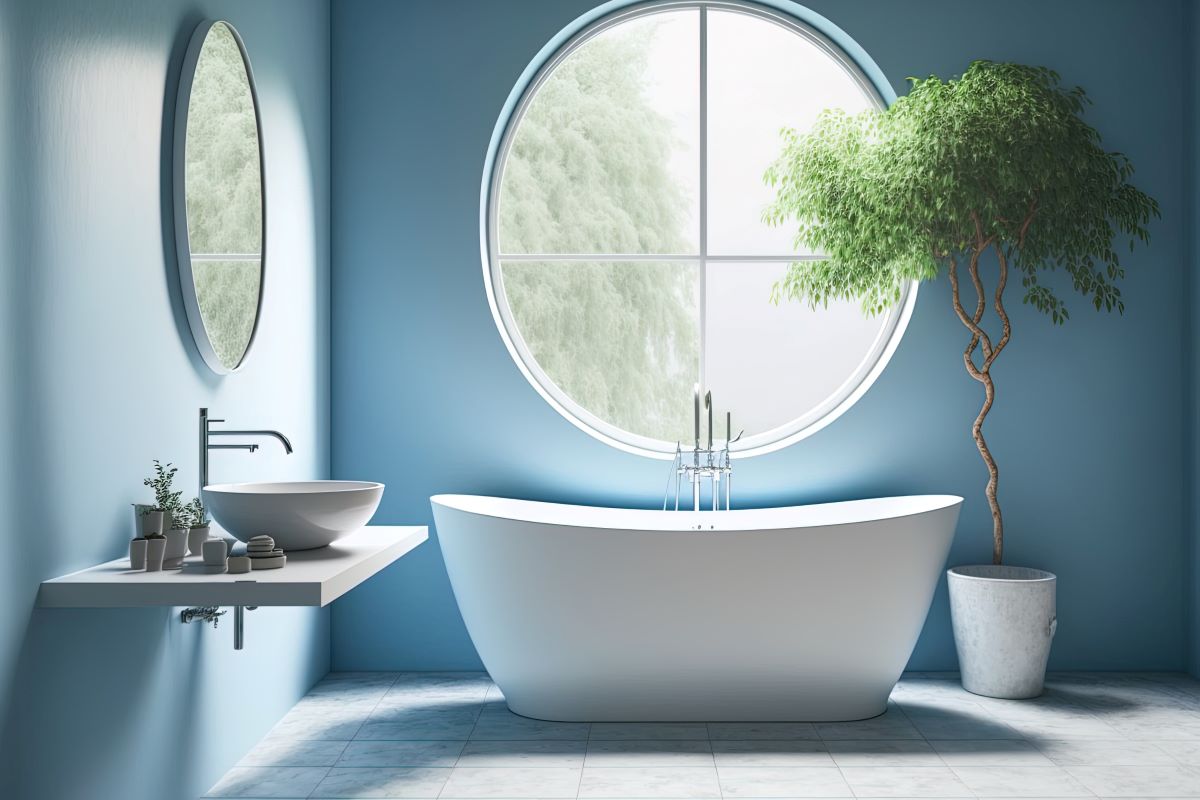 The shade called Quiet Moments from Benjamin Moore is a nice neutral blue to use if you need an idea.
Neutral, solid colors are excellent bathroom paint ideas, as they make the room look bigger than it actually is.
For information on the bathroom-painting timeframe, use How Long Does It Take To Paint a Room?
2. Accent Walls
If you want to make your bathroom more eye-catching, adding an accent wall is a perfect idea. Accent walls typically have a different design or color from the rest of the room. These bathroom paint ideas can come in the form of another solid color, a design, a pattern, or a textured look.
A cool and easy way to create an accent wall is with geometric pattern stencils or stamps.
Always use a darker or brighter color for your accents compared to the base to make the wall stand out. Using metallic paint can really help your accent wall pop.
Just keep in mind that if you choose to use accent walls, you should only stick to one. Your bathroom can look too busy and a little off-putting if you use more than one accent wall.
3. Half and Half
Maybe you like the idea of solid colors, but picking just one paint color isn't working out. Try using two solid colors! To do this aesthetically, simply split the walls in half horizontally with some tape. Paint one color on the top half and another color on the bottom half.
To make this bathroom paint idea neater, you can put white-painted molding where the two colors meet in the middle. Doing this makes your walls look more sophisticated.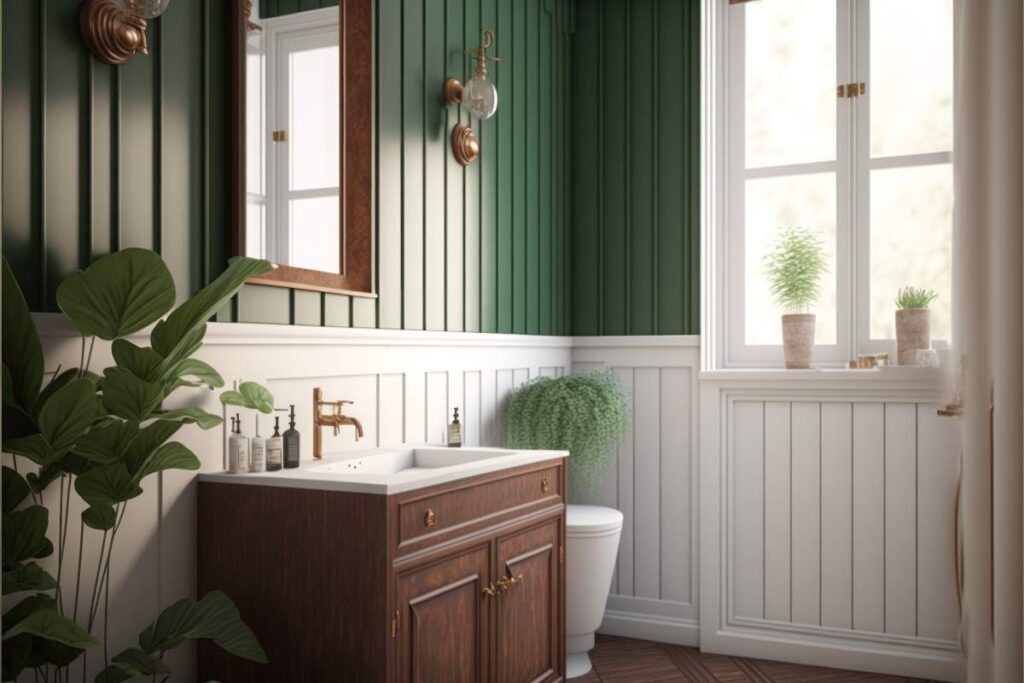 When doing this technique, try to use colors that are within the same palette or complementary.
If you like the idea of gray, Sleigh Bells and Sabre Gray from Benjamin Moore are great complementing shades. If you'd rather use complementary colors, take a look at a color wheel. Colors that are across from each other on the wheel are complimentary.
---
Bold Wall Painting Ideas
4. Patterns
Patterns are another aesthetic bathroom paint idea to liven up your walls. Use tape to create straight lines to make stripes or a checkerboard pattern. Or you could freehand your pattern if you want a rougher look. Use stencils to make geometrical designs, flowers, or any other designs you like.
To make the job a little easier, there are also some beautifully patterned paint rollers out there to utilize. Try out an artsy leaf pattern roller to bring a decorative look to your plain bathroom walls.
5. Landscapes
Instead of using decor, make your walls the decor! If you're artsy or know someone who is, you can paint a piece of artwork on your bathroom walls. Turn your bathroom walls into giant canvases by painting landscapes of mountains, beaches, or any other place that intrigues you.
If you want a serene design for this bathroom paint idea, try using shades of blue for a mountain landscape. Benjamin Moore's Niagara Falls, Lakeside Cabin, and Spellbound are beautiful colors to do this with. If you don't use blue, ensure you stick to the same color family.
It'll feel like you're stepping into another world with landscape wall pieces!
6. Varying Shades of the Same Color
If the use of solid colors is still your favorite bathroom paint idea, try painting each wall a different shade! Look online or in-store at your local hardware store to choose the color palette that you like best. From there, you can choose a different shade to paint on each wall. This technique will create depth.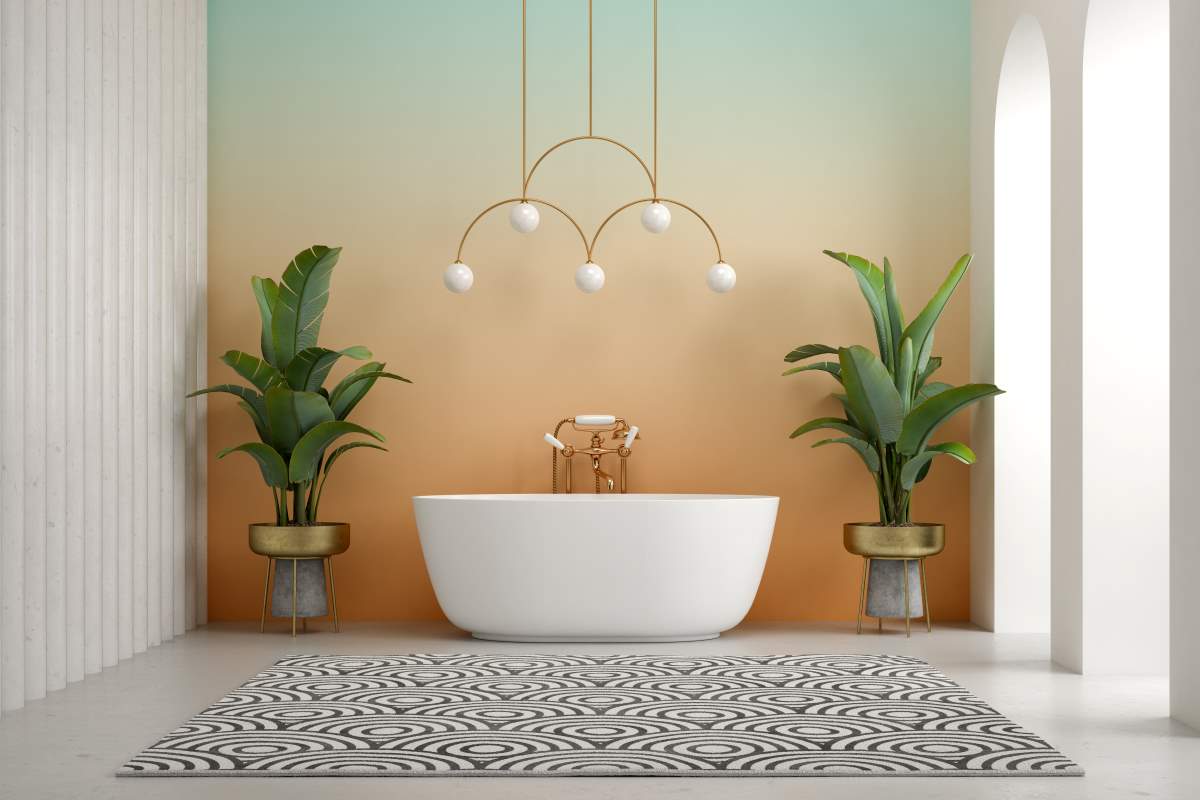 You can use any color palette you want, but neutrals are typically best for a bathroom. A great color palette to get you started is Benjamin Moore's Sepia Tan, Guesthouse, Classic Caramel, and Fort Summer Tan. These varying shades of warm brown will create an inviting atmosphere with an interesting aesthetic look.
7. Color Blocking
Color blocking is exactly what it sounds like. Blocks of color! Utilize this bathroom paint idea by painting your walls a neutral color and painting shapes of bright color. Try painting the walls a shade like White Winged Dove. Then paint geometric shapes with a shade such as Salmon Run.
Try to use the shapes as focal points by placing them behind objects. Paint a perfect circle behind the mirror or maybe an arched rectangle where the toilet is. You can overlap shapes as well with different pops of color. There's also the option of doing small shapes, big shapes, or both.
---
Textured Wall Painting Ideas
8. Use Tape for Thick, Sharp Lines
Design elements like bricks can add a rustic look to your bathroom. However, it's time-consuming to make a brick wall and it can get expensive. So, to make things easier, you can make a brick-looking or another straight-line design with ScotchBlue painter's tape!
This bathroom paint idea requires you to lay out level pieces of tape in a brick pattern. So, make sure you have a level on hand to make sure your bricks aren't lopsided. After all the tape is on the wall, just paint over it with a color of your choosing. Once it dries, you can pull the tape off gently and you'll have a beautiful fake brick wall.
Use How To Tape For Painting – Get a Perfect Tape Line Quickly for help.
9. Color Wash
Color washing is a great bathroom paint idea to give your walls some dimension. You'll need two paint colors for this, as well as some brushes and clear glaze. Get two paint colors in the same palette. One should be darker than the other. You should also opt for small brushes like the Pro Grade two-inch brushes.
To do this technique, you'll first start by painting the walls the lighter color. Then mix some clear glaze with your darker color to dilute the paint. You'll typically want to do 3/4 glaze and 1/4 paint.
Dip your paintbrush into the mixture and create x marks on the walls. Overlap them and completely cover the walls. Then take a dry brush and smooth out the marks.
The result will be a beautiful washed-out look with spots of the light base coat shining through.
10. Sponging
Sponging is another bathroom paint idea that is similar to color washing. You'll need light paint, dark paint, clear glaze, and natural sea sponges. Simply paint your walls the lighter color of paint for your base. Then mix the glaze and your darker paint together. For this technique, mix equal parts.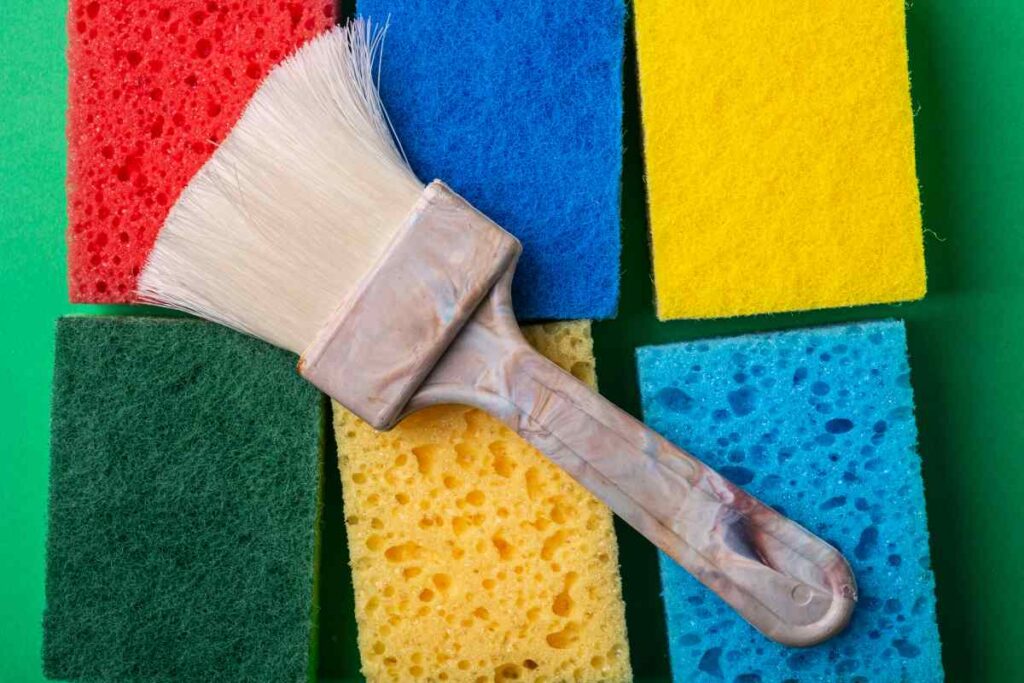 Dip your sponge in the paint mixture and dab the sponge on your walls while letting the base coat shine through. This will give them a smudged look, almost like granite.
11. Marbleizing
Marbleizing is such a fun bathroom paint idea that can make your bathroom look like it has marble for walls. The easiest way to do this is to pick out a light color and a dark color within the same palette. Grab some artist brushes for this project as well.
Paint the walls, or wall, with your lighter color for the base coat. Then grab an artist's brush and start creating vein-like lines with the darker color. Spray a little water or glaze on the lines. Buff them out with a dry paintbrush to make them softer. Continue to do this with the entire wall or walls.
You can do this the opposite way as well, with the base being dark and the lines being light. Use whatever combination goes best with your bathroom.
12. Graining
If you want a rustic look, you can try the bathroom paint idea of graining. This will make your walls look like beautiful slabs of wood. You can hand paint the grains with artist brushes or use a graining tool to create this look. The graining tool method is much easier and less time-consuming.
To do this technique with a graining tool, you'll start by painting the wall a light-colored base coat. After it dries, you'll paint over it with a darker color and immediately drag the tool over it. Painting in sections might be best to prevent drying.
13. Rag Rolling
Rag rolling is a bathroom paint idea that's slightly similar to sponging. You'll start by painting your walls with a base coat. Then you'll pour either a darker or lighter-colored paint into a tray.
Remember to use colors in the same palette.
Dampen a 100% cotton rag, wring it out, scrunch it up, and dip it in the tray of paint. Then dab and roll the wall with the rag until you cover the entire wall. That's it!
14. Crackling
Crackling is a fun bathroom paint idea that helps create a vintage look to your walls. To do this, you'll need two different colored paints and a crackling medium. Start by painting your base coat color on your walls and letting it dry. Then paint your second color, followed by the crackling medium.
As the paint and crackling medium dry, you'll see cracks forming. These cracks reveal little peeks at your base coat.
---
Ceiling Painting Ideas
15. Bright and Bold
Painting your bathroom ceiling is another bathroom paint idea to liven up your space. Stick to neutrals on the walls and pick a bright, eye-catching color for the ceiling. Some great options include a beautiful yellow like Sunny Days or a deep red like Heritage Red. A pretty blue like Nova Scotia Blue is also a nice option that pairs well with neutrals.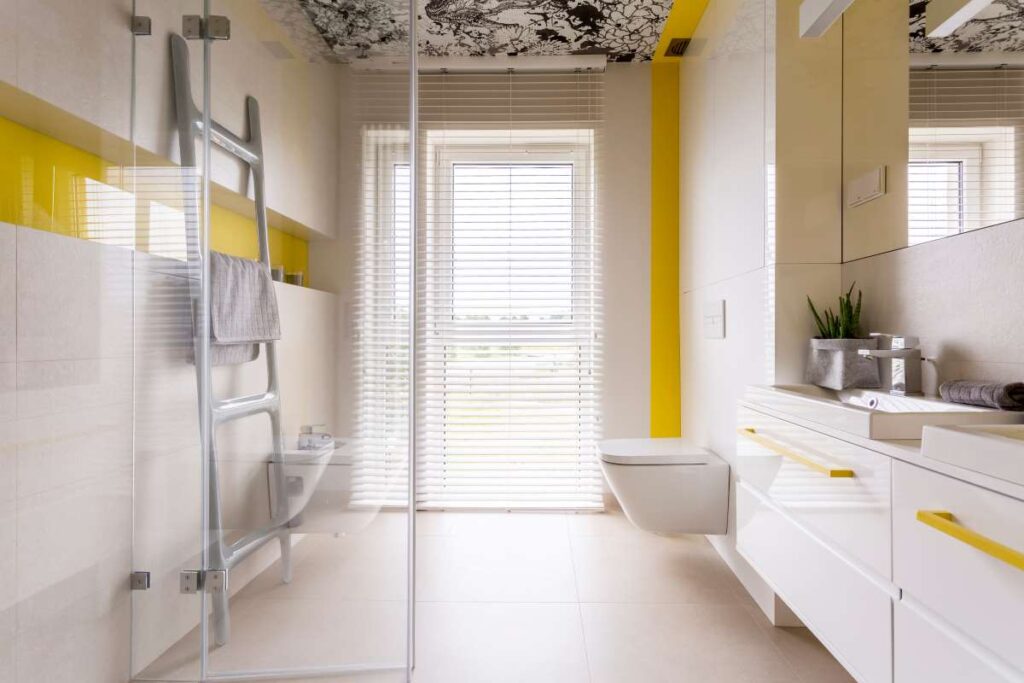 16. Accented
If you don't like the idea of an accent wall, what about an accent ceiling? Make a pattern, use stencils, or use a texture technique to really make your bathroom ceiling pop. Use any of the above methods to create an eye-catching ceiling. This is a great bathroom paint idea if you feel attached to your current wall color.
Even something as simple as a beautiful mandala stencil around your lighting fixture can make the perfect accent.
---
Wrapping up Bathroom Paint Ideas
Bathrooms can be a little boring. But with a simple revamp of your walls, ceiling, or both, it can come to life! Think about the vibe you want your bathroom to have and pick out your colors based on that. Then choose the bathroom paint ideas you want to utilize to create the bathroom you've always wanted!
Use 22 Inspiring Bathroom Paint Colors to get inspiration for your bathroom makeover!