Your kitchen is the heartbeat of your home, and you want countertops that help bring out that welcoming, warm, and industrious feeling!
Sadly, not all countertops deliver on that inviting sensation. If you're looking to give your kitchen a lift and a fresh lease on life with a countertop color that really suits your home's aesthetic, we're here to help! There are plenty of options out there on the market when it comes to countertop paint kits, so we're breaking down what makes a good one, what kind of paint to use, and some of the best options available.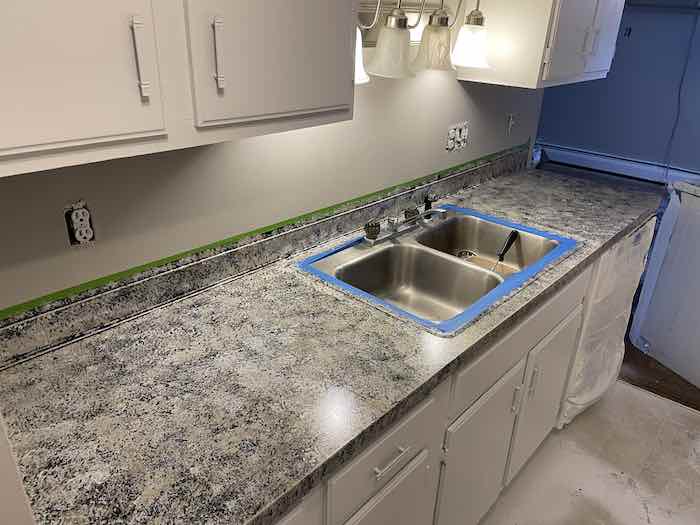 Let's take a look at some of the best countertop paint kits!
What Makes the Best Countertop Paint Kit?
There are so many options to choose from-how do you know which kit is best for you? The key is to find one that fits your skill comfort level as well as providing that sleek shine for your specific type of countertop.
Ideally, a good countertop paint kit will provide most, if not all, of the tools you need; you will likely want one that has some instructions, or guidance on where to find instructions, such as on the brand's website. You also want to choose one that's a good fit based on the square footage of your countertop space-a small kit (or several) for a larger-than-average kitchen may not be the best option in the long run!
With all that taken into consideration, let's dive in to help find the best countertop paint kit for YOU!
What Kind of Paint Should I Use on Countertops?
Due to its frequent contact with food and the need for long-lasting durability with frequent use, countertop paint stands apart from the crowd-you don't want to use everyday interior paint on your eating surfaces!
Luckily, countertop paint kits take a lot of question and concern out of this process. The paint in these kits tends to be water-based and low-odor, making them safe for food-trafficked surfaces once dried; in addition, countertop kit paints apply easily to a number of countertop surfaces including Formica, laminate, Corian, ceramic tile, butcher block, cultured marble, and traditional granite, making it simple to find one that suits your countertop make.
You will want to be aware of what kind of surface you're working with when choosing your kit and, if you have any concerns about how your countertop will take to your paint-of-choice, consult with a professional wherever you plan to purchase your countertop paint kit. If purchasing a kit online, such as from Amazon, you can check out customer reviews or search internet FAQs to confirm the paint's compatibility with your countertop surface.
Factors to Consider when Choosing Your Countertop Paint Kit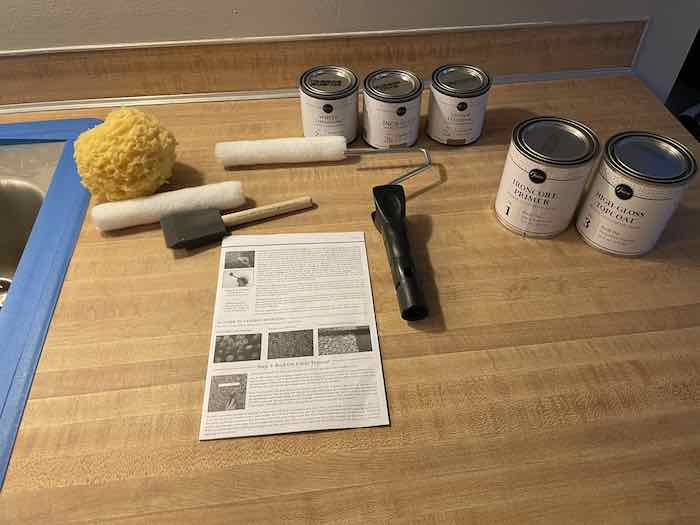 Before picking up your countertop paint kit, there are a few mitigating factors to take into consideration. Keeping these aspects in mind while you're shopping around will help ensure you find the countertop paint kit that fits best into your specific life-and-home style!
Heat Resistance
Because the vast majority of countertop paint is applied in the kitchen, you'll want to ensure you choose one that can endure the heat of your skillets, muffin pans, and other elements coming fresh out of the oven, off the stove, etc. (Bear in mind that before countertop paint has fully cured, it will not have optimal heat resistance. Please read instructions in your kit carefully to ensure you allow the maximum curing time before exposing the paint to high heat.)
Security
Unfortunately, not all paint is created equal; in choosing your countertop paint kit, you want to ensure the paint it contains will not raise any toxicity concerns with food that comes into contact with it. This may require a quick Google search to verify the contents of any particular paint nrand, but a large number of countertop paint kits deal in water-based, low-odor acrylic that shouldn't cause any issues once the paint has fully cured.
Durability
When it comes to countertop paint, you need something that will last as well as look beautiful! While some paint kits may lean more heavily on prettiness over practically, you want to choose a countertop paint kit that's going to last you a long time. Make sure you select one that's durable as well as eye-grabbing!
Color
Who doesn't want countertops that match well to their kitchen theme? As you're picking out your countertop paint kit, you'll want to take into consideration how your color of choice will look with your cabinets, appliances, backsplash, etc. If you're looking to renovate and recolor both countertops and cabinets, you may consider a kit option that can paint both!
Our Recommended Countertop Paint Kits
There are countless countertop paint kits out there-choosing one can be overwhelming! We're here to help narrow down the search with five of the BEST countertop paint kits on the market today. Read on to see which one might fit your DIY project the best!
Giani Countertop Paint Kit
This easy-to-use, made-in-the-USA countertop paint kit comes in four different colors-Chocolate Brown, Sicilian Sand, Bombay Black, and Slate-and includes everything you'll need to make your countertop paint job simple and straightforward! Giani Countertop Paint Kits include primer, paint, rollers and brushes, a practice board to test out your countertop-painting skills before you start to work, and instructions to ensure you can tackle this three-stage process with confidence and ease.
Every Giani kit is designed for up to 35 square feet of countertop coverage, and the process should take an average of four hours to complete from start to finish. Please allow an additional sixteen hours of drying time and a two-week curing period before the paint is fully hardened and ready to withstand everyday use.
Giani Countertop Paint is a great, affordable option known for its long-lasting durability and perfect adherence to all standard countertop makes, including Formica, marble, granite, butcher's block, and laminate. The Giani Countertop Paint Kit is sure to make a great addition to your kitchen renovation process!
Majic Paints Diamond Hard Acrylic Enamel High Paint
This Ohio-based company is well-known for their vast array of color schemes and helpful color charts to assist you in choosing the perfect shade for your countertop painting project. Majic Paints Diamond Hard Acrylic Enamel High Paint offers a fantastic low-odor, non-flammable, water-based paint option that dries with a smooth, glossy finish; it's easy to apply and has a diamond-hard finish that fits perfectly into the rigors of kitchen countertop use.
Due to its durable finish, Majic Paints can also withstand the abuse of woodworking, metalworking, etc., making it a great option for painting countertops in shops and other locations around the house! However, it must be noted that this durability requires a longer curing process of up to several weeks for full curation. Bear this in mind before tackling projects on any surface you've painted with the Majic Paints Diamond Hard Acrylic Enamel High Paint!
RustOleum Countertop Transformer Charcoal
The RustOleum Transformations Kit boasts a unique trait of being a great multipurpose kit-you can use this one in both your kitchen and bathroom! If you're planning more than one countertop renovation, you may want to pick up the large kit (covering up to 50 square feet); or if you just need to paint a single room's worth of countertops, the smaller kit (covering up to 30 square feet) can meet all your needs!
You'll also find a fantastic selection of colors available, including Desert Sand, Onyx, and Charcoal. Whatever your color preference, you'll end up with a paint job that's sturdy and long-lasting, with a uniquely natural look, when you use a RustOleum Transformations Kit!
Nuvo Driftwood Cabinet Paint
Some kitchens have more counterspace than others! If you're looking to tackle a painting project in a kitchen with larger-than-average counterspace-or if you need to paint both your countertops and cabinets-Nuvo Driftwood Cabinet Paint has you covered! A single bottle of this low-odor, water-based acrylic paint-and-primer-in-one can cover roughly 100 square feet of counterspace
This paint is also fast-curing, allowing you to return to normal kitchen use within about eight hours of application. It applies well over laminate, wood, and metal with a single coat, and is well-reviewed for its gorgeous satin finish and versatility. Nuvo Driftwood Cabinet Paint provides a great paint kit option whether you're doing just countertops, or countertops and cabinets both!
Daich Quart Spreadstone Mineral Select Countertop Refinishing Kit
A well-regarded leader in home renovation and interior design, Daich's countertop kit is a fantastic choice for your countertop-painting needs! This stone-finish kit offers a bevy of natural accents and colors that harken to genuine rock tones and hues, and it's simple to apply in three roller-based applications. You will need a sander and clear finish to complete this project, but these steps are easy to follow with Daich's comprehensive kit!
If you're looking for a more natural finish to your countertops, the Daich Quart Spreadstone Mineral Select Countertop Refinishing Kit may be the perfect fit for you! You can kick off the countertop-painting process with this kit knowing you're using some of the best in the business!
Wrapping Up The Best Countertop Paint Kids
Feeling creative and inspired to go pick out the best countertop paint kit for your DIY project? Let us know which one you're leaning toward in the comments below! Best of luck to you!