---
Metal Door Paint Buyer's Guide
The good news is that most paints will do very well on metal when using the correct application process. And most high-quality varieties will yield great results, including oil-based paints (solvent-based) and water-based acrylic paints (latex). The best paint for exterior metal doors is one that's fade and rust-resistant and specifically formulated for doors in outdoor environments.
Many pros will often claim that oil-based paints are the best paint for exterior metal doors or any metal surfaces, as they have a reputation for being more durable. However, these kinds of paints are also more toxic than water-based, require a longer time to dry, and are harder to clean up after.
It's really a matter of preference and your skill level as a DIY painter, but here's a quick breakdown of the benefits and drawbacks of both paint types when it comes to which one is the best paint for exterior metal doors.
Water-Based (Latex or Acrylic) Paints
Pros
Easier to work with
Dries faster
Not as toxic
Easier to clean up
Fade-resistant
Only flammable in a wet state, but not dry.
Cons
Not completely rust-resistant
Not as durable over time
Oil-Based Paints
Pros
Very rust-resistant
Incredibly durable
Cons
Quicker to fade
Drying time is longer
More toxic
Flammable when wet or dry.
Ease of Use
Water-based paints are easier to use and clean up after, while oil-based paints usually need to be thinned to the correct consistency and require special chemicals to clean your tools with once you're finished.
It's also important to note that due to technological advancements, many of the paint characteristics and a few drawbacks for paints might only continue to be an issue when talking about lower-quality paints, but not the best paint for exterior metal doors.
For example, the newest high-quality latex paints often come with flash rust inhibitors. In contrast, the highest quality oil-based paints offer UV resistance, and some are even available in aerosol cans that monumentally cuts down on drying times.
Tips for Picking the Best Paint for Exterior Metal Doors
Use Only Door Paint
You don't want to use standard exterior or interior paint. Again, it would be best if you had an optimized formula for fading and resisting rust. The Rust-Oleum brand has some very good options and many other popular paint brands.
Pick High-Quality
Keep in mind that this is your home's front door we're talking about. Everyone who arrives or drives past your home will see it. This is why it's good to splurge a little on the best paint for exterior metal doors since it plays such a big role in your home's overall curb appeal. Thankfully, a door is a relatively small surface area, and a few coats should get the job done, so it's unlikely you'll ever need more than a single quart.
Keep Climate in Mind
If your front door is in conditions that contribute more wear and tear due to your local climate, then you'll need a paint formulated to match those conditions. For example, if you're door is being cooked daily by intense eastern sunshine, or you live in an area with high humidity, those should be factors to consider when choosing the best paint for your metal door.
Remember the Finish
Your finish is just as important as the type of paint you apply. A semi-gloss or satin finish is a great choice for a steel front door since, along with providing a nice sheen, these paints will not display a lot of scratches or nicks as easily as paints with an eggshell or flat finish. The best paint for exterior metal doors is usually available in a variety of finishes for you to choose from.
Recommended Supplies for Using the Best Paint for Exterior Metal Doors
Finding the best paint for a metal door is only one part of the process. There are also other things you'll need, such as:
Common Questions About the Best Paint for Exterior Metal Doors
Here are a few answers to common questions folks have about choosing the best paint for exterior metal doors.
Can you use interior paint?
Yes, technically, you could. Interior paint will adhere, but it's not going to provide you with the same long-term benefits exterior door paint has to offer. But, the best paint for exterior metal doors is formulated for your specific job — this way, you don't have to worry about repainting for a while.
Can you paint a metal door without removing it from its hinges?
If you would rather not remove your door, that's fine. You just have to be a bit more careful, especially with regard to ventilation. Be sure to use your painter's tape to section off all hardware and open your windows to allow for more ventilation. Having a box fan or two handy will also help the air circulate out of your home. Also, be sure to keep pets and children away from your work area while painting and while you're letting each coat dry.
How long do you need to wait between paint coats?
If you apply another coat of paint too early before the last one dries properly, you'll likely end up with streaks or an uneven texture. Read the primer and paint can instructions carefully to know exactly how long you need to allow each coat to dry. It also helps to have lots of free-flowing air circulation, which will help the primer and the best paint for exterior metal doors dry faster and more efficiently.
Is priming exterior metal doors really necessary?
Adding primer does add some extra time to any paint project, however, in most cases, you will need to prime your exterior metal door before painting.
However, there are exceptions. If you have a new exterior metal door, it's likely to come pre-primed, allowing you to skip straight to the painting stage.
You can also use DTM (direct-to-metal) paint that will adhere to the metal without the need for primer.
Are some colors more durable than others?
It may sound hard to believe, but your exterior metal door's color may fade more quickly if you use certain colors such as darker shades like red. We recommend using lighter colors as they are more sun-resistant and typically last longer.
For this purpose, 100 percent pure acrylic paints resist direct sunlight very well and outlast nearly all traditional all-based paints.
Safety Concerns When Removing Paint
If you're removing older paint by scraping, sanding, or any other method, you could be releasing dangerous led dust into the air. This dust is toxic and exposure can result in serious illness that can cause brain damage.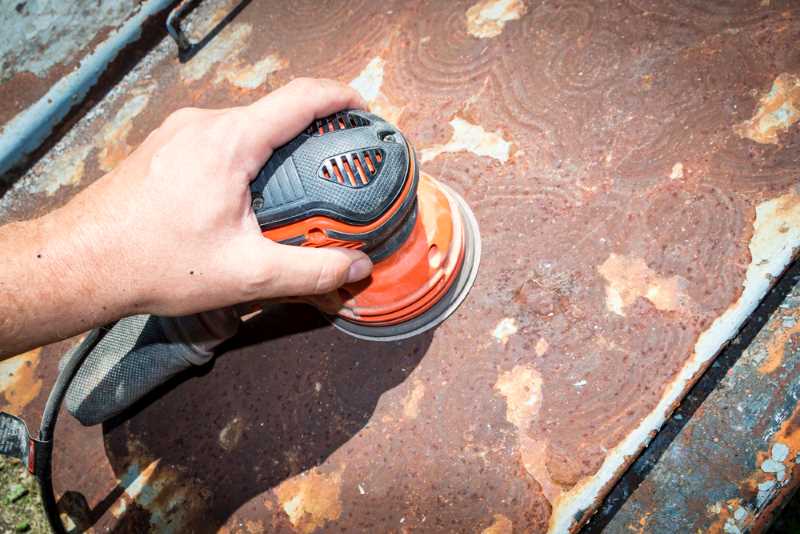 You should also avoid exposing children, pets, and pregnant women to paint dusk.
When removing paint, put on a NIOSH-approved respirator and goggles. And during clean up USA a wet mop and HEPA-rated Vacuum.
Wrapping Up the Best Paint for Exterior Metal Doors
Choosing the best paint for exterior metal doors comes down to whether you want to use water or oil-based paint. If you have a bit of experience using oil-based paints and you're not worried about extra drying time, they can offer better durability and rust protection.
Meanwhile, water-based paints are easy to clean up, fade-resistant, and dry quickly. Whichever type you choose, make sure it's formulated specifically for exterior metal doors. If your metal door is on a house and you're planning to give the whole exterior a new look, check out The Best Benjamin Moore Exterior Paints on the market this year.
Check out our Exterior Painting page for even more information on exterior painting, paints, and products.