Too often, there's a perception that DIY home improvement projects must produce major changes. But sometimes, going small is worth it, and doesn't have to take much time. Many DIY bathroom ideas are perfect examples of this approach.

Read on to see 15 DIY bathroom ideas that can be completed in a weekend. After reading, get going on your own project!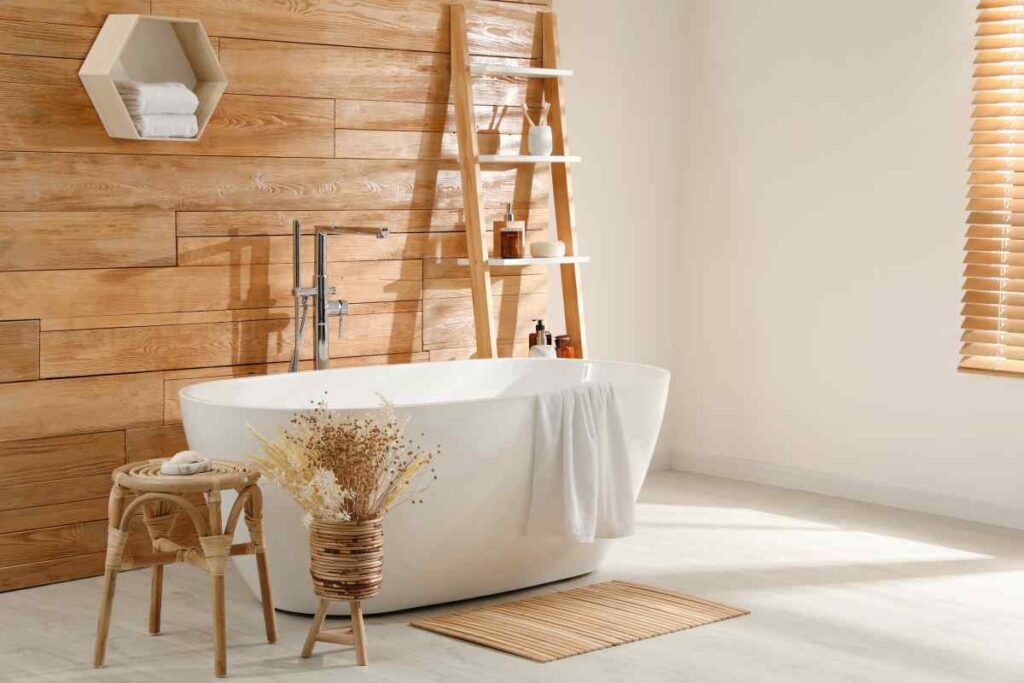 ---
1. Use an Old Ladder to Replace a Towel Hanger
If you have an old wooden ladder, or can find one somewhere, you're ready to replace your towel hanger.
Saw your ladder down to 5 or 6 feet, leaving a half-dozen rungs. Lean it against your bathroom wall to figure out the angle you'll need to cut the two ladder rails to keep it in place.
Once you've made the cuts, you can leave the ladder as it is, or paint it to match your bathroom decor.
Finally, place the ladder against the wall and secure it with tile screws or drywall screws. Hang towels and washcloths within easy reach, and use hooks on low rungs for buckets to hold toiletries.
---
2. Transform Wooden Toys into Toothbrush Holders
Bathrooms offer a number of really easy DIY opportunities. Take, for instance, the lowly toothbrush holder. Instead of just picking up some plastic holders at the dollar store, why not transform some everyday items?
If you have old wooden toys stored away, or if you run across some at an antique shop, pick them up. Making a toothbrush holder is a simple matter of drilling some holes into the top of a toy. If you like, you can paint the transformed toy to match your bathroom.
---
3. Dress up a Plain White Bathroom With Vinyl Wall Decals
Sure, a white-tiled bathroom can be elegant, but also boring. No worries, though, because there's a quick way to add some style or even whimsy.
Vinyl decals can add fun, formality, or even potty humor to your bathroom — if that's your style.
Alternatively, you can install full-size peel-and-stick vinyl wall murals over existing bathroom drywall for a complete makeover.
---
4. Many Houseplants Can Thrive in Your Bathroom
Don't forget the bathroom when you're thinking about where you'd like to have some houseplants. From having a plant in a decorative pot on your vanity, to installing a plant stand, live greenery adds a truly decorative touch.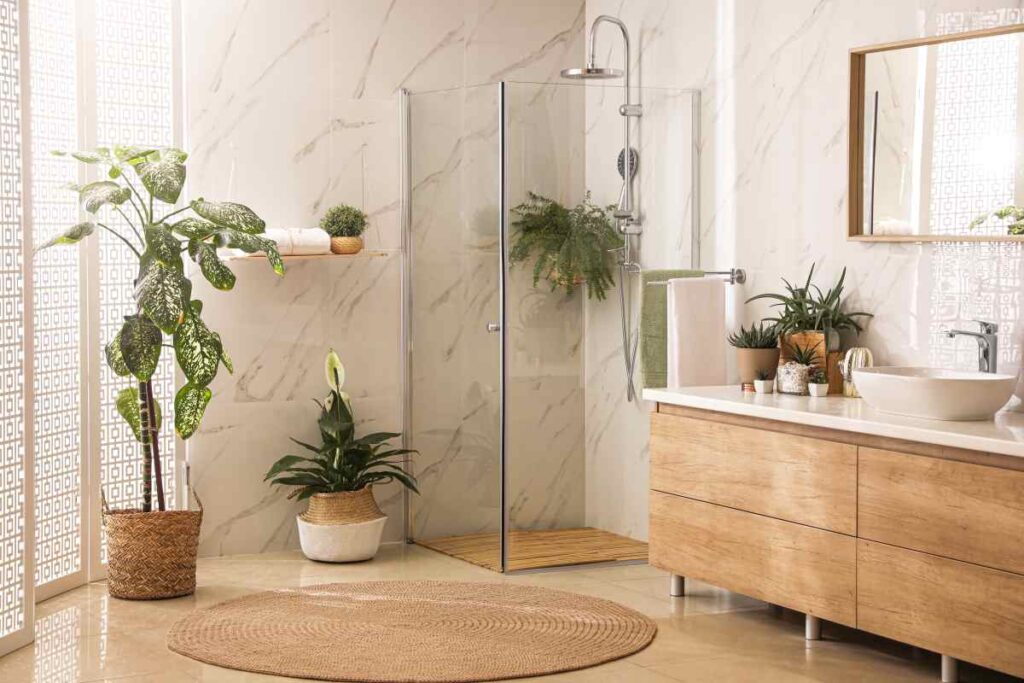 You'll need to take some care in choosing plants for the bathroom. Bathrooms are routinely low-light, high-humidity environments where not all houseplants will thrive. If you want houseplants in the bathroom, choices like philodendron, peace lily, and snake plant are good options.
---
5. Install a Tile Backsplash Above Your Sink or Vanity
If you're tired of the drywall in your bathroom, you need not change the whole space. As a weekend project, consider installing a tile backsplash above the sink or vanity.
To get started, measure the space you want to cover, and set out your chosen tile somewhere nearby to be sure it will fit. Next, mix and apply tile adhesive to the wall. Begin installing your tile from the bottom corner, about ⅛-inch from the top of your sink or vanity.
Leave space between the tiles for the grout you'll install after your tiles are set. After you've applied the grout, apply caulk between the first row of tile and the sink or vanity to seal it against moisture.
---
6. Frame or Reframe the Bathroom Mirror
If you have a frameless bathroom mirror, or if the frame is dated, you've got a perfect project among DIY bathroom ideas. First, choose your framing material, such as wood planks or molding. Then, cut four pieces, each 2 inches longer than the side of the mirror where it will be installed.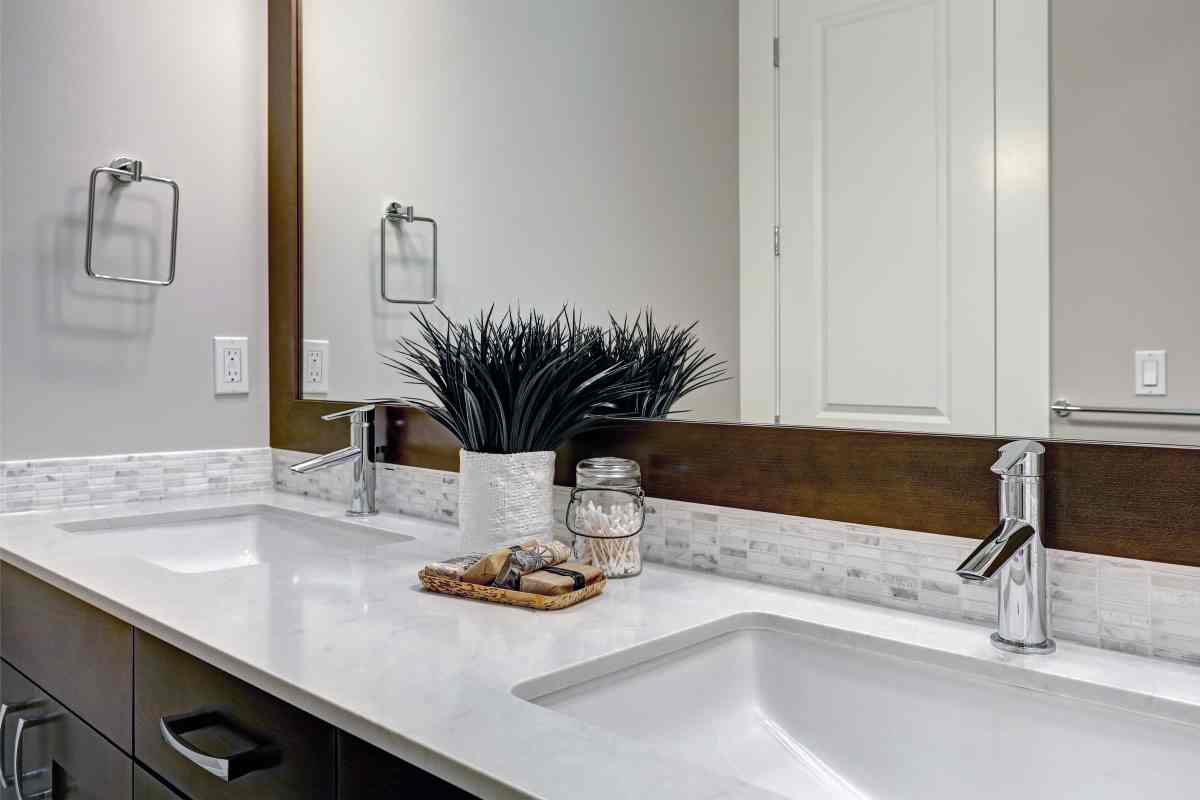 Cut each end of the four pieces at a 45-degree angle, and then apply two beads of construction adhesive around the edges of the mirror. If you're reframing a framed mirror, you'll need to remove the old framing before applying the adhesive.
Press the pieces of wood or molding into the adhesive. If your new frame is above the wall surface, apply caulking around the edges to make it even around the mirror. If there are gaps between the frame joints, install some wood putty.
Finally, paint the frame, or decide to leave it natural.
---
7. New Shelving for a Quick Bathroom Transformation
There's always a need for more bathroom storage space. So what could be better among DIY bathroom ideas than installing some new shelving? From freestanding units to wall-mounted shelves, the possibilities are endless.
One word of advice when installing wall-mounted shelving: Be sure that, whenever possible, you're screwing the shelf supports into wall studs. Doing so will ensure the shelves will support the weight of stored items.
---
8. Paint the Bathroom Vanity
By definition, DIY bathroom ideas for weekend projects need to be simple and relatively quick. And what could be quicker than painting your bathroom vanity?
Don't be afraid to make a wild departure from traditional colors. A stark contrast between the vanity and the rest of the bathroom can make an interesting design statement. Use paint with a satin, semi-gloss, or gloss sheen for best results.
Painting your bathroom vanity is as simple as removing drawers and hardware, then using painter's tape and drop cloths to shield areas you don't want to be painted. Apply a coat of primer to the drawers and vanity before painting.
---
9. Install Beadboard or Wainscoting
Another one of the great DIY bathroom ideas is to install beadboard and/or wainscoting.
If you're installing beadboard, you'll want to remove and reinstall or replace the existing baseboard in the bathroom. Standard height for a beadboard installation should be between 38 and 54 inches from the floor, and/or at least above the sink or vanity.
Wainscoting should be installed at ⅓ the full height of the bathroom wall.
---
10. Replace Bathroom Hardware
Want easy and quick DIY bathroom ideas? Nothing could be easier or quicker than changing out the hardware in your bathroom. From the drawer pulls and cabinet knobs on your vanity, to the knobs on your medicine cabinet, changing hardware gives a truly new look.
When changing your bathroom hardware, take examples of your old hardware to your local home improvement store with you. That way, you'll be sure to pick new hardware that will fit the holes left by removing your old hardware.
And while it's a little more work, it's fairly easy to change the bathroom faucets and showerhead as part of a few quick DIY bathroom ideas.
---
11. Install Vinyl Flooring
If you're considering updating your bathroom flooring, vinyl offers a number of options as DIY bathroom ideas. There's plank-style vinyl flooring, vinyl tile flooring, and sheet vinyl flooring.
Regardless of the type of flooring you choose, installation can be labor-intensive. You'll need to remove the vanity and toilet, and then remove the old flooring down to the subfloor.
From there, follow the manufacturer's directions for your tile choice.
---
12. Update Lighting Fixtures
Updating the lighting fixtures in your bathroom is as simple as going to your local home design store to see what's new.
Keep in mind that, depending on the configuration of the new fixtures, you may have to repair drywall, or do some painting, after removing the old fixtures.
Also, if you're not sure of your DIY electrical skills, you may want to call an electrician. If that's your choice, it shouldn't take the electrician more than a couple of hours to install the new fixtures.
---
13. Boost the Bathtub or Shower with a Surround
Installing a tub or shower surround is workable, and ambitious among DIY bathroom ideas. Briefly, a surround comprises panels that replace the tiles in your shower and /or above your tub.
To install a surround, you'll need to remove the existing tile and make any needed repairs to the wall underneath. You'll also need to remove any fixtures that will be in the way of the new surround. Cut holes in the surround panels to accommodate reinstallation of the fixtures.
---
14. Spray Paint Bathroom Fixtures
There's nothing much a can of spray paint can't improve, including DIY bathroom ideas like updating bathroom fixtures. It's important, though, when spray-painting bathroom fixtures to choose a primer and spray paint suitable for the material of the fixture you're repainting.
Once you've found primer and paint, remove and clean your fixtures. Next, use 120-grit sandpaper to roughen up the surface so primer and paint will adhere. After your fixtures are primed and painted, allow them to dry for at least a few days before reinstalling them.
---
15. Add Shower Storage
Consider adding storage shelves to your shower as a final suggestion for quick and easy DIY bathroom ideas. Particularly if you have a large family, there is bound to be an abundance of shampoos, body lotion and other essentials scattered around the shower.
Shelving options can range from corner-style units held in place by construction adhesive to a shower caddy organizer with a tension rod to hold it in place.
---
Wrapping up 15 DIY Bathroom Ideas You Can Do this Weekend
As you've seen, not every DIY bathroom project needs to be a major deal. But even projects of a day or less can make a big difference. So, use this post as inspiration to pursue some quick and easy DIY bathroom ideas.
If you need more help with DIY bathroom ideas, check out other posts at DIY Painting Tips. You can learn about the best paint for bathroom cabinets and ceilings and about the best colors for those paint choices.