Embarking on a DIY bathroom remodel can be both an exciting and rewarding experience for homeowners. With careful planning and execution, a remodeled bathroom can serve as a personal sanctuary at the end of a tiring day or a functional space that meets the needs of a growing family.
Keep reading for a comprehensive guide to successfully transforming your bathroom from start to finish, including strategies for budgeting, choosing materials, and managing the remodeling process.
---
Planning Your Bathroom Remodel
A well-planned DIY bathroom remodel can save you time and money, and create a functional and stylish space you'll be proud of. Before you begin remodeling your bathroom, follow these steps to establish a design plan, realistic timeline, and budget for your project.
Inspiration
First, gather inspiration for your bathroom design. You can browse websites like Pinterest or check out home improvement magazines to find ideas that appeal to you.
Be sure to consider the current layout of your bathroom, how it will function, and the overall design aesthetic you want to achieve.
Keep in mind the color scheme, materials, and fixture style that will be appropriate for your home and personal preferences.
Create a checklist of must-have items for your bathroom remodel to ensure nothing is overlooked. This should include tasks like plumbing changes, electrical updates, or any structural modifications. It is essential to prioritize your wants and needs while staying within your budget and timeline.
Budget
Speaking of budget, determine how much you're willing to spend on your DIY bathroom remodel.
First, you should determine the scope of your project. This involves deciding on the elements you want to revamp, such as replacing the bathtub, upgrading the vanity, or simply refinishing the existing fixtures.
Divide your project into smaller tasks and estimate the cost of each task, including the materials, tools, and any professional services you might require.
Be sure to consider items like materials, tools, and professional services. Don't forget to set aside approximately 10-20% of your total budget to cover unexpected expenses.
Once your budget is established, prioritize the tasks according to your preferences, keeping feasibility and cost-effectiveness in mind. Track your expenses throughout the project to ensure you are staying on track with your budget.
Timeline
Set a reasonable timeline for completing your bathroom remodel. Consider the complexity of the project, availability of materials, and your own skill level in determining the appropriate timeframe for completion.
This will help you factor in any necessary vacations or time off from work, as well as manage your expectations and schedule accordingly.
Lastly, think about your own DIY skills and the amount of time you have to commit to the project. Know your limitations, and don't hesitate to consult a professional if you're unsure about a specific task or if complications arise during the remodeling process.
---
Choosing Your Design Style
When embarking on a DIY bathroom remodel, the first step is to decide on your design style. This is essential as it sets the stage for choosing the color scheme, fixtures, and overall ambiance of your new bathroom.
Colors
Deciding on a color scheme is the next step in the process. Selecting colors for your bathroom can be an exciting yet challenging task, as there are countless options available. Consider how the colors will work with your chosen design style and aim for a harmonious balance.
Keep in mind that lighter colors can create a more spacious feel, while darker shades can add warmth and a sense of intimacy.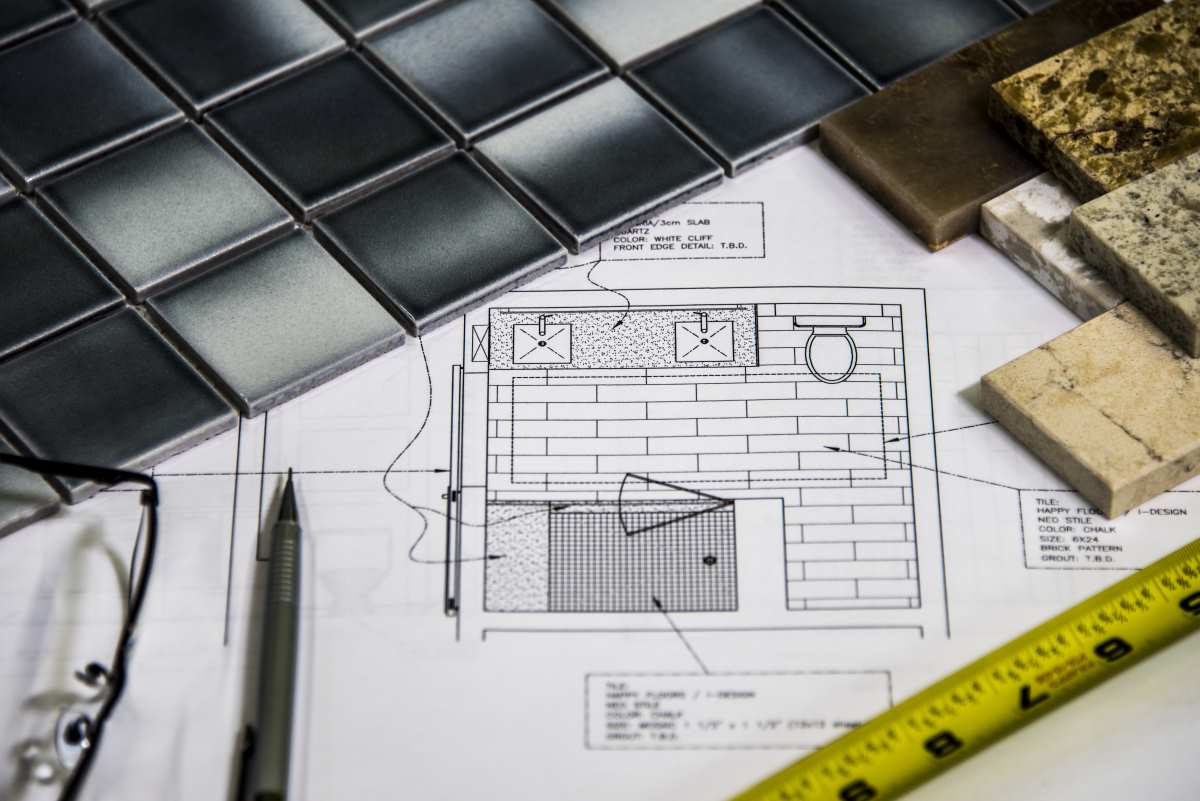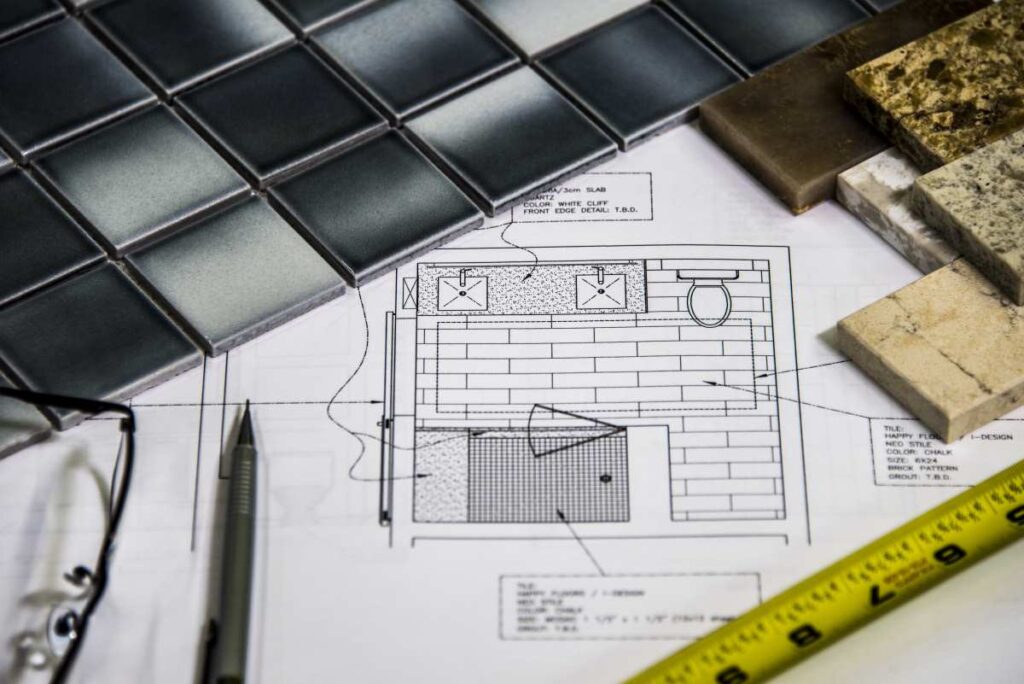 Upgrades
Once your design style and color scheme are established, start researching various elements that complement your vision, such as a new sink, double vanity, or freestanding tub. These functional and aesthetic upgrades can transform your bathroom into a luxurious retreat.
Remember, it's essential to choose elements that align with your design style, color scheme, and personal preferences. It's also crucial to invest in high-quality, durable materials that will withstand daily use and maintain their beauty for years to come.
---
Tools
Before beginning your DIY bathroom remodel, make sure you have all the necessary tools on hand.
Essential tools include a safety mask and goggles, gloves, a caulking gun, silicone sealant, a hammer, tape measure, a spackle knife, spackle, and a stud finder.
Don't forget to gather specialty tools, such as a tile cutter or wet saw, tile spacers, grout trowel, and drill with appropriate bits for anchor and knob installation. A vapor barrier may also be necessary when installing showers or bathtubs, protecting against excess moisture in the walls.
---
Demolishing the Current Bathroom
Now that you have your design, know your budget, and have gathered all your tools and supplies, it's finally demo day!!
Safety First
Safety should be a top priority when undertaking bathroom demolition. Equip yourself with safety goggles, gloves, and a dust mask to protect yourself from debris and potential hazards. Visit a local home improvement store to purchase any necessary safety gear and tools for the task.
Begin the demolition process by disconnecting the power and water supply to the bathroom. This is crucial for avoiding electrical shocks or water damage during the project.
Removing Fixtures
After disconnecting utilities, remove any wall-mounted fixtures such as mirrors, cabinets, and towel racks. Store them safely if you plan to reuse them in the renovated bathroom.
Next, focus on removing the toilet, sink, and bathtub or shower.
To remove the toilet, first drain its tank and disconnect the water supply line. Then, unscrew the nuts at the base and lift the toilet out of the room.
For the sink, turn off the water valves, disconnect the supply lines, and remove the sink from the vanity.
Lastly, to remove a bathtub or shower, disconnect the plumbing and drainage and carefully pry the unit away from the wall.
After the large fixtures are out, proceed with removing floor and wall tiles. To start, use a hammer and chisel to pry up the tiles, starting from a corner or an exposed edge. Be cautious not to damage the underlayment and subflooring.
Now that you have a blank canvas to work with, it's time to build your dream bathroom.
---
Floors and Walls
When it comes to remodeling a bathroom, the floors, walls, and surfaces play a crucial role in the overall appearance and functionality of the space. Careful consideration of materials and designs can contribute to a beautiful and practical bathroom.
Floors
Flooring should be both durable and resistant to water, as wet floors are a common issue in bathrooms.
Tile flooring made from ceramic or porcelain is an excellent choice due to its water resistance and ease of maintenance.
Natural stone, such as marble, granite, or slate, is another option for a high-quality and stylish look. However, natural stone might require regular sealing to maintain its water resistance.
Laminate can also be used as an alternative to tile flooring, as it closely resembles wood or stone while offering increased resistance to moisture.
For added safety, opt for nonslip floor tiles with a textured surface, reducing the likelihood of accidents due to slippery floors.
Walls
When selecting materials for bathroom walls, keep in mind the importance of moisture resistance, easy cleaning, and aesthetics.
Wallpaper can add charm to a bathroom and is suitable for spaces with minimal water exposure. Still, it may not be the best choice for high-moisture areas such as shower enclosures.
Beadboard is another attractive option, adding a touch of elegance and texture to the walls. It is often installed on the lower half of the wall and paired with paint or tiles on the upper half for a balanced look.
Tiles are a popular choice for wall surfaces, especially in shower and bath areas, as they are resistant to moisture and can withstand high levels of humidity.
Drywall, on the other hand, is suitable for non-wet areas and offers a smooth surface to be painted or covered with wallpaper.
---
Fixtures
Upgrading and replacing old faucets, shower systems, tubs, sinks, toilets, and vanities can significantly improve the functionality and aesthetics of your bathroom. Be sure to consider the finish and design of your fixtures to ensure they match the overall theme of your bathroom.
Faucets
When it comes to faucets, it's important to select ones that complement the style of your sink, tub, and shower.
Shower
The shower system is another vital component of your bathroom remodel. You can choose from a variety of options, such as wall-mounted or handheld showerheads, rain showerheads, or even combination units that include a tub spout.
Bathtub
The tub is another significant fixture in your bathroom redesign. Consider whether you want a freestanding tub or an alcove design, which fits against the wall. Additionally, look for tubs with upgraded features such as whirlpool jets, air baths, or built-in heaters for added luxury.
Toilet
You'll also want to consider replacing or upgrading your toilet during your remodel. Modern toilets come in a variety of styles and designs, such as one-piece or two-piece units, as well as wall-mounted or floor-mounted options. Some toilets even have special features like a bidet, heated seat, or water-saving settings.
Vanity
A vanity upgrade can greatly improve the look and functionality of your bathroom. Choose a vanity with sufficient storage and counter space to accommodate your needs. Consider the materials, finishes, and styles that best suit your bathroom design, as well. Additionally, selecting a new mirror that matches your vanity and overall aesthetic can add a cohesive look to your remodel.
Accessories
Lastly, don't forget about the importance of well-chosen accessories like towel bars, grab bars, and even decorative items that give the bathroom a personalized touch.
These small details can make a significant impact on the finished look of your DIY bathroom remodel, adding visual interest and enhancing the space's overall aesthetic.
---
Electrical and Plumbing
When embarking on a DIY bathroom remodel, it is essential to consider both electrical and plumbing aspects. Proper wiring and plumbing setup ensures a safe and functional bathroom.
Electrical
Electrical wiring in bathrooms should adhere to safety guidelines. It typically involves a dedicated 20-amp circuit to power outlets, lights, and toilet fans. A ground-fault circuit interrupter (GFCI) is required for receptacles in bathrooms to protect against electrical hazards.
Adequate lighting enhances the functionality of the space while adding an aesthetic appeal. Some common types of bathroom lighting include ambient, task, and accent lighting. Plan the lighting layout to avoid casting shadows on the vanity and ensure proper illumination throughout the bathroom.
An exhaust fan, also known as a bathroom fan or vent fan, helps to dissipate moisture and odors from the bathroom. Ensure that the exhaust fan is installed at an appropriate location with proper ductwork leading to the exterior of the home.
Plumbing
Plumbing plays a significant role in a bathroom remodel, as it involves water supply lines, drains, and fixtures. Start by mapping out the location of each fixture and plan the installation of pipes and drain lines accordingly.
Consider the hot and cold water lines and their connections to the fixtures. If you're relocating fixtures, be aware that changing the plumbing layout may involve additional work and cost.
During your DIY bathroom remodel, carefully inspect the existing plumbing system for any leaks, corroded pipes, or other issues that may need repair or replacement.
If required, consult a licensed plumber to guide you through the process and ensure that your plumbing work complies with local codes.
---
Final Inspection and Clean-Up
After completing your DIY bathroom remodel, conducting a final inspection is essential to ensure all the changes and installations align with your plan and expectations.
This step, though not the most exciting, is crucial for assessing the overall success of your remodel and identifying any areas which might have potential issues in the future.
During the final inspection, carefully examine each area of the bathroom, reviewing the plumbing, electrical systems, and fixtures. Ensure that the freshly installed items are functioning correctly and safely.
---
Wrapping up the Complete DIY Bathroom Remodel Guide
After the bathroom is clean and ready for use, take a moment to admire your hard work. Your DIY bathroom remodel project is now complete.
Remember that regular maintenance is key to ensuring the longevity of your renovated bathroom. Inspect and maintain the space as needed, and don't hesitate to consult professionals or contractors for guidance when necessary.
Now that the bathroom is complete, it's time to upgrade the kitchen, starting with painting your kitchen cabinets.