If you're wondering how to distress furniture with chalk paint, you're in the right place!
This DIY technique has gained popularity in recent years as an easy way to give furniture a vintage or weathered look. In a few simple steps, you can transform a bland IKEA find into a conversation piece with a ton of character.
If you've always wanted to explore your inner DIY-er, distressing furniture with chalk paint is a great first-time project since it's hard to mess up. You want imperfections to show up in the end result, which makes this an ideal method for those dipping their toes into the crafting world.
Below, you'll learn all about how to distress furniture with chalk paint, from selecting the right piece of furniture to finding the perfect sealer. Keep reading to get the creative juices flowing.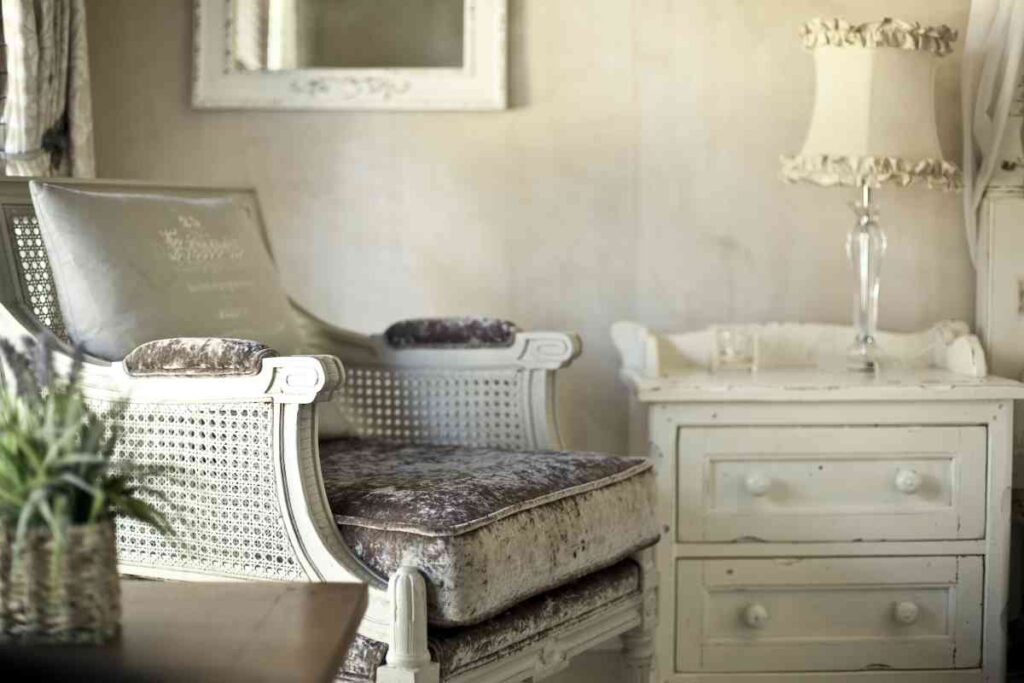 ---
What is Distressing?
Before we show you how to distress furniture with chalk paint, let's discuss what this process actually entails.
Distressing is a painting technique that intentionally damages or ages furniture to give it a worn, vintage look. You can accomplish this by sanding, scraping, or painting to create simulated wear-and-tear on a surface.
Distressing can enhance the look of any type of furniture, from tables and chairs to dressers and cabinets. Whether you wish to distress a brand-new piece of furniture to match your vintage decor or want to add more charm to a thrift-store find, distressing furniture with chalk paint is a simple hack every DIY-er should have in their back pocket.
---
Step 1: Choose the Furniture Item
You know that chalk paint is the perfect medium for transforming your bland, tired furniture into something vintage and trendy, but choosing the right piece to distress can be a daunting task.
Consider the shape and style of the piece before you start painting. Ornate and intricate details can be highlighted with a distressed finish, while sleek, modern pieces may not have the same effect.
Take note of the color and texture of the piece. Darker colors and wood grains will show through more prominently when distressed.
Feel free to experiment with different techniques and colors. After all, the beauty of chalk paint is that you can easily sand and repaint it until you achieve your desired look.
So whether you're looking to upcycle an old family heirloom or give a thrifted find new life, choosing the right piece to distress with chalk paint is the first step in creating a unique, one-of-a-kind piece of furniture.
---
Step 2: Choose a Paint
The next step in our guide to distressing furniture with chalk paint is to pick out the best color for your project.
The key is to research and find a paint that suits your project's needs. Look for a brand that offers a range of colors and has good coverage. Country Chic and Jolie Paint are both great options for chalk paint.
With the right choice, distressing furniture with chalk paint can be an incredibly easy process that transforms home decor into something special.
Best Chalk Paints
Chalk paint has soared in popularity over recent years. With the seemingly endless options, you might be left frozen trying to make a choice.
If you find it taxing to nail down the right paint, you're in luck. Check out this guide about the top 21 chalk paint colors to help you find the perfect hue for your project.
Whether you want to paint your project an elegant teal or antique white, you'll find the right color that fits within your design aesthetic.
---
Step 3: Prep Your Furniture
Now that you've found the right paint to breathe new life into your project, it's time to prep.
Give your furniture a thorough cleaning. Use a gentle soap and water to remove any dirt or grime that might be lurking on the surface.
Once your furniture is spotless, it's important to sand it down lightly. This step will help the chalk paint adhere better to the surface.
To Prime or Not to Prime
You might be wondering if you should prime before distressing furniture with chalk paint. The answer depends on the condition of your furniture. The great thing about chalk paint is that it doesn't require primer.
Primer works to cover imperfections in a surface, so they don't show up after the paint job. This seems counter-productive to the distressing method since you want the natural defects to show through.
Primer also helps the paint adhere better to the surface, but if you give your furniture a light sanding, you shouldn't have a problem with your paint sticking.
Still, if you're working with furniture that has a lot of wear and tear, a light coat of primer might be beneficial to hide some of the surface flaws. Take stock of your project and decide if you think primer is necessary.
If you do decide to go down the priming route, we recommend Rust-Oleum Painter's Touch for high coverage and easy use. All you have to do is spray on a coat, wait 20 minutes, and then you're ready to start painting.
---
Step 4: Apply Chalk Paint
Now it's time to channel your inner Bob Ross and get to painting.
Before you start slathering chalk paint all over the surface of your furniture, try sampling the color first. Apply a small amount of paint and see how it looks on the wood. If you're impressed with the result, move forward with the rest of the painting.
Apply a complete coat of chalk paint using a chalk paint brush, making sure to cover the entire surface. Allow the paint to dry completely before applying a second coat if preferred.
Dry Brush Method
While some ways of distressing furniture with chalk paint happen after painting, you can also distress while you paint.
The dry brush method involves dipping a dry brush into the paint and then lightly dragging it across the furniture. This will create a textured, uneven look that mimics the natural wear and tear of furniture over time.
Use a light hand and build up the layers slowly until you achieve the desired level of distress. If you accidentally add too much paint, you can always sand it off after it dries.
---
Step 5: Distressing Methods
You've given your piece of furniture a good and thorough painting, and now it's time for the fun part. Below, you'll learn how to distress furniture with chalk paint using two different methods.
Sandpaper Method
First up is the sandpaper method. After applying your base coat of chalk paint, use sandpaper to distress the edges and corners of the furniture. This technique will create a worn, vintage look that adds character to your piece.
The key is to sand lightly and in a circular motion to avoid creating harsh lines or gouging the furniture.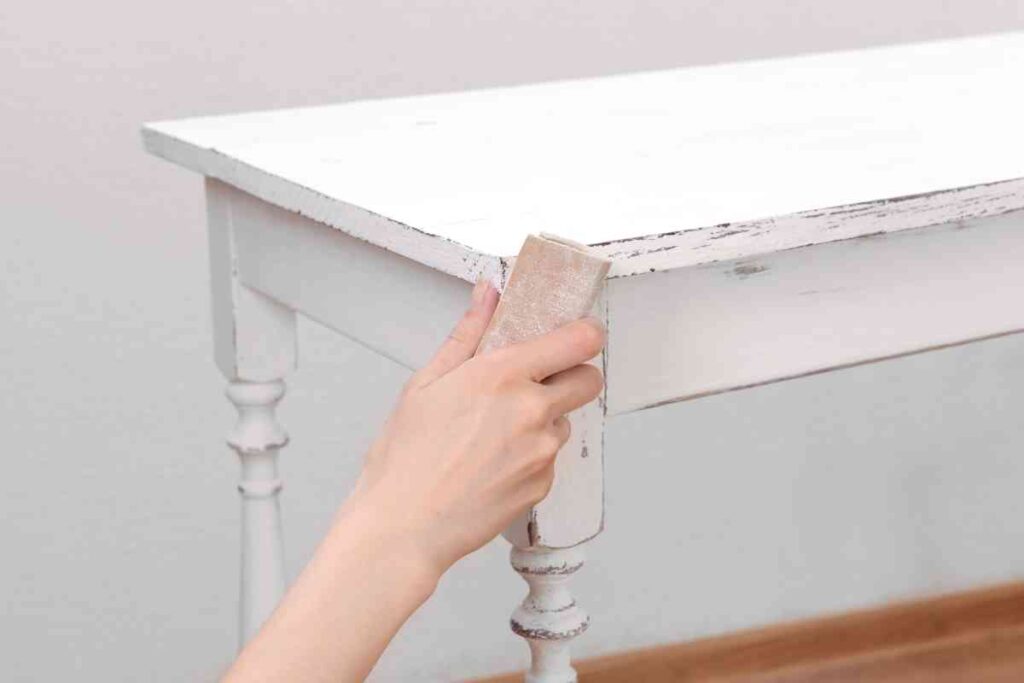 It's important to take your time when filing down the wood. If you take off too much paint, you'll have to go back and do touch-ups later, so keep a watchful eye on the progress of your project.
Once you've achieved your desired level of distress, put down the sandpaper and move on to sealing.
Color Washing
Another way of distressing furniture with chalk paint is by color washing. This approach involves applying a thin layer of paint over a base coat and then wiping it off with a damp cloth.
This technique will create a subtle, layered effect that gives the furniture a weathered appearance. Play around with different colors and layering techniques to achieve the look you want. Once you're happy with the result, move on to the next step.
---
Step 6: Seal
After completing your prized chalk paint project, you'll want to make sure it stays looking great for years to come. That's where sealing comes in.
Sealing chalk paint protects it from wear and tear that happens over time. It also adds a beautiful finish to your furniture that keeps it looking spiffy.
Before purchasing a sealer, decide on the type of finish you want your project to have. If you like the look of a shine-free finish, opt for a wax or matte sealer. We love the Jolie Finishing Wax or the Rust-Oleum Spray Sealer for creating a matte finish with superior protection.
Maybe you prefer the look of a glossy top coat? If that's the case, check out the Krylon Spray Sealer. It may take a few coats, but this will create a shiny, protective finish on your project.
No matter which option you choose, the bottom line is that it's important to use a sealer. With a little bit of effort, you can keep your chalk paint looking beautiful for years to come.
---
How to Distress Furniture with Chalk Paint: Summed Up
We hope our guide inspired you to grab your paintbrush and get started on your next DIY project.
Distressing furniture with chalk paint is a fun and easy way to give your home decor a vintage and weathered look. With just a few supplies and a vision, you can create a unique piece of furniture with lots of character and charm.
Now that you know how to distress furniture with chalk paint, check out our Painting Furniture page for more crafting inspiration.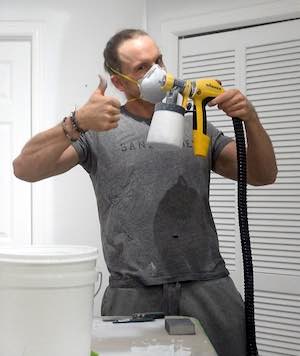 I started painting in 2001 and have seen just about everything in my painting career. I started in production and commercial painting, then moved over to new construction and remodeling during the boom of the early 2000s. Post 2010, I niched down into residential painting where I have done everything from exteriors, decks, interiors, furniture and more. Over the last few years, I've had a focus on kitchen cabinets.
I started the DIY Painting Tips blog in 2015 to start sharing everything I've learned over the years and help all the people who'd rather tackle their painting projects themselves.
You can follow my Youtube Channel where I show you everything that you read about on this site: https://www.youtube.com/@diypainting
You can also hire me directly from DIYPaintingTips.com here: https://diypaintingtips.com/free-painting-quote/
Contact me at: ryan@diypaintingtips.com