When it comes to painting bathrooms, practicality is key. Many homeowners automatically choose glossy bathroom paint sheens. In general, paints with higher sheen are more resistant to moisture and easier to clean.
However, we don't put in the work of painting our homes for purely practical reasons. We also want our spaces to reflect our personal style. Paint sheen, which refers to how dull or shiny paint appears when dry, also affects the style of the room.
Shinier finishes, such as semi-gloss or satin, tend to look more formal. Duller paint sheens, such as eggshell and matte finishes, appeal to homeowners who prefer soothing, spa-like bathrooms.
With a bit of research, you're sure to find a bathroom paint sheen that fits your needs and your style. Read on for some of our favorite products and all you need to know about picking the best paint sheen for bathrooms.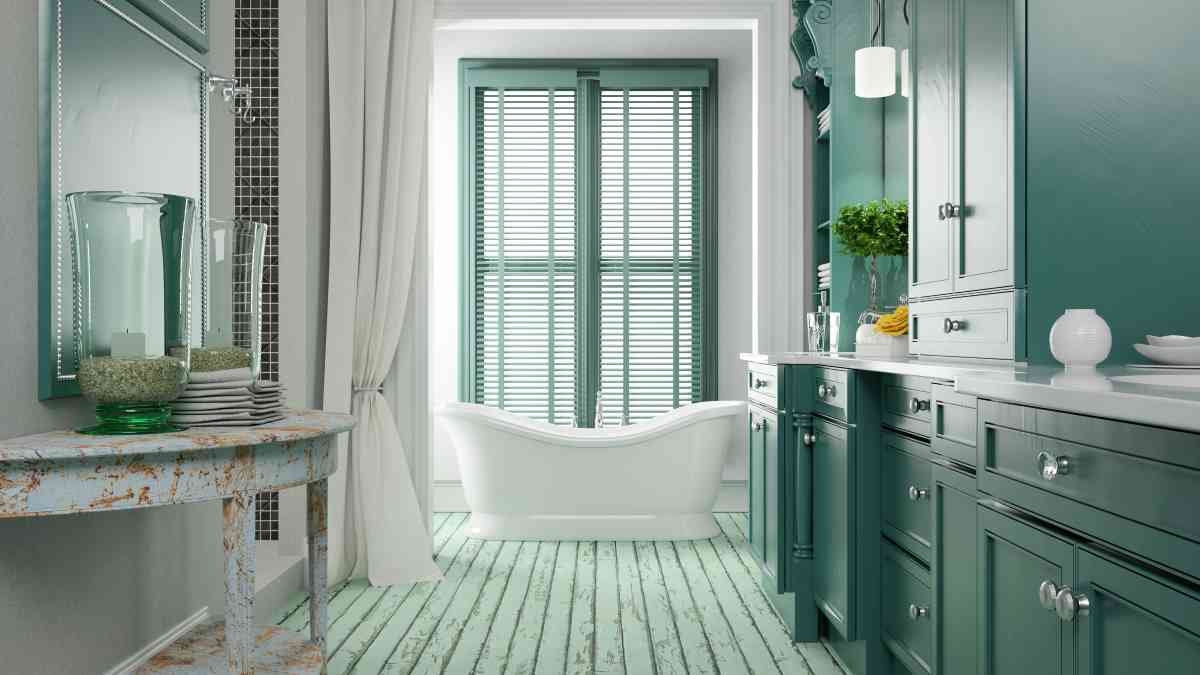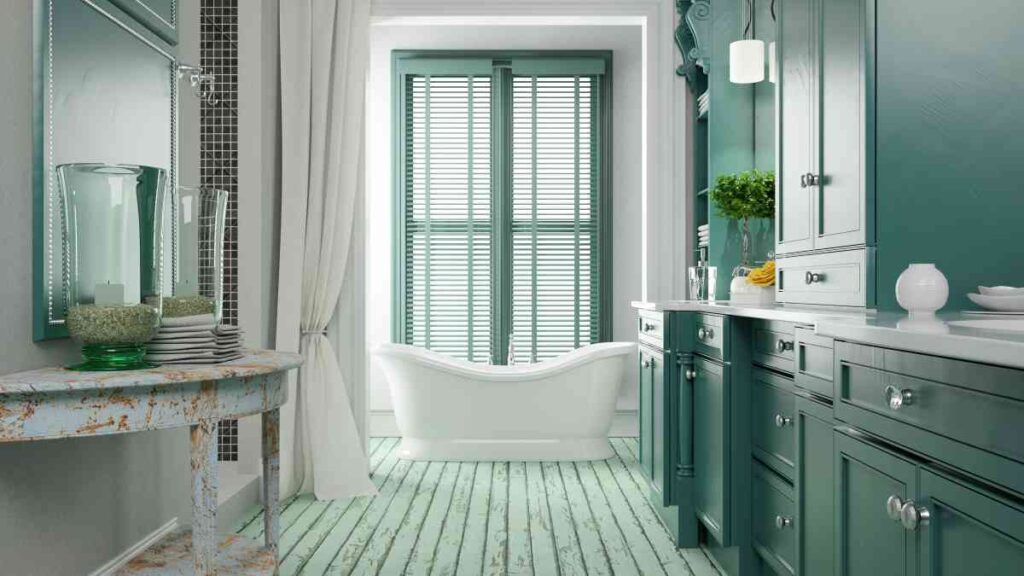 ---
Our Top Picks
Best Overall
Regal Select Benjamin Moore
Budget Option
Diamond Brite Kitchen & Bath
Best Low-Luster
Benjamin Moore Aura Bath and Spa
---
Best Overall
Regal Select by Benjamin Moore
If you're looking for a bathroom paint sheen that's exceptionally easy to care for, invest in Regal Select by Benjamin Moore. This paint stands out from the rest because of its easy application and durable finish.
This paint is only available in a satin sheen. While this is a glossier finish than some homeowners prefer, it is the standard paint sheen for bathrooms. If you don't have a preference or can't decide on what paint finish you prefer, you can't go wrong with this choice.
This high-quality paint mitigates some of the typical drawbacks of glossy finishes. For example, the paint is self-leveling, making it easier to achieve a smooth finish. Beginning DIYers and experienced painters alike can achieve great results with this paint.
Pros
Resists stains
Easy to clean
Self-leveling
Cons
Not specifically formulated for mildew resistance
Satin sheen may not work well in bathrooms with lots of natural light
---
Best Budget
Diamond Brite Kitchen & Bath
If you want a quality product that gives the most bang for your buck, try Diamond Brite Kitchen and Bath. Coming in at almost half the price as our "best overall" paint, Diamond Brite is the most budget-friendly paint sheen for bathrooms. It's also specifically designed for rooms that will face a lot of moisture.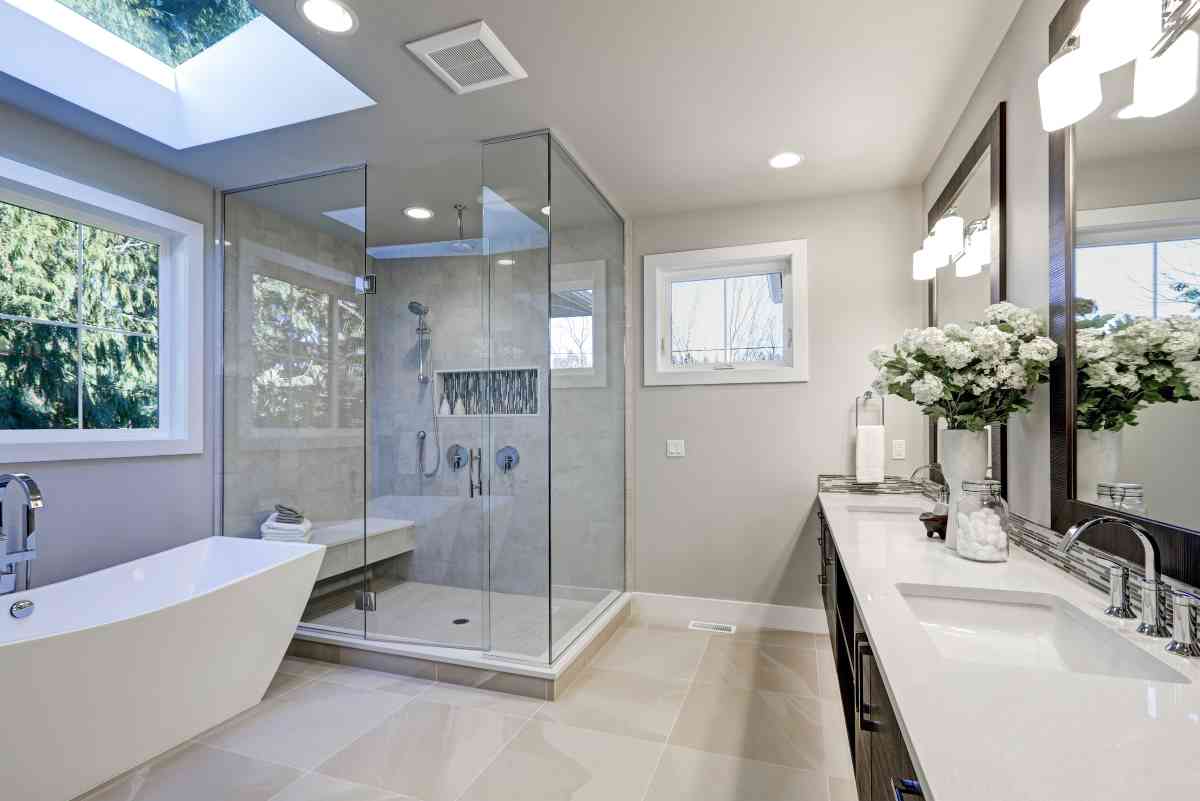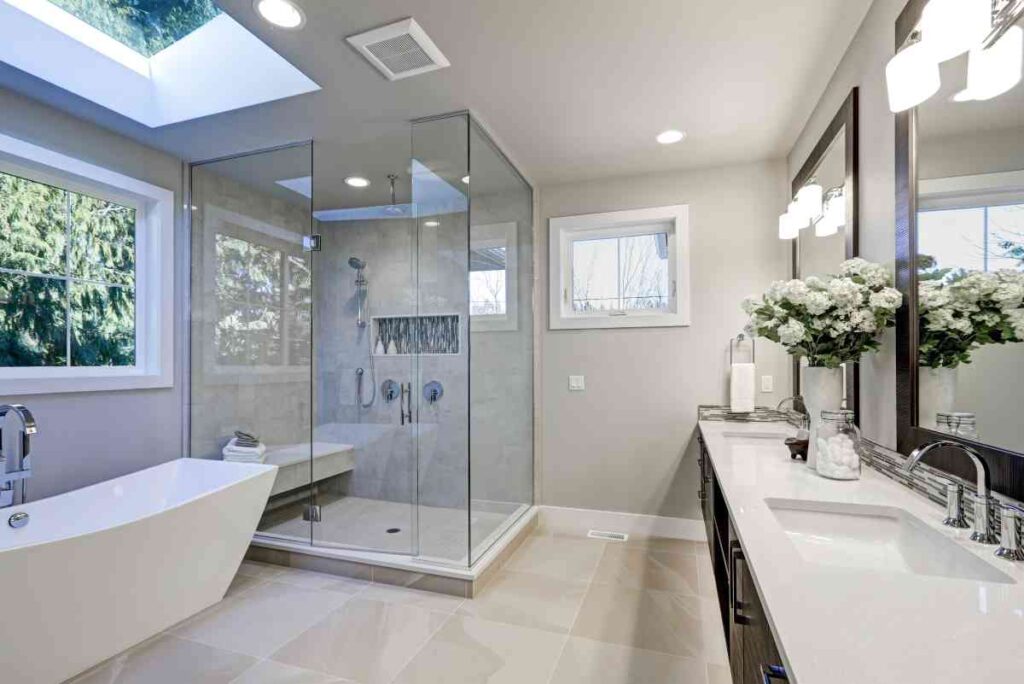 Bear in mind that this product is only available in a semi-gloss finish. This is a very glossy paint sheen for bathroom walls. However, if you have a lot of woodwork in your bathroom, this paint is an incredible bargain.
Semi-gloss paint is an excellent choice for trim and woodwork. This paint will help protect board and batten or wainscoting from moisture, which can wreak havoc on wood.
A semi-gloss paint sheen is also great for bathroom vanities or shelving. If you have a lot of built-in storage in your bathroom, this paint offers excellent protection at an affordable price.
Pros
Affordable, budget-friendly
Fast drying
Designed for humid environments
Cons
Only available in a semi-gloss sheen
Thin paint may require more than two coats
---
Best Low Luster
Benjamin Moore Aura Bath + Spa
If you prefer an eggshell or matte paint sheen for bathrooms, this is the product for you. This paint is formulated specifically for mildew resistance and durability. It's also formulated to be easy to clean. If you've ever tried to wipe fingerprints off a matte finish, you know how impressive that is!
Benjamin Moore Aura Bath + Spa is more of an investment than some bathroom paint sheens, but it's a high-quality paint. It's challenging to find a truly easy-clean, low-luster paint finish. It's worthwhile to invest in paint that will look good for years to come.
Pros
Mildew resistant
Scrubbable even in matte finish
Zero VOC
Low Odor
Cons
Expensive specialty paint
Thick paint may take longer to dry
Requires more than one coat for best coverage
---
Paint Sheen for Bathrooms Buyer's Guide
With nearly any option for bathroom paint sheen available, how can you choose the best option for your project? Lighting, room size, and style can all factor into this decision.
Let's break it down step by step:
Style
With so many paint products that are specific to high-humidity bathrooms, the most significant factor is your own style preference. If you're painting a contemporary space, stick to satin paint for the walls and semi-gloss for the trim. In fact, this combination will work in virtually any bathroom. The soft shine of these bathroom paint sheens can look elegant or playful, depending on the colors you choose.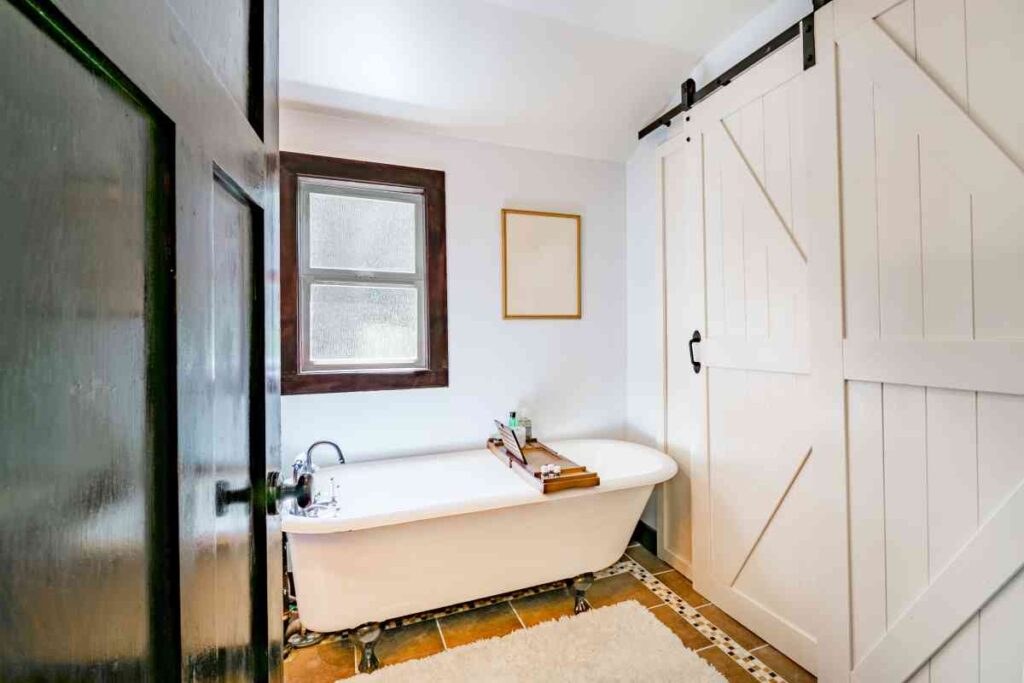 Although higher paint sheens for bathrooms are generally the safest choice, you have options to achieve a more muted look. Some low-luster products are specifically formulated to work in humid environments. You can absolutely find an eggshell or matte paint that works for your bathroom. If you're restoring an historic home or prefer a farmhouse or cottage look, look for low-sheen products.
Moisture
A half bath will not produce as much moisture and humidity as a bathroom with a large shower. Feel free to go with a lower luster paint in rooms with only a sink and toilet.
Similarly, the walls of a spacious room with lots of ventilation won't need as much protection. If steam can't build up in the room, you won't need to worry about moisture on the walls and ceiling.
One word to the wise: if you have a family member who loves long, steamy showers, a satin finish is best. Humidity from long showers can overpower exhaust fans, creating the potential for mildew and mold. Stay one step ahead and protect surfaces that will handle a lot of steam.
Lighting
A bathroom with lots of light could turn a high-sheen paint into a distracting glare. In addition to natural light, think about the overhead lights, sconces, and vanity lights you have in your space.
If you'll be using this area for putting on makeup, having good lighting is important! If possible, install all your lighting before choosing your bathroom paint sheen.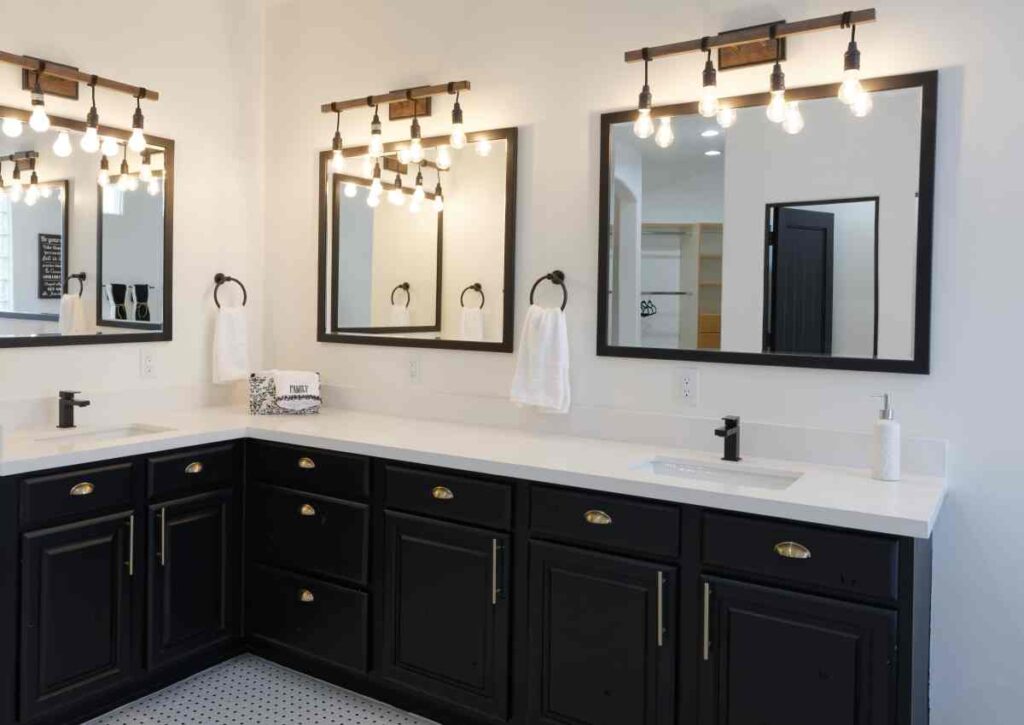 Sheen can also work to your advantage if you have a very small bathroom. If you only have a sconce above the sink, a high-sheen paint can help reflect that light. Choose a light paint color and a satin finish paint to make the small space feel bigger and brighter.
Durability
Think about how often this room will be used. Is it a small bathroom that will be used for doing hair and makeup? Will the bathroom be used for young children? If so, you will need to choose a bathroom paint sheen or product that is scrubbable and easy to clean. Buildup from hair spray or dirt can make a new paint job look dingy fast.
On the other hand, if you're repainting a rarely used guest bath, it won't have to withstand frequent cleaning. While you'll have to factor in occasional splashes around the sink, there's no need to invest in extra moisture protection. Any high-quality paint that can be wiped down easily will work.
---
Bathroom Paint Sheen Frequently Asked Questions
How do I prepare bathroom walls for painting?
All surfaces should be cleaned prior to painting, but this is especially true for kitchens and bathrooms. Residue from aerosol sprays and dirt can build up over time, leaving behind a sticky mess on your walls. Wash down the walls and trim thoroughly with a mild cleaner.
As you prepare to paint, be on the lookout for mold or mildew. These problems aren't just unsightly: they pose a health risk if left untreated. If you discover mold or mildew, check out our tips on how to clean and repaint.
How do I paint behind the toilet?
Some painters believe that the toilet should be removed from the room before beginning a bathroom painting project. That may be more hassle than it's worth, especially if you aren't confident about detaching and reattaching the plumbing.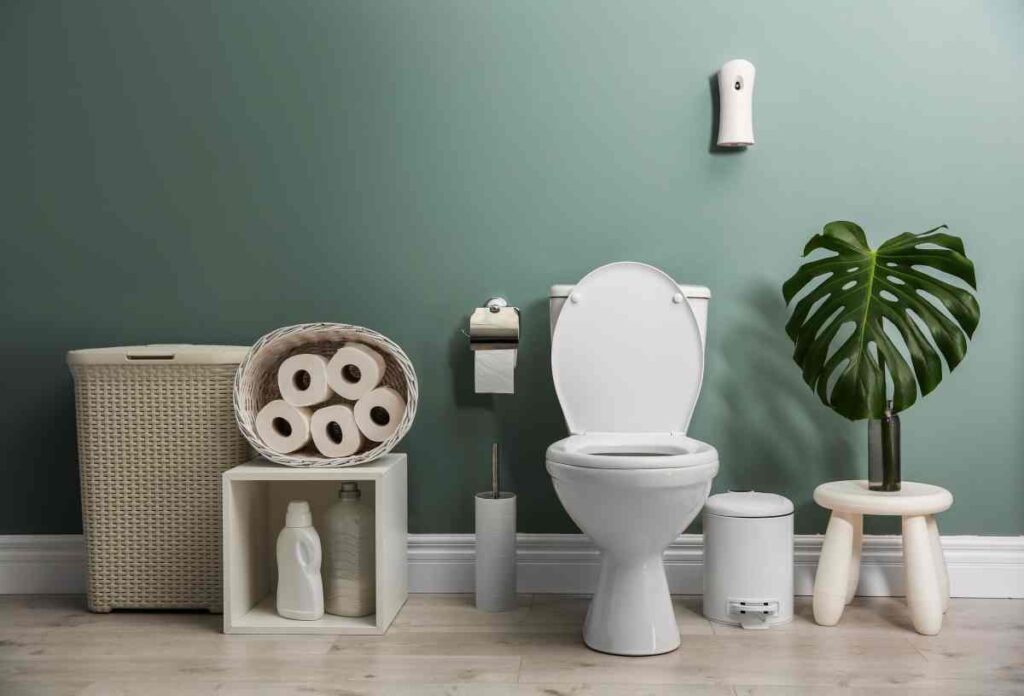 Good news: you can absolutely paint behind the toilet, even if you leave it in place. Simply use a mini roller, taking care to avoid hitting the back of the tank. Another option is to attach a rag to a paint stick and use it to reach behind the toilet. More details on both methods are available here: How To Paint Behind A Toilet (The Fastest and Easiest Method)
How long should bathroom paint cure before I can run the shower again?
Hot, steamy showers could cause runs in the paint if it has not had time to cure. This could result in an uneven finish, or flashing, no matter which bathroom paint sheen you chose! To avoid drips along your freshly painted walls, wait at least 24 hours after painting before running the shower.
Even after the paint has cured, protect your walls and ceiling by ventilating the room well. Run an exhaust fan or open a window to avoid trapping steam inside the room.
---
Wrapping Up the Best Paint Sheen for Bathrooms
Choosing a bathroom paint sheen is complex because the correct answer depends on so many factors. By considering moisture, lighting, durability, and your own personal style, you can find the correct paint sheen for your bathroom project.
Ready to choose your paint? Check out our article on 22 Inspiring Bathroom Paint Colors for color choices and design ideas!