Water stained window sashes are a common problem in many homes. It's frustrating to see not only the eyesore of a stained window sash and sill but window are expensive and nobody wants to replace their windows before they have to!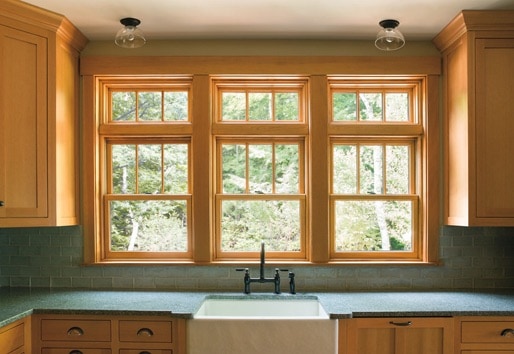 Thankfully, repairing window sash and sill damage is an easy DIY project that requires minimal tools and a bit of patience. In this post, I'm going to show you how you can easily repair your window sill in under two hours.
Better yet, once your windows are fixed, I'm going to give you an incredibly simple way to keep them looking great and prevent future damage.
Index
Tools and Materials Needed
Repairing window sills and sashes doesn't require a lot of expensive tools. Below are the tools I recommend to make the job go as quickly and easily as possible.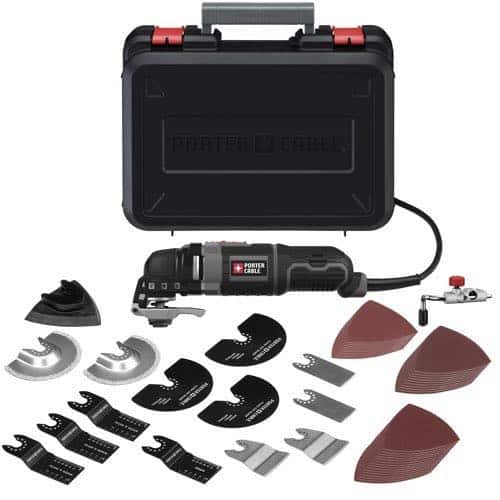 A multi-tool is a great tool for many around the house projects. For this project, I use my multi-tool with the sanding head attached. The triangle sanding pads are perfect to get into small corners on the window sills and sashes and make quick work of sanding away damaged area.
You could also go with a detail sander, which accomplishes the same thing. But for the money, the multi-tool gives you so much more versatility.
Other Tools and Materials
What Causes Window Sash Damage
Most window sash and sill damage is caused by moisture in the form of condensation getting into the wooden window sill.
Condensation forms on the windows when the temperature outside cools down and in return lowers the temperature of the glass on your window. When humid air inside your home then comes into contact with the glass on the window, water droplets form on the glass and eventually run down into the window sill.
Over time, this water forming on your window and getting on your sash slowly causes damage. It first breaks down the protective clear coat on the window sill and then it starts damaging the wood.
How To Repair Water Damaged Windows
Asses The Damage To The Window Sash and Sill
The first thing you are going to want to do is asses how much damage there currently is on your window sash and sill.
Is the clear coat just starting to fail by cracking and flaking off the wood? If so, you're in luck as this is your easiest fix and will require minimal work.
Do you have black water damage but the wood its self is still solid? This can still be fixed and should be before the wood begins to rot.
Is the wood soft and squishy? If this is the case, your wood has begun to rot and you will have to decide if the rot has affected the integrity of the entire window, or if the area is small and still salvageable.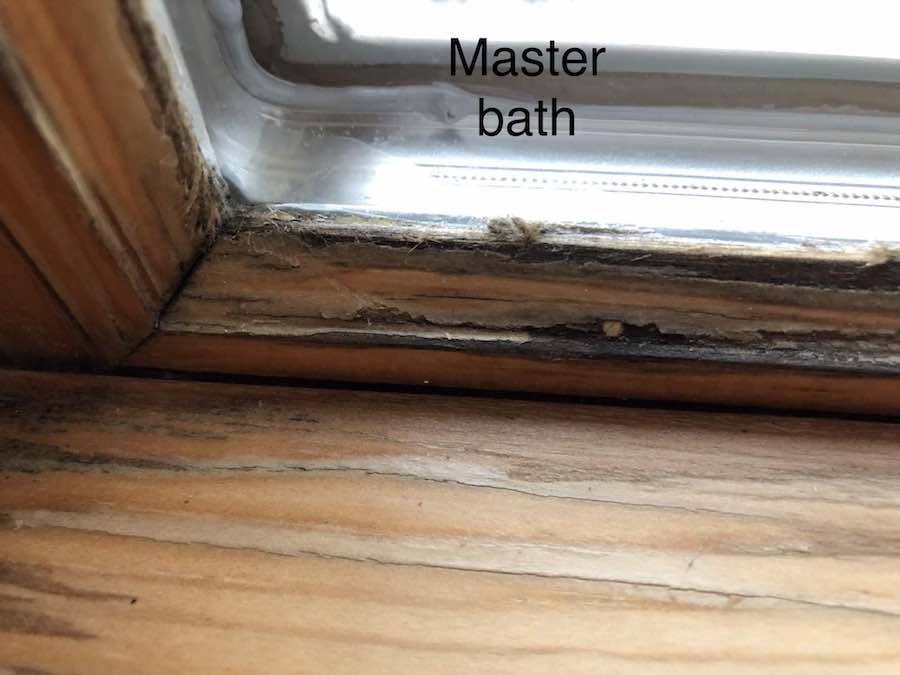 The window in the above picture has lots of failing clear coat and water damage to the window sash and sill. However, the wood is still solid and fixable.
Prep Your Work Area
The first thing you need to do for any paint job is to prep your work area to contain your mess and protect the surrounding areas.
For this project, I like to lay out a large drop cloth to catch my sanding dust and run a piece of tape on the glass surface of the window. This is to prevent scratching the glass while I am sanding the window sash.
Sand Away Water Damaged Wood
The first thing I am going to do is start sanding away the damaged surfaces.
How much you need to sand is entirely dependant upon how much damage there currently is on your window.
If your window sills and sash only have damage to the clear coat but there is no rot in the wood and not blackening, then merely sand down the existing clear coat.
If your windows have black water damage, you're going to want to sand off the clear coat and sand as far down needed with your sanding tool to remove as much the black water damage as possible. This may end up re-shaping the edges of your sash and sill, but this is acceptable collateral damage. Just try to keep it to a minimum.
Stabilize, Remove, or Replace Rotten Wood
If you have soft, rotted wood on your windows, you will have to do one of three things.
Stabilize the rotted wood. Minwax Wood Hardener is a product I like to use a lot for projects like this (and a lot on exteriors as well). It is not a perfect solution but works great for many situations.
Minwax Wood Hardener penetrates the routing wood and uses a resin to bond and harden the rotting wood fibers. It also deals the area against future moisture damage.
Another option for rotting wood is to remove (dig out) the routing wood and fill the area with wood filler. This method is perfect for small areas and is preferred by many painters over using wood gardener. Once your wood filler has dried hard, you can sand it to shape, stain and seal. A warning about this method, wood filler never stains the same color as real wood, it usually stands out quite a bit.
Your last option is to replace the tired piece of wood. This is for when there is too much to repair. I won't be covering this option here.
Bleach Out The Water Stains
After you have sanded off any clear coat, an option I like to use is bleaching away water stains using oxalic acid.
Oxalic acid will effectively black away light surface staining on wood. It does require a lot of time to work properly and a handful of coats.
Oxalic acid can at the very least lighten the black staining in wood and at its best, completely eliminate it.
Make sure you use beating and skin protection when using oxalic acid though as it is some nasty stuff.
When you are done bleaching am area, you will need to neutralize the area with baking soda. A mix of baking soda and water will neutralize the acid and make the wood ready for staining and sealing.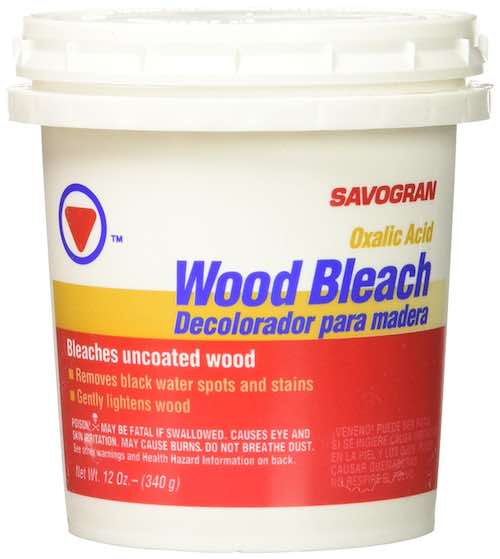 Sand and Clean Any Remaining Discoloration
After you have finished repairing any rotted wood and bleaching away water stains, it's time for your final Sanding.
This is where I go and away any remaining dark stain, missed clear coat, and give it a fine smooth surface (usually 150 – 180 grit sandpaper).
When you're satisfied with your sanding it's time to clean the window and get ready for stain.
I like to shop vac the area as clean as possible and then go back with a slightly damp rag and clean the area of any remaining dust.
Re-Stain The Window Sill
If you have the original stain color, then staining your windows sills and sashes is as easy as applying the stain, allow it to sit, then wrote off the excess.
If you don't have the original stain color you are going to have to do one of two things.
The easiest is to remove a piece of trim from your home and bring it to the paint store for a custom match. I like to go into a closet and take a small piece of trim that is out of sight. To re-install the piece of trim, you can use liquid nails or any other adhesive.
The second option is to try to mix a custom match yourself. I often do this, but I also have a large stain kit with many different colors, pigments, and dyes. So this likely won't work for everyone.
You can also take your chances eyeballing the color. Many homes are stained with very common stain colors such as Golden Oak. If you think that your color might be one of these common stain colors, give it a shot.
Clear Coat The Window Sill & Sash
The last step in repairing rotted window sills is to clear coat the area that you have repaired.
Match your existing sheen (typically stain and occasionally semi-gloss) and brush on two coats of Minwax Clear Polyurethane clear coat. Allow the finish to dry between coats and lightly sand with a 220 grit sandpaper to get the smoothest finish possible.
Printable Instructions
How To Repair Water Stained Window Sashes
Repairing your rotted or damaged window sills is an easy DIY Painting project that any homeowner can do in a day.
Active Time
1 hour
15 minutes
Total Time
1 hour
30 minutes
Instructions
Asses The Damage To The Window Sill

Prep Your Work Area

Sand Away Water Damage Wood

Stabilize, Remove and Replace Rotted Wood

Bleach Out The Water Stains

Sand and Clean the Remaining Sill

Re-Stain The Window Sill



Clear Coat The Window Sill
Recommended Products
As an Amazon Associate and member of other affiliate programs, I earn from qualifying purchases.
How To Prevent Window Sash Damage From Happening
If you've already repaired your window sills or you are lucky enough to have caught them before any major damage has happened (maybe the clear coat is just starting to break down), now is the time to have a plan to prevent future damage.
Preventative window maintenance is incredibly easy and will save you hours of DIY work, thousands of dollars to hire someone like me, or even tens of thousands of dollars in replacing your windows.
In my home, and what I recommend all my clients doing, is to keep a quart of clear coat that matches your current clear coat sheen (satin, semi-gloss etc.) and apply a fresh clear coat on your window sills every 1-2 years.
Start by giving your window sills a small scuff with some 150 or 180 grit sanding paper. Don't over sand. Keep it light and just scuff the surface. Vacuum the surface clean (or wipe it clean).
Next, take a small 1 inch angled brush and brush and your clear coat and brush one fresh coat onto the bottoms of your window sills. It's that simple.
This should only take 5 minutes per window.
What it does is it keeps the wood on your window sill sealed and protected against moisture damage.
Of course, controlling humidity through humidifiers, dehumidifiers and air exchangers is recommended (but that's for a different website).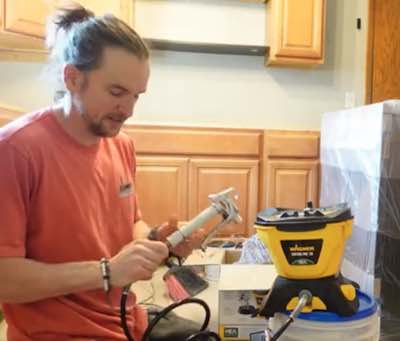 I've been a professional painter since 2001 and spent the last 12 years specializing in kitchen cabinet refinishing. I started the DIY Painting Tips blog in 2015 to start sharing everything I've learned over the years and help all the people who'd rather tackle their painting projects themselves. In 2019 I started the DIY Painting Tips Youtube channel where I publish in depth videos all about kitchen cabinet painting, painting gear reviews, and interior/exterior tutorials.