Painting cabinets can be a big task. Having the right paint and primer can make it easier to manage. Benjamin Moore carries several different kinds of paint that work great for cabinets and give a beautiful finish.
I've outlined the best Benjamin Moore cabinet paint and primer. Keep reading to learn more!
Why Choose Benjamin Moore Cabinet Paint for Your Kitchen
Why should you choose Benjamin Moore's cabinet paint over any other kind of paint? It's true – Benjamin Moore can be more expensive than the other brands you find in big chain stores like Lowe's and Home Depot. The price is a drawback for many people, but there is another way to look at it.
Benjamin Moore products stand out in quality. While you might be able to save a few dollars up front with another brand, Benjamin Moore's cabinet paint most often stands the test of time. That means you don't have to go back in every few years to touch up faded colors or overly scuffed and stained cabinets.
Painting cabinets can be a big enough hassle. Why not use quality paint and not have to worry about it again for a long time, if ever?
The Best Benjamin Moore Cabinet Paint
1. Advance Waterborne Alkyd – Best Overall
Benjamin Moore Advance Waterborne Alkyd is a water-based alkyd enamel. Traditional alkyd paints are oil-based, so this paint is a hybrid. Instead of the alkyd properties being suspended in oil, they are suspended in water.
Why is this a good thing? Water-based paints have a reputation for easy cleanup and low VOC levels. Benjamin Moore's Advance is no exception, but it also combines the good parts of oil-based paints like an even paint job and durable finish. So essentially, this paint is the best of both worlds. It's the best Benjamin Moore cabinet paint overall.
It works great in a paint sprayer with no streaking, and the finished product is beautiful and smooth. It's a great paint for using in your own house or a house with occupants. You don't have to worry about harsh VOCs affecting anyone's health, especially your own when painting.
Different reviews across the internet mention their disappointment in how the paint drips or sags. The paint does spray better than it brushes, but this can be helped by using a high-quality, fine-bristle paintbrush.
Pros:
It has low VOC levels.
Cleanup is easy.
It's durable.
Cons:
It doesn't brush on as well as it sprays.
It's pricey.
---
2. INSL-X Cabinet Coat
The next best Benjamin Moore Cabinet paint is their INSL-X Cabinet Coat. This is a urethane acrylic-based enamel paint that is made for painting cabinets, but it can also be used on doors, shelving, and other furniture. It has a low VOC content, and it dries to the touch in one hour.
The great thing about INSL-X is the smooth coat it gives every surface. This paint is great for not leaving any brush strokes behind, and the coating works great for protecting against scratching, chipping, and other wear and tear that comes with using your cabinets.
The smooth coat also makes it easy to wipe clean, and it's water and stain-resistant. If you have kids running around with messy hands during the week, this might be the cabinet enamel for you.
Reviewers also compliment the good adhesion of this Benjamin Moore cabinet paint. It bonds great with many different types of surfaces, which prevents any peeling or flaking cabinets in the future.
Pros:
It's low odor.
Cleanup is easy.
It bonds well with the cabinet surface.
It's stain and scratch-resistant.
---
3. Satin Impervo
Satin Impervo is a classic version of Benjamin Moore Cabinet Paint. It's an oil-based alkyd paint that has been around a while, but it's popular for a good reason. Satin Impervo allows you to use a brush to paint on surfaces, and it dries as smooth as if it was sprayed on. This works great for small cabinet trim that you don't want to fool with spraying or is hard to get to.
When painting cabinets, a lot of the pieces you're working on will be upright. That can often lead to paint sagging. This paint is sag-resistant, so you can efficiently paint cabinets without having to constantly go behind yourself to check for sags and drips.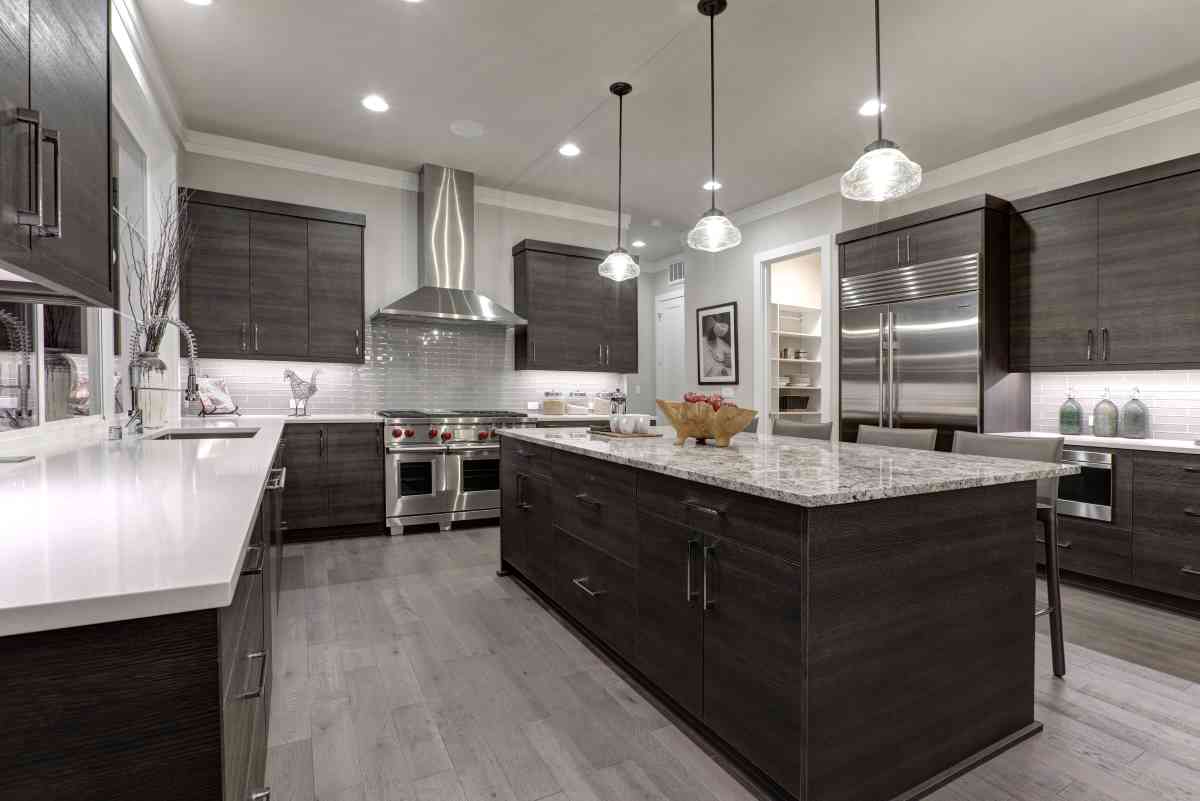 Another great thing about Satin Impervo is how durable it finishes. This is common with oil-based paint. It cures into a hard outer layer that is scuff-resistant, and this paint is no exception. Kitchens are the most heavily-trafficked rooms in the home, so having a durable paint is not an option.
Reviewers are all around happy with this Benjamin Moore cabinet paint, and the only thing to really note is the high VOC level (375.0) in the paint. In turn, it's not very environmentally friendly, which is not great if you plan on using this product repeatedly.
Pros:
It's sag-resistant.
Brushes work great with this paint.
The finish is durable and scratch-resistant.
Cons:
It has a high VOC level.
Paint thinners are required for clean-up.
---
4. Coronado Super Kote 5000 Waterborne Acrylic Alkyd
This Benjamin Moore cabinet paint is another water-based alkyd paint. This paint provides a smooth, durable finish that can withstand a lot of use. The Coronado Super Kote 5000 can handle wiping cabinets down frequently, so this is a great choice if you like to keep the kitchen cabinets squeaky clean!
This paint also boasts its adhesion qualities and great hide, which is an important factor when refinishing old cabinets. If you're looking for the qualities of Benjamin Moore's Advance Waterborne Alkyd, but can't afford it, this might be a good cabinet paint for you to consider.
Pros:
It's cost-friendly.
It withstands repeated cleaning.
It bonds well.
VOC level is low.
---
5. Corotech Alkyd Enamel
Benjamin Moore's Corotech Alkyd Enamel is a good option for commercial cabinets that get more traffic than the average home. This heavy-duty paint is an oil-modified alkyd urethane. It can be used for interior or exterior purposes, and it works great for withstanding all-day, everyday use.
The Corotech Alkyd Enamel bonds well to almost any surface. If you have an outdoor kitchen, this is a paint worth looking into. It won't crack and peel in the presence of sun or rain, and the scratch and impact resistance helps cabinets stay newer longer.
Pros:
The outer coat is durable.
It bonds well to surfaces.
It can be used on exterior cabinets.
Cons:
Solvents are required to clean up.
The VOC levels are more than water-based enamels.
---
The Best Benjamin Moore Primers for Cabinets
1. INSL-X Stix – Best Overall
INSL-X Stix is a water-based bonding primer. It bonds to many different kinds of surfaces, and it works great on all kitchen cabinets. Whether you're painting brand new cabinets or refinishing old cabinets, INSL-X Stix will adhere and level out any imperfections.
This primer only takes about 30 minutes to dry to the touch and four hours to be able to recoat. You can also use this primer in temperatures of 35 degrees and above. This is unusual for primers, as they usually call for temperatures of 50 to 60 degrees Fahrenheit. That means you can use this primer at many different times of the year, especially if the house is not heated yet.
INSL-X Stix does have a higher level of VOC for a water-based primer (87.6), so you will need to take some precautions when using it, such as wearing a mask. The good thing is that it cleans up with soap and water, and it works great with any Benjamin Moore cabinet paint.
Some reviewers complained about it peeling off on different surfaces after painting. While this can happen with water-based primers, it can be helped by allowing the primer to fully cure before re-installing cabinet doors and hardware.
Pros:
It bonds well with all cabinets.
You can use it in low temperatures.
It has a hard, durable finish.
It cleans up easily.
Cons:
VOC level is high for water-based.
Some reviewers were not happy with cure time.
---
2. Fresh Start Undercoater and Primer/Sealer
Benjamin Moore's Fresh Start Undercoater and Primer/Sealer is an alkyd primer that offers premium bonding and adhesion. The Fresh Start Undercoater can be applied to all cabinets, new or refinished, and it can be sanded and recoated in as little as two hours.
This primer also gives optimal enamel holdout, which means that it isn't going to absorb any of the sheen of the topcoat you use along with the primer.
The downside to this primer is the high VOC levels. It also requires paint thinner to clean up. Since it dries so quickly, you can remedy all the downsides by getting the job done quicker and being able to clean up faster.
This is a newer product from Benjamin Moore, so there aren't too many reviews out there yet. But, it appears to be a good alternative to INSL-X for those who prefer an oil-based primer.
Pros:
It has a durable, smooth finish.
It dries quickly.
It blocks stains.
Cons:
The VOC levels are high.
It hasn't been reviewed that much.
---
Frequently Asked Questions
1. Who carries Benjamin Moore Products?
Benjamin Moore cabinet paint is carried by Benjamin Moore's website and independent paint and hardware retailers, including ACE hardware.
2. Are Benjamin Moore's oil-based paints bad for you?
All oil-based paints with high VOC levels carry some risk with repeated exposure. This is not specific to the Benjamin Moore brand. Make sure to read all the information about a certain paint before purchasing it. If you do choose to use paint with high VOC levels, make sure to take proper precautions.
Wear a mask and goggles to protect your face and eyes from inhaling any toxic fumes. Also, allow the space to air out before occupying it.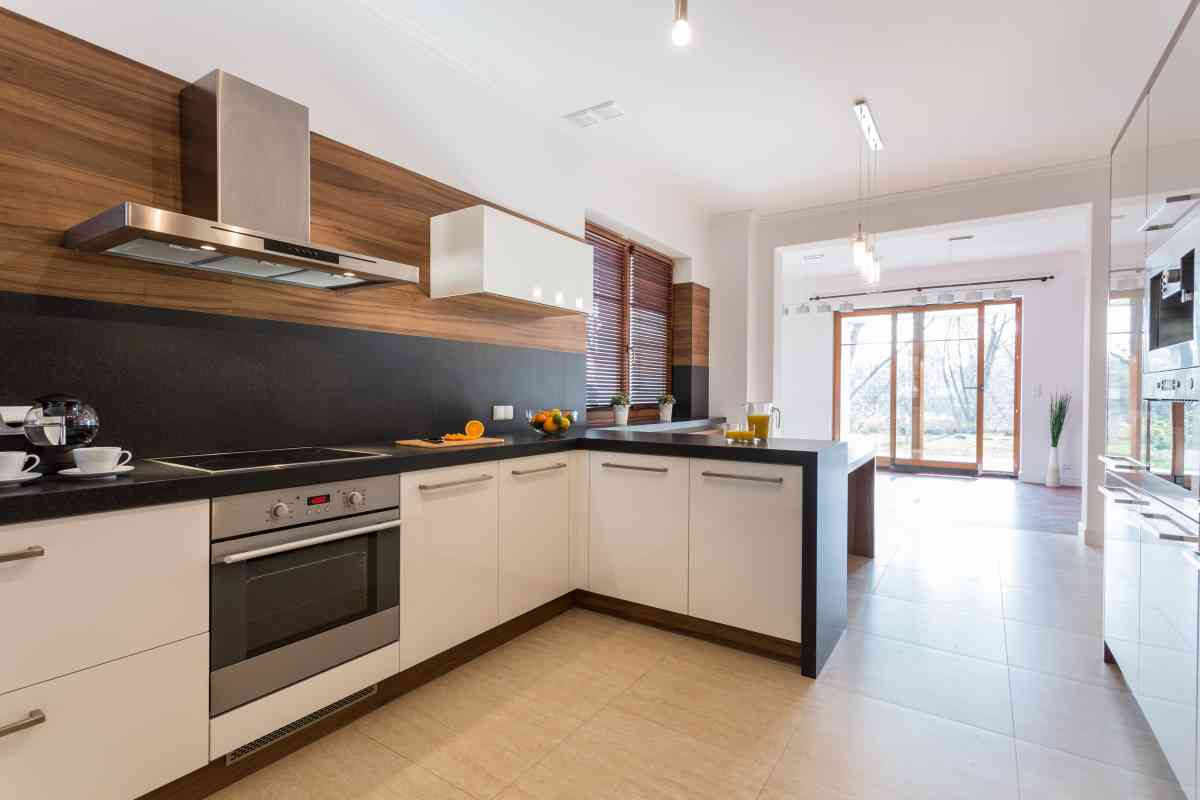 Wrapping Up the Complete Guide to Benjamin Moore Cabinet Paint
If you want to redo your cabinets, but you're not sure which paint to go with, rest assured that Benjamin Moore cabinet paint is always a quality choice.
For the best Benjamin Moore cabinet paint, Advance Waterborne Alkyd stands out in quality, while INSL-X Stix is the best choice for primer. If you prefer a different base than these choices, you can't go wrong with any of the other options mentioned above.
For more information about painting kitchen cabinets, our kitchen cabinet painting posts.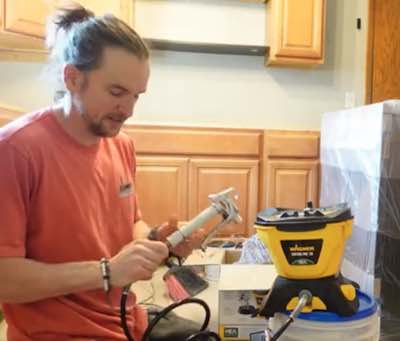 I've been a professional painter since 2001 and spent the last 12 years specializing in kitchen cabinet refinishing. I started the DIY Painting Tips blog in 2015 to start sharing everything I've learned over the years and help all the people who'd rather tackle their painting projects themselves. In 2019 I started the DIY Painting Tips Youtube channel where I publish in depth videos all about kitchen cabinet painting, painting gear reviews, and interior/exterior tutorials.