Congrats, you`re adding crimson red walls to your home.
Maybe you`ve tried a bold accent wall or room when redecorating before, and it didn`t go quite right. Maybe this is the first time you`re being adventurous with your design choices. Either way, we`re here to help.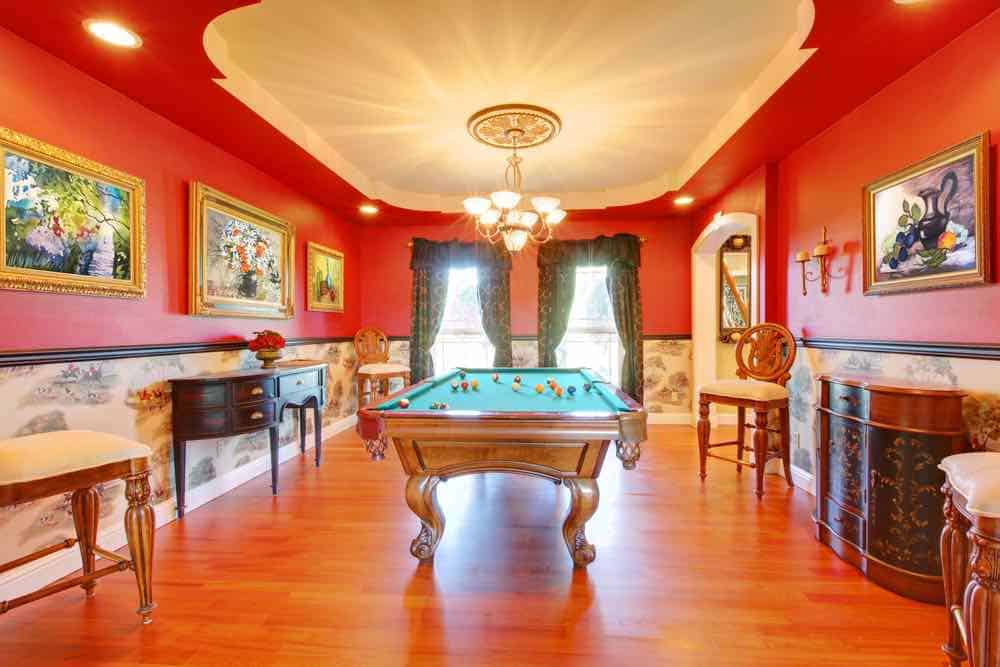 Crimson red is bright, bold, and can reinvigorate a room. If you`re taking your time in finding the right place for crimson red walls, then you`re doing the right thing.
While you should make every interior design choice after careful planning and research, using bold colors like crimson red deserves even more due-diligence.
We`ve rounded up some of the most vibrant red paint colors available and highlighted where in the home they work best. As you get ready to redecorate, take a weekend to purge the clutter from your home. It`s a good habit before any home renovation project. After all, it`s hard to give a room a fresh aesthetic if you`re holding onto old furniture and decor that doesn`t fit your vision.
Once you`ve re-gifted, sold, and donated whatever doesn`t bring you joy anymore, collect color swatches for everything that`s staying. Use samples from home improvement stores and craft stores to bring together swatches of the flooring, drapery, carpets, rugs, and furniture. Try out a few shades of red against your room swatches. You`ll be astonished how different similar shades will appear in a room because of their undertone and finish.
How to Decorate with Crimson Red
If you pick a shade of red you love and throw it up on the wall, it may clash with your couch, carpet, or hardwood floors. But the red isn`t the problem! It`s just that it may not come across the same at home with your lighting, as it did as a paint chip beneath the lights of a home improvement paint section.
After you use paint chips and color samples to develop the palette of a room, it`s time to put up a few samples. Use the color you love, but get two extra samples with variation. Cover a two-foot by two-foot section of the wall with the samples and live with them for a few weeks.
You want to see the paint color throughout the day with natural lighting, and your interior lighting at night. You might find you prefer a lighter or darker shade, or a different undertone after spending a few weeks with the color. By using paint samples, you don`t invest the money or time in putting up a color that isn`t 100% right for the room.
If you rush to paint a room with a color, you`re certain you`ll love, you could very well leave that experience believing you don`t like bold colors. In actuality, the color just wasn`t right for the room.
You know you want a bold color somewhere in your home, but aren`t sure in which room.We`ve highlighted some examples of crimson red interior paint. Keep reading for more inspiration for adding bold color to your home.
Stylish Bedroom in Crimson Red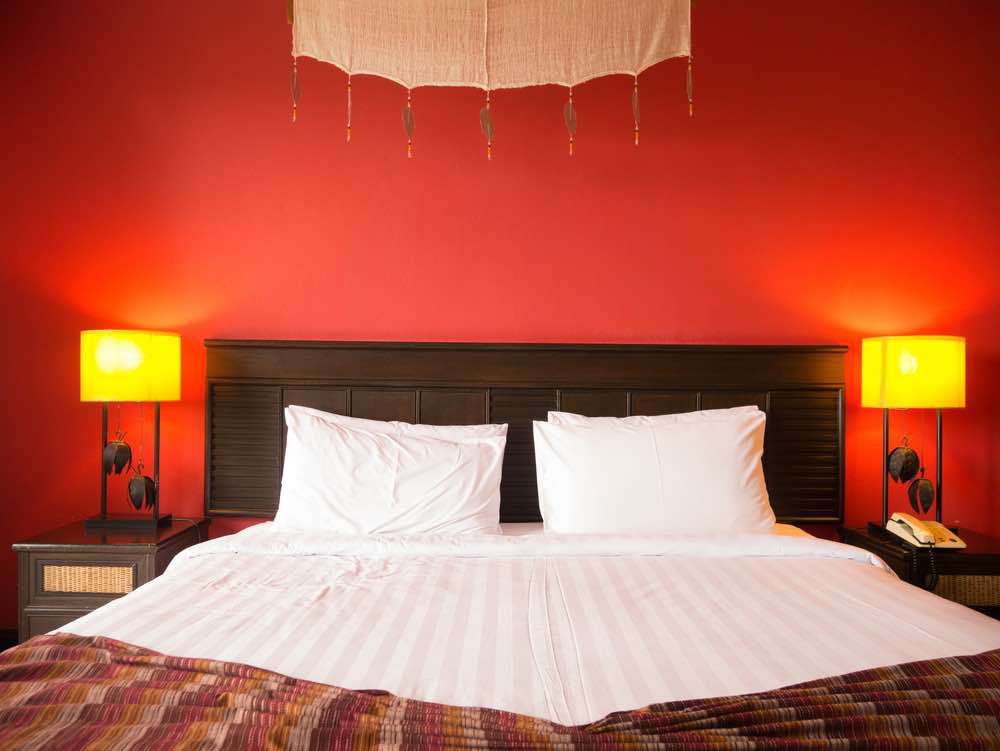 They`ve paired black furniture and white linens with Behr Flirt Alert to create a bold and sophisticated bedroom motif. The tapestry and warm light soften the strict tricolor palette, which might otherwise become manic and oppressive. The warm undertones of Behr`s Flirt Alert also help this bedroom become warm and inviting.
Consider natural fibers, animal prints, fur, and neutral beige colors to soften crimson red in a bedroom. You can repeat the shade of red through area rugs, throw blankets, and pillows for cohesion while you experiment with other finishes for the room. Choose one undertone, either warm or cool, and commit to decorating with matching tones.
Red bedrooms cultivate energy and optimism at the start of your day. In Feng Shui, it`s considered auspicious to decorate with red, especially a bedroom. If you already have trouble sleeping or deal with restlessness around bedtime, consider a cool undertone of crimson red and an accent wall behind the headboard while using cool neutrals in the rest of the room.
Striking Kitchens in Crimson Red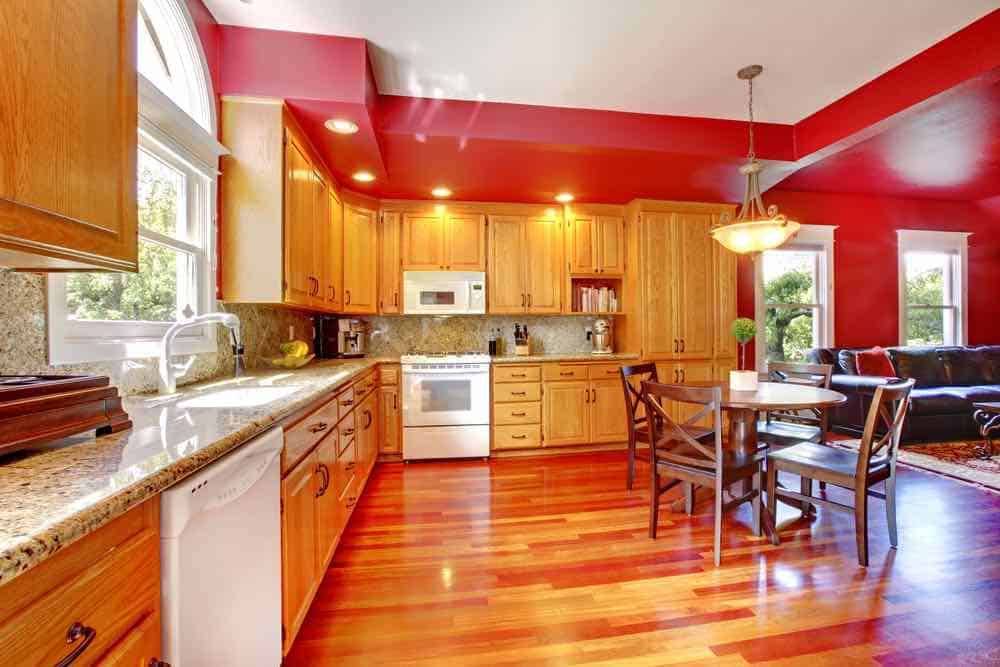 Sherwin Williams Real Red is a real good idea for decorating a kitchen. For a room that`s already the heart of the home, red is a natural choice. It looks great against natural wood, especially cabinets and flooring that have warm red tints to them. Crimson red works well with appliances in white, black, or even brushed stainless.
Another option for kitchens is to use a neutral color on the walls and paint the cabinets red. It`s a creative way to bring fresh life into your kitchen and upcycle old cabinets. Splurge on new hardware and drawer pulls and you`ll create a brand new crimson red kitchen at the fraction of the price of a full remodel. Just make sure you`re using the best paint for the job; walls and cabinets are different painting projects.
In this open floor plan, they`ve used crimson red for both the kitchen and living room, but styled the two rooms to create individual spaces. Even through the picture, the decadence of the living room comes through, with its black leather couch and oriental rug. In contrast, the kitchen emits warmth and hominess. Two distinct rooms with one crimson red wall color.
Welcome Guests with a Crimson Red Door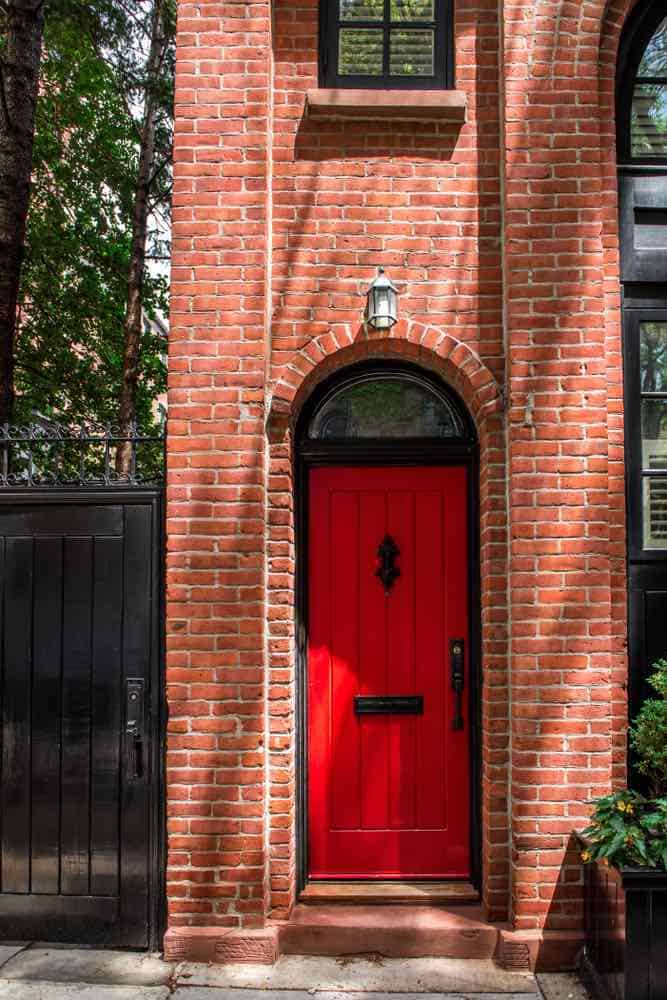 We`re not the first ones to say it, but crimson red is a natural for the front door of your home. If you`re interested in the Feng Shui of your house, it`s a way to welcome good fortune and luck into your life. But it`s also a sophisticated and stylish way to stand out from the crowd on your street.
If you have an old front door looking a little worse for wear, try out Behr 100 MPH for a fast change. In a high gloss, with a durable top coat, you`ll transform a tired old wood door into an eye-catching addition to the exterior of your home.
Red doors pair great with the landscaping in your front yard and seasonal decorations. Add a few extra accents throughout the exterior of your home for continuity. Try a red mailbox, red storm shutters, or just red house numbers for a little extra pizzazz.
Make a Statement with Crimson Red Entryway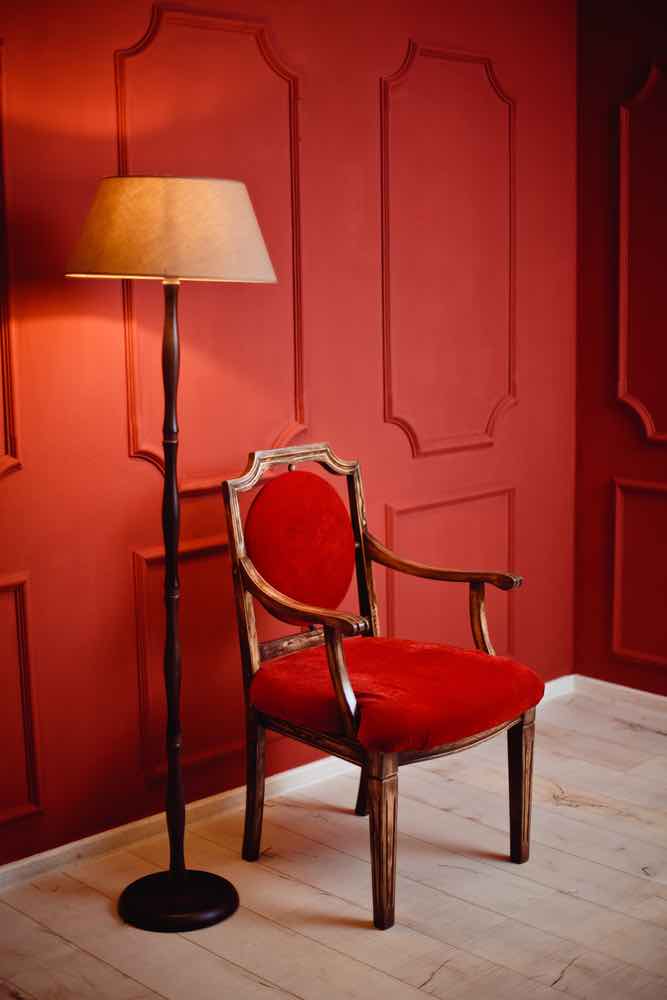 Entryways set the tone of your entire home. They`re the space that invites in friends and family. Before facing the day, you take your last moments in your entryway. Walls painted with Sherwin Williams Red Obsession are a warm, sophisticated way to welcome people into your home. Red also improves your confidence and mood before you head to work, or just out for a night on the town.
For an even more striking entryway, decorate in monochrome, with a red bench or chair for last touches before heading out, or to take off shoes and outerwear after you get home in the evening.
Use a contrasting color for accents to create a high energy entryway, or neutral for a more subdued effect. Incorporate soft fabrics, leather, and natural woods for even more warmth and decadence. If you`re inclined towards decadence, a decorative antique chandelier may be a must-have for your entryway.
Entertain Friends in a Crimson Red Living Room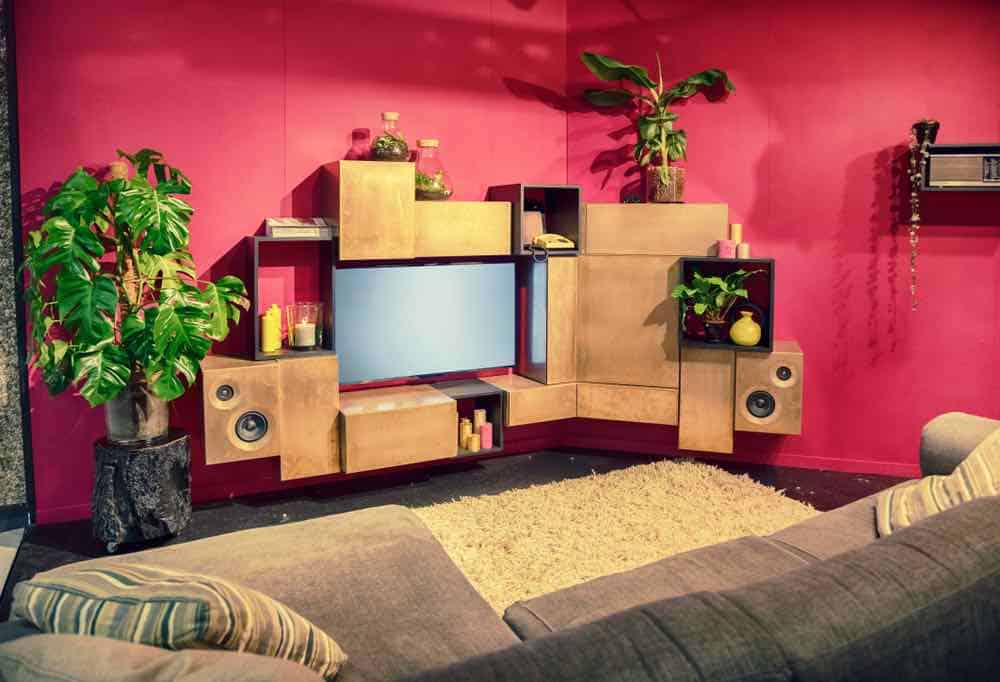 Everyone wants to have that house, the one that all the friends gather at for special occasions, holiday meals, or just game night with friends. While having the best snacks, or the most well-stocked bar helps, having a well-decorated living room draws people in and makes them want to come back. The decor of the spaces we spend our time in matters.
You already know that statement is true; you haven`t decorated your home with fluorescent lighting, for starters. A living room decorated with Behr Stiletto Love transforms an ordinary living room into a sophisticated and stylish evening hangout. Whether it`s a formal party, or just watching the game, a crimson red living room makes every occasion a little more special.
Crimson red paint on your living room walls sets the room apart from the rest of your house. Your living room should draw you in and make you want to spend your time there. Whether relaxing, studying, or enjoying a bottle of wine with friends. You can always soften a strident color with indoor plants, leather, and natural wood accents.
Turn Your Basement into a Home Theater with Crimson Red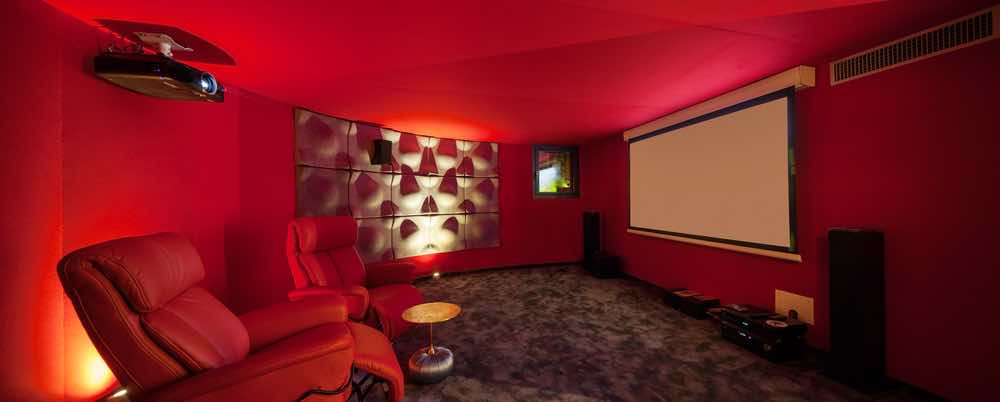 A home theater sounds like a Hollywood luxury, but it`s a fun and attainable home renovation project that activates otherwise unused space in a partially finished basement, or cold and damp den. With Sherwin Williams Positive Red you can transform any room in your house into the Oriental Theatre on premier night.
For a big job that includes multiple walls and the ceiling, you`re better off investing in a paint sprayer. Especially with crimson red, which requires multiple coats to achieve the right intensity of color.
Finish the design with lush carpeting, a few recliners, and a projector and screen. You`ve upgraded home movie nights and added a whole extra feature to your home, all with a few coats of crimson red paint.
Decorate with Painted Crimson Red Furniture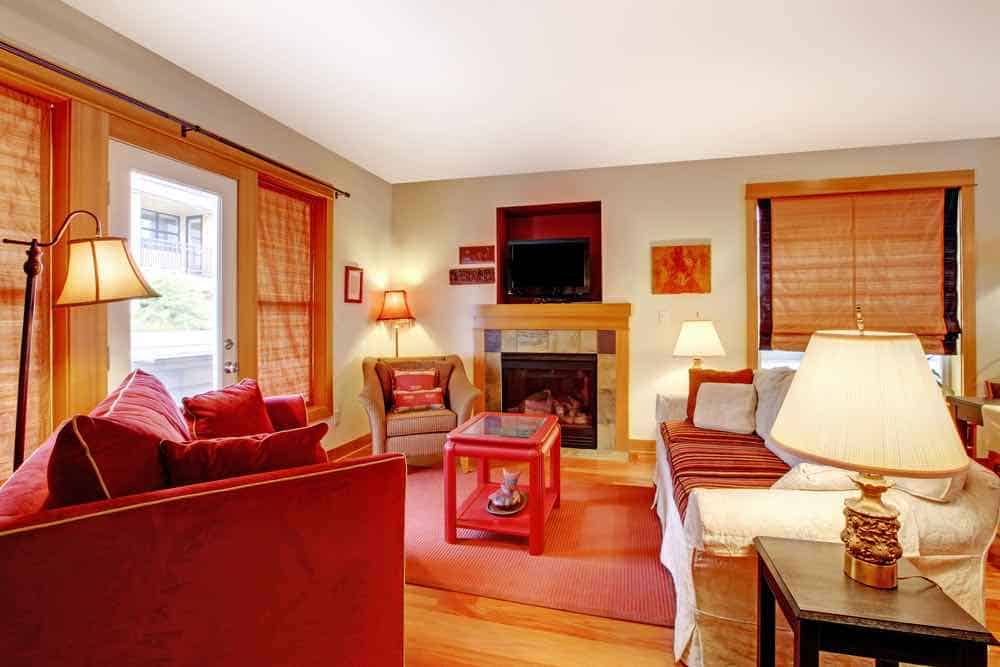 It`s okay if you`re not ready to commit a whole wall or interior room to an audacious paint color just yet. You can still harness the power of crimson red like Behr Race Car Stripe to transform an entire room. Upcycling your furniture with a coat of paint is almost like getting brand new furniture. Just with a lot less expensive.
When you repaint furniture, you change the whole tone of the room. Changing minor elements, furniture color, and home accents, will transform the way you view your current wall color.
You don`t need to tackle extensive projects either. A few red accents, like a coffee table, some picture frames, or a few shelves will add just a splash of drama and energy to your room. If you repeat the same shade of crimson red in an area rug, a throw pillow, and a piece of art, your room will look like the product of an interior designer.
Get Down to Business in a Crimson Red Home Office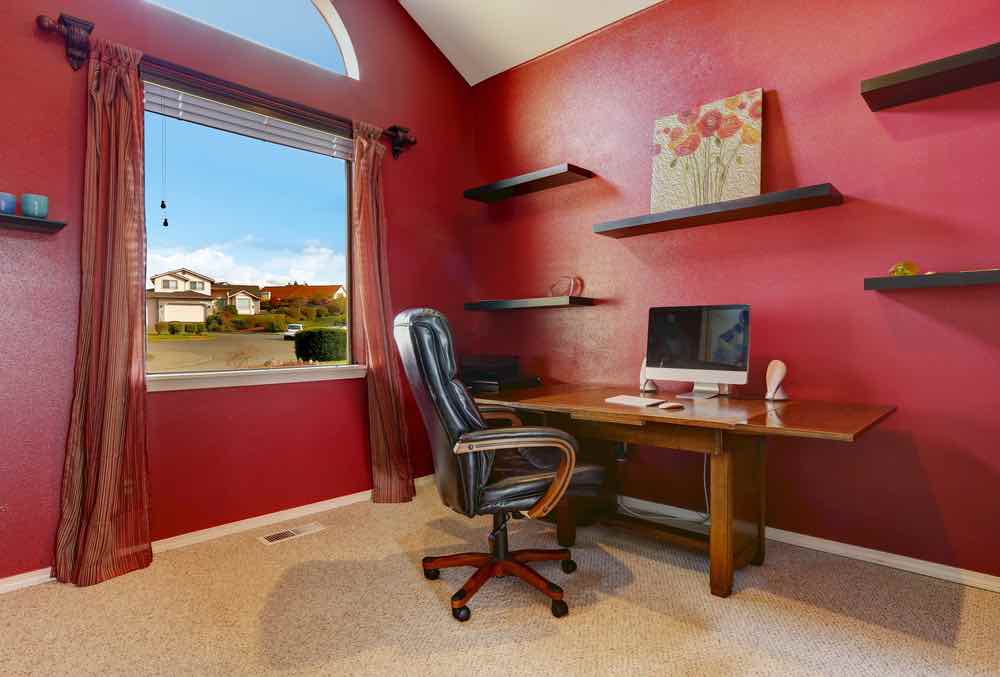 One downside to working from home is you`re not surrounded by coworkers to motivate you and generate new creative ideas. Not that you should trade your home office for a cubicle, but the decorating decisions you make impact your future success and productivity.
A home office painted with Sherwin Williams Stop will motivate and inspire from the moment you step into it. Plus, what a power move to join video calls with a stylishly decorated home office behind you. Try executive styling choices, like dark wood, leather, and gold.
Or decorate in a dark neutral and use crimson red for accents. It`ll improve your mood, motivation, and drive while working from home. A crimson red home office will also stand apart from the rest of your home, helping you to focus and improve productivity in what can be an otherwise distracting environment.
Crimson Red for a Cozy Den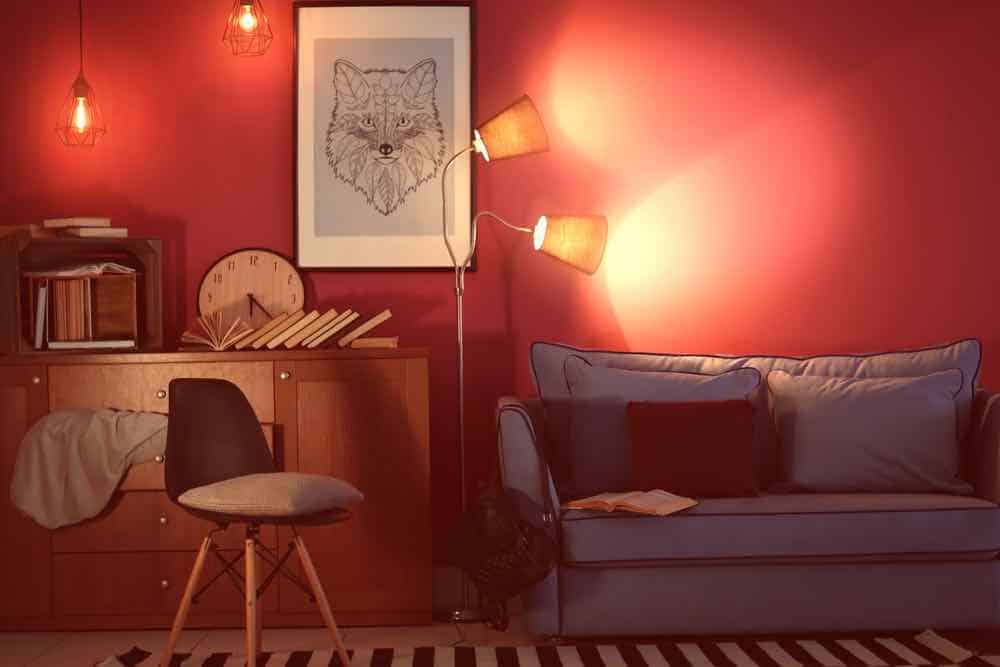 In small or shared use spaces, your inclination may be to stick to light and neutral colors to keep the space open. Even in compact spaces, you can make crimson red work without the room becoming claustrophobic or cluttered. It takes careful planning and picking the perfect shade of red, like Behr Fire Cracker, which creates inviting warmth without overpowering a space, and it`s forgiving enough to work with a variety of other colors.
When working in cozy spaces, it`s important to pick a few textures and colors and keep your decorating pattern sparse. The more sparse, the more open and welcoming even a compact space will be. Decorate with warm neutrals, natural fibers and prints, and well-chosen wall art to amplify the allure and comfort of the room.
Dens are the perfect places for family movie nights, cocktails and games with friends, or getting some work done after dinner. Crimson red encourages creativity and generates revitalizing energy, but with the right lighting and decor can also be the perfect spot for the entire family to chill out together.
Dramatic Game Rooms in Crimson Red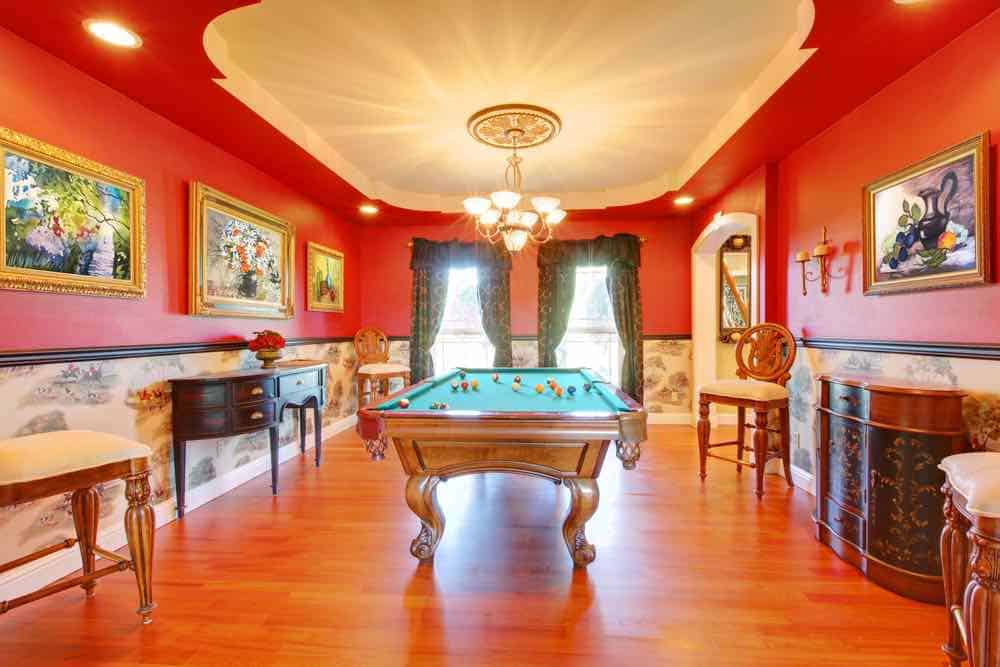 You don`t need the space for a billiards table to create a luxurious game room in your home. Transform a spare bedroom or basement into a game room, with decadence and luxury in every corner. Start with a paint color like Sherwin Williams Fireworks. It`s bright and brash, perfect for accents in gold and black.
This is a remodel that you can do on a budget. While antique lacquered furniture is nice, you can create the same aesthetic with second-hand furniture and a weekend. Sand stylish pieces and stain them in dark cherry or paint them black, just don`t forget a layer of high gloss. Also, make sure you have a high quality respirator and adequate ventilation.
Last, don`t underestimate what molding can do for a room, either. Use crimson red as a wall color, or add some crown molding and chair rails to a room for decoration and paint those crimson red. Be daring when decorating a game room, after all, they`re supposed to be fun.
Gorgeous Dining Rooms in Crimson Red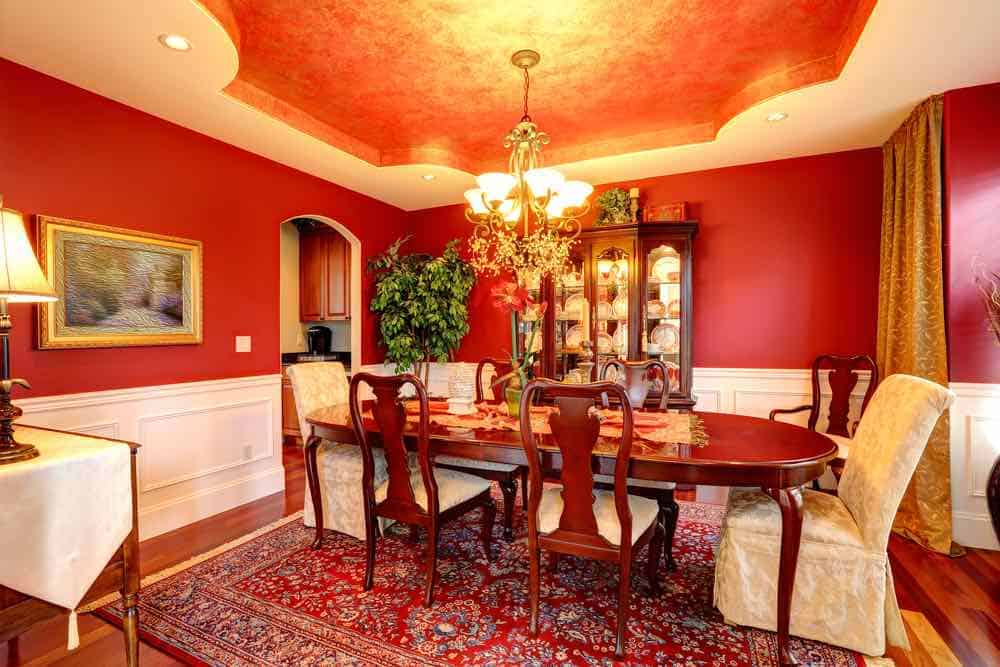 Want to turn every meal into an extravagant dinner party? Use Behr Top Tomato in the dining room. Style with gold accents, and you`ll have a five-star dining experience every night, even if you`re just warming up leftovers.
A crimson red dining room will make your home the site of memorable dinner parties, holidays, and special occasions. With thoughtfully selected lighting, a crimson red dining room creates a memorable atmosphere for every dinner; party or not. Just add candlelight to the table setting to spruce up any weekday dinner.
You can also get creative with the decor and furniture. Mid-century modern furniture looks timeless, and an ornate antique will take the room full rococo. But contemporary rustic, with warm wood and brushed steel will update the aesthetic. Stylish wall art and natural fibers are a few more ways to update a crimson red dining room.
Colors That Go with Crimson Red
You know you want red, but how to create a cohesive vision for a room with such strident color? Check out some of our other blog posts about popular colors and how they pair with crimson red.
Slate blue: When you use crimson red with a cool undertone, red and slate blue will pop with energy without clashing. You can create a powerful palette using a crimson red accent wall in a slate blue room.
Light beige: Light beige with warm undertones keeps a space open and warm while letting a crimson red accent wall shine. Use paint chips to find the right shades of red and beige to go together.
Subtle grey: Once you match undertones, gray and red together are perfect for Nordic-inspired decorating, cozy and inviting dens and living rooms, or luxurious bedrooms.
Olive green: Power-clashing is advanced interior decorating, but with big risk comes big reward. Warm shades of olive green through home decor will bring energy and cohesion to your home renovation project.
Committing to Crimson Red
You`re fueled with plenty of inspiration and helpful tips for executing a professional level paint job without the expense of professional painters. With planning and research, crimson red will look great in any home. The bedroom, dining room, and den are all exceptional places to add some vermillion energy. Minor adjustments to lighting and decor will support a bold paint color, so it looks natural and beautiful, regardless of the room.
You can use crimson red accents to invigorate a monochrome or neutral room, with painted trim, an accent wall, or across a threshold to a room. Collect swatches of crimson red with both warm and cool undertones. Use those undertones to create perfect pairings with your decor and other paint colors. Put up paint samples, and if you`re not enamored with the color, try a new shade, or a different room. Take a little extra time at the start of a home improvement project to save yourself aggravation, regret, and money in the long-term.
What room are you putting crimson red in? Is it your first time with bold colors, or are you a veteran of daring decorating? Let us know in the comments!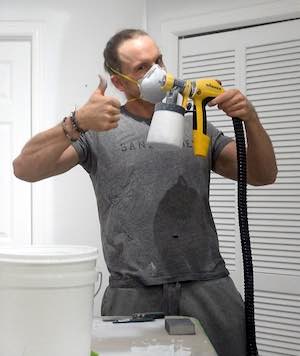 I started painting in 2001 and have seen just about everything in my painting career. I started in production and commercial painting, then moved over to new construction and remodeling during the boom of the early 2000s. Post 2010, I niched down into residential painting where I have done everything from exteriors, decks, interiors, furniture and more. Over the last few years, I've had a focus on kitchen cabinets.
I started the DIY Painting Tips blog in 2015 to start sharing everything I've learned over the years and help all the people who'd rather tackle their painting projects themselves.
You can follow my Youtube Channel where I show you everything that you read about on this site: https://www.youtube.com/@diypainting
You can also hire me directly from DIYPaintingTips.com here: https://diypaintingtips.com/free-painting-quote/
Contact me at: ryan@diypaintingtips.com