Standardized drywall sizing makes DIY drywall projects so much easier.
Knowing, right down to the millimeter, the exact length, width, and thickness of your drywall sheets allows you to calculate how many sheets you'll need for your project with nearly complete accuracy.
Today, I'm going to break down standard drywall dimensions in detail.
Drywall Length and Width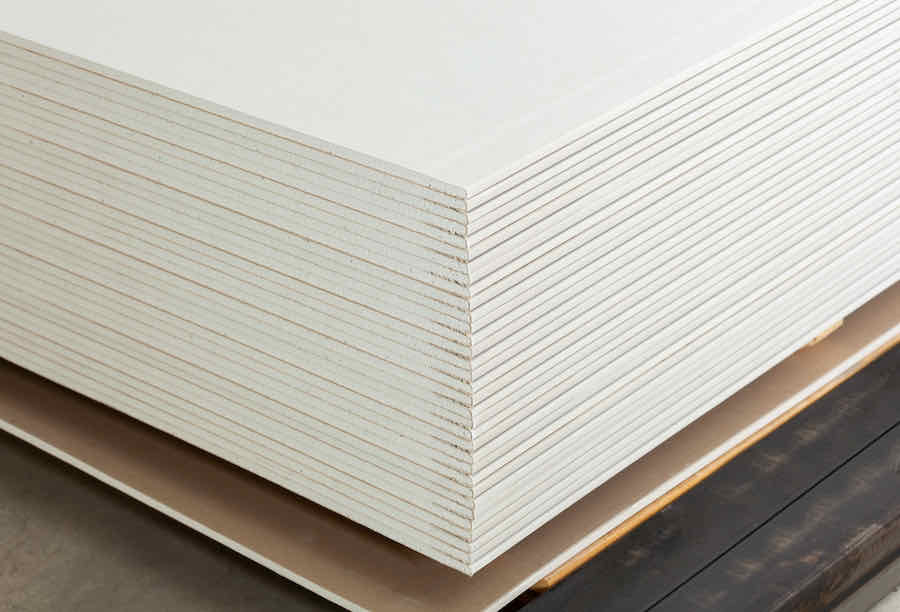 Building codes almost never require a specific length and width for drywall sheets (although they sometimes do require a certain thickness). Rather, it's up to you to select the right size drywall sheets for your project.
4-Foot x 8-Foot Drywall
The most popular and common drywall panel size is 4 feet wide by 8 feet long.
4-foot by 8-foot drywall is commonly used by professional builders, but it's also the best choice for home DIYers.
For example, if you're installing new drywall in your home, then a 4×8-foot sheet of drywall is likely the largest you can hang yourself (even with a partner).
At a standard thickness of 1/2-inch, an 4×8-foot panel clocks in at roughly 57 pounds. Any heavier than this is very difficult for home DIYers to move, especially solo.
Add in the fact that drywall sheets typically come attached together in pairs (that means one sandwiched pair weighs around 114 pounds) and it's easy to see why most builders and homeowners opt for this size panel.
Of course, you're able to lighten the load somewhat by cutting the paper binding strips to separate the two panels for easier transportation.
If for, whatever reason, your project demands larger drywall panels, you'll definitely need to acquire a drywall lift to help. Drywall lifts are actually super helpful even with hanging 4-foot by 8-foot panels, especially if you're also drywalling your ceiling.
Drywall lifts are available to rent at most home improvement stores.
4-Foot x 12-Foot Drywall
4×12-foot drywall is ideal if you're hanging drywall vertically.
Although residential drywall is almost always hung horizontally, vertical drywall is quite common in commercial construction. In fact, building code sometimes require sheets to be installed vertically.
12-foot long sheets of drywall enable to you meet higher ceilings without any horizontal breaks to create a smooth surface from floor to ceiling.
4-Foot x 16-Foot Drywall
Like 4×12-foot drywall, 4×16-foot drywall is ideal for hanging drywall vertically if you wish to connect the floor with a higher ceiling in a single unbroken surface.
4×16-foot drywall can also be used horizontally so as to create fewer butt joints than with your typical 4×8-foot sheet of drywall.
When working with 4×16-foot drywall (as well as with 4×12-foot drywall), it's essential you have a couple of helpers on hand to safely maneuver the panels into place for installation.
Alternative Drywall Sizes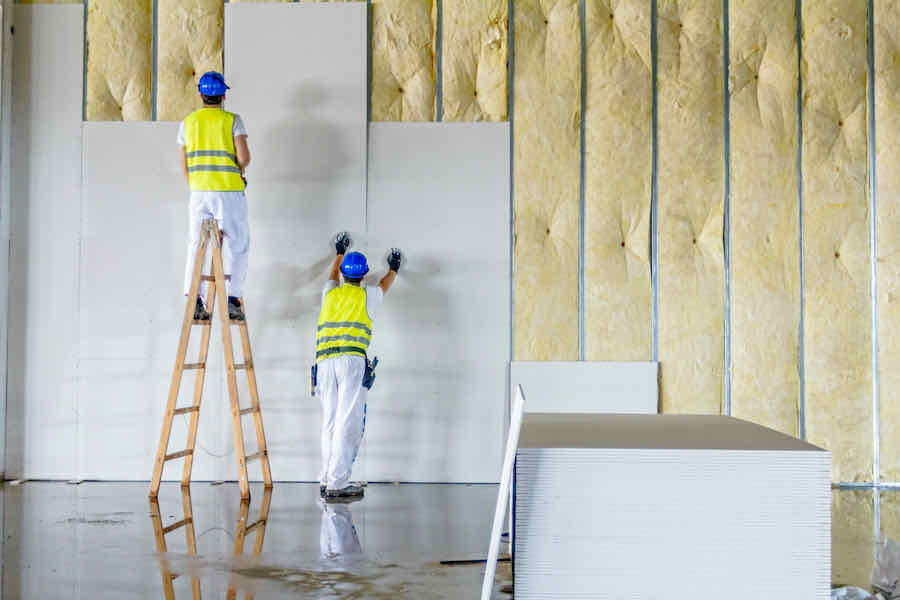 Although drywall is most commonly found in the above sizes, alternative sizes are also available.
54-Inch Wide Drywall
Also known as 4-1/2 foot wide drywall, 54-inch wide drywall can be special-ordered. There's really no reason for the DIY homeowner to ever buy this alternative. In fact, it's not carried in home improvement stores. 54-inch drywall is best for professionals only – and, even then, it's rarely used.
2-Foot x 2-Foot Drywall
Drywall doesn't come stock in a 2-foot by 2-foot size. But most home improvement stores do carry smaller sheets of drywall in roughly these dimensions. These are typically cut-down from larger panels or left-over pieces from projects. A smaller piece of drywall like this is ideal for patching jobs or for drywalling small nooks, crannies, and alcoves.
Drywall Thickness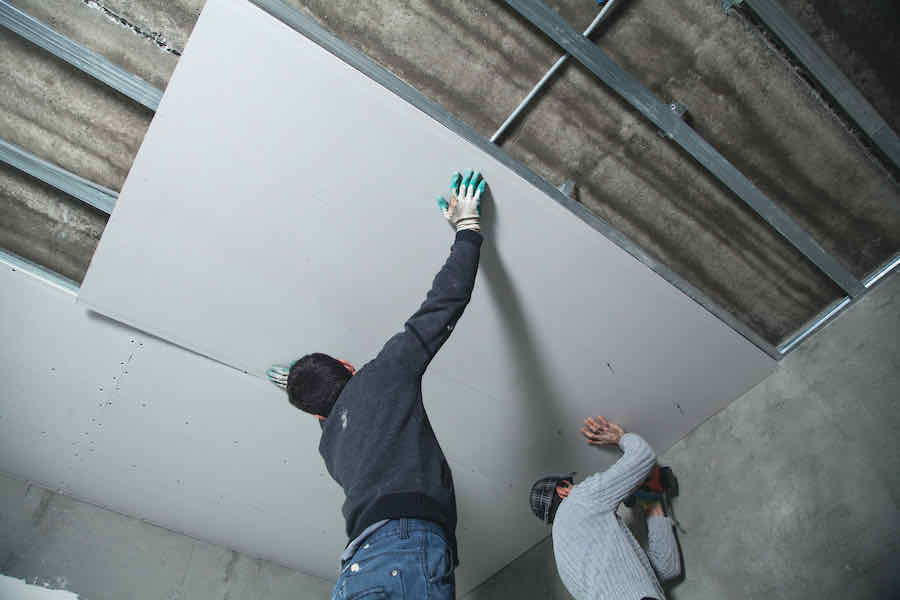 Drywall is most commonly available in 1/4-inch, 1/2-inch, and 5/8-inch thicknesses.
Although they don't usually govern drywall length and width, building codes often do require specific drywall thickness for different applications.
Layering drywall is another option to increase thickness.
During normal residential construction, this is often done to reduce sound transmission and increase the soundproofing of a room.
In multi-family construction, layering drywall is sometimes used on shared walls. Building code sometimes requires this to maximize fire resistance between units.
Our drywall thickness guide breaks down everything you need to know about drywall thickness in more detail.
Drywall Size FAQ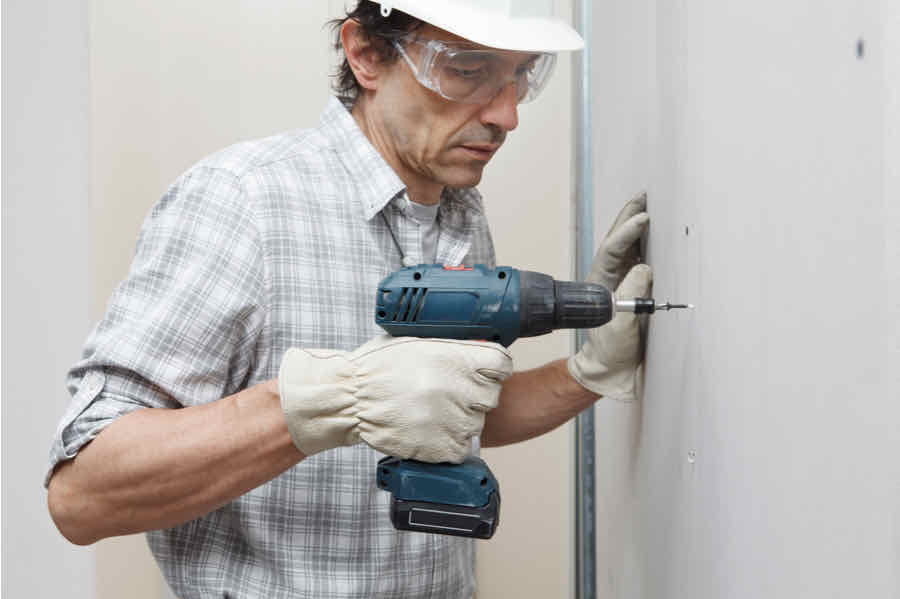 Here are answers to some of the most commonly asked questions about drywall size.
Q: What is the most common size drywall for walls?
1/2-inch drywall is the most common for residential walls, usually in the 4×8-foot size. It's lightest to carry which makes it easiest to hang, but it's more than sturdy enough as well.
Q: What size does 1/2 drywall come in?
As the most common thickness for residential drywall, 1/2-inch drywall is available in all of the common lengths and widths, including the standard 4×8-foot, 4-1 foot, and 4-16 foot panels. It's also available in most alternative sizes, including 2×2-feet and 54-inch wide panels.
Q: What size drywall is used in garages?
Standard size drywall panels are perfect for garages, although many homeowners and builders opt for 5/8-inch thick panels over the more common 1/2-inch thick panels to increase fire resistance.
Q: What size drywall to use for ceilings?
You can certainly use 1/2-inch thick drywall on your ceilings, although 5/8-inch thick is usually a better bet. The thicker drywall is much less likely to sag between ceiling joists. This is especially true if you add popcorn or another surfacing material to the ceiling drywall.
Q: Why does drywall size matter?
Many considerations go into drywall size. As a home DIYer, weight is perhaps most important. You must ensure that you're able to move and hang the drywall yourself, so going with 1/2-inch thick panels in the standard 4×8-foot size is typically the best bet.
Another consideration is fire resistance, often required by building codes, in furnace rooms, garages, and shared walls in multi-family dwellings.
Lastly, the correct drywall size helps minimize the number of joints needed during installation.
Final Thoughts on Drywall Sizes
Basic knowledge of the standard sizes for drywall panels is very helpful for DIY drywalling projects.
It's also wise to have a basic grasp on the different types of drywall, including mold and moisture-resistant drywall as well as fire-resistant drywall, although standard drywall is best for the vast majority of residential projects.
Need more help?
Start with our extensive drywall resources, such as our guide to removing drywall without making a mess and our breakdown of the best drywall primers.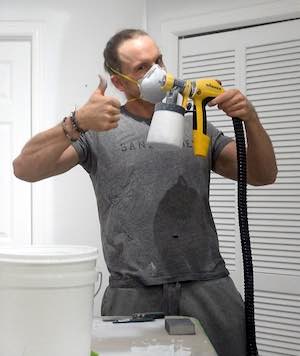 I started painting in 2001 and have seen just about everything in my painting career. I started in production and commercial painting, then moved over to new construction and remodeling during the boom of the early 2000s. Post 2010, I niched down into residential painting where I have done everything from exteriors, decks, interiors, furniture and more. Over the last few years, I've had a focus on kitchen cabinets.
I started the DIY Painting Tips blog in 2015 to start sharing everything I've learned over the years and help all the people who'd rather tackle their painting projects themselves.
You can follow my Youtube Channel where I show you everything that you read about on this site: https://www.youtube.com/@diypainting
You can also hire me directly from DIYPaintingTips.com here: https://diypaintingtips.com/free-painting-quote/
Contact me at: ryan@diypaintingtips.com