Drywalling does require some specialized tools (as well as some common household tools).
Luckily though, picking up all of these tools is reasonably affordable. You can certainly find everything you need for your next DIY drywall project without breaking the bank.
Today, we look at exactly which drywall tools you absolutely need (and which are helpful but not explicitly required).
Most Important Tools for Drywall Work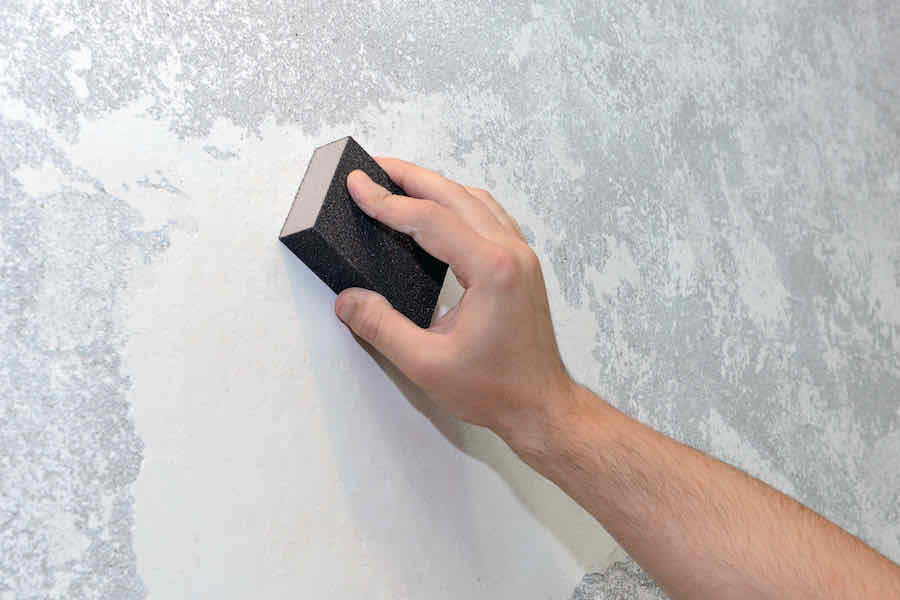 Here are the 7 most important drywall tools you need for your DIY project.
Utility Knife
Among the most basic drywall tools that many homeowners already have at home is the utility knife.
Any old utility knife should do the trick (with a sharp blade) if you already own one. That said, if you do need to buy a new one go with a model with a screw-on interchangeable blade rather than a snap-off blade.
When installing new drywall, you'll use your utility knife to score and snap drywall panels to ensure a proper fit.
---
Drywall T-Square
A drywall T-square is another essential tool for hanging drywall.
Although quite similar to your standard T-square, a drywall-specific T-square has one substantial difference – it's much larger.
The best drywall T-squares – like the Empire 48-Inch Drywall T-Square – are 48 inches long. This allows you to run the length of the T-square down the entire width of a standard drywall panel (4×8-feet).
The cross end of a drywall T-square is also slightly different than the standard version. It's made to sit neatly over the edge of the drywall panel without shifting.
Some drywall T-squares also have an adjustable head so that you can change the angle to 30, 45, 60, 75 degrees, etc. But this isn't needed for most projects.
You'll get a lot of use out of your drywall T-square when scoring drywall panels to size with your utility knife.
---
Tape Measure
Don't forget your tape measure when you're hanging drywall.
A tape measure allows you to take accurate measurements for cutting drywall panels to size before hanging.
Although any old tape measure will do the job just fine, we recommend as long of one as possible (at least 12 feet is a good bet) to more easily measure down longer walls.
---
Jab Saw
Once you hang your drywall panels, you might still need to make more cuts.
For example, if the panel is sitting in front of an electrical box, light switch, HVAC vent, or recessed light.
A jab saw – or specialized drywall saw – is the best tool to make these cuts. The sharp, flexible blade with coarse teeth easily penetrates drywall from the front. You then use a back and forth "jabbing" motion to make your cut.
This tool has a specialized use – jabbing only – but is imperative to most drywall projects. Luckily, they are quite affordable.
I like the DeWalt Jab Saw, although pretty much any brand and model will get the job done.
---
Cordless Drill
Gone are the days of using drywall nails to hang drywall. Nowadays, you're much more likely to use drywall screws to hang the panels.
Although specialized drywall screw guns are available, these are really only suitable for professionals – home DIYers should opt for a standard cordless drill instead.
Almost any cordless drill works well for hanging drywall, although there is one key feature to look out for.
You want a cordless drill with adjustable torque. This allows you to lower the torque to prevent stripping the screws during installation.
The key to effectively installing drywall screws is to start slow and gentle. Basically, let the screw do all the work. When it comes to a stop about 3/4 of the way in, it's time to apply pressure yourself.
If you already have a cordless drill at home, chances are it will work just fine. If you're in the market for one, almost any model with do, although I do like this Black+Decker Cordless Drill.
Do note that a budget-friendly cordless drill is an okay choice for hanging drywall. You don't need something super robust or powerful for most DIY projects around the house.
If you do have a very large drywalling project at hand, specialized drywall screw guns are available for rental from most home improvement stores and can help speed up the installation process.
---
Drywall Knives
Now that you've cut and hung your drywall panels, it's time to apply joint compound.
For this step, you'll need a variety of tools. The most important being a set of drywall knives.
Although you can get away with just one drywall knife, it's best to just buy a set so you have a few different knives for each set.
Basically, you want a 4-inch drywall knife (or, alternatively, a 6-inch drywall knife) to slop the drywall mud onto the wall and for taping.
Then you want a larger drywall knife, a 12-inch drywall knife is standard, for feathering, smoothing, and final coats of mud.
Although far from necessary, many DIYers find it easier to smoothly apply drywall into corners with a corner knife. Not only will it help leave you better results, but it makes the job much faster.
Also helpful is a drywall mud pan. Fill it up with mud and use it to transport mud around. Many different sizes are available to suit the specifics of your job.
---
Sanding Tools
After your drywall is taped and mudded, it's time to sand it down to a perfectly smooth finish.
Before you get started it's important to wear dust protection gear (a face mask and eye protection) as this can be a very dusty step in the drywalling process. A shop vacuum, an open window with a window fan, and a drop cloth also help greatly.
A dedicated drywall sander (discussed in greater detail below) makes the job much quicker and easier, but isn't needed for most DIY drywall projects.
Instead, most DIYers will be just fine using a drywall sanding block, drywall sanding pole, and drywall sanding sponge (plus extra sanding sheets).
A sanding block is used to hold sandpaper for basic sanding. A sanding sponge is basically the same thing except one side acts as a sponge. Fill the sponge with water to wet sand the drywall for the smoothest finish.
A drywall sanding pole makes reaching high and low points on the walls as well as on ceilings much easier.
You can also buy a corner sander for easier sanding in 90-degree corners, although this tool is far from necessary for home DIYers.
---
Additional Helpful Tools for Drywalling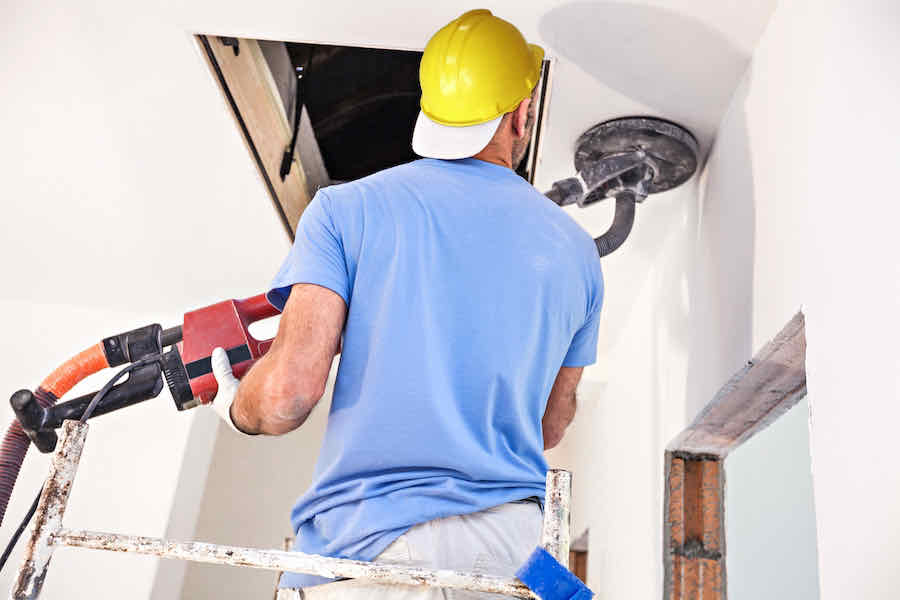 Here are 4 additional drywall tools that are helpful, although not essential, for drywalling.
---
Drywall Lift
We strongly recommend hanging drywall with a partner.
But, if you do find yourself tackling the project alone, a drywall lift is all but essential.
A drywall lift is simply a tool that allows you to safely lift a sheet of drywall into place all by yourself – no help required.
This drywall tool is also extremely helpful when you're drywalling a level or sloped ceiling, even if you do have a helper.
Drywall lifts are expensive to buy, especially for limited home improvement use, but can be rented from most home improvement stores. The rental fee is well worth it, in my opinion.
---
Drywall Sander
A drywall sander makes sanding drywall so much quick and easier.
You can use a handheld drywall sander, similar to an orbital sander (or, in many cases, you can just use an orbital sander), or, better yet, a drywall with a long handle (similar to a drywall sanding pole).
The best drywall sanders have a long telescoping handle to make it easier to get into hard-to-reach places.
Many electric drywall sanders also have a vacuum hose attachment to help minimize dust during the sanding process.
Do you need to buy an electric drywall sander? Probably not. Most home owners are fine manually sanding drywall.
But, if you do want to invest in one of these drywall sanding tools, this WEN Drywall Sander is an excellent and affordable option.
---
Drywall Screw Gun
As mentioned above, most home owners are fine using a standard cordless drill to drive drywall screws into their drywall panels.
However, a drywall screw gun does make the job quicker and easier, especially if you're working on a very large project. Buying one is also a worthy investment if you plan to take on additional drywalling jobs in the future.
The main difference between a drywall screw gun and a cordless drill is that a drywall screw gun gives you the ability to set depth of penetration.
This helps prevent not only the screws from stripping but also the drywall panels from any damages.
Most drywall screw guns are also self-loading, using collated screws. This means you don't have to load each screw yourself. The screw gun has an automatic feeder so you don't have to manually insert one each time.
Finally, these specialized drywall tools are usually twice as fast as a typical cordless drill, but are able to operate at a much lower torque which makes them gentler on the drywall panels.
I like this DeWalt Drywall Screw Gun, although pretty much any model will get the job done for the average home owner. Rentals are also available from most home improvement stores.
---
Drywall Taper
A drywall taper (also known as a drywall tape banjo or mud gun) is another specialized drywall tool that makes the job easier and quicker.
These nifty devices push drywall mud into the joints between drywall panels and then automatically cover the compound with drywall tape.
Many drywall tapers also have a long extendable arm. This makes taping drywall on ceilings or taller walls a heck of a lot easier.
What About Safety Equipment?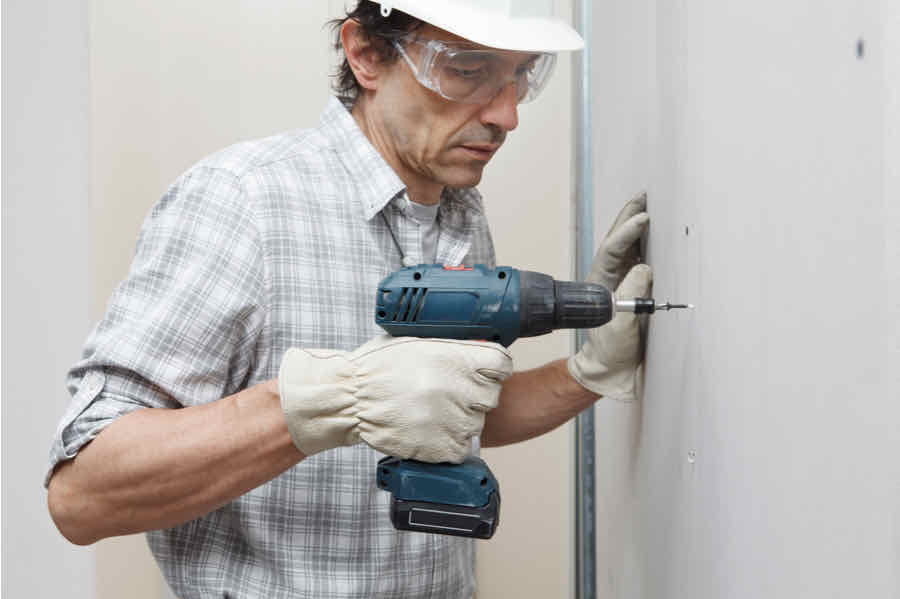 In addition to always hanging drywall with a partner (or using a drywall lift if a helper isn't available), wearing the right protective gear is the best way to stay safe.
Chief among drywall safety gear is eye protection and a face mask.
Both pieces of equipment help protect you against drywall dust created when cutting drywall during the installation process.
Such safety equipment is even more important when removing drywall – especially if you're using a sledgehammer rather than taking the extra time for less messy removal.
A quality shop vacuum is always helpful during DIY projects. When it comes to drywall, such a vac is particularly beneficial during the drywall removal process.
Finally, always make sure that you're using a sturdy ladder if one is required for your project. And remember to follow all ladder safety best practices during use.
Remember, It Depends on the Project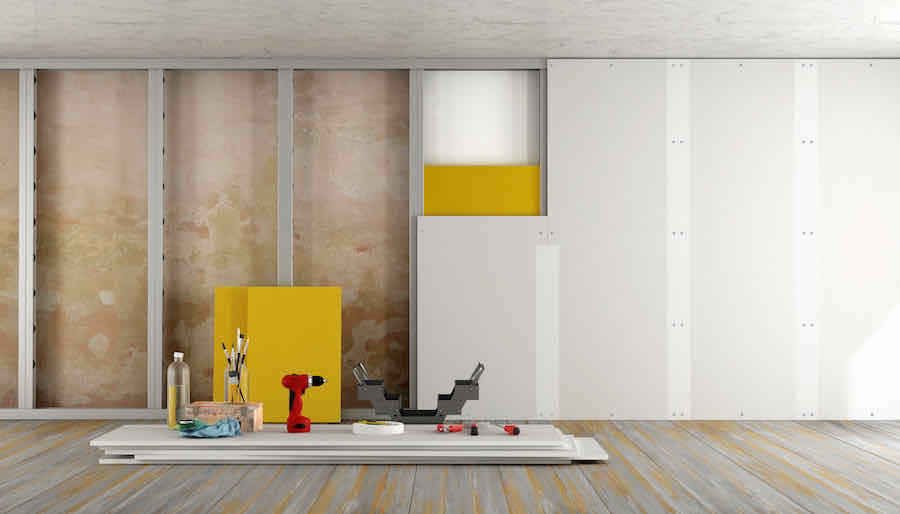 Don't rush out and buy every drywall tool on this list…
First, take the time to consider the specifics of your project – which steps of the drywalling process are you taking?
Are you simply hanging new drywall or are you removing old drywall too? Do you plan to cut, sand, tape, mud, and finish the drywall yourself?
Just as important to consider are the type of drywall you're using, it's size and thickness, as well as whether you're using drywall nails or drywall screws.
Finally, know that hanging drywall on a ceiling is more difficult than installing drywall on walls – a drywall lift is super helpful for ceiling projects.
Final Thoughts on Drywall Tools
Hanging drywall really isn't all that difficult with the right tools.
If you want to learn more about repairing and hanging drywall, check out our Drywall Page where you'll find everything you need to know about hanging, repairing, and painting drywall.
Need more help? Check out our Drywall Resouce Page for all things drywall.