They say we shouldn't judge a book by its cover, but that saying does not hold much weight when deciding on the paint color for your home's exterior. So while picking a color for your bedroom or living room depends a lot on your taste, the color of your home's exterior also affects your neighborhood's look. No pressure, right?
I've compiled a list of the 20 most attractive exterior house painting ideas here for you. Read on to get inspired!
How to Choose Exterior House Painting Ideas for Your House
You should consider a few factors when choosing the right exterior home color. To make your decision, you need to do the following:
Identify the style or era of your home's architecture. While you don't have to stick to traditions, the architecture can help you narrow down your exterior house painting idea options.
Look at other houses around you or in neighborhoods you've been to for inspiration. You don't have to copy their look, but they will at least give you an idea of what you want or don't want to do for your own exterior house painting ideas.
Work around home elements that you won't be changing anytime soon, like the roof shingles or tiles, the driveway, the wall stonework, and so on. Since these elements give your home a distinct accent, you need to ensure the colors you choose will complement them.
Don't get too influenced by passing trends. You may grow out of it soon and regret the choice you made in the spur of the moment.
Turn to your home interior and its surroundings for exterior house painting ideas. Things like its size and the shape of your roof will also play a role in helping you pick the right exterior house color.
When you finally think you have the perfect color for your house, don't forget to test it out before starting the paint job. Get samples of the colors you shortlisted and have them painted onto large strips.
If you're still having difficulty picking the right color choices, you've come to the right place. This article lists 20 of the best exterior paint color ideas you get inspiration from.
20 Best Exterior House Painting Ideas
1. Ivory
Ivory is a classic exterior house painting idea for someone looking to evoke a feeling of elegance and rich heritage. It works on almost any kind of house and is considered one of the safest color options around.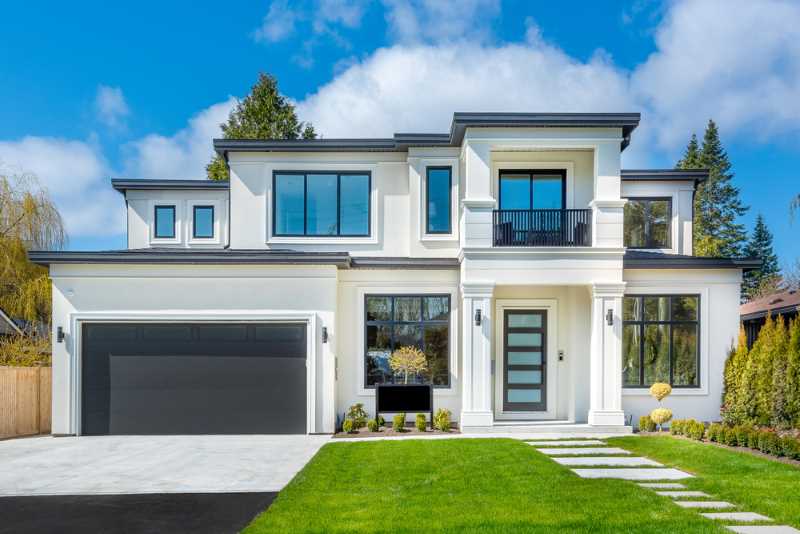 While still part of the white family, ivory isn't quite as bright as white, which gives a colder aura that suits an office or commercial space better. On the other hand, ivory gives you the elegance that white provides without appearing too bright.
It also differs from cream, as ivory has less of a yellow undertone.
2. Warm and Cool Tints
Color tints are derived from lightening a base color with the addition of white. They are thus the opposite of shades, darkened with the addition of black.
If you want to make your home appear larger visually and more prominent, warmer color tints with white trims are exterior house painting ideas that can help you achieve that. The most commonly used tints are light greens, yellows, and blues.
The first step is to select a base color according to your preference and surroundings. To create warm or cool tints, all you have to do is mix white to the base color until you derive the tint of your choice.
3. Monochromatic
A monochromatic color palette consists of one base color mixed with one or more hues that vary in lightness or darkness.
The boldest monochromatic color scheme is to paint your home black. A way to enhance structural features, in this case, would be to go with dark gray or matte black accents and trims. The basic concept of this exterior house painting idea is to pick accent features and paint them with a darker or lighter shade of the base color.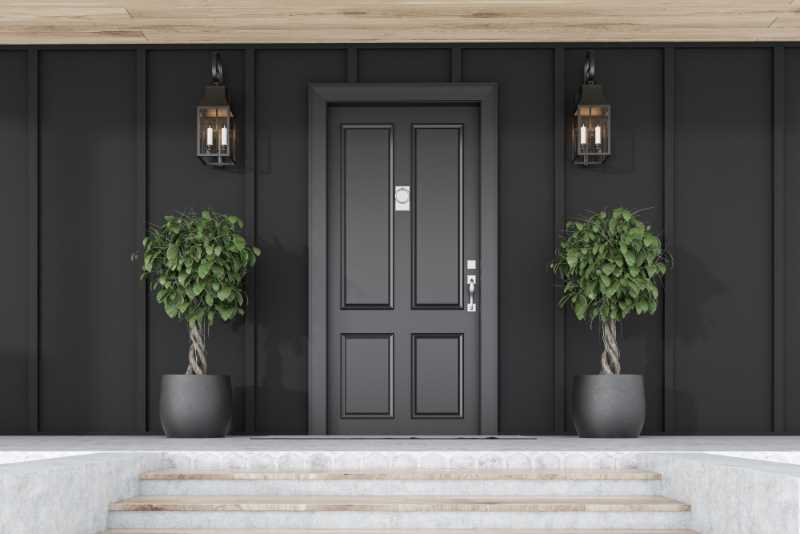 When choosing a monochromatic palette, you have to see how they look outside since indoor lighting can sometimes mislead you.
4. Bold Color
Going bold is subjective since the colors that some may find bold may not be bold for you. One way to implement bold exterior house painting ideas is by using a dramatic trim that accentuates your house's structural and architectural features.
Picking a bold color does not mean picking a bright, fluorescent shade that may feel like an eyesore. Being bold means choosing a color that's not commonly used and making it work for your house.
5. Pick Primary Exterior Home Colors
Going back to basics is never a bad idea. Besides, they are called "primary colors" for a reason. Mixing and matching primary colors of different tints and shades for your home exterior can give it a bright, warm vibe.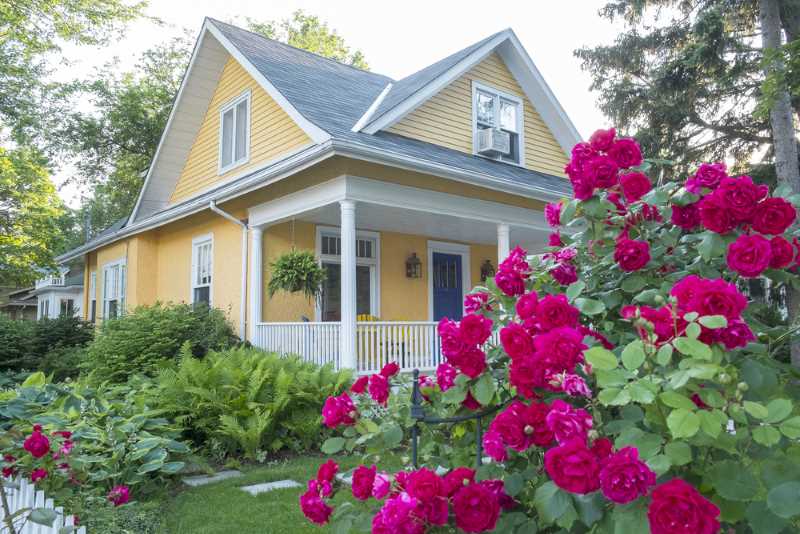 For example, a bright sunny yellow goes well with accents of rich blue. You can also choose to go with red and blue or yellow accents.
6. Wood Finish for Warmth
A wood finish is an exterior house painting idea that can give it a sophisticated, luxurious feel but also comes with a fair bit of maintenance. The trick to using wood finishes is to focus on trims and focal points like the front door, so it's not overbearing while also giving it a posh look.
You can also choose to get natural wood for your structures then paint them according to your preference.
7. Deeper Mustard Yellows
One of today's trending exterior paint colors is a deep mustard yellow, which is excellent for giving your house an air of hominess while not being too bright.
The exterior house painting idea brings a vibrance that's mature but not boring. It works best when paired with another color. It goes well with brown and white accents.
8. Rich Greens
The green color palette is one of the most popular and well-loved exterior house painting ideas that give houses an earthy and warm finish.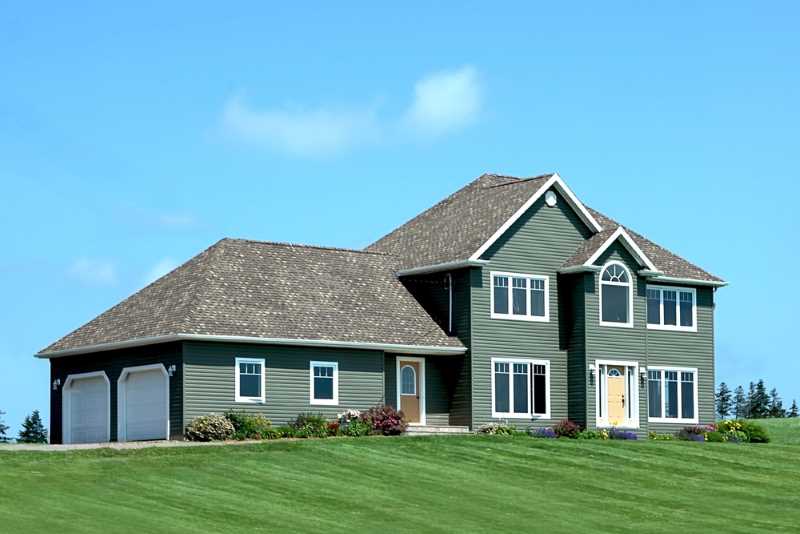 Sage or olive hues go well with Craftsman-style homes. Meanwhile, rich green colors, like emerald green, provide an air of luxury while staying true to the color's earthy nature. Finally, dark forest green works best on Victorian-style or colonial houses.
9. Classic White
There's a reason why white is considered a classic exterior house painting idea—it never goes out of style. It is one of the safest options to go for when nothing else comes to mind.
However, it is essential to note that white will make your house look quite bright and shiny, especially in the summer. While it helps keep your interiors cool, you might want to consider balancing the brightness with contrast accents.
Another way to enhance the classic white exterior house painting idea is to add a bold-colored element, like a deep red door or colorful landscaping.
10. Ocean Blues and Greens
Oceans and beaches are some of the biggest inspirations to look at when deciding on exterior house painting ideas for your house, especially if you live in a coastal region.
Inspired by the vast seas, ocean blues and greens have been popular for quite a while now and have replaced pale blue shades.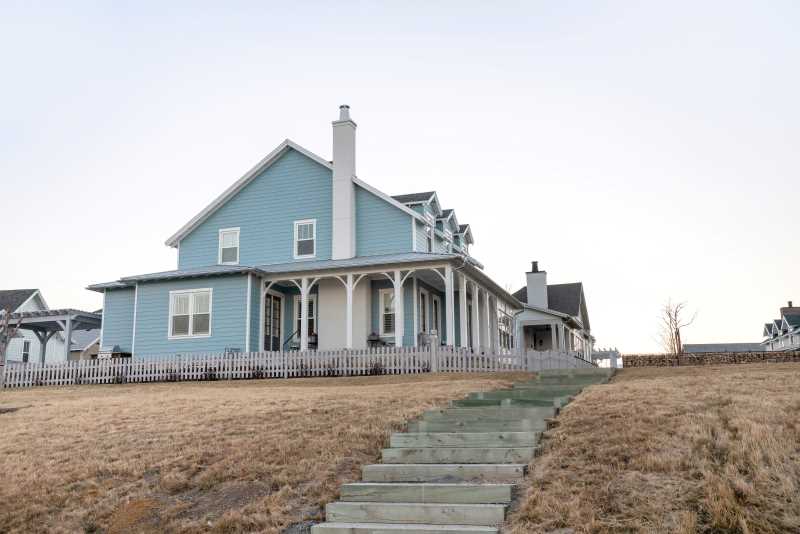 Pairing sea or aquamarine blue with a neutral shade like ivory can give your house an elegant yet vibrant feel.
11. Updated Neutrals
Like white or ivory, other neutral shades like tan and beige never go out of fashion. These classic exterior house painting ideas go well with just about any house style.
These neutral shades give your house a sophisticated and contemporary look with a bit of upgrade. For example, a mix of gray and beige goes perfectly well with a traditional Victorian house. You can also enhance the look by painting accents and trims a different neutral shade like white or black.
12. Garrison Gray and Cream Paint Colors
Grays have often been thought dull, but the trick lies in using various shades to your home's advantage.
Pairing subtle bluish grays with cream or soft white accents is an exterior house painting idea that can give your home a comforting yet sophisticated look and feel. Garrison gray, for instance, is perfect in this case since it has a relaxed and elegant feel that suits almost any urban home.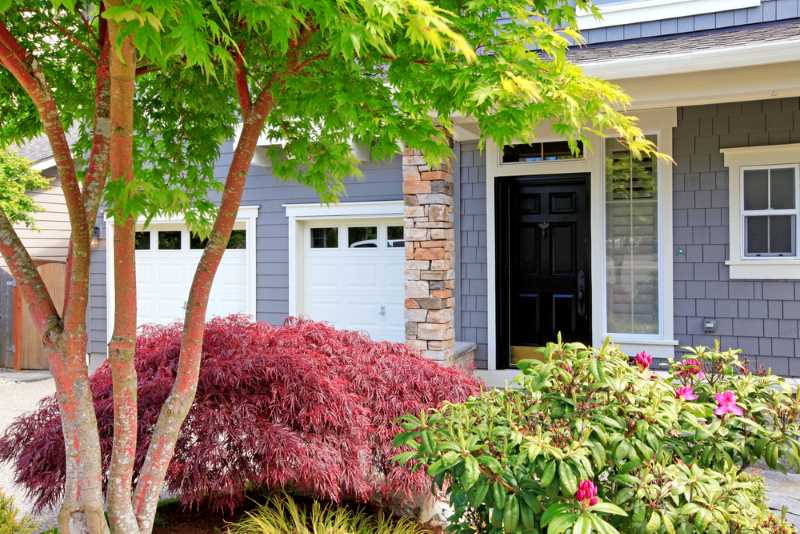 You can accentuate the look by adding a cream trim to the mix to make your house look more modern.
13. Peach, Rose, and Beige Exterior Paint Colors
If you want your house to have a warm, homely feel that invites people over, soft pastels are the way to go to create a gentle vibe.
A pastel peach shade with orange undertones is an exterior house painting idea that gives your home a warm, vibrant feel without making viewers cringe or feel overwhelmed. A great complement to peach is a bright rose shade that works well as an accent color, say, on your front door.
For balance, opt for a beige shade for the window panes to provide a great finishing touch to an overall pleasant exterior color palette.
14. Two-Toned Olive
Olive is another green shade that works well as a sophisticated yet earthy and homely exterior paint color. This deep natural color is commonly used on Craftsman-style houses, especially as a two-toned combination. A mix of light and dark olive shades is an exterior house painting idea that helps create an entrance that recedes well into the landscape. It also goes well if you have rich vegetation surrounding your house.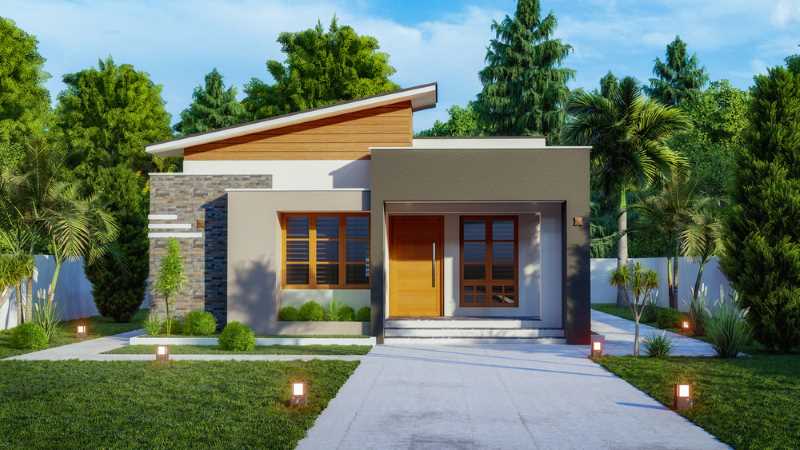 A dash of vibrant, contrasting color on elements like window panes or the front door can add a bit of character to your house.
15. Straw and Sage
Here, we again go back to neutral shades and how you can make the most out of them. You can complement them with a suitable accent color.
A neutral straw yellow sets the tone for a warm, welcoming look for your house. Combine that with a pleasant sage green, and you get a lively vibe, a classic and timeless exterior house painting idea.
16. Red and Black
Red and black is an exterior house painting idea that people may be apprehensive about, but if you make it work, it will give you one of the best looks out of every color in this list.
Going for two bold color choices can be risky, but the results can be grand. Red is a classic that many choose, generally in combination with white. However, a few black accents in the mix can take your home's exteriors to the next level.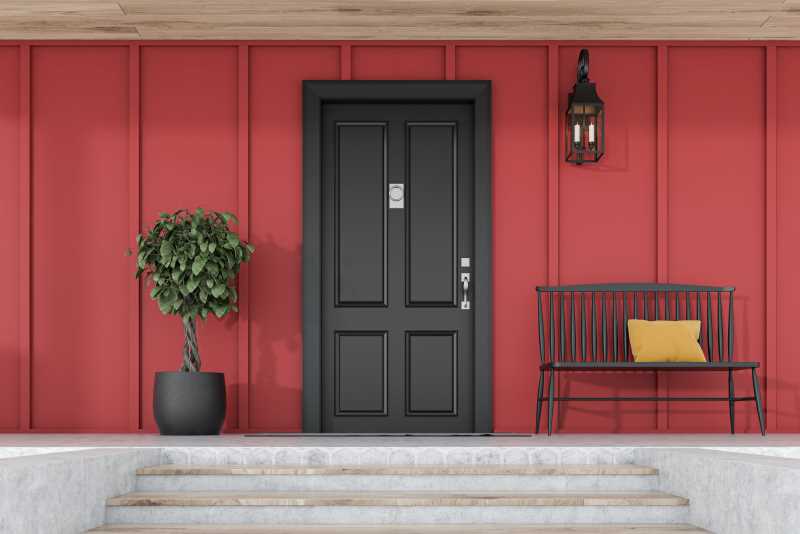 Red usually goes great on smaller houses since it won't look overwhelming. Front doors and shutters accentuated with a deep black color can add a great touch to a red home.
17. Black and Taupe
Mixing black with a neutral is an exterior house painting idea that can give your home anything from a classy and sophisticated look to a warm, cozy vibe, and sometimes a bit of both.
The latter stands true for a black and taupe color scheme, a modern twist on the more common and traditional black-and-white combo. While white and black can give your house a classy, rich look, it can also be intimidating.
So, for those who want to go for a more homely and warm vibe, switching white for a taupe shade may help.
18. Yellow and Blue
We know what you may be thinking—two of the brightest colors coming together for exterior paint?
While it may seem like too bold of an exterior house painting idea for some, the combination can be quite vibrant and charming when done right. Going bright for both shades is a big no, but you can combine a soft, pastel yellow base with bright aqua blue accents to give your home a lovely and vibrant feel.
19. Turquoise and White
If you love all things bright, and summer is your favorite season, this is the color combo made just for you.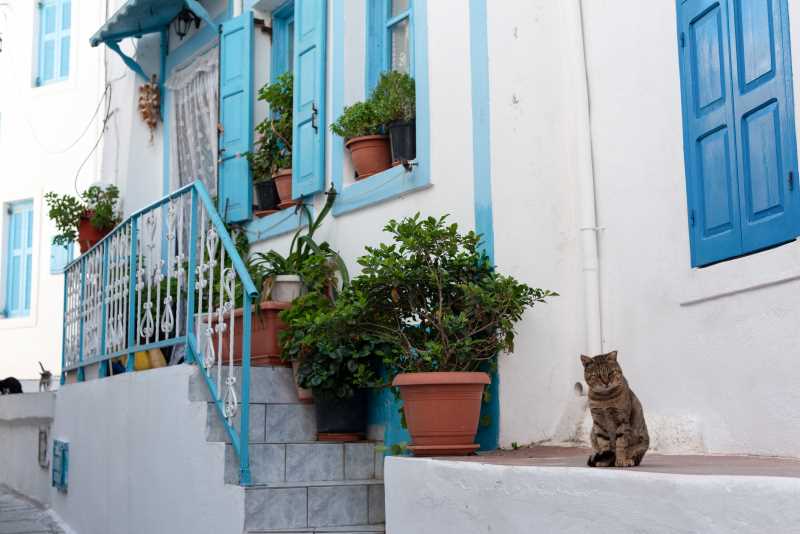 Turquoise is a lively tint of blue that works well for warmer climates, as it gives the summer vibe of clear skies and going to the beach. This exterior house painting idea might be a bit too much to paint your entire house, though, so you can tone it down a notch with white accents for your window panes and doors.
20. Gray and White: Minimalistic yet Grand
We end the list with another combination of neutrals coming together for a minimalistic look. Both these colors work well, whether as the base or accent color. When combined, they give a luxurious look to your understated and elegant house. The best part about this exterior house painting idea is that it doesn't scream luxury; it exudes it.
The somber feel of a gray shade is lifted by a sparkling white that focuses on the structural and architectural features of your home.
Wrapping Up Exterior House Painting Ideas
Painting the exterior of your house requires a lot of thought. And one reason is that there are tons of colors to choose from.
When choosing an exterior house painting idea for your home, you have to consider several factors, including your house's architectural style, landscape, and features or elements that you can't change, apart from your neighborhood.
But don't forget, your taste and preference matter as much as the other factors, so make a choice that you will love. And if you didn't find one that you're sure you'll love on this list, check out my list of popular Sherwin Williams Exterior House Colors for this year.
Check out our Exterior Painting page for even more information on exterior painting, paints, and products.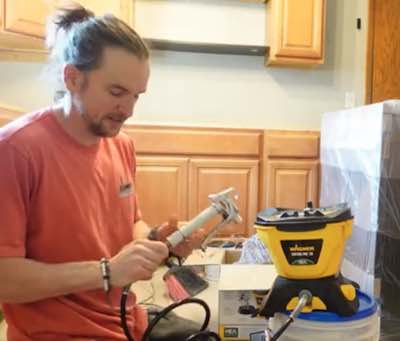 I've been a professional painter since 2001 and spent the last 12 years specializing in kitchen cabinet refinishing. I started the DIY Painting Tips blog in 2015 to start sharing everything I've learned over the years and help all the people who'd rather tackle their painting projects themselves. In 2019 I started the DIY Painting Tips Youtube channel where I publish in depth videos all about kitchen cabinet painting, painting gear reviews, and interior/exterior tutorials.