Did you recently install a fence and want to give it long-lasting features? Do you have a previously painted fence that's starting to show signs of wear and tear? Do you want to invest in the protection of your project?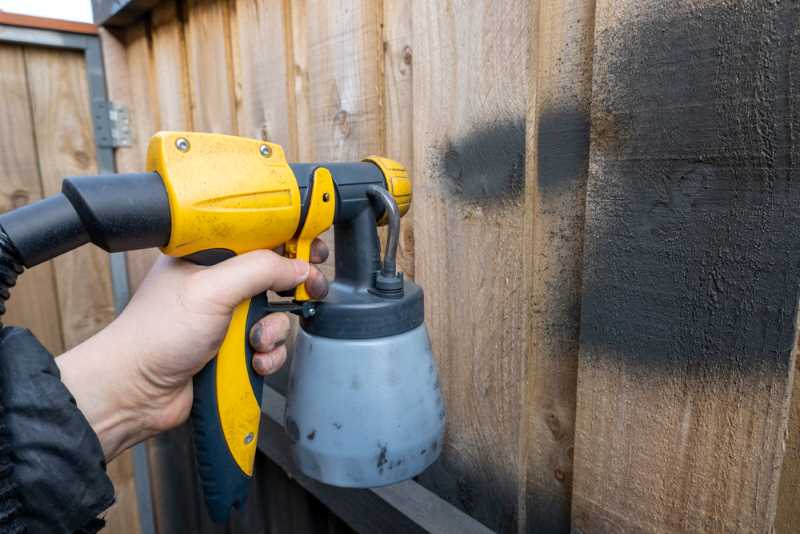 If you answered yes to any or all of these questions, then you're in the right place. Let us teach you how to paint a fence with a sprayer to speed up the painting process. Remember, in the end, painting or staining your fence gives you investment protection and excellent curb appeal.
So what are you waiting for? Let's get started!
DIY Painting Guide: 12 Easy Steps for How to Paint a Fence with a Sprayer
Step 1: Starting Your Project
It's important to recognize when's the right time to paint a fence with a sprayer. Remember that painting and staining a fence will give you long-term investment protection. To look for tell-tale signs that it's time to update your fence, simply inspect your fence and look for signs of chipped, cracked, and peeling paint. If you find signs of wear and tear like this in your paint, you'll need to repaint your fence.
Make sure to remove the old paint first to allow your paint application to adhere correctly and be long-lasting. Sand down any areas where needed. Sanding helps create an excellent surface for your paint to grab onto.
Step 2: Cleaning Your Fencing
To remove old paint and debris, look into using a Wagner Paint Eater and/or Wagner Heat Gun for quick and effortless removal. If you want to avoid buying a tool, our official recommendation is to power wash your fence.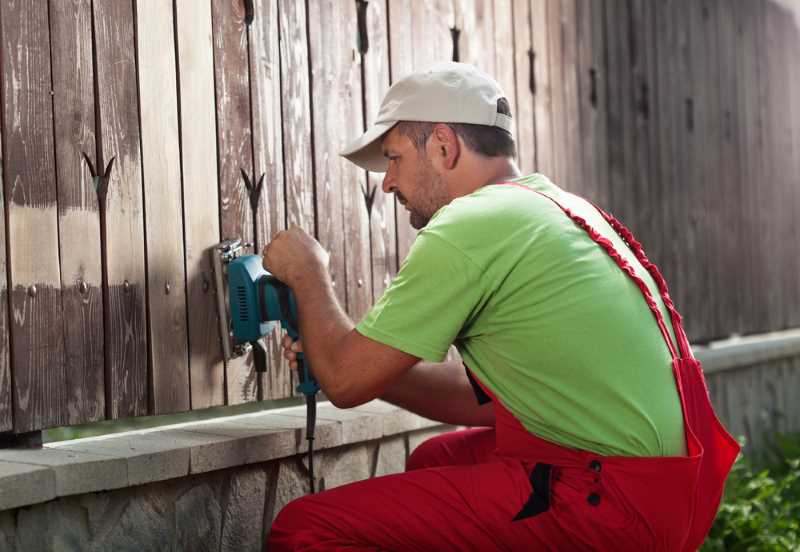 To power wash, you'll need a twenty-five or forty-degree nozzle to get the job done. The safest choice overall is a forty-five-degree spray tip. The degree of a nozzle refers to the width of the spray fan a power washer tip generates. The wider the spray fan, the more coverage you'll get when cleaning your fence, and importantly a wider spray tip causes zero to minor damage to your wood.
When power washing your fence, we recommended going slowly and using multiple passes until you've thoroughly removed all the debris and old paint residue. You'll need to allow 24 hours for the wood to dry completely.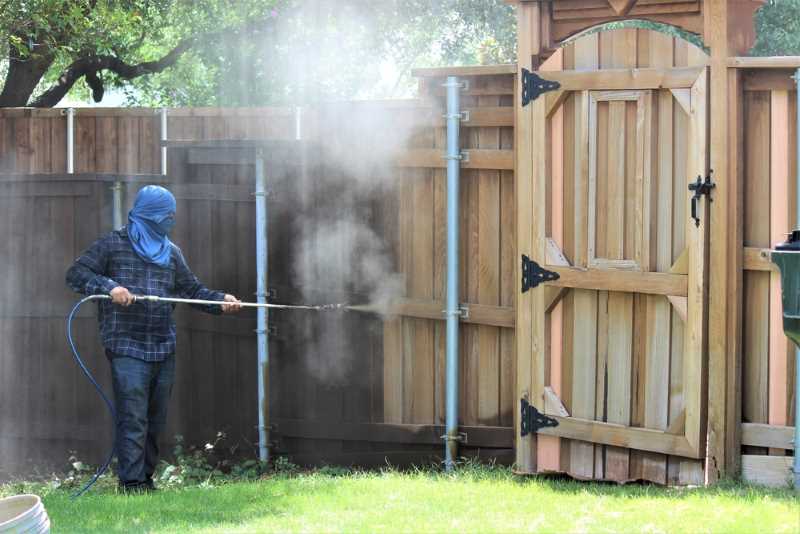 Step 3: Clearing the Surrounding Areas
Next, you'll want to make sure your painting areas are free of obstruction. You want to have open spaces where your brush and vegetation will never touch or smear the paint. Clearing the site also makes it easier to get around while painting.
To clear the surrounding areas, before painting your fence with a sparyer, use proper landscape tools to trim back your trees and bushes hanging over or close to your fence. Next, use your edger and weed wacker to remove any grass or weeds close to or touching the fenced areas. Now you have a clear, more accessible "canvas" to paint.
Step 4: Purchasing a Paint Sprayer/ Learning How to Use It Properly
It's essential to know the type of paint sprayer you need for this project when purchasing a paint sprayer. If you already are the proud owner of a paint sprayer, this is even better news. You'll want to use a sprayer that can handle a big project, such as painting a fence. Sometimes tools even specify if they are a great fit for outdoor projects and wood.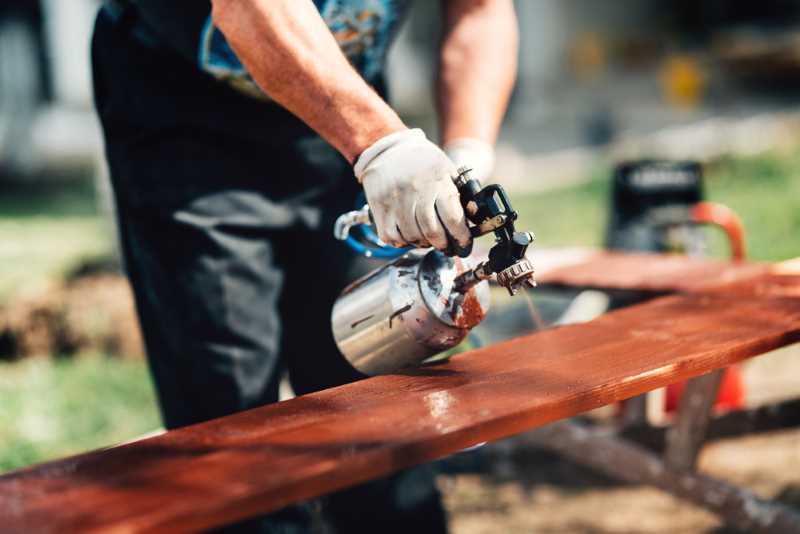 Next, always learn how to properly use your paint sprayer before applying it to your fence. You never want to start a project only to discover you didn't fully know how to use your tools. Use a sample board to get the feel of applying paint thoroughly and evenly with a sprayer, and also make sure you like the paint color you chose. Practice makes perfect.
Step 5: Preparing to Paint a Fence with a Sprayer
We say always to practice safety first! Make sure to use goggles, gloves, and a mask for protection with this painting project. Additionally, we recommend using a hat and spray sock (head covering).
Go around and fix any repairs or replace any damaged boards in your fencing. We also recommend checking for any old exposed and loose nails and correcting these areas as needed.
Then, if you haven't already, sand down any raised areas or imperfections that could cause your paint application to go on roughly, crack, or peel due to adhesion issues.
After you've power washed your fence and allowed it to completely dry, the paint has the best chances of adhering properly. We recommend allowing 24 hours for your fence to dry completely before applying paint after power washing. Then, you'll be ready to paint your fence with a sprayer
Step 6: Tools and Materials for Painting a Fence with a Sprayer
Here's a list of the tools and materials needed to paint a fence with a sprayer:
Step 7: Prepping for Painting a Fence with a Sprayer
Painting a fence with a sprayer is so much more efficient as it is easier in the long run. You'll be happier with the time you've saved, along with the smooth, professional-grade application you've achieved using a paint sprayer.
We can't stress enough the importance of setting up a portable painting station with any painting project. Not only will this painting station be convenient, but you'll be able to complete your project quicker, having all your necessary tools by your side. In addition, you won't find yourself running back and forth to get the tools and materials needed as you go.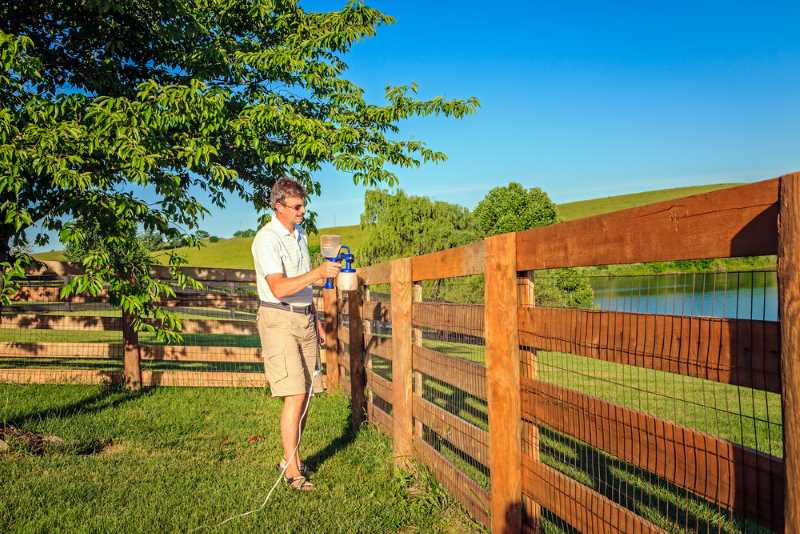 Another important step in prepping to paint a fence with a sprayer is choosing the correct type of paint for the job. When you're in the paint selection stages, look at the kinds of paints specially formulated for decks, fencing, etc., and are also compatible with the weather and other natural elements! These are the types of paint you're going to want to use on this large project.
When you're ready to paint a fence with a sprayer, please read the directions of your paint sprayer thoroughly, then fill it with your first dose of paint.
Step 8: Applying Primer and Paint to Your Fence
Make the personal decision and educated choice according to the type of paint you've chosen if a coat of primer is needed before painting your fence with a sprayer. Depending on the type and brand of paint, sometimes primer's included already. If you need to apply primer first, picking the correct primer for outdoors is crucial! After applying primer, allow an additional 24-48 hours of drying time so your fence can dry completely.
One cardinal rule when it comes to painting a fence with a sprayer is to hold your sprayer six to eight inches away from your fencing surfaces and never arc at the end of your strokes. Instead, we advise you to use a perpendicular direction and create a crosshatched pattern to help eliminate streaking.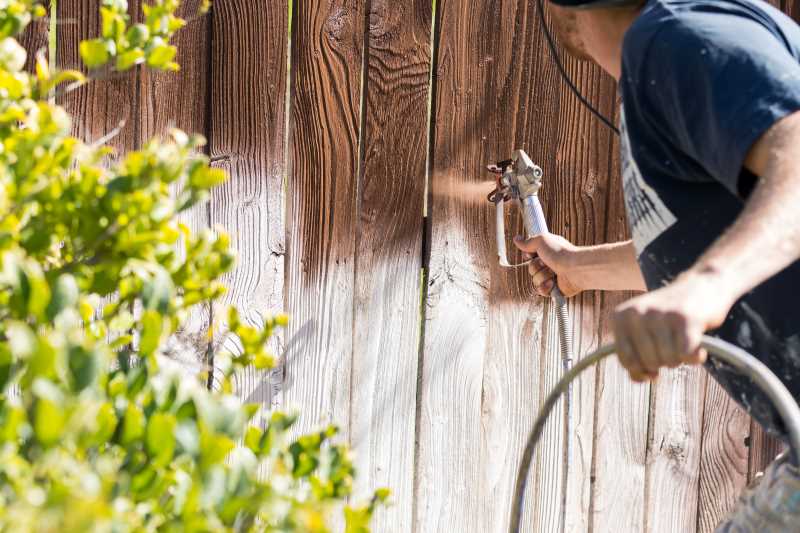 In most cases, your fence will need two full coats of paint with full drying time in between each coat. In the end, painting your fence with a sprayer is not only going to add curb appeal but additionally, help you preserve and protect it from extreme weather conditions.
Keep a step ladder nearby to help aid you in reaching the top portion of your fence or any hard-to-reach areas. Lastly, go at a slow pace to make sure you thoroughly cover all the nooks, crannies, and edges of your fence.
Step 9: Apply a Waterproof Sealer if Needed
When it comes to choosing a sealer, and you've already checked to see if your paint has an included sealer, then we encourage you to do a little research, but here are a few of our favorites:
Be on the lookout and read reviews to find the best waterproof sealers formulated for fencing. Sometimes paints formulated for outdoor use already have a sealer included. However, for extra coverage, it's best to pick a type of sealer that can hold up to all the natural elements such as rain, snow, wind, sleet, etc.
Step 10: Allow Your Paint to Cure
After you've applied your primer, paint, and sealer, we recommend allowing 36-48 hours for your fencing to dry entirely and cure. Pay attention to the weather forecast before you even begin. Since this project is outdoors, this is extremely important as you'd never want to run into natural elements such as rain or snow in the duration of your painting.
Make sure to give your final paint job a complete look over and fix any missed or thin spots. While you're allowing your fence to dry, now's also a good time to take care of your tools and clean your paint sprayer, so it's good and ready for your next painting project.
Step 11: Railings, Outdoor Fence Caps, and Lighting
You may not have thought about the surroundings when painting your fence. Do you need to match any exterior features to help create flow? Consider painting sheds, shutters, trim, gutters, or anything in close quarters with your fencing.
If you only paint the fence itself, before you begin painting, make sure to cover your non-painting areas with plastic tarps and painter's tape. Covering your areas keeps you from having paint smear or splatter in the wrong places.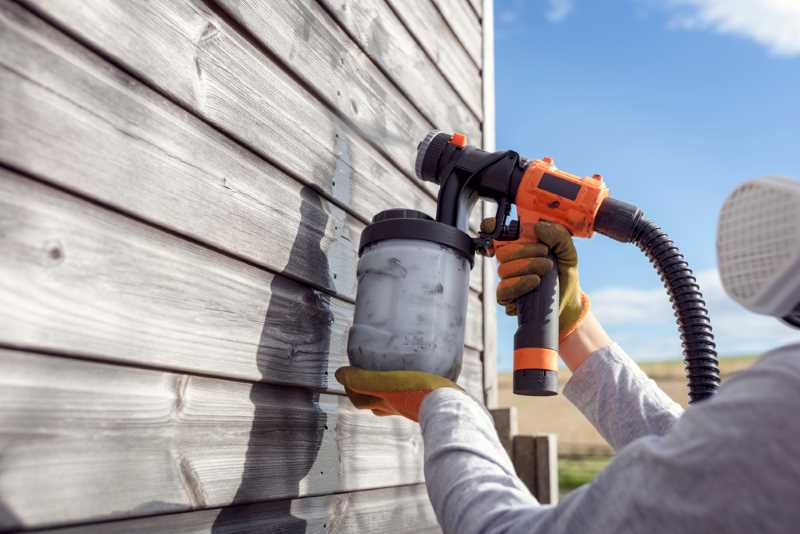 Lastly, does your fence have additional features such as railings, other decors, or attached lighting? If you plan to paint these areas, prep and paint these items to help blend in with your newly painted fence for a completed look.
Step 12: How Long Will Your Paint Last?
Now that you're done painting your fence with a sprayer, you might be wondering how long your paint will last before you need to repaint it. Rest assured, if you carried out good prep work and used quality products, then you'll get enjoy your fence for about five to fifteen years!
It's important to know you can't paint a brand new fence immediately. Let your new fence sit for about two to five weeks before painting or staining. Why? Well, moisture trapped in unseasoned wood can cause the paint to adhere poorly and cause warping. Also, it's good to take into account windy days. Always wait for a day that's not windy as your project could become a complete mess, and you'll have paint blowing everywhere!
Wrapping Up How to Paint a Fence with a Sprayer
Now, after reading this step-by-step guide, you know anyone with the proper guidance on how to paint a fence with a sprayer and, in turn, get excellent long-lasting results without having to be a professional painter.
The best battle plan with this large painting project is to choose your painting time wisely, pay attention to the weather, practice good prep work, choose good quality paint, primer, and sealers that can handle the weather, and allow the correct drying times.
We recommended one good paint sprayer option above, but it's a great idea to do more research on paint sprayers before purchasing in order to choose the best one for you. Check out my list of the Best Airless Paint Sprayers and the Best HVLP Paint Sprayers to decide which would be the best for your needs and budget.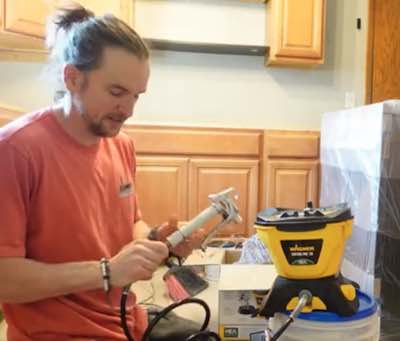 I've been a professional painter since 2001 and spent the last 12 years specializing in kitchen cabinet refinishing. I started the DIY Painting Tips blog in 2015 to start sharing everything I've learned over the years and help all the people who'd rather tackle their painting projects themselves. In 2019 I started the DIY Painting Tips Youtube channel where I publish in depth videos all about kitchen cabinet painting, painting gear reviews, and interior/exterior tutorials.