There are few things more satisfying than looking at a brilliant, fresh coat of paint just applied on the exterior of your farmhouse that just makes your home glow. In fact, the farmhouse aesthetic has really taken off and is now imitated in architecture everywhere. But there's no reason why these farmhouse trends can't be translated into a classic, eye-catching color combination of farmhouse exterior paint colors as well.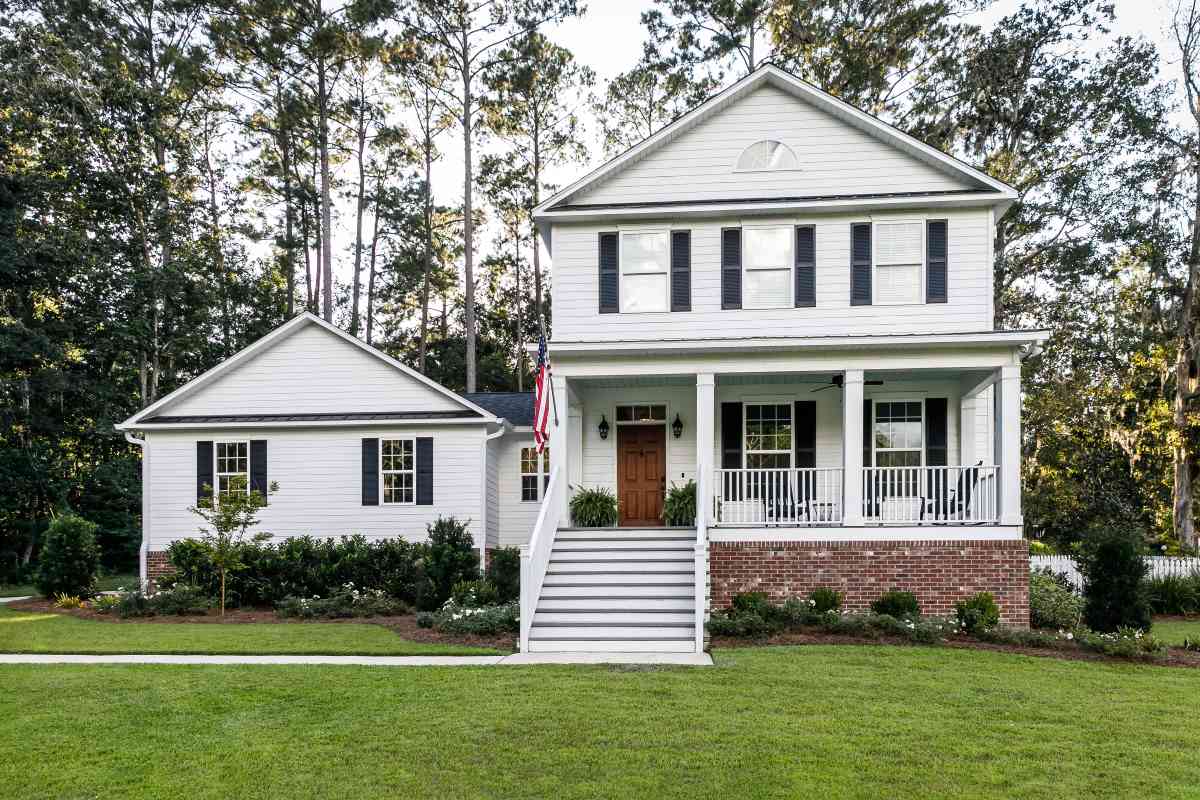 The only problem is that there's an enormous variety of colors out there for you to choose from, and it can quickly become overwhelming. But don't worry! You can narrow it down to the colors that most inspire you using this list of 15 farmhouse exterior paint colors!
Why Farmhouse Exterior Paint Colors Are So Popular
As mentioned earlier, the farmhouse look and feel has positively exploded in popularity. Because of this, people are naturally drawn to do more research on farmhouse exterior paint colors. That's because the right combination of colors can make the same farmhouse look shabby chic, modern, coastal and beachy, industrial, French or Countryside, or even Scandinavian, and more!
How to Pick a Farmhouse Exterior Paint Color for Your Farmhouse
Let's get to the heart of the problem: how do you pick farmhouse exterior paint colors and combinations therein that are the right choice for you? Before we get to my list of favorite colors (that you're sure to love!) here are some tips for answering this dilemma:
Decide on the kind of vibe you want your farmhouse to give. Bright and modern? Traditional and country-esque? Earthy and natural? Industrial and dramatic? This will help narrow down what color palette you should be looking into, and consequently, what colors will provide the best accent.
Consider your neighbors. As enchanting as a dark, witchy cottage might be, it will look more like a sore eye in a neighborhood of neutral-tone colonial farmhouses. At the same time, however, you don't want to replicate the colors your neighbors have chosen exactly—that's boring! Instead, you can think about what colors keep your home unique while still complementing the buildings adjacent to it. You could even take a drive around your neighborhood and pay attention to what houses look like they fit in perfectly, versus which ones seem like an odd fit!
Don't forget about the fixed colors. Think about the colors that already exist in your landscaping that you're not planning to change, including the rooftop, foundation, and walkway, but also the trees and greenery. These will point you towards the color scheme that will look best for your home. If you forget about them while making your choice, you might end up with a finished product that gives you a headache!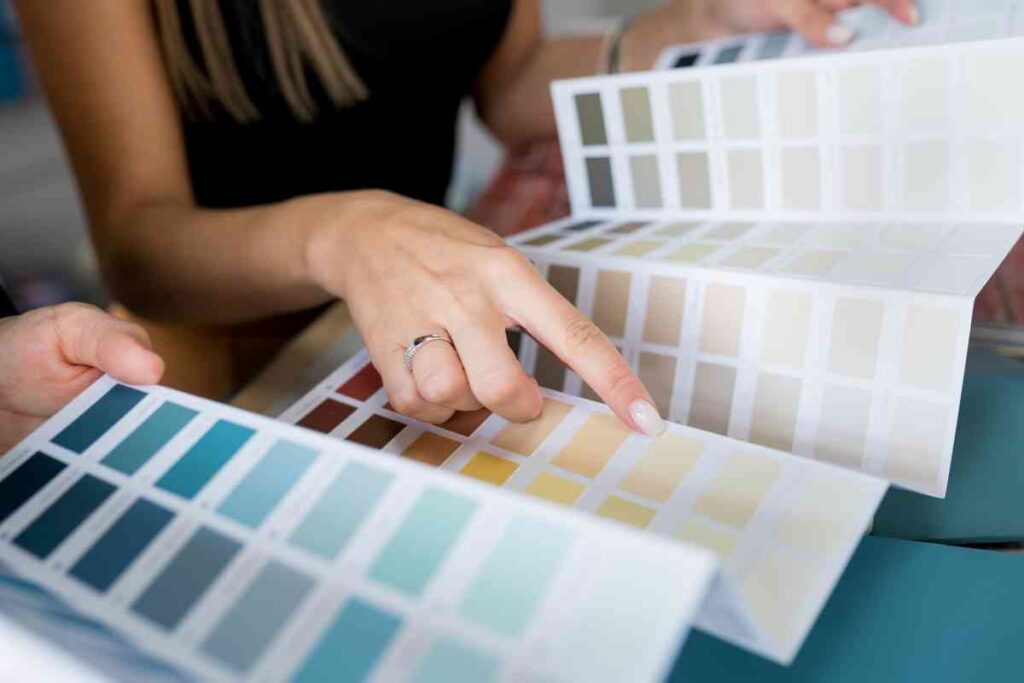 Think about the colors expressed in your home's interior. The last thing you want is a home that gives off one kind of vibe on the exterior, and a completely different one once you walk through the front doors. It's disruptive, and sure to inspire unease in your subconscious as well as confuse your guests! Try to pick farmhouse exterior paint colors that complement the colors of your interior walls, upholstery, furniture, countertops, appliances, and floors.
Don't let yourself be too influenced by unique trends. While the farmhouse architecture is here to stay, that orange-navy color combination that's trending on Pinterest will probably not, and you'll be just as caught up in next month's trend as you are with that one! Stick to timeless combinations that don't depend on the current farmhouse exterior paint color trend for justification.
Lastly, and perhaps most surprisingly, you should reflect on your home's size. Dark colors on a mansion might make it seem menacing, sinister, and even scary. You might not get many kids knocking on your door next Halloween! The same color combination on a smaller home, instead, is much less imposing. Similarly, pale colors on a small home might make it blend in with its surroundings too much, while a big house will seem airy and bright.
Whatever farmhouse exterior paint colors you choose, make sure to always get color samples and test them out before committing to the big project!
15 Farmhouse Exterior Paint Colors You'll Love
Now, for the content you've all been waiting for! Here are 15 farmhouse exterior paint colors you'll love:
Behr Farmhouse Exterior Paint Colors
1. Bleached Linen: a classic warm and bright white

2. Honied White: a creamy white bordering on a soft yellow

3. Natural Bark: reminds you of chocolate, great for a home in the woods

4. Muted Sage: a timeless grey-green that has become super popular
5. Bucolic Blue: a soft blue-grey for a great siding or trim color
---
Sherwin Williams Farmhouse Exterior Paint Colors
6. Shoji White: a soft and sandy pastel

7. Pure White: a perfect neutral to highlight brighter trims and siding

8. Drift of Mist: a whimsical dark cream that pairs well with earthy colors
9. Ravishing Coral: an orange rose perfect for hot desert climates
10. Iron Ore: a dark grey for an elegant modern look
---
Benjamin Moore Farmhouse Exterior Paint Colors
11. Wales Gray: a soft blue-grey
12. White Dove: a clean and classic white
13. Witching Hour: a dramatic charcoal for a stark interior
14. Blue Porcelain: a beautiful and serene shade of blue

15. Racoon Fur: an inky and modern grey-black

Accenting and Contrasting Farmhouse Colors
So you've chosen the dominant color for your farmhouse siding. Now all that's left to do is pick accenting colors for your exterior trim for a beautiful contrast! I know, I know, color combination is more daunting than it sounds, but luckily, there are a few rules and suggestions that will make the process easier.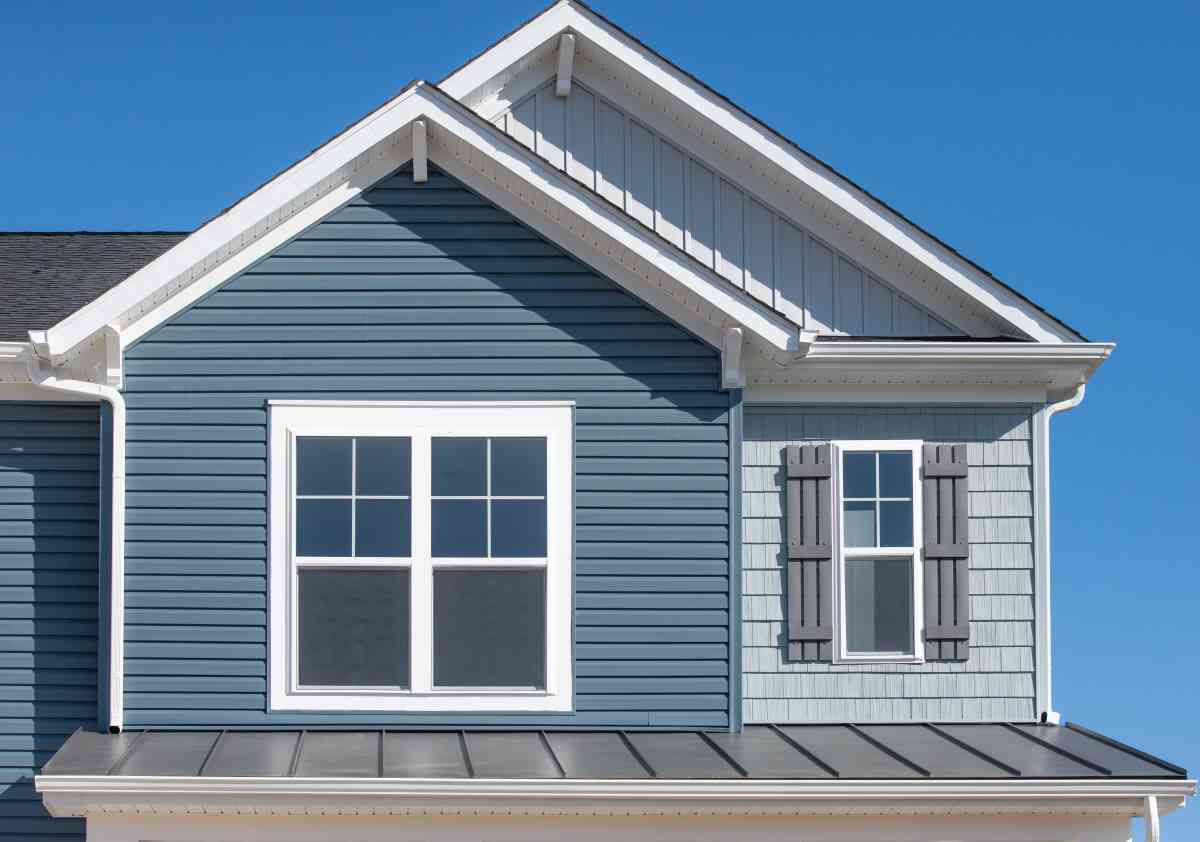 The secret to a successful combination of farmhouse exterior paint colors is choosing three hues: a dominant color (usually for the siding), and two accents for the trim, one of which is usually more intense or eye-catching than the other. Traditionally, the most common siding color is a shade of white (as you can see from the list above!), which leaves a lot of room to play with the accent colors of the trim.
An easy way to start matching colors is by checking out a color wheel. Varying shades of the same color are always sure to work well together, but for a more surprising and pleasing combination, you can also consider complementary colors: colors found exactly opposite to each other on the color wheel.
For homes that have more than one floor, apply this steadfast rule: use your lightest colors on the top floors, and progressively darker ones on the ground floor. According to experts, the only exception to this rule is for shingled upper stories.
Here are some more specific suggestions:
If you want a classic, elegant look, choose monochromatic siding and trim colors.
Contrasting accent colors give your home a more dynamic and interesting look with lots of depth, which can also be used to emphasize any particular feature you wish to elevate above the rest of the architecture.
Keep in mind that bright white always makes adjacent colors seem brighter, too. The opposite is true for dark colors.
For a single splash of color, consider painting your front door vividly, and contrasting it with a bright white trim and dark shutters.
To conceal gutters and downspouts, paint them the same color as the nearest siding or trim. Depending on your palette and farmhouse style, however, you might be able to paint them bronze-green to give the look of oxidized copper!
Wrapping Up the Best Farmhouse Exterior Paint Colors
Now that you've explored this list of 15 farmhouse exterior paint colors, hopefully, you're inspired enough to establish the perfect color palette for your own dream farmhouse. Interested in more color ideas? Head over to my Color Ideas Page!
Check out our Exterior Painting page for even more information on exterior painting, paints, and products.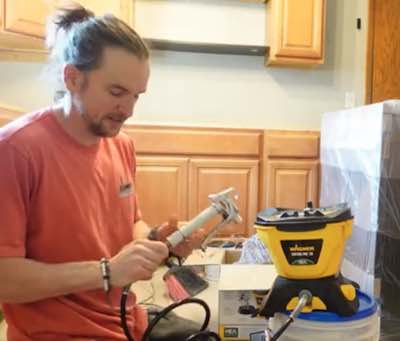 I've been a professional painter since 2001 and spent the last 12 years specializing in kitchen cabinet refinishing. I started the DIY Painting Tips blog in 2015 to start sharing everything I've learned over the years and help all the people who'd rather tackle their painting projects themselves. In 2019 I started the DIY Painting Tips Youtube channel where I publish in depth videos all about kitchen cabinet painting, painting gear reviews, and interior/exterior tutorials.