Are your walls looking like they might need an upgrade? Maybe your walls have some damage, or they just don't fit your current style or aesthetic. Whatever your specific case may be, moisture-resistant wallpaper can be an excellent alternative to regular wallpaper or paint!
If you need a moisture resistant change, keep reading to learn more about this wallpaper and how to use it!
---
What Is Moisture Resistant Wallpaper and How Does It Work?
This type of wallpaper is a little different than traditional wallpaper. It often uses vinyl as its primary material, which is essentially soft plastic. The use of plastic as wallpaper allows water and other liquids to bead and roll off. It blocks any wetness from seeping through the paper and into your walls. This slippery plastic material also allows for easy cleaning.
Types of Vinyl Moisture Resistant Wallpaper
When it comes to vinyl wallpaper, you'll often find it in two types: vinyl or vinyl-coated. Then, from here, you'll have your usual wallpaper options. This includes peel-and-stick, pre-pasted, and non-pasted options. And then there's one more layer of choices, including fabric or paper-backed. Fabric-backed wallpaper typically lasts a little longer.
With the above in mind, let's dive into your two primary choices!
Vinyl
A roll of vinyl wallpaper will have an entire layer of solely vinyl. It can have varying backings, but there will always be a solid layer of vinyl. The vinyl part is the design layer that will be visible to you on the wall after you attach it.
Vinyl wallpaper will always be the most moisture-resistant option, as the plastic layer will not allow any seepage.
Vinyl-Coated
If you choose vinyl-coated wallpaper, this means it isn't full vinyl. The wallpaper gets sprayed with a vinyl-based coating. But, because there isn't a solid layer of vinyl, it may not be completely water resistant. The primary materials are still either paper or fabric, which sit just under that coating. So, if the wallpaper gets nicked or the coating is missing in some spots, some seepage can happen.
---
How To Use Moisture Resistant Wallpaper: The Basics
It's easy to use moisture resistant wallpaper, as you hang it just as you would with any other wallpaper. Remember that your options, similar to regular wallpaper, will be peel-and-stick, pre-pasted, or non-pasted. However, vinyl wallpaper tends to be more widely available in peel-and-stick when compared to the other options.
1. Prepare and Clean Your Walls
The first step is to grab all your materials. A wallpaper smoothing kit can make a great addition to your DIY toolkit. It has everything you'll need to apply your wallpaper, including the right cutting tools. Some other things you may need, depending on the wallpaper type you choose, include:
After you gather your materials, you'll need to clean your walls thoroughly. Start by removing any outlet covers. Then simply wipe the walls down with a damp cloth to get any dirt and dust off. Allow the walls to dry before you begin applying the wallpaper.
2. Measure and Cut the Wallpaper
Now it's time to measure your walls and the width of the wallpaper to see how many strips you'll need. Create a guide by using a yardstick to mark straight lines where each strip will go. From there, you can start cutting strips of your moisture-resistant wallpaper based on the height of your walls. It's a good idea to pre-cut all your strips so you can apply all the wallpaper at once.
Always make the strips a little longer than your wall actually is. This will allow you to push the wallpaper into creases and cut it as close to the trim as possible.
3. Apply the Wallpaper
The application process can look a little different depending on the type of adhesion method you choose. Peel-and-stick vinyl wallpaper is the easiest type to apply. Simply peel a small portion of the backing off the top part of the wallpaper strip. Attach it to your wall. And continue removing the backing downwards while pressing the wallpaper to the wall. Then, smooth out any air bubbles with the smoothing tool from your wallpaper smoothing kit.
For pre-pasted vinyl wallpaper, you'll need to flip your wallpaper strips over and spray the backings with water. Be sure to saturate the backings. This helps activate the adhesive. You'll typically need to wait a few minutes for it to activate, and then you can attach the wallpaper. But make sure to read the instructions on your specific wallpaper. Then, apply from top to bottom with a smoothing tool.
Non-pasted vinyl wallpaper requires you to apply adhesive to the wall or your moisture-resistant wallpaper strips. It's typically easier to brush it onto the wall. Then, apply the wallpaper from top to bottom, smoothing it out on the way down.
Always press the wallpaper as close to the wall's trim as possible. The smoother tool can help with this.
4. Trim Any Excess Wallpaper
You should have some excess wallpaper hanging over your wall's trim. All you need to do is gently cut the seam where the wall and trim meet. And now it's time to admire your work!
---
Where Should You Use Moisture Resistant Wallpaper?
While you can use this type of wallpaper anywhere, most people use it in bathrooms. Places like bathrooms have plenty of moisture due to general water usage and steam. Vinyl wallpaper will block out the moisture, keeping your walls looking good.
It can also help keep you safer, as water seepage can cause mold in your walls. Sometimes, it's challenging to keep your bathroom below the recommended 60% humidity. So, this wallpaper may help prevent water damage and mold.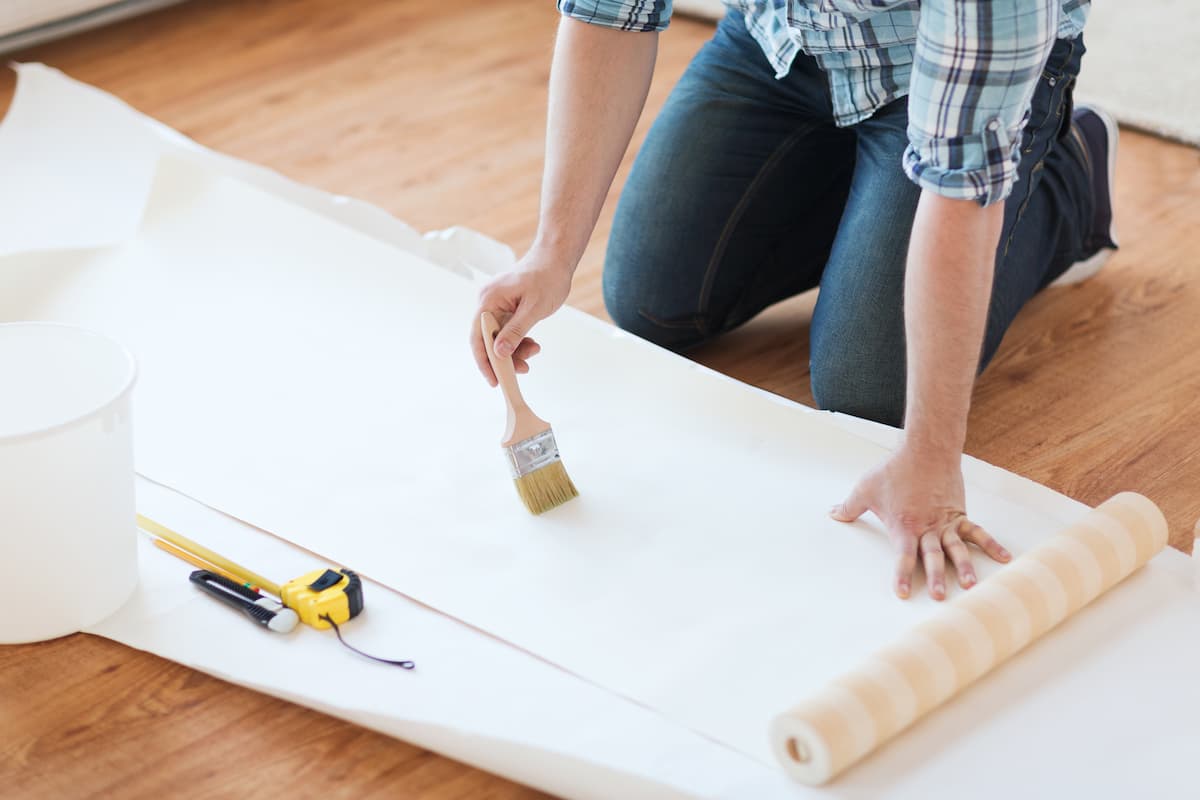 ---
Wrapping Up Moisture Resistant Wallpaper
Using moisture-resistant wallpaper is an excellent option if your home or a specific room has a high humidity level. Moisture and humidity can cause plenty of problems for your walls, like peeling and bubbling. But this wallpaper can make your walls easy to clean, look beautiful, and stay intact. So, grab some vinyl wallpaper today and start upgrading your walls!
Are you looking for more wallpaper ideas? Check out our post on Wall Mural Wallpaper to create an eye-catching design!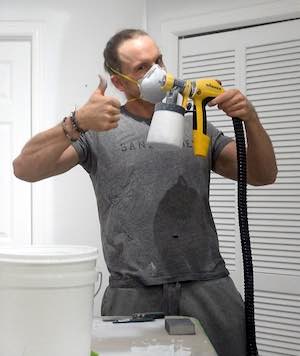 I started painting in 2001 and have seen just about everything in my painting career. I started in production and commercial painting, then moved over to new construction and remodeling during the boom of the early 2000s. Post 2010, I niched down into residential painting where I have done everything from exteriors, decks, interiors, furniture and more. Over the last few years, I've had a focus on kitchen cabinets.
I started the DIY Painting Tips blog in 2015 to start sharing everything I've learned over the years and help all the people who'd rather tackle their painting projects themselves.
You can follow my Youtube Channel where I show you everything that you read about on this site: https://www.youtube.com/@diypainting
You can also hire me directly from DIYPaintingTips.com here: https://diypaintingtips.com/free-painting-quote/
Contact me at: ryan@diypaintingtips.com