Wall murals create a stunning focal point for any room. If you don't feel up to freehand painting a mural yourself, there's a DIY-friendly solution: wall mural wallpaper.
Wallpaper has evolved over the years. For those of us that dread mixing our own wallpaper paste, plenty of pre-pasted and even peel-and-stick options are available. And, if you ever want to change the look of the room, wallpaper is easy to remove.
You'll also find plenty of wall mural wallpaper options on the market, no matter what your style. Long-standing wallpaper companies like York Wallcoverings offer dozens of professionally-designed murals. Or, design your own wall mural wallpaper from print-on-demand companies like Spoonflower.
Applying wallpaper is a quick and relatively straightforward DIY project. Read on for a step-by-step breakdown of the whole process.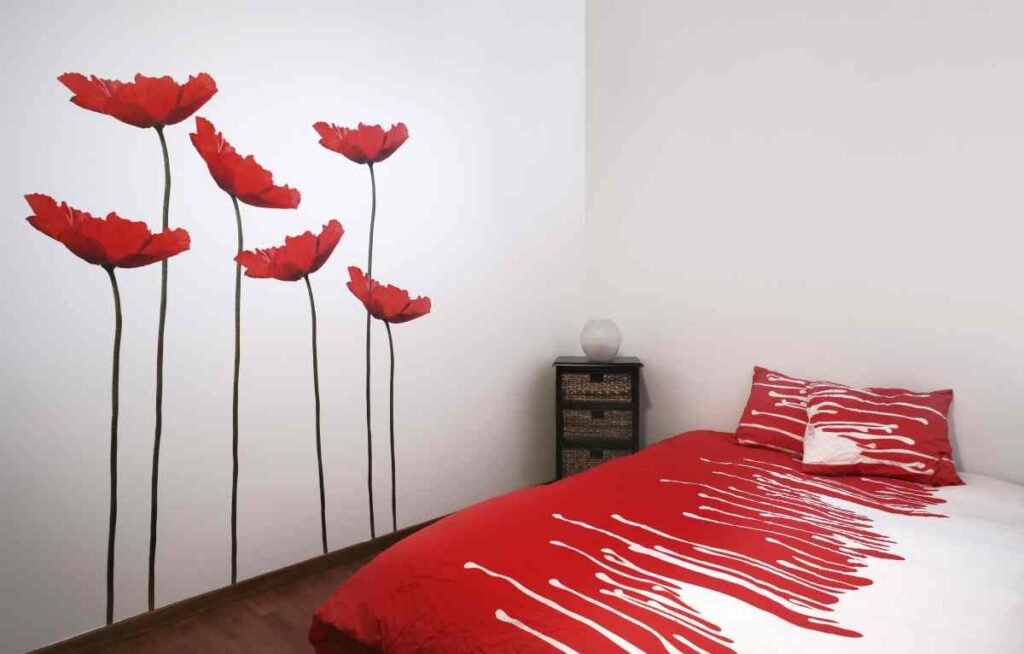 ---
Choose Your Style
How do you want your room to feel? For a child's bedroom or playroom, there are plenty of fun, silly, or character-specific murals. For an elegant space like a dining room or hallway, plenty of traditional designs and landscapes would work.
Do you have a boring blank wall in view of several rooms? Turn it into a focal point that reflects your home's unique style.
Here are some of the most popular styles of wall mural wallpaper.
Chinoiserie
Using wallpaper for wall murals is a throwback to traditional wall decor. You don't have to wallpaper every inch of your room to get that vintage vibe. Add richly detailed wallpaper inside picture frame molding, above a chair rail, or on just one wall for the same effect.
Chinoiserie designs may include landscapes, animals, or floral patterns. They often have deep colors and gilded accents.
Abstract Art
Wallpaper murals can add color and movement to your space. Modern art, graffiti-style, and even Andy Warhol-inspired wallpaper make amazing murals.
Instead of trying to paint saturated colors and bold shapes on your walls, use wallpaper! You'll get the finished, professional look you want without hours of painting. Plus, when you're ready for something new, you can simply remove the paper. That's much easier than priming and painting over deep, rich colors.
Landscapes
Some of the most popular types of wall mural wallpapers are landscape designs. You can evoke anything from a fantastical nature setting to life-size photos from your last vacation!
---
Choose Your Scale
Use wallpaper samples to get a sense of how the mural will look in your space. Don't trust Internet images and your imagination to give an accurate sense of scale.
Intricately detailed murals could get lost on a large wall. Meanwhile, a lifesize seascape mural could look downright terrifying in a small bathroom.
Hang your sample on the wall and live with it for a few days before committing to a full mural. If you plan to put the wall mural wallpaper in an open-concept area, check the scale from multiple angles.
When in doubt, order more samples! A wallpaper sample costs much less than a full roll of wallpaper. It pays to be sure of your decision before ordering your wall mural wallpaper.
---
Prep Your Walls
Wallpaper primer is especially important for murals. Sometimes called "wallpaper sizing," applying this barrier between the wall and the wallpaper makes application and removal easier.
It's certainly possible to wallpaper over an already-painted wall. However, using wallpaper primer will help ensure that your mural adheres evenly across the entire surface. This helps prevent peeling corners and loose edges on your wall mural wallpaper.
Wallpaper primer is absolutely necessary for drywall that hasn't been treated with paint and primer before. Just like paint primer, wallpaper primer seals the porous drywall surface.
You don't want your beautiful wall mural wallpaper to bond onto dusty, dimpled drywall. The design won't adhere evenly and will be nearly impossible to remove!
As strange as it seems to think about removing your wallpaper before even starting your project, it is important. Wall mural wallpaper is great for renters because it can be removed easily at the end of your lease.
Using a primer is the best way your wallpaper will come off without damage when the time comes.
---
Paint Baseboards and Trim
It's easiest to apply your wall mural wallpaper as the final step in the decorating process. We'd much rather clean wallpaper paste from painted moldings than try and remove paint drips from the wallpaper!
Even though many modern wallpaper options are considered scrubbable, it's not worth the risk. Paint your baseboards and moldings first and allow them to cure.
Bonus: You don't have to tape as much since your wallpaper will make a nice, finished edge along the moldings.
For all the details on painting your baseboards and moldings, check out our Complete Guide To Painting Trim!
---
Choose Your Wallpaper
Mixing and applying your own wallpaper paste was once the standard for DIY wallpaper hanging. In the past few decades, wallpaper has become more durable and easier to apply than ever before.
When it comes to application, there are three main types of wallpaper:
Peel and stick
Just like applying shelf paper, contact paper, or stickers, peel-and-stick wall murals are easy to apply. Your wall mural wallpaper will arrive on a roll or in a set of panels, each with a removable backing.
You can even use large decals to create your own design, turning your painted wall into a custom mural!
Pre-pasted
This wallpaper has a layer of dried wallpaper paste already applied on the back. To activate the adhesive, you'll need to spray or soak it in water. Then, the wallpaper can be hung on the wall.
Traditional
For this type, you'll need to roll paste on the wall just like you would apply paint or primer. Then, you'll unroll your wallpaper panels and hang them on the pasted wall.
---
Apply Your Wallpaper
No matter what type of adhesive you use, the most important part of hanging wallpaper is lining up the design. This is doubly true for wall mural wallpaper, where uneven panels could throw off the whole mural.
Find the center of your wall and use a level to mark a perfectly straight vertical line. Keep in mind that walls and ceilings are rarely a perfect ninety-degree angle. While small inconsistencies like a settling ceiling aren't noticeable, a crooked mural will stick out like a sore thumb.
This is why you always need to measure and mark your own starting line.
The first panel you paste on the wall should be the center of your mural design. Working from one side of the wall to the other makes it more likely that small inconsistencies will become more prominent as you work your way across the room.
Starting in the middle and applying panels to each side allows you to ensure your mural is centered on the wall.
As you apply each panel, check for level. Smoothing wallpaper can cause small amounts of stretching on the wallpaper. Adjust as needed, ensuring that each new panel lines up with the design and matches your level line.
It's much easier to correct any mistakes while the adhesive is still wet!
---
Stand Back and Enjoy
Wallpaper doesn't take as long to dry and cure as fresh paint. Plus, applying your wall mural wallpaper usually comes after painting the trim and moldings. Once your wall mural wallpaper is up, you can hang up your roller and drop cloths. Enjoy your room!
---
Frequently Asked Questions
How do I center my mural on the wall?
Finding the exact center of your wall is one thing. Finding the middle of your wall mural wallpaper requires a little more math.
Count the number of wallpaper panels you'll need to cover the entire area of your mural. If it's an even number, that's simple! Simply hang the two middle panels on either side of your wall's center line.
For example, suppose you are hanging six wallpaper panels in all. You'll line up the left edge of your fourth panel on your center line. Then, you'll hang the right edge of your third panel on the center line.
If you need to hang an odd number of panels, that means you'll have one panel in the middle. Don't try to line up the edge of this panel on the center line of your wall. Instead, measure the width of your wallpaper panel. Divide the width in half.
Now, take that number and measure out the same distance to the left of your wall's center line. Create a new level vertical line. This is where you'll line up the left edge of your center panel. The design of your wall mural wallpaper will then be centered on the wall.
How much wallpaper will I need to create a wall mural?
Calculating the amount of wallpaper you will need for a mural differs from buying wallpaper for an entire room. In many cases, the mural itself will be a pre-determined size.
You'll have to decide whether the height and width of the design will work in your space.
Your wall mural wallpaper will likely arrive in numbered sheets. Measure the width and length of your walls to determine where you will end the mural.
For example, imagine your wall is 138 inches wide, and you ordered a 144-inch wide mural. You can expect three inches of overhang on either side. When you hang the end panels, you'll use a straight edge and razor to cut off the excess.
For chinoiserie designs and small-scale murals inside picture frame molding, be sure to factor in repeats. A repeat is the vertical distance between two identical places in the wallpaper pattern.
The wallpaper description should tell you this measurement. As you calculate the number of rolls you'll need, add the repeat measurement to your total linear feet.
For example, suppose you need five wallpaper panels for your mural, each four feet high. That means you'll need a roll of wallpaper at least 20 feet long. If the design has a vertical repeat of 18 inches, you'd add 18 inches to your total of 20 feet.
Purchase a roll of wallpaper that is at least 21.5 feet long. This extra paper will account for the waste you'll have when lining up and trimming the wallpaper to match up.
---
Transforming Your Room with Wall Mural Wallpaper
With so many options on the market, it's never been easier to create a stunning mural for your home. Using wall mural wallpaper, you can create a professional-looking feature wall in one afternoon!
Your new wall mural will become a stunning focal point for the whole room. Use your beautiful wall mural to inspire the colors, textures, and furnishings in the rest of the space.
In fact, you can use the colors in your mural to inspire the rest of the colors in your home. Learn more about how to choose coordinating paint colors to make your wallpaper wall mural pop in 12 Helpful Tips for Choosing Paint Colors for Your Home.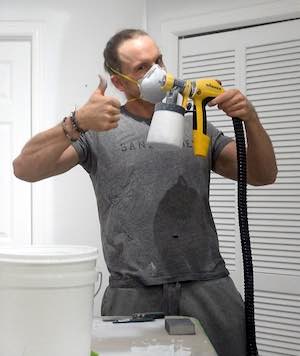 I started painting in 2001 and have seen just about everything in my painting career. I started in production and commercial painting, then moved over to new construction and remodeling during the boom of the early 2000s. Post 2010, I niched down into residential painting where I have done everything from exteriors, decks, interiors, furniture and more. Over the last few years, I've had a focus on kitchen cabinets.
I started the DIY Painting Tips blog in 2015 to start sharing everything I've learned over the years and help all the people who'd rather tackle their painting projects themselves.
You can follow my Youtube Channel where I show you everything that you read about on this site: https://www.youtube.com/@diypainting
You can also hire me directly from DIYPaintingTips.com here: https://diypaintingtips.com/free-painting-quote/
Contact me at: ryan@diypaintingtips.com