You`re standing in front of the paint chips at a home improvement store, facing hundreds of options. You panic and break into a sweat. The section of off-white swatches draws your helpless eyes to them. They won`t clash. They`ll look good with your current decor. You succumb to the safety of beige.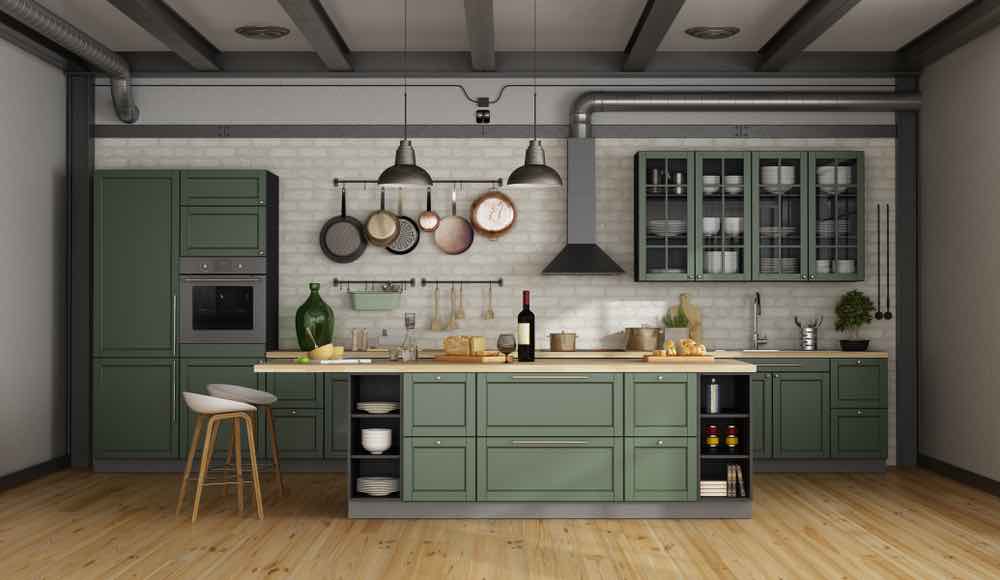 It`s happened to the best of us. Trying to redecorate it feels like you need a degree in interior design just to pick a color. You know what you like, but will it look as good on your walls as it does pictures of Architectural Digest? Well, that`s about more than just the right color. You need the right tools, like high-quality rollers, clean brushes, and even a paint sprayer for big jobs.
This blog will help you visualize olive green paint in your home before you head to the paint section of a store. A plan means you won`t panic and end up with off-white-syndrome yet again. You`re off to a good start by considering olive green for your home renovation project. Olive green is a neutral color with all the benefits of beige, with just a little more pizzazz. It`ll agree with your current decor, is amenable to future home accent purchases, and fits in with existing color palettes.
Ok, so you`re wondering"¦
What is Considered Olive Green?
If you`re feeling unkind, you could call olive green "muddy yellow". It`s not inaccurate, but it doesn`t capture the luscious warmth of the paint color. Some shades of olive green are yellow with brown or black mixed in to take it from a bright color into a neutral. But this description also gives you a hack for when you`re standing in front of the paint swatches; check out the yellow chips. You may find dark neutral yellows are the perfect light shade of olive green for your project.
Olive green is a grayed-down shade of green. While green is a gorgeous color for decorating, it can be tricky. Just like any bold shade. You know that`s a fact if you`ve ever resigned yourself to decorating with beige just because color choice overwhelmed you. Thick of olive green as the perfect compromise between jewel-tone emerald and gray. It`s lush without being brash.
How to Decorate with Olive Green
While olive green paint works great for a home`s exterior, we`ll focus on the interior of your home, with one exception. Keep reading to find out one place we think you won`t be able to resist olive green on the exterior. For a room that looks magazine-ready, arm yourself with the right tools, like a painters tape that won`t leak, and splurge on higher end rollers and brushes. Quality of application matters.
Then look around your home and decide what decor you love and what you`re looking for an excuse to put on the curb. This is your excuse! You`re turning your home into a stylish retreat from the world. Get rid of the hand-me-down furniture you`ve owned since college. Using color swatches, create a palette for each room, highlighting the existing colors. You should have swatches for the furniture, flooring, drapery, and decor.
Grab a handful of olive green swatches and play a game of paint-chip solitaire. Try out unique color combinations until you find a room palette that just feels right to you. That`s when you`ll know you have your winner.
Don`t tarp the room just yet"¦
When you`re redecorating, it`s easy to keep pushing to the next step, eager to finish the project. By taking your time you`ll end up with a space that you truly love, and won`t have to wonder if you picked the right color. Get paint samples for the color you think you want, and two adjacent shades. Paint part of your wall with each color and live with them for a week. You might find your favorite color doesn`t look as good when there`s a whole wall, or four, of it.
Olive color looks different in every room. We`ve collected examples of olive green on every wall of a home`s interior. Check out these popular shades of paint for inspiration"¦
Olive Green in the Bathroom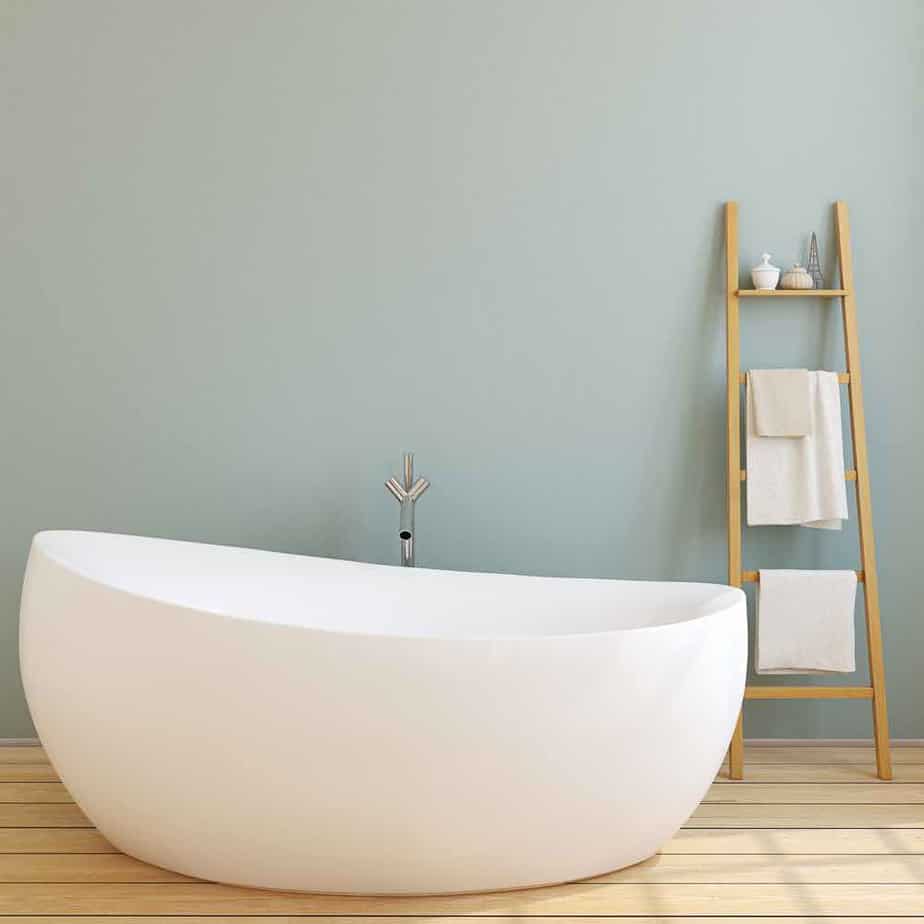 Behr`s Forest Path adds a hint of blue to a dusty shade of olive green, for a relaxing bathroom that, when filled with natural light, is a perfect place to start your day. Or, in the evening, with soft interior lighting, relax in a long bath or shower and practice some self-care before bed.
A well-designed bathroom will change the way you begin and end your day. Think about it; the bathroom brackets your waking hours. It transitions you from bed to the world and back again. A relaxing atmosphere in that room will help fortify you for the challenges of the day. Likewise, at the end of a stressful day, spending time in a virescent space helps to relax your mind.
If you`re looking for an exceptional color that you don`t see in bathrooms, reach for olive green. When paired with white accents and natural wood finishes, you`ll feel you`re bathing in a bright corner of a luscious forest. You`ll may even find you`re not hitting the snooze button as much, when you`re getting ready in an olive green bathroom.
Olive Green Front Door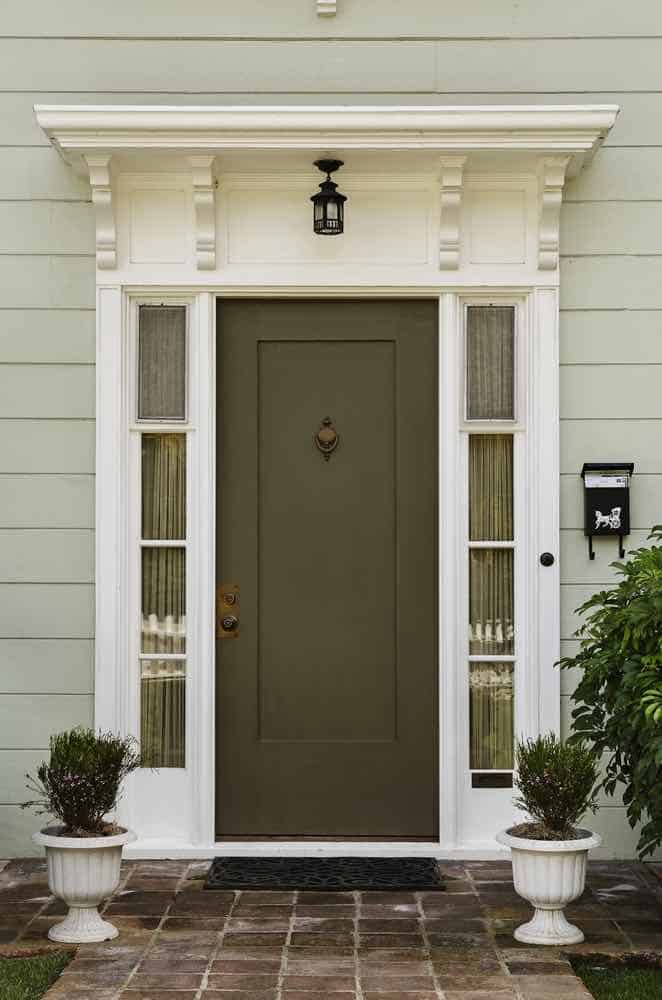 This is the one place we`ll talk about olive green on the exterior of your home. Sherwin-Williams Secret Garden is a dramatic shade of paint, perfect for exterior accents like your front door. It`s eye-catching without being flashy, draws attention, but is still sophisticated. If you`re looking for a way to make your home look exceptional, without being "that house" on the street, then a dark olive green door is the way to go.
You`ve probably already noticed, but"¦
It looks great when surrounded by greenery. Your home looks like a natural extension of the landscaping surrounding it. You can draw attention to the greenery in front of your home with the color of your front door. Year round, green fits in with seasonal decorations and adds a much needed verdant splash during brown and gray winter months.
Upcycle Furniture with Olive Green Paint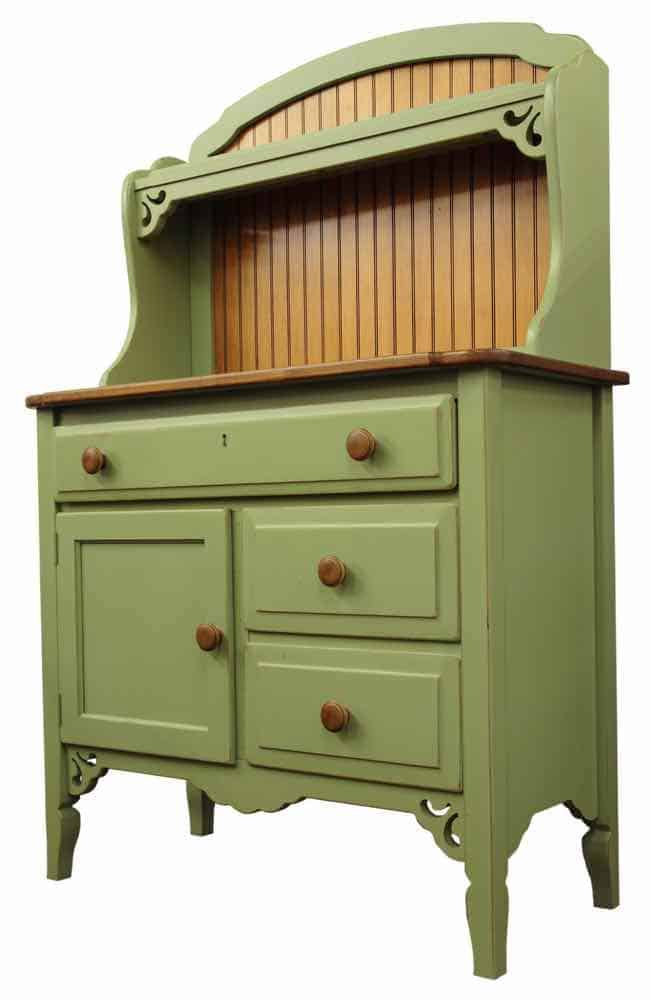 Granted, we did just tell you to get rid of your hand-me-down furniture from college. But look at this sideboard painted with Behr Lazy Caterpillar and you can see why we`re reconsidering our stance. Repainting furniture takes some elbow grease, and you`ll need a high-quality respirator to protect your lungs if you`re sanding off a stain or painting in an enclosed space. But if you have some heirloom furniture that isn`t quite your style but you don`t feel right getting rid of, a paint job may be the answer.
What most people don`t realize is"¦
Every aspect of a room is important in creating a finished aesthetic in a space. You should consider the placement and color of every element. When you have a sideboard, coffee-table, or book shelf that clashes with the rest of the room, your space will never feel coherent but you might not know why.
If the color of the furniture was the discordant element when you created your room palette, don`t despair. Painted furniture isn`t just for shabby chic anymore. You can throw on a high-gloss top coat for a more sophisticated aesthetic.
Olive Green Bedrooms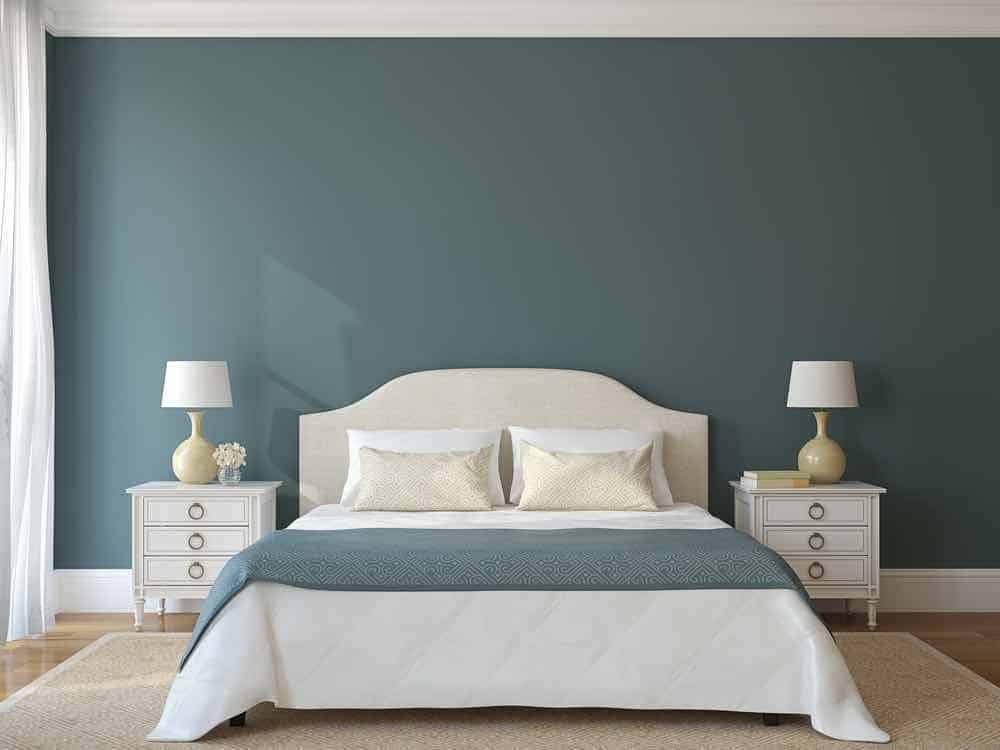 We`re swooning over this Sherwin-Williams Hunt Club bedroom. The bluish tint to the dark olive green combines all our favorite shades for a bedroom into one. It`s soothing and relaxing, which are high on our list for must-haves for a bedroom color. And it`s a perfect example of how important your home accents are in any room.
Using white and beige accents permits a darker color on the walls when there isn`t an excess of natural light. When you apply a paint sample to your wall, be sure to consider what accents and finishes you`ll be using in the room. An empty room with painted walls isn`t an accurate portrayal of how a room will look once decorated.
Which is all to say"¦
Don`t panic if a room looks too dark, or too bright, or too anything after it`s painted. Wait until it`s furnished, because color changes in relationships to not only the surrounding colors but also with the light in the room.
Olive Green Paint in Your Entryway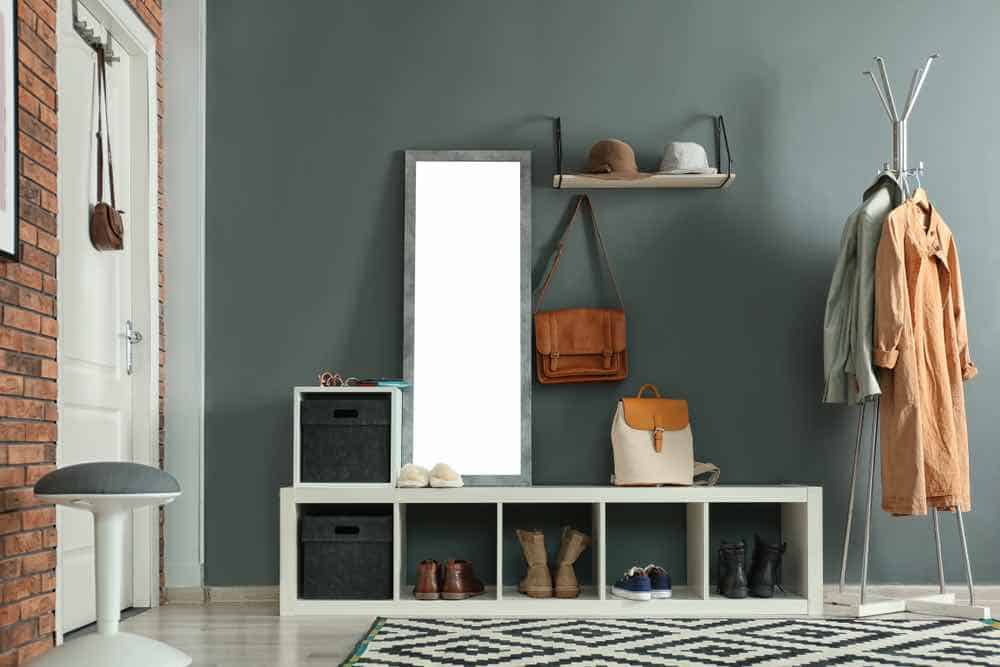 How perfect is this Behr Royal Orchard for welcoming guests into your home? It looks great when paired next to an exposed brick wall and wood flooring. Even if you don`t have a specific entryway in your home, you can use an accent wall, or paint an area of a larger room to designate a foyer.
Delineating an area for outerwear, shopping bags and shoes helps to reduce clutter in the rest of the room. Your family won`t just drop bags and coats where they stand, because you`ll have a specific part of the room set aside for just such a purpose.
Olive green sets an ideal tone for the rest of your home. It`s subdued and relaxing, encouraging you to take a breath before heading out into the world or getting home. Using a neutral color like olive green also doesn`t crimp your style in the rest of the room, rather it can lead into many palettes for diverse aesthetics.
Inspiring Home Office in Olive Green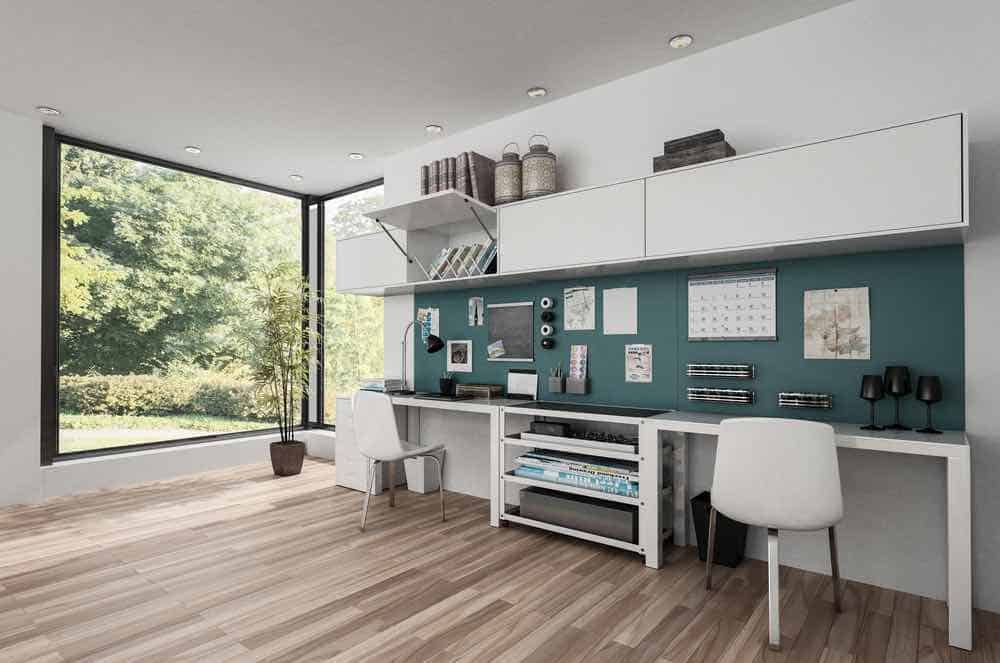 We`ll try to not overstate the importance of design choices in a home office. Good design encourages creativity and productivity. The impact of an office`s paint color on your life is more apparent than in a kitchen or bedroom.
If you have to spend eight hours of your day in a cubicle, you know in your bones how important design and lighting are. When you`re making a home office, you`re setting a part of your home aside for a distinct purpose. You can use olive green like Behr Greener Pastures to delineate the section of a multi-purpose room used for home office.
Even if you`re using your home office for paying bills, filling out your calendar, or a side-gig, the paint color is one of the major ways you can set yourself up for success.
Olive Green is Perfect for the Kitchen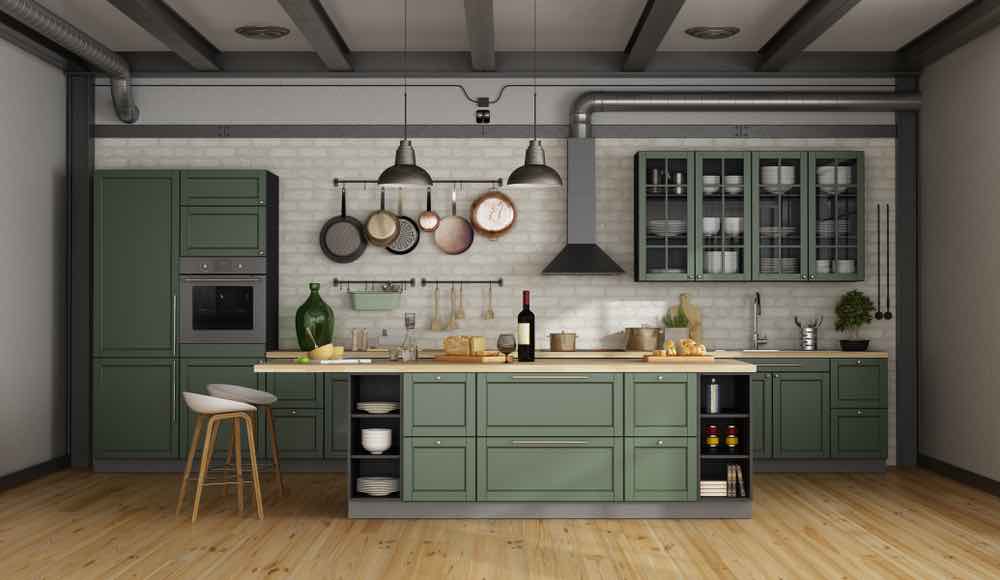 People have a lot of firm opinions with kitchen paint colors. They swear by yellow, white, and blue. There`s even science behind which colors will stimulate or suppress your appetite. First, this kitchen makes the daring move of putting bright color on the cabinets instead of the walls. Pairing white walls with olive green cabinets creates high-design in your home, without getting a design degree.
Painting kitchen cabinets takes a little more effort than painting your walls, but with a color like Sherwin-Williams Isle of Pines, the effort is more than worth the reward. The cabinets add a structure of dark, luscious color but paired with the bright, white walls the kitchen stays airy.
Keep in mind, you must buy specialized paint for cabinets, But you`re still able to get cabinet paint in any color you want. Repainting cabinets takes a little more effort than walls. It`s worth it because you can spruce up deteriorating finishes in your kitchen without the considerable expense of an entire remodel.
Cozy Family Dens in Olive Green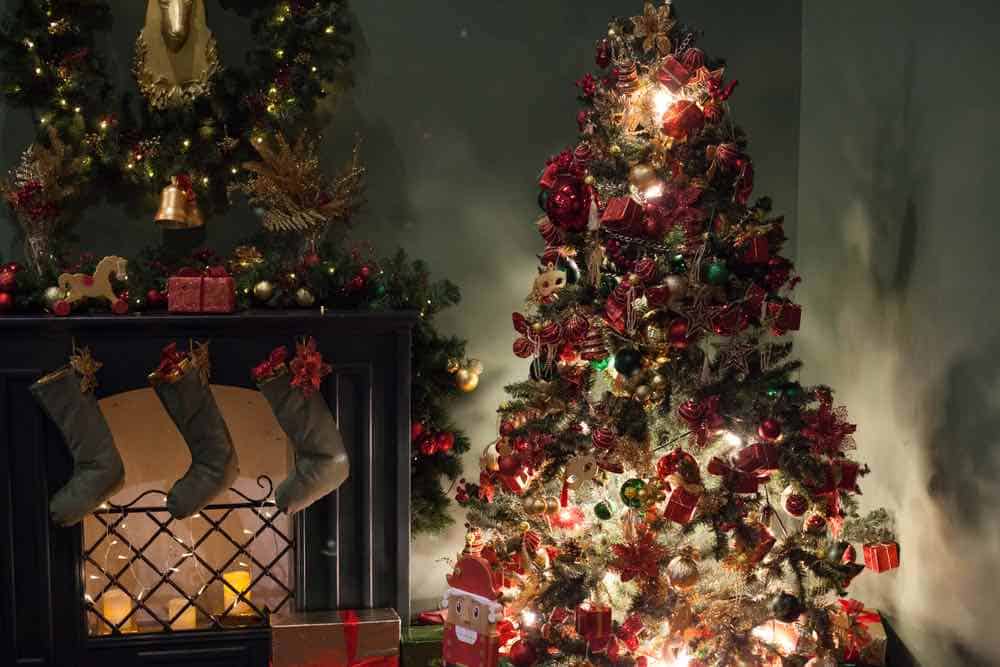 Okay, so Behr Equestrian Green is extra-perfect around the holidays when you`re decorating with blue, gold, and red. But olive green is a magnificent backdrop to family movie nights, board game tournaments, or just drinks with friends. It`s inviting, sophisticated and down-home at the same time.
Every home`s den serves a unique purpose for the family living there. Whether it`s for a Netflix binge, or drinks and appetizers before a dinner party, olive green adapts to set the perfect mood.
Try seasonal decor changes, or the adding throw pillows and blankets to change the aesthetic of the room depending on the occasion. Bold choices don`t mean reduced flexibility in a room's use.
Finish Your Basement with Olive Green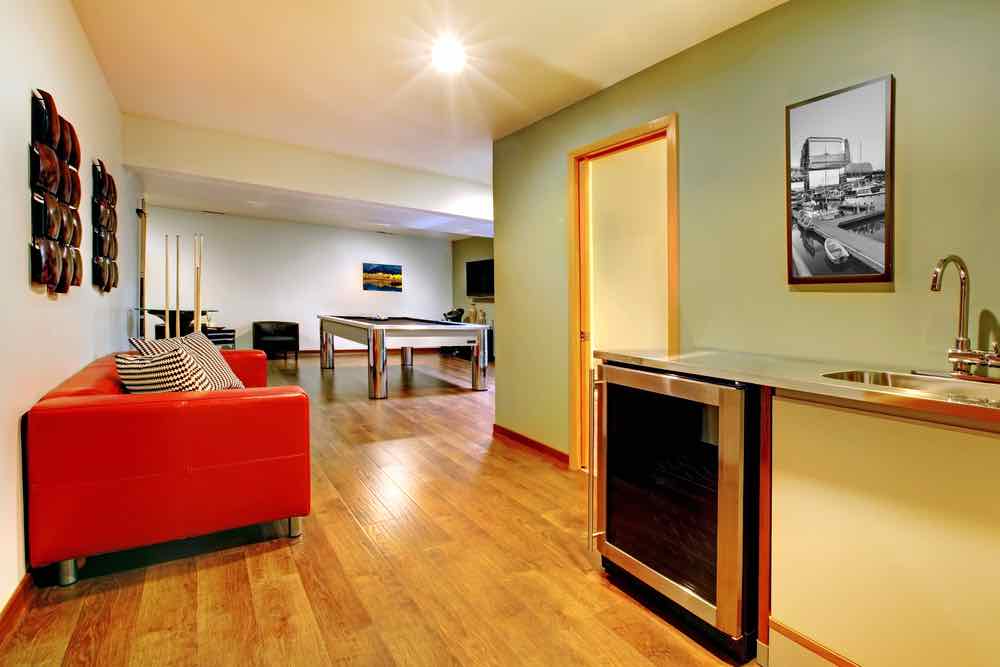 Adding a wall color like Sherwin Williams Cucuzza Verde to your basement transforms unused space into a welcoming space. Whether you`re using the basement as a family den, guest room, or game room, olive green is a cozy and bright choice for the walls. It`s more inviting than off-white and more engaging than beige, but it won`t make the basement feel claustrophobic. Or everyone`s number one concern, like a cave.
You can make bolder choices in a basement than you might in the rest of your home. Pair olive green walls with red or orange trim. Olive green will complement carpeted, wood, and painted cement floors.
So many finished basements look the same, as people use off-white for the walls because they fear any other shade will be too dark and make the space feel dingy. As a result, many finished basements feel sterile and disjointed from the rest of the house. Using the same wall color somewhere else in your house as you do in the basement will create cohesion through your home and activate a space that you look over for family time and entertaining.
Room Accents with Olive Green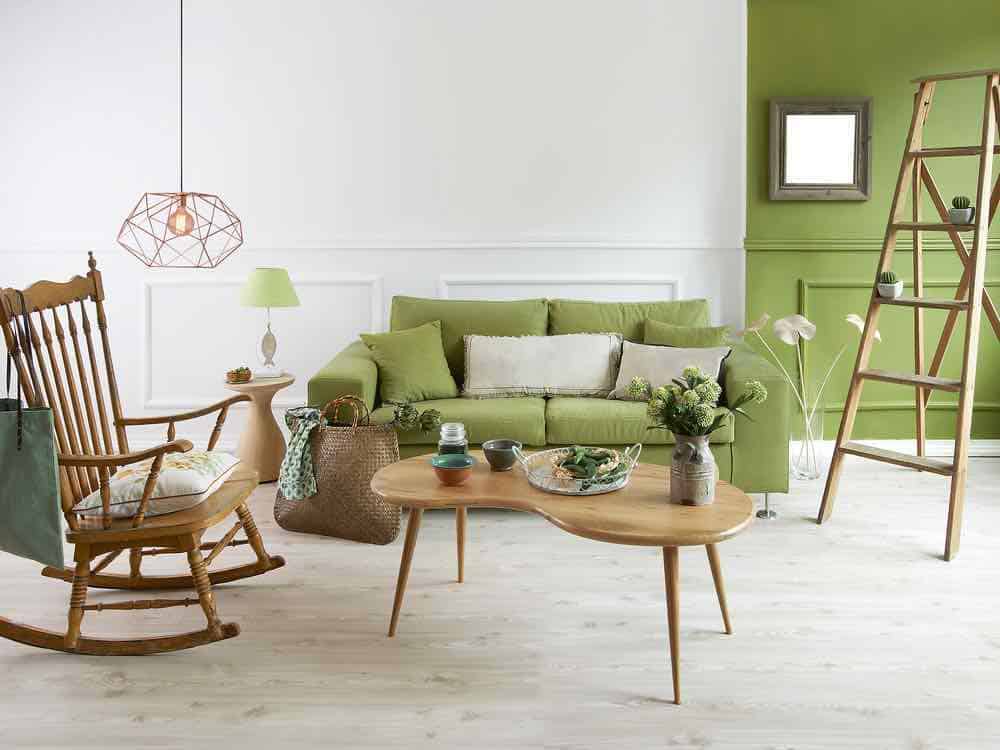 If your space requires light neutrals like off-white and beige, then consider Behr Secret Meadow for your accents. Maybe you just love beige! That`s okay, we do too. But using dark neutrals for your accents will still give a space a polished feel.

Because olive green is so adaptable, you can use it throughout your entire home, and it will look different in every space. Depending on the wall color, the lighting, and the room decor, the same shade will set a different mood. Or, just by changing the paint`s finish, you can create a dramatic change in the resulting paint shade.
Pair olive green room accents with a piece of upcycled painted furniture for a cohesive look that brings a space together. This trick works well when you have furniture and art in a lot of discordant styles. A few thoughtful finishing touches will transform chaos into boho-chic.
Unique Nurseries with Olive Green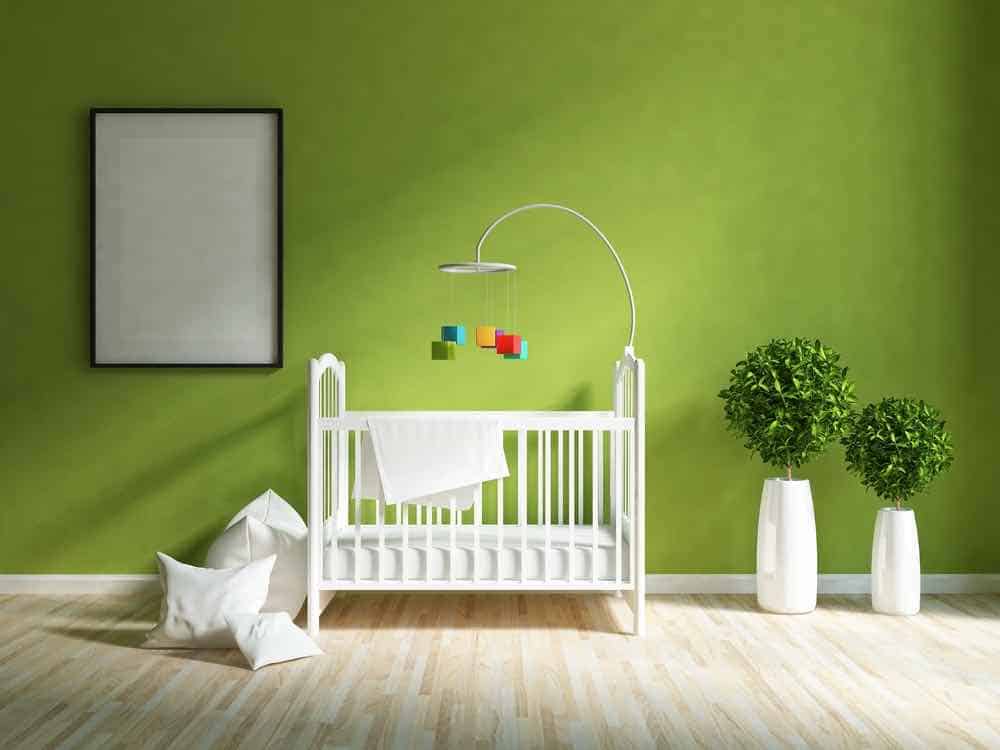 We`re hardly the first ones to say it, but blue and pink are tired for nurseries. They`re not as fun to style as so many other colors, like Sherwin Williams Dancing Green. A nursery palette that begins with olive green will look great with colors from nature, like blue, brown, and green. You can decorate with natural woods and fibers to create a warm and cozy nest for you and your newborn.
Also, as fast as kids grow, you won`t need to re-paint every few years as your infant turns into a toddler with their own tastes and favorites. Changing a room`s decor is a lot easier when you`re working with an affable neutral like olive green.
Colors That Go with Olive Green
We`re the first ones to admit creating a palette for the whole home feels overwhelming, which is why we`ve created a cheat sheet to map some colors that go with olive green. There are no wrong answers for picking colors because it`s your home. These are just some of our favorites:
Light Beige: Beige is a perfect supplement and accent when working with dark neutral colors. It`s forgiving and can add needed brightness to spaces that would otherwise feel claustrophobic.
Slate Blue: Pairing dark neutrals like slate blue and olive green together is perfect for rustic and ranch homes. You can play with multiple colors, even in a single room, without the space feeling manic.
Crimson Red: We offer this powerful color with a word of caution that power-clashing may not be for your first rodeo. But, used with an experienced hand, you can add energy to an otherwise bland space.
Bold Orange: Decorating in orange isn`t for the faint of heart, but it`s a lot easier when you`re using a neutral like olive green and a few accents of orange for buoyancy.
Canary Yellow: Remember how we said light shades of olive green are just muddy yellow? canary yellow is the perfect accent to tricky shades of olive green you`re having trouble matching.
Olive Green is Perfect in Any Project
You`re prepared for decorating with olive green, from your front door to your bedroom. Using an olive color in one or multiple rooms of your home creates a verdant and relaxing space for either entertaining or relaxing with the family. Paired with the natural light from picture windows, olive green walls incorporate the natural colors of the outdoors with your interior. The warmth of subtle grey and brown in an olive color come to the forefront under interior lighting. Rooms decorated with olive green have versatility to look good no matter the time of day.
Olive green is neutral and pairs well with a multitude of other colors, including bright patterns in home decor. It`s a forgiving wall color if you`re feeling adventurous with your home furnishing, accent colors, and wall art. We think olive green is a great choice for any home remodels, especially in tricky rooms where paint chips just don`t look right.

Have you used olive green to decorate before? Are you considering it for the first time? Let us know in the comments!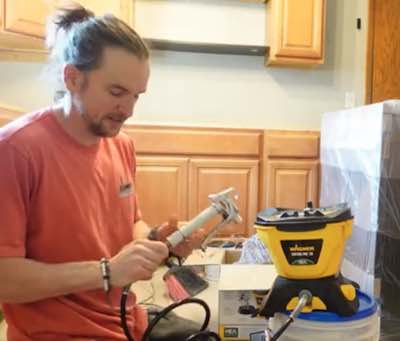 I've been a professional painter since 2001 and spent the last 12 years specializing in kitchen cabinet refinishing. I started the DIY Painting Tips blog in 2015 to start sharing everything I've learned over the years and help all the people who'd rather tackle their painting projects themselves. In 2019 I started the DIY Painting Tips Youtube channel where I publish in depth videos all about kitchen cabinet painting, painting gear reviews, and interior/exterior tutorials.