Are you thinking about getting your ceilings painted but wondering what the cost to paint your ceilings is going to be?
Whether you plan on painting your ceilings yourself, or you're going to hire a painting contractor, have some idea of the cost to paint a ceiling is a must.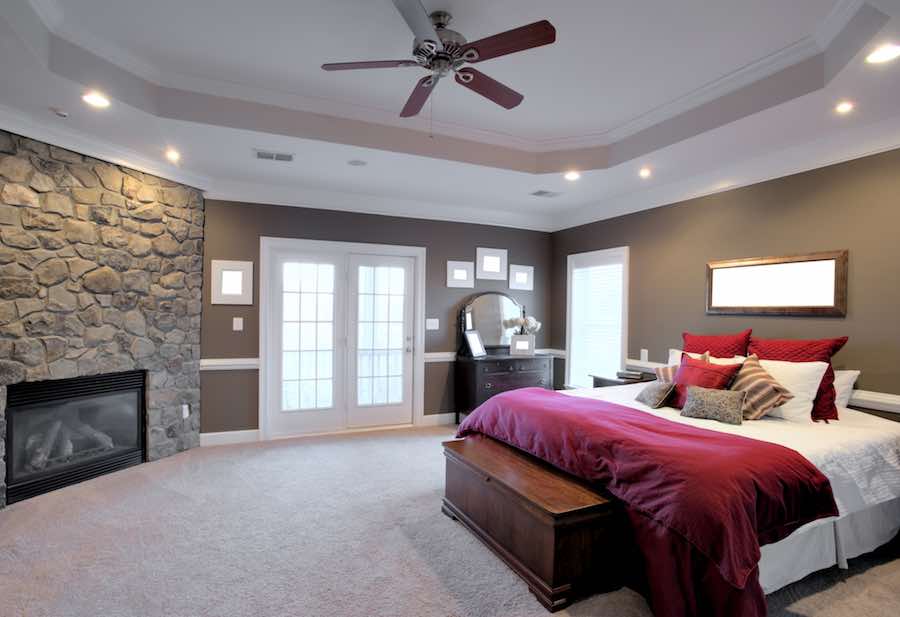 But if you search online, most tools telling you pricing for this job aren't built by painters. The sites are run by people who have never painted. Hint: The prices they state are WAY off!
Painting ceilings is a job that I get calls about quite a bit. I don't mind doing them either. With the right tools and know-how, they aren't too hard. I know how long a ceiling should take and what a reputable painter should be charging for this project. I can give you a very good estimate of what you can expect to pay to get your ceilings painted.
So, How Much Does it Cost To Paint A Ceiling?
Cost To Paint Ceiling Index:
First Things First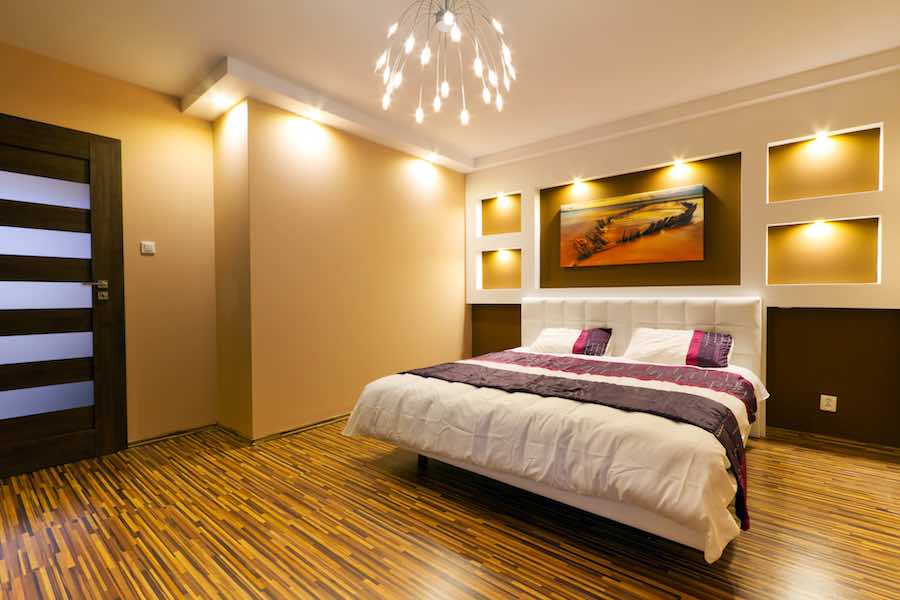 Before I dive into the actual costs of painting a ceiling, I want to clarify a few variables to make sure we are all on the same page.
2 Coats of Paint
All ceilings painting costs are assuming the ceiling will get painted with 2 coats of flat white ceiling paint.
When I paint ceilings, whether I am spraying or rolling, I always paint the ceilings with two coats. The first coat goes North to South and then I paint the second coat East to West. More about this in my How To Paint A Ceiling post.
Home Depot Ceiling Paint
The other thing I am going to be assuming through this article is that Home Depot ceiling paint will be used on the project. It's a great paint at a decent price, a nice marker for pricing.
I love Home Depot's Behr Premium Plus Flat White Ceiling Paint. It comes in 2 gallon buckets and is perfect for most 1 room home projects.
Home Depot ceiling paint is also a great quality ceiling paint. I've used it many times and never been disappointed.
Average Room Size
We have to have a standard room size for this discussion as well.
According to Timberpeg, the Great Room is the most consistently sized room in homes. In small homes, the great room is roughly 480 square feet, medium homes it's 487 square feet and in large homes, it tops out at 550 square feet.
So for this post, we are going to be referring to painting the ceilings of a great room with a size of 500 square feet or 20′ x 25′.
Most of The Answers for The Cost To Paint A Ceiling Are Garbage
I want to get this out of the way as well. If you do a quick Google search, you will see construction pricing sites saying that painting ceilings is going to range from $0.90 – $2.50 per square foot. This is an absolute joke. If I charged $2.50 a square foot, I would be making $300+ an hour and landing zero jobs.
Most paint contractors expect to make between $50 – $100 an hour while painting employees typically make $15 – $40 / hr.
How Much Does It Cost To Hire Out Ceiling Painting?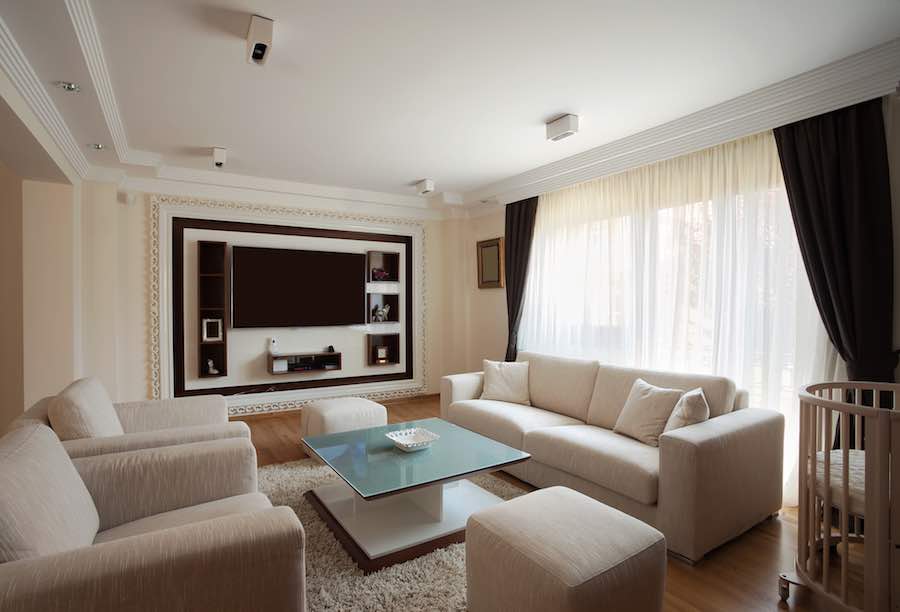 Hiring out ceiling painting is quite common. Ceilings can be a real hassle to paint and can be tough on the body since you are painting above your head the whole time.
While it is definitely possible to paint ceilings with a roller, ceilings are best to paint with a paint sprayer, which most homeowners do not have.
BTW – These prices are reflective of a home with flooring and basic furniture in the room. For prices on an empty room with no flooring (a remodel project), see below.
Cost To Paint Ceiling: 8-9 Feet High
8 to 9 foot ceilings are considered the easiest ceilings to paint and require no special tools and no high ladder work. A painting contractor will either spray or roll these ceilings quite easily. Most of the work will be in prepping the room and getting it ready for paint.
The Cost to Paint 8-9 Foot Ceilings should be in the $0.60 per square foot range, or $300 for a 500 square foot room and should take roughly half of a day.
I would expect contractors to come in somewhere between $0.50 and $0.075 per square foot, or $250 – $375 for our 500 sq ft room.
This cost should include all paint and materials.
Cost To Paint Ceiling: 10-12 Feet High
10 to 12 foot ceilings are going to take a little more time because there is going to be a bit more ladder work while actually painting the room.
Competitive prices for 10-12 foot ceilings tend to be in the $0.75 – $1 per square foot range.
So our 500 square foot great room would cost $375 – $500 and take 1/2 a day to 3/4 a day.
Cost to Paint 12-18 Foot Ceilings
12 to 18 foot ceilings are going to be much slower and involve a lot more prep, ladder work, special sprayer (or pole) extensions and honestly, are going to be a bigger strain on the painter.
With the right equipment though, a paint contractor should be able to knock these ceilings out pretty quickly still though.
For 12-18 foot ceilings I would typically charge anywhere from $1 – $1.5 per square foot.
Our 500 square foot example would cost $500 – $750 and take 3/4 – 1 whole day.
Empty Room No Flooring
If your room is empty and required minimal prep work, then you can expect your ceiling painting to cost significantly less, since prep work is the majority of a ceiling painting job.
Empty rooms with no flooring (remodels, new construction) will typically be 25 – 50% cheaper than occupied homes.
You may find that many painters do have job minimums though. For me, my minimums are typically $250.
How Much Does It Cost To DIY Paint Ceilings?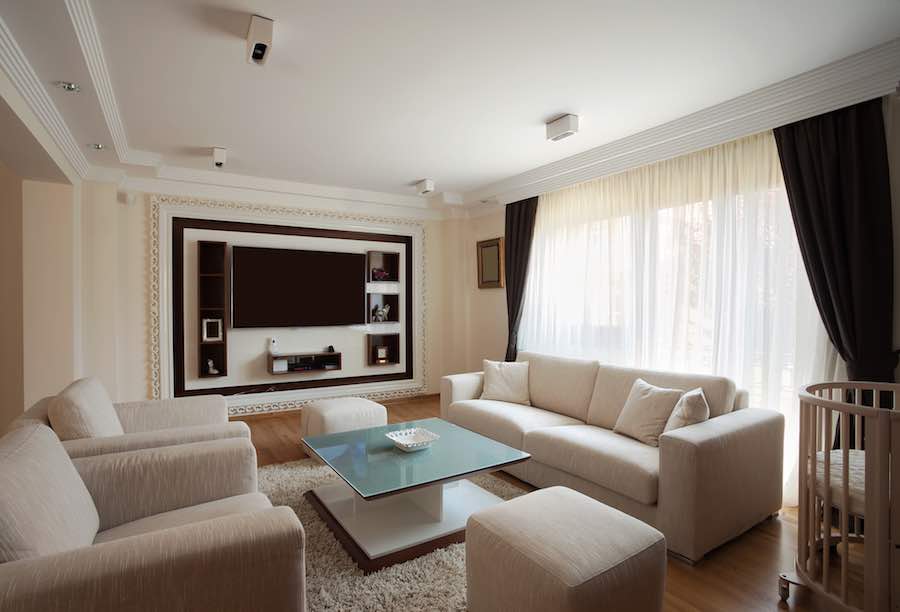 The cost to paint your ceiling is obviously significantly less if you plan on doing it yourself.
When paying a painting contractor to paint your ceiling, you are paying mostly for labor, the actual materials are quite minimal for ceiling painting.
For our average room size of 500 square feet, your consumable material cost should be roughly 3 gallons of Home Depot ceiling paint ($70), tape, plastic and a roller cover totaling no more than $100.
So the cost to paint a ceiling, when doing it yourself, should be roughly $0.20 per square foot.
However, If you plan on painting your ceiling, you're also going to have some tool costs unless you already own most of the tools below.
If you are planning on rolling your ceiling, some basic tools you will need:
More Ceiling Painting Info
In fact, I've actually written about ceilings a few times already here on DIY Painting Tips. You can check out my posts below:
Cost To Paint Ceiling FAQ
How Much Does It Cost To Paint A Ceiling
Ceilings will typically cost between $0.50 – $0.75 a square foot for low ceilings and $0.75 – $1.50 a square foot for high ceilings.
How much does it cost to paint a 12×12 ceiling?
A 12 x 12 ceilings (144 sq ft) will typically cost between $75 – $150.
How much is a gallon of ceiling paint?
A gallon of ceiling paint will typically cost between $10 for low quality and $30 for the highest quality ceiling paint.
Ceiling Painting Cost in Summary
If you plan on painting your ceilings yourself, expect roughly $100 in total cost.
If you plan on hiring a painting contractor, you can expect $350 – $750 for an average ceiling (500 sq ft) or $0.50 – $1.50 per square foot.
Interested In Other Paint Project Costs: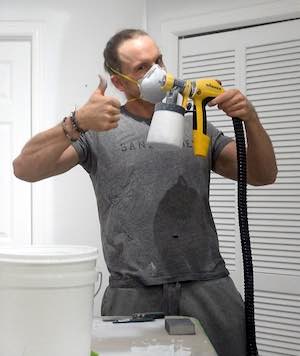 I started painting in 2001 and have seen just about everything in my painting career. I started in production and commercial painting, then moved over to new construction and remodeling during the boom of the early 2000s. Post 2010, I niched down into residential painting where I have done everything from exteriors, decks, interiors, furniture and more. Over the last few years, I've had a focus on kitchen cabinets.
I started the DIY Painting Tips blog in 2015 to start sharing everything I've learned over the years and help all the people who'd rather tackle their painting projects themselves.
You can follow my Youtube Channel where I show you everything that you read about on this site: https://www.youtube.com/@diypainting
You can also hire me directly from DIYPaintingTips.com here: https://diypaintingtips.com/free-painting-quote/
Contact me at: ryan@diypaintingtips.com