In this post we're pitting Behr Premium Plus vs. Behr Ultra. We're going to find out what the difference is between these two paints and if Ultra is worth the extra investment.
Many consumers often feel the need to go with more expensive paint without knowing why? This is true with most products; we often think that if we buy the more expensive product, we must be getting a better product.
The problem with paint, though, is that it is nearly impossible for most people to tell any difference between paints.
That's why I am pitting these two paints against each other; I want to tell you how the paints are the same and how they are different and then when and why you would use one over the other.
By the way, I'll be doing this with many more paints in the future (with video), so make sure to subscribe and turn on notifications so you don't miss out!
First off, let's establish exactly what each of these paints are.
They are both interior paints by Behr and sold exclusively at Home Depot. Premium Plus is Behr's entry-level paint, while Ultra is their mid-level paint.
The problem for most consumers is that when they are in the store looking at these two different paints, how can you tell what the real difference is?
You see that one is more expensive than the other, does that mean it's better?
The employee at the paint counter may even tell you that Ultra is better than Premium Plus, but while they may be great, they are a retail employee and may have never even painted with either product.
In going to dive into the technical aspects of each paint and let you know e
So, let's dive into some of the more technical aspects of each of these paints and see how they are different, how they are the same, what makes Ultra more expensive, and if it is worth it for you to spend more on Ultra than Premium Plus.
Pricing:
Let's start with the pricing of these two paint. For all paints, you're going to find that the flat sheen is the least expensive, and with every step up in sheen, the paint will be a few dollars more per gallon.
In the video/post, we will be looking at the flat versions of both paints, so if you want an eggshell or stain, expect to spend a little more.
Premium Plus Costs
Premium Plus will cost you $14.98 per quart, $28.98 per gallon, and $138 per 5-gallon bucket.
Behr Ultra will cost you $18.98 per quart, $37.98 per gallon, and $181 per 5-gallon bucket.
To put this into perspective, a typical large bedroom will usually take 2 gallons to paint, so $58 for Premium Plus and $76 for Ultra. A standard 2000 square foot home will take roughly 15 gallons and cost $435 for Premium Plus and $570 for Ultra.
Features of Behr Premium Plus and Ultra
Looking at the features list on the Behr or Home Depot website, you will find an almost identical list of features for both paints. They both claim:
A Lifetime Warranty
Excellent Hide & Coverage
Stain Resistance
Scrub Resistance
Greenguard Gold Certification – This is a 3rd party certification for low chemical emissions during usage.
Low Odor
Mildew Resistance
Self-Priming
2 Coat Coverage
Both are pretty standard there. Self-priming is excellent, but is expected with most quality interior paints these days. 2 coat coverage is also standard.
Ultra does add the following:
Scuff Resistance
Outstanding Durability For High Traffic Areas
"Stays Looking New Longer"
Other Similarities Of Premium Plus and Ultra
Both come in Flat, Satin, Eggshell, Semi-Gloss, and Gloss finishes.
Both can be applied in 50-90 degree temperatures.
Both have dry times of 1 hour to touch, 2 hours to recoat, and 4 weeks to fully cure.
Both have coverage of 250-400 square feet per gallon.
Both can be used on drywall, masonry, stucco, metal, wood, and more.
Both come with Behr's Lifetime Warranty which covers the original purchaser with proof of purchase but excludes labor.
You might be thinking that these sound like basically the same paint, and you're not far off, but there are some differences, and we need to dig into the technical details of the paints to find them.
So, Where Are They Different?
Once we dig into the technical side of these paints we start to find some differences.
What I want to know is the VOC contents and the laboratory paint testing results of the paints I use.
VOCs Compared
Premium Plus is considered a zero VOC paint. VOCs, otherwise known as volatile organic compounds, are harmful chemical omissions released by the paints. These can cause headaches, dizziness, breathing problems, eye, nose, and throat irritation, and more.
For reference, the federal government caps VOC levels in flat finishes at 250 grams per liter and paints with a sheen at 380 grams per liter.
A low VOC paint is defined as anything with 50 grams per liter or less, while a paint with 5 grams per liter or less is considered a zero VOC paint.
Behr Premium Plus comes in at less than 5 grams per liter of VOCs. So it is considered a zero VOC product.
Behr Ultra comes in at less than 50 grams per liter, meaning it has significantly more VOCs than Premium Plus but is still considered a low VOC product.
In the VOC department, Premium Plus is the winner.
Independent Lab Tests
There are a few standard lab tests that are performed on interior paints to test their durability and other factors. Ultra claims to be more durable, scuff resistant and looks newer longer, so let's see what the labs said.
First, let's look at the ASTM D2486 Scrub Test.
This test measures the resistance of paints to erosion caused by scrubbing. It is used the test the durability of wall paint that is frequently cleaned or scrubbed (think of workspaces, play areas, hallways, around light switches).
The test is performed by scrubbing a painted area with a bristle brush and abrasive compound until failure of the paint happens and is rated by the number of scrub cycles until the paint fails.
Behr Premium Plus Flat scored at greater than 1000 cycles.
Behr Ultra Flat scored at greater than 4000 cycles.
So, in independent lab tests, Behr Ultra is roughly 4X more durable than Premium Plus.
The Burnish Resistance Test
The next interesting test to look at is the burnish resistance test. Sadly, I could not find this test performed on Premium Plus. So, I am going to assume that maybe it doesn't hold up well, and the results weren't published.
Anyway, burnishing resistance ist eh ability of a coating to resist an increase in its gloss (sheen) value after polishing or rubbing.
In layman's terms, that equates to will an area on your wall that gets rubbed often, like around light switches and beds, become shinier over time?
This test is performed by taking a gloss reading of a dry sample of paint, scrubbing the area with a cheesecloth pad for 20 cycles, and taking the gloss reading again.
Behr Ultra's burnish resistance test showed that after 50 cycles, it only produced a max sheen chance of 2 units. Two units is not a noticeable difference, so that is a successful test!
Who Wins The Lab Tests
In lab tests, Behr Ultra outperforms Premium Plus and is the more durable paint between the two.
What Does It Mean For Homeowners and When Should You Choose Ultra over Premium Plus
I have personally used both of these paints on many homes. They both cover well, apply great, and are wonderful paints.
You can't go wrong with either paint.
When would I recommend Premium Plus?
Premium Plus is great for any walls that won't get beat up, dirty, or rubbed against. If you don't have kids, you could easily use this in your entire home and never have anything to worry about. Even though Ultra is more durable, Premium Plus still scored over 1000 cycles on its durability test, so it can take a lot of abuse!
Even if you do have kids and high traffic areas, Premium Plus scored over 1000; that's really durable, in my opinion.
I believe that most people can go with Premium Plus, save some money and never have any regrets.
If your current walls don't look bad and you're repainting for a new color, then Premium Plus is the way to go.
I would also recommend Premium Plus to anyone who is Ultra sensitive to smells, has babies in the house, or someone with asthma.
When Would I Recommend Behr Ultra?
Behr Ultra would be great for anyone whose walls get abused a lot. If your existing walls have a lot of burnishing, you scrub them often, have kids who like to get things dirty, or anything like that, you may be better served by opting for the more expensive Ultra.
Ultra would also be great for any office, apartment, or retail interiors that might see a lot more hands on the walls than in normal homes.
In my opinion, many people will likely grow tired of their color and want to repaint well before the paint ever "wears out".
So unless you need the extra scrub ability, go ahead and save yourself some money.
Hopefully, I've helped you with your decision on Behr Premium Plus vs. Ultra.
If you have any questions, make sure to leave them in the comments below and If you enjoyed the post and video make sure to swing over to my Youtube channel, hit the like button, subscribe and turn on notifications!
Sources: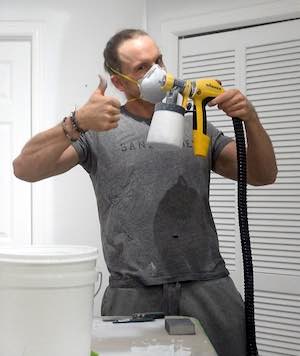 I started painting in 2001 and have seen just about everything in my painting career. I started in production and commercial painting, then moved over to new construction and remodeling during the boom of the early 2000s. Post 2010, I niched down into residential painting where I have done everything from exteriors, decks, interiors, furniture and more. Over the last few years, I've had a focus on kitchen cabinets.
I started the DIY Painting Tips blog in 2015 to start sharing everything I've learned over the years and help all the people who'd rather tackle their painting projects themselves.
You can follow my Youtube Channel where I show you everything that you read about on this site: https://www.youtube.com/@diypainting
You can also hire me directly from DIYPaintingTips.com here: https://diypaintingtips.com/free-painting-quote/
Contact me at: ryan@diypaintingtips.com