Whether you realize it or not, wall color is the first thing you notice when you walk into a room. The color of the walls dictates how the space feels and sets the tone for every other design choice. Without the best interior paint, your colors won't pop and your sheen won't shine!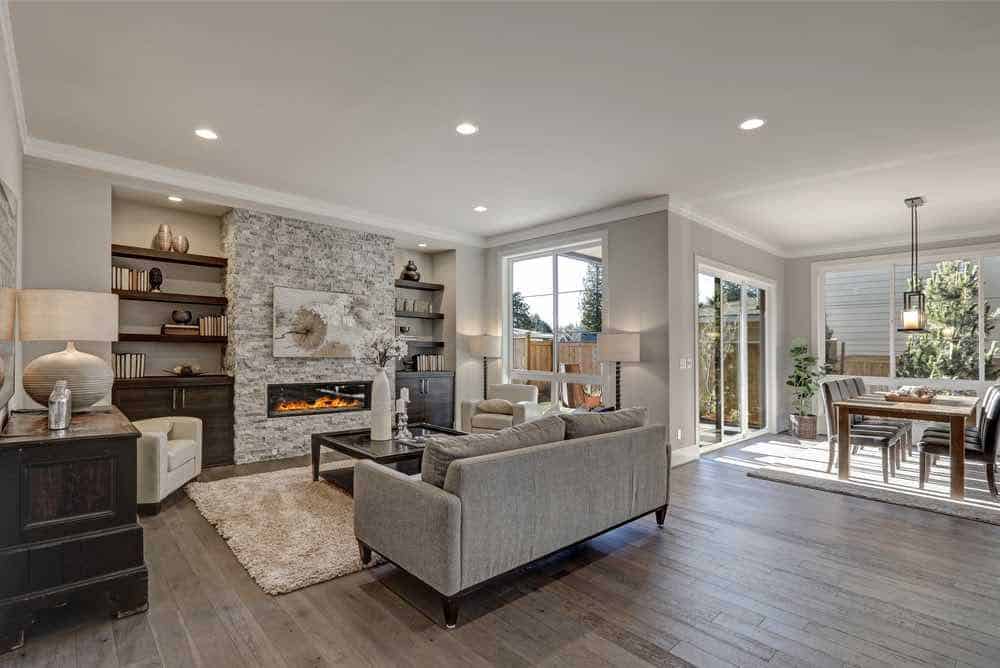 When you're remodeling a room, getting the best interior paint for the project is the number one priority. Both the color and sheen are essential components to the mood of the room. Sunny kitchens, cozy dens, and relaxing bedrooms are all built on a foundation of interior paint color.
Finding the perfect tint is easier than ever when shopping for paint. Many services offer color matching, and there are more nuanced shades offered every day. Beyond color, consider other aspects of re-painting a room. A few important features to keep in mind:
How durable does the paint need to be?
What is the room used for?
How long can re-painting take?
What surface is the paint going onto?
How safe is the paint? Will it smell as it's drying, or after?
These are the top-rated interior paints that go on smooth, with minimal coats, and don't require a primer.
A few of these best interior paints are made using recycled post-consumer paint, with low environmental impact. All are low VOC and some are zero VOC, with Lifelong guarantees for their durability.
Here Are Our Picks For The Best Interior Paint
Glidden Interior Paint + Primer One Coat
Glidden is made for people who want a high-quality paint job without spending an entire weekend priming & re-coating. The built-in primer helps it to cover existing wall stains, and one-coat coverage prevents future stains. It holds up against dirt and scrubbing, making it ideal for families and those with young kids.
The paint comes in over 300 subtle colors, all hand-picked by design experts who know how to make a room look its best. You can get colors in three finishes: flat, eggshell, and semi-gloss. Because it also has low VOCs, you can use it in any room of the house without significant disruption to your routine.
Prestige Paints Interior Paint and Primer in One
Prestige interior paints come in four different finishes so you can get just the look you want; flat, semi-gloss, eggshell, and satin. The satin finish is ideal for high traffic and kid's rooms, as it holds up against regular cleaning.
Prestige rolls on smooth over unprimed stucco, drywall, wood, and plaster. With minimal dilution, it also works great in paint sprayers for covering large surfaces. It comes in close to 50 different shades, from subtle earth shades to bold gem tones.
RECOLOR Paint 100% Recycled Interior Latex
Environmentally conscious DIYers will love this recycled option for their next home improvement project. There are over 15 different shades to choose from, all of them blended from post-consumer paint.
RECOLOR paint is made in the USA and every reclaimed paint undergoes rigorous testing to ensure it's low VOC.
The brand recommends batching gallons together for large projects, to ensure uniformity of color. The paint can't be re-tinted either, and it requires a primer before paint application. Worth it, considering this small environmental footprint manufacturing this paint creates, and it's available at a lower price point than most paint.
KILZ TRIBUTE Interior Paint
KILZ brings great diversity to the paint and primer in one category. They have over 100 different tints, in all four finishes. There are many subtle neutral & earth shades, and eye catching bold colors for focal walls.
Surfaces don't need primer before paint application, including bare drywall, stucco, and previous paint. The walls just need to be well cleaned & dried before starting painting. KILZ offers a great feature for people uncertain how colors will look in the space. They provide either 8 oz paint sample cans or easy-to-use peel & place stickers.
BEHR Premium Plus Interior Paint and Primer in One
BEHR Premium Plus comes in all five finishes, including high gloss. With gloss options, it's easy to add striking accents to trim and doors with a different finish, rather than a new color.
Behr works on both uncoated and painted surfaces, providing a durable washable seal. It's also 100% acrylic, making it mildew-resistant, so it's a great choice for sprucing up both finished and unfinished basements.
It's usable undiluted in a paint sprayer, giving the option of either rolling paint on or spraying larger surface areas. BEHR products come in either one-gallon or five-gallon buckets, so you can count on color consistency for large projects.
Glidden Premium Interior Paint and Primer
You can tint Glidden interior paint to create over 1000 unique colors. Combined with four finishes, getting the perfect look for all interior walls and accents is easy.
Glidden's paint formula is easy to apply but thick enough to cover stained and unfinished walls with fewer coats. Glidden is also at a much lower price point than many other interior paints, so it's affordable for large projects. The white base is zero VOC, and low-odor, but the manufacturer warns that depending on color choice, VOCs may increase with tinting.
PPG Zero Interior Latex Paint
PPG Zero has zero VOCs and is Greenguard Gold certified that it has low chemical emissions. It's a great paint option for people who are finishing interior paint projects in busy households and need a safe and low odor product.
The ultra-hide feature covers stains and previous paint easily in both full wall applications and during touch-ups. The thick formula works in fewer coats on walls, masonry, unfinished plaster, and even metal. It works well for both large and small projects, you can apply it with a brush, roller, or sprayer.
The formula is water-based, so spills and drips clean up easily with just soap and water. Once dried, it stands up to scrubbing and regular cleaning.
Glidden High Endurance Plus Grab-N-Go Interior Paint
Glidden premixed some of their most popular colors, creating their Grab-N-Go line. No mixing required so it gets you painting fast, with superior coverage.
It's still a zero VOC product, but also has a quick-drying feature. It's dry to the touch in as little a half an hour and is ready to re-coat in 4 hours. So, your painting gets done fast and sometimes with just one coat.
Glidden High Endurance Grab and Go is a paint and primer all in one, so use it on unfinished and pre-painted surfaces with confidence. It's also highly durable, made to stand up to regular scrubbing and washing. The interior paint comes in three finishes, and because its 100% acrylic, it creates a mildew & fungus resistant coating for walls.
Laurentide Boomerang Eco-Friendly Interior Paint
Laurentide Boomerang is an eco-friendly paint option, with four times fewer greenhouse emissions than other paint brands. It's only available in pearl finish, which works well for most rooms in the house.
Boomerang comes in almost 20 different shades, sorted into neutral tones like Beige, Gray, and Pastel. They also have a Tonic category where you'll find bold jewel tones and even black for a striking accent wall.
Because it's a recycled product, it may take more coats to get the right coverage. Boomerang recommends two coats total, which will provide long-lasting durability.
So What Is The Best Interior Paint Brand?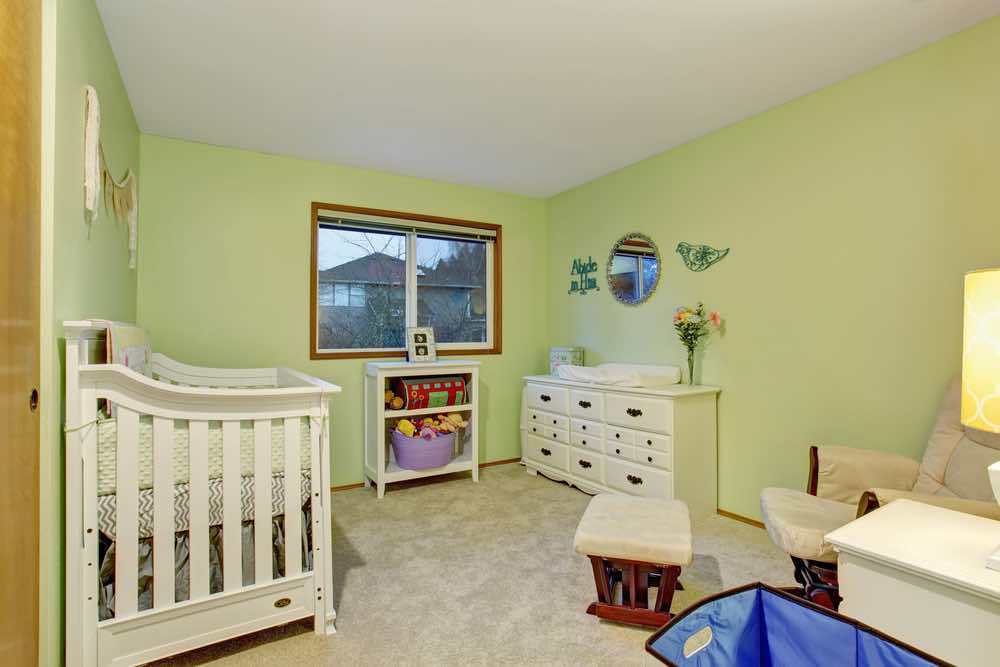 When you are going to pick a "Best" interior paint brand, there are a few factors to consider. For me it comes down to paint quality, price, and finally, the brands warranty.
I've worked with every major paint brand and used every product on the market over the years. Some "high end" paints are miserable to work with (*Duration Home* cough cough).
Some warranties sound better on paper then in real life. For example, if you call Sherwin Williams with a warranty issue, they will send a rep to your project, take a paint sample, send it to their "labs" and tell you a month or two later if they are going to do anything about it.
In my experience, Behr is the best interior paint brand.
They have the perfect combination of factors that matter to consumers.
First, they are reasonably priced. Behr Premium Plus starts at $25 per gallon. Want better quality, Behr Ultra is $33 per gallon, and for their highest quality, Behr Marquee is $47 per gallon.
Next, Behr is convenient. They are sold at Home Depot which can be found all over the US.
Painting with Behr products is enjoyable as well. They cover well, they have minimal splatter and they hide beautifully.
Finally, Behr stands behind their products better than anyone in the industry in my opinion. If you call them with a real warranty issues, their #1 goal is to make things right, not prove you wrong.
Glidden is my runner up for nearly the same reasons as Behr.
What Is The Best Interior Paint For Walls
Well I just stated that Behr is the best interior paint brand in my opinion, so which of their products is the best interior paint for your home?
While Behr's Premium Plus works beautifully on many projects and with many colors, I have occasionally had hide issues and flashing issues with it.
With Behr Ultra, just one step up and only $8 more per gallon, I have never had an issue. It is very high quality paint at a reasonable price. All colors I have used cover and blend well and it rolls on beautifully.
BTW – If you're planning on painting your ceilings, check out our post on the Best Ceiling Paints.
Other Tips To Help You Pick The Best Interior Paint For Your Home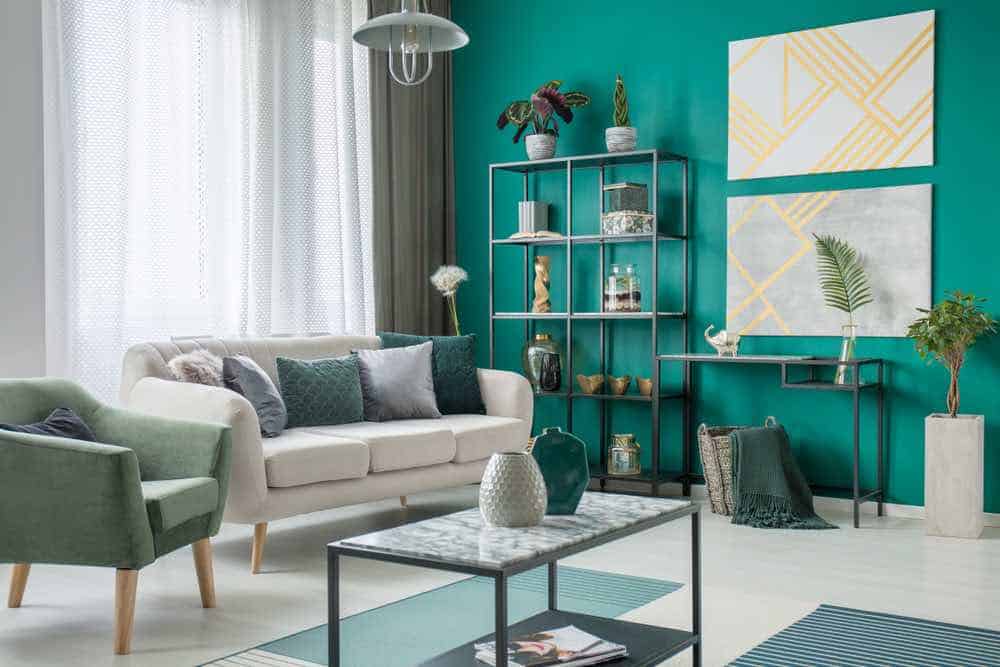 Once you have the best interior paint brand and paint, what else is there to decide?
Well next, you'll have to decide what sheen you want and what color will look best. While I have some opinions on sheen, sheen and color are personal decisions at the end of the day. But here is a bit of help if you're stuck.
How to Pick a Paint Sheen
When professional painters start talking about sheen, it might be hard to follow the conversation. Some brands use different words to describe the same sheen (flat and matte, for example). The name is less important than how it'll look in the space, and how well it will function. Even if you love the look of extreme flat paint, using it in an entryway or kid's room will probably mean repainting every year. A quick rule of thumb for paint sheen: higher sheen means higher shine. High shine (high-gloss) means high durability. Experts recommend high sheen finishes for painting trim and cabinetry, where gouges and scrapes are more likely.
Test samples are essential for picking a sheen. Satin is a different formula for every paint manufacturer. Given that, there's sometimes a significant difference in sheen from one brand of paint to another. If you love high gloss accents, the perfect tint it won't pop they way you want if the sheen is lackluster. By using test cans, you can see how the paint performs in your home in different lighting. From early morning to overhead and lamp light, make sure you still love the way it looks throughout the day.
Here's a pro tip for color testing…
Instead of using test colors directly on your wall, paint large sheets of paper to hang next to trim and windows. It's easy to move the sheets of paper from one spot in the house to another. And you don't have to wait until paint day to hide that color you ended up hating. Available sheens are:
High Gloss: All shine, durable and easy to clean. Great for kitchens, bathrooms, and trim.
Semi-Gloss: Less in your face gloss, but still great durability. Again, put this in kitchens, bathrooms, and trim.
Satin: Light sheen that's still easy to clean. Good for high-traffic rooms. Paint with this in family rooms, kids' rooms, and entryways.
Eggshell: Subtle and smooth, save this for low-traffic areas. Good for dining rooms and living rooms.
Flat or Matte: High pigment coverage, it's a thrifty option. Save it for low-traffic areas like bedrooms and dens.
Can't Fail Interior Paint Colors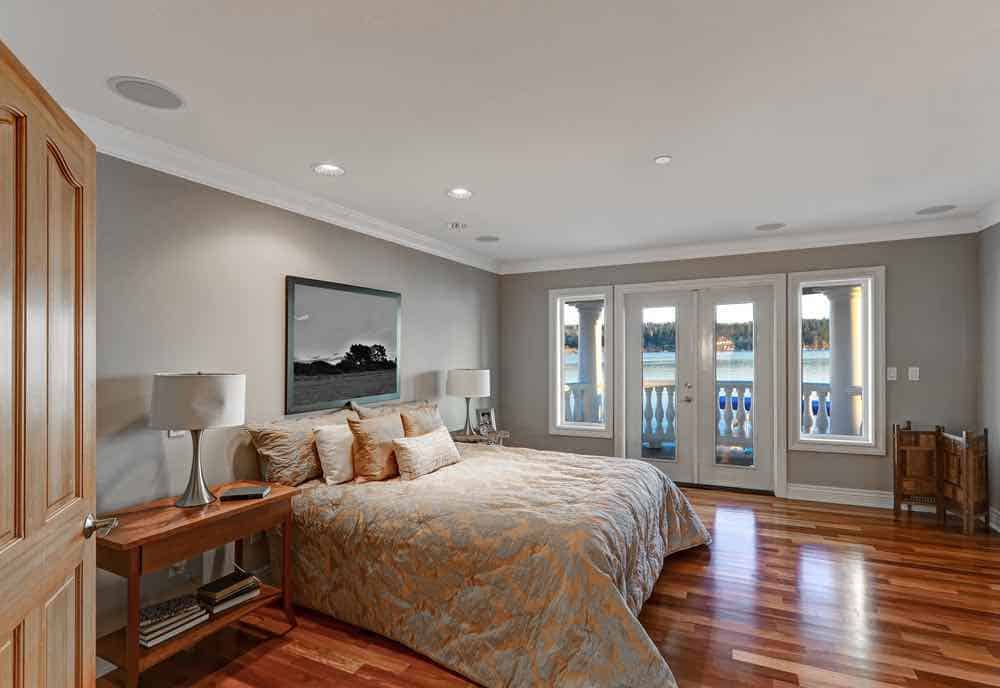 Before you repaint a room the same color, consider how an updated look will change the feel of the space. Even if your home tends towards subtlety, adding in a rich jewel tone or warm white can make the space feel bigger, more dramatic, or even help your favorite piece of furniture pop more in the space. Some broad categories of colors to consider:
Muted earth tones: olive green, warm brown, and gray/blues.
Rich jewel tones: reds, deep blues, yellows
Whites: warm, cool and off-
Earth tones are comforting and serene. They're great for creating cozy and calming spaces. Light grays and browns are neutral and classic choices. They're great for highlighting bold furniture or striking trim colors. A vibrantly decorated home might benefit from one of these neutral wall colors to allow the decor to shine. Darker earth tones, such as deep blues and greens work well with both light and dark accents. In a bedroom or den in a matte finish, they feel comforting and rich. These are great colors for making a room relaxing and inviting.
Rich jewel tones are fantastic for bold design choices in high and semi-gloss. They work as vibrant accent walls; think rich candy reds. When shopping for paints, grab a few samples of colors you may not normally consider. Even if a jewel tone is too bold for an entire wall, they can sometimes add drama and vibrancy to the decor as trim or a stenciled design. stenciled with tape.
Whites are anything but boring. Combining off-whites of subtle differences can make a room feel lavish. White is a great structure for both designer and classic aesthetics. White trim highlights what may not otherwise be a noticeable wall color. For neutral spaces and places where you want to highlight artwork or lighting, whites and off-whites are the best choices. For small spaces, you don't have to avoid using bright or deep colors. Instead, combine them with the perfect shade of white to maintain a spacious feeling, while still using the colors you love.
Check Out These Colors For Inspiration:
Getting Ready to Paint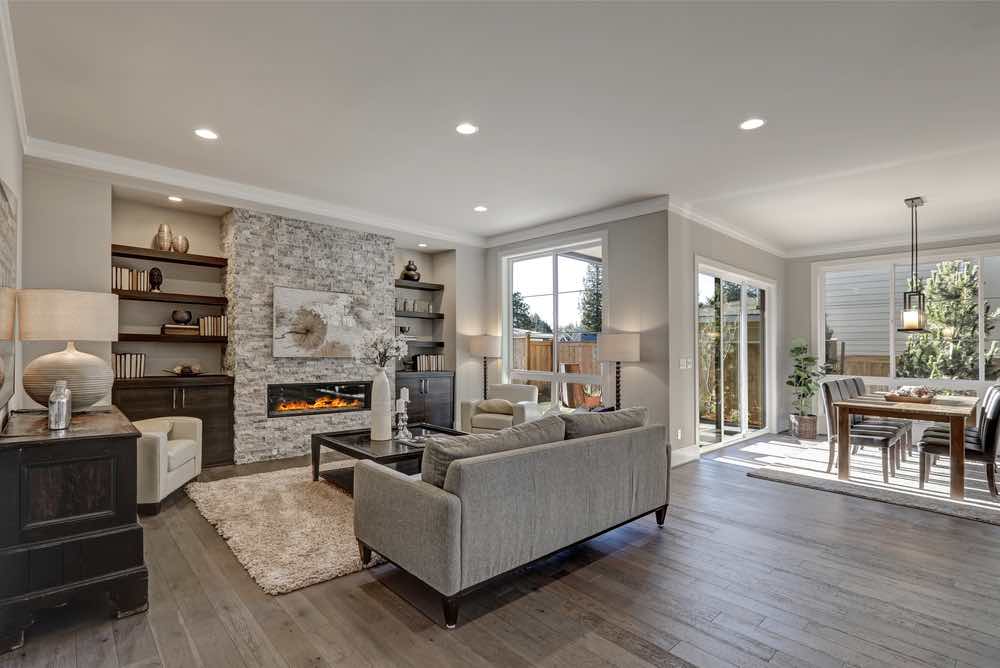 The best interior paint is only as good as the care put into the project. Gathering the right equipment for the job is half the battle. High quality, clean paint brushes are essential for cutting the edges of the wall and for painting trim. Rollers are a common go-to for wall painting, but if you have a lot of square footage to cover, consider a paint sprayer instead. Drop-cloths are essential for protecting the floor and any large furniture. Painter's tape will keep every edge looking sharp.
All the best interior paints are low VOC at the least, and many are no VOC. That doesn't mean they're guaranteed 100% safe. If you're spending the day painting, especially in a small room with poor ventilation, always use a paint respirator to protect yourself. Also keep paint off of skin and wear safety glasses to make sure splatter doesn't get in your eyes.
All in one paint + primer doesn't need a separate primer coat before you paint. But, if you're using recycled paint, you will need a few layers of primer to get the wall ready for paint. In brief, to get ready to paint, here are the steps:
Prime, if necessary.
Clean the wall with soap & water, let dry.
Tape the edges of the wall to keep clean edges.
Use a paintbrush to cut in the edges of the wall.
Give painted walls ample time to dry before removing the tape. Even if the wall is dry to the touch after an hour, try to wait. The longer you leave the tape more the paint will cure and the less likely you are to pull paint away with the tape.
Style Choices that Last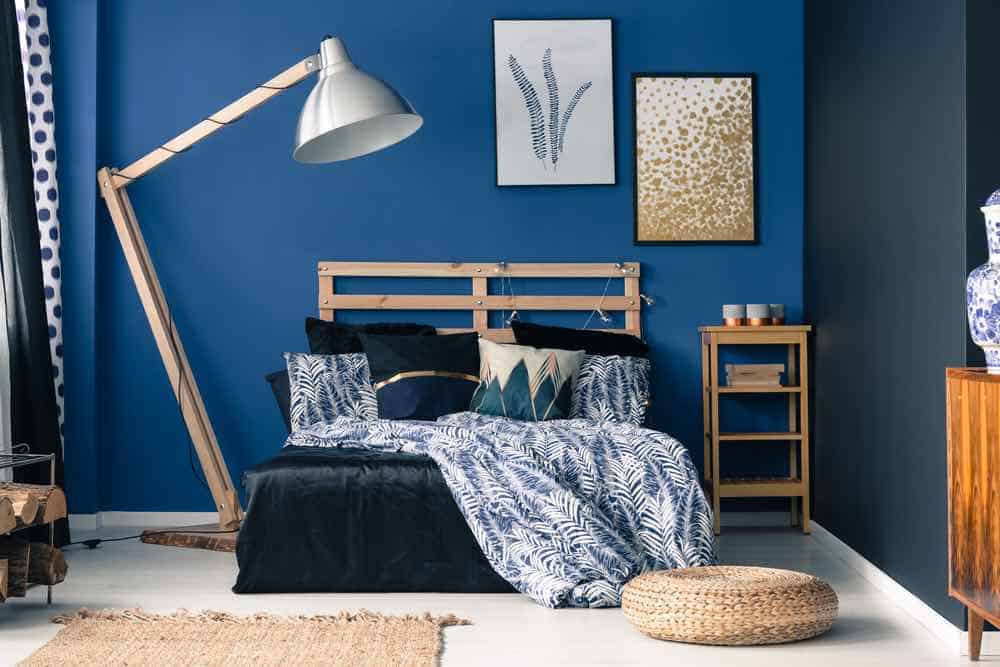 When you're ready to paint, your impulse may be to rush through the process to get to the finished product of a gorgeous newly painted room. By taking your time to research and plan, you can save yourself time and money in the future.
Instead of looking at individual rooms, develop a vision for your entire home. Repeating a color or, variations on a single color, throughout multiple rooms makes a home feel like a cohesive space while highlighting different aesthetics for different rooms.
For example…
Maybe use the same color with different finishes throughout your home. Stick to neutrals with accent walls to grab attention. Or, use a single bold color for trim and accents while keeping walls to neutral beige or gray. If a space demands something bold and attention-grabbing, try paint tape stencils and using different sheens or tints for subtle patterns.
When picking an interior paint, take the time to review samples. Put up paint chips and test patches to live with the color in all kinds of light. Before committing to a scheme, put the colors together on a wall to make sure they work well with each other, and with the decor.
Consult design magazines and develop a vision for the space. The best interior paint will last for years to come, and the color is a key part of creating a timeless style. Neutral tones can bring together eclectic art and furniture, and bold accent walls will activate an unused space. Great interior paint will stay magazine cover ready year after year.
Why Interior Painting is Worth It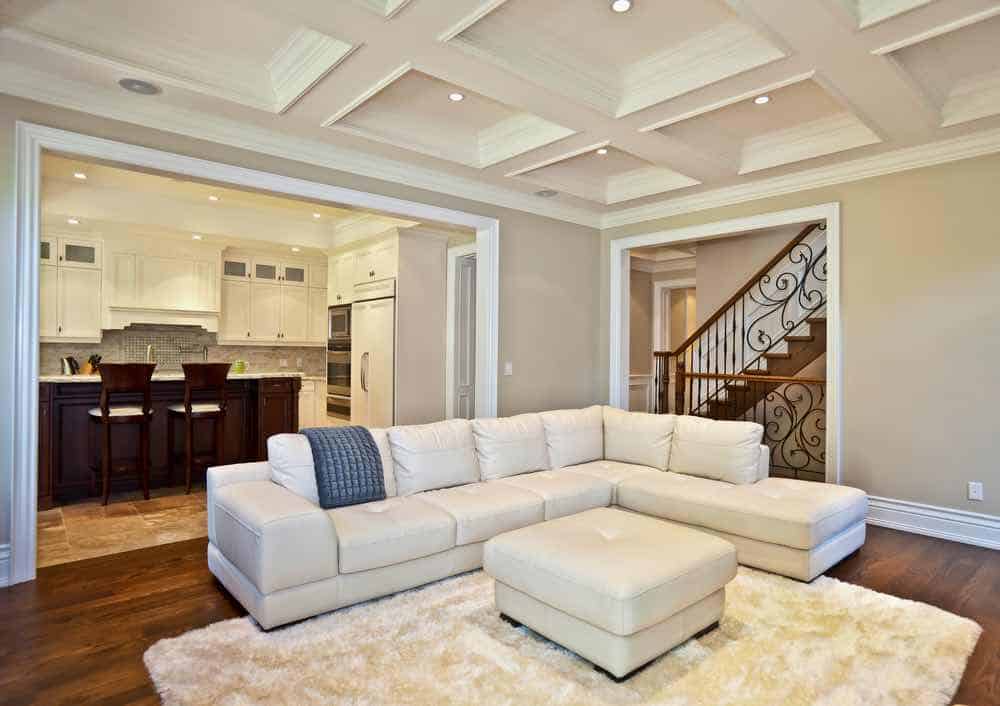 The best interior paint will last for years. Bold colors won't fade in sunlight, and the right sheen will resist stains and scuffs from a busy life. Choosing the right color and sheen will turn a simple room into a space with unique energy. More than making a house feel like a home, interior paint adds real value.
Did you know…
Homeowners who paint the interior see a 107% return on investment when they're ready to list their property. Stylish colors and high-quality paint mean that you won't have to repaint when you're ready to move. Instead, the best interior paint will stay fresh looking for years to come.
Painting the interior of your home is the most inexpensive home renovation you can do, but it also is one of the most effective ways to improve a space. Using the best interior paint, with paint and primer in one, it's not a week-long ordeal to get a room painted. With good preparation, and using a low or zero VOC paint, even large rooms can be repainted in a day.
Take the time to research, plan, and pick the best interior paint for your project.