Painting your interior walls can be a long and tedious process when you're doing it manually using a brush or a roller.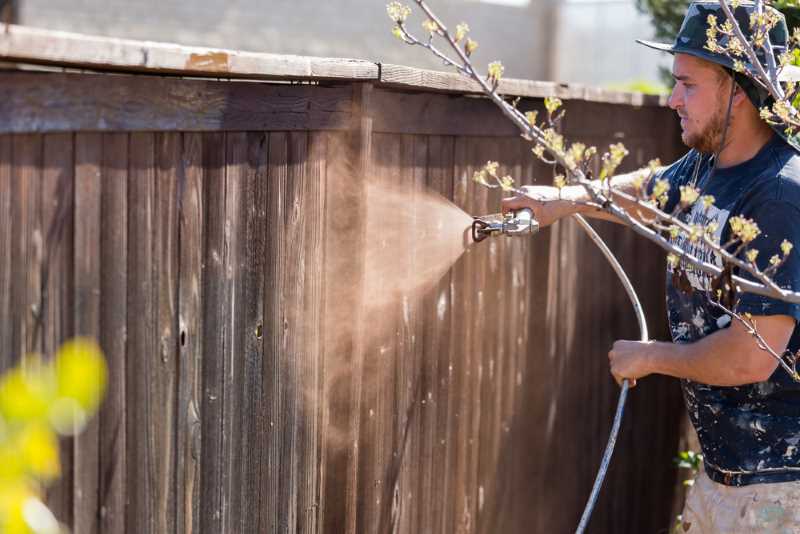 Enter the airless paint sprayer. Here's everything you need to know about how to choose the best airless paint sprayer for your DIY project.
What is an Airless Paint Sprayer?
An airless paint sprayer is a versatile and powerful painting device that helps you apply a smooth and even coating of paint on your walls.
As the name suggests, it differs from other paint sprayers in that it does not require air motion. Instead, it uses high pressure to pump the paint through a specialized pipe, which then comes out from a spray nozzle.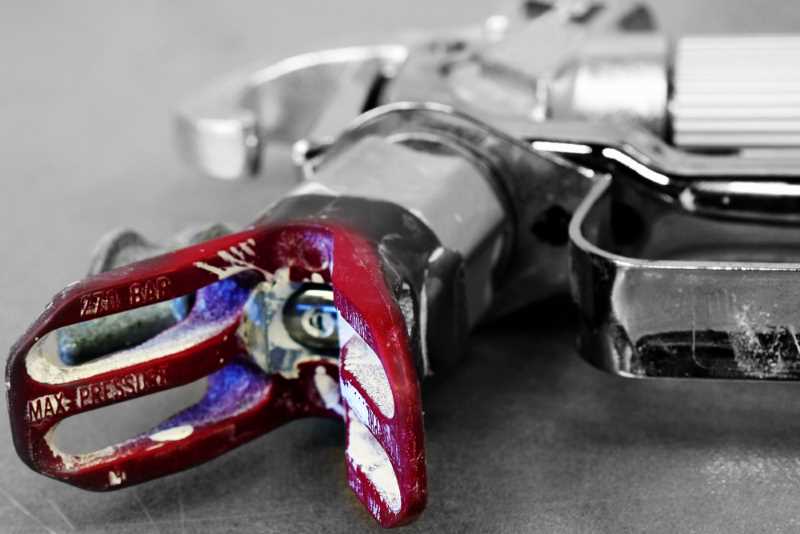 The tip of the nozzle is designed to disperse the paint into tiny droplets, which are applied evenly over a surface. Different tips are available depending on the thickness of the liquid you're using.
In this article, I'll show you how to use an airless paint sprayer, its pros and cons, and 10 of the best airless sprayers available on the market.
How to Use an Airless Paint Sprayer
An airless paint sprayer is a great tool for experienced novices and professionals as it offers an easy and convenient way to paint walls. First-timers can find them a bit tricky to use since some machines have many components. So, knowing how to use it properly is important.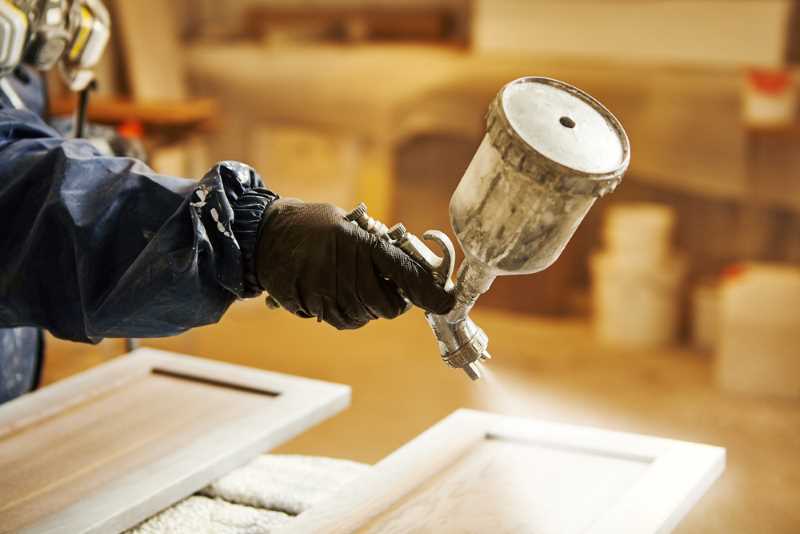 #1. Getting Prepared
Always read the instruction manual that comes with the airless paint sprayer before you begin preparations and be sure to wear the required protective gear.
#2. Clean the Airless Paint Sprayer
When you're planning to use an airless paint sprayer, always make sure that it is clean. The filters and screen in the pump as well as the spray gun can get clogged up if they've been used and haven't been wiped down. Here's a little more about the components of an airless paint sprayer.
#3. Prime the Pump
The next step is to prime the pump before you start spraying. The airless paint sprayer will usually have a switch that can be toggled between "paint" and "prime" – toggle it to the latter.
Follow up by putting the small priming tube into a waste bin and the other suction tube in the paintbox. Finally, turn on the airless paint sprayer, hold the trigger, and turn the pump on. Let it run for around 30-40 seconds until the components are filled with paint.
Next, switch the drain tube and place it in the paint can. Some airless paint sprayers also come with clips that can help keep the drain and siphon tubes together.
#4. Install the Nozzle and Get Ready to Paint!
Once you've installed the tip to the nozzle, you're ready to paint! First, check the pressure by testing the spray pattern, and increasing it accordingly.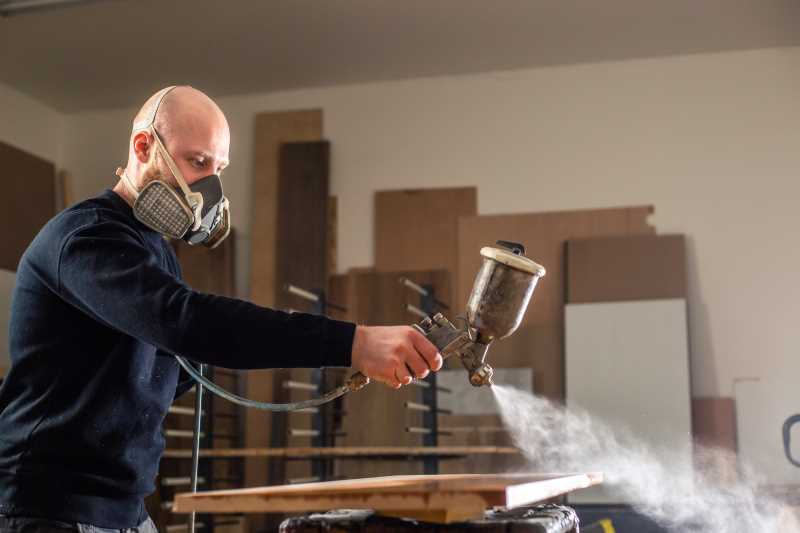 Apply the paint by pulling the trigger and smoothly moving the gun. Make sure the gun is around 12 inches away from the surface that you're painting.
Pros of Airless Paint Sprayers
The popularity of airless paint sprayers isn't just hot air. Here are some of their advantages over other painting methods:
#1. Faster Application of Paint
Painting with airless sprayers is undoubtedly one of the fastest methods of applying paint to your walls. Using an airless sprayer, you can finish painting a normal-sized room in about 10 minutes compared to the hours it would take to manually paint with a brush/roller, or even other sprayers.
#2. Simple to Use
If you have even a little experience with other sprayers, you will have no trouble whatsoever when it comes to using an airless sprayer. But even if you're a novice, it is quite simple to follow the instructions and start painting.
#3. Smoother, Even Paint Coat
When you paint with an airless paint sprayer for the first time, you will immediately notice the smoothness of the coat of paint. That's because the tool's mechanism sprinkles minuscule drops of paint on your wall, giving it a nice, even finish.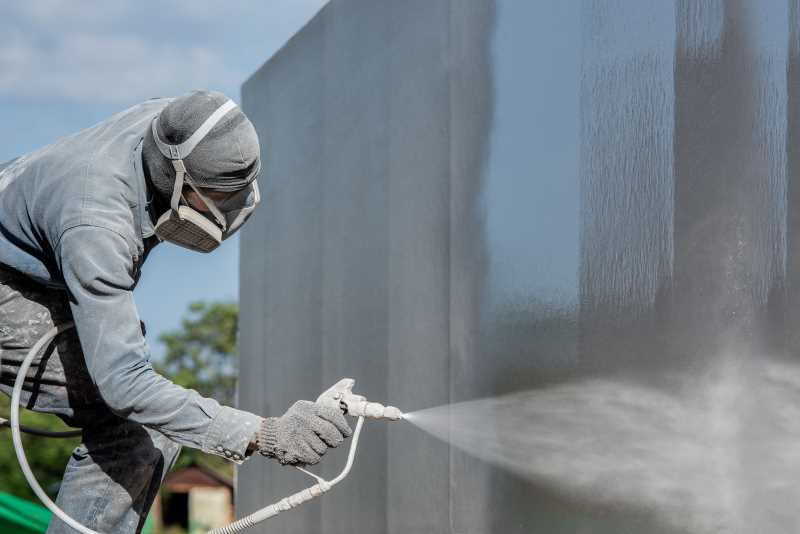 #4. Paint Dries More Quickly
Since this sprayer paints in a uniform manner, without any random, thick spots of paint, the paint will dry faster and more evenly as well.
Cons of Airless Paint Sprayers
While it has a leg up on most other painting tools, an airless paint sprayer does come with its share of drawbacks, which I've listed below:
#1. Requires Frequent Refilling
The biggest con of an airless paint sprayer is the amount of paint that's used during the process. A lot of it is lost to overspray (around 20-40% by some estimates), which means you will require more paint than usual, which could eat into your budget.
#2. Time-consuming Preparation and Cleaning
While using an airless sprayer will definitely save you time while you're actually painting, it takes a while to set up, especially if you're a novice. However, this lost time is easily made up by the device's speed.
Post-painting clean-up is another drawback. Something manual like a brush or roller would take you around 5-10 minutes to clean and tidy up. Cleaning up after using an airless sprayer takes more steps and more time. If you're only painting a small area, it's better to opt for a roller.
10 Best Airless Paint Sprayers
There are a number of different airless paint sprayers available on the market. Depending on your needs and budget, I've shortlisted the 10 best airless sprayers your money can buy. Choose the one that suits your needs and budget!
Best Overall Airless Paint Sprayer
1. Graco Magnum X7
Whether you're a professional or a DIYer, if you're going to be using an airless sprayer frequently, there is no better choice than the Graco Magnum X7.
Packing the best of portability and power, this machine is the most reliable investment you can make if you're looking to buy a sprayer. Although larger than other sprayers, it is fairly portable as it comes with wheels and a handle.
This airless sprayer is simple to operate and lets you easily adjust the pressure according to your needs. It is the perfect device to use to paint indoor as well as outdoor surfaces – including walls, fences, furniture, etc.
The performance of this sprayer is impressive too, as it can spray around 0.31 gallons of paint/minute and about 125 gallons in a year.
Some other specs include:
Powered by 5/8 hp universal pump
Maximum pressure: 3000 PSI (adjustable)
Supports up to 100 feet of hose.
TrueAirless Spray Tip with SoftSpray Technology: greater control with less overspray
Powerflush Adaptor – Cleans the pump by attaching a garden hose directly to the pump.
2. Graco Magnum X5
Graco is one of the most well-known brands when it comes to producing airless paint sprayers. The X5 is not just one of the best sprayers for your painting needs, it is also easy on the wallet.
If the X7 is a bit more pro-grade, the X5 suits people who won't be painting very often, like homeowners and occasional DIYers.
When it comes to performance, the X5 does not compromise on quality despite its relatively low price and can spray 0.27 gallons/minute, and 125 gallons/year.
The machine is perfect for painting interiors as well as exterior surfaces of your house. Weighing just 13.3 lbs, it's also easy to carry as you move from one wall to another.
Some other specs of the Graco Magnum X5 include:
Powered by 1/2 hp universal stainless steel piston pump
Maximum pressure: 3000 PSI (adjustable)
Supports up to 75 feet of hose.
Powerflush Adaptor – Cleans the pump by attaching a garden hose directly to the pump.
TrueAirless Spray Tip with SoftSpray Technology – greater control, less overspray
3. Graco Magnum ProX19
If you're a home remodeler, professional painter, property maintenance pro, or general contractor in search of a commercial-grade airless sprayer, look no further than the Graco Magnum ProX19. This machine was made to tackle all large interior and exterior projects with ease and efficiency.
The sprayer is ideal for every kind of paint, whether thinned or unthinned or even thicker paints. The pro-grade machine can spray paint at a flow rate of 0.38 gallons/minute and has a maximum pressure of 3000 PSI which is easily adjustable.
Although quite large, the machine comes with a cart to make it easy to move around along with the paint bucket.
Here are some of the main features of Graco Magnum ProX19:
SG3 Metal Spray Gun: Comes with swivel hose for convenient use and managing longer hose lengths
Maximum pressure: 3000 PSI (adjustable)
Supports up to 150 feet of hose.
Powerflush Adaptor – Cleans the pump by attaching a garden hose directly to the pump.
ProXChange Pump System: Less downtime as it comes with no-tools pump replacement
Best Value Airless Paint Sprayer
4. Wagner Flexio 590
If you prioritize convenience and ease of use, then check out the Wagner Flexio 590.
This handheld airless paint sprayer is highly portable as it weighs only 2.1 lbs. It can be used for both indoor as well as outdoor projects. The versatile machine also comes with 9 different speeds that you can easily adjust depending on your project.
Because it can't hold as much paint as its bigger counterparts, the sprayer is best suited for small or medium-sized surfaces. In addition, it comes with a sealed 1.5-quart cup and nozzle options that are useful for painting large surfaces or small areas.
In my opinion, this is the best handheld airless sprayer that money can buy!
Some other specs include:
Comes with two nozzles: iSpray and Detail Finish nozzle
Spray up to 8.0 gallons/hour
Powered by X-Boost turbine
Adjustable paint flow
5. HomeRight Power-Flo Pro
If you're looking for an airless sprayer for large projects (like painting all of your home's interior walls), the HomeRight Power-Flo Pro 2800 might be what you're looking for.
It is an ideal machine to use when you need to paint over old walls or furniture to give them a second lease on life, or when you have to spray clear coats on a freshly painted surface.
The sprayer has a max flow rate of 0.24 gallons/minute and is powered by a 0.5 hp motor. One feature I really like is its reversible switch tips, which allows you to reverse the paint flow in case the paint clogs.
Some other features of HomeRight Power-Flo Pro 2800 include:
Maximum pressure: 2800 PSI
Comes with a 25-foot hose
Chrome-plated spray gun with 100-mesh spray gun filter
515 Reversible Spray Tip
Best Splurge Airless Paint Sprayer
6. Titan ControlMax Pro High-Efficiency Airless Sprayer
If budget isn't a factor and you want to buy a high-end, pro-grade airless paint sprayer, check out the Titan ControlMax 1900 Pro.
This monster machine is powered by a 0.7 hp pump and can spray 0.4 gallons/minute. With a capacity of 500 gallons a year, it's an ideal choice for someone who does large painting jobs on the regular.
The sprayer is suitable for both indoor and outdoor projects and comes with extra-large wheels that make it easy to move around, making it very convenient to use.
While it's a bit pricey, its high-efficiency airless (HEA) system also helps reduce overspray by up to 55%, which can lead to savings in the long run.
Here are some other specs:
Maximum operating pressure: 1600 PSI
Sureflo Pusher Valve for easy priming
Can support up to 100 feet hose
Highly durable metal spray gun
Best Cordless Airless Paint Sprayer
7. Graco TC Pro Cordless Airless Paint Sprayer
A cordless paint sprayer can be extremely convenient to use given its portability – and the Graco TC Pro Cordless Airless Paint Sprayer is a great choice.
The tool works on a powerful DEWALT 20-Volt MAX XR lithium-ion battery and doesn't use any long hoses, making it among the most convenient sprayers to use. With Graco's SmartTip technology, it can spray an even coat of paint without the need for high pressure.
This sprayer tool is recommended for DIYers and homeowners who work mostly on personal projects and smaller jobs like painting furniture and touching up bigger projects.
Here are some specs:
Triax Triple Piston Pump
Maximum operating pressure: 2000 PSI
Precision pressure control
Adjustable motor speed
Best Stationary Airless Paint Sprayer
8. Wagner Spraytech Pro 130 Power Tank Paint Sprayer
If portability isn't an issue, then a stationary airless paint sprayer might be the best choice for you. In this department, the Wagner Spraytech Pro 130 Power Tank deserves a mention.
This paint sprayer is capable of holding up to 1.5 gallons of paint at a time, so you can easily finish small to mid-sized projects without having to refill. It can be used with a variety of different paints and is useful for both interior and exterior projects. With HEA technology, that it comes with results in 55% less overspray.
In addition, the stationary paint sprayer comes with in-built storage to safely keep the sprayer's different components.
Other specs include:
515 HEA spray tip
Rinse and flush system for quick cleanup
25 foot hose included, supports upto 50 foot
Spill resistant lid
Best All-Purpose Airless Paint Sprayer
9. Titan ControlMax
An all-purpose airless sprayer is ideal for those who work on both small and large-scale projects. If this is you, check out the Titan ControlMax 1500.
The Tital ControlMax is a highly efficient airless sprayer that can spray upto 0.29 gallons/minute directly from a one or five gallon can, which also makes cleanup fairly simple. Its HEA system ensures a smooth, even finish for all of your projects and reduces overspray by around 55%.
Keeping all your equipment organized is easy too as it comes with built-in storage for the hose, gun, and nozzles. It can be used for interiors as well as exterior projects.
Here are some of its specs:
Powerful 0.55 horsepower pump
Supports upto 75 feet hose
Capacity of 175 gallons/year
Max operating pressure: 1500 PSI
Sureflo Pusher Valve for seamless priming
Best Budget-Friendly Airless Paint Sprayer
10. Graco 360DS Handheld Paint Sprayer
The hefty price tag on most airless paint sprayers can put off potential buyers. But if you're an occasional painter who only needs a sprayer for small-scale projects, you can still get a sprayer that fits your budget. Presenting the Graco 360DS Handheld Paint Sprayer.
Even novices with little experience painting will find this airless paint sprayer easy to use. But its beginner-friendliness doesn't mean lower quality. The 360DS provides an even, smooth finish and can be used for up to 25 gallons/year.
Since it is handheld, the machine is quite convenient and portable. You can fill it with 32 ounces of paint at one time, which is typically enough for small projects. It comes with two speed settings, low and high, depending on whether you want to focus on the details or want to get the job done fast.
Some other specs include:
Stainless Steel Piston Pump – Delivers high pressure power
Maximum Working Pressure: 1500 PSI
Sprays in any direction, including upside-down with VacuValve Technology
Reverse-A-Clean Spray tip to efficiently clean clogs
Tips for Using an Airless Paint Sprayer
From my experience, it's always better to be prepared when you're starting a painting project. Here are some tips to keep in mind when you're using an airless paint sprayer:
Never skip on protective clothing, no matter how small the project
Choose the correct tip size based on your project
Always test your spray on a scrap piece of cardboard or wooden board
Make sure you have enough amount paint for your project
Plan your attack and decide the sequence and areas you'll be painting beforehand
Ensure you're spraying at a constant speed while moving the sprayer parallel to the surface and not in an arc
Don't tilt the sprayer
Go for multiple thin coats rather than one thick coat
Keep your sprayer 10 to 12 inches from the surface
Always clean your sprayer after you're done
Projects That Are Perfect for Airless Paint Sprayers
Painting interior surfaces (multiple walls and ceilings)
Exterior house painting
Deck and fence staining
Large jobs in general

Wrapping Up the Best Airless Paint Sprayer
Painting jobs done manually can be time-consuming and messy. If you're looking to elevate your paint job while relieving some physical stress and cutting down on time, it might be time to look into purchasing the best airless paint sprayer for your project and budget.
If you're sold on paint sprayers but aren't sure the airless kind is best for you, check out our guide to HVLP Paint Sprayers.
Check out our Exterior Painting page for even more information on exterior painting, paints, and products.